Disposable gloves are convenient for use where frequent changes of gloves are required. They ensure a high level of hygiene in the process and spare the trouble of cleaning the gloves right after a task. With all those great functions, disposable pairs are common in food processing and other services.
But are disposable nitrile gloves any good in such tasks, or more importantly, are nitrile gloves food safe? Well, worry not if you want to use them for cooking since a foodservice nitrile pair is a perfect choice.
Food Grade Nitrile Gloves
Nitrile is a safe and versatile material that can be used in various tasks, ensuring hygiene, protection, and dexterity. In detail, you can use nitrile gloves for food prep to touch raw food and fresh ingredients.
Furthermore, it is okay to use a nitrile gloves cooking pair since it is resistant to oil, tearing, and punctures.
Nitrile gloves are considered food safe gloves since they are free of latex. Therefore, they will not be a hazard for people allergic to latex, which is a very common condition.
You can use nitrile gloves for food preparation and cooking, but their functionality goes beyond that. They are also applicable in counter tasks like getting food orders, dishwashing, and cleaning.
Nitrile Properties and Qualifications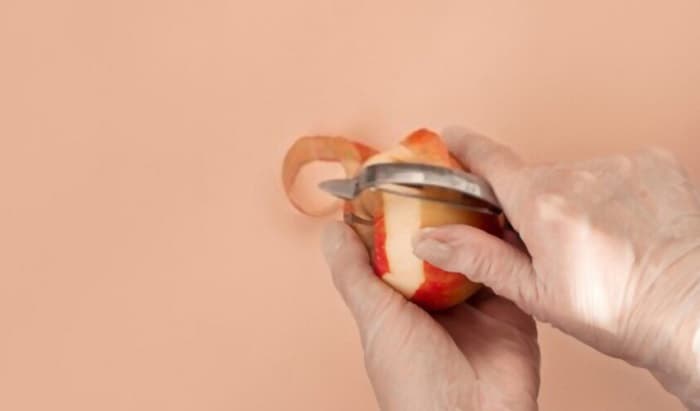 There are many types of food safe disposable gloves made of vinyl, nitrile, and sometimes latex. However, it is best that you check certifications from The Food and Drug Administration (FDA) and/or Hazard Analysis and Critical Control Points (HACCP).
With these third-party approvals, we can be sure that the gloves are safe for touching food without the risk of chemicals, additives, and other types of contaminations.
Indeed, FDA approved food handling gloves made of nitrile should meet the protective requirements, including abrasion, puncture, oil, moisture protection, and more.
You can safely use them for processing, cooking, serving food, and cleaning silverware without worrying about contamination or hurting your hand in the process.
Frequently Asked Questions (FAQs)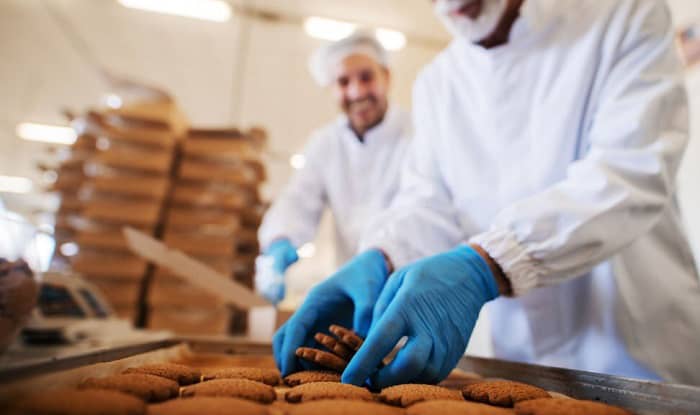 1. Are medical grade gloves food safe?
Medical-grade or examination gloves are good for processing food.
Examination gloves have undergone a strict testing process, including Acceptable Quality Level to ensure no pinholes and conformity to FDA regulations, such as good protection against abrasion and punctures.
Besides, these gloves are well-fitted to offer good dexterity for intricate examination tasks. Therefore, they are sufficient for food processing. They are even recommended to use for food to reduce the risk of food-borne diseases.
Meanwhile, surgical gloves have sterilization chemicals that might not be safe to digest when they touch the food.
2. Are blue nitrile gloves food safe?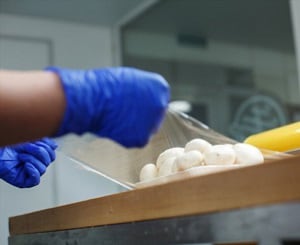 Yes, they are. You can find certified food service nitrile gloves in blue and utilize them without worry.
3. Are black nitrile gloves food safe?
Black nitrile gloves are often used for mechanics tasks rather than food processing. However, if you find packages of food-grade black nitrile pairs qualified by the FDA, there is no problem using them.
4. Are latex gloves food safe?
With a qualification from FDA for food-grade use, most latex disposable gloves are of excellent use in food-related settings. In fact, they are good for serving food, preparing ingredients, cooking, washing, and general cleaning.
You have the option of choosing between powdered and powder-free latex gloves, of which the latter is safer. However, be careful as they are not good for people with latex allergies.
5. Are powdered latex gloves food safe?
Some of them are, but not all powdered latex gloves should be used to touch food. You can use EN1186-certified powdered latex gloves for processing food and preparing them.
However, doing so will involve more risk of contaminating the cooking area when the powder in the gloves is released into the air. Furthermore, you already know that latex can cause irritation and other allergic reactions for many.
So, even though some of them are qualified for use in food handling, you should avoid them and opt for safer choices instead.
6. Are vinyl gloves food safe?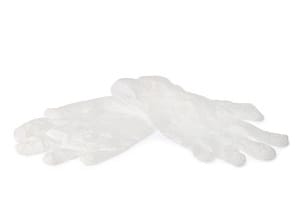 The good news is, they are. You can use vinyl gloves for various tasks, too, as they are nearly as versatile as nitrile gloves. They are good for food preparation, cooking tasks, getting food orders in the restaurant areas, washing and handling silverware, cleaning, etc.
Furthermore, there is no latex in their formula, thus proving their safe use for everyone. It is also true that they are comfortable to wear.
Conclusion
Now, you already have a good idea about the answer to 'Are nitrile gloves food safe?' and valuable information about these versatile hand protection pieces. It is rather easy to pick a pack of certified nitrile gloves for multiple tasks inside and outside the kitchen.
These gloves can be used in getting orders from customers, preparing the food, and cooking it. Notably, they are safe for everyone involved due to the latex-free formula.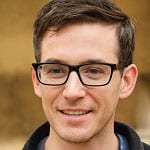 This is Edward Manning, the editor in chief of Construction Informer. Quite a bit of my time is spent researching the market and interviewing experts in the field so that I can give you reliable information.