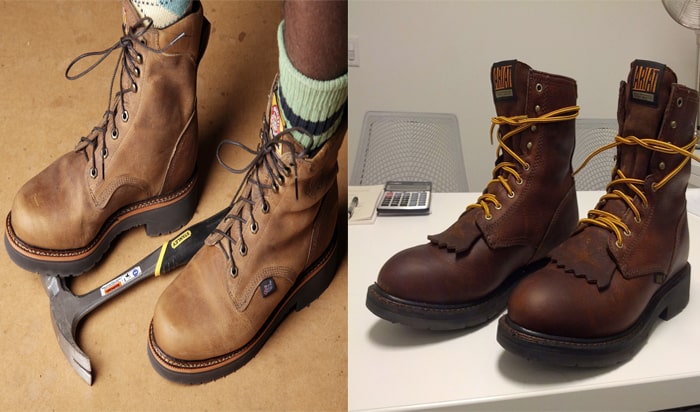 Ariat is among the leaders in cowboy boots manufacturing. The well-established brand has many safety boots loved by workers, horse riders, and more. Their durable materials, EVA midsole, and fit create a good balance for various job requirements.
Meanwhile, Justin boots also serve a wide range of duties with their hand-crafting durable work boots. The famous boot-maker values craftsmanship as they treat their products like artwork.
Both Ariat and Justin come with their own strength, so we will dig in to see what Ariat vs Justin work boots have to offer.
Justin vs Ariat boots: Materials
For your information, Ariat work boots are made of natural leather. Most of their work boots are full-grain leather. Leather quality is among the criteria to notice authentic Ariat boots. The brand likes to use a rubber sole and steel toe for their work boot.
It is undeniable that wearing Justin boots makes us feel more of the sturdiness. Their construction is also from 100% leather with a tough synthetic sole that keeps our feet stable. In other words, you can rely on Justin boots for excellent foot support.
Ariat Boots Vs Justin Boots: How They Fit
Ariat work boots fit better on wide feet, especially their pull on boots. The extra wide shank makes it easier for wearers to walk around in the pair for an extended time. Other details such as a wide opening or an ideal shaft measure make Ariat boots a good choice for people with wide feet.
Justin's boots go well with narrow or normal feet. Their products come with a smaller toe shape compared to Ariat boots. So, if your feet measurement is the standard dimension, you should feel confident with a pair of Justin original work boots.
Regarding the size chart, Ariat work boots run smaller than expected, while Justin's boots are a tad bigger than standard sizing. So, if you buy work boots online, make sure to check your feet measurement and ask for advice from the brands.
Ariat Vs Justin Boots: Comfort Level
Many Ariat work boots are constructed using ATS and 4LR technology, thus offering excellent support and stability for all-day wear.
Their designs often come with cushioned gel insole footbed and heel stabilizers, so it's understandable if many wearers vote for their products as more comfortable.
In detail, the Workhog XT cottonwood adds good shock absorption and cushioning for Ariat products, making them ideal for everyday work boots that prevent fatigue and pain due to long-hour work.
Despite the thick dual-density EVA midsole, these boots are also lightweight, mostly because of the light shank.
Their comfort is also presented in the breathable mesh lining that results in good ventilation, especially on summer days.
Meanwhile, Justin's work boots are:
Sturdier with a more rigid form, so the comfort level for extended wear might not be as incredible as some Ariat models.
However, your feet will not hurt when wearing Justin boots since they come with correctly-set heels and a comfortable insole.
When choosing work boots from both brands, check out specific models with their unique features for comfort. That way, you can go with ones that meet your requirements, rather than thinking one brand is better than the other.
Justin and Ariat Boots: Protection Features
Since we intend to choose a work boot that offers foot protection, we need to consider its construction and qualification. In that case, you should know that Justin and Ariat both have work boots made to meet ASTM safety footwear standards. Such pieces will have safety toe as well as heavy duty sole to withstand harsh conditions. Let's go into details:
Ariat's:
Many work boots made by Ariat often come with steel toes, which are necessary to prevent wearers from compression and falling objects at the worksite.
As expected, Ariats have insulated shoes to resist heat with a thermic insole made of PU compound.
They also feature non-metallic Anti-puncture textile for and water-repellent upper.
Besides, some of their boots offer electrical hazard protection, meeting CSA standards.
Justin's:
Meanwhile, Justin's boots are chosen due to their quality composite toe and steel toe.
Justin is well-known for its hybrid waterproof designs with triple density layers for durability. They come with an oil-resistant outsole and non-metallic shanks, making it safe for workers to work in wet conditions.
Of course, we can expect Justin to offer good protection against electrical hazards with their ASTM-certified conductor boots.
To sum up, we cannot tell which brand is better than the other in terms of protection. But, the selection process should be on the model designed to support specific work conditions.
What About Style
In this case, it depends on personal preference. Ariat is well-known for its pull-up designs, while Justin's lace up work boots are popular. Ariat presents classic cowboy style, while Justin's footwear designers go for cool-looking street shoes.
Some of my favorite models offered by these brands are the Ariat square steel toe boots and the Justin Jmax boots. But we should not choose a new pair for work based on style alone.
FAQs
Are Ariat or Justin work boots better?
Justin boots might have the upper hand with some of their best models in terms of sturdiness and toughness. Meanwhile, you can enjoy better comfort in high-quality Ariat work boots.
Besides, people with wide feet should consider buying new boots from Ariat. Whereas, if you have normal-sized feet, you can go for Justin's collections.
How long does a pair of Justin work boots last?
Justin boots last around 3 to 4 years if you wear them daily. Depending on the different models of this brand, their product durability can vary. If you wear the boots for heavy duty work in harsh conditions, elements might also affect the boot's age, reducing them to under three years.
Which one is cheaper? Ariat boots or Justin boots?
The price difference is not glaring between these two brands when it comes to their affordable collections. A low-priced Justin pair costs you around $60, while Ariat's cheapest one is about $70.
For high-end work boots, the gap is much more significant. You can get a superior Ariat model for over $400, while the most expensive Justin work boots must be around $280.
Conclusion
So, Ariat vs Justin work boots, which should you choose? The answer lies in your preference of feet measure, work conditions, safety features, price, style, and more. It's not really about picking one brand; it's about selecting the model that caters to your needs.
For instance, if you work on slippery surfaces, choose a pair that comes with slip-resistant features. Or, if you want to protect yourself from eclectic shock at the worksite, choose the work boots that have better electrical protection.
If you find our article helpful, feel free to share. Thank you!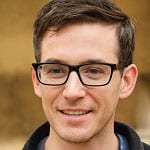 This is Edward Manning, the editor in chief of Construction Informer. Quite a bit of my time is spent researching the market and interviewing experts in the field so that I can give you reliable information.