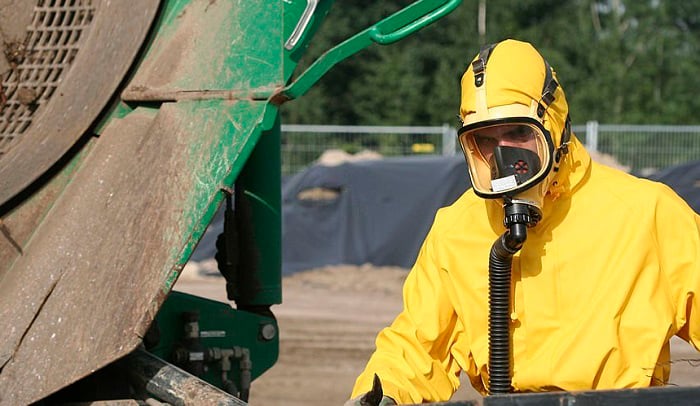 When working in an environment with asbestos, we will feel various symptoms, including chest tightness, shortness of breath, dry cough, and more. The signs get worse when the exposure to this fiber is prolonged, and may even result in respiratory complications and cancer.
That's why we must wear the right face shield to prevent further intrusion of these dangerous substances. But, among numerous designs available, what type of respirator for asbestos should we pick?
The myriad of products can be intimidating, but selecting the best asbestos mask and respirator can be straightforward if we know the right features to look for:
Filters – P100 filters certified by The National Institute for Occupational Safety and Health (NIOSH) should always be the best choice for absorbing asbestos and other airborne particulates. Other than that, you can go for an N95 face mask with a good filtration system.
Half-face or full-face – You should be geared with a full-face mask when dealing with high-level asbestos in the air. However, it can be a bit bulky and heavy to wear for long hours.
A half-face piece is flexible and lightweight, allowing us to wear extra gear, especially prescription safety glasses if our eye conditions require it.
Comfort and fit – A freely adjustable face mask can provide a comfortable fit. You should go for a design made of non-toxic and soft materials to ensure prolonged wear without irritation.
Furthermore, make sure the headbands or nose bridge does not pull your hair or leave red marks on your skin. That's a deal-breaker. And, you would definitely want a lightweight and low-profile mask rather than a bulky one.
There are more details and advice you should know when picking the right face mask for a hazardous workplace. But before going into the buying guide, you can check out some of the best offers in the market. Here's what most workers and DIYers have been using:
Featured Products
Best Overall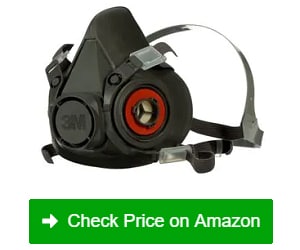 3M Reusable Respirator 6300
– Lightweight and low-profile
– Features NIOSH-approval filters
– Adjustable fit with its head straps
Editor's Pick
GVS SPR457 Half Mask Respirator
– Fits well for people with beards
– Has a pleated HEPA filtration system
– Lightweight (130g) respirator
Premium Choice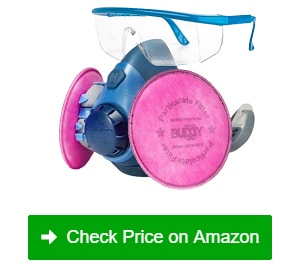 Breath Buddy Respirator Mask
– Has a high-efficiency rate of 99.95%
– Versatile respirator for woodworking, etc
– Lightweight mask with cool air valve
Top 9 Asbestos Mask and Respirator Reviews
1. 3M Reusable Respirator 6300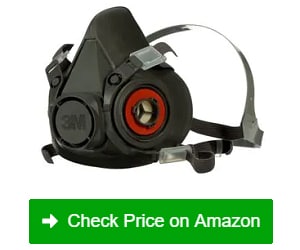 Another half-piece design with asbestos filters that is worth considering is the 3M Reusable Respirator 6300. It stands out as an affordable yet functional piece for our daily work.
Like most 3M products, this design comes with NIOSH-approval filters. Its system can block dust, airborne particulates, gases, and asbestos for various work. Furthermore, the filter can be in charge of purifying negative pressure air, thus ideal for airline applications.
As I put on this face mask for sanding work, the piece allows me to breathe in the fresh air as it blocks out all the fine dust. It also suits chemical-handling tasks since the filtration system can keep vapors from entering.
Indeed, 3M is renowned for the brand's comfortable designs applied to daily masks and work respirators. In detail, we are guaranteed a good fit with its adjustable and functional head straps. Moreover, the mask is not bulky or weighty, thus allowing us to wear it with ease.
Since the face mask is made durable, it promotes multiple uses without losing any of its great properties. And when we want to upgrade the filtration features of this respirator, we can just install any bayonet-style filters or cartridges produced by 3M.
I would like to add that this mask might get a bit hot to wear for long hours on summer days due to the rubber nose bridge.
Pros
Affordable, features NIOSH-approval filters for purifying negative pressure air
Filters can block dust, airborne particulates, vapors, gases, and asbestos
Adjustable fit with its head straps
Lightweight and low-profile for easy and comfortable wear
Durable piece, compatible with bayonet-style filters or cartridges by 3M
Cons
The rubber bridge might make it a bit hot during summer work
It is a delight to come across this well-made asbestos gas mask filter when one has a limited budget to spend. I believe the minor disadvantage of the rubber nose cannot overshadow other great features this mask offers.
2. GVS SPR457 Elipse Half Mask Respirator
The GVS SPR457 Elipse Half Mask Respirator is favored by many welders, home inspectors, and more. Dust leaking will not be an issue with this mask when we wear it for work or travel through polluted areas.
When purchasing respirators, I value low breathing resistance because my tasks are often carried out in enclosed areas. With this mask's pleated HEPA filtration system, I can work for several hours without feeling extra fatigue.
The HEPA filters on this mask are undoubtedly good at absorbing particles that potentially harm our respiratory system. We can rely on this high-efficiency design to prevent asbestos from entering our lungs. Notably, it can remove indoor pollutants and ensure we breathe comfortably the whole time.
Many face masks become a nuisance due to the heavy and bulky design that makes them uncomfortable to wear for prolonged periods. But, that is not the case with the GVS respirator. First of all, it is incredibly comfortable with a lightweight structure, measuring around 130g only.
Secondly, the piece conforms well to different face types with its low-profile and adjustable design. Therefore, it is no surprise that this mask is convenient for people with beards.
However, we would need to wear fog-resistant glasses with this asbestos respirator mask. This seems to be the requirement when using most half-face masks, so it's not a big issue for me.
Pros
Has a pleated HEPA filtration system for added breathability and less fatigue
Filters out small particles and indoor pollutants, including asbestos
Lightweight (130g) respirator for comfortable wear
A low-profile and adjustable design for any wearer
Fits well for people with beards
Cons
Requires wearing goggles with anti-fog lenses
Overall, I find this asbestos protection mask an ideal companion for daily use due to its incredibly lightweight and comfortable design. Besides work, I put on this mask when commuting in crowded and polluted places.
3. Breath Buddy Respirator Mask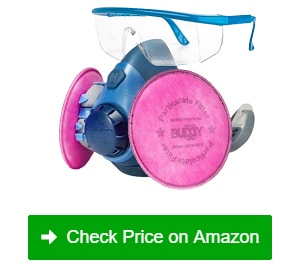 We get a good deal with this Breath Buddy Respirator Mask as it comes with a pair of safety glasses. Yet, I figure that's not even the best thing about this purchase.
I saw this Breath Buddy model quite often when searching for reviews on asbestos protective masks. Buyers seem to have many good things to say about this protective piece, especially the efficiency rate of 99.95%. According to the brand, the mask's filtration system can block small airborne particles and relieve odors from organic vapor.
We can wear this respirator to breathe in fresh air without dust and unpleasant smells. Therefore, it works well for various tasks, including woodworking, dust cleaning, painting, and more.
Besides, users can put on this mask to work without feeling fatigued or uncomfortable. Such a good comfort delivery comes from this mask's lightweight cover and filters. Also, with the added cool air valve, we can breathe without much resistance while handling heavy duties.
Of course, one of this mask's appeal is its package with extra P3 filters and a pair of safety glasses. The glasses seem to be of good use as they go nicely with the respirator without causing an obstruction.
A little warning, though, is I would suggest users avoid applying force onto the mask as its filters might fall off. Other than that, the piece works as intended and proves to be rather durable.
Pros
Has a high-efficiency rate of 99.95%
Able to block small airborne particles and relieve odors from organic vapor
Versatile respirator for woodworking, dust cleaning, painting, etc
Lightweight mask with cool air valve for breathable and comfortable use
Includes extra P3 filters and a pair of safety glasses
Cons
The filters can fall off when being pressed or hit with a strong force
As long as we use this mask with care, it serves as a good respirator for asbestos removal. Furthermore, the included glasses surely help in handling different projects.
4. 3M Half Facepiece Respirator (TM)
I acknowledge that home renovation becomes less daunting with this 3M Half Facepiece Respirator. It keeps fine dust, especially asbestos, from entering my lungs, allowing me to focus on my DIY project better.
Many have had this respirator for years, as it is the practical choice for various tasks. The piece features a half-piece design, resembling a mask for convenient use. We can put on a pair of goggles while doing woodwork, troubleshooting the water system, or redo the roof with ease.
The mask's compact design also promotes comfort for use. I agree with most users claiming that this facepiece's grip is not suffocating due to the freely adjustable straps. It goes well around my head without pulling my hair or leaving red marks on my face. Furthermore, the design is available in various sizes to fit different face contours.
What's notable about this facepiece must be its excellent protection against hazards. For one, it comes with NIOSH-approved filters and cartridges that keep both non-oil-based and oil-based particulates at bay.
Notably, the facepiece is effective at trapping asbestos with its P100 filter. With such an extremely fine filtration, users can work in a space with minuscule particles without breathing them in and hurting their lungs.
I have one complaint, though, regarding this 3M asbestos respirator's smell. When unpacked freshly out of the box, it has this slightly unpleasant smell that takes 3 to 4 days to fade.
Pros
A functional half-face respirator that caters to various tasks
Compact design allows wearing goggles with ease
Comfortable and well-fitted with freely-adjustable straps and various sizes
NIOSH-approved filters and cartridges to block oil and non-oil based particulates
P100 filter to trap minuscule particles, including asbestos
Cons
Has a slight unpleasant smell that takes 3-4 days to fade
3M is well-known for their huge collections of safety masks, so it took me a while to choose this asbestos filter mask for my needs. Notably, it does not disappoint in blocking minuscule particles.
5. Honeywell Home North 7700 Series Half Mask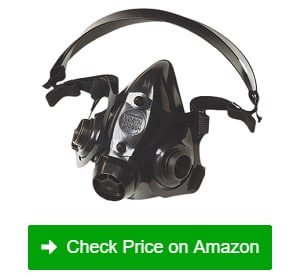 Honeywell makes many great pieces of gear for workers. And among those choices, I vouch for the Home North 7700 Series as one of the most efficient respirators for asbestos.
What makes this model stand out must be its medical-grade silicone design. It is tricky to find other models at this low price range that offer such a safety feature. Furthermore, the mask comes with an option for a backpack adaptor, approved by NIOSH for welders and painters. So, if the tasks require, we can purchase one to experience optimal safety.
Besides such notable properties, this face mask does what it intends to do: protect our respiratory system from contaminants. In fact, the piece works wonders in blocking airborne particulates, mists, vapors, fumes, and gases, including asbestos. With a wide range of protection functions, it is suitable for any job.
I appreciate this model's good fit, provided by its well-made seal with different thicknesses on different areas. With such a flexible contour, the mask can fit well onto our face with proper stress and grip without hurting or irritating us. Of course, all the straps available are easily adjusted.
Heavy-duty workers will love this mask's comfort. It has threaded connectors to prevent the cartridge from falling off accidentally. Also, due to the nice contour, it does not hurt my nose despite prolonged and frequent wear.
According to several buyers, the strap is not as durable as the rest of the mask. I have not experienced any issue with the strap, so it might depend on how we use it.
Pros
Medical-grade silicone for safe use at a low price
Provides an option for a backpack adaptor approved by NIOSH
Filters airborne particulates, mists, vapors, fumes, and gases, including asbestos
Well-made seal and adjustable straps to embrace different face contours well
Comfortable wear with secure threaded connectors and soft nose bridge
Cons
The strap might not be that durable
Compared to an asbestos full face mask, many seem to love a half-piece design like this one. It offers sufficient protection and comfort at such a budget-friendly price.
6. 3M Full Face 6800 Respirator Kit
When we get into a small enclosed space, it is important to be geared with an asbestos suit and mask. For a complete set of protective apparatus, we can rely on this 3M Full Face 6800 Respirator.
I had one filtration mask and four particulate filters in one purchase, a great bargain that offers everything to start work right away. Since most products require a separate buy for filters, which is also strenuous research, this set makes a difference.
The notable thing is, NIOSH recognizes the provided pieces for protection against particulates. In detail, they are p100 filters designed to prevent airborne particles, gases, and other air hazards from attacking our lungs. And these pieces work more than fine, offering an efficiency rate of 99.97%.
It is also worth mentioning that this P100 respirator asbestos is certified by ANSI for enduring high impact. Such a qualification speaks volumes about the lens's durability. I appreciate that its wide lens is made tough enough to ensure optimal clarity and protection at all times.
Some workers are hesitant in buying a full-face design mostly due to worry about breathability and comfort. But, those are not the problems with this full face asbestos respirator. It comes with a cool flow valve to avoid moisture and heat build-up. Also, the lightweight structure and quality silicone seal make the mask comfortable.
On the downside, this mask is a medium size, but there are no details on size selection in the description. To get the correct fit, buyers should contact the manufacturer.
Pros
Comes with highly-efficient filters for use right away
NIOSH-certified p100 filters block airborne substances, gases, and other hazards
Durable lens certified by ANSI for enduring high impact
Wide and clear lens for good viewing
Has a cool flow valve to avoid moisture and heat build-up
Comfortable wear with a lightweight structure and quality silicone seal
Cons
No instructions for sizing
Many go into the workspace covered from head to toe. Therefore, it is understandable they want the best asbestos suit and mask. In that case, this 3M kit can be a nice addition.
7. BAOMAO Reusable Face Cover
This next recommendation is the BAOMAO Reusable Face Cover, delivered to customers with the brand's assurance for reliable quality.
I commend this respirator's safe materials; it bears lots of similarities with the mentioned N\C respirator mask for asbestos. Since this option is also made of non-toxic and food-grade silicones, I can put it on to work every day, knowing that it will not leave red marks or rashes on my face.
Furthermore, it is comfortable to put on this face shield to work for several hours on end. It must be because of the elastic and soft seal, along with the customizable headbands. They do not pull my hair or press too hard on my skin despite frequent use. I am happy that the mask is a good fit.
When buying a respirator, the most important thing is making sure it meets our current needs. Since I bought the piece to block asbestos, it provided everything I asked for and more. With a dual filtration system, the design prevents around 97% of vapor, gases, and air particulates from entering my lung.
Also, I am grateful that this piece is a great bargain, especially for those that spare a limited budget for their face mask. In detail, it has a dust respirator, 8 cotton filters, 2 filter covers, 2 compatible cartridges, a pair of gloves, and ear plugs.
One note for users of this face mask is that the cartridges might fall off when they are bumped against or hit.
Pros
Safe mask made of non-toxic and food-grade material
Elastic and soft seal, customizable headbands
Dual filtration system blocks 97% of vapor, gases, and air particulates
Available at a good price, includes various items for replacement and protection
Cons
The cartridges can fall off when met with pressure
I doubt anyone will consider a disposable asbestos mask when there is a full set offering everything they need at a low price. We can utilize this functional design for a long time.
8. XINBTK Half Face Respirator
The XINBTK Half Face Respirator is another good choice for occasional DIY projects carried around the house. It makes sure that our tasks go smoothly without breathing resistance.
Users will unpack one mask, 2 filter boxes, 8 cotton filters, and 2 covers for installation and replacement in this set. Taking its price into consideration, it is a hard-to-resist deal. Furthermore, the filter class included is P100, recommendable for blocking asbestos.
We mostly pay attention to the filtration system when purchasing face masks. Therefore, it is important to know that this one is of good quality. In detail, it underwent testing to prove effective use in blocking airborne gases.
Another good news is we are guaranteed good comfort when wearing this face mask to work. As long as we put it on right and adjust the strap, the fit will be comfortable.
I should not forget to mention that this respirator is suitable for a wide range of activities. People have used it for mechanical work, pesticide spraying, and carpentry without issues.
If I have to nitpick, the only flaw this mask has is its odor. It has an unusual smell that takes a while to get used to. Hence, buyers with a sensitive nose may use some plant oil to get rid of it.
Pros
Complete pack of one mask, 2 filter boxes, 8 cotton filters, and 2 covers
P100 filter class for blocking asbestos
A low-priced device with tested quality
Comfortable half-piece mask with adjustable straps
For many applications, such as mechanical work and carpentry
Cons
Has an odd smell at first
Suppose we only want a comfortable and
protective mask
for blocking asbestos and airbornes. In that case, this model is undoubtedly the right choice.
9. N\C Active Carbon Respirator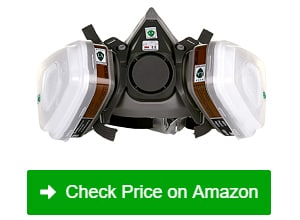 Among the available respirators for asbestos, the N\C Active Carbon offers good value with its affordable price and decent capability in protecting our health.
First of all, the brand makes sure that this model is made of quality materials. I appreciate that the seal is from premium-grade silica gel, which is non-toxic and soft enough for daily wear. For workers with sensitive skin, this mask can be a life-saver.
The main function of this mask is shielding users from air hazards, which it can indeed deliver. In fact, the piece features dual-filtration cartridges that purify the air we breathe in by removing 97% of hazards. These include toxic organic gases and vapors, pollen, and various particulates.
As a result, its applications are plentiful. We might encounter people wearing this mask for gardening work, house renovation projects, wall painting, chemical and welding tasks, etc.
For the face mask to be that versatile, it must offer sufficient comfort and fit. And we can experience those properties from this respirator. Besides blocking asbestos for our daily work, it also ensures we feel comfortable with its soft silicone and adjustable headbands.
Still, I have to admit that this respirator looks a tad bulky, mostly because of its large cartridge.
Pros
Quality materials: premium-grade non-toxic and soft silica gel
Dual-filtration cartridges for purification by removing 97% of the air hazards
Filters out organic gases and vapors, pollen, and various particulates
Low-cost, versatile design for gardening, house renovation, wall painting, etc
Comfortable wear with soft silicone and adjustable headbands
Cons
A bit bulky with its large cartridges
I can attest that this design is a good asbestos mask for sale. Considering its good function and especially non-toxic materials, workers can enjoy long-lasting use of the product without worrying about it causing health issues.
What to Look for When Buying Asbestos Masks and Respirators?
The danger of prolonged exposure to asbestos is undeniable. Therefore, selecting the right asbestos mask is an important task. If you are still pondering over several pieces of face masks, make sure to consider the following factors thoroughly:
Filters – Picking the right filter and cartridge is the most important thing; every other feature comes after. For blocking asbestos, workers should opt for HEPA respirators. HEPA air filters can absorb air particulates with a high-efficiency rate.
They are purification designs that remove airborne pollutants from the air we breathe in. These pieces work wonders for indoor use, thus ideal for house renovation or any work in enclosed areas. There are many levels to HEPA filters' efficiency in removing airborne hazards.
P100 filters qualified by NIOSH standards are HEPA filters, but with an efficiency rate of 99.97%. These masks are the most common for blocking airborne particles, so you can purchase them to keep asbestos at bay.
If you want low-cost HEPA mask asbestos filters, picking an N95 asbestos design will suffice.
Furthermore, we have to check whether the mask is compatible with certain types of air-purifying cartridges. Our workplace often has more air hazards than just asbestos. Therefore, staying in such areas will require a higher level of protection.
Design – Two most popular options should be half-face and full-face models, covering partly or all of our face while we come into hazardous environments.
Half-piece – It is a breeze to find quality and comfortable half-face masks since they are prevalent on the market. Workers opt for this model to enjoy an unobstructed viewing range. Also, a half-mask allows us to have safety glasses and earplugs without hassle.
If you have eye conditions and are required to wear prescription glasses for work, then a half-face respirator should be the right choice. Just make sure you opt for lenses that can resist fogging to maintain viewing clarity while working.
Full-piece – We must consider purchasing a full-face mask when we are often exposed to a high level of toxic vapors and gases besides asbestos. We cannot afford to leave our skin to direct contact with hazards in risky working environments. Therefore, compromising comfort a little bit is necessary.
A full-face respirator will indeed be a bit bulkier and heavier than a half-piece design. However, when we pick the right one, it will not limit our viewing range or make it hard to move or breathe without fatigue. Just make sure to pick one with a cool air valve to reduce the air resistance.
Comfort and fit – Comfortable masks should be made from quality materials. The face seal and nose bridge on the half-piece mask should not be a nuisance when worn for long hours. These parts must be made with soft and non-toxic silicone. Some models are made from thermoplastic elastomer, which is silicone, latex, and odor-free.
Furthermore, you should consider the materials that make up the mask head straps or bands. They should be stretchy enough while being non-toxic and not smelly.
When selecting a full-face shield, the weight of the whole piece should be taken into consideration. If the design is too heavy and bulky, it is tricky to wear the mask for a long time without irritation and neck pain.
Also, most masks are freely adjustable, so it is not a hassle to find a good pick that fits. The only thing we need to pay attention to is if the seal will fit our face contour just fine. If you have a beard, a high nose, or some distinct feature, maybe consult the sellers before picking a suitable size.
Reliable brands and products – The quickest way to find quality face masks is by checking out famous brands' collections. You can go to Reddit or Quora to see genuine recommendations of users.
For instance, 3M has always been the leading name in producing face masks. The brand has models that cover a wide range of protection, like their 3M 6000 lead and asbestos respirator combination. This one is a good pick if you want more than just blocking asbestos in the workplace.
Furthermore, Breath Buddy, GVS, or Honeywell can also provide options that work best for our needs without breaking the bank.
What Kind of Mask Protects Against Asbestos?
As stated above, the most trusted asbestos mask and respirator should be one with HEPA filters. And among products with this type of filters, masks with P100 filtration systems work the best for blocking airborne particulates, including asbestos fibers.
How Long Does Asbestos Stay in the Air?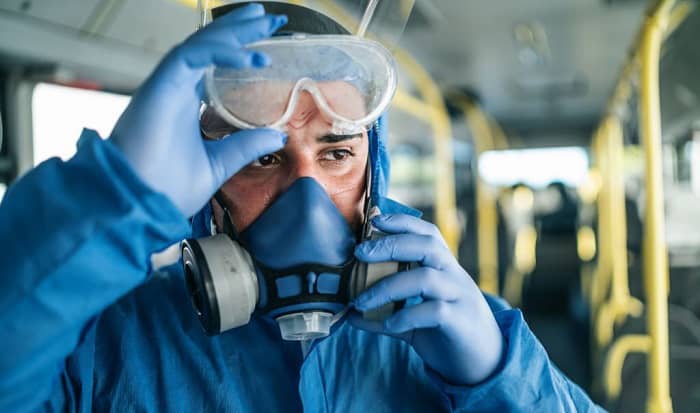 Asbestos can stay in the air for many hours, likely to remain there throughout our whole work shift once we release them. Without disturbance, it can take up to 2 or 3 days for asbestos to settle.
How Long Can You Wear an Asbestos Mask?
Even though face mask instructions might promise you extended wear for as long as 4-5 hours, you probably do not want to do that. Taking a short break every 2 hours is recommended to reduce fatigue, especially for heavy-duty tasks.
What Happens if You Breathe a Little Asbestos?
Just a little asbestos will not result in sudden pain or critical respiratory conditions. However, avoid inhaling this fiber as much as possible by wearing a proper mask. And, once you start to feel shortness of breath or sudden chest pain, get yourself checked immediately.
Conclusion
When working in hazardous environments involving airborne gases, vapors, and especially asbestos fibers, you need the best asbestos mask and respirator. Hopefully, our article already gives you an insight into which design to choose and which features should be prioritized.
Feel free to ask us any question and recommendations regarding selecting the fitting masks for your workplace safety. Thank you for reading!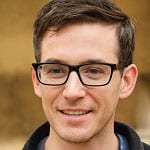 This is Edward Manning, the editor in chief of Construction Informer. Quite a bit of my time is spent researching the market and interviewing experts in the field so that I can give you reliable information.