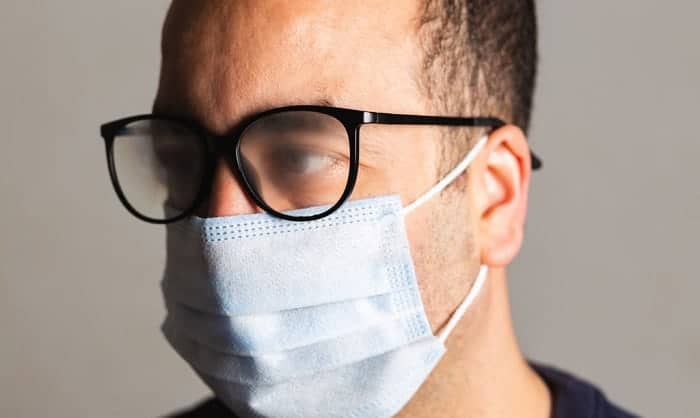 Safety glasses are equipped to shield our eyes against multiple hazards and provide us with optimal clarity. If they come with prescription lenses, they can correct our vision so we're aware of our surroundings and current tasks. However, all those functions and benefits of safety glasses can be disrupted if the lenses are foggy and blurry.
In other words, it is vital to keep our lenses mist-free. But before going into details about helpful tips to prevent vapor forming, we should first pick the best anti fog safety glasses. So, whether you are here for the maintenance advice or for checking out the top-rated pairs available, continue reading!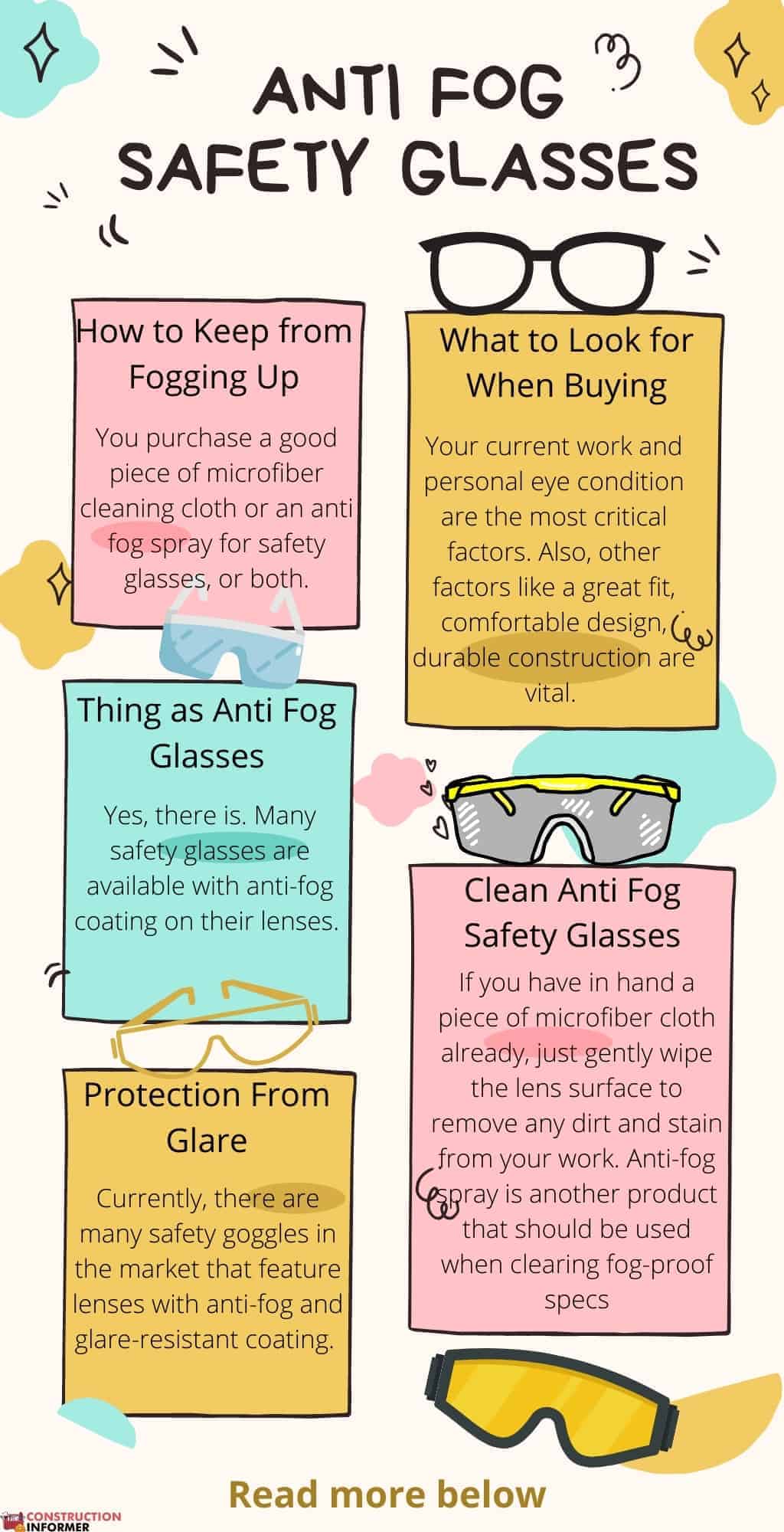 Featured Products
Best Overall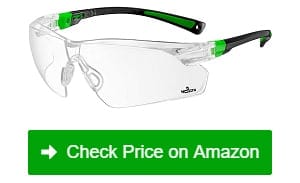 NoCry Safety Glasses
– Features a powerful anti-fog coating for vapor-free lenses
– Untinted lenses ensuring no optical distortion
– Blocks 90 – 100% UV rays
Editor's Pick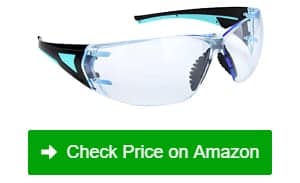 Mpow Safety Glasses
– Blue-tinted lenses excel at blocking UV rays
– Clear lenses are for splash and impact resistance
– Lightweight 1-ounce Polycarbonate construction
Premium Choice
Dollger Anti Fog Safety Glasses
– Various sizes and colors
– Clear lenses without misty and blurry spots
– Filters out harmful blue lights from digital screens
Best Anti Fog Safety Glasses Reviews
1. NoCry Safety Glasses with Clear Anti Fog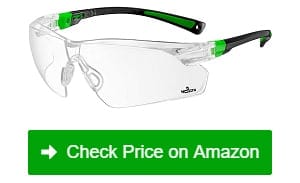 NoCry gear collections, either for head, eye, or hand protection, are widely loved and utilized by numerous workers. Accordingly, their NoCry Safety Glasses with Clear Anti Fog live up to the brand's reputation.
This pair is as powerful as advertised as it allows no fog to disrupt our work. If your main concern is misty lenses in humid and hot environments, wearing this item will ease your worry. Such a feature is possible due to its anti-fog coating that prevents vapor from building up on the lens surface.
The fog-resistant lenses are also untinted, ensuring no optical distortion to affect your work. Besides, they can resist scratches to maintain the anti-fog coating for a long time. With all those functions, you are guaranteed continuous and clear viewing when handling tasks.
While helping us see clearly, this pair also shields our eyes from Ultraviolet rays with an efficient rate of 90 to 100%. Plus, small flying objects like debris cannot attack us thanks to the wrap-around frame.
I also adore the specs' multiple color mixture, like white and pink or white and red. In my opinion, the model with green and black arms and crystal-clear lenses will surely turn heads.
The only drawback of this model, in my opinion, is the temples that can get stuck in your long hair when pulled out.
Pros
Features a powerful anti-fog coating for vapor-free lenses
Untinted lenses ensuring no optical distortion
Scratch-resistant coating to maintain no-fog and clear vision
Blocks 90 – 100% UV rays
Comes with a wrap-around frame to shield against flying debris
A nice look of different color mixtures
Cons
Might trap hair in between the temples, thus requiring gentle pulling out
Overall, just like many workers utilizing this eyewear, I have a satisfying experience with these non fogging safety glasses. Going for this pair is the right decision for anyone who wants to solve blurry and misty vision issues.
2. Mpow Safety Glasses with Anti Fog Lenses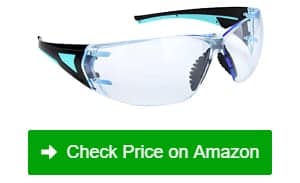 The next low-priced and functional pair for you to check out is the Mpow Safety Glasses with Anti Fog Lenses. Besides its property to prevent fogging, the piece is incorporated with multiple features to support my duties.
Depending on your preference, you can use either the blue-tinted or the clear lenses. Both items promote optimal clarity to perform the most detailed work. The clear one is ideal for lab and metalwork since it shields our eyes against splash and impact. Meanwhile, the blue model is perfect for outdoor tasks with its UV protection.
My chosen pair has blue-tinted lenses coated with an anti-fog layer. Its design also features silicone nose pieces with small holes for breathability. Thus, I can wear face masks and helmets while operating engines without my vision becoming blurry due to breath.
Other than being amazed by this pair's condensation-free feature, I appreciate its scratch-resistant coating. In truth, since these lenses can resist fog building up and scratches caused by sharp edges, workers are guaranteed visibility for a long time.
Another appeal of this model is its lightweight Polycarbonate construction, measuring 1 ounce only. After wearing it for a while, you might not even notice it's there. Plus, with all the great features offered, this one only costs us a fragment of high-end safety glasses out there.
Yet, the rubber parts on its earpieces might catch your hair if it's long. So, make sure you are careful and gentle when putting on or taking off the glasses.
Pros
Blue-tinted lenses excel at blocking UV rays
Clear lenses are for splash and impact resistance
Comes with anti-fog coating for no condensation and silicone nose pieces
Features a scratch-resistant coating for long-lasting clarity
Lightweight 1-ounce Polycarbonate construction
A budget-friendly pair of fog proof safety goggles
Cons
Rubber parts on the earpieces can catch long hair
Such a minor inconvenience is nothing compared to this pair's excellent anti-fog, scratch-resistant, or UV-protection attributes. Thus, I recommended you give it a try.
3. Dollger Anti Fog Safety Glasses
Coming in various sizes and colors, the Dollger Anti Fog Safety Glasses can deliver a great fit and protection for many of us. You would be surprised by how good this casual eyewear looks on you.
These Dollger specs are applicable for garden, wood, metal, dentistry work, etc. The main reason for its wide application is the clear lenses ensuring continuous viewing without blurry and misty spots.
If your work is handling objects up close, it is essential not to have breath, or moisture condensation gets in the way. That means the ideal safety goggles should allow mask wearing while maintaining visual clarity. Luckily, this model comes with available anti-fog lenses to cater to such needs.
Apart from its no-fogging function, the pair also provides excellent filtration of harmful blue lights generated from digital screens. Wearing this protective eyewear when working with your computers will reduce eye strain, thus ensuring a night of better sleep.
If you are a fan of casual specs without a bulky body, you will adore this design. Its TR90 frame is thin and lightweight with transparent side shields, giving an elegant and classic look that resembles our daily-wear prescription glasses.
However, the side pieces do not allow clear viewing, so your peripheral vision is not as broad as expected.
Pros
Various sizes and colors
Clear lenses without misty and blurry spots
Ensures no breath or moisture condensation
Filters out harmful blue lights from digital screens
Comes with a thin and unbulky design for casual wear
Lightweight TR90 frame with transparent side shields
Cons
The side pieces do not support viewing
This pair of fogless safety glasses offers an elegant look that I always want for my daily work. I can rely on it to have optimal clarity without fogging and blurring issues.
4. KLEENGUARD – 49309 Maverick Safety Eyewear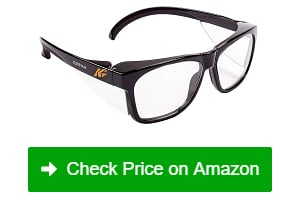 Another affordable pair of goggles that reduces fogging for wearers is the KLEENGUARD – 49309 Maverick Safety Eyewear. You should try the item out to enjoy its UV protection and comfort as well.
The best perk of this eyewear must be its fog-resistant lenses. This is due to the coating that quickly becomes clear when breath condensation starts forming on the glasses. As a result, even when you wear face masks and handle tasks in a humid workplace, it is unlikely that the piece will be blurry and misty.
You can also notice how this item's design supports its anti-fog function. In detail, the side shields and brow guard are created to keep debris and dust out yet leave small space for breathability.
Besides, the specs come with multiple protection features like anti-UV lenses, which block harmful sun rays from hurting our vision. You can confidently wear this piece to perform in an open area.
Also, it is comfortable enough to not irritate our nose or ears after several hours due to the light and form-fitting design. However, you should make sure that the glasses fit your face size well since they are designed to be a tad smaller than the standard ones.
Pros
Low-priced quality fog proof safety glasses
Provides clarity for users wearing masks in humid conditions
Comes with breathable side shields and brow guard to block debris and dust
UV-protection lenses for work in open areas
Comfortable and lightweight design
Cons
A tad smaller than standard sizing, thus not ideal for large faces
All in all, this pair of fog resistant safety glasses is among the best specs that offer us clarity at such a price range. Hence, I see no reason why we should hesitate to try it, as long as it conforms to our faces well.
5. Dewalt DPG82-11C Anti-Fog Safety Goggle
Dewalt is a giant producing work and protection gear for multiple fields. You might already be familiar with them and seek anti-fog eyewear from their reliable products. If so, check out this DPG82-11C Safety Goggle.
Both its lens and design are constructed to offer a fog-free vision for workers in all set-ups. In truth, the one-piece lens features an Xtra clear anti-fog coating that works more effectively than standard coatings found in other competing products.
Also, the incorporated dual-injected rubber prevents humidity and moisture from getting in and blurring our glasses. At the same time, the ventilation channels are added for us to feel more breathable while promoting the quick clearing of fogging.
And, you should not worry about the lens being subjected to severe scratches because they have another hard coating that can afford unparalleled durability. Flying debris, dust, and other airborne particles cannot disturb us thanks to the tough wrapping.
Such a construction shows the brand's effort in delivering excellent visibility throughout our performances. Plus, they make sure we have enough protection and comfort by providing an adjustable and tight elastic headband.
The brand seems to favor black and yellow frames as the Dewalt dpg55-11c clear anti-fog safety glasses also utilize this combination. But, there is no other choice than that, which might not be everyone's cup of tea, style-wise.
Pros
Comes from a reliable brand for work and protection gear
Offers a fog-free vision with the Xtra clear anti-fog coating
Incorporated dual-injected rubber for comfort
Added ventilated channels for more breathability and less fogging
Scratch-resistant coating and wrapping
Comfortable wear with the adjustable and tight elastic headband
Cons
Only one color choice: black and yellow
I find this pair of Xtra clear anti fog safety glasses sporty and good-looking. If you enjoy such a design and want to experience its superb fog-proof functions, get hold of one pair right away!
6. LianSan Anti-Fog Anti-Saliva Safety Glasses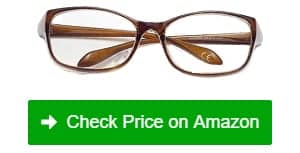 Our breath and the humid working condition are the primary causes behind a misty pair of lenses. To tackle both, we can confidently wear the LianSan Anti-Fog Anti-Saliva Safety Glasses.
The distinctive function of this goggle is preventing fog from covering our lenses and hindering our visibility. It does so with the double coatings that excel at resisting condensation in hot and humid environments.
Notably, such an effect will work better if you clean these lenses with the piece of anti-fog cloth included in this package. That means if you carry the fabric in your pocket, chances are, you will never experience any optical distortion caused by dense fogging.
I deem this pair functional safety glasses since it shields our eyes against various hazards. Small dust and airborne particles are among those stopped by the wrap-around design of the item.
Furthermore, wearing these goggles means that you are putting up a shield against both UV rays and harmful blue lights. The device filters out natural and artificial rays that potentially cause harm to our eyes, making sure we handle tasks with ultimate safety and clarity.
While many users love this model's friendly and casual design, some buyers do not seem to favor what they see as a "nerdy look" like student glasses.
Pros
Comes with double coatings for an effective fog-free function
Includes a piece of anti-fog cloth to clear condensation
Shields against dust and airborne particles with the wrap-around design
Shields against UV rays and blue lights
Cons
Can look quite "nerdy", according to some users
Whether these glasses are good-looking enough is all about personal preference. If you find them attractive and suitable for your style, consider purchasing them for a fog-free and saliva-free vision.
7. Uvex by Honeywell Hypershock Safety Glasses
The Uvex by Honeywell Hypershock Safety Glasses fall into the category of anti-fog eyewear as their performance amazes numerous workers. For me, this one is an ideal pick for a stylish and fog-free workday.
As expected, the quality pair comes with Polycarbonate lenses, ensuring durability and scratch resistance. Yet, the best thing is that these lenses are coated with a permanent fog-proof cover. Hence, you can rest assured that the glasses' function to clear condensation will be highly effective and long-lasting.
Furthermore, this pair of anti fog safety goggles does an excellent job of reducing sun glare and increasing visibility in low-light conditions indoors. Whether you work inside or outside, it can serve you well.
Also, I appreciate its lightweight wrapping construction that offers protective and comfy feels. In truth, this superior model meets the ANSI Z87.1 standard for impact resistance and features soft nose pieces and inserts.
This one's fashionable design never ceases to amaze me, as it gives me various outfit inspirations. Whether you want to have a modern, sporty, or elegant look, the model can match well with your pick.
Beyond that, an important note for you before purchasing is about this pair's size: it fits people with a wide and large face better.
Pros
Scratch and impact-resistant Polycarbonate lenses
Has a permanent fog-proof coating
Reduces sun glare and improves visibility in low-light conditions
Meets ANSI Z87.1 standard for protective use
Comfortable wear with soft nose piece and inserts
A fashionable design for limitless outfit inspirations
Cons
Not ideal for people with a small face
All things considered, it is hard to resist such a fashionable yet protective and comfortable pair. Most importantly, the piece serves as great anti fog for safety glasses.
8. 3M Safety Solus 1000 Series Anti-Fog Glasses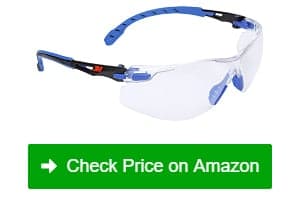 When confused among numerous goggles available, it is best to browse through reliable brands' widely-used products. If you do so, you will find out all the great functions of the 3M Safety Solus 1000 Series Anti-Fog Glasses.
Coming in three lens colors, all models from this series boast a futuristic look that most bikers are fond of. But there's no limit to these glasses' utilization since they are applicable for indoor, outdoor, humid, hot, and any other climate-controlled workplaces.
This review would focus more on the Scotchgard model with a black & blue frame and clear lenses. This pair's fog-resistant coating is superior since its formula has an active ingredient that allows an efficient bonding to the lenses.
Hence, condensation is unlikely to form on the lenses' surface, ensuring multiple hours of clarity despite the surrounding environments. Plus, thanks to the active ingredient, this 3M eyewear shows a better ability at keeping fogging at bay, even when worn with an N95 or surgical mask.
Besides, these goggles are surprisingly comfortable to wear for hours on end. It must be because of the soft nose piece and the padded temples that are designed for less pressure on the user's face.
The only gripe I have about this product must be the misleading info that a foam gasket and strap are included in the package. It turns out that we have to purchase those accessories separately.
Pros
Ideal for various climate-controlled workplaces
Boasts a futuristic look with different lens color options
A superior fog-resistant coating containing an active ingredient
Ensures hours of condensation-free lenses, even with masks on
Comfortable wear with a soft nose piece and padded temples
Cons
No foam gasket and strap included
All in all, if you consult me about which anti fog safety glasses to wear with mask, I would immediately recommend this 3M pair.
9. Xmifer Anti Fog Safety Glasses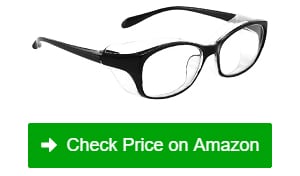 The Xmifer Anti Fog Safety Glasses could be every gardener's ideal companion, as their protective design is indeed practical. Also, you can benefit significantly from the multi-functional lenses the goggles offer.
The first thing that strikes me is their free-fogging function. I doubted they would perform well in a high-temperature environment with much humidity, yet the glasses proved otherwise as they worked wonders throughout my tasks. I came to trust these anti-fog lenses to have excellent clarity for the most complex projects.
You should also know that this item supports various work scenarios with its anti-saliva lenses. For instance, the pair prevents the condensation formed as our breath reaches the glass surface, often when we wear face masks. Thus, it is ideal for performances in laboratories.
Also, it promotes safe wear by shielding our eyes against pollen, dust, and any small particles. Such a feature allows us to wear them while gardening, cleaning, etc., with utmost ease.
Last but not least, the safety goggles can be in charge of filtering our hazardous blue lights. This comes in handy when we work in front of the computer screen for hours on end.
Still, this piece might feel a bit tight behind your ears due to its curving design. You can redeem such an issue with the mini screwdriver included in the package.
Pros
Free-fogging lenses that allow work in high-temperature and humid places
Anti-saliva function for clarity even while wearing masks
Shields eyes against pollen, dust, and other small particles
Filters out harmful blue lights from computer screen
Ideal for gardening, laboratory work, etc
Cons
Feels a bit tight behind the ears (adjustable with the mini screwdriver included)
The bottom line is this pair can be the best anti fog safety glasses with mask for use in various tasks and scenarios.
10. Uvex S2880HS Avatar Safety Glasses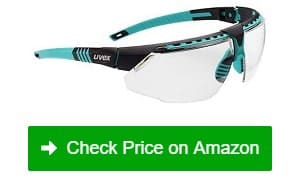 Far gone is the day that we have to compromise good looks for practical use. Take the Uvex S2880HS Avatar Safety Glasses, for example; they are both stylish and super clear, promising users a great experience.
Like all the best fog free safety glasses we can find, this design comes with an anti-fog coating. Many nurses that take care of COVID-19 patients can rely on the glasses without having sweat and breath fogged up the lenses.
Such a pair of goggles is applicable in critical hospital work because it does not create mist from the humidity and heat of wearing hospital head shields. You can trust both the anti-fog coating and the eyewear's breathable design to deliver the required clarity.
Authority approval is another factor that buyers should consider when choosing safety gear. In that case, this product is a suitable pick as it meets ANSI Z87.1 standard for eye-protection equipment with high impact endurance.
The main catch of this one's look is its half-frame style, which reduces the bulkiness. As a result, the pair looks and feels sheerer and more lightweight, resembling sporty glasses rather than safety goggles. And, of course, the mixture of teal and black on the frame gives a modern look to this model.
However, this one cannot protect your eyes from hazardous UV rays, so it should not be used as outdoor work safety glasses.
Pros
Features an anti-fog coating for no sweat and breath condensation
Offers clarity despite humidity and heat of headshields
Meets ANSI Z87.1 for high impact
The half-frame style for an unbulky, lightweight, and sheer pair
Teal and black frame for a modern and stylish look
Cons
No UV protection, thus not ideal for outdoor wear
Overall, if you are looking for the best anti fog safety glasses for nurses or anti fog safety glasses for healthcare workers, I would recommend this hospital-wear item from Uvex.
11. Jo Anti Fog Safety Goggles
Another multi-function pair that makes it to this list is the Jo Anti Fog Safety Goggles. The design concept of the pair is for delivering reliable protection and excellent visibility for wearers.
I am pleased to experience first-hand the anti-fog function of this Jo Store eyewear. Among other features the pair incorporates, I would say its ability to resist condensation forming is the best. Despite the high humidity level in my workplace, there's little to no sign of blurs on its crystal-clear lenses.
What makes this gear stand out among other fog-proof goggles must be its ability to block UV rays and harmful blue lights. Both are dangerous factors that harm our vision while working outdoors or in front of digital screens for long.
While offering crisp optical clarity with its anti-fog lenses, the pair can also keep all debris, pollen, dust, and numerous tiny particles out of our eyes. Its design of added side shields plays a significant role in that.
All those great functions are supported with a lightweight and durable TR90 frame. You can wear the protective piece all day without feeling any burden or irritation caused by press points.
Plus, there are multiple colors and multiple lens dimensions for you to choose your best match.
Just a side note, even though these lenses are shatter-proof, they can be subjected to scratching when in contact with sharp edges.
Pros
Resists condensation forming on the crystal-clear lenses
Blocks UV rays and blue lights
Keeps debris, pollen, dust, and tiny particles with the added side shields
Boasts a lightweight and durable TR90 frame
Available in many colors
Cons
Not entirely scratch-resistant
The minor disadvantage should not hold you back from enjoying this all-rounder that offers clarity without fogging for all your tasks. I find the glasses cute and comfortable — a must-have for long-hour work.
12. MAGID Y50BKAFC Design Series Safety Glasses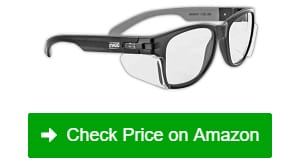 Another highlight of this list is the MAGID Y50BKAFC Safety Glasses. This product wins my trust after a few uses with its anti-fog property that is as powerful as high-end eyewear.
With a similar look to classic glasses that we often wear, this one does not give off a bulky vibe at all. The black frame and transparent lens model of this series is my favorite, as I can wear it on many occasions, either for outdoor or indoor tasks.
The best attributes of the specs must be the scratch-resistant and anti-fog lenses. The combination of those features results in superb clarity required for detailed work.
We always find it hard to focus when our lenses are condensed with moisture when wearing a headshield, mask, or both. Luckily, this fog-proof eyewear can solve the problem, allowing every wearer to experience the glass design's peripheral vision fully.
Another irresistible charm of the safety glasses is excellent comfort. Wearing a pair for a long time can result in red ears and nose, especially when the piece fits too tight. But this design allows us to have a great time working without those irritations, thanks to its soft temple pads and lightweight nylon frame.
Yet, compared to those competing pairs above, this one can cost you a little more. But I think all its great attributes justify such a price tag.
Pros
Stylish and classic model with a black frame and crystal lenses
Scratch-resistant and anti-fog lenses for long-lasting clarity
Ideal for wearing with headshield, mask, and both, without fogging
Offers a great peripheral view
Excellent comfort with the soft temple pads and lightweight frame
Cons
Costs a bit more than other anti-fog eyewear
I deem this pair of fog-proof glasses a valuable investment, as its clear lenses are functional and durable, thus promising long-lasting use.
13. Tavool Anti Fog Safety Glasses
For any of us who have to wear prescription specs to correct our vision, these Tavool Anti Fog Safety Glasses should be our perfect companion.
We cannot afford to take off prescription glasses while performing tasks, so putting this apparatus on is the best solution. It features crystal-clear lenses that are not subjected to heavy fogging, thus ensuring no vision compromise.
A high-definition viewing is an utmost factor that eyewear should offer workers. And in this product, the anti-fog coating that can resist shatter and impact will cater to such a requirement. Thus, you can confidently work in hot and humid conditions without worrying that both your prescription and OTG lenses are blurry.
A high level of protection is another criterion that the safety specs should provide. This one forms a military-grade PC shield that stops flying objects from scratching our prescription glasses and attacking our eyes.
Notably, the whole construction of this model promotes a comfortable experience for hours on end. In truth, its lightweight plastic frame adds no burden, and the large noise pad fits nicely without a pressure point. We can say that the pair can afford no eye fatigue for all-day wear.
But there is only one option in terms of styles and colors. That means you should not expect a stylish look when putting it on for work.
Pros
An over-the-glass pair to cover the prescription specs
Comes with crystal-clear lenses
Provides fog-proof coating that resists shatter and impact
Brings a high level of protection with military-grade PC shield
Comfortable wear with a lightweight plastic frame and large nose pads
Without a variety of stylish shades, this one remains one of my all-time favorite OTG eyewear that solves fogging issues. If you want basic
safety glasses over your prescription
ones, look no further than this design.
14. MCR Safety Crews BearKat 3 Glasses
The MCR Safety Crews BearKat 3 Glasses can be everything you ask for in anti-fog eyewear and at a surprisingly low cost.
I would say this is a hot bargain for buyers with a tight budget. And with an affordable pair like this one, there will be some kind of quality compromise. However, if there are some lacking attributes, it is definitely not the anti-fog function. In fact, its fog-proof coating performs three times greater than generic anti-fog pairs.
In other words, this low-priced pair excels at keeping condensation and fog at bay while we work in different weather conditions. You can prepare all the head and face protection gear needed for the tasks, then put the goggles on. Chances are, heavy fogging will never appear on the lenses, allowing a continuous and clear vision.
Some other nice perks incorporated in this versatile model are UV protection and blue-light blocking. While the former function is superb for outdoor work, the latter is sufficient for digital screen use.
Besides, this BearKat 3 comes with a secure nosepiece that eliminates the possibility of easy falling. And the part is soft enough for us to feel no pressure and burden for an extended period.
However, this device can be bent if you do not handle it with care since the thermoplastic polyurethane frame is not that strong.
Pros
A low-priced anti-fog pair
The fog-proof coating works three times greater than generic anti-fog ones
Keeps the condensation at bay while worn with head and face gear
Versatile lenses blocking UV and some blue lights
Features a soft and secure nose piece
Cons
Requires much care to not bend the frame
Overall, these anti-fog specs fit the bill, and more importantly, perform well compared to other same or even higher-priced fog-proof pairs. Hence, I see no reason to miss out on trying them.
15. Carhartt Billings Safety Glasses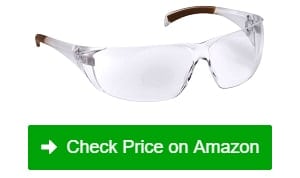 The last entry that completes our list is the Carhartt Billings Safety Glasses. This pair is another low-cost eyewear that suffices when it comes to clearing foggy vision for workers.
When we breathe into our mask, condensation usually forms on the lens surfaces. Such a frequent occurrence causes much trouble for our work since the clarity is badly affected. That's why we need specs with an anti-fog coating like this item.
It is among the most loved, if not the best fog-proof goggles at such a low price range. With an investment of two or three times lower than usual, we will have in hand an effective device that resists fog build-up.
Notably, the functional pair also meets critical standards for safety eye protection gear like ANSI Z87.1 and CAN/CSA Z94.3-07 specifications. Such certifications show that this product can handle both fogging and impact issues. In other words, you should not worry about its lenses scratching and breaking any time soon.
Workers who perform in open areas and under glaring sun rays will appreciate this feature – UV protection. In detail, the model will act as a solid shield that blocks UVA, UVB, and UVC rays from hurting our eyes and distorting our vision.
However, these glasses might not be the ideal choice if you have a large face since their bows are made a bit tight for a stable and secure sit.
Pros
An anti-fog device that prevents fogging caused by breath
Super affordable goggles
Meets ANSI Z87.1 and CAN/CSA Z94.3-07 specifications for eye protection gear
Resists scratches and breakage for long-lasting clarity
Shields against UVA, UVB, and UVC rays
Cons
Not ideal for people with a large face
All in all, this safety pair is a must-have for anyone who seeks affordable anti-fog eyewear. You would be amazed by how well it performs, considering the low price it offers.
What to Look for When Buying Anti Fog Safety Glasses?
You can check out different criteria to know which one is the best anti-fog pair to purchase. First of all, your current work and personal eye condition are the most critical factors. If the workplace is hot and humid and the tasks require extra masks and headgear, make sure you have the most effective anti-fog coated lenses in hand.
Also, other factors like a great fit, comfortable design, durable construction are vital. You could not afford to have a pair that bugs you from time to time while working, as it is not comfortable and well-fitted enough. Besides, make sure to check the price and style that meets your standard before purchasing.
If you are still in the dark about which products to consider, you can go through the list of top choices on review pages or check out Reddit recommendations.
How Do I Keep My Safety Glasses from Fogging Up?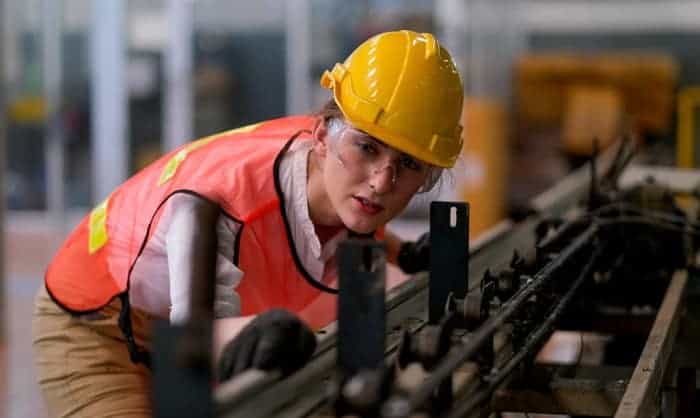 After choosing your ideal pair, make sure you purchase a good piece of microfiber cleaning cloth or an anti fog spray for safety glasses, or both. These two products can help you take care of the coating on the lenses, enhancing and prolonging their performance.
Is There Such a Thing as Anti Fog Glasses?
Yes, there is. Many safety glasses are available with anti-fog coating on their lenses. They can be in multiple lens tints and types, whichever meets your work and vision correctness requirements.
Can Anti-Fog Safety Glasses Offer Protection From Glare?
Currently, there are many safety goggles in the market that feature lenses with anti-fog and glare-resistant coating. Some pieces are incorporated with UV protection and blue-light blocking, meaning they ensure no glare from harmful natural and artificial rays.
We also have a list of polarized safety glasses for your reference. Furthermore, check our reviews about the top-rated photochromic safety glasses if you need
How to Clean Anti Fog Safety Glasses?
If you have in hand a piece of microfiber cloth already, just gently wipe the lens surface to remove any dirt and stain from your work. Anti-fog spray is another product that should be used when clearing fog-proof specs. Only some drops of the liquid and your careful wiping, the glasses will be as clear as new.
Conclusion
While working in a hot and humid environment where breathing into your mask can result in poor vision, wearing the best anti fog safety glasses is a must. In fact, in any case when you need protective eyewear, the fog-proof function is a critical factor that should be included. Hopefully, after reading our review, you already have a good pair in mind.
Hi, I am Alexander, forty-seven years old this year. I have been in the construction industry for twenty-five years and have provided a wide range of services. When it comes to expert guidance on site safety gear, you can put your trust in me.