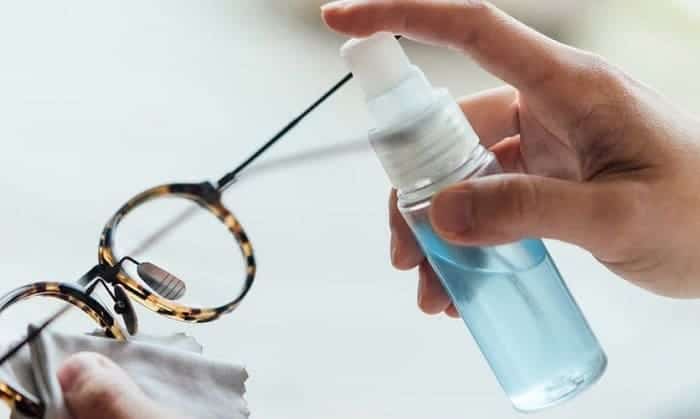 A foggy lens is the last thing we want while working, playing sports games, or joining any activities involving wearing safety or prescription glasses. It can bring much inconvenience, ruin the fun, even lead to unwanted incidents and injuries.
The thing is, whether yo1ur glasses can resist condensation or not, it is recommended to have the best anti fog spray. That way, you can ensure a clear line of vision for always, making your life easier and much safer.
Once you are convinced that anti fog spray for eyeglasses is a must-have, the only thing left is to buy a good product. We will offer some help to make you decide; read on to see the best options available and some helpful guides we gather.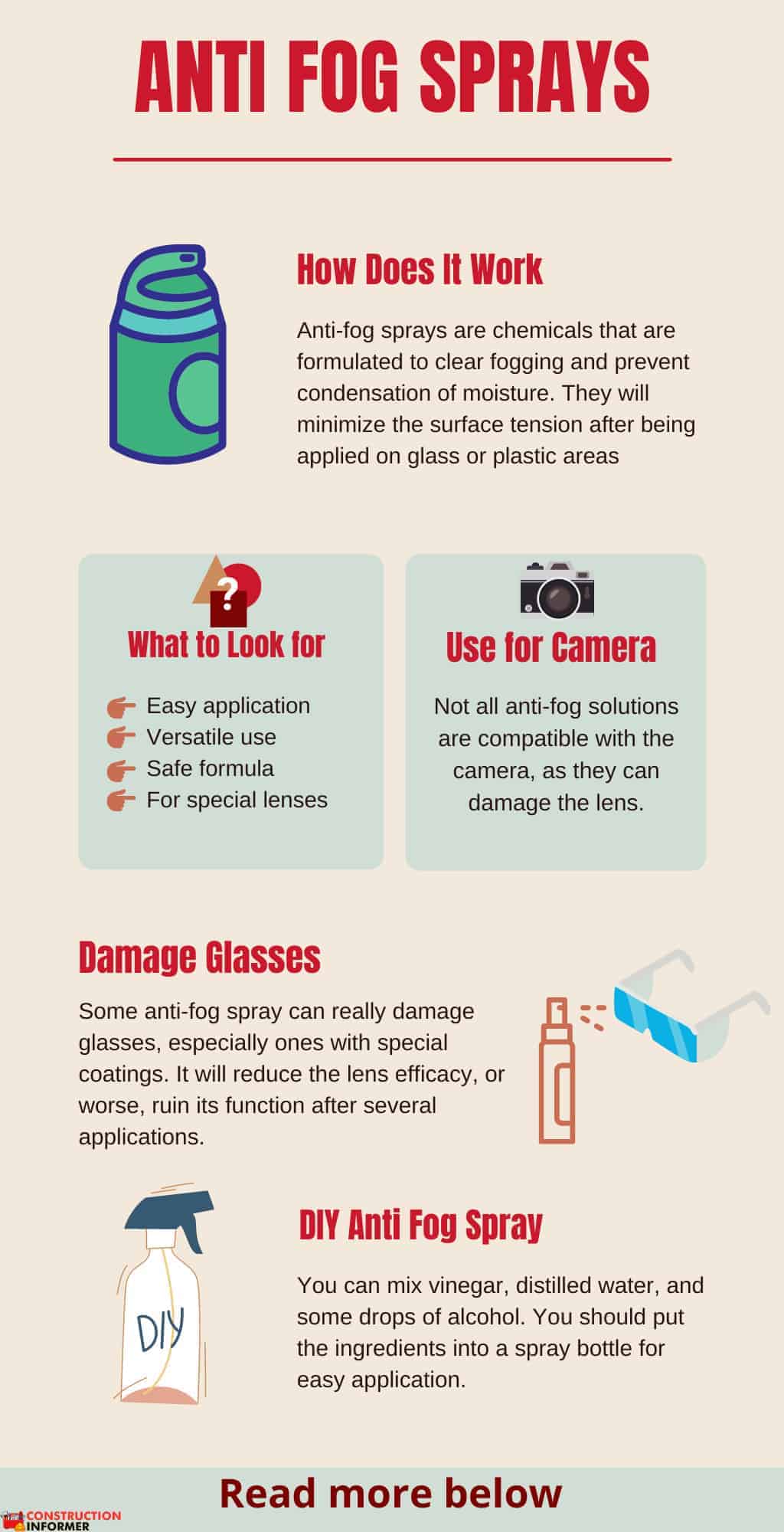 Featured Products
Best Overall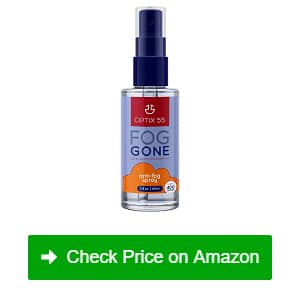 Optix 55 Anti-Fog Spray
– Ultra-high-tech formula to treat non-glare glasses
– A natural and hypoallergenic spray for safe use
– Ideal for swim goggles, scopes, and windshields, etc
Editor's Pick
Spalaqua Anti Fog Spray
– Suitable anti fog for glasses while wearing a mask
– Promotes long-lasting effect throughout the day
– An affordable option for anti-fog spray
Premium Choice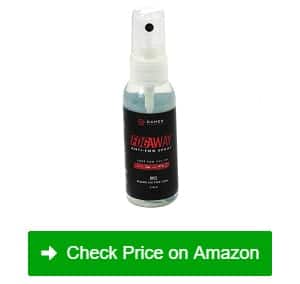 Gammer Advantage Anti Fog Spray
–  Made-in-USA product, trusted by many professionals
– Safe for use on superhydrophobic and anti-glare glasses
–  Stands up against humidity and changing temperatures
Best Anti Fog Spray Reviews
1. Optix 55 Anti-Fog Spray for Lenses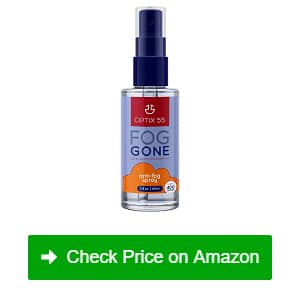 A product that is trusted and widely used by workers is the Optix 55 Anti-Fog Spray. If you own a pair of anti-reflective glasses, this fog-gone spray will do enormous good.
As non-glare glasses are manufactured for high-resolution applications, misted-up lenses will hinder their function significantly. In that case, this spray comes to the rescue with its ultra-high-tech formula.
A small amount to both lens sides spread by your fingers will defog the glasses after sitting there for a minute. You can clean all the residues away with a piece of soft cloth, and voila! You are good to go.
Another important thing that we care about when shopping for an eyewear spray product is its safe use. We cannot afford to have a toxic agent trigger our allergies or irritation like eye redness. That's why this natural and hypoallergenic spray is ideal for long-term use, giving us everything but harmful chemicals.
Furthermore, its application is not exclusive to anti-glare lenses, but it is also ideal for prescription, polarized, and photochromic glasses. You can spray this one swim goggles, scopes, even windshields, whichever item you want to keep away from unwanted fogging.
Still, this bottle's pump is a bit flimsy, so you should make sure that it's screwed tightly and stored alone. Or else, the fluid inside will spill out when being stacked under layers of heavy stuff in your bag.
Pros
Uses ultra-high-tech formula to treat non-glare glasses
Easy use: spread the fluid with fingers, wait a minute, then wipe it off
A natural and hypoallergenic spray for safe use
Applicable to prescription, polarized, and photochromic glasses
Ideal for swim goggles, scopes, and windshields, etc
Cons
The bottle bump is a bit flimsy, thus require careful checking and storing
It takes little effort to ensure that the bottle is intact if we bring them along to clear our glasses. That way, we can enjoy this anti fog spray for spectacles till the last drop.
2. Spalaqua Anti Fog Spray Eyeglass
Face masks have become a part of our life, and they are here to stay for a while. Thus, to wear them without compromising our visual clarity, we need an effective anti-fog spray like this product from Spalaqua.
The spray is popular among medical workers for its long-lasting effect. In truth, one application can maintain their eyewear visibility for hours on end without respray. During that period, they can put on medical masks and handle tasks with optimal protection.
What amazes me most is how this spray can work well for underwater conditions. Suppose you wear goggles made for swimming, snorkeling, or scuba diving and want to enjoy the full experience underwater. Then, treating the pair with some drops of this anti-fog solution is a must.
Another thing you should know about this product is its safe use on anti-reflective lenses. This kind of protective eyewear that reduces glare for outdoor work requires more care to avoid damaging its coating. Thus, if you have such a pair in your collection, it is sensible to invest in this safe anti-fog spray.
The item is advertised to work instantly, that it will clean potential fogging within several seconds on the lenses. But then, I realized that it would not work that way. If you want the fog resistance to last, wait for some minutes or more before clearing the fluid with a soft cloth.
Still, once the spray is applied correctly, it offers excellent performance for as long as desired. Plus, I deem this one a valuable purchase, considering its affordable price and great use.
Pros
Suitable anti fog for glasses while wearing a mask
Promotes long-lasting effect throughout the day
Works wonder underwater, thus ideal for swimming, snorkeling, or scuba diving
Safe to use on anti-reflective lenses
An affordable option for anti-fog spray
Cons
Must stay on some minutes, or longer, to work as intended
Preparation for your work with protective eyewear and face mask cannot get easier than this. Just make sure you follow the suggestion about waiting time before cleaning off the spray.
3. Gammer Advantage Anti Fog Spray for Glasses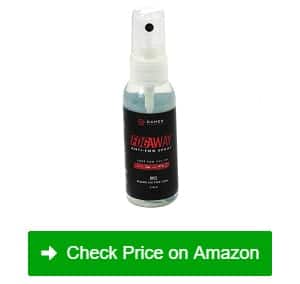 Another wide-ranging product that eases the worry of various users is the Gamer Advantage Anti Fog Spray for Glasses. I also vouched for this solution's versatile application on different devices.
As a made-in-USA product, the Gamer Advantage spray seems to be favored among buyers due to its manufacturing credibility. Once using it, you will be glad how it resolves fogging issues quickly and effectively. In truth, this spray has always been the go-to product for eye doctors, safety professionals, and more.
To start with, this solution is safe for various lens coatings. You can apply it on superhydrophobic glasses that repel water or anti-glare ones that block reflective lights. Those special safety eyewear coatings will be intact while offering superb clarity for our tasks.
Furthermore, challenging weather conditions at some worksites should not reduce the efficacy of this solution. It helps the lenses stand up against high humidity and allow them to stay clear despite changing temperatures. Plus, its formula is silicone-free, ensuring no hazy spots after being wiped off gently.
Since this spray comes with a long-lasting effect, you will not need to apply it many times between work shifts. Just a few sprays are enough for all-day work without disruption.
Lastly, it comes at a higher price than many competing anti-fog sprays. Yet, such a valuable product can be used for visors, windshields, binoculars, digital screens, and even camera lenses. As I told you, it's like a one-size-fits-all solution for multiple devices.
Pros
Made-in-USA product, trusted by many professionals
Safe for use on superhydrophobic and anti-glare glasses
Stands up against humidity and changing temperatures
Silicone-free agent leaving no haze
A few spray for a long-lasting effect
All-rounder solution for visors, windshields, binoculars, digital screens, …
Cons
At a higher price than man competing products
As a magical solution reveals itself, grab the chance to enjoy its function. If you want nothing but the best anti fog for goggles, glasses, windshields, and more, look no further than this one.
4. Optix 55 New Anti Fog Spray for Glasses
Blurry lenses often happen and cause much trouble, especially for workers who wear face masks and headgear. One quick way to solve this problem is using the Optix 55 New Anti Fog Spray for Glasses – an updated product that banishes fog and brings back the glass sparkle.
You can find in this new version all the good attributes of a typical Optix 55 product. It allows easy use, which involves four steps. First, spray a little fluid on the lenses, then move your fingers in a circular motion to spread it. After waiting for some minutes, you can clean it with a soft cloth.
Finally, you can enjoy superb clarity without ugly residues because of its streak-free feature. The treated lenses will show no sign of condensation, often from breath, high humidity, or hot weather.
The product not only supports people's work in different conditions, but also compatible with multiple gear types. In detail, some drops of this anti-fog spray will keep your anti-reflective specs, binoculars, telescopes, and even rifle scopes from being misted up.
Also, this bottle is compact, perfect for traveling with your prescription glasses or swimming goggles. You can put this small item measuring 2 oz only into your package and start the journey!
Still, after several hours of wearing masks and working in humid places, you should reapply the spray to ensure the fog-free effect is always on top of its game.
Pros
Allows easy use in 4 quick steps
The streak-free formula for superb clarity without ugly residues
Banishes fogging caused by breath, high humidity, or hot weather
Supports various gear types: anti-reflective specs, binoculars, telescopes, …
A compact size measuring 2 oz for easy traveling
Cons
Requires respray to maintain the clarity
I do not see multiple applications as much trouble, as long as the defogging spray helps my glasses stay clear. Plus, considering all the great convenience and functions this product offers, it's worth using.
5. DEBATLOG Anti-Fog Spray for Glasses
Eyewear spray will be exposed to your eyes at close range, so it's critical to opt for an ultimately safe one. Among multiple effective products available, the DEBATLOG Anti-Fog Spray can ensure such safety.
In truth, there are no harsh chemicals that can cause eye irritation or trigger allergic reactions in its formula. Besides, this hydrophilicity spray is safe for your eyeglasses as well. It is formulated using nanotechnology, ensuring no scratches to your lens coatings and finishes.
In terms of efficacy and versatility, the spray does not disappoint as it works wonders on different surfaces. You can apply it on goggles used underwater, or shields, or a hockey game. Of course, the spray will eliminate mist on your prescription glasses for daily wear with masks.
One perk of spray products is an effortless application, and this anti-fog fluid is not an exception. Yet, you should follow the given instruction to ensure satisfying clarity for your eyewear.
As for this Debatlog, other than the usual method of using your fingers to spread the liquid in a concentric circle move, you can apply it in another way. By including a soft piece of cloth in the package, the brand allows users to spray the liquid on the cloth then wipe it on the eyewear lenses.
Lastly, this compact and durable bottle accommodates up to 15ml of fog-free fluid. That amount translates to around 100 times spraying on glasses and other gear. You can bring it along on a trip and quickly put it on to enjoy fun outdoor activities.
Pros
No harsh chemicals, thus safe to use near our eyes
A hydrophilicity spray formulated to cause no scratches to lens coatings
A practical and versatile product for underwater conditions and more
Effortless application with two methods, one involves the included soft cloth
Durable and compact bottle with 15ml for nearly 100 times application
Cons
Requires following the instructions carefully
All in all, if you seek the best anti fog spray for prescription glasses, swimming goggles, or hockey shields, you can confidently go for this functional product from Debatlog.
6. Just Add Water Jaws Quick Spit Antifog Spray
The Just Add Water Jaws Quick Spit Antifog Spray always leaves me in awe with how fast yet long-lasting its performance is.
If you value a safe formula while searching for free-fog liquids, which I think everyone should, this product is among your best picks. The no-toxic chemical solution gives us peace of mind when applying it to our glasses.
Due to the all-natural ingredients, this one is friendly to both glass and plastic gear. Thus, it is applicable on sports goggles, paintball masks, ski eyewear, windows, you name it. You can spray the solution on a surface and expect it to stay clear for a long while without streaks and residues.
Another thing that Quick Pit is proud to deliver is an easy and quick applying process. As the agent comes in a spray bottle, we only need to press it gently toward the designated surface and wait for the fluid to dry for some minutes. Make sure you do not touch the lenses with your fingers or cloth of any sort.
Please note that the product is suitable for both wet and dry applications, whichever way works best for you.
We are provided with more than 200 pumps in one bottle, equivalent to several months' frequent use. If your workplace is often hot and humid, equipping yourself with this product to last through a whole season is advisable.
I need to emphasize this one more time, as this anti-fog spray is quite different from other types above: Do not touch the film it leaves after dry.
Pros
Formulated without toxic chemicals
Friendly to both glass and plastic surfaces
Stays clear for long without streaks and residues
Easy and quick applying process: just spray, no spreading required
Allows both dry and wet applications
Offers more than 200 pumps, sufficient for several months' use
Cons
Touching the sprayed surface ruins its dry film, thus affecting the anti-fog function
With no major issue, anti fog spray for sports glasses and work gear offers the best service with its powerful yet safe formula.
7. Quick Sheen Anti-Fog Spray
Another product that is available in both small bottle and gallon sizes is the Quick Sheen Anti-Fog Spray. It is indeed an antidote to fogging glasses used in sports and workplaces.
As its name suggests, the spray offers a sheen that repels mist and condensation from breath and humidity in the air. That explains why it keeps the lenses super clear even when we wear glasses with face masks and headgear.
Notably, this product is beneficial for construction workers due to its capability to prevent dust and tiny debris from sticking to their shields and goggles. Such a distinct feature makes it stand out among other anti-fog agents, as its use is not limited to fogging issues.
Another awesome thing about this sought-after product is its reliable safety. Checking out the formula of this solution, you will find no alcohol, silicone, ammonia, and even abrasives in there. That means applying it will not irritate our eyes or penetrate the lens surfaces.
With the spectrum of incredible functions, the Quick Seen spray is handy in various cases. It can help you prepare clear safety goggles for motorcycle trips in cold weather. The product can show its great use in keeping the boat windshields from being misted up by water vapors.
There is only one warning for buyers: the spray is not suitable for anti-reflective glasses, as it can reduce the effect of the special non-glare lens coating.
Pros
Comes in small bottles and gallons
Repels mist and condensation well
Prevents dust and tiny debris sticking, thus ideal for construction workers
Safe formula with no alcohol, silicone, ammonia, and abrasives
Anti fog spray for cold weather and water vapor
Cons
Not usable for anti-reflective glasses
Other than anti-glare glasses, this fog defender spray is compatible with numerous eyewear and shields. With several applications, you can experience a whole day without annoying condensation.
8. Fine Care Anti Fog Spray for Glasses
Your search for the best anti fog spray for glasses can end with this product from Fine Care. Many users, including me, highly appreciate this product's streak-free application and thickness.
Coming in a 2-oz bottle, the solution can sit nicely in your pouch on long trips. It is there, ready to eliminate fogging and condensation on your prescription glasses within several minutes. Thus, you can always have clear lenses for outdoor games, work, or any activities that involve putting on eyewear.
When I claim it only takes a short while for the spray to work, it means the product delivers an effortless application and immediate effect. Just follow the manuals about how to spread the liquid in one direction in a circle. Make sure you let the solution settle for some minutes before cleaning gently.
Another point that highlights this fog-free spray's impressive versatility is its use on special lens coatings. It never ceases to amaze me how the agent clears all goggles without damaging the anti-reflective, transition, and polarized lenses even one bit. Hence, everyone who needs unique safety eyewear to handle tasks can rely on this spray.
More importantly, with user safety in mind, the brand formulates this solution using no harsh ingredients. As a result, you can confidently use the non-toxic spray for your daily glasses to experience optimal clarity.
Yet, if you spray it on your swimming goggles, do not forget to reapply after some hours to make sure it works well underwater again.
Pros
Promotes streak-free application and thickness
Comes in a 2-oz bottle for easy storing and traveling
Quick application and immediate effect, with straightforward manuals
Safe use on special coatings of anti-reflective, transition, and polarized lenses
Includes no harsh ingredients, safe for eyes
Cons
Needs applying for underwater conditions
It is no surprise that many wearers who have eye conditions are happy with this anti fog spray for prescription glasses. If you also value safe use and incredible versatility, here's your pick!
9. iGK Anti Fog Spray
The iGK Anti Fog Spray has got you covered when dealing with the clarity of different glasses. In my opinion, its main attraction is the long-lasting fog-free effect on our lenses.
What we benefit from this all-around product are its versatile applications. In truth, people who wear safety goggles or sunglasses daily can defog their eyewear with the spray. Also, users who go swimming, skiing, or diving can rely on the agent to have optimal visibility in different weather conditions.
Besides, this product is applicable with VR lenses or binoculars, ensuring the best experience for entertainment. And the list goes on, so if you own some among those pieces of eye protection, investing in this spray is enough.
The thing that appeals to first-time users is easy application. Luckily, the iGK anti-fog spray can cater to that need with its straightforward process. You only have to prepare a soft cloth to wipe off the fluid after spraying and spreading it gently around the lenses.
Yet, I recommend you read and follow the step-by-step instructions and wait a bit longer for the solution to settle to have great results. And it would be better if you clean the lenses first before putting this liquid on them.
Safety is likely the first and foremost factor that buyers should consider when buying this type of product. So, you would be relieved to know that this spray contains no toxic chemicals that hurt your eyes. Yet, it keeps your goggles and shields clear for as long as needed.
Pros
Ensures long-lasting fog-free effect on goggles and shields
Ideal for safety goggles and sunglasses, VR lenses, binoculars, etc
Applicable on swimming, skiing, and diving eyewear
Easy application that requires only a soft cloth
Safe and non-toxic spray for use near the eyes
Cons
Advisable to clean lenses before spraying this anti-fog solution
If you use the product the right way, it will work hard to end your struggles with foggy glasses in different circumstances. Experiencing first-hand its efficacy, I cannot recommend this anti-fog solution for glasses more.
10. RefineU Anti Fog Spray for Glasses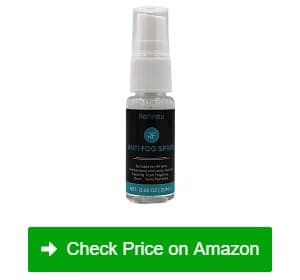 The RefineU Anti Fog Spray for Glasses is another best bang for the bucks that afford long-lasting clarity. You would be surprised by how well this product maintains its effect to meet the demand of people with busy work.
As typical anti fogging spray for glasses give you several hours of non-misty lenses and shields before a reapplication. But, that's not the same for the RefineU solution, as it keeps your eyewear clear for more than 48 hours. Such a function alone proves that it's a worthy investment for daily use.
The brand adopts a formula that prevents fogging from forming on various pieces of your equipment. In detail, it clears our daily glasses, safety shields in working environments, masks, and goggles for underwater activities. The wide range of applications makes this Refine U spray a must-have in everyone's package.
As you might expect, it only requires careful spraying to the whole lens surfaces and waiting for the layer to dry. However, you should be patient and wait a bit longer since it requires more than several minutes to settle. But I can attest to its superb performance afterward.
For far-away work trips, it is easy to pack this small-sized bottle in your bag. It takes little space while offering multiple safe uses. Be confident while applying on your glasses, as its formula contains no hazardous chemicals that hurt your eyes and skin.
In case you are not satisfied with what the product promises to offer but fails, just return it following the brand's money-back policy.
Pros
Lasts for more than 48 hours of excellent clarity
Versatile applications: daily eyewear, safety shields, underwater goggles
Only needs careful spraying to the whole lens; no cleaning required
Easy -to-pack bottle, ideal for traveling
A safe formula for skin and eyes
Cons
We should be patient and wait for it to dry
As long as the waiting time is worth it, I do not mind spending some more minutes before work to make sure my gear is crystal-clear for two days straight.
11. Essential Values Anti Fog Spray for Glasses
Many of us suffer from annoying condensation on work gear or eyeglasses. To make that a problem of the past, you can try out the Essential Values Anti Fog Spray for Glasses.
The high-clarity formula of this product provides us with the visibility required for our daily tasks. If you apply the solution to your safety goggles, you can wear masks along with the eyewear without blurring lenses. This is true with other objects such as car mirrors, windshields, sports visors, and many more.
However, this one is not intended for underwater use like swimming goggles. That means wet conditions can reduce its efficacy significantly. So, other than that downside, you can utilize the solution for numerous glass and plastic surfaces without worry.
Here're some more details about this anti-fog spray's formula: it is a professional-grade product from non-ionic surfactants and H20. That explains its power over mist issues. Yet, it is natural and safe to use for daily-wear gear, but make sure you do not accidentally spray it directly to your eyes.
One excellent point of this product must be its 4 oz bottle – compact enough to bring it along everywhere. This glasses defogger spray generates over 750 pumps per bottle, giving great value to our money.
I also appreciate how the brand prints the detailed instructions and warnings clearly on the product label. You can read that information carefully to utilize the solution safely and effectively.
Still, some buyers are not fans of its requirements for reapplication after several hours. It depends on how humid and hot your workplace is that you need to make multiple applications.
Pros
Suitable for eyewear, car mirrors, windshields, sports visors, …
A professional-grade solution made from non-ionic surfactants and H20
Offers a natural and safe use
Comes in a compact 4oz bottle allowing 750 pumps
Features clear printed instructions and warnings
Cons
Not suitable for underwater or wet environments
Requires multiple applications in humid and hot conditions
Despite its minor downside, you can rely on this anti fog spray for glasses with mask to deliver excellent clarity for our daily tasks.
12. PIPA MINT Anti Fog Spray for Glasses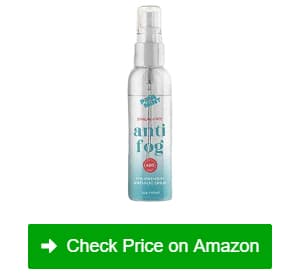 It is tricky to win the majority of users' trust that they come back for more products. But PIPA MINT succeeds in the endeavor with their highly effective Anti Fog Spray for Glasses.
In one package, you will have a 2-oz bottle of anti-fog agent and one premium microfiber cloth for glass cleaning. This valuable set gives you the necessary items to eliminate condensation, smudges, oil, and fingerprints. Hence, in one purchase, you can take care of glasses without hassle.
Besides, you can also purchase a bigger bottle measuring 8 oz to clean various goggles and shields. Worry not that large quantities will come to waste, as this product is applicable for multiple gears, including mirrors, VR headset, binoculars, etc.
Another incredible perk of this solution should be its safe use on anti-reflective lenses. The expensive coating requires thorough maintenance, so a toxic chemical might destroy its function. Luckily, you can trust this liquid to clear mist and fog away from your AR glasses.
I adore the product also because of the brand's nice packing, bottle design, and responsive service. Any confusion about the applying process will be answered right away. Besides, you can reach out to them when any issue comes up, as they are confident about the cleanliness and hygiene of their products.
To be honest, I have no complaints about the solution until now. And it's among the few sprays that meet all my requirements.
Pros
A valuable set of one anti-fog bottle and one premium microfiber cloth
Does away with condensation, smudges, oil, fingerprints
Available in a bottle of 2 or 8 oz
Suitable for clearing fogs from mirrors, VR headset, binoculars, etc
Safe for expensive anti-reflective lenses
Nice packaging, bottle design, and responsive service
Understandably, many buyers rated this product five stars, claiming it the best anti fog for glasses they have used. If you also want a quality product, give this set a try.
13. Sidelinx Anti Fog Spray for Glasses
The Sidelinx Anti Fog Spray for Glasses makes it easy to see clearly while wearing a mask at work. Your struggle with blurry lenses can end here with this extra-strength solution.
I had some doubt when noticing the product was advertised to dissipate fogging for a whole day after one application. But some first uses on my glasses proved its long-lasting effect. As the lenses are treated with this fog-resistant spray, you can handle the work from morning until the end of the day without disturbance of condensation.
To produce such a powerful anti-fog solution for users, the brand has tested its samples with advanced technology. The rigorous testing process can ensure that this fluid can keep your gear as clear as needed for detailed tasks.
A thoughtful addition to the product package is the cleaning cloth made of microfiber. It is commonly used in optical stores for delicate lens care. Thus, you can gently get rid of dust stuck in your goggles after a long day of exposure to many types of dirt.
I would call this a two-in-one set that allows both effective fog clearing and gentle cleaning for the eyewear. Besides, its small size boasts excellent convenience for carrying along on a far-away trip where you must wear a mask all the way and all day.
However, this set will cost you a bit more than a typical anti fog spray for glasses while wearing a mask. But all its incredible uses will make up for your investment soon enough.
Pros
One application will offer all-day clarity
The powerful anti-fog solution going through rigorous testings
Comes with a soft cloth made of microfiber for thorough cleaning
Small size for easy carrying on trips
Supports no fogging of goggles when worn with face masks
Cons
Costs a bit more than other competing products
Eyeglass anti fog spray is not hard to find, but a cost-effective package with a cleaning cloth and mist-clearing solution will ensure more convenience. If you expect the same from a purchase, consider this one.
14. OCLEAR Anti Fog Spray for Glasses
The final entry that completes our list is the OCLEAR Anti Fog Spray for Glasses. Compared to other products reviewed above, this one stands out with its efficacy that lasts for days.
In detail, the nanotechnology of the solution prevents fogging issues which often come from our breath moisture, high level of humidity, heat, and change of temperatures. Notably, such clarity can last for nearly three days, meaning you do not need to respray it multiple times after some hours.
As expected, its application spreads to a wide range of daily items such as bathroom mirrors, car windshields, and eyeglasses. The agent is helpful when we need clear goggles for swimming, snorkeling, hockey, and even swimming. That means the potent formula can stand up to wet weather and even underwater conditions.
One important thing about this product is its safe chemicals that pose no danger to our eyes. You can use it to clean eyeglasses and put them on minutes after without worrying about irritation or eye redness.
Regarding its usage, just spray the solution on the lenses, both inner and outer sides. Afterward, try to spread it evenly on the surfaces and wait until the dried layer forms a crystal-clear film. That's when you are ready for work with long-lasting clarity.
I am a lot happier when utilizing this product while wearing face masks to keep me safe. Overall, there are no significant downsides that bother me.
Pros
Nanotechnology solution ensures days of no fogging
Suitable for mirrors, car windshields, and eyeglasses
Compatible with wet environments of swimming, snorkeling, swimming, …
A safe formula for use without triggering irritation
Easy steps of application: spray, spread, and wait for it to dry
Instead of going for an anti-fog product that requires complicated applications or lasts a short while, you can enjoy this convenient and functional one instead.
What to Look for When Buying Anti Fog Sprays?
Anti-fog spray has always been necessary in our daily life, work, and entertainment activities. And, these days, it has become essential as COVID-19 requires us to wear face masks all the time to protect ourselves and the people around us. Thus, to perform well with safety goggles or prescription glasses on, look for the best sprays available.
Easy application – There are often two types of products that require different applying methods. You can spray the solution on your glass lenses or windshields, whichever surface should work with optimal clarity. Afterward, you can spread the liquid gently with your fingers, preferably in a circular movement or using a piece of a soft cloth.
Then, for some products, you need to clean the fluid to get rid of streaks. But others require several minutes to dry and expect you to leave the dried film there without wiping. Make sure you read the instructions thoroughly and choose the product that promotes easy application like these two methods.
Versatile use – We always want more than a spray for safety goggles or sunglasses only. It is better to opt for a wide-ranging product that works wonders on different surfaces and materials.
Many available sprays can handle underwater conditions, making them ideal for swimming, snorkeling, and skiing goggles. That way, you can bring the bottle along for your fun trips or sports activities.
Other than that, anti-fog sprays should be applicable on bathroom mirrors, car windshields, and more plastic surfaces. It can help us see the road clearer, enjoy more in our daily life.
Safe formula – A crucial point when searching for eyewear anti-fog sprays must be the safe ingredients. As our eyewear sits closely to our skin and sensitive eyes, it is risky to opt for products that contain toxic chemicals. Hence, you should choose one that is formulated for optimal safety.
For special lenses – In truth, not all fog-free sprays can be used for prescription lenses, anti-reflective, polarized, and more. Those glasses with special coatings require a gentle solution that has no abrasives. It must not damage or destroy the critical layer of those lenses. So make sure to ask your optical doctor, or consult the eyewear brands for the suitable pick.
How Does Anti Fog Spray Work?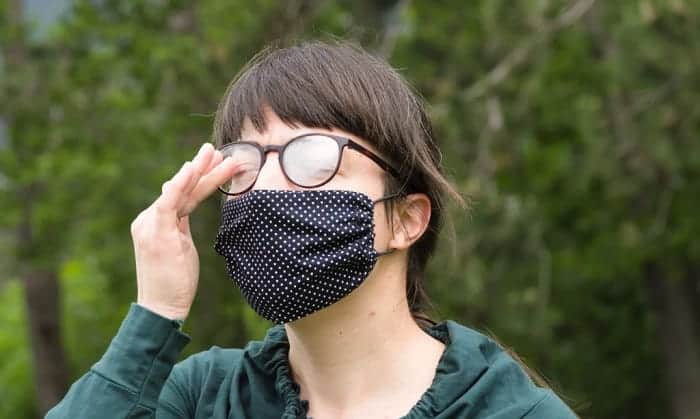 Anti-fog sprays are chemicals that are formulated to clear fogging and prevent condensation of moisture. They will minimize the surface tension after being applied on glass or plastic areas. Also, such an effect can last several hours to several days, depending on how powerful it is and the surrounding conditions.
Can Anti Fog Spray Damage Glasses?
Yes, some anti-fog spray can really damage glasses, especially ones with special coatings. As stated above, expensive glasses with polarization, anti-glare, and other functions should only use anti-fog solutions qualified without abrasive content. Or else, it will reduce the lens efficacy, or worse, ruin its function after several applications.
Can I Use Anti-Fog Sprays for Camera or Telescope Lenses?
Yes, if you find a product that is safe for camera and telescope lenses. Remember that not all anti-fog solutions are compatible with those surfaces, as they can penetrate the lens and damage it.
How Can We Create Homemade Anti Fog Spray for Glasses?
Some of us might want to make our own fog-resistant glasses cleaner to go to work with our masks. In that case, you can mix vinegar, distilled water, and some drops of alcohol. You should put the ingredients into a spray bottle for easy application.
Conclusion
Wearing your glasses with a face mask is a real struggle, especially when driving or biking. Also, it is a trick to see clearly when the face shield is put on along with safety goggles, as our breath moisture can fog both.
To avoid those issues and more inconveniences, you can find the best anti fog spray and use it for daily work. Wherever you are, remember to put your mask on, along with your glasses, and start your day with optimal safety!
Hi, I am Alexander, forty-seven years old this year. I have been in the construction industry for twenty-five years and have provided a wide range of services. When it comes to expert guidance on site safety gear, you can put your trust in me.