Vibration is one of the most dangerous hazards one will encounter when working in a heavy industry. And a big reason why it is so dangerous is that most people don't see it as a big concern. However, injuries caused by vibration, such as Hand-Arm Vibration Syndrome (or HAVS) can cause permanent damage to the hands and arms.
Because vibration injuries result from prolonged exposure to vibration sources, such as hand drills, jackhammers, and heavy machinery, workers need to mitigate these effects. One way to do so is by wearing the best anti-vibration gloves. Designed to absorb and dissipate the vibrations from power tools, anti-vibration gloves will help reduce the risk of acquiring vibration-induced injuries.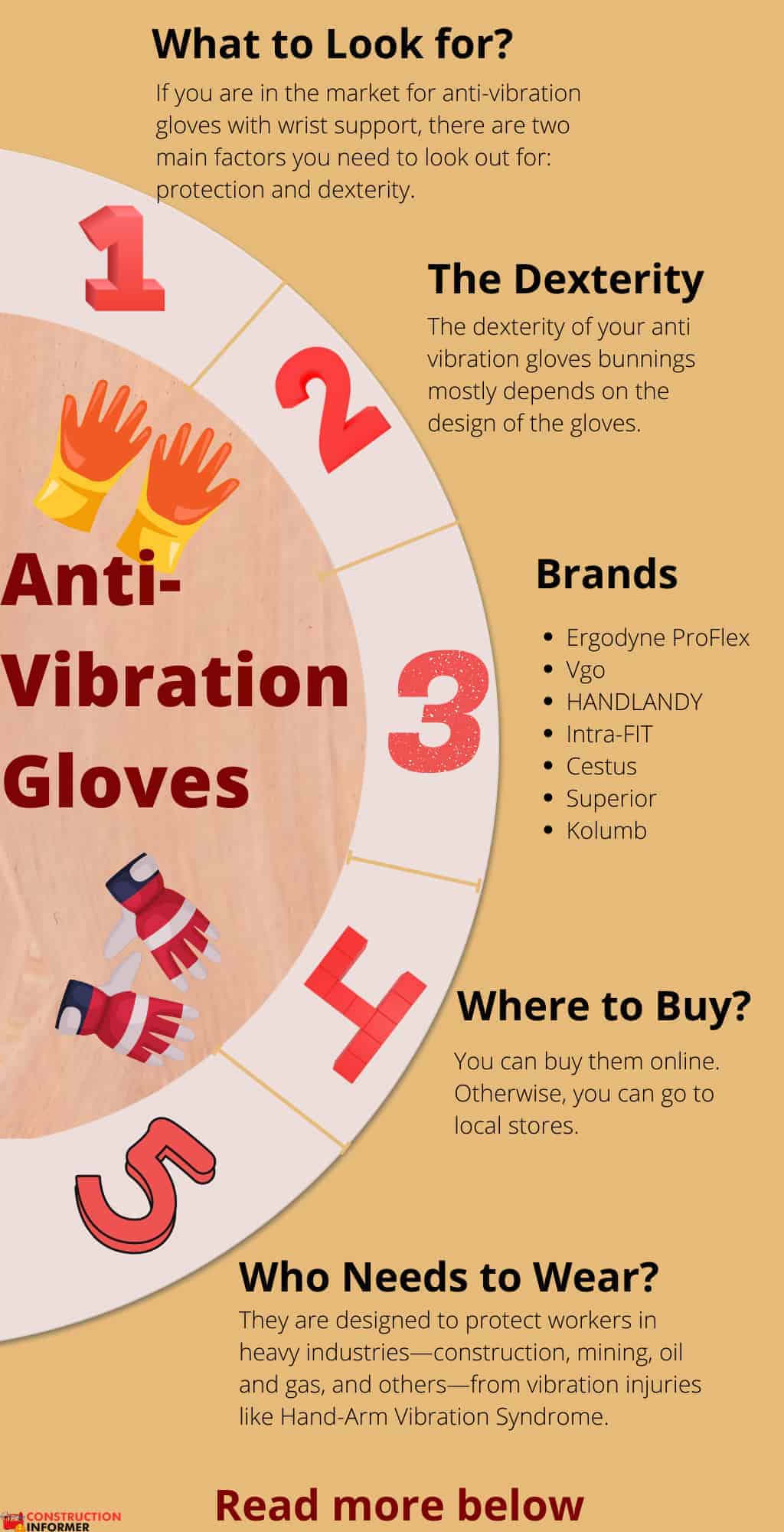 Featured Products
Best Overall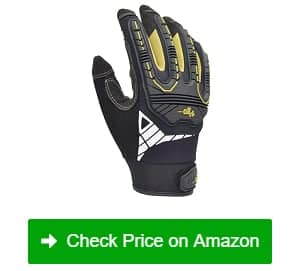 Vgo SL8849
– Touchscreen-friendly fingertips
– Integrated cloth sweat wipe
– 4 layers of impressive impact protection
Editor's Pick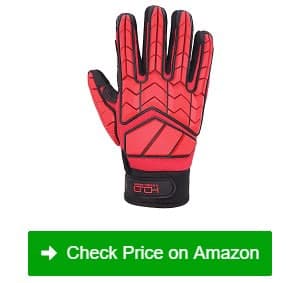 HANDLANDY Anti-Vibration Gloves
– Thick, full-coverage TPR guards
– Reinforced saddle for extra durability
– Velcro wrist strap for easy adjustment
Premium Choice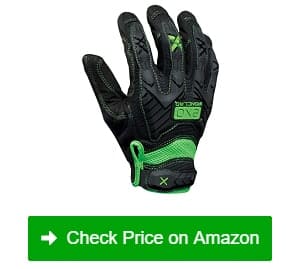 Ironclad Exo Protection Gloves
– TPR cuff puller for quick fitting
– Sleek yet substantial design
– Hook and loop cuff for a secure fit
Best Anti-Vibration Gloves Reviews
1. Vgo SL8849 Heavy Duty Mechanic Glove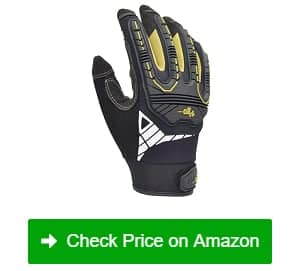 These model SL8849 gloves made by Vgo are a great example of vibration dampening gloves aimed more at general-purpose work. In other words, where the previous pair we looked at is designed to dampen vibrations and not much else, these gloves come with features that are sure to come in handy outside of using heavy equipment.
For one, these gloves are equipped with touchscreen-friendly fingertips on all five fingers. As touchscreens become more common on industrial equipment, this feature is now convenient for workers who need to interact with both touchscreens and heavy machinery.
A little detail I like about these gloves is the integrated cloth sweat wipe. Conveniently located on the back of the thumb, the soft and absorbent cloth helps save time that would've been used to look for a towel.
Of course, that doesn't mean that these gloves are lacking in important features. For example, the backs of the gloves are constructed of 4 layers of material—a PVC outer guard, a fabric body, foam padding, and a laminated cloth liner—that together provide impressive impact protection for extra safety while on the job.
The palms of the gloves are also equipped with 3-layer composite padding. Made up of an EVA foam core and a PVC outer pad that are both stitched to a synthetic leather base, the palm pads offer extra grip on top of their great anti-vibration properties.
Pros
Touchscreen-friendly fingertips on all 5 fingers
Integrated cloth sweat wipe
4 layers of impressive impact protection
3-layer composite palm padding for extra grip
This pair is one of my favorite anti-vibration gloves if I need a gear to work with just about anything.
2. HANDLANDY SBR Padding Anti Vibration Gloves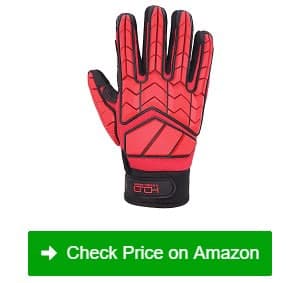 HANDLANDY is a glove maker of over ten years that has made dozens of hand protection solutions for jobs ranging from box handling to sports and everything in between. I personally like and have used many of their gloves over the years, and for that reason, a few of their other gloves are also on this list.
This specific example is built for heavy industry applications, and it shows. These vibration reducing gloves have palm and finger pads made of SBR or styrene-butadiene rubber. SBR is a very resilient material and works well for these gloves as they have excellent protection against vibrations and abrasions. However, I would have liked more cuts in the SBR pads as the palm padding wasn't very flexible from my experience.
The backs of the gloves also get ample protection with thick TPR guards that start at the base of the hand all the way to the fingertips. This full-coverage protection is a cut above most other gloves that usually only have guards on the knuckles, if not none at all.
In addition to the handguards and padding, the glove also has a reinforced saddle—the area between the thumb and index finger—for extra durability. This feature is great as most gloves tend to fail at the seam in this area.
Although these gloves might seem bulky with all their protective features, they are quite easy to put on and take off. A stretchable Velcro wrist strap makes it easy to adjust the fit to your exact needs.
Pros
SBR padding protects against vibrations and abrasions
Thick, full-coverage TPR guards
Reinforced saddle for extra durability
Velcro wrist strap for easy adjustment
Cons
Palm padding isn't very flexible
With robust padding on the front and the back, we can trust these gloves to protect our hands anytime, anywhere.
3. Ironclad Exo Impact Protection Gloves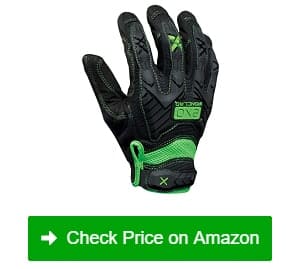 Ironclad is one of the industry's most trusted manufacturers of safety gloves. As someone who has used their gloves in many different projects over the years, I can confidently and easily recommend these gloves to workers in any field.
These Exo Impact gloves are part of their high-performance Exo line of anti vibe gloves. Although they are designed to offer high protection in most work environments, their design is very slim. Ironclad achieved this by using robust, high-quality materials that make the design sleek but also substantial.
The main anti-vibration feature of these gloves is found in the three vibration-absorbing pads on the palms. These pads have a memory foam core and a synthetic leather outer layer that offer great grip and comfort throughout the day. I like using them for lifting heavy objects and using my power tools.
However, I would have liked the anti-vibration pads to be a bit thicker as they are too thin to absorb the vibrations from the jackhammer I use at work.
The gloves are easy to put on and take off thanks to the TPR cuff puller integrated into the glove base. TPR is a rugged and grippy material, so I can easily hold on to it even with wet hands.
A hook and loop cuff design is used to secure the gloves to the hands. It's a tried and true design that guarantees a secure fit.
Pros
Sleek yet substantial design with high performance
Comfortable and grippy vibration-absorbing pads
TPR cuff puller for quick fitting
Hook and loop cuff for a secure fit
Cons
Anti-vibration pads are too thin for jackhammers
With a versatile feature set and high-quality construction, it should be no surprise that the Ironclad Exo Impact is one of the best anti-vibration gloves on the market.
4. Ergodyne ProFlex 9000 Anti-Vibration Work Gloves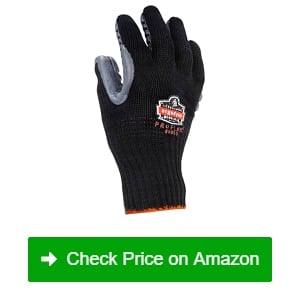 The first example on this list is the ProFlex 9000 model from Ergodyne. Of the 12 pairs of gloves I've put on this list, I placed these as my first recommendation knowing that most people are looking for excellent antivibration gloves for heavy-duty work. And these gloves do the job very well.
The key anti-vibration feature of these gloves is found in the thick chloroprene rubber pads that line the palms of the gloves. Chloroprene rubber is known for its excellent vibration absorption, and its extra thickness should help dampen the vibrations from even the most unwieldy of power tools.
This extra thickness does come at a cost, though, as the bulky padding makes it difficult to work with smaller tools. For this reason, these gloves are best used with jackhammers and other large power tools.
While other anti-vibration gloves will have single-piece pads on the palms, the anti-vibration pads have flex grooves cut into them. This gives the hands increased dexterity and helps them move more freely.
The construction of the gloves also helps this freedom of movement. The chloroprene rubber is fused onto a 7-gauge knit base. Using this thicker fabric makes the gloves more comfortable, and the looser knit helps keep the gloves breathable.
These gloves are also built to a pre-curved shape. Having the gloves made in this way gives them a more natural fit so the wearer doesn't need to break the gloves in before they can get any work done.
Pros
Chloroprene rubber pads have excellent absorption
Flex grooves for increased dexterity
7-gauge knit is comfortable and breathable
Pre-curved construction for natural fit
Cons
Bulky padding makes small tools hard to work with
The Ergodyne ProFlex 9000 is an easy recommendation for those who need heavy-duty vibration protection.
5. Intra-FIT 7590 Anti-Vibration Glove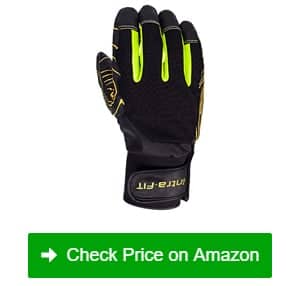 One of the most important parts about any anti vibration glove is having a proper fit. Even if the gloves have protective features, they can end up being more dangerous than not wearing gloves at all if they don't fit properly. That is why these shock absorbing gloves from Intra-FIT were made to fit well even after many uses.
The backs of the gloves are constructed from very flexible fabric. This gives the gloves a bit more room to stretch to accommodate sizes that don't fit the base measurement perfectly, allowing for a custom fit. However, the fabric isn't reinforced by any plastic or rubber guards, which means the gloves don't have much impact protection.
This is helped further by side panels on the fingers, which are made out of Lycra. Using this material lets the glove stretch to match the movement of the fingers without any resistance, improving dexterity when making precise motions.
The cuffs of these gloves are also geared for extra comfort by using neoprene instead of the typical fabrics. The form-fitting fabric secures itself to the wrists for a secure fit without needing to tighten the velcro strap too much.
And for vibration absorbing gloves, you need a secure fit, or else the gloves may get loose out of your hands. That's why these gloves have a thick and grippy PU (or polyurethane) palm padding, so you can trust the gloves to hold tight.
Pros
Flexible fabric back for a custom fit
Lycra panels on the fingers for dexterity
Neoprene cuff keeps gloves secure and form-fitting
PU padding is thick and grippy to hold on to different objects
A well-fitting pair of gloves can mean the difference between keeping our hands or losing them. These gloves from Intra-FIT ensure a great fit without sacrificing safety.
6. HANDLANDY Anti Vibration Work Gloves
This example from HANDLANDY is another great pair of vibration absorbing gloves that are great for various tasks. I have been using these gloves for some time for gardening work and home improvement, and I appreciate how they've held up so far.
The gloves have nice foam padding that gives a lot of protection without sacrificing flexibility in the palms. The pads are also quite comfortable, and I have had no trouble using lawn mowers and power tools while wearing these gloves.
One of the things that makes a glove more comfortable is flexibility. This is because a stiff glove would resist the complex bending and folding movements of the hands. That's why these gloves are constructed with a Spandex back that stretches easily for a better and more comfortable fit. Like some of the other gloves on this list, though, this means that the gloves aren't robust enough for heavy-duty work like using jackhammers and chainsaws.
Another thing I like about these gloves is the little details that improve the wearing experience. For instance, these gloves have three conductive fingertips that let you use touchscreens even with gloves. As someone who checks their smartphone often, this is a handy feature.
I also really appreciate that HANDLANDY has equipped these gloves with a quick-release wrist strap. This is a critical feature to have, especially for those who work with bladed power tools. Being able to remove gloves quickly may very well be able to save a life.
Pros
Foam padding for comfort and protection
Spandex back stretches for a better fit
Three conductive fingertips for touchscreen use
Quick-release wrist strap for emergencies
Cons
Not robust enough for heavy-duty work
These anti vibration gloves will be suitable at home in any workshop with a good balance of dexterity and cushioning.
7. Cestus TrembleX-5 Anti-Vibration Glove
The biggest drawback of heavy-duty anti vibration work gloves is that they are very bulky. After all, they need thick padding to absorb the vibrations of jackhammers and other large machine tools. For this reason, it is challenging to use these kinds of gloves for other tasks.
But what if you could get great flexibility while also excellent vibration protection? That's what the Cestus TrembleX-5 gloves were made to deliver. Their unique gel pods give great protection from vibration injury while also being very slim. These anti vibration gel motorcycle gloves did a great job reducing the vibrations in my hands while using a chainsaw.
One of the ways that these gloves achieve great dexterity is in their construction. The gloves are built on a neoprene fabric base, which is a material that's chosen for its stretchable and shrink-resistant properties. So not only will the gloves be flexible, their shape will stay consistent even after washing.
Another vital part of what makes these gloves so flexible is that they are entirely fingerless. These gloves offer better dexterity by freeing the fingers up wholly than any of the other gloves on this list. The only problem is, of course, that these gloves don't have any finger protection.
Fortunately, these gloves do try to make up for the fingerless design with extra protective features. These gloves have padding on the knuckles on top of the fabric base. This helps give the gloves some much-needed protection from cuts, scrapes, and impacts.
Pros
Gel pods offer low-profile anti-vibration protection
Shrink-resistant neoprene construction
Full fingerless design for unmatched dexterity
Padded knuckles for added protection
The Cestus TrembleX-5 is the only fingerless anti-vibration gloves on this list, and for a good reason—of all of the pairs I tried, these are simply the best.
8. Intra-FIT Shock Proof Safety Gloves
This pair made by Intra-FIT is a great example of heavy-duty anti vibration hand gloves. Like some of the other gloves on this list, these are designed for maximum vibration protection when using heavy machinery, and we can clearly see this in the design.
An array of thick pads cover the entire palm side of the glove. This is a standard design used by many other anti-vibration gloves because of their general effectiveness. The extra thickness, of course, means that the gloves are too bulky for precision work like picking up small parts and pieces, but they are otherwise very protective when using power tools.
These palm pads are made out of latex rubber, which is very good at absorbing vibrations. The thickness of the gloves improves the vibration absorption even more, and latex rubber also has the added bonus of being a good insulator against electric shocks.
All of this is attached to a thick knit body that is quite breathable. I found this quite convenient as most of my work is done in the day; the breathable fabric really helped keep my hands cool.
The knit body is also constructed with a special process that results in a seamless build. Having the gloves made this way instead of the typical method of sewing the fingers onto a palm center makes the gloves much more comfortable to wear because your hands won't feel any rough seams.
Pros
Thick palm pads for grip and impact protection
Latex rubber protects from shocks and vibrations
Thick knit keeps gloves breathable
Comfortable seamless knit build
Cons
Too bulky for precision work
While its utility has its limits, this pair of anti vibration gloves will protect workers very well from serious vibration hazards.
9. Superior Glove Vibrastop Anti Vibration Glove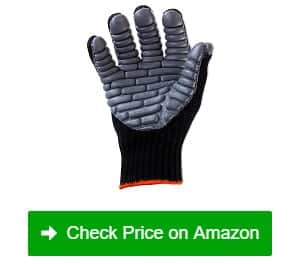 Another glove maker that I've come to trust is the Superior Glove Company. This brand makes a good variety of gloves for multiple fields and use cases. As its name suggests, the Vibrastop gloves are designed with anti-vibration features, and I have had an outstanding experience using them.
The design of these gloves is quite similar to the Blackmaxx model of impact anti vibration gloves. Both of these gloves are very good at reducing the vibrations from the heavy machinery I've used while wearing them. This is because they are made to comply with the ISO 10819 standard for anti vibration gloves, so you can trust these gloves to provide a high amount of protection.
The gloves have an all-fabric knit body made with 7-gauge nylon fabric. This is a much thicker knit than most work gloves that usually use thinner 10-gauge or even 14-gauge fabric. However, the thicker fabric was chosen because of its better durability than its thinner counterparts. This makes the gloves too unwieldy for small power tools like drills and angle grinders, but that is a reasonable trade-off to make for the vibration protection you get.
The knit extends throughout the gloves and also includes the cuffs on the wrist. Instead of the more typical hook and loop design, knit cuffs stretch to fit the user's wrists. I like this design more as the knit cuffs will always provide a snug fit without any adjustments.
No matter what gloves I use, they will always end up wet, dirty, and smelly after a long workday. Fortunately, these gloves are machine washable to wash them with my other workwear without any issues.
Pros
ISO 10819 compliant vibration protection
Durable 7-gauge nylon knit body for better durability
Knit cuffs ensure a snug fit
Machine washable for convenience
Cons
Too unwieldy for small power tools
These gloves really live up to the Superior Glove brand with impressive vibration protection and are an excellent option for heavy-duty work.
10. HANDLANDY Hi Viz Anti Vibration Gloves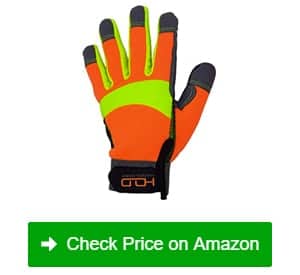 As I wrote earlier on this list, HANDLANDY has a wide variety of high quality work gloves that fit a wide range of needs. In particular, this pair of vibration resistant gloves meets an important need that many glove manufacturers tend to overlook, and that is high visibility.
High-viz workwear refers to personal protective equipment or PPE that is designed to make workers easily visible in low-visibility environments. Roadside construction and mining are two common places that need high-viz workwear. And in these workplaces, the bright orange and neon yellow colors of these gloves allow them to fit in with any high-viz arsenal.
These bright colors are used on the knuckles and the backhand side of the gloves, which are made with a mesh fabric. The mesh makes the gloves pleasant and breathable, which keeps the hands dry during long work shifts. However, I would have liked to see TPR guards on at least the knuckles to provide some sort of impact protection.
From my time using these gloves, I adore the soft fabric inner liner. The liner provides an extra layer for my hands to feel instead of the rough inner seams. As a result, wearing these gloves was very comfortable.
The anti-vibration feature of this pair of gloves was also outstanding. The gloves used anti-vibration pads on the palms that, although slim, were very flexible. They easily bent and curved along with my hands while gripping on a variety of tools.
Pros
Bright colors for high-viz workwear use
Breathable mesh construction
Soft fabric inner liner for comfortable wear
Slim and flexible anti-vibration pads
High visibility is critical when working in hazardous environments. These anti vibration gloves can augment your hi-viz workwear while giving you additional protection.
11. Kolumb Padded Work Gloves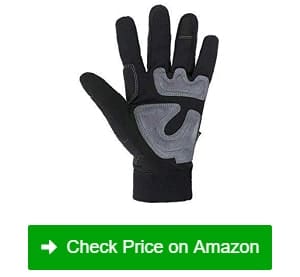 Most of the anti fatigue gloves we see on the market tend to be based on one of a small set of designs. This is the result of many years of design improvements. Because of this, the next big way that glove makers can stand out with their gloves lies in the little details.
Those details are what I appreciate like about these work gloves from Kolumb. For one, they have a touchscreen tip only on the ring finger. Although strange at first glance, this is a clever way to make the touchscreen functionality last longer by having it on the fingers that aren't used as much.
Another perk of these gloves is that they are constructed on a pre-curved base. Compared to making gloves flat, making gloves with a pre-curved base means the gloves are built to match the natural shape of the hand. This greatly improves comfort and flexibility.
The gloves are equipped with an ample amount of EVA foam as padding for the palms. Their usage here cushions the hands well from shocks and vibrations when using tools at work.
The gloves also have multiple synthetic leather patches stitched onto high-wear areas like the saddle and the fingers. This allows the gloves to be reinforced where they need to without adding any unnecessary weight. However, I would have liked to see these pads on the back of the gloves as they only have minimal impact protection.
Pros
Touchscreen tip on the ring finger
Built to match natural hand form
Ample EVA foam palm padding
Synthetic leather patches on high-wear areas
Cons
Minimal impact protection on the back
Attention to detail is what separates great work gloves from good work gloves. The thoughtful and detailed design of these gloves from Kolumb is a great example.
12. Intra-FIT 7597 Professional Anti-Vibration Glove
Although the Intra-FIT 7597 is the last glove on this list, it is certainly not the least. Like all other products we've looked at, these gloves are best suited to work in a specific use case. And indeed, their feature set makes them quite useful if you need a lot of vibration absorption.
These gloves are equipped with a thick anti-vibration pad that covers the entirety of the palms and the fingers. This ensures better protection than some of the other gloves on this list since the fingers are the most vulnerable parts of the hand to vibration-induced injuries.
Unfortunately, the anti-vibration pad doesn't have any flex grooves, which means the palm isn't very flexible at first. Thankfully this can easily be solved by "breaking in" the gloves—in other words, bending the gloves around out of the box to make them more flexible.
Furthermore, the anti-vibration pad is covered by a synthetic leather palm. Done in a bright yellow color, this material adds an extra layer of protection for the hands as it has excellent resistance against abrasions and cuts.
This feature is helped further by additional synthetic leather panels that cover the fingertips. The panels give reinforcement to this high-wear area which helps make the gloves more durable.
And these gloves do indeed offer great protection from most hand injury hazards. They were given a 3212 rating based on the EN 388 certification, an international standard for work safety gloves. This should be a good indication that these are safety gloves that are reliable.
Pros
Full-palm anti-vibration pad for extra protection
Synthetic leather palm for abrasion and cut resistance
EN388 3212 certified protection rating
Reinforced leather fingertips add durability
Cons
Palm needs time to be broken in
With their full-coverage vibration protection, the model 7597 gloves from Intra-FIT are one of my favorite pairs to use when working with vibrating power tools.
What to Look for When Buying Anti Vibration Gloves?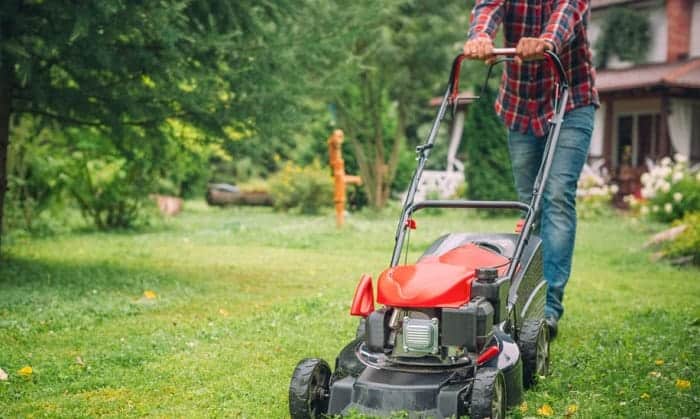 If you are in the market for anti-vibration gloves with wrist support, there are two main factors you need to look out for: protection and dexterity. The protection of DeWalt anti vibration gloves is how much vibration they can absorb. The dexterity of stihl anti vibration gloves is how freely you can move your hands while wearing them.
How much protection and dexterity you need in your anti vibration gloves depends on what kinds of tasks you will be doing. For example, if you use jackhammers as part of a road works project, you will need more protection than dexterity. You can see the level of protection that these gloves offer by checking their ANSI certifications.
On the other hand, if you are a mechanic that works with pneumatic wrenches and similar tools, you might want more dexterity as there is not much vibration that needs to be absorbed. And better dexterity indeed makes handling work more effective, especially with detailed work.
How Much Dexterity Do I Have Wearing Anti-Vibration Gloves?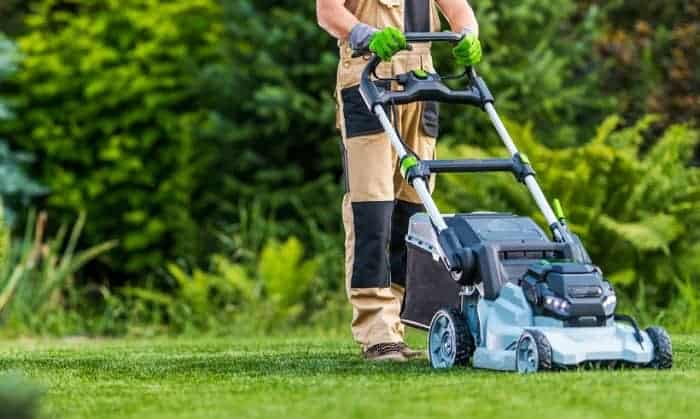 The dexterity of your anti vibration gloves bunnings mostly depends on the design of the gloves. Jackhammer gloves tend to use thick and bulky anti-vibration padding, which will make finger movement difficult if you need to use small objects. Most other anti-vibration gloves are designed more for angle grinders and other smaller power tools, which means less padding and more hand dexterity.
Who Needs to Wear Anti-Vibration Gloves?
For most people, anti-vibration gloves might be a bit difficult to justify. "Do anti vibration gloves work?" "Who needs anti-vibration gloves anyway?"
And for most people, these concerns are totally valid. Anti-vibration gloves are a fairly niche product because they are not made for the typical worker. They are designed to protect workers in heavy industries—construction, mining, oil and gas, and others—from vibration injuries like Hand-Arm Vibration Syndrome.
Conclusion
It can be challenging to choose the best anti-vibration gloves for your needs in the workplace. After all, the risk of vibration-induced injury is just too significant to simply pick whatever pair of gloves you can find in your local hardware store.
I hope that this list of some of the best work gloves I've used has shown you what to expect in a good pair and that it has informed your buying decision so you can stay safe in your next project.
Hi, I am Alexander, forty-seven years old this year. I have been in the construction industry for twenty-five years and have provided a wide range of services. When it comes to expert guidance on site safety gear, you can put your trust in me.