A pair of bifocal glasses offer two lens powers to enhance visibility for different focus ranges. The upper part of the lens allows far-distance vision, and the lower part is for your prescription near-vision viewing. That means when you look up and down, you will see through a different segment of the same lens.
People with presbyopia often need the best bifocal safety glasses, as their eyes gradually lose the ability to change the focus range naturally. When we turn to a certain age, such a condition is common, forcing us to use these specs to perform different tasks.
If you plan to buy bifocal goggles, read on to explore the top-rated pieces and a short guide about this safety gear.
Featured Products
Best Overall
MAGID Y50BKAFC20
– Provides sufficient protection
– Includes a soft wiper
– Offers a retro look
Editor's Pick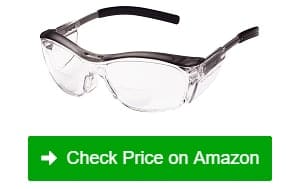 3M Protective Eyewear
– Soft nose bridge to ease pressure
– ANSI Z87 and CSA Z94.3 standards
– Incorporates UV protection
Premium Choice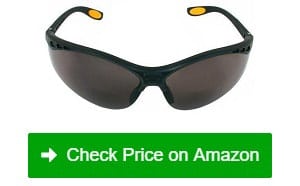 Dewalt DPG59-225C
– Block UV rays with tinted lenses
– Shields against impact
– Provides a secure hold
Best Bifocal Safety Glasses Reviews
1. MAGID Y50BKAFC20 Iconic Safety Glasses
As its name suggests, this Iconic Y50 Safety model belongs to a popular eyewear series manufactured by MAGID. It is indeed an iconic product that shines with unparalleled durability and protecting capability.
People are under the impression that safety goggles must be bulky and heavy enough to be rigid. But that's never the case, as this MAGID model provides a casual look with its black frames featuring transparent side shields. And, it can protect our vision in both front and peripheral view.
While the simple yet retro design is a strong point of the glasses, it is more than meets the eye. While wearing the piece, you can have clear visibility for both far and near distance objects. In fact, it is incorporated with a 2.0-diopter magnifier, so you will not have a hard time reading small prints.
A great thing that I love about this product is its versatile application. Thanks to hard coating and scratch-resistant finish on the lenses, heavy manufacturing or construction duties are more manageable. Also, it is ideal for indoor work in laboratories or offices as well.
A little bonus packed in the set is the wiper that is soft enough to clean the lenses. Using it will keep our glasses smudge-free and even clearer for upcoming work.
Compared to those models above, this one is slightly higher in price. For me, its retro style and great bifocal lenses can justify its tag.
Pros
Offers a retro look with its black frames and transparent side shields
Provides sufficient protection from front and peripheral view
Comes a 2.0-diopter magnifier for near and far clarity
Hard coating and scratch-resistant finish can support heavy outdoor duties
Ideal for indoor laboratory and office work
Includes a soft wiper to clean the lenses
Cons
Slightly higher-priced than those models above
The bottom line is if you are willing to invest a bit more, you will be granted fantastic functions from these best bifocal safety glasses.
2. 3M Nuvo Reader Protective Eyewear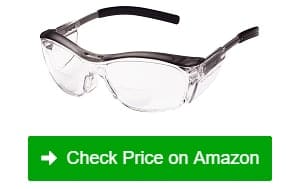 With decades of experience in producing safety gear for workers, 3M is among the first names that come across our minds when looking for protective eyewear. In their incredible collection, the Nuvo Reader safety glasses might be what you need.
The good things about this model are myriad; we shall start with how it aids people with eye condition to see clearly. A magnifier of 2.5 Diopters is molded into its lenses, offering enhancement in clarity when we read or perform detailed works.
Engineers, roofers, construction workers, and more can benefit a lot from this pair's protective design. In truth, its side shields and wrapping structure can keep all the debris, dust, or other flying objects from hurting their eyes.
More importantly, the gear is constructed to meet ANSI Z87 and CSA Z94.3 standards for high impact, ensuring the toughest build for heavy duties. The glasses also support workers with the UV protection feature. You can rely on the pair to filter out up to 99.9% of harmful sun rays.
One more thing that might convince you about this product's awesome use is its comfortable design. The added nose bridge alleviates the high-contact point with its softness, so we can experience long-hour wear without irritation.
However, it can scratch a bit when being stored with other gear, so you should purchase a case to keep it intact.
Pros
Aids people with eye condition using 2.5 Diopters magnifier
Protective design: wrapping structure and side shields
Meets ANSI Z87 and CSA Z94.3 standards for high impact
Incorporates UV protection with an efficient rate of 99.9%
Comfortable pair with a soft nose bridge to ease pressure
Cons
Require a case to keep the lenses from scratches
To enjoy superior protection functions for a long time, it's advisable that you take care of this pair of 3M bifocal safety glasses.
3. Dewalt DPG59-225C Reinforcer Rx-Bifocal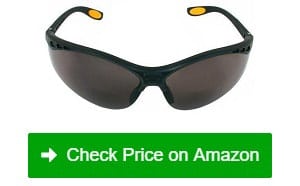 Multi-tasking at your workplace is hassle-free and safe with the Dewalt DPG59-225C Reinforcer Rx-Bifocal, as offering optimal clarity is among its best attributes.
These bifocal sunglasses can provide people with different eye conditions superb visibility in three options for magnification diopters. After checking your vision, you can opt for 1.5, 2.0, or 2.5 diopters incorporated into the lenses.
Besides serving as reading specs for people with blurred vision, this product can protect their eyes from harmful UV rays. That means outdoor works that expose us to Ultraviolet lights will be much safer with this protective eyewear.
Furthermore, it can function as a shield against impact, thanks to its rigid polycarbonate lenses. Unlike casual glasses for daily wear, this one is designed with a curving lens that reaches as far as our temples. Hence, we can rest assured that debris or small flying objects cannot attack and hurt our eyes badly.
Another essential feature of this design must be its secure grip because all those protective functions will come to waste if our glasses cannot stay put during our performances. And this is possible thanks to the handgrip pattern added on the glasses temples.
However, this pair of bifocal safety sunglasses might not be the best choice for low-light conditions, as its tinted lenses are rather dark.
Pros
Offers superb clarity with 1.5, 2.0, or 2.5 magnification diopters
Ideal for blocking UV rays with tinted lenses
Shields against impact with rigid polycarbonate curving lenses
Provides a secure hold with hand grip patterns on temples
Cons
Dark-tinted glasses might not be ideal for low-light conditions
Overall, in a sufficient lighting set-up or broad daylight, even complicated close-up tasks are a breeze with these Dewalt bifocal safety glasses.
4. SSP Eyewear Bifocal/Reader Safety Glasses
A lightweight pair that suffices in terms of protection is the SSP Eyewear Bifocal/Reader Safety Glasses. I went for the basic black frame model, and it supports me well for a long while.
Depending on your current vision condition, it is up to you to pick the magnification strength for this pair's lenses. It ranges from 1.5 to 3.0 diopters, guaranteeing a suitable option for many buyers.
Other than allowing users to read clearly from a near distance, this one also keeps us safe from flying objects. As imminent dangers in the worksite can attack suddenly, wrapping safety reading glasses like this one will help us avoid severe eye injuries.
It is also worth mentioning that this pair can embrace our faces nicely without irritation. Such great fit results from the rubber ear pads becoming tacky due to our body heat. Afterward, they stick well behind our ears and promote minimal moving while we handle tasks.
With all those excellent features, this pair of prescription bifocal safety glasses can afford good use in various applications. You can wear them while biking, rafting, skiing, working at construction sites, and more.
Beyond that, I have to admit that the transition between the upper part and the magnifier part is a bit thicker than expected. Hence, you might need some time to get used to the feel; after that, you'll be good.
Pros
A lightweight and basic design of bifocal glasses
Available magnification ranging from 1.5 to 3.0 diopters
With a wrapping design that blocks flying object
A secure fit with tacky rubber ear pads
Ideal for various applications: biking, rafting, skiing, working, etc
Cons
Pretty thick transition between lens parts, thus requiring some time to get used to
The bottom line is I find no major issues that prevent us from enjoying these safety bifocal glasses. It will offer you with comfort and security that you need for hazardous work.
5. Radians C2-115 Bi-Focal Reading Safety Glasses
If you specifically look for a 1.5-diopter pair to perform detailed tasks, look no further than the Radians C2-115 Bi-Focal Reading Safety Glasses.
This model comes with clear lenses and a gray frame – a typical modern look for glasses. For me, such a combination makes the eyewear look less bulky, plus its lightweight construction is a great compliment to the design. That's why I am happy to wear this model daily without eye fatigue.
As mentioned above, the glasses feature 1.50-diopter lenses for people with vision blurriness. If your eye condition requires such a level of magnifier, taking this protective item makes excellent sense. Otherwise, you can check out other pairs from Radians' collection with different magnification and lens colors.
Back to this C2-115 pair, its awesome perk that wins my affection is the rubber nose piece. That part is so soft that it allows me to wear glasses all day without feeling much pressure or irritation.
After knowing all its great features, you might expect a high price tag. But that's not the case; in fact, this item is among the affordable options for workers with a tight budget. That means you can be equipped with comfortable and functional eyewear without breaking the bank.
Also, since these lenses are not entirely scratch-resistant, you should purchase a case to store it while not in use.
Pros
Safety glasses with readers of 1.5 diopters
Comes with a modern design: clear lenses and a gray frame
Lightweight pair for all-day wear without pressure
Comfortable with soft rubber nose piece
A low price tag for buyers with a limited budget
Cons
Should have a case to store to avoid minor scratching
Such protective eyeglasses with a stylish design can easily be everyone's partner while working. After utilizing for quite some time, I deem it a cost-effective investment.
6. MCR Safety Crews BKH20 BearKat Magnifier Glasses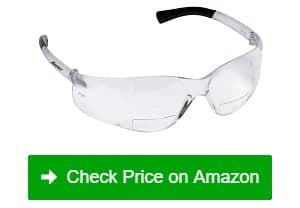 Another high-ranking bifocal pair that provides unobstructed design and a clear view is from MCR Safety. Their Crews BKH20 BearKat model with a transparent design makes it hard for me to tear my eyes away.
Once again, you are faced with four common magnifier choices: 1.0, 1.2, 2.0, and 2.5 diopters. The ideal option should be the one that matches your prescription vision. A quick visit to your optical doctor will allow you to make the right decision.
Another thing that you should keep in mind when shopping for bifocal glasses is the lens design. As the model must protect your eyes from flying objects and dust, a wrapping structure would be the best choice. In that case, this one with a one-piece wrap-around lens can indeed cater to your requirement.
For people who often work outdoors, sunglasses that block UV rays will do them an enormous good. If you are one of them, no worry because this eyewear can filter 99.9 % Ultraviolet lights.
One feature that strikes me as a nice perk of this eyewear is its lightness. Upon receiving the package, you would be surprised as it only weighs around 1 ounce. The plastic material of both its lens and frame lead to such a lightweight construction for all-day wear.
If I have to nitpick about any downside of this product, that might be about the bifocal part being a bit low. So it requires me to angle my eyes a little bit to see through the part.
Pros
Offers an unobstructed view with clear lenses
Available in 1.0, 1.2, 2.0, and 2.5 diopters
One-piece wrap-around lens for protection against dust and flying pieces
Blocks 99.9% of UV rays from attacking
Lightweight plastic frame and lens for all-day wear
Cons
The bifocal lens part is a bit low
I do not see such a flaw as a big deal since all the pair's protective and style attributes outweigh it. After all, it's hard to resist good-looking and functional sunglasses with bifocals like this one.
7. Elvex RX-350C Bifocal Safety Glasses
Sufficient protection and professional style roll into the Elvex RX-350C Bifocal Safety Glasses. It is among the few pairs that I would repurchase when the old one breaks.
If you scan this list to find 0.75-Diopter eyewear, stop scrolling because your wanted piece is here. The brand offers six more magnification rates from 0.5 to 3.0 Diopters, granting various choices for us to choose from.
The eyewear does an excellent job of providing a smooth transition from the far-distance part to the reader part. You can make out things in a wide range of distances and enjoy a protective shield against debris and dust. In other words, this one delivers precisely what workers need in a bifocal model.
Yet, what makes it stand out among other products must be the anti-fog finish on its lenses. With such a coating, we can wear a mask or headshield to perform without worrying about blurry vision. Furthermore, other external factors such as heat and humidity will not create fog on the lens surface.
Some noteworthy attributes of this model are its lightweight yet sturdy construction. I have utilized it for a long while without seeing signs of crack and tear. Plus, its metallic brown frames add to the overall sophisticated look, appealing to stylish buyers.
Since this model offers great coverage, it seems to fit closely to our eyes. So, if you have long eyelashes, there might be some minor inconvenience.
Pros
Offers seven magnification rates from 0.5 to 3.0, including 0.75-Diopter
Provides a smooth transition from upper to reader part of the lens
Protects against debris and dust
Comes with an anti-fog finish for superb clarity
Lightweight yet durable construction
A metallic brown frame adds up to a sophisticated look
Cons
Close fit that might not be ideal for people with long eyelashes
8. Home Uvex Genesis 2 Diopter Safety Glasses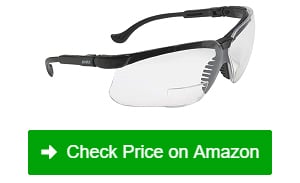 If reading small figures at work turns into a struggle, it's time you wear bifocal glasses to operate and analyze tasks better. In that case, the Home Uvex Genesis 2 Diopter pair is a good pick.
For your information, the glasses support a magnification of 2.0 diopters, so make sure such a rate matches your prescription. After putting it on, you can angle your eye straight ahead to notice things from afar and lower your eye level to read tiny numbers in the working paper.
To maintain visibility for different viewing ranges at hazardous work sites, this product comes with an ultra-durable and anti-scratch coating. Hence, you can utilize the pair for a long while without blurring and scratch sports on its lenses.
Combining safety shield and reader lens in one piece is the main concept of this model. That's why it is designed with a wrap-around frame to prevent dangers coming from various angles. Plus, its soft brow guard can absorb and diffuse sudden impact for better safety.
For long-hour shifts, comfortable eyewear is highly advisable, and luckily, this model can help you with that. It features flexible nose pieces and padded temples for you to enjoy secure hold and comfort for an extended time.
The only gripe I have with this eyewear is the static charge tends to attract dust, which requires me to clear the lenses frequently.
Pros
Supports a magnification of 2.0 diopters
Ultra-durable and anti-scratch lenses for continuous clarity
A wrap-around frame for shielding all angles
The soft brow guard for diffusing impact to ensure safe use
Flexible nosepiece and padded temples for long-hour comfort
Cons
Static charge tends to attract much dust
If you put a little more effort into taking care of this pair of safety glasses with bifocals, its lenses will function well for a long time.
9. Pyramex V2 Bifocal Reader Safety Glasses
Pyramex owns a versatile collection of V2 bifocal glasses that many should check out. Among those pieces that vary in lens colors, this Indoor/Outdoor mirror stays on top of my list.
You should not worry about the lack of magnification options, as these glasses feature 1.5 to 3.0 Diopters.
Regarding its lenses, besides the bifocal function, they serve as excellent UV shields. People who wear glasses can avoid up to 99% of UVA, UVB, and UVC rays. That means they are safe from harmful sun lights and radiation from artificial sources like lamps.
Another perk of these lenses is how they are designed with a 9.75 base curve. The structure embraces our face nicely, forming a protective guard against debris for both our front and sides.
In my opinion, the brand does an excellent job of crafting this eyeglass frame, too. For instance, the temples are adjustable to four length levels, offering a well-fitted hold for different face sizes. Also, the nose buds are soft and tacky enough for the glass to stay put and provide us with comfort.
Still, there are some complaints about the bifocal part of the lens being a bit lower and smaller than expected.
Pros
Feature 1.5 to 3.0-Diopter magnifier for seeing from various distances
Excellent shield against 99% of UVA, UVB, and UVC rays
Comes with 9.75 base curve lenses for a protective embrace
Adjustable temples with four length levels fitting different face sizes
Soft and tacky nose buds for comfort and a secure hold
Cons
The bifocal part seems to be lower and smaller than some users might expect
All in all, the minor downside does not hold me back from experiencing the excellent visibility and comfort the multifocal safety glasses offer.
10. 3M Virtua CCS Protective Eyewear
3M never fails to amaze us with highly functional safety gear that allows us to strive better at work. And, their Virtua CCS Protective Eyewear is among the products that live up to such a reputation.
The brand indeed put much effort into delivering optimal clarity for detailed tasks. I can attest to this pair's quality service as its lenses feature a reading diopter and an anti-fog coating. These two combined results in a crystal-clear vision that is maintained despite hot and humid conditions.
Other than that, there are multiple features adopted in this model to support your viewing capability. Among them, the wrap-around frame with a curving lens is a great design to ensure no obstruction for users.
Also, you can free yourself from worry about the glasses falling off when you bend or climb up to work. This is due to this CCS pair's corded earplugs acting as a lanyard clinging to our head firmly.
I am also grateful for the unique foam gasket installed on this eyewear. It is tricky to find a better design that minimizes dust and airborne exposure while still offering good comfort like this one.
However, its drawback relating to scratching might result from direct contact with edges from other gear. Thus, I suggest you keep it in a bag or case to avoid such an issue.
Pros
Offers clarity with a reading diopter and an anti-fog coating
Supports a wide viewing range with a wrap-around frame and curving lens
The CCS design with corded earplugs for a firm hold
Features a comfortable foam gasket that blocks dust and airbornes
Cons
Requires careful storage to avoid scratches
Overall, these 3M eyeglasses excel at protecting us from airborne while offering super clear vision. I think it can pass as well-made bifocal shooting glasses and medical glasses.
11. Pyramex Ztek Bifocal Reader Safety Glasses
The Pyramex Ztek Bifocal Reader Safety Glasses scream comfort and clarity with its quality design. If there's a multi-pack product that I do not hesitate to purchase, it would be this item.
As expected, Pyramex provides us with multiple magnifier options, including 1.5, 2.0, and 2.5-Diopter lenses. Those available pairs can ensure clarity for wearers when they read small prints or monitor other tasks from a distance. Plus, its lenses are scratch-resistant, which helps keep the glass lens spotless and clear for a long time.
These specs make it safe for individuals to work in open areas under direct sunlight. They can rely on UV-protection glass lenses that shield against 99% Ultraviolet radiation. Thus, wearers can worry less about corneal sunburn, skin damage around the eyelids, etc.
We should also know about how this lens spreads around our front view and reaches a bit of our side view with its crystal-clear glass. With a standard wrap-around construction, the eyewear offers a full-panoramic viewing for workers to be aware of their surroundings.
Lastly, it comes with non-slip temple tips made of soft rubber to offer a secure yet non-binding fit for users. If you experience many pressure points with your old goggles, it's time to switch to this design.
However, the Pyramex Ztek glasses might not be the best choice to wear with a mask all the time, as it can fog a little.
Pros
Three magnifier options: 1.5, 2.0, and 2.5-Diopter lenses
Scratch-resistant feature for spotless and clear vision
UV-protection lenses to prevent corneal sunburn, skin damage, etc
Clear glasses lenses built with wrap-around construction for a broad view
Non-slip temple tips made of soft rubber for better fit and comfort
Cons
Can fog a bit when worn with masks
In my opinion, you can trust to use these bifocal reader eyeglasses to protect your eyes from multiple hazards, be it UV radiation, flying objects, etc.
12. GrinderPunch Full Lens Magnification Safety Glasses
The GrinderPunch Magnification Safety Glasses store a spectrum of great features that helps with our blurry vision. It is incredible how we can get our hands on such a pair at an affordable price.
These specs are available in clear lenses with 1.0, 1,5, or 2.0 Diopters and in tinted lenses with 2.0 and 2.5 Diopters. Whichever one is your final purchase, the glasses will ensure optimal clarity for you to read small prints with ease.
Due to its precision to detail, this eyewear is the perfect replacement for bifocal lenses. If you do not like the transition in multifocal glasses, you can go for this design instead.
Notably, this quality product meets ANSI Z.87 standard for its high-impact resistance. Hence, you can trust that such durable polycarbonate pairs will keep debris and small flying objects away from your eyes. Besides, its lenses can block 100% UV radiation, providing the best protection for outdoor tasks.
Many buyers, including me, fall for the model's stylish and unobstructed design. It resembles sporty and sophisticated eyewear rather than heavy-duty safety glasses. So, that's a win in style.
However, this item does not seem to fit well for people with a large face, as it has tight and secure arms.
Pros
Available in clear and tinted lenses with multiple optical strength
Precision to details, thus a good replacement to bifocal models
Receives ANSI Z.87 certification for its high-impact resistance
Blocks 100% UV radiation for outdoor tasks
Comes with a stylish and sporty look
Cons
Not ideal for people with a large face
I do not think we should miss out on trying such an incredible replacement for bifocal glasses. You might come to like it and enjoy its unmatched protection right away.
13. Gateway Safety 28MC30 Conqueror MAG Safety Glasses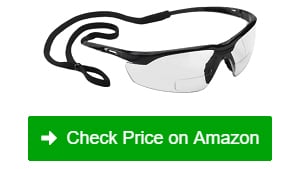 What piques my interest about the Gateway Safety Conqueror Safety Glasses is the massive collection of different lenses with magnifiers and protective features. After a while of researching, I went home with the 28MC30 MAG model.
The eyewear comes with crystal-clear polycarbonate lenses and wrapping frames. My first impression of the pair is its classic yet stylish appearance. Without explanation, others might consider these glasses a casual pair for daily wear rather than safety gear.
Regarding its diopter strength, the piece is molded with a 3.0 magnifier in both lenses. As a result, people who need the same vision correction level are granted clear viewing when reading tiny words or figures. It is the best eyewear for operating machines with small digital screens.
Yet, the model's best attribute is incredible adjustability and security. You are offered a retainer with customizable length to keep the glasses from falling off, even when you are resting. Plus, the nosepiece and contoured temple tips are ergonomically built for extreme comfort.
One last fact about this gear is its authority certifications from ANSI Z87. 1+ and CSA Z94. 3 for safe use. Hence, you can trust that it is qualifying to protect our eyes.
Yet, the Gateway Safety 28MC30 will cost you a bit more than some bifocal pairs mentioned above.
Pros
Boasts classic and stylish look
Available in 3.0 magnifier for both lenses
Incredible adjustability and security with customizable retainer
Comes with a nosepiece and contoured temple tips for comfort
Authority certifications from ANSI Z87. 1+ and CSA Z94. 3 for safe use
Cons
Costs a bit more than standard bifocal eyewear
All in all, this one is among the best choices for bifocal glasses that boast a classic look for wearers. If you adore the style and want a 3.0-diopter pair, there's no need to hesitate.
14. Carhartt Braswell Bifocal Reading Safety Glasses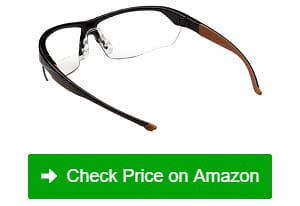 The last entry that completes this list of highly recommended bifocal glasses is the Carhartt Braswell eyewear. Other than its magnifier power, this model can be a fashion statement thanks to its good look.
This design's main purpose is to support people with eye condition to see clearly from a near and far distance. Thus, while utilizing its 2.0-diopter lenses, you can handle up-close working objects with utmost ease and confidence.
Besides, its UV protection lenses should be among the reasons that make you fall for the piece. Either you perform indoors or outdoors, it can block UVA, UVB, and UVC radiation from hurting your vision.
Yet, I think the main catch of these safety glasses lies in their design. In detail, the half-frame construction boasts a professional and sophisticated look that any gender will adore. Also, the piece is lightweight with customizable nosepiece and ratchet temples, so comfort and fit are guaranteed.
Lastly, as expected from the reliable brand Carhartt, their eyewear's safety specifications are approved by ANSI Z87. 1 and can/CSA Z94. 3. Knowing this will give you peace of mind while wearing the gear to work.
My only qualm with the pair is its anti-fog feature is not that effective in humid conditions, but the fogging disappears quite quickly.
Pros
Comes with 2.0-diopter lenses for up-close work
Blocks UVA, UVB, and UVC radiation
With half-frame design for a professional and sophisticated look
Lightweight construction with customizable nosepiece and ratchet temples
Approval by ANSI Z87. 1 and can/CSA Z94. 3 for safety specifications
Cons
The anti-fog function is not that good in humid conditions
Carhartt is a well-trusted name for protective eyewear, and this bifocal model lives up to my expectation for the brand.
15. PIP Reader Safety Glasses
Normally, I would not expect decent quality out of a low-priced pair like the PIP Reader Safety Glasses. But this one changes my mind with its well-thought-out design and sufficient clarity.
To start with, its lenses support a 1.25-diopter strength, matching well with my current eye condition at that time. If that's the case for you, purchasing the pair makes excellent sense.
Like most protective eyewear in the market, this one features polycarbonate lenses – a lightweight material for all-day wear. The brand also adopts a scratch-resistant coating for those lenses, aiming to maintain outstanding vision for workers in the most challenging set-ups.
Its protection capability also shows in the 10-base curve lens design that wraps firmly around our faces. That way, we are safe from flying debris and small objects at the construction sites.
I especially love this eyewear style, from its rimless frame to the transparent temple and black arms. It does not give off a bulky feel that I hate when wearing safety glasses to work.
Still, I would not raise your hope up by telling you it is super durable. I doubt it could survive significant impact, so make sure you take care of the piece for it to last as long as desired.
Pros
Supports regular lens part and a 1.25-diopter strength part
Lightweight Polycarbonate lens for all-day wear
Features scratch-resistant coating for long-lasting clarity
10-base curve lens design to block flying pieces
Offers a non-bulky vibe with a rimless and transparent frame
Cons
Not very durable and impact-resistant
The eyewear functions do not disappoint, from the 1.5-Diopter magnifier to its scratch-resistant and lightweight lens. Also, such a price cannot be beaten!
What to Look for When Buying Bifocal Safety Glasses?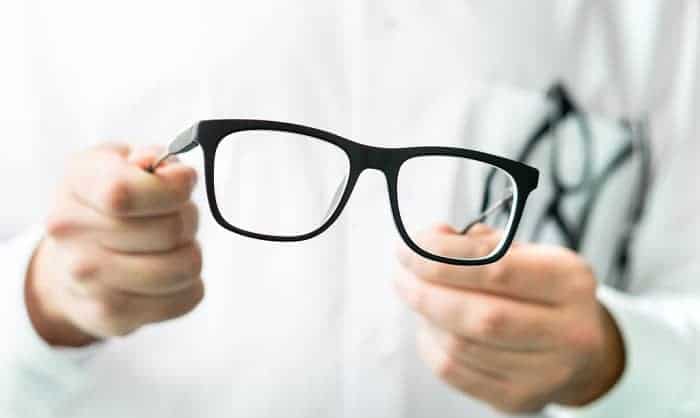 In a search for the best bifocal safety glasses, we need to be mindful of the magnification first. Picking ones with 0.5 to 3.0-Diopter lenses can be a breeze, as those pairs are common among numerous collections and brands.
Yet, to look for 1.25 bifocal safety glasses, you should check out Magsafe, PIP or SSP eyewear. Besides, Bouton Optical, and Magsafe, in my opinion, can offer some well-made 1.75 bifocal safety glasses and 2.75 bifocal safety glasses.
After checking out the diopter strength that best suits your eye's current condition, you can consider other features, including anti-fog coating, scratch resistance, impact resistance, UV protection, and a wrapping structure that blocks airborne. If you value any of those functions, include them while choosing your pair.
Also, make sure your bifocal glasses are well-fitted and comfortable too. As we cannot afford to feel irritated and hurt while performing hazardous work for long hours. After considering all critical factors, style is one last thing that you can check out.
Are Progressive Lenses Better than Bifocals?
Price-wise, progressive lenses, and glasses cost a bit more than most single-vision or bifocals ones. Besides, it takes quite some time to get used to progressive bifocal safety glasses, longer than standard bifocal pairs. It may take a while for your eye to adjust if you switch from the former to the latter type.
But it depends on the individual situation to choose the better one, as there's no definite answer here. Maybe consult your optical doctor to know whether you should buy no line bifocal safety glasses or the standard one.
Can the Lens be Replaced?
Of course, it can. If you have just bought your pair or the frame of your old one is still in good condition, lens replacement is a breeze. You can do it yourself or go to the optical store for help.
How to Take Care and Clean them?
Just like any eyewear in your collection, a bifocal pair requires much care, especially for its lenses. After work, you can gently brush off all the dirt on the frame and lenses with a microfiber cloth. Make sure you clean the nose pads and earpieces thoroughly, as they tend to attract dust and moisture.
Also, once in a while, if you want to clean the eyewear frame and replace certain parts thoroughly, make sure you take off the lenses first. Then, you can confidently rinse the frames under warm water and do the rest of the cleaning with soap, rubbing alcohol, and more.
Conclusion
Shopping for the best bifocal safety glasses is never a time-consuming and expensive process if you know what you need. Make sure to check your vision condition first to figure out the exact Diopter strength required. Then, consider other factors mentioned in the guide above.
Hopefully, our list can help make your selection quicker with a satisfying purchase.
Hi, I am Alexander, forty-seven years old this year. I have been in the construction industry for twenty-five years and have provided a wide range of services. When it comes to expert guidance on site safety gear, you can put your trust in me.