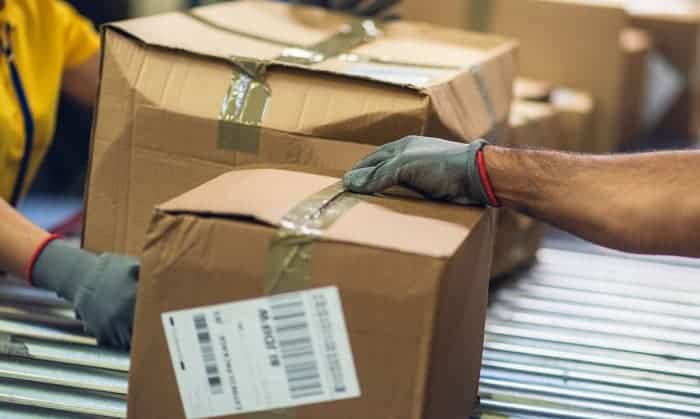 For most people, box handling gloves might seem like overkill. And for the most part, it's true—you don't really need a pair of gloves to move a couple of boxes around the house.
But anyone who's ever worked in the materials handling industry will know just how important it is to have the best box handling gloves. In addition to making heavy and/or bulky packages easier to handle, a proper pair of gloves will serve as a box handler's first (and best) line of defense.
To give you some perspective, the typical package handler at a courier sorting center has to move anywhere from 200 to 1000 packages every hour, if not even more. And any one of these packages could have an odd splinter or residue from bodily fluids or hazardous chemicals.
That's why you need a proper pair of box handling gloves. Here are a few.
Featured Products
Best Overall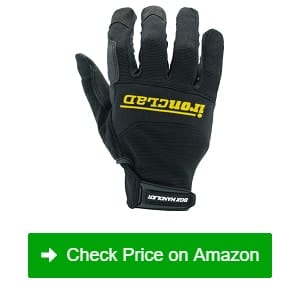 Ironclad BHG Box
– Silicone palm pads for superior grip on any material
– Hybrid cuff offers a secure fit with a quick release
– One-piece palm construction is flexible and durable
Editor's Pick
DEX FIT FN330
– 15-gauge knit for high dexterity
– Nylon and Spandex blend offers flexible fit
– Machine-washable materials for easy cleaning
Best Value for Money
Custom Leathercraft 125S
– Reinforced palm pads for protection and comfort
– Elastic hook and loop cuff for the perfect fit
– Stretchable side panels for extra dexterity
Best Box Handling Gloves Reviews 
1. Ironclad BHG Box Handler Work Gloves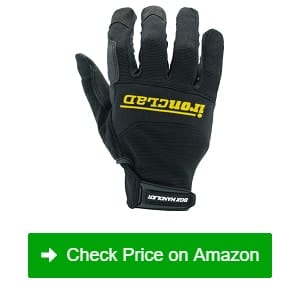 In this age of staying home and shopping online, parcel delivery services are in greater demand than ever. As such, couriers have to deal with much higher work demands than before. Each day they have to sort, load, and unload thousands of parcels a day to ensure each package reaches its destination.
In response to couriers' needs for a proper work glove, the Ironclad BHG-04-L Box Handler Work Gloves are an ideal choice. My favorite feature of these gloves is the heat-welded silicone pads covering the entire palm. This feature ensures a superior grip on just about anything.
The gloves also feature a cuff design Ironclad calls a "hybrid cuff". It's essentially a velcro-secured cuff with a cutout. This design offers a very secure fit but with the option to let you quickly remove the glove in a hazardous situation.
Again, since these silicone pads are heat-welded to the glove, unlike some of the dipped gloves, we'll see later, they may peel off over time.
Luckily, this isn't a big issue because the pads are backed by a thick synthetic leather palm. This ensures a passable grip even after the silicone pads have worn off. More importantly, though, the single-piece construction offers long-lasting durability while also being pretty flexible.
Over the past few years, the performance demands for package handlers need them to work almost non-stop throughout their shifts. This leaves little room to dry off outside of scheduled breaks. Ironclad has noticed this and thoughtfully included an absorbent cloth wipe on the back of the thumb so you can wipe off sweat without having to stop.
Pros
Silicone palm pads for superior grip on any material
Hybrid cuff offers a secure fit with a quick release
One-piece palm construction is flexible and durable
Integrated cloth sweat wipe for minimal downtime
Cons
Silicone pads peel off over time
With features made specifically for package handlers, these items are an easy recommendation for the best box handler gloves.
2. DEX FIT FN330 Nitrile Work Gloves
A lot of work gloves used in package handling are thick and bulky kinds. And while they do have their benefits, they aren't an all-in-one solution. Moreover, as someone who has to load packages onto vehicles and drives them, the bulk of those kinds of gloves makes them unsafe for driving use.
That's why I use thinner gloves like this example from DEX FIT. Unlike the thick fabrics of the ironclad box handler gloves we saw earlier, these gloves use a much lighter 15-gauge knit. This lets the fingers move much more freely and helps grab onto things like steering wheels more accurately.
Helping hand dexterity even further is the fabric they used for the knit, which is a blend of nylon and Spandex. I especially like this because my hands have wide palms but rather stubby fingers. The stretchable knit of these gloves allows me to go down a size to fit my fingers perfectly without constricting my palms.
One major weakness of thinner work gloves is that they don't offer that much protection. These DEX FIT gloves, in particular, are only rated for ANSI A1 cut resistance. This might be good enough against, say, a firm edge of a cardboard box, but not enough for a stray box cutter or anything sharper.
That's not to say that these gloves lack protection. The palms of these gloves are dipped in nitrile, a kind of synthetic rubber. As mentioned earlier, they don't offer good cut resistance; however, they do have excellent grip and can protect the hands from harmful chemicals.
These gloves are also washing machine safe, so you can simply chuck them in the washer at the end of a long shift.
Pros
15-gauge knit for high dexterity
Nylon and Spandex blend offers flexible fit
Nitrile palm is grippy and resistant to chemicals
Machine-washable materials for easy cleaning
Cons
Cut resistance is only ANSI A1 rated
Although their cut resistance is less than ideal, their great grip and flexibility still makes the DEX FIT FN330 a great pair of gloves for delivery drivers.
3. Custom Leathercraft 125S Work Gloves
Another pair of gloves that I've had a great experience owning is the model 125 made by Custom Leathercraft. With over 30 years in the personal protective equipment business, they have a great understanding of what goes into a proper piece of PPE, and it shows.
Designed to be an all-around pair for most tasks, these gloves have a tough synthetic leather palm reinforced with double-stitched padding. This gives my hands great protection from cuts and abrasions and extra comfort, which is very helpful, especially on long work shifts.
While I have had a great experience using these gloves for package handling, I have some minor concerns with the design. In particular, I found the reinforcement pads on the palm a bit too thick and stiff for me. This may also be a problem if you have to operate small objects like keys or keycards regularly.
The gloves are secured with an elastic hook and loop cuff that offers a greater range of tightening. This, along with the heavy-duty Velcro strips, lets you dial in the perfect fit.
For the longest time, leather has been the gold standard for both protection and grip in work gloves. However, they aren't very flexible for precision work, not to mention expensive. Thanks to new manufacturing methods, material handling gloves like these can have stretchable side panels for free hand movement without sacrificing protection where you need it most.
Another product of modern technology is the change in how we interact with machinery. While there will always be a place in the industry for physical buttons and dials, I have been seeing and using more and more touchscreens in my line of work. That's why I find the touchscreen-friendly fingertips on these work gloves so useful.
Pros
Reinforced palm pads for protection and comfort
Elastic hook and loop cuff for the perfect fit
Stretchable side panels for extra dexterity
Equipped with three touchscreen-friendly fingertips
Cons
Palm pads are thick and stiff
For anyone who needs robust box handler gloves that also work with touchscreens, few pairs are better than this.
4. G & F Products Latex Double Coated Work Gloves
Few things are quite as frustrating as your grip gloves failing on you in the middle of a shift. Although no package handler wants to be caught without a functioning pair of gloves, this, unfortunately, happens quite often.
That's where gloves like these made by G&F Products can be beneficial. A single pair of brand-name gloves could cost 20 dollars or more; I can buy these in packs of 12 pairs for around the same price – such an impressive value.
Although I say that they are convenient to have as backup gloves, that doesn't mean I think they aren't good work gloves to have in general. In fact, they are much better than you'd expect at such an affordable price. Unlike even the more expensive kinds, these gloves are made out of a thick cotton-polyester blend that is super comfortable to wear and use.
This comfortable fabric is supported by a double-dipped layer of latex that offers impressive grip on most surfaces. Now, this isn't the thin kind of latex you'd find on medical gloves—no, the latex on these gloves is very thick and is more than capable of taking a beating for all sorts of work tasks.
On top of its already great grip and durability characteristics, latex rubber is also well known for its resistance to cuts and abrasions. These are great for package handlers exposed to a lot of cutting and scraping hazards in their work. The only major weakness of latex is that they break down when exposed to oil and petroleum products, making them less ideal for automotive applications.
Pros
Comes in packs of 12 for impressive value
Cotton-polyester blend offers superior comfort
Double-dipped latex palms for grip and durability
Impressive cut and abrasion resistance
Cons
Inadequate protection against oils and petroleum products
With a dozen pairs at an affordable price, these gloves offer some of the best value for box handling gloves.
5. DEX FIT Cru553 Level 5 Cut Resistant Gloves
When choosing gloves for package handlers, there is usually one major trade-off, which is choosing between high protection and high dexterity. The reason for this is just a matter of physics—given the same material, a thicker piece will always give more protection than a thinner piece.
But that doesn't mean thinner materials will always provide inadequate protection. Materials such as high-performance polyethylene or HPPE make glove designs like this model Cru553 from DEX FIT possible. HPPE is a strong, cut-resistant plastic that can be drawn out into a thread and, therefore, be woven into a surprisingly comfortable glove.
And these gloves are indeed cut-resistant. However, the robust fabric body is the real selling point for these gloves, given an impressive 4544 cut resistance rating according to the European EN388 standard. This gives protection almost on par with much thicker leather gloves without sacrificing dexterity.
While HPPE fabric on its own is already very good, it does have its limits. One major drawback of the HPPE thread is that it isn't very stretchable; this is important for work gloves because you need the gloves to fit snugly on your hands. That's why DEX FIT has blended the fabric with spandex threads. Their high-stretch properties fill in the gap for HPPE and give the gloves great flexibility, almost like a second skin.
Rounding off this impressive pair of gloves is the nitrile-dipped palm area. This gives additional protection for your hands and reinforcement for the glove on areas that get a lot of wear and tear, like the palms and fingers. However, nitrile is a rubber-like material that, while it offers good grip, will flake and rub off over time.
Pros
HPPE fabric is cut-resistant and comfortable
Impressive EN388 4544 cut resistance
Spandex blend for second-skin flexibility
Nitrile-dipped palm gives additional protection
Cons
Nitrile palm layer flakes off over time
If your work deals with many sharp objects, your hands will thank you for wearing these gloves from DEX FIT.
6. Ironclad GUG General Utility Work Gloves
If we look online on places like Reddit about good brands of work gloves, Ironclad is a name that shows up quite often. And for a good reason—their gloves have always been reliable, and I have had great experiences in the time I've used them. Because of this, another pair of Ironclad gloves are on this list.
Compared to the model BHG we saw earlier, these model GUG gloves were designed for general work. This means these gloves have a slightly different set of features that are more helpful in most situations.
For one, the palms of these gloves are reinforced with synthetic leather pads on high-wear areas. While that means these gloves don't have any silicone pads, the leather reinforcements make up for them with long-lasting durability. Such a feature is worth considering, as some couriers want robust gloves for handling boxes while others prefer to have a more reliable grip.
A fundamental requirement of any good work glove is a good fit. Gloves that aren't correctly can be more dangerous than wearing no gloves at all. That's why Ironclad has equipped these gloves with a cuff puller so you can tuck them in for the perfect fit. These gloves also have a quick-release cutout, so we can easily remove them in case of an emergency.
To minimize the gloves' weight, the entire back of the glove is from nylon fabric instead of synthetic leather. The fabric back also makes the gloves breathable and keeps sweaty hands at bay.
At the end of a long shift, these could be washed either by hand or with a washing machine. The carefully selected materials let these gloves dry quickly, so they are ready for you the next day.
Pros
Synthetic leather reinforcements for long-lasting durability
Integrated cuff puller and quick release
Nylon fabric back is lightweight and breathable
Dries quickly and is machine-washable
Cons
Not as grippy as other gloves
It's usually easier to pick a pair of work gloves that can handle anything. The Ironclad GUG is one of them.
7. ACKTRA WG002 Ultra-Thin PU Coated Work Gloves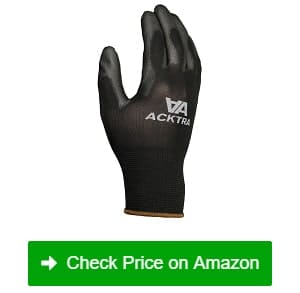 Believe it or not, warehouse work isn't all about lifting boxes. While there is a lot of that in a typical shift, warehouse workers also have to fill out inventory forms, complete safety checklists and do other kinds of paperwork. And while these tasks aren't exactly like brain surgery, they do need more hand dexterity than your typical gloves.
These gloves from ACKTRA fill that need perfectly. The nylon fabric used on these gloves is arguably the thinnest of all the work gloves reviewed above. This gives the gloves unmatched flexibility for writing, using hand tools, and other precision work.
Instead of the more common latex or nitrile, these gloves are dipped in polyurethane. Polyurethane or PU is a plastic material known for its resilience and grip, so it is used in things like wheels and shoe soles. The same properties also apply to these gloves, ensuring their longevity and performance.
I've had many gloves fail on me during my work shifts. And multiple the time they fail right along the seams where the fingers are stitched to the palms. The no-seam construction of these gloves solves this problem for me, and their extra tear resistance helps extend their lifespan.
Another feature of these gloves that I like is that these gloves are non-conductive. Both the nylon shell and the polyurethane palms are great electrical insulators, which means they can protect the hands from static electricity very well. Because they don't conduct electricity, though, this does mean that the gloves don't work with capacitive touch screens.
Pros
Ultra-thin nylon offers unmatched flexibility
Polyurethane coating provides protection and grip
No-seam construction for better tear resistance
Non-conductive materials protect against static electricity
Cons
Doesn't work with capacitive touch screens
While they don't have the robustness of some of the tougher package handling gloves in this list, the flexibility, and dexterity offered by these gloves should be something worth considering.
8. DEX FIT FN320 Nitrile Work Gloves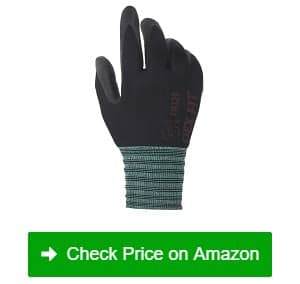 DEX FIT is another well-known brand that makes high-quality package handler gloves. Yet, unlike other glove makers that aim for heavy-duty protection, DEX FIT has put their design expertise into making gloves with high dexterity and a secure fit.
So yes, while these gloves only offer light protection against cuts and punctures, the model FN320 does make up for it with a lot of handy features.
One of these features is called 3D Knit. Unlike traditional machine knitting methods, 3D knit weaves the fabric directly into the glove shape. This bypasses the need to join the fabric together, making the resulting construction flexible and durable.
The gloves are constructed with a very comfortable nylon fabric. I've had no problems wearing these for multiple hours on end. As a fabric, nylon is also really good at drawing moisture away from the hands. This is great news for people like me who tend to have clammy palms.
As someone with sweaty hands, I've lost count of how many times a pen or tool slipped out of my hand. These DEX FIT gloves fix those grip problems with nitrile-coated palms. In addition, this nitrile coating does a great job of maximizing grip even on wet and oily objects and surfaces, which a lot of thicker, heavy-duty box handling gloves tend to fall short.
Another advantage of these gloves is that they are low maintenance. The nylon fabric resists stains and is easy to clean even after handling dirty objects all day. As a synthetic fabric, nylon is resistant to shrinking or stretching so it continues to fit your hands well even after multiple washes.
Pros
3D Knit construction is both flexible and durable
Nylon shell is comfortable and moisture-wicking
Nitrile coated palms grip well even when wet or oily
Materials are low-maintenance and easy to wash
Where the model FN320 gloves lose in protection, they gain impressive flexibility and grip. So if your job requires more precision work, these gloves are for you.
9. KAYGO KG11PB Safety Work Gloves
So far, we've seen a lot of gloves like these model KG11PB from Kaygo Safety. They are rubber-coated fabric gloves designed for light-duty work. And you might be wondering why I'm not recommending more of the heavy-duty work gloves here. Well, there are two reasons for that.
The first reason is that you don't need all that protection in your warehouse work gloves. While better protection is always good, light-duty gloves like these work just fine. The EN388 3131 protection rating on these gloves offers excellent protection for most warehouse tasks.
The second reason is that heavy-duty work gloves might not offer the best value for warehouse workers and couriers. The demands of warehouse work mean that heavy-duty gloves still wear out eventually. This, along with their higher cost, makes these gloves much more value-friendly, especially since you can buy them in bulk.
And like the many other fabric gloves I've recommended, an advantage of the model KG11PB is that they are very flexible. These gloves stand out from the rest, though, because of their polyester fabric shell.
Polyester is a lot more comfortable to wear than nylon, and on par with cotton, so they are both often used on shirts and inner clothing. Also, unlike cotton, polyester is a synthetic fabric, which makes them a lot more durable.
Another stand-out feature of these gloves is their coating. Instead of the more common nitrile material, these gloves have a polyurethane coating. Nitrile is commonly used to coat gloves because they have great grip on wet surfaces; however, they tend to be very stiff.
Meanwhile, polyurethane is stretchable, letting the gloves fit more snugly on the hands. This is important for workers that require pinpoint accuracy.
Pros
EN388 3131 certified protection for light-duty work
Can be purchased in bulk for better value
Polyester fabric is comfortable and durable
Stretchable polyurethane coating for improved fit
Cons
Loses its grip on very wet surfaces
Even the best work gloves break eventually. Instead, get a set of these best box handling gloves, and you'll be set for a very long time.
10. DS Safety NP1001 Touch Work Gloves
We have come a long way from thick sewing leather to make gloves. Composite materials, synthetic fabrics, and modern manufacturing methods have resulted in many innovations in making work gloves. This model NP1001 Touch from DS Safety serves as a prime example of this.
One of the highlight features of these gloves is the rubber coating that DS Safety calls "Micro-Foam". This Micro-Foam stands out from the typical layers on work gloves because of its breathability. The coating has thousands of tiny pores that allow air to pass through the coating for unmatched comfort when working.
In essence, Micro-Foam is a special blend of nitrile and polyurethane or PU. This composite material combines the best qualities of both materials, so the coating has the durability of nitrile but with the stretchable fit of PU.
With automation becoming more common in warehouses, workplace safety measures also have to be updated. For that reason, DS Safety has incorporated capacitive fingertips that let you operate touch screens without needing to remove your gloves.
You also won't have much reason to remove these ups gloves, thanks to their comfortable nylon knit. Compared to other work gloves, these use a very thin nylon fabric woven into a very tight-knit. While the thin fabric means it's weak against cuts, the gloves are incredibly comfortable.
Pros
Micro Foam coating gives high breathability
Unique nitrile-PU blend is durable and stretchable
Capacitive fingertips for use with touchscreens
Ultra-fine nylon knit for improved comfort
Cons
Doesn't protect well against cuts
Tech-friendly workplaces will also need tech-friendly workwear. The DS Safety NP1001 will make sure you're ready for it.
11. Maxiflex 34-874 Ultimate Nitrile Work Gloves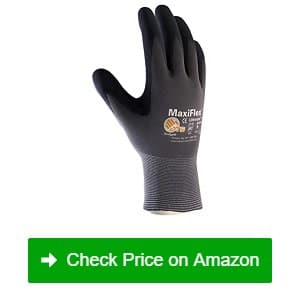 Maxiflex is another popular brand that makes high-dexterity work gloves for light-duty applications. This Ultimate model is their most premium model in their product lineup and offers many great features that couriers and warehouse workers will appreciate.
For one, there is the 4131 protection rating as certified by the EN388 standard. Their excellent abrasion and tear resistance make them great for light-duty work, such as lifting boxes and operating forklifts and pallet jacks. It's all the protection you need and nothing you don't.
The main feature of the Maxiflex line of work gloves is their grippy nitrile palm coating. These gloves, however, take the design further by using a textured coating. This increases the surface area of the nitrile coating for improved grip. The only drawback to this design is that the gloves aren't compatible with touchscreens.
Buying work gloves that fit just right can be very difficult. Often, my fingers are too short to reach the fingertips of the gloves, leaving dead space that is cumbersome to work with. The Maxiflex Ultimate solves that with its stretchy, form-fitting construction that wraps around the hands like a second skin.
To improve the fit even further, these work gloves use a knit cuff design that hugs the wrists tightly. This helps keep the gloves from slipping off and prevents dust from entering the gloves through the cuffs.
Pros
Excellent light-duty protection with EN388 4131 rating
Textured nitrile coating for improved grip
Form-fitting construction for a second-skin feel
Knit cuffs provide secure fit and dust protection
Cons
Doesn't work on touchscreens
The Maxiflex Ultimate are some of the best-fitting gloves I've ever used, and I highly recommend them for light-duty tasks.
12. Ironclad HUG Heavy Utility Work Gloves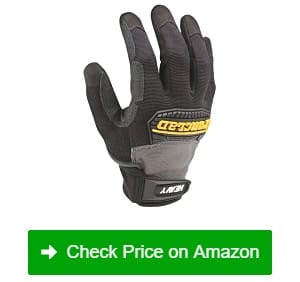 Yes, I'm recommending another pair of work gloves made by Ironclad. The reason for this is just that, as a brand, Ironclad makes some of the best gloves for warehouse work. And this model HUG Heavy Utility gloves might be the best one of all of their gloves.
For these gloves, heavy-duty is the name of the game, and it shows. These work gloves have ample amounts of reinforcement throughout the palms and fingers, ensuring unmatched durability no matter what the task.
These reinforcements are made with what Ironclad calls their Duraclad material. This is their specially engineered synthetic leather that offers class-leading resistance to cuts, punctures, and abrasions. Duraclad also grips pretty well on most surfaces, making these gloves a great option if you want a long-lasting pair.
In addition to their already impressive performance, these gloves come with TPR knuckle guards to protect the hands against impacts. They might not look like much, but your hands will thank you when a package falls and hits them.
The gloves are also constructed based on Ironclad's Flawless Fit system, which uses computer-aided design to engineer the best fit.
For this level of protection, though, there has to be a catch. And for these gloves, that catch is dexterity. I found that the gloves were too bulky for holding small objects like pens and pencils, which I have to use regularly.
Pros
Extended palm reinforcement for unmatched durability
Duraclad build offers class-leading performance
TPR knuckle guard protects against impacts
The flawless Fit system guarantees a secure and comfortable fit
Cons
Too bulky for precision work
If you are in the market for proper heavy-duty work gloves, the Ironclad HUG is the glove for you.
13. Carhartt Women's Pro Palm Work Glove
For women who work in the package handling industry, it can be very frustrating to buy work gloves when a large majority is designed for men. In truth, men's hands tend to be wider and thicker than women's hands, so women trying to buy work gloves will find many of them too loose and roomy.
Thankfully, there are brands out there that have gone the extra mile. For example, this pair of work gloves from Carhartt is constructed with a much slimmer shape and fit designed to fit female hands perfectly.
These gloves use an engineered blend of cotton, nylon, and spandex to improve the fit even further. This fuses the high flexibility of nylon and spandex with the comfortable skin feel of cotton for the best of both worlds.
Besides the fit, Carhartt has also taken extra steps to make their gloves as work-ready as any other. One such step is the injection-molded thermoplastic rubber (TPR) on the palms that the brand calls C-Grip. While TPR is often used for impact protection on heavy-duty gloves, they work very well here as an all-weather grip.
Most fabric gloves are dipped into liquid rubber to apply the grippy coating. While this makes manufacturing easier, it does limit how thick the coating can be. This is why these work gloves fuse the TPR grip onto the gloves instead.
Doing so allows the rubber to be much thicker for extra protection, but at the cost of it being too thick to work with touchscreens.
Pros
Slim glove shape designed for female hands
Cotton-nylon-spandex blend fuses comfort with flexibility
Injection-molded TPR palms offer all-weather grip
Extra-thick coating for extra protection
Cons
TPR grip does not work with touchscreens
High-quality women's box handler gloves are few and far between. And of the many I've seen and tried, the Carhartt Pro Palm work gloves are one of the best.
14. Schwer Level 5 Cut Resistant Gloves
The last product I am recommending on this list is this pair of gloves from Schwer. Although these are primarily made for DIY work, we'll find that these gloves work quite well for package handling.
As the name of the product suggests, these gloves have excellent cut resistance. Plus, the fabric is rated for CE level 5 cut protection, which should be more than enough for warehouse work.
My favorite feature about these gloves, though, is their silicone grip. When it comes to rubbery substances, silicone is best-in-class at providing a consistent, reliable grip on almost all surfaces in different conditions. For this reason, these gloves are one of my favorites for package handling because I can trust the silicone pads never to lose their grip.
Another advantage that these gloves have over other rubber-coated work gloves is the unique chevron pattern they use. Most coated work gloves will have a full coating over the entire palm and fingers; using the chevron pattern on these gloves instead of a full coat opens up flex zones across the length of the palms. This improves the flexibility of these box-handling gloves even more.
These gloves are also machine washable, which makes them very convenient if you don't have the time to hand wash them yourself. However, I do want to point out that they should be air-dried only; using a dryer on my pair caused some of the silicone strips to rip off.
Pros
Best-in-class cut resistance with CE level 5 rating
Embedded silicone strips for best-in-class grip
Chevron grip pattern for high flexibility
Machine washable for convenience
Cons
Heat can remove the silicone strips
For those who are looking for gloves with superior grip for package handling needs, this one is a good choice.
What to Look for When Buying Box Handling Gloves?
Although box handling gloves can come with all sorts of features, they are all there to serve one of three main purposes:
Grip: When you are moving boxes around, the last thing you want is for the box to slip out of your hands, damaging the package and possibly even injuring yourself and others. The best gloves for handling cardboard boxes should have great grip to prevent this from happening. Silicone or rubber pads along the palms and fingertips of a pair of gloves are a good indicator of grip strength.
Protection: As personal protective equipment, box handling gloves should protect your hands from cuts, scrapes, punctures, impacts, and contact with germs and chemicals. An easy way to find good moving gloves is through their ANSI and CE EN388 ratings. These are industrial-grade standards that indicate how well a pair of gloves resist mechanical hazards, and higher ratings indicate better protection.
Flexibility: Hand protection isn't everything when it comes to box handling gloves. Heavy-duty protective gloves might be nice, but they can be too bulky to hold smaller objects comfortably. That's why you should also consider the flexibility of the gloves that you're buying, and make sure that they let you move your fingers freely enough for the things you need to do.
What are Box Handling Gloves Made of?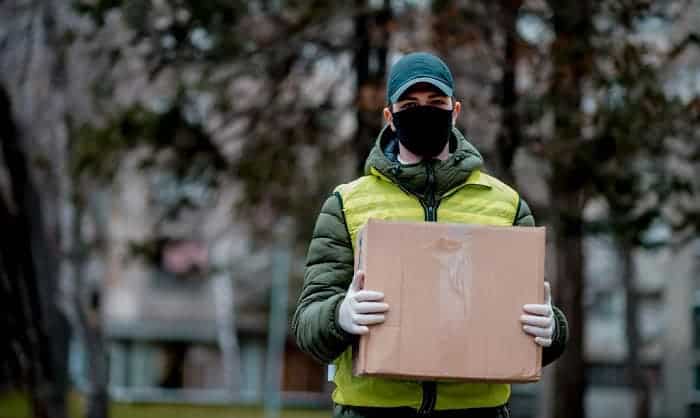 Thanks to new synthetic materials and manufacturing methods, box handling gloves are now made with all sorts of materials. Just like with shoes, leather is an excellent, if expensive, the material still used by some of the best fedex package handler gloves. If those are a bit too expensive, synthetic leather gloves are becoming more popular and can even offer better durability.
For those who want thinner gloves for ups drivers, fabrics are the way to go. In terms of materials, there are a lot to choose from. Cotton, polyester, nylon, and spandex are just a few examples. Each fabric has its own properties that make them better suited to some applications than others—for example, cotton tends to be the most comfortable while spandex is the most stretchable.
Often glove manufacturers will blend two or more fabrics to make their gloves, combining the qualities of both for a more appealing product.
Most fabric box handling gloves, however, will almost always be reinforced with rubber material. Besides, polyurethane, nitrile, and silicone are often embedded into fabric gloves to make some of the best gloves for moving boxes. With these two materials together, you get the comfort of fabric gloves with the resilience and grip of rubber.
How to Choose the Right Size?
The sizing for the best box handling gloves will depend on how the manufacturer defines their sizes and makes their gloves. Box handling gloves will usually come in sizes from extra small to extra large, and each size will usually be measured according to the palms' width. Some gloves made with stretchable materials will be more forgiving in terms of size.
Properly fitting box handling gloves should be snug—not loose, but not too tight either. A glove that is too tight will restrict blood flow to your hands, while a loose glove might slip out of your hands while you work. More importantly, you should make sure that the length of the fingers fits you just right; if the fingers are too short, it becomes uncomfortable, but if the fingers are too long, the extra material on the fingers can get caught in machinery, which is very dangerous.
How Long Do Box Handling Gloves Last?
In general, a good pair of box handling gloves should last you a month under normal use. However, the exact lifespan of a pair of gloves is hard to predict because it depends entirely on how much you use them.
For instance, heavy-duty packing gloves may form tears in a couple of weeks with heavy use, while coated fabric gloves could last over two months if you only do light work with them. Because of this, it's important to consider your use case for these before investing in your next pair.
Another thing to consider when buying box handling gloves is their value for the money. As we've seen, some of the light-duty gloves I've recommended can be bought in bulk packs of 12 pairs or more.
And although each pair doesn't last as long as a single pair of heavy-duty gloves, having multiple extra pairs might actually make your purchase last longer.
Conclusion
A proper pair of work gloves is essential equipment for warehouse workers and delivery drivers. It protects the hands from physical and chemical hazards when handling thousands of packages every day.
But finding the best box handling gloves can be tricky when they come in so many shapes and sizes. This list contains a few of the best work gloves that I've used for my work, and I hope that this will help you find the right pair of gloves for you.
Hi, I am Alexander, forty-seven years old this year. I have been in the construction industry for twenty-five years and have provided a wide range of services. When it comes to expert guidance on site safety gear, you can put your trust in me.