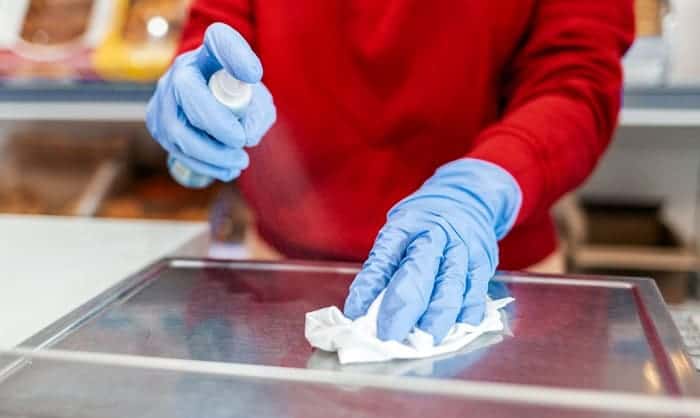 Exposure to chemicals in the workplace is among the hazards that can seriously hurt us. Liquids like cleaning solvents, laboratory chemicals, hair dyes, fuels can burn, irritate, and even dissolve our flesh if not handled with protective gear. So with that, we need the best chemical resistant gloves along with other pieces of safety equipment.
But the variety of products available, in terms of quality, materials, and functions can confuse us big time. That's why this article can help with these detailed reviews on the best pairs tested for some time. Many of them are in our toolset to help us work safely every day. So dig in to know more!
Featured Products
Best Overall
ThxToms Heavy Duty Latex Gloves
– Resist chemicals, wear and tear
– Balance protection and flexibility
– Ideal for various tasks
Editor's Pick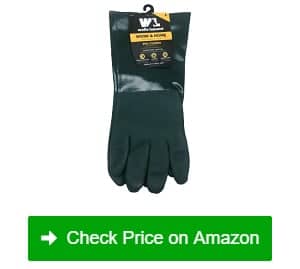 Wells Lamont Chemical Gloves
– An affordable pair for newcomers
– Available in 14, 18 inches long
– Versatile and practical design
Premium Choice
LANON Chemical Resistant Gloves
– Ideal for people with sensitive skin
– Resists abrasion, blade and tear
– Comes with a non-slip sandy-textured palm
Best Chemical Resistant Gloves Reviews
1. ThxToms Heavy Duty Latex Gloves
A protective gear that I rely on when dealing with chemicals is the ThxToms Heavy Duty Latex Gloves. I would not say it's stylish, but the pair's high-grade protection is unparalleled.
My investment in this product is a well-spent expenditure, as the pair is made of quality material. With premium natural latex, the manufacturer creates a chemical-resistant gear that shields our hands against exposure to toxic agents. Furthermore, the tough material gone through treatment also resists tear and wear, promoting long-term use.
Protection is one thing; flexibility is another factor that makes these gloves stand out. We cannot handle tasks with stiff and bulky gloves that protect well but hinder our movements. Luckily, this pair can cover both aspects, offering workers the tactile sensitivity required for intricate tasks.
For buyers who seek long-sleeve protective gloves, ThxToms offer three sizes with different sleeve length. In detail, we can pick from options with 14, 18, or 22-inch sleeves that fit our hands and our needs.
With reliable protection capability, this pair is widely used among machine repair, aquarium or chemical processing, and laboratory workers. Since it is a heavy-duty pair that can stand up to strong acid, alkali, and oil, we can use it for various purposes, even in the harshest conditions.
Unfortunately, these large gloves do not seem to fit women's size well. So for ladies, maybe they should settle for a different design.
Pros
Premium natural latex gloves for resisting chemicals, wear and tear
Balance protection and flexibility, offering tactile sensitivity
Comes in three sleeve lengths: 14, 18, and 22 inches
A heavy-duty pair that stands up to strong acid, alkali, and oil
Ideal for various tasks: machine repair, chemical processing, laboratory, etc
Cons
A large pair that might not fit women's size well
Overall, the lack of proper sizing for female workers is a shortcoming of this product. But when it fits, the pair delivers superb protection and flexibility that we need for handling chemicals.
2. Wells Lamont Store PVC Chemical Gloves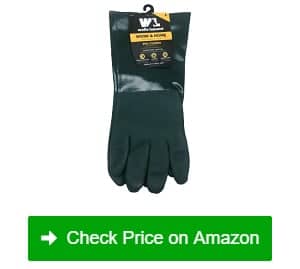 The Wells Lamont Store PVC Chemical Gloves make it much safer for workers when dealing with hazardous liquids. Thus, it is a must-have tool for newcomers, as oftentimes, all they want is a pair that works and does not break their bank.
I opted for the longest sleeve version the brand offers at 18 inches, as I need forearm protection against chemical splashes. Others might only need a shorter one at 14 inches, and some workers prefer gloves with a tightly-knit wrist cuff to prevent debris from entering. Wells Lamont Store has all those options to cater to specific needs.
The main catch of this gear is its PVC coating covering the whole gloves, shielding the chemicals and any harsh liquids like acid, grease, oil. Thus, there is no chance for those hazards to penetrate through the glove material and hurt our hands.
Furthermore, the PVC layer features a textured grip that ensures flexible and full-control handling for workers. That means we can use our fingers freely and hold small objects without slipping. Such a feature is critical for duties in chemical laboratories, as they require a high level of dexterity.
Due to the versatile and practical design, this pair of chemical-resistant gloves are usable for different situations. We can put them on to operate machines at the construction sites, hold lab materials, and clean without hurting our skin.
Beyond that, I often wear a pair of super thin nitrile gloves inside to handle rigorous work to prevent blisters caused by these gloves and my skins.
Pros
An affordable pair for newcomers
Available in 14, 18 inches long, and a short one with tightly-knitted wrist cuff
Shields against chemicals and harsh liquids with PVC coating
Offers textured grip for flexible movements and full control
Versatile and practical design for various tasks
Cons
Can cause some blisters while handling rigorous work without thin gloves inside
The bottom line is that anyone who needs an affordable pair of chemical resistant work gloves that offer excellent protection should consider this Wells Lamont product.
3. LANON PVC Coated Chemical Resistant Gloves
Another pair that suffices when I need protection against oil and grease is the LANON PVC Coated Chemical Resistant Gloves. Most buyers, including me, attest to this one's durability and comfort that support our long-hour work.
This one's ergonomic structure rises to the challenge of harsh conditions. The entire piece is a combination of Sweden-imported PVC fabric and Japan-imported polyester plasticizer. As a result, it can resist abrasion, blade, tear, and puncture well, promoting excellent robustness against all hazards.
In detail, such high-quality materials can afford superior mechanical strength for these gloves for an extended time. According to the brand's claim, within 96 hours of continuous use at 158F°, the pair can still maintain 90 percent of its strength. After operating harsh tasks wearing the gloves, I admit that it is indeed a heavy-duty gear.
Another factor that contributes to a smooth working process is the handgrip. Therefore, a pair of chemical handling gloves should also offer sufficient gripping on greasy or wet surfaces. Fortunately, this pair's non-slip sandy-textured palm can deliver such a function.
Best of all, these PVC gloves are latex-free, making them a perfect option for people with sensitive skins. The pair will not irritate or give people blisters after extended working periods. Due to such comfort and durability, it is best used for workers who handle chemicals, petrochemical and oil purification, and more.
The only qualm I have with this otherwise perfect protective gear is its relatively short sleeve. So buyers who want longer ones to keep their forearms safe might hesitate a bit.
Pros
Made of Sweden-imported PVC fabric & Japan-imported polyester plasticizer
Resists abrasion, blade and tear, and puncture
Maintains high mechanical strength at 90% for long hours at 158F°
Comes with a non-slip sandy-textured palm for an excellent grip
Latex-free, thus ideal for people with sensitive skin
Usable for handling chemicals, petrochemical, and oil purification
Cons
Offers no option for longer sleeves
Without the options for long sleeves, these PVC gloves chemical resistance gear still prove its unmatched power in shielding us against the most dangerous hazards.
4. Atlas GLV26 772 Chemical Resistant Gloves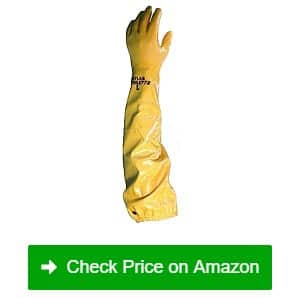 The next low-profile yet rugged pair that protects me well is the Atlas GLV26 772 Chemical Resistant Gloves. I bought it simply for household chores, but the gear promotes an incredible shield against harsher elements.
What surprised me when I first put on this pair is its extra-long sleeve covering my forearms entirely. With it, those hot chemical splashes cannot hurt me while I am focused on my tasks. Furthermore, for people with sensitive skin that want to cover as much of their skin as possible, these 25-inch long gloves are excellent companions.
Other than its impressive length, I fall for the pair's toughness. Constructed out of nitrile, it appears to be a bit thinner than most chemical-resistant gloves yet offer powerful protection. Indeed, we can rely on the pair for guarding against harmful chemicals.
Furthermore, it is fully lined for better robustness when dealing with pressure and sharp edges. That means the pair can withstand abrasion and puncture well, assuring me that it will not wear out too soon despite frequent work.
One last thing that I adore about this protective gear must be its sufficient dexterity. Since it is made slightly thinner, the piece fits nicely to our fingers and palms, allowing us to have utter freedom in moving and handling.
However, these gloves are somewhat light-sensitive, as the brand instructs us to store them away from direct sun rays. So, we should only use the pair for indoor lab or cleaning tasks.
Pros
Rugged and low-profile gloves to work with harsh elements
Comes with an extra-long sleeve, measuring 25 inches, for forearm protection
Nitrile construction fully lined for better abrasion and puncture resistance
Offers satisfactory dexterity with thin and well-fitted parts
Cons
Somewhat light-sensitive, thus ideal for indoor work only
For people that frequently handle tasks indoors, these protective chemical proof gloves can be a big help.
5. ThxToms Nitrile Chemical Resistant Gloves
The ThxToms Nitrile Chemical Resistant Gloves are a budget-friendly pair that do well with light to medium duties. DIY-ers or people who do laboratory or food processing work prefer this one to other bulky and rigid pairs.
I expected good chemical protection from this nitrile piece, and it did not disappoint. Due to the premium-quality nitrile free of latex and rubber, these gloves can ensure no exposure to hazardous solvents, lilquids, and gases for wearers. Plus, I can easily keep it clean since the pair resist odor with the flock linings.
Furthermore, it does an excellent job of protecting my hands from cuts and punctures. I found out about this feature when handling tasks with a sharp knife and accidentally slipping my hands. Luckily, the pair got me covered with its puncture-resistant construction.
For food processing or tattoo workers, accurate movements of fingers are critical for their daily tasks. That's why they need flexible and thin gloves like this one. It measures only 15 mm thick, promoting optimal dexterity for intricate duties. Hence, painters and craft artists can make good use of the pair, too.
Another perk of this product is its slip-resistant textures on the palm part. Such a design makes the pair perfect for work in laboratories, as lab workers cannot afford to drop their materials and tools.
For buyers that want a pair to fit their hands well, I suggest they buy a size bigger than the product's standard chart.
Pros
A budget-friend pair of liquids, gas, and solvent resistant gloves
Made of high-quality nitrile without latex and rubber for optimal performance
Easy to keep clean due to the flock linings that resist odor
Thin and flexible gloves for painters, craft artists, etc
Slip-resistant palm texture for laboratory work
Not ideal for heavy duties
Cons
Advisable to buy a size bigger than usual
Overall, I was lucky enough to read the recommendation for one size bigger when buying these chemical resistant nitrile gloves, so my pair fits and protects me well.
6. DS Safety Nitrile Coating Chemical Resistant Gloves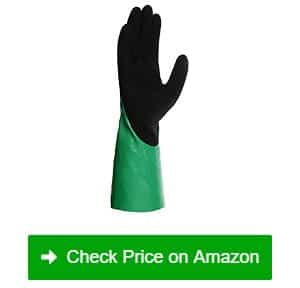 Comfort and flexibility are the notable attributes of the DS Safety Nitrile Coating Chemical Resistant Gloves, besides their sufficient protecting capability.
I would never imagine that handling tasks can be this effortless, not until I got a hold of these coated gloves. Their design comes with seamless knitted liners and ergonomic construction, offering me the required movement accuracy for my tasks. Plus, I can easily put them on and pull them off quickly when needed – such a convenient pair!
Also, the liners made of soft cotton give me a better experience for long-hour work. In detail, the gloves do not suffocate and irritate my hands but allows me to feel more breathable.
The "cool" thing about this gear that distinguishes it from other chemical-resistant work gloves must be its HYCOOL and non-slip grip. Here's the thing, there are layers of NBR palm and HYCOOL finger coatings, which feature thousands of micropores for liquid dispersion.
Such a construction will ensure a better grab and control on slippery and oily surfaces.
We cannot talk about these gloves without mentioning their unparalleled protective functions. The heavy-duty gear has long cuffs, which shield our wrists and lower parts of forearms from chemical splashes and abrasives.
Still, it will be awesome if the brand releases more colors of this pair in the future for buyers to choose from.
Pros
Features seamless knitted liners and ergonomic design for accurate movements
Allow easy and quick pulling on and off if needed
Soft cotton liners for comfortable and breathable wear for hours
Combines NBR palm and HYCOOL finger coatings for an excellent grip
Heavy-duty gloves with long cuffs to shield against chemical splashes & abrasives
Cons
No multiple options for more beautiful colors
Overall, I fall for this pair's chemical resistance, flexibility, comfort, and superior grip. It is incredible to utilize these chemical safety gloves to have full control over my tools with oily surfaces.
7. Gastody Chemical Resistant Gloves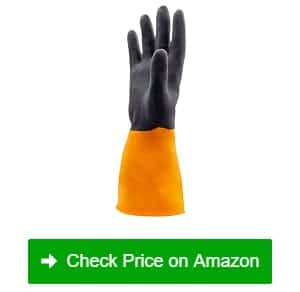 I purchased these Gastody Chemical Resistant Gloves in a set of two for obvious reasons, which are saving money and sharing them with my partner. Both of us are amazed by how these affordable pairs keep hazardous liquids away from our skin.
This resilient hand protection gear shows great strength even after numerous uses. It handles hot water and harsh liquids well. I barely feel the heat of the water streams through these gloves while making home improvement. Our projects around the house ended without both of us getting our hands blistered or hurt.
I adore this design's comfortable fit for both male and female hands. It nicely embraces my fingers that I can feel the textures of my working objects and handle them well. Such an anatomically shaped design will be of excellent use for intricate tasks.
Another highlight about these reusable chemical resistant gloves is their anti-slip grip. Whether on dry, wet, or oily surfaces, they still provide us with easy maneuvering with minimal slipping. Thus, other than making home improvement like us, people can use this pair to paint, handle chemicals in the laboratory, and many tasks with tools.
In other words, these gloves are wide-ranging gear for various applications. They offer all necessary functions for users to safely and confidently wash cars, clean the houses, do yard work or furniture renovation, and more.
Some buyers seem to have problems with the shipping process as the brand sent them the wrong sizes.
Pros
Affordable gloves for chemical uses
Rugged gear to handle the hot water and harsh liquids numerous times
Offers a comfortable and good fit for male and female hands alike
Anti-slip grip for handling dry, wet, and oily surfaces
A wide-ranging pair that allows users to clean, handle chemicals, and paints, etc.
Cons
There might be a mistake in shipping, as the brand sometimes sent wrong sizes
All in all, we all need a functional pair like this in our house, as these gloves do their tricks to protect us against hazardous liquids like cleaning agents and other chemicals.
8. UXglove Chemical Resistant Latex Gloves
Elasticity and durability roll into one pair of UXglove Chemical Resistant Latex Gloves. Due to its premium-quality material, the gear has been a big help for me in tasks with solvents and other dangerous chemicals.
Hurting my hand skin while cleaning and handling work was a nightmare. So I tried different gloves to find one that protects me while giving me the freedom to perform tasks easily. Luckily, I came across this high-quality pair made of natural latex, which can shield against chemicals, wear and tear.
After going through vulcanization processing, the gear is added with multiple valuable properties. Thus, this one comes with a smooth surface, which is slightly different from many chemical-resistant pairs. Such a feature ensures long-lasting use, as the gloves cannot stick together then rip apart as many rubber pairs do.
It is worth mentioning that these well-made gloves do not make me feel uncomfortable or leave blisters all over my hands after work. This is a huge plus, compared to some latex work gloves I have tried before. Furthermore, since its natural material is of premium quality, it is stretchy enough to be put on and off with ease.
With comfort and proper protection, heavy and complicated tasks seem manageable for wearers. They can utilize it while doing furniture renovation, automotive work, handling duties in the chemical industry, mechanical maintenance, and more.
However, some users might not settle with this product since it has no small size. Nevertheless, the brand promises to introduce smaller models in the future, so I am looking forward to it.
Pros
Natural latex material for shielding against chemicals, wear and tear
The vulcanization processing results in a smooth surface for minimal sticking
Offers excellent comfort and no skin blisters
A stretchy pair that allows easy pulling on and off
Usable for furniture renovation, automotive work, mechanical maintenance, etc.
Cons
Currently has no small sizes for users
Despite having limited choices in sizing, these are latex gloves chemical resistant pairs with great elasticity and durability for multiple jobs.
9. Frogwear 8490 Tripple Dipped Work Gloves
All attributes of chemical work gloves are brought to a new level with these Frogwear 8490 Tripple Dipped Work Gloves. The ultra-rugged and flexible pair never ceases to impress me in the harshest conditions.
Reading the size options of these gloves, I suppose that this collection is perfect for people with large hands who struggle to find a well-fitted pair. Besides, these pieces come with a 12-inch cuff length for better shielding our wrists and forearms.
The main reason behind this pair's protective power is its specially formulated PVC material. Hence, we can trust the gear to protect our hands and skin from chemicals and other hazardous liquids. In addition, these gloves can repel water well, leaving our hands clean and dry after work.
One important feature that I appreciate in this product is its flexibility. It is not easy for even durable pieces to stay flexible at -5°F, but these gloves exceed my expectations. The Sandpaper palm textures incorporated allow me to hold small items and grab onto wet surfaces with minimal slipping.
People who perform outdoors in changing weather, especially in winter, will adore these gloves. Their seamless liners are made of brushed Terry cloth – a high-quality insulated and soft material that keeps our hands warm and comfortable for long hours.
Yet, it would be better if these stitches can stay for long despite frequent abuse. Unfortunately, they are the first to go, unlike the rest of this robust pair.
Pros
Ideal for people with large hands
Comes with a 12-inch cuff length to protect the wrists and forearms
Specially formulated PVC material repels water and hazardous chemicals
Remains flexible and slipping-resistant at -5°F
Brushed Terry cloth liners for better insulation in cold weather
Cons
Stitches are not heavy-duty like other parts of these gloves
Working in cold weather seems more bearable thanks to these warm gloves. They deliver sufficient protection against chemicals and water well, too.
10. Double One Chemical Resistant Gloves
Another reusable and multi-purpose gear for workers is the Double One Chemical Resistant Gloves. It is a simple black pair that packs many functions qualified for heavy-duty industrial uses.
As expected, this reliable product is made of natural latex – a high-quality material that ensures strong resistance against chemicals. Notably, the Malaysia-imported material is qualified by CE/SGS international testing. Thus, I can confidently handle acid, alkali, solvents, and oils without worry about skin burns.
Furthermore, vulcanization processing is applied to this latex pair, reinforcing its tensile strength. The second dipping also results in extra toughness, making me trust this pair to handle sharp tools. In truth, I have never been hurt by punctures when wearing the gear.
I was surprised how this pair keeps its flexibility and tensile strength despite the change of environments. So while the level of chemicals shifts, we can still have reasonable control on the working objects and surfaces.
Considering all the fantastic attributes these gloves bring, workers in machine maintenance or chemical processing can handle tasks while wearing them. Also, they are suitable for house cleaning, car washing, and more tasks around the house.
Still, the pair sometimes makes my hands sweat when I work for an extended time in hot weather.
Pros
High-quality latex for strong resistance against acid, alkali, solvents
Malaysia-imported natural latex is certified by the CE/SGS international testing
The vulcanization processing and second dipping for excellent tensile strength
A puncture and tear-resistant pair
Flexible despite changes in environments
Ideal for machine maintenance, chemical processing, cleaning, etc
Cons
Might make hands a bit sweaty in hot weather
A little sweat does not hinder my work in cleaning and maintaining my household. I am glad I have this well-made pair in my tool collection.
11. D SUPER REMOVER Chemical Resistant Gloves
The next pair from D SUPER REMOVER is among the Chemical Resistant Gloves that stay with me the longest. From my experience, its thickness is ideal for handling gasoline.
Regarding this item's dimensions, it measures 14 inches, long enough to shield our hands, wrists, and forearms from chemicals. Also, these gloves are recommended for people with hands width of around 3.58 to 3.85 inches (9,1 – 9.8 cm).
The range of chemicals that this pair offers protection is quite impressive. In detail, its Neoprene-over-natural rubber structure repels hazardous fluids like cleaning solvents, food processing solutions, fuels, you name it.
The striking thing about these chemical-resistant gloves is how effective their grips are on various surfaces. Despite the presence of fluids on the object surfaces, this pair with its self-flushing tractor-tread textures allow stable grab and hold for workers.
Another thing that makes the item stand out is its incredible comfort. I attribute such a feature to its cotton flock liners, as they are so soft and breathable that I barely feel irritated after hours on end handling my tasks.
One missing function in these otherwise perfect gloves is the temperature insulation. In cold weather, I often have to put on a thin nitrile pair underneath.
Pros
Thick and long (14 inches) enough to protect wrists and forearms
A wide range protection: cleaning solvents, food processing solution, fuels, etc
The effective grip on surfaces due to self-flushing tractor-tread textures
Incredible comfort offered by the soft and breathable cotton flock liners
Cons
Not excellent at temperature insulation for cold weather
Overall, I understand the rave reviews about these neoprene gloves chemical resistance models, as workers are delighted with the tactile-sensitive and protective pair.
12. Infi-Touch Heavy Duty Nitrile Gloves
The final item that I want to include is the Infi-Touch Heavy Duty Nitrile Gloves. Some of us prefer reusable pairs for frequent tasks; some others just need disposable chemical resistant gloves like this one.
Obviously, these high-quality products offer optimal freedom and dexterity for workers. In other words, we can enjoy the tactile feel the pair offers to move our hands and fingers flexibly to complete duties.
With chemical resistant disposable gloves as well-made as this one, wearers can hold small objects and grab on wet surfaces without slipping. This is due to the microtextures of its fingertips that boast an anti-slipping function. That explains why these gloves are widely used in hair salons.
Furthermore, its resistance to oil and brake cleaner is impressive. When I worked on my car improvements, these gloves greatly helped, as they prevented those hazardous liquids from hurting my skin.
As thin and well-fitted as this pair, it shows no compromise in strength and durability. These powder-free gloves can stand up to puncture and mild cut, ensuring long-lasting use for tasks in automotive and even industrial applications.
Considering the premium quality and functions, buyers should expect this product's slightly higher price than other competing disposable gloves in the market.
Pros
Provides freedom in movement and dexterity for intricate work
Features microtextures on fingertips for anti-slipping function
Resists oils, brake cleaner, and other hazardous liquids
Boats great strength to resist mild cut and punctures
Ideal for hair salons, automotive, and even industrial applications
Cons
At a higher price than competing products
All in all, I find the investment in this disposable gear cost-effective as its excellent functions justify its slightly higher price.
What to Look for When Buying Chemical Resistant Gloves?

When buying chemical-resistant gloves, we can choose between reusable or disposable ones. Each type has its advantages, yet workers that handle chemicals should opt for reusable ones for better protective functions and ensure less waste to the environment.
For people that perform heavy-duty work, tensile strength, puncture, and cut resistance are additional features they should look for. Also, the anti-slip function is critical for better gripping on working objects for oily and wet surfaces. These are protecting attributes that ensure safety for wearers.
In terms of durability, product materials play a big role. You can choose among these high-quality and commonly-used materials: natural latex, neoprene, and rubber with PVC coating, nitrile, or Teflon glove. In addition, it is vital to opt for products that undergo vulcanization processing for reinforced strength.
Besides, soft and breathable liners can offer us breathable and comfortable wear for hours on end. That's why workers who perform long hours need a pair with such lining to not sweat and suffocate in their gloves.
A reliable brand is another clue for finding good chemical-resistant gloves for newcomers. They can browse through the collection of well-established labels like Wells Lamont, UXglove, THxToms, D SUPER REMOVER, and more reviewed above.
What Do Chemical Resistant Gloves Protect Against?

Chemical resistant gloves are formulated to shield wearers against hazardous chemical exposure. They are must-have gear to block the intrusion of toxic liquid that can harm our skins, which often cause burns, irritations, and more severe hurts. Furthermore, these gloves can protect our hands from cuts and punctures caused by sharp tools.
Is Nitrile Gloves Chemical Resistant?
Yes, they are. Nitrile gloves are chemical resistant, and this function is quite impressive with such affordable materials. They are considered a popular choice for general purposes when dealing with chemicals. So for people who need a decent-quality pair that block hazardous liquids, nitrile gloves are the one.
Conclusion
Any contact with chemicals can cause mild to severe hurt on our hand skin. Of course, this is worse if we handle tasks involved with chemical exposure. That's why equipping ourselves with the best chemical resistant gloves is a must.
Even if we just make home improvements or car washing, wearing a good pair will minimize the skin damage the solvents might leave.
Hi, I am Alexander, forty-seven years old this year. I have been in the construction industry for twenty-five years and have provided a wide range of services. When it comes to expert guidance on site safety gear, you can put your trust in me.