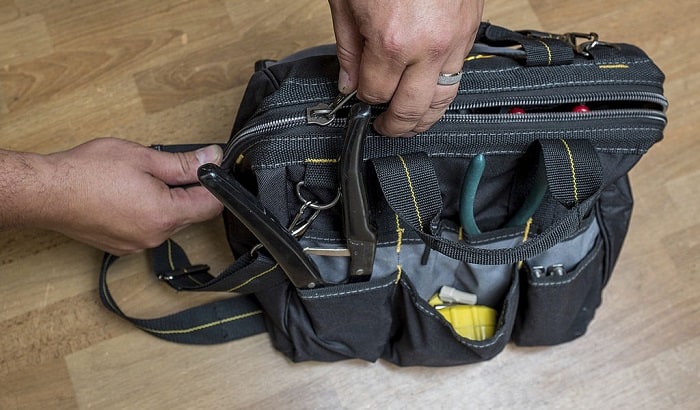 Do electricians need a tool bag? Apparently, yes.
Besides a tool belt, which works wonders when carrying frequently-used equipment, a tool bag is required to accommodate a complete set of work gear. Therefore, for extensive maintenance and repair projects, workers need the best electrician tool bag to ensure their work rhythm and safety.
In that case, which option should they choose among various designs available? To answer this question, many factors must be considered. However, for a quick overview, here're some main points we must pay attention to:
Durability – The tool bag often carries a lot of heavy pieces, from power to handheld tools and other parts. Therefore, it is essential to pick canvas tool bags or polyester ones which work well for a long time.
Storage design – The number of tools and their sizes will determine the kind of storage space and design you want for your tool bag. Make sure to check the depth of the bag, its number of pockets, and the size of the holders. Such features point you to the right option.
Bag style – Electricians' tool assortments are pretty similar to each other in type. But, there will be differences, depending on the kind of tasks they handle. Therefore, choosing the right design, either a backpack for easy traveling or a tool tote for an onsite job, is an important decision.
For further detail, check out the reviews below and the buying guide in the next section. Continue reading to find the information you need!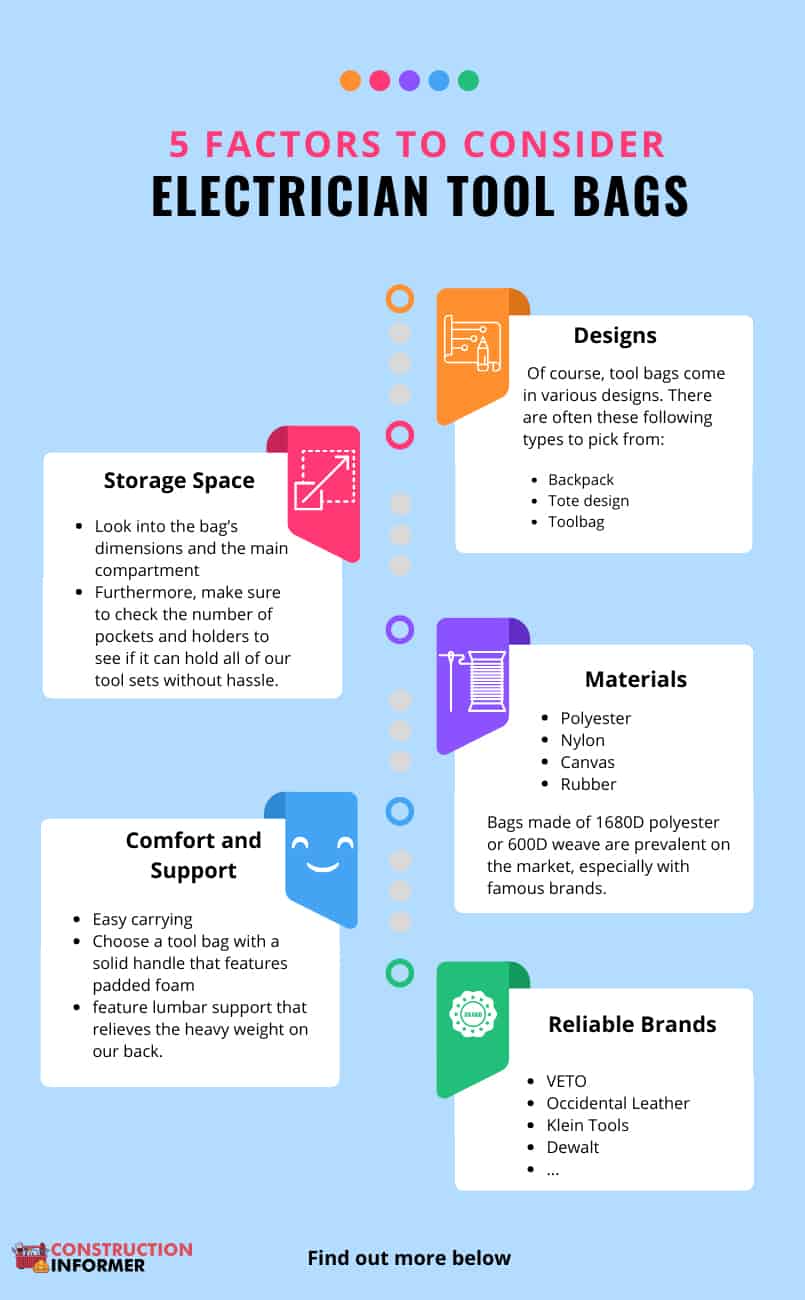 Featured Products
Best Overall
Klein Tools 55421BP
– Resist water and withstand rigorous conditions
– Has 39 pockets
– Tall and large interior pockets for long tools
Editor's Pick
CLC Custom LeatherCraft 1539
– Made of polyester and polypropylene
– Vertical pocket design
– Has zippered pockets on the side
Premium Choice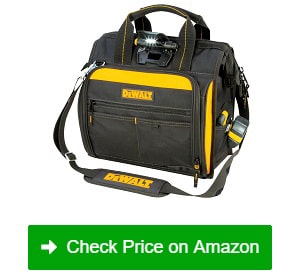 DEWALT DGL573
– 41 interior and exterior pockets
– Adjustable shoulder straps
– Features a 39-lumen LED light
List of Top 10 Electrician Tool Bag Reviews
1. Klein Tools 55421BP Tool Bag Backpack
The Klein Tools 55421BP Tool Bag Backpack is a pleasant surprise for workers who seek comfort and ample storage capacity in a tool bag. In my case, its features indeed exceed my expectations.
First of all, its durability is excellent, making some users think it can survive a tornado. That might be a bit exaggerating, but I attest to this bag's quality that withstands the most rigorous working conditions. In fact, it is made of 1680D ballistic weaves that are both robust and water-resistant.
This Klein electrician tool bag can pack my most used tools for daily work without needing extra pouches or tool belts. It has a total of 39 interior and exterior pockets for securing all the stuff I need. For instance, the molded front pouch is for keeping safety glasses.
Furthermore, the other front pockets feature zippers for tools and small parts. It is such a relief that we can keep long hand tools in this tool bag. Its interior pockets are large and tall enough to keep even long screwdrivers and drill bits.
For reinforcement, when we carry a full load of tools, which is often the case for my tasks, the bag's bottom is molded. Notably, even with large and heavy tools packed inside, I still find it comfortable to wear this Klein tool bag.
The only flaw in this good tool bag's design must be its plastic zippers, which cannot take much abuse. Therefore, I replaced them all after two months or so.
Pros
Durable 1680D ballistic weave to resist water and withstand rigorous conditions
Has 39 pockets to pack all electrician tools and stuff
Features a molded front compartment for protecting safety goggles
Front pockets have zippers to secure small hand tools and parts
Tall and large interior pockets for long tools
Comfortable to wear and reinforced with molded bottom
Cons
The zippers might require replacement after some months
It is not an exaggeration to say this Klein Tools design is the right tool bag for electricians, newbies, and professionals alike. It comes with all the key features that make work easier.
2. CLC Custom LeatherCraft 1539 Tool Bag
Another well-made tool carrier for electricians is the CLC Custom LeatherCraft 1539 Tool Bag. With a good sense of organization, we can pack a multitude of tools inside this spacious tool bag.
In detail, it has a total of 50 interior and exterior compartments. As its dimension is 18 inches long, 14 inches wide, and 7 inches high, the piece can pack larger tools without hassle. Its main storage can keep hammer drills, drill bit boxes, heat shrinks, screws, and more, as long as we organize those tools neatly.
Furthermore, its side pockets and exterior holders can keep more stuff, including tape measures, a utility knife collection, flashlights, electrical tape, socket extensions of various sizes, etc. We can also insert our belongings and protective gear inside this heavy-duty tool bag when going on a trip.
This bag is made with resilient materials to support its large storage capacity. Despite carrying large tools and sharp objects at all times, the bag does not show much tear or wear after frequent abuse. The combination of polyester and polypropylene is indeed reliable.
Furthermore, this option features a vertical pocket design for easy view and tool access. All the side panels also feature zippers for securing tools and preventing spillage during traveling and tasks.
One minor flaw I noticed is that the zippers sometimes stick a bit. Other than that, the whole tool bag is working fine.
Pros
Feature 50 interior and exterior compartments for a huge tool collection
The main compartment can keep large tools: hammer drills, drill bit boxes, etc
Comes with side pockets and exterior holders for small tools and extra belongings
Durable bag made of polyester and polypropylene
Features vertical pocket design for easy and quick access
Has zippered pockets on the side to secure tools
Cons
Sometimes the zippers stick a little
Overall, I find this CLC custom leathercraft design an excellent electricians bag with a large capacity and secure compartments for tools.
3. DEWALT DGL573 Lighted Tool Bag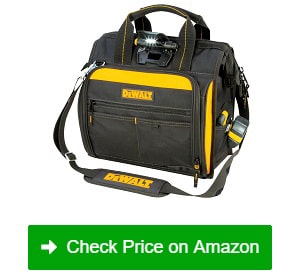 As its name suggests, the DEWALT DGL573 Lighted Tool Bag features a LED light that aids work in low-light conditions. It is sensible for electricians or technicians performing tasks in an unfavorable setup.
Indeed, it cannot replace a functional flashlight, but this one can suffice in certain situations. We have three options to adjust the light levels, from a concentration beam for close-up tasks to lighting up a wide area. Overall, it is a compact piece with an output of 39 lumens.
Furthermore, this Dewalt tool bag has 41 interior and exterior pockets, keeping both small pieces and large tools in place. Since it comes with different layers and compartments, it is easier to organize all the tools.
For instance, the outer section has medium-sized holders and mesh pockets, then the main bag comes with more than 20 compartments. Also, on its side, there is a hook and small slots for easy access to additional parts.
What I appreciate when carrying a bag full of heavy pieces are the adjustable shoulder straps and padded handles. I can choose either way to hold the tool bag without hurting myself. Furthermore, the support pads on the bag's back ensure added comfort, especially for long-hour trips.
However, for some workers, it is a bit bigger than expected, as they want the bag to be a tad shorter.
Pros
Features a 39-lumen LED light with 3 options for light level (focus or wide)
41 interior and exterior pockets with multiple layers and compartments
Has mesh pockets, a hook, small slots for extra parts
Features adjustable shoulder straps and padded handles for carrying
Has support pads on the bag's back for added comfort
Cons
A bit bigger and taller than some expected
Overall, this Dewalt electrician tool bag is among the good choices mentioned in electrician tool bag reviews. It does a good job of holding all the tools securely and neatly.
4.Veto Pro Pac TECH PAC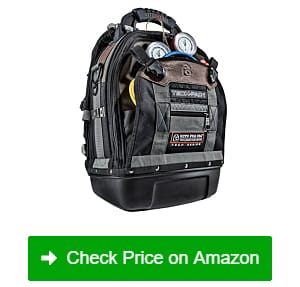 The Veto Pro Pac TECH PAC is an excellent tool bag for electrician, offering both style and great functions like no other. I went for the original design in grey and black, and the piece still looks good after over a year of frequent use.
Other than the model I picked, there are several more options, including the all-black, bright orange, bright yellow, mossy oak, or a design with wheels. All these well-designed pieces are constructed out of nylon for long-lasting use.
What I appreciate the most about this electrician tool backpack must be its storage design. On opening the tool bag, we will see well-laid-out compartments for specific electrician tools. For instance, the ample main space is for long and large tools. Meanwhile, upper holders give room for storing separate small hand tools.
There are also added loops and hooks on the side for hammers, measuring tape, and other stuff. For important or small items, we can use the zippered pockets. In other words, we have space for anything we want to bring along to our work site.
To give an idea of its size, this electrician tool bag is 14.25 inches long, 9.88 inches wide, and 21.5 inches high. Furthermore, it comes with EVA padding on the back and a 3-mm polypropylene base to avoid falling over while providing ultimate comfort for users.
Considering all the incredible features of this electrician's tool bag, we can expect the price is not affordable for many.
Pros
A stylish electrical backpack in all-black, bright orange, yellow, mossy oak,…
A heavy-duty nylon construction for long use
Well-laid-out compartments for electrician tools of varying sizes
Feature hooks, loops, and zippered pockets
Back EVA padding for comfort and 3-mm polypropylene base for stability
Cons
A high-priced electrician tool bag
In my opinion, this is easily one of the top-rated electrical tool bags money can buy. So long as we have the budget to spend, it is recommended to go with this well-designed bag.
5. Klein Tools 5541610 Tool Bag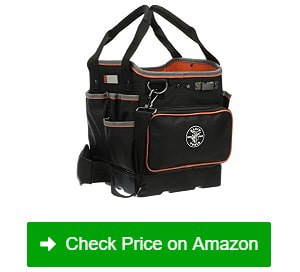 Among the cost-effective electricians tool bags available, the Klein Tools 5541610 must be one of the best. For anyone looking for a tote design for onsite work, this model will serve them well with large storage and easy access.
I gave this piece the perfect rating after using it for a while since it is a functional tool organizer. Whether we work as cable technicians or carpenters, this bag with 40 pockets, an ideal size and arrangement can help.
I can keep all the big-sized and frequently-used tools in the wide-open compartment for easy access. The large zippered pocket can be used to store small tools and parts. Meanwhile, there is extra space on the side panels for other essential tools.
This tool tote for electricians has a good height, measuring 10 inches, thus sufficient to keep long hand tools without them falling out. Also, its bottoms are molded, so I can place the tool bag beside me without the whole thing tipping over and dispensing the tools.
The great thing is that this bag's interior is orange, making it much easier for me to spot my tool despite the full package. Furthermore, its heavy-duty construction of 1680D ballistic weave can ensure good use for years to come.
The shoulder strap with soft padding aids in carrying the bag around. Its pair of handles are good, too, except there are no paddings on them, which can hurt my hands a bit when the bag is heavy with tools.
Pros
A cost-effective, functional tool organizer with 40 pockets in various sizes
Has a wide-open compartment, a large zippered pocket, and side panels
10-inch high to keep long and large tools without spilling
Its bottoms are molded to prevent tipping over
The orange interior allows users to quickly identify tools
Has heavy-duty construction of 1680D ballistic weave and padded shoulder strap
Cons
The handles are not padded
Other than the minor flaw in its handles, this electrician tote is an excellent companion for big projects requiring a myriad of tools.
6. VETO PRO PAC Tool Bag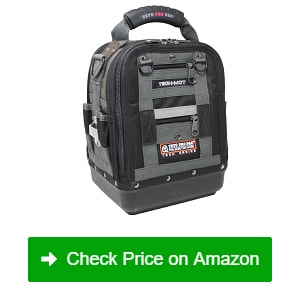 The next top-rated tool bag for electricians is another design from VETO – the PRO PAC tool bag. I recommend this piece for any worker who needs a well-organized bag for their gear assortment.
This Veto electrician tool bag is waterproof, which is one of its best attributes, in my opinion. Since I sometimes do maintenance tasks in damp areas with mud and the like, this feature helps keep all my power tools intact.
The storage space in this electrician tool bag is sufficient for a huge collection of tools. In detail, with 44 pockets available, we can keep a compact power tool together with hand tools and other small parts without making a mess. In fact, there are two storage bays, memory stick pockets, a stainless-steel tape measure clip, etc.
When fully packed, the tool bag can weigh quite much; therefore, the handles must be strong enough to handle the package. In this case, Veto reinforces the handle with mold and creates an ergonomic design for easy maneuvering. Also, the padded shoulder strap is 3 inches wide to offer enough comfort even with a heavy load.
To keep everything balanced while workers open the bag to retrieve their tools and work, the brand adds a solid base. We can place the bag on a working platform and carry on doing tasks without worrying about tools pouring out.
What I picked from the collection is the original version. Still, these tool bags are available in black, orange, and yellow versions to choose from. However, they are indeed not budget-friendly products.
Pros
A waterproof maintenance tool carrier in various colors
44 pockets available to keep a compact power tool and multiple tools
Has 2 storage bays, memory stick pockets, a tape measure clip, etc
Features molded handles with an ergonomic design
Has a 3-inch padded shoulder strap for comfort
Has a solid base for stability
Cons
Not a budget-friendly tool bag
This maintenance tool carrier is of excellent use in many situations since it aids my work while protecting my tools from the elements.
7. McGuire-Nicholas 22015 Collapsible Tote
In the large range of electrician tool bag price, the McGuire-Nicholas 22015 Collapsible Tote is at the lowest bar. But when it comes to practicality and quality, this one is definitely above average.
Almost ten times less costly than the most expensive tool bags on our list, this one is not, in any aspect, a flimsy and low-quality design. On the contrary, it meets various electricians' requirements in terms of storage space. With 14 exterior holders available, workers can insert power tools, handheld tools, and other parts in its space.
In detail, the main compartment sits nicely with a cordless drill in the middle, together with the nail and nut box and other measuring tapes. Other handheld tools, like utility knives or wrenches, can sit in the exterior holders. Such a tapered pocket design indeed spares more room for a myriad of electrician tools.
Furthermore, its handle is also not flimsy, as it can carry the fully packed box with ease. Made of tubular steel with robust foam padding, the handle ensures long-lasting use while reducing fatigue for users.
Yet, the best thing about this electrician tool bag must be its collapsible tote design. It is convenient to store this compact piece in the car trunk or cabinet when traveling or not using the bag.
In my opinion, it would be better if the handle could turn sideways. Still, the current stable design already makes transport easy.
Pros
Budget-friendly model among all quality tool bags
Features 14 exterior holders and a main compartment
Packs a drill, nail boxes, measuring tapes, and other handheld tools well
Heavy-duty handle made of tubular steel with foam padding
Convenient collapsible tote design for easy traveling and storing
Cons
Would be nice if the handle could turn sideways
Overall, this electrician tool bag does a good job of keeping all our tools in place. Notably, it is an excellent option for newbies with a limited budget to spend on work bags.
8. Internet's Best BIRDROCK Electricians Tool Bag
Among the available electrician tool bags, the Internet's Best BIRDROCK stands out with its unique layout similar to a toolbox.
This bin tote electricians work bag fits best for onsite projects. Its frame, which is similar to a box, is semi-stiff, thus ideal for stacking electrician tools in categories. Besides, it comes with an open-top caddy for us to reach inside and fish out any tool without hassle.
Regarding its dimensions, the tool tote is 16 inches wide, 9 inches deep, and 8 inches high. Its interior space is 7.5 inches deep, thus allowing ample room for power tools and other large-sized handheld pieces.
Compared to a tool belt, this electrician tool bag helps carry more tools and reduces the risk of small parts falling. In truth, I can store all my tools inside its 16 holders and loops. I often keep my set of drill bits, pencils, Allen wrenches, and pliers in separate exterior pockets.
To carry a whole lot of tools, the materials of the tool bag should be durable enough. Luckily, this piece is made of 600D fabric, resilient enough to withstand sharp tools and heavy loads without much tear and wear.
Besides, the handle is also heavy-duty as it comes with a metal frame and padded grip. Such a design ensures the handle does not give up under the tool weight while offering us enough comfort.
However, the handle construction is not perfect. It would be nice if it allowed easy rotation.
Pros
Features a semi-stiff box tote design with an open-top caddy
Ample room with an interior of 7.5 inches deep
16 holders and loops for various handheld tool sets
Durable bag made of 600D fabric
Heavy-duty handle with a metal frame and padded grip
All in all, I am pleased with this electrician tool bag, especially its bin tote frame and multiple side holders for tool sets.
9. Milwaukee Jobsite Backpack
The Milwaukee Jobsite Backpack is more than just a tool bag, since it offers extra space for our laptop. We can utilize this functional electrician tool bag setup for different types of work trips.
Like most durable tool bags for electricians, this one is also made of 1680D ballistic material. As a result, its construction can withstand rigorous working conditions where sharp edges and hazardous elements are prevalent. I have brought this bag everywhere with me for months now, and it has not shown any sign of wear and tear.
The notable thing about this Milwaukee electrician tool bag must be its plastic-coated base. Its bottom material and design allow the bag to sit upright and block moisture intrusion that leads to tool corrosion. Therefore, it is a good choice for onsite tasks.
Tool organization is a worry for most workers, including electricians, when they have a huge collection. Knowing that, the brand constructed this electrician tool bag with 35 pockets in well-placed positions. We can classify our tools in sizes and types, then keep them inside the designated holders.
There is also an extra sleeve for keeping our laptop or other gadgets. The added harness with load bearing capacity offers an even weight distribution for the tool load on our back. With such a chest strap, we can feel more comfortable bringing along multiple tools.
However, the small velcro strap on the back required replacement after a month or so. I was happy to do that since the rest of the bag still worked well.
Pros
Heavy-duty 1680D ballistic material to withstand sharp edges and elements
Features a plastic-coated base for extra stability and moisture resistance
Has 35 pockets for tools of different sizes and types
An extra sleeve for electronic gadgets
Added harness with load bearing capacity for even weight distribution
Cons
The small velcro strap at the back is not that durable
My experience with this electrician tool bag has been positive so far. Therefore, I find no severe issue that prevents one from utilizing this well-made design.
10. Carhartt Legacy Tool Bag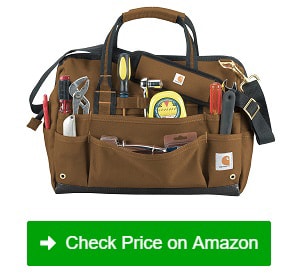 The Carhartt Legacy Tool Bag easily becomes many electricians' favorite choice with its stable and sturdy design. I prefer this one to most tool bags since its size is ideal for my requirements.
This electrician tool bag is 16.4 inches long and 11 inches deep, suitable for keeping both large and long electrician tools. There are a total of 23 exterior holders & loops and 11 interior pockets, designed with varying sizes.
Best of all, the bag promotes ease of use with its internal metal frame that prevents collapsing when standing. Plus, the wide-opening main compartment and other holders allow easy access and tool retrieval. Therefore, we can ensure a smooth and steady work pace.
Another perk of this design is its secure YNK zipper. When we want to carry the bag along, we can zip it up to keep all the content inside safe, then use the haul handle or the shoulder strap.
Durability is also a strong point of this electrician tool bag. From its durable synthetic construction to the sturdy stitching and water-repellent material, all promote long-lasting use.
Up until now, I have not encountered any issues while using this bag. It is working just fine.
Pros
Ideal dimensions for electrician tools: 16.4 inches long and 11 inches deep
Features 23 exterior holders & loops and 11 interior pockets
Has an internal metal frame, water-repelling synthetic fabric, and strong stitches
Easy-to-access holders and wide-open main compartment
Features YNK zipper for security while carrying
Allows carrying with the haul handle or the shoulder strap
The bottom line is this tool bag for electricians is an excellent choice for workers seeking a large carrier for multiple tools. It offers good security and ease of carrying for work trips.
Rugged Tools Pro Tool Backpack (Outdated)
The Rugged Tools Pro Tool Backpack makes it to the top-rated electrician tool bags list due to its versatile and well-organized layout.
At first glance, I noticed how spacious this work bag is, as its height is 19.5 inches. With such a dimension, it is a breeze to store even a large power tool such as a cordless drill. Furthermore, its storage space is classified into various compartments to keep sets of screwdrivers, levels, wrenches, electronics, etc.
Such a bag, when fully loaded, will be rather heavy; mine is around 30 – 35 lbs when I pack all my tools in there. Fortunately, the shoulder strap is adjustable and padded to ease the heavy burden. Besides, this tool bag features padded back lumbar support to alleviate the pressure.
Since the bag is often loaded with heavy tools, it must be durable enough to handle its weight. In this case, the Rugged tool bag is made with heavy-duty 1680D Polyester – a reliable material to construct robust tool bags. Plus, its shell case is semi-hard to add some stability to the overall design.
One feature I love about this electrician tool bag is its molded bottom. This part is hard enough to prevent intrusions of elements and allow the bag to stand upright when I work.
I would recommend upgrading this bag's zipper by putting a hole in it to install a small lock for extra security. Other than that, it is a good tool bag for long-term use.
Pros
Ample and tall bag (19.5 inches) to keep a large power tool
Multiple compartments to organize sets of tools
Adjustable shoulder strap with paddings for easy carrying
Features padded back lumbar to reduce pressure
A heavy-duty 1680D Polyester construction with a semi-hard shell
Molded bottom to resist elements and help the bag stand
Cons
The zippers should have a hole in them to install a small lock
What this electricians work bag does best is offering secure and well-placed compartments to arrange tools.
What to Look for When Buying Electrician Tool Bags?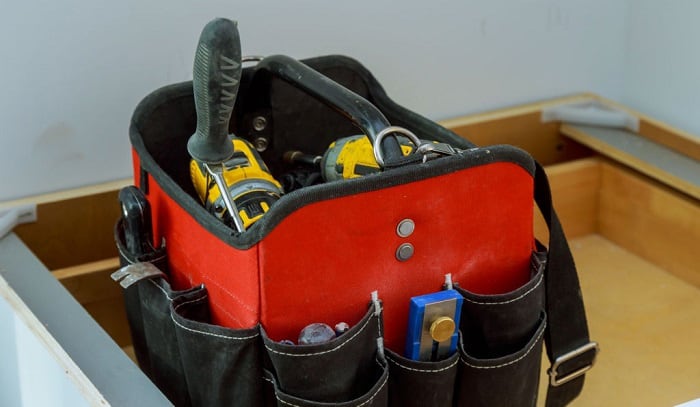 When picking the most suitable electrician tool bag for use, there are many factors to consider. Most of them revolve around how many tools you have and what tools are in your collection. Check out the suggestions below to select a good electrician tool bag to aid your tasks.
Design – Of course, tool bags come in various designs, either for electricians or other workers. There are often these following types to pick from:
Backpack – It looks pretty similar to the backpack we go to school with, but the interior design is surely different. You can find multiple compartments for tools when unraveling an electrician backpack. Such a design works well to carry parts and handheld tools for various onsite tasks.
Tote design – There are semi-hard and hard shell models for us to choose from. Some of them come in a box-like shape with an interior frame made of metal. A collapsible design also allows folding when we travel or store the bag.
Indeed, we can find a rolling tool bag for electricians in tote designs, too. Such a piece will provide ultimate ease in traveling due to its wheels. Just make sure you choose one with robust wheels that can handle heavy loads.
Toolbag – This type of bag is similar to the traveling bag we often use to store stuff on vacations. These designs are not eye-catching, but they surely work well in organizing a myriad of handheld tools for electricians. In fact, you can find a tool bag with up to 50 pockets of varying sizes.
Whichever design is your final pick, make sure that it allows easy tool access and retrieval. Also, it is good to select one with secure zippers that keep everything in place while you are on the road or moving the bag around at work.
Storage space – When we check our tool collection and classify them into categories based on types, usage frequency, and size, it is easier to choose the right tool bag.
In this case, we should look into the bag's dimensions and the main compartment first to see if it can keep our largest gear, which is often a compact power tool. Furthermore, make sure to check the number of pockets and holders to see if it can hold all of our tool sets without hassle.
Of course, we can always bring a tool pouch or a tool belt along for extra pieces, but that would be inconvenient. In some cases, people only need a small electricians tool bag. If that applies to you, available designs with 40 – 50 pockets will become a waste. So, consider your requirements thoroughly.
Comfort and support – The tool bag is designed to make your work easier and reduce fatigue. So, the right tool bag for electricians should allow easy carrying.
With that in mind, choose a tool bag with a solid handle that features padded foam. Also, it is recommended to go with designs featuring adjustable shoulder straps with soft paddings. Many tool backpacks also feature lumbar support that relieves the heavy weight on our back.
Reliable brands and price – Another thing that you should take into consideration is your budget. Of course, with your spendings in mind, look at reliable brands' collections first.
For instance, VETO or Occidental Leather will offer top-notch tool bags, but at a high price. For the medium-range, take a look at CLC tool bags for electricians, or products from Klein Tools, Dewalt, or Rugged Tools, etc. Meanwhile, McGuire-Nicholas is also famous for producing quality workwear at a low price range.
What Are Electrician Tool Bags Made of?
A tool bag must be durable enough to handle heavy weights. Therefore, you should look into its materials and construction to make sure it is worth the investment.
Most electrician tool bags are made of nylon, polyester, canvas, and rubber. Among those, polyester may be the most frequently chosen material. For instance, bags made of 1680D polyester or 600D weave are prevalent on the market, especially with famous brands.
To many's surprises, electrician tool bag leather is not that common. However, leather is in many excellent tool belts or tool pouches for workers. So, if you want a leather electrician tool bag, you might need to look for a while.
Are Electrician Tool Bags Waterproof?
Yes, many electrician tool bags are made with waterproof materials. Some of them feature a plastic base or water-repellant bottom to prevent moisture from getting through. If your location is rainy, you should choose a bag that can resist water and elements well to protect your tools.
What Is the Max Weight Capacity of an Electrician Tool Bag?
It depends on the specific design. For instance, a rolling bag can carry more than a backpack; some rolling bags have a capacity of 200 lbs. Typically, you are able to carry from 20 to more than 40 lbs of tools inside your electrician tool bag.
How Do You Clean an Electrician Tool Bag?
It is best that you read the manufacturer's instructions in cleaning their tool bags. With that, you face no risk of damaging your precious workwear. Still, there are common ways to get rid of dirt, oils, and dust on your bag, such as using warm water, mild soap, a non-toxic cleaner, and a bristle for scrubbing.
Conclusion
Whether you purchase your best electrician tool bag from the UK, the US, or anywhere in the world, it would be great to check recommendations and guides first before making any decision. You can go on platforms like Reddit or AMAZON reviews to see which piece is widely loved by workers.
Or, hopefully, our article already covers everything you need to know for the selection process. Thank you for reading. We hope you already have a good choice in mind!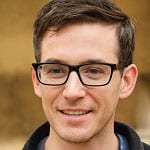 This is Edward Manning, the editor in chief of Construction Informer. Quite a bit of my time is spent researching the market and interviewing experts in the field so that I can give you reliable information.