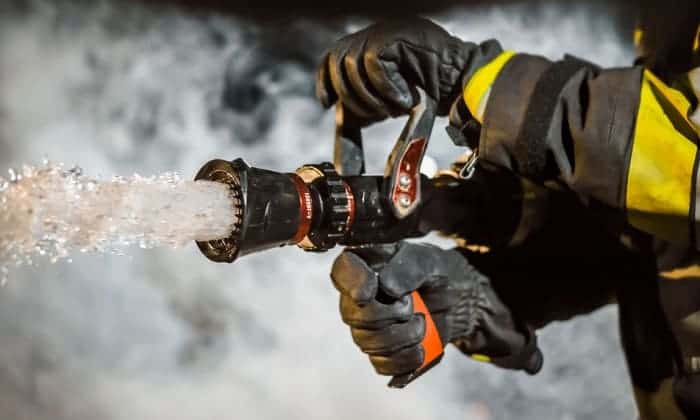 As a firefighter, your hands are your most valuable tools. Whether you're using fire hoses and equipment, clearing a path through burning buildings, or rescuing people from the fire, your hands are there to make that work possible.
All of this work means that your hands are exposed to all of that danger. That is why your hands will need the best protection possible from the hazards of fighting fires. And for that, you will need the best firefighter gloves.
Firefighter gloves are vastly different from the designs used in the early days of personal protective equipment. Thanks to modern technology, firefighting gloves now have various features that allow you to do your job safely and effectively. Some of these features are:
Fire protection: On structural and wildland firefighting missions, firefighters have to constantly contend with the hazards of searing flames and intense radiant heat. For these kinds of missions, you would want to get gloves with fire-resistant layers. Materials like Kevlar and Nomex are two such examples you should look out for.
Chemical and pathogen protection: Besides putting out fires, firefighters are also responsible for search and rescue operations for vehicle accidents and natural disasters. Although they aren't immediately obvious, these missions expose firefighters to transmissible diseases from the people they rescue, as well as chemical burns from toxic substances on the scene.
That is why you should look for extrication gloves with a good moisture and chemical barrier that can keep your hands from coming into contact with these dangerous substances.
High dexterity. While the main purpose of firefighter gloves is to protect your hands from hazards, they also have to do so without affecting your hands' freedom of movement. Stretchable materials like Cordura, polyester, and nylon are key examples you should find.
In this article, I will be showing you 12 firefighter gloves reviews. Because there are different kinds of gloves made for different situations, I've made sure to showcase a variety of glove types so you know what to expect when shopping for your next pair. Also, check out the buying guide for more information!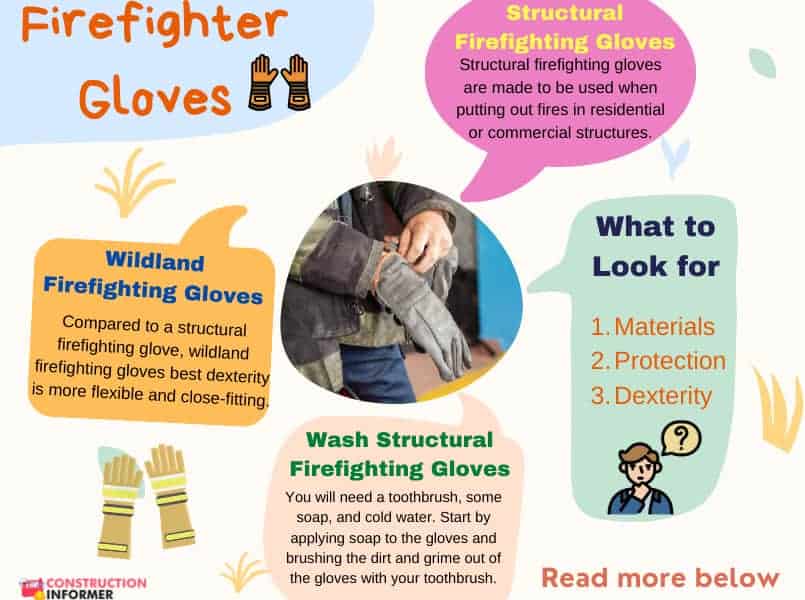 Featured Products
Best Overall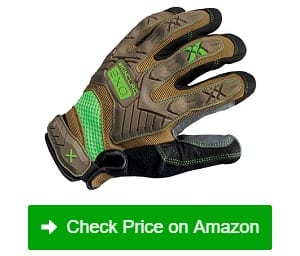 Ironclad EXO Project Impact Gloves
– For MVA extrication
– Soft, flexible materials
– 16-point measurement
Editor's Pick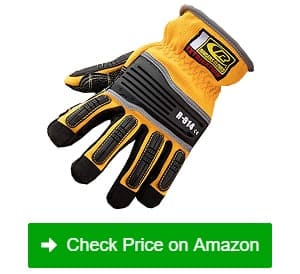 Ringers Extrication Gloves
– Full-coverage hand guards
– Elastic gaiter cuff blocks out debris
– High-vis design improves low-light safety
Premium Choice
Youngstown Titan XT Glove
– Heavy-duty composite shell
– 3M Scotchlite reflector for better visibility
– Thick foam palm padding dampens vibrations
Best Firefighter Gloves Reviews
1. Ironclad EXO Project Impact Gloves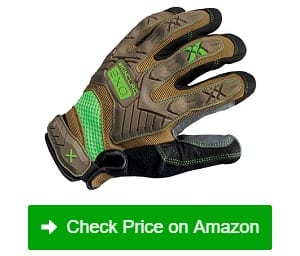 Ironclad is one of the most popular and acclaimed manufacturers of performance work gloves. Heavy industry workers and law enforcement officers alike swear by their Ironclad gloves, and their EXO Project Impact gloves make a great case for use in MVA extrication work.
For one, this work glove is made with soft and flexible materials such as nylon and polyester. This helps greatly with finger motion, letting users operate tools and machinery almost as if they aren't wearing gloves at all.
In the business of making gloves, one of the biggest design concerns is getting the glove to fit in the wearer's hand just right. It has to be both not too big and not too small.
Ironclad's solution to this is a 16-point measurement system to create more precise sizing over the competition. The result is a pair of gloves that feels like a second skin as the EXO Project Impact fits, as the saying goes, like a glove. A hook-and-loop style wrist cuff also lets us customize our fit exactly the way we want.
These gloves are also equipped with anti-vibration pads on the palms. Embedded with soft memory foam, they soften the blow from impact tools and motorized equipment, letting you keep working with less risk of injury.
However, unlike dedicated extrication gloves, they don't come equipped with a pathogen barrier, which exposes your hands to possible contamination. As such, I wouldn't recommend these gloves for extracting people and animals.
Pros
For MVA extrication
Soft, flexible materials for almost gloveless dexterity
16-point measurement gives a second-skin feel
Hook and loop cuff lets us customize our fit
While not strictly firefighters gloves per se, the Ironclad EXO Project Impact gloves are otherwise an excellent pair of firefighter work gloves for general use.
2. Ringers R-314 Extrication Gloves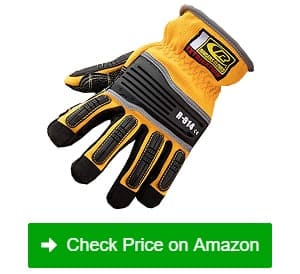 Besides putting out the fire, firefighters also have to do a lot of extrication. To put it simply, this is the search and rescue of people and animals that are trapped inside a fire or a crashed vehicle, and involves the use of cutters, spreaders, and other tools to facilitate this rescue.
And for these kinds of tasks, the Ringers R-314 Gloves are one of the best pairs of gloves that money can buy. To protect users from the many hazards of extrication missions, these gloves are designed with full-coverage hand guards along the back of the hands.
These thick pads create a small but critical barrier between our hands and an incoming hazard, and also soften the impact when it does hit, letting us remove our hands without any damage. Stitched to the main shell with extra-durable Kevlar, these padded palms maximize our grip to ensure a safe and secure hold on tools, debris, or the person we're extracting.
The other parts of the hands are also well-protected, with a layer of padding covering the entirety of the glove's top and fingers. An elastic gaiter cuff on the gloves keeps annoying dirt and debris out to keep us focused on our task.
Because extrication missions are often done in thick fog, smoke, or heavy debris, it is important for firefighters to remain easily visible. The high-vis design of the R-314 helps achieve this, with a vivid yellow shell that can be seen in any condition.
I only wish the gloves didn't take a while to break in. They're a little stiff in the beginning, but not enough to make wearing the R-314 intolerable.
Pros
Full-coverage hand guards for impact protection
Kevlar-stitched padded palms maximize grip
Protective layer on the glove's top and fingers
Elastic gaiter cuff blocks out debris
High-vis design improves low-light safety
With armor-like protective features covering the gloves front-to-back, the Ringers R-314 will give users the safety and confidence to tackle any extrication.
3. Youngstown Titan XT Glove
The Youngstown Glove Company is a manufacturer of high-quality safety work gloves for a variety of industries. From firefighting to electrical work, their catalog has a pair of gloves for just about anything.
Their Titan XT model is their flagship general work glove, designed from the ground up for maximum hand protection in any job without compromising dexterity. Its shell has a composite design that is very well thought out, combining nylon, polyester, neoprene, and cotton to get the most out of each material.
The result is a comfortable and form-fitting shell done up in bright lime green. Unfortunately, the materials used in these gloves aren't waterproof, so these gloves aren't for you if you need your hands dry.
On the palms of the Titan XT are vibration dampening pads made of EVA foam. This helps improve our control over extrication equipment and reduces our risk of developing Hand-Arm Vibration Syndrome.
As a finishing touch, several strips of 3M Scotchlite reflectors are added to the wrists to make you more visible when the going gets rough.
The inner liner of the gloves is made entirely out of Kevlar. The same fabric used in bulletproof vests, Kevlar is used to great effect here to provide substantial protection against cuts and punctures to the entire hand. Many a finger has been lost to a stray piece of debris; the cut protection of this liner should help ensure the same doesn't happen to you.
Pros
Heavy-duty composite shell
Thick foam palm padding dampens vibrations
3M Scotchlite reflector for better visibility
Full Kevlar liner gives whole-hand cut protection
Though it is missing the waterproofing for all-weather use, The Titan XT from Youngstown is still a very capable pair of firefighter extrication gloves.
4. Intra-FIT 7905 Cut Resistant Extrication Gloves
A lot of modern glove designs can get carried away with the bells and whistles that they offer. And sometimes this approach can result in "over-engineered" gloves that turn out to be less effective than simpler designs. That simpler design approach is what Intra-FIT has done with their 7905 model of gloves.
Extrication missions for MVAs or motor vehicle accidents require the use of tools like the "jaws of life". And to operate these tools safely, a strong grip is required. That is why the Intra-FIT 7905 has PVC patches on the fingertips to provide a great grip every time, even on wet surfaces.
Firefighters also need to be protected during their rescue operations. To achieve this, Intra-FIT has designed their gloves with 3 protective features. The first is a set of Armortex reinforcement pads that cover the palms and the saddle of the thumb. These pads have great abrasion and cut resistance and are shaped according to the natural shape of the palms. Stitching keeps them secure on the shell underneath.
The bright yellow shell is made with an engineered fabric that repels both oils and water. This is important for MVA rescue as crashed vehicles often have leaking fuel, battery acid, and other chemicals that could cause severe chemical burns. The only limit to this option is thermal protection; these gloves are heat resistant due to the leather material, but they wouldn't withstand flames.
The third protective feature is found in the cuffs, which are done up in a turtleneck design. This prevents dirt from getting into the gloves from the outside.
Pros
PVC fingertips to strengthen grip on any surface
Armortex reinforcement thumb and palm pads
Oil- and water-repellent fabric shell
Turtleneck cuff for dust protection
Cons
Limited thermal protection
The 7905 extrication and rescue gloves from Intra-FIT are great examples of sticking to the basics, with a simple but effective design that has all the features we need.
5. Dragon Fire Alpha X Firefighting Glove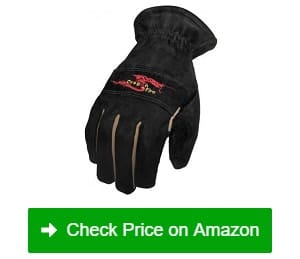 Based in West Virginia, Dragon Fire has been making gloves for firefighters for a long time. Their flagship Alpha X model is the culmination of over a decade of experience in the industry, and it shows.
The key component that makes the Dragon Fire Alpha X such an excellent fireman glove is its Kovenex inner liner. This special fabric offers high-performance thermal protection and is capable of resisting very high temperatures and open flame. It's why Kovenex is the new standard for emergency fire blankets, and these properties also translate very well to the firefighting glove.
Just beyond that Kovenex liner is a thick and durable leather shell. It's thick enough to feel sturdy, but not so much that it restricts the movement of my fingers. I had no trouble using these gloves to operate a fire hose as well as my radio.
This was helped by the grip pads stitched to the fingertips, as well as a much larger patch across the palm. The grip pads on the fingertips might not be very large, but they offer just enough extra grip to let me handle my tools with confidence. I have had two of these finger pads tear off on my left glove, but this was only after months of heavy use.
The Alpha X also comes with a utility bag and branded firefighter glove strap. This is a very thoughtful touch that none of the other firefighter gloves on this list includes.
Pros
Kovenex liner provides high performance thermal protection
Leather shell is thick and durable
Grip pads on fingers and palm
Comes with utility bag and glove strap
With real design inputs from real firefighters, the Dragon Fire Alpha X represents the best that dragon fire gloves have to offer.
6. Pro-Tech 8 Fusion Pro Structural Glove
Firefighting glove designs have branched off into different variations depending on the kind of task they are made to work in. But could it be possible to make a glove that could do double duty?
Pro-Tech 8 attempted to answer that question with their Fusion Pro gloves. Their core feature is the embedded moisture and flame barrier that is compliant with NFPA 1971:2018 standards.
With this barrier, these gloves are capable of protecting our hands from both the flame and heat associated with firefighting, as well as the chemical hazards that people usually deal with in extrications and USAR (urban search and rescue) missions.
The Fusion Pro also has a unique knuckle guard design that is composed of 7 layers of protective fabric. This modern multi layer design gives great puncture resistance and cut resistance without compromising its amazing dexterity.
The middle and ring fingers of the gloves are stitched independently of the rest of the gloves. This improves dexterity by creating a flex groove where the fingers naturally crease.
Glove donning and doffing speed is critical in helping firefighters make split-second decisions. The smooth Modacrylic inner liner of these gloves makes this possible, letting wearers work at their best.
The only thing that might deter buyers from these gloves is their price. They're not the most affordable choice on the market.
Pros
NFPA 1971:2018 compliant moisture and flame barrier
Protects against chemical hazards
7-layer knuckle guard protects against cuts and punctures
High dexterity independent middle and ring fingers
Smooth inner liner made of Modacrylic
It's not often that we get firefighter gloves that can truly do it all. But the Pro-Tech 8 Fusion Pro is one of those rare pairs. With protections for just about everything, these are one of the best structural firefighting gloves money can buy.
7. Ringers R-327 Heavy Duty Extrication Gloves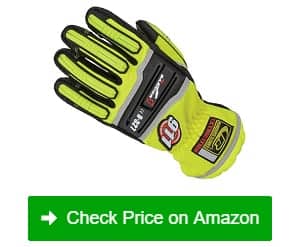 Urban search and rescue is one of the most demanding missions for any firefighter. Not only are firefighters exposed to many physical hazards such as falling debris and stray sharp objects, but they are also exposed to possible pathogen hazards from the people they are rescuing. For this reason, their extrication gloves must be able to stand up to these demands without fail.
Meet the R-327 extrication gloves from Ringers. With extra-thick TPR guards on the fingers and knuckles, these gloves provide some of the best impact protection capabilities on the market.
Of course, impact protection for the hands should not be limited to the top of the hands. To that end, Ringers has reinforced the palms of the hands with a single-piece panel of textured fabric. This approach improves durability by preventing sections from tearing off, as is often the case with smaller patches.
Providing chemical protection is an extra layer inside the gloves made of a material called Hipora. This engineered fabric is made up of three different layers that together block water and pathogens from the outside while also allowing some breathability from the inside.
Because of this barrier, these gloves are compliant with the OSHA 29CFR 1910.1030 standard, which outlines minimum specifications for protecting against blood borne pathogens.
The only major limit to these gloves is that the rubber parts can be discolored by liquids. This doesn't affect their function, but it's something to consider before purchase.
Pros
Knuckle and finger guards protect from impacts
Single-piece palm reinforcement for confidence at work
Hipora barrier blocks out water and pathogens
Compliant with OSHA 29CFR 1910.1030
Cons
Liquids can discolor the rubber parts
Heavy-duty rescue work requires heavy-duty protection. The Ringers R-327 extrication work gloves are the perfect pair for keeping hands safe during the toughest rescues.
8. Womanswork Wildland Firefighter Gloves
It is often assumed that firefighting is a man's job, and for the most part, it is. However, that does not mean that there are no women firefighters—because there are, and there are many. With that said, women are rather under-represented in the firefighting PPE protection market, which is especially bad as properly-fitting equipment is critical to performing at one's best.
Men's hands tend to be wider and stockier than women's, which means that women firefighters will get a loose fit that isn't very confidence-inspiring. That is what Womanswork is solving with their wildland firefighting gloves designed specifically for women.
The slimmer, women-specific sizing of these gloves ensures the optimal fit for women firefighters. But just as men's gloves are too wide and loose for women, these women's gloves will be too narrow and tight for men to wear.
The gloves are made entirely out of brushed pigskin leather. Pigskin is known for its excellent abrasion resistance and its ability to stay soft even after getting soaked. All in all, these characteristics make them very suitable for wildfire firefighting.
Because of the intense heat that wildfire firefighters have to deal with, these gloves were designed with lengthened cuffs to extend the coverage of the pigskin leather for added wrist protection. This all comes together with the help of Kevlar stitching, which makes the seams near-indestructible.
Pros
Women-specific sizing for optimal fit
Full brushed pigskin leather construction
Lengthened cuff for extra coverage
Near-indestructible seams with Kevlar stitching
Cons
Men will find these gloves very narrow
Women's firefighting gloves are a rare sight on the market. But these wildfire gloves from Womanswork help to fill in that gap of proper protective gloves.
9. Hugger Precinct One Extrication Gloves
The Hugger Glove Company is a glove maker that mainly produces for the consumer market with their excellent line of riding and driving gloves. Their Precinct One glove model line, however, is their foray into the professional market, with designs intended for police officers, first responders, and firefighters. These hard knuckle gloves are one such example.
These gloves stand out from the rest of their catalog with their bright yellow knuckle and finger guards. There are six sizes to choose from, ensuring the right fit for most, if not all shoppers. The manufacturer also made the fitting process easier by providing a sizing chart.
The gloves are constructed with a fireproof inner lining that really adds to their versatility. I highly recommend them for more than just basic motor extrication tasks. These gloves, however, only have limited water resistance, which is something to keep in mind before you bring them on a mission that involves a lot of water contact.
These gloves are created with a two-part construction. Synthetic leather is used on the palm side, with additional reinforcement in the form of extra padding in high-wear areas.
Meanwhile, the back of the gloves is made out of breathable polyester fabric. By using this two-part construction, the gloves are able to provide durability to the palms where it is needed while also allowing the gloves to stretch.
Pros
Six sizes available
Sizing chart for customers
Fireproof inner lining
Durable synthetic leather palms with extra padding
Breathable polyester fabric back for comfort
The Precinct One gloves from the Hugger Glove Company are another great option if one needs a reliable pair of gloves that get the job done without any fuss.
10. Shelby Pigskin Firefighters Gloves
The last pair of gloves on this list is made by Shelby. Purposefully built for fighting wildfires, these gloves are loaded with features and design elements to help us perform at our best.
For one, these gloves feature pigskin leather all throughout the palm side of the gloves as well as the entire thumb. Renowned for its durability and abrasion resistance, the use of pigskin in these gloves is a strategic choice. However, pigskin can be rather stiff out of the box and will need some break-in time to get it properly stretched out.
Another well-thought-out design element of these gloves is found in their construction. As we've seen from the other gloves on this list, there are many ways to put a glove together.
For their NFPA firefighting glove, Shelby has gone for a Gunn cut with a keystone thumb. In simple terms, this splits the glove into three distinct parts—the palm, the little & index fingers, and the thumb. This method allows superior dexterity in the fingers while also leaving space in the material to secure the pieces together with strong stitching.
The back of these protective gloves is made from stretchy Cordura fabric. Paired with the Gunn cut construction, this allows the fingers to move and stretch freely while maintaining the glove's durability. Finally, the gloves are topped off with a soft knit cuff that gives a secure and easy fit.
Pros
For fighting wildfires
Durable and abrasion-resistant pigskin leather palms
Gunn cut with keystone thumb construction for maximum dexterity
Stretchy Cordura fabric back
Soft knit cuff provides a secure fit
Cons
Pigskin leather needs break-in time
Last on this list but certainly not the least, this pair from Shelby is one of the best gloves for wildland firefighting that I've tested.
11. Swany Heavy Duty Firefighter Gloves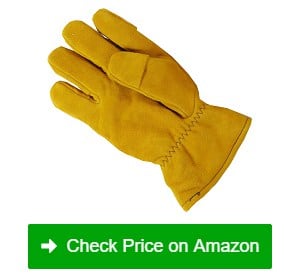 Swany is no stranger to the business of making firefighter gloves. With a company history going back over 60 years, they know a thing or two when it comes to making a proper pair of leather fire gloves.
Take these structural firefighting gloves, for example. The outer shell of these gloves are constructed with thick leather suede, which is known for being extremely tough while also being very supple. These properties make the material an excellent choice for a structural firefighting glove, and attests to the level of expertise that Swany has in designing their products.
The fingers are also designed with thick reinforced knuckles. The extra thickness helps with durability and heat resistance, although I will say that the gloves are quite heavy and will take some time to get used to.
Most other manufacturers stick to the typical fire retardant fabrics for their thermal protection. Swany has opted to use Vilene Fireblocker fabric as the thermal liner. This material is paired with a blend of aramid fibers that protect users from heat and direct contact with flames.
Thermal protection is a major design concern when making the best firefighting gloves. Not only do firefighters' hands have to be protected from flame, they also have to be kept at a comfortable working temperature. A ComforTemp inner liner solves this problem, providing breathable thermal insulation to keep our hands at just the right temperature to ensure a great job is done.
Pros
Leather suede shell for extreme toughness & flexibility
Extra-durable fingers with reinforced knuckle design
Vilene Fireblocker liner, along with aramid fibers, protects from heat and flames
ComforTemp layer keeps our hands at the right temperature
In many things in life, it's always a safe bet to trust the experts. Swany's product is one of the best structure fire gloves one can get.
12. HySafety Cowhide Leather Firefighter Gloves
Structural firefighting gloves have been around for about as long as structural firefighting itself. As such, it is to be expected that glove designs, too, have changed over the years. However, that is not actually the case.
And as we see with these structural firefighter gloves from HySafety, old glove designs don't need to be fixed if they were never broken in the first place.
The shell of the glove is made entirely out of genuine cowhide leather. Although cowhide leather is typically not considered a "premium" leather, it works remarkably well as a material for a firefighting glove. Cowhide is a relatively stiff leather compared to more expensive varieties like deerskin or goatskin leather, but it makes up for that with very good heat protection and insulation.
This shell is reinforced by additional cowhide leather patches across the palm side of the gloves. Because this is a high-wear area, the extra thickness helps ensure the longevity of the gloves.
To compensate for the stiffness of the cowhide leather, HySafety used a 3D construction approach in making their gloves. This technique results in a natural glove fit from the first wear, improving comfort and removing the need to break in the leather.
As a final touch, the gloves are embedded with a waterproof inner liner. Because firefighting involves a lot of water, this liner should help keep our hands from getting wrinkly during long missions.
Pros
Genuine cowhide leather construction
Excellent heat protection & insulation
Reinforced leather pads ensure longevity
3D construction provides a natural fit
Waterproof liner to keep your hands dry
Cons
Cowhide is naturally stiff
Tried by time and tested by tradition, these structural fire gloves by HySafety bring out classic design elements to create a reliable pair of safety gloves that will last many years of fire service.
What to Look for When Buying Firefighter Gloves?
As we've seen in the 12 structural firefighting gloves reviews in the list above, there isn't a single definitive answer for this question. This is because there are different kinds of firefighting gloves intended for different missions. As such, glove makers have to meet different design considerations to best fit their intended use.
In the case of structural fires and wildfires, firefighters will mainly need to be protected against heat and open flames. To get this protection, structural and wildland firefighting gloves have to have fire retardant barriers made of materials like Kevlar, Nomex, and other engineered fabrics like Kovenex.
Of course, it isn't enough to just have a layer of fire retardant fabric in your gloves and call it a day. For sufficient protection from heat and flame hazards, the flame barrier must be compliant with the NFPA 1971 standard, which is where the term "NFPA gloves" originates from. NFPA 1971 is a set of minimum specifications set by the National Fire Protection Association for fire resistant materials, and the best firefighter gloves must be able to meet this standard.
However, these hazards are not quite as common in extrication and USAR missions. For this reason, some of the rescue gloves I have included in my recommendations don't have a dedicated flame barrier. Instead, what they do have are hand guards for impact protection, as well as chemical barriers for chemical protection from vehicle fluids and bodily fluids from victims, which may contain blood borne pathogens.
In general, though, there are two characteristics of a firefighter glove that you need to look for regardless of what kind of nfpa firefighting glove you need, and that is fit and dexterity.
As I've mentioned many times throughout this article, an optimum fit is necessary to get good dexterity out of your firefighter gloves. Gloves that fit too loose will make your movements imprecise, while gloves that fit too tight will be very uncomfortable to use. Whenever possible, I would recommend trying on these gloves in a store before buying them.
Do I Need Different Gloves for Wildland Firefighting?
The short answer to this would be "yes." This is because, compared to a structural firefighting glove, wildland firefighting gloves best dexterity is more flexible and close-fitting. This allows more precise operation of equipment like radios and searchlights, which have rather small buttons that are harder to press with thicker structural firefighting gloves.
The long answer, though, is a little bit different. While gloves for wildland firefighting will always be preferred for wildland firefighting, you can get away with using a structural firefighting glove if you don't have anything else available. The reason for this is that both kinds of firefighting gloves are made with the same kinds of protection against heat and flames, so you can still be protected when using structural gloves.
In some specific circumstances, you might even prefer using structural firefighting gloves over their wildland counterparts. Say, for example, you live and work in a country with a colder climate like Canada. The extra thickness of the structural firefighting glove could be preferable in these situations as they help keep your hands warm.
Do I Need a Glove Strap?
Absolutely. If you are buying Honeywell firefighter gloves that don't already come with a glove strap, you should buy a glove strap along with them immediately.
For those unaware, a glove strap is a sort of lanyard that you use as a holder for your gloves when not in use. Glove straps will usually have a carabiner clip at one end, which allows you to clip it onto your jacket so the gloves are always on hand as soon as you need to put them on.
When are Structural Firefighting Gloves Required?
As the name suggests, structural firefighting gloves are made to be used when putting out fires in residential or commercial structures. This includes homes, apartments, factories, warehouses, office buildings, and other constructed spaces.
How Do You Wash Structural Firefighting Gloves?
Because most NFPA 1971 gloves for structural firefighting are made of leather, leather care methods should be taken when washing structural firefighting gloves.
You will need a toothbrush, some soap, and cold water. Your toothbrush should ideally have medium bristles, as hard bristles can damage the leather and soft bristles won't be able to work the soap into the leather. For soap, any mild detergent will work fine.
To clean your structural firefighting gloves, start by applying soap to the gloves and brushing the dirt and grime out of the gloves with your toothbrush. The toothbrush will work the soap into your gloves and help knock out the deep-seated dirt in the leather.
Once you're finished, rinse out the gloves with cold water, and wipe them to get as much of the soap out as possible. Repeat this until all the soap is gone, then leave the gloves out to air dry outside of direct sunlight.
Conclusion
Firefighting is an intensely demanding job. To ensure you are working at your best, your equipment has to stand up to those demands without fail.
I hope that this list of the 12 best firefighter gloves has given you an in-depth look into firefighter glove designs. And with this knowledge, I hope you'll be able to find the right pair of gloves to be your companions on the next mission.
Hi, I am Alexander, forty-seven years old this year. I have been in the construction industry for twenty-five years and have provided a wide range of services. When it comes to expert guidance on site safety gear, you can put your trust in me.