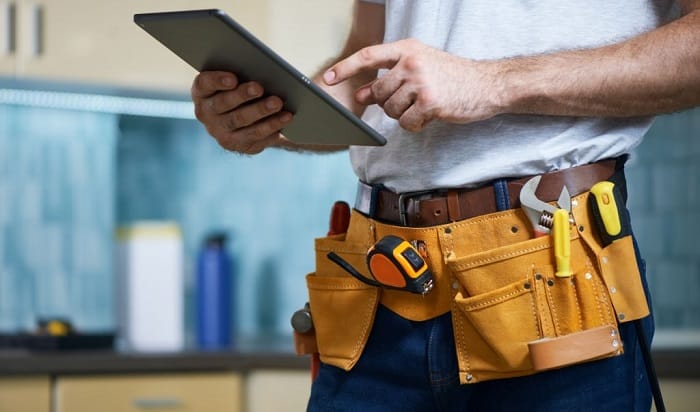 A tool belt is inarguably essential gear for workers in all fields. Yet, there are certain differences in designs and functions, depending on the tool assortment of each type of work. For framers, it is critical that we can insert our measuring, marking, and cutting tools in our pouches and retrieve them effortlessly.
In choosing the best framing tool belt, there are certain things to consider. We have rounded up here three most important factors:
Pouch layout: We should check our collection to see the required storage space to arrange tools neatly. Afterwards, choosing a functional layout should not be a problem. Besides, we must consider our dominant hand to pick out gear that allows us to work seamlessly.
Design: Most workers look for a tool belt with multiple pouches on both sides to balance the weight and pack many tools. Others need a suspension system to support the heavy load, besides the standard tool belt. In some cases, we only need the pouches to make it easier to carry more tools. Therefore, checking out the right design that meets our current requirements is recommended.
Durability: The most durable and high-priced products are often made of genuine leather. However, other products with heavy-duty nylon, ballistic, or polyester can suffice harsh conditions. We need to check other reinforcement features to see if the belt can handle our work.
Other than these points, there is more to choosing the right tool belt for a framer's work. Check out our list of recommended products below and dig into our buying guide to know more.

Featured Products
Best Overall
Custom Leathercraft DEWALT DG5617
–  Fully adjustable suspenders
– Accommodates a 29 to 46-inch waist
– Consists of 20 small and large pockets
Editor's Pick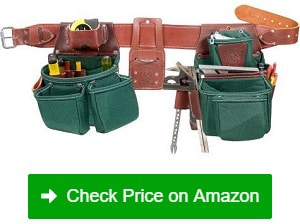 Occidental Leather 8089
– Allows easy tool retrieval
– Has wide-opening pouches
– Handles harsh working conditions
Premium Choice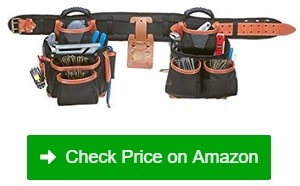 CLC Custom LeatherCraft 51452
– Ưaist sizes from 29 to 46 in
– Has 27 spacious pouches
– Double layers of ballistic nylon fabric
12 Best Tool Belt for Framers Reviews
1. Custom Leathercraft DEWALT DG5617 Framer's Combo
Repairing and building frames requires multiple hand tools and fasteners. We cannot bring them all without a spacious and supporting set-up like the Custom Leathercraft DEWALT DG5617 Framer's Combo.
In one purchase, we have a waist tool belt, removable bags, and padded suspenders to support the whole weight. Every single piece is designed to match well with each other and is of decent quality. That way, we can rely on this combo apron tool belt for heavy duties.
First of all, there are 20 holders in total with nine large pouches and extra compartments, fitting all the primary tools and small tools we possibly need for projects. We are also provided with a secure pouch that zips important belongings like car keys.
Carrying tools for hours can be exhausting, not to mention we have to move and climb to get to certain spaces. To reduce fatigue, the framer tool belt should be comfortable enough. Luckily, this one comes with padding and a double-tongue roller buckle for easy and comfortable use. Its suspenders are padded and designed for fair weight distribution.
Furthermore, this Dewalt tool belt is fully adjustable, allowing us to customize it for a good fit. In detail, this framer's tool belt accommodates a 29 to 46-inch waist, while the suspenders have adjustment points on the front, back, and chest harnesses.
It is nice that the brand adds a cell phone pocket on its suspender, but the addition is too small for a smartphone. Still, we can use the extra space for fasteners.
Pros
A complete set of a tool belt, bags, and suspenders for heavy duties
Consists of 20 small and large pockets for organizing tools
Has a pouch with a secure zipper for important belongings
Comfortable padded belt and suspenders with a double-tongue roller buckle
Accommodates a 29 to 46-inch waist
Fully adjustable suspenders that ensure even weight distribution
Cons
The phone holder is too small for a smartphone
Overall, this CLC Custom Leathercraft combo is a cost-effective investment, considering how the set packs all the necessary framing tools for our work.
2. Occidental Leather 8089 OxyLights Framer Set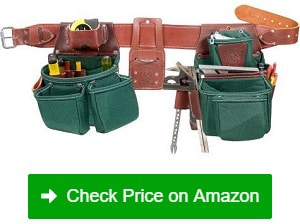 One of the top-tier framing tool belts should be the Occidental Leather 8089 OxyLights. The top-notch set is essential for many professional workers as it delivers functional and durable use.
This leather tool belt can handle the harshest working conditions while maintaining excellent performance. Due to the premium fabric, which is why Occidental Leather is the top brand in the field, this piece can withstand heavy-duty use and abuse at framers' worksites.
What's important when selecting a tool belt must be the space designed for holding tools. And regarding storage, this Occidental tool belt meets various requirements with its multiple wide-opening pouches. They are constructed with large main bags to keep framers' tools like utility knives, squares, levels, and more.
Also, its smaller framing tool pouches are added for fasteners and other pieces required for projects. Not to mention, we can add essential tools to the hammer holder on the side and a tape measure holder on the top of the bag. It is indeed a well-designed organizer for us to pack our tools securely and retrieve them with ease.
Furthermore, this leather framing tool belt also comes in various sizing, ranging from small to extra large. The multiple choices paired with flexible belt adjustment allow the set to fit different body builds.
However, for workers who are familiar with Occidental Leather's products, they know how high the price goes to represent such quality.
Pros
Handles harsh working conditions with premium leather construction
Has wide-opening pouches to keep all the tools
Features extra holders for a hammer, tape measure, and more
Allows easy tool retrieval and secure storage
Various sizing from small to large and fully adjustable
Cons
Very high-priced leather tool belt for framers
Even without our reviews, many workers will still go straight to Occidental Leather to find a top-quality framing tool belt. As we have a huge budget to spend, this premium product is worth it.
3. CLC Custom LeatherCraft 51452 Pro Framer's Tool Belt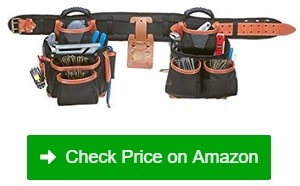 The CLC Custom LeatherCraft 51452 Pro Framer's Tool Belt is another highlight on our list. According to the brand, this model is nothing fancy, simple even, but the functions are impressive and practical.
We can immediately notice the main focus of this framing tool belt, which is a durable construction. The double layers of ballistic nylon fabric and top grain leather trim make a perfect belt for rigorous tasks.
To many users' surprise, such a rugged-looking tool belt is comfortable and easy to use. The belt width and its padding are responsible for such a good experience. Besides, the use of a double-tongue roller buckle made of durable steel allows convenient wear with its easy unlocking and adjustable feature.
Making good use of the 27 pockets provided, we can stack all our gear, from marking tools to cutting and trimming tools. It is the right tool belt to carry various items required due to the spacious pouches and well-arranged layout. For instance, an extra clip and loop are added for a hammer, power tool, or measuring tape.
Regarding the practicality of this framing tool belt, it has two handles on both sides for easy carrying. We can organize our tools and bring them to the worksite without spilling the stuff inside. Plus, the belt can be customized to fit waist sizes from 29 to 46 inches.
Still, this whole belt is a bit heavier than expected since it is a rugged design. So to carry a full load,
we might need suspenders
.
Pros
Double layers of ballistic nylon fabric and top grain leather trim
Comfortable wear due to wide paddings
Convenient use with a steel roller buckle
Has 27 spacious pouches, with an extra hammer loop, and tape measure clip
Features handle on both sides for easy carrying without spilling
Adjustable belt for waist sizes from 29 to 46 inches
Cons
A bit heavier than expected
This CLC model is indeed a good framing tool belt that provides space for all the tools while ensuring good comfort.
4. OX Tools Four Piece Construction Rig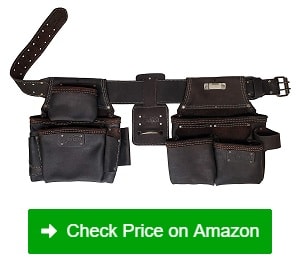 A good framing tool belt must pack all necessary tools for tasks and make it easy for workers to carry them. That's exactly what the OX Tools Four Piece Construction Rig offers.
We can notice right away the differences in design for left and right pouches. Among the ample 22 pockets, the right side features more compartments to host basic tools, while the left bags are for secondary tools and fasteners.
In detail, we can keep pencils markers in the inner holders while putting the measuring tape on the solid clip. I appreciate the nicely-placed hammer holder for quick retrieval and the front nail bags. As the tool pouch for designated items is positioned for easy access, our tasks can go as smoothly as desired.
I find this tool belt perfect for rigorous workplaces due to its durable leather construction. The brand adopts heavy-duty rivets to reinforce layers of premium leather together, minimizing chances of tearing and sagging in the long term. Indeed, the belt and pouches are double stitched for rugged use.
Despite being heavy-duty, the tool belt is incredibly comfortable and soft. The oil-tanned leather is both good-looking and soft to our touch. Moreover, we can customize it to fit around 29 to 46-inch waist sizes. It is indeed a universal tool belt for framers.
However, we should wash the whole piece and let it dry before use to avoid smearing our good pants.
Pros
22 pockets with left and right pouches designed for specialized tools
Comes with framing nail bags, a clip, hammer holder for easy tool access
Durable leather with heavy-duty rivets and double stitches
Soft and comfortable tool belt with nice-looking oil-tanned leather
Allows a good fit for 29 to 46-inch waist sizes
Cons
Requires washing and drying before use to avoid smearing pants
I rate this quality tool belt a solid 4.5 for its nice look, rugged construction, and well-designed pouches. Many framing tool belt reviews mention this piece as OX Tools's best design for framers.
5. Occidental Leather 9525 Finisher Tool Belt
As expected, the Occidental Leather 9525 ensures left-handed workers have the convenient set they need. But that is not the only appeal of this functional 9525 Finisher Tool Belt.
First of all, the set is a USA-made product that meets the highest quality standards. Such gear is indeed engineered and tested to stand up to heavy-duty work and harsh conditions. We can rely on its premium leather construction to last for years despite carrying heavy and sharp tools.
What's more, we are guaranteed roomy pouches designed with a round bottom to keep all tools standing upright next to each other. Such rugged framing pouches can prevent sagging and tool falling while enlarging the storage space to the maximum. Besides, this tool belt set is surprisingly lightweight, at 4.5 lbs only.
As stated above, the left-handed version is created with space for frequently-used and secondary tools. That way, lefty workers can use muscle memory and retrieve tools effortlessly.
One more thing, the options for size when choosing this model are many. We can go for the small one that accommodates a midrange of 34 inches. Also, the largest one in-store can fit a midrange of 53 inches with a total length of 61.5 inches. In other words, this one is the most favorite framing tool belt with versatility.
As always, it is the high price that makes some workers think twice while shopping for Occidental tool belts.
Pros
USA-made leather belt set meets highest quality standards
Round-bottom and large pouches to prevent sagging and tool falling
Lightweight belt and framing pouches at 4.5 lbs only
Design is available for left-handed workers
Framing tool belt with versatility in sizes
Cons
A high-priced framers tool belt
Occidental Leather is among the most trusted tool belt manufacturers that we can trust and use. If the budget allows, workers should confidently pick their tool holders to perform seamlessly.
6. Style N Craft 98434 Pro-Framers Combo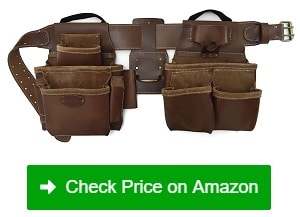 Just as its name suggests, the Style N Craft 98434 Pro-Framers Combo works wonders for professionals in the field. Its whole construction boasts excellence, from the velvety look to the durable materials.
The quality tool belt shows the beauty of top-grain oiled leather fabric with its dark tan color. The contrast stitching of white nylon thread is a nice touch that adds to its unique look and reinforces the durable belt. Also, its rivets and other hardware are coated with an antique finish for classic beauty.
Regarding the storage space, this framing tool belt features 17 pockets in total. Among them, six inner holders are for nails, pencils, utility knives, etc. Meanwhile, other large holders can keep all essential tools, including combination squares, pry bars, hammers, and so on.
The tool belt is 3-inch wide made with heavy-duty leather for maximum support of heavy loads. The comfortable piece features a double-prong roller buckle made of metal for easy and long-term use. We do not have to fidget with the buckle when putting on and taking off our tool belt.
Furthermore, it is adjustable to fit up to a 46-inch waist. For anyone that wants a longer belt, another version to accommodate a 60-inch waist is available for separate purchase.
The added handles help carry the loaded framing tool bags, but they should be riveted on the outside of the belt to avoid chafing.
Pros
Beautiful and durable top-grain oiled leather fabric in a dark tan color
A classic look with white nylon thread and antique finish hardware
17 tool pockets to keep all essential framing tools
Comfortable 3-inch belt with a double-prong roller buckle
Adjustable belt to fit a 46-inch waist and longer version is available for purchase
Features convenient carrying handles
Cons
The handles should be riveted on the outside
Workers should not miss out on such a framing carpenter tool belt with a classic look and spacious pouches.
7. Occidental Leather 9515 Adjust-to-Fit OxyLight Framer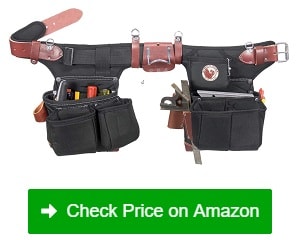 Workers will not lag behind on their tasks with this Occidental Leather 9515 Adjust-to-Fit OxyLight Framer. In other words, it is designed to cater to the most complicated duties, ensuring a good work pace for framers.
We will find no sign of a flimsy or light-duty work belt in this product since its entire structure is for withstanding harsh use. The combination of nylon and top-quality leather results in a durable tool belt resisting abrasion, cutting, and tearing well.
Like other quality tool belts from the brand, this model features rivets and tough stitches. The reinforcement allows framers to stack heavy loads without worrying about sagging and key points on the tool belt pouch being broken.
We value storage space when purchasing framing tool belts, as it determines the security and organization of our gear. Luckily, this model features box-shaped ply bags to store all framers tools neatly. We can have all hand tools and fasteners in the main holders while inserting others on extra sleeves and loops.
Furthermore, this convenient framing tool belt also comes with pre-installed D-rings for a suspension system. In case we carry too much weight and want to transfer it from our hips, these D-rings allow us to hook our harness to have a carpenter tool belt with suspenders.
However, this good tool belt with excellent features from Occidental can cost us three times as much as a standard one on the market.
Pros
Durable leather and nylon construction to resist abrasion, cut, and tear
Features rivets and stitches to ensure no sagging and breaking key points
Has box-shaped ply bags, sleeves, and loops for secure storage
Pre-installed D-rings for added shoulder straps
Cons
A costly framers tool belt
This Occidental gear is definitely among the top tool belts for framers money can buy. It just depends on if we have the budget to spend; other factors about its quality are never doubted.
8. Bucket Boss Original Series 50200 Builder's Tool Belt
Many workers have at least one Bucket Boss product in their collection, like a tool pouch, tool bag, or belt. It is due to their low prices yet sufficient use. Knowing that, we add the Original Series 50200 Builder's Tool Belt from the brand.
At first glance, this product resembles a travel bag more than a framing tool bag. But, once we know its functions, it is understandable why many carpenters vouch for this model. For instance, it has spacious pouches with reinforced barrel bottoms to carry many tools.
Like many framing tool belts, this one has extra loops made of steel and webbing for hammers or tools with handles. Also, all the pouches are movable along the belt for easy tool access. Overall, it does a good job of giving space for organizing framers' tool collection.
The features list goes on with its well-made infinity belt. The name indicates an impressive length that fits various waist sizes. In truth, this model can fit a waist size up to 52 inches.
Notably, for this low price range, the Bucket Boss tool belt is rather durable with its 600D poly construction. Its belt comes with thick monster grommets and a steel buckle for secure wear.
However, it is expected that the bags can sag gradually over time upon carrying too heavy loads.
Pros
Spacious pouches with barrel bottoms to carry many tools
Features steel and web loops for extra tools
Movable pouches for effortless access
Has an infinity belt to fit waist size up to 52 inches
Durable 600D poly construction at a low price
Thick monster grommets and a steel buckle on the belt for secure wear
Cons
The bags might sag through time due to heavy loads
This option is among the top-rated framing tool belts for such a low price. If we use it for light and medium duties only, the decent-quality bags can last for a long time.
9. Dead On DO-FR Framers Rig
Starting work with a small budget, many workers need a functional tool belt to perform. In such cases, the Dead On DO-FR Framers Rig is good news to them.
Dead On Tools creates a low-priced tool belt without compromising its functions. Without expensive fabric, the brand opts for ballistic nylon that is tough enough to endure frequent use.
In one purchase, we are provided with one tool belt, spacious bags, and a suspender system for extra support. Furthermore, two of these parts are adjustable, from the belt that accommodates 36 inches to suspenders with customizable front and back. We can easily adjust all of them to enjoy a secure fit.
To my surprise, the system is rather comfortable with moisture-wicking lining on the inside to ensure little to no excessive sweating. On summer days, working with breathable suspenders make work bearable for us.
More importantly, the bags are spacious and wide open for easy access. We can pack many tools inside such large pockets and stack fasteners in extra holders at the front.
At this price, this system is bound to have some minor downsides. For me, I want an extra strap to connect across my chest. That way, I can use the suspenders to the fullest, preventing slipping off and reducing weight more effectively. Also, the belt should be made a tad smaller.
Pros
A low-priced yet durable ballistic nylon framing tool belt
A full set of one tool belt, spacious bags, and a suspender system
Adjustable system (belt and suspenders) for a secure fit
A breathable moisture-wicking lining system for comfortable wear
Spacious and wide-open tool bags for packing many tools and easy access
Cons
Lack of a chest strap
The belt should be smaller and less bulky
Workers who look for a framers tool belt with suspenders at a low price should consider purchasing this functional system.
10. Dickies Carpenter's Rig
Another good choice for budget-conscious workers is the Dickies Carpenter's Rig. It also comes in a full system, allowing buyers to utilize the piece right away without purchasing extra accessories.
With our available tool assortment, we can put every item neatly in this organizer. It features 13 pockets in total for large-sized tools, small parts, and fasteners. Also, since every holder is open wide, we can reach for our hand tools without much struggle.
As designed for carpenter use, the piece features 2 tool loops for items with handles. Notably, the belt has an extra 2-inch length to accommodate more pouches if required.
Usually, tool belts are around 3-inch wide, but this one is nearly twice that width at 5 inches. With such dimensions and thick padding, it ensures ultimate comfort. Besides, the suspenders are padded and lined with moisture-wicking mesh. Therefore, many workers claim that it is the most comfortable tool belt at a low price.
The rig is roomy and comfortable, but that's not all. It is also a durable piece made of heavy-duty canvas. Thus, this framing tool belt and pouches can resist ripping and tearing under heavy loads. Besides, its steel buckle is durable enough to secure the belt in place.
Just a side note, since the brand does not include a chest strap for this rig, we might need to cross the front harnesses to prevent them from slipping off our shoulders. At least, that's what I do to ensure a stable fit when climbing and bending to perform.
Pros
13 wide-open pockets and 2 tool loops for easy packing and retrieval
Has an extra 2-inch length on the belt to attach more pouches
5-inch wide tool belt with paddings for comfort
Padded suspenders lined with moisture-wicking mesh
Heavy-duty canvas tool belt with a secure steel buckle
Cons
No chest strap, thus requiring crossing the front suspenders for stable wear
It is hard to resist such a well-made yet budget-friendly framing tool belt with shoulder straps. The setup works well for framers performing various tasks.
11. Carhartt Framer's Pouch
This final entry is a bonus piece for anyone looking for a removable tool bag to add to their belt. The Carhartt Framer's Pouch will handle our extra tools without hassle.
Looking at the layout, we can notice its large storage space for big hand tools. The product dimension is 13 inches wide and 12.5 inches tall, giving workers an idea of how much it can keep.
Also, the upper and front holders are of smaller sizes, thus ideal for keeping fasteners and tiny pieces. There is a metal clip for the measuring tape, a fabric loop for our hammer, and a cat paw loop.
While well-organized holders are its strongest suit, the model also impresses with its durability. Its 100% polyester construction is rugged and water-resistant. As a result, we can utilize it for a long time while shielding our tools against moisture and light rain.
Compatibility is important for a single pouch design like this one. Since it is a product in Carhatt's build-your-own-belt line, we can expect it to go well with the brand's pieces. But, notably, its rear loop can accommodate all standard-sized tool belts around 3 inches wide. So, there is no need to worry about its flexible use.
Still, the hammer loop is a bit tight at first. It takes several attempts to put the hammer neatly in there. After breaking in, everything went smoothly as expected.
Pros
A large dimension of 13×12 inches to store large hand tools
Has smaller upper, front pockets, a metal clip, cat paw and fabric hammer loops
Durable 100% polyester construction that resists water
Compatible with other Carhartt items and any standard belts up to 3 inches
Cons
The hammer loop is rather tight at first
We end our list with a bang from Carhartt. This nice-looking and well-designed tool pouch can be a good addition to a framer tool belt set-up.
What to Look for When Buying Framing Tool Belts?
Many factors help us determine which framing tool belt is the best to buy. Here're some critical ones that we should consider carefully:
Our tool collection – Framers have an assortment full of measuring tools, including metal rulers, drafting triangles, and tape measures. Hence, we should go for large tool pouches and extra metal clips that can accommodate such pieces.
Furthermore, we should stack multiple hand tools in big-enough yet secure holders. These include hammers, which should sit on metal or steel hammer loops on the belt. Marking pencils, colored markers, utility knives, picture framer pliers, and other hand tools should have a wide-open pocket for quick retrieval.
Other small tools, fasteners, and tiny parts should have inner pockets that keep them from falling out. Therefore, tight and secure tool holders for these items are essential. If we want extra space for nail guns and other power tools, the belt must have extra strong clips, sleeves, and loops.
Tool belt design – If you need the framing tool with multiple pouches, choose one with a good layout for organizing and large opening holders to retrieve tools with ease.
In some cases, we need a full system of a padded tool belt with suspenders. Such a set allows us to carry more items, including power tools. Since the load can become too heavy for our hips to handle, a well-balanced set with suspenders can reduce the burden, distributing it evenly.
Sometimes, we just need a framing pouch with several holders to keep the extra tools that our current tool belt cannot handle. Then, the selection is easy; we just need to find pouches with compatible connection points or loops with our belt.
Comfort and fit – We have to perform at a certain pace, so our tool belt is supposed to maintain our efficiency, not hindering it. Therefore, our chosen piece must be comfortable and well-fitted.
Make sure you check the belt dimension, both the length and width. A belt that can accommodate 29 to 46 inches is the standard size. But if you are outside that range, check with the provider to see more options. Also, the wider the belt, the more comfortable it is when carrying heavy loads, but 3 to 4-inch belts should suffice.
Furthermore, paddings and moisture-wicking liners are important factors for both tool belts and suspenders. With both features, we can enjoy breathable and comfortable use for long-hour work.
Durability – We always want a product that can last for years, withstanding rugged use in harsh conditions. Therefore, we should go for pieces made of high-quality leather, nylon, polyester, or ballistic fabric. With varying qualities and prices, these items can ensure decent protection against abrasion, cut, tear, and sagging.
Notably, tool belts with steel or metal rivets on stress points can keep their shapes better over time. Also, buyers should go for pouches and bags with durable nylon stitches; two layers are recommended.
Reliable tool belt brands – When choosing the right product, it is easier to check out certain brands' collections. Besides the products above, one can go for a Diamondback tool belt to enjoy a USA-made piece. The brand offers ergonomic and lightweight belts made of durable and abrasion-resistant 1000D nylon.
A Gatorback tool belt is also an excellent option that ensures utility and comfort for users. Meanwhile, many framers prefer a Buckaroo tool belt due to its handcrafted leather construction that provides practicality and good performance.
What Should I Carry in My Carpenter Tool Belt?
Your carpenter tool belt can carry measuring, marking, cutting, and trimming tools. For instance, you can put hammers and tape measures on their designated loops and clips. Meanwhile, screwdrivers, utility knives, squares, and other hand tools can sit in the large main bags.
We can also keep fasteners, small parts, and even our belongings like keys in the tool belt. But if we want to carry power drills or other power tools, we might need to purchase extra clips and loops that can handle those items.
How Do I Organize My Framing Tool Belt?
Just like how we organize our tools for tasks, we should put the frequently-used tools on the side of our dominant hand. Then, all our secondary tools and fasteners should go on the other side. Depending on the belt design, tools like a hammer or measuring tape should have their designated space.
Can Carpenters Also Use Framing Tool Belts?
Yes, they can. These tool belts for carpenters and framers are often interchangeable, considering the set of tools for those duties are pretty similar.
Conclusion
Our recommended list should give you an idea about which options are available in the market for your current work. What's left for you is to choose the best framing tool belt that caters to your requirements and preferences. Hopefully, you can stick with a durable and functional piece that offers both comfort and utility. Share with us your ideal choice if possible. Thank you!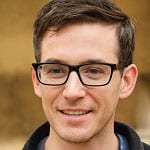 This is Edward Manning, the editor in chief of Construction Informer. Quite a bit of my time is spent researching the market and interviewing experts in the field so that I can give you reliable information.