When you are roasting BBQ or in the kitchen cooking meals, then a hand covering tool is necessary to prevent blisters and other hand injuries.
Aside from bringing all your grilling tools together, you should also consider wearing gloves that will suit your needs for cooking. Such gear will protect you from extreme heat made by burning coals and kettles. So, the best heat-resistant gloves have been summarized below with the following features:
Size: Hand mitts come in different sizes to bring comfort and better protection against high temperatures. Getting the wrong size of gloves can result in discomfort that will, in turn, affect your daily tasks.
Materials: Identifying the right blend of materials in producing burn-resistant gloves is also important. Most manufacturers use three different heat-resistant materials, which are aramid, leather, and silicone. Each can withstand various heat levels and so some companies choose to combine these for the best possible outcome.
Dexterity: Performing kitchen and industrial works will require flexible gloves instead of stiff hand gear. Moving your hands and fingers is a lot easier while cooking or doing something.
With all these features, picking the right heat-proof gloves can still be challenging. A "Buying Guide" will help you choose which, among a variety of heat-resistant gloves, suits you best.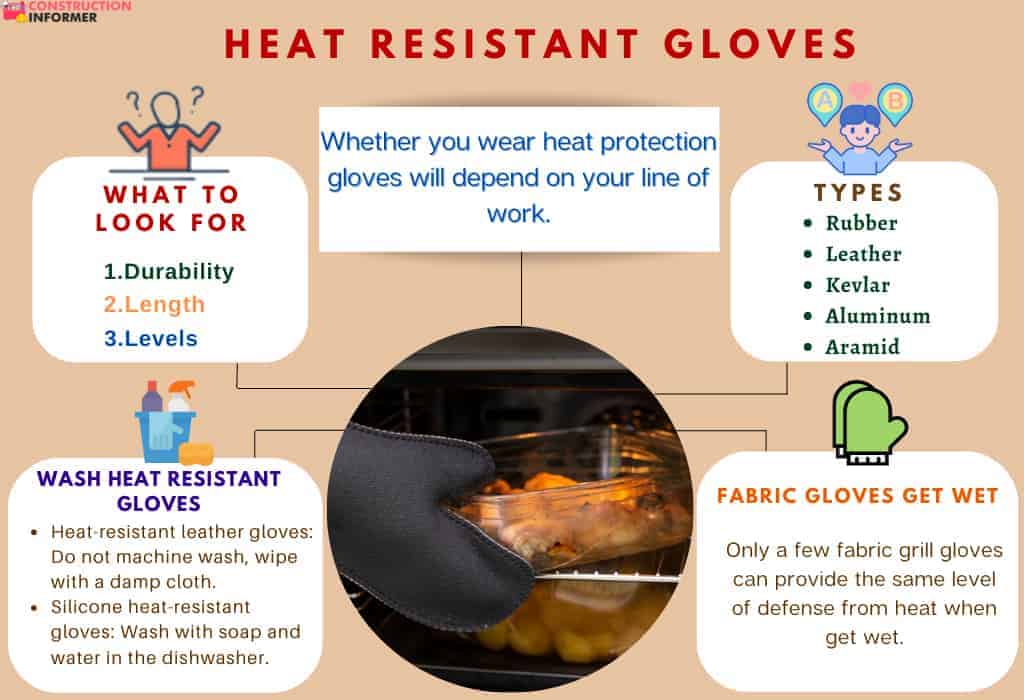 Featured Products
Best Overall
GEEKHOM FASHLADY21493
– Water-resistant
– Two-layer design
– Belongs to long heat-resistant gloves
Editor's Pick
Kiloline KL-1504
– CE NE407 certified
– Recommended for hairstylers
– Can withstand up to 250°F of heat
Premium Choice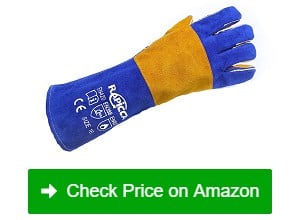 Rapicca Heat Resistant Gloves
– Provide forearm protection
– Highly absorbent and cut-resistant
– 500-degree heat safety level
Best Heat Resistant Gloves Reviews 
1. GEEKHOM FASHLADY21493 Heat Resistant Grilling Gloves
One of the heat-resistant gloves for cooking that you should consider is the GEEKHOM FASHLADY21493 Heat Resistant Grilling Gloves. Such kitchen gloves are 100% waterproof. Thus, they are able to deal with boiling water, making cooking less tricky.
I love that these gloves make cooking a lot easier. The silicone heat-resistant gloves have a two-layer design with fiber inner linings to provide a cozy feeling. The idea is to bring extra defense against burning and also scalding with notable comfort.
What I appreciate is that the gloves are 13.7-inch long to shield your hands, as well as your wrists and arms from warmth. On the end of its sleeve is a hanging loop for easy hanging when not in use.
These BBQ mitts are not heat proof but can avoid direct contact with flames to about 450°F. They also feature a non-slip texture to better lift hot items from one place to another.
They do not just save your hands from burning but are easy to wear through a dex fit level even for larger hands.
Some items are not that durable but they have excellent customer staff who respond to queries immediately. Yet, quality issues are possible with these gloves, such as a smokey smell.
Pros
They are water-resistant
Has a two-layer design consists of silicone and fiber
Belongs to long heat-resistant gloves and has a 13.7-inches length
Added a hanging loop for storage
Offers a dex fitment with a non-slip texture
Cons
Durability issues
Leaves a smokey smell after grilling
Hence, in the case of poor quality items, I find the responsive staff a great advantage to still buy these gloves considering their other great features.
2. Kiloline KL-1504 Hairstyling Heat Resistant Glove
Fixing your hair with a flat iron or a curling tool can be dangerous with bare hands, so Kiloline KL-1504 Hairstyling Heat Resistant Glove is a must-have. These heat protection gloves keep your hands safe from burning hair tools and are recommended by professionals.
With a single glove, I managed to fix my hair using heat styling products without burning my hands. You read that right! This purchase only consists of one glove that fits on both right and left hands, which additionally benefits curling hair during rush hours.
It may not be as durable as heat-resistant oven gloves but does its work against hot surfaces very well. The company used a thick cotton material so it is flexible to move your hands and fingers freely.
The glove likewise blocks heat coming from a hair iron for up to 250°F. That amount is a bit lower than other high heat resistant gloves in the market, but it is alright for its purpose. Plus, it has passed the CE NE407 safety standard to prevent instant burns when styling your hair.
Its obvious downside is that this glove cannot be used for other heat-resistant purposes, like cooking and grilling. It best fits someone with small hands and gives trouble for bigger hands.
Pros
Recommended for hairstylers
Includes one piece of glove that fits on either right or left hand
Uses thick and flexible cotton material
Can withstand up to 250°F of heat
CE NE407 certified
Cons
It is limited to hairstyling and not useful for cooking
Issues on the one-size feature
But despite that, I commend that these thin heat-resistant gloves are best for their specific use to stop burning your hand when hairstyling.
3. Rapicca Gloves Tools Blue Heat Resistant Gloves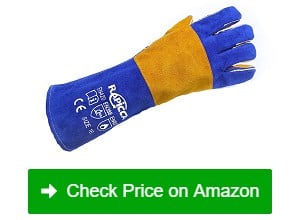 If you are searching for long heat-resistant gloves for construction, then consider the Rapicca Gloves Tools Blue Extreme Heat Resistant Leather Gloves. They are 16-inches long and can cover your forearms from open flames and potential risks.
Additionally, they feature heat-resistant gloves 500 degrees protection, which I like for long-term application. It is also fully kevlar-made and promises a higher level of safety. This, I think, made the gloves fit for welding tasks and multiple uses.
Wearing these gloves will protect your hands and fingers from front to back, and can prevent hurting your elbow from extreme heat and injuries. This is the result of its overall kevlar layer design with inner cotton lining for comfort.
The hand protective tool won't easily fall off because of its double-stitching feature. Also, the materials used are flame-resistant, hypoallergenic, highly absorbent, and durable from cuts, what more can you ask for from a pair of gloves, right?
Moreover, these gloves have natural cowhide leather, making them thicker than normal hand mitts. This brings superior security for your hands against sharp and hot objects and also extends the life of the hand gear.
One disadvantage about these heat-resistant leather gloves is the quality control over the kevlar threads that do not last long.
Pros
Gloves are 16-inches long to provide forearm protection
Made for construction jobs with a 500-degree heat safety level
Uses kevlar, leather, and cotton resulting in a thicker design
Offers better comfort through the soft inner liner
Allergy-free, highly absorbent, and cut-resistant
Cons
The Kevlar threads have inconsistent quality
Nevertheless, I would pick these gloves for their enhanced protection levels, and assistance in completing risky tasks.
4. Grill Heat Aid One-Size Heat Resistant Gloves
If you are finding heat-resistant work gloves that are perfect for a wide range of applications, then Grill Heat Aid One-Size Heat Resistant Gloves can be a good option. Its premium quality is excellent for cooking and even for more dangerous work.
What I like most about this product is it provides the ultimate comfort for longer exposure to heat. I think that the Aramid Fiber has made the gloves thicker and flame-resistant putting them away from damage. Such material has been lightweight and flexible to keep your hands comfortable while grilling.
These are also heat-resistant gloves with dexterity to protect your hands from extreme temperatures. It has a silicone strip on each finger for a stronger grip to eliminate getting burns.
Each pair of gloves can fit on either left or right hand so it saves time when putting on the hand gear. Users can select between small and large sizes without any worries about the fitment because of its stretchable design.
Despite that, I would recommend these heat-resistant gloves for grilling. They are handy when it comes to moving burning woods or pulling a pan out of the flame with ease.
One downside of this item is that it cannot withstand up to 932°F heat level as advertised.
Pros
Made of premium aramid fiber and silicon strip
Offers a lightweight design and dex fit level for a firmer grip
Use for cooking and safer handling
Can fit on both hands
Machine-washable and can be air-dried
Cons
The heat-resistant feature is not that high
The result is 5x more durable than steel in delivering thermal protection. They are also easy to wash and suitable for air-drying for an extended lifespan.
5. Semboh LL29 Extreme Heat Resistant BBQ Gloves
These extreme heat gloves can make kitchen works a lot safer with their stronger burn protection ability. According to the burning test, Semboh LL29 BBQ Gloves can last for seven seconds in holding hot items and are suitable for multiple uses, such as woodworking and welding.
As I look upon the gloves' overall design, the main material Deyan has the finest quality for ultimate heat protection. It works together with anti-slip silicone strips and cotton lining for a good grip and breathability. These three layers of different heat-resistant materials have made the gloves much better than other traditional hand mitts for cooking.
This is a great alternative for hot pads when removing pans from the oven. These heat-resistant gloves with dexterity are easy to bend when grasping tools and are also snug-fitting for comfort.
Its wrist guard is extra-long to fully cover your hands unto your forearms from heat up to 500°C. They are 100% food-grade and won't poison hot liquids and foods.
A timetable that shows the gear's heat resistance level is available, wherein you are able to check how many seconds the gloves can hold a pan at a certain high temperature. It is sensible to know such factors for greater safety.
It is a one-size-fits-all purchase that may result in losing threads when worn by people with bigger hands. Also, some users feel the heat penetrating the gloves at 500°C.
Pros
Passed the burning test for heat resistance
Combines three heatproof materials, including Deyan, silicone, and cotton liners. All are food-grade
Promotes good grip and breathability even for extended usage, depending on the heat level
Very flexible and easy to move
Ultra-long forearm protection
Cons
Finite-size options
The highest temperature capacity is falsely advertised
In spite of these, I dare say that the perfect blend of materials on all sides of such gloves will meet every grillers' needs.
6. Jolly Green Products 65679-Orange Heat Resistant Gloves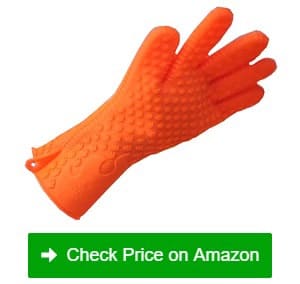 Expert pitmasters highly recommend Jolly Green Products Ekogrips Premium Heat Resistant Gloves both for indoor and outdoor uses. It may cost higher than the other choices but it is applicable for a wide range of use and also created with months of hard work to ensure the best quality.
Unlike normal heat-resistant oven gloves, this one is made of silicone that cannot handle hot items for too long. Thus, I think being extra careful in moving heavy and burning items will save your day. I also like that the said gloves are durable enough to not get easily ripped into pieces.
It additionally features extra-long sleeves to safeguard your arms from heat up to 425°F. The silicone strips will assist users in holding items more securely while f cooking. It has the proper thickness and is comfortable when worn.
Such heat-resistant rubber gloves will help you wash dishes with hot water and minimize discomfort. They are also tested for backyard use where you can feed wood to fire pits without harming your hands.
Since this hand gear is out of silicone, each pair is certainly stain and odor-resistant. This makes them easy to clean; simply toss them into a dishwasher.
Although they are thick, heat can quickly enter the surface of the glove, which is a disadvantage for kitchen helpers.
Pros
Appropriate for indoor and outdoor uses
Designed with premium quality silicone with ultra-long cuffs and strips for gripping
Protects kitchen helpers from 425°F of heat
Stain and odor-proof thus easier to clean
Water-resistant
Cons
Issues about heat penetrating the glove material easily
From my standpoint, getting a pair of versatile gloves is an advantage to make use of them for a wider application at a reasonable cost.
7. Comsmart Heat Resistant BBQ Gloves
A pair of heat-resistant oven gloves is something that grillers look for in need of protection from extreme heat while cooking. Comsmart Heat Resistant BBQ Gloves are a good solution for your needs. It fits most hand sizes based on consumer feedback.
I admire Comsmart for being honest in telling potential buyers that these cooking gloves are not heatproof. They are only heat-resistant that are equipped to protect your hands from a certain level of high temperature. This has convinced me to give it a try, and the gloves work so well.
Whatever you do in the kitchen, these heat-resistant kitchen gloves can help you focus on cooking, grilling, and even baking. They are indeed multi-purpose hand mitts and are useful whenever high heat is involved. I would be grateful for the gloves' upgraded heat resistance up to 1472°F.
Each glove is made up of three premium materials that add effectiveness in facing burning pans and coals. The first layer is non-slipping silicone for flexibility and a stronger grip for kitchen utensils. Next is aramid fiber that yields all the resistance features for cuts, heat, and even harmful substances, and a cotton inner to balance everything with comfort in mind.
The creator has also taken its size to the next level with a long cuff and sleeves. However, there are discrepancies in sizes that might affect your comfort.
Pros
Resists oven heat at high temperatures
Multifunctional heat-resistant gloves
Unions three different heat-resistant materials, including silicone, aramid fiber, and polyester cotton
Enhances comfort and dexterity
Covers your hands and forearms
Cons
Have a nice fitment but not for everyone
Either way, I suggest buying high heat-resistant gloves of your size to avoid troubles in the long run and to have a more enjoyable cooking experience.
8. Artisan Griller Inc. AG9001T Pit Heat Resistant Gloves
Outdoor cooking can harm your hands through scorching coals but with Artisan Griller's Pit Heat Resistant Gloves such things can be avoided. It allows you to handle hot meat on the grill without getting injured. Therefore, flipping your BBQs will be easy with these food-grade heat-resistant rubber gloves.
One reason why I like these neoprene gloves for grilling is that they provide a good grip without exposing your hands to the fire and hot grease. It is equipped with a cotton liner to keep your hands and fingers cool, and it won't melt when touched by oil. With these features, I think that the product can handle all types of home cooking tasks.
When worn, it protects your hands from heat and also from dirt to prevent washing your hands more often while cooking. It is made of 14-inches long gauntlet sleeves to safeguard your forearms so you can reach across grills to put or remove hot items without being harmed.
Holding hot pans for not more than 20 seconds is less painful with these heat-resistant gloves with dexterity to offer better control. However, this will depend on the level of hotness and weight of the cooking tool.
You may clean the gloves with soapy water, but avoid getting the liner wet. They are stain-resistant, therefore washing them will be a breeze. Afterward, place the gloves in a zippered poly bag, which is simply their original packaging.
Its chemical smell is the only downside as it can result in potential health risks.
Pros
The neoprene material is safe for grilling
Achieves a good grip with cotton liner for dexterity and comfort
Shields your hands from heat and grease
Extends forearm protection at 14-inches long
Quick to wash and can be stored safely
Cons
May cause health problems due to its rubber smell
Overall, I would choose to wear these gloves to grill delicious BBQs and perform many other cooking tasks like a professional.
9. G & F 1689M Commercial-Grade Heat Resistant Glove
Have you ever wondered how firefighters survive during a rescue? Perhaps they are wearing the G & F 1689M Commercial-Grade Heat Resistant Glove for their protection. It is made with the same materials of gloves worn by a firefighting unit.
What I love about these heat-resistant work gloves is that they can handle anything hot, like an oven and grill. They are good for car drivers, pilots, and as said earlier, firefighters who deal with high temperatures most of the time. Indeed, a commercial-grade glove, which I think has a more advanced feature to offer.
It is sold as a single unit that perfectly fits the right or left hand of average sizes. This is to assure you are getting the best comfort in wearing. The hand gloves are also FDA approved, so are suitable for cooking and other household works.
These fireproof gloves have two parts: the shell and the lining, and are made of sturdy materials for heat protection. Its outer shell is 100% aramid fiber that sustains defense against hot temperatures. While 60% and 40% of the inner layer is out of cotton and nylon, respectively, to achieve a high-grade comfort.
The five-finger design makes it flexible to grasp hot items without non-slip silicone like other gloves.
Sizes start at medium which is too bulky for users who have small hands, and this would limit its performance.
Pros
Commercial-grade fire-resistant gloves
Offers a single unit, FDA-certified hand glove
Made with three fireproof materials, like 100% of aramid fiber, cotton, and nylon
Very flexible similar to gloves equipped with anti-slip silicone grips
Cons
Medium gloves can be too big for some users
Nevertheless, I would include this option among the best fireproof gloves for their trusting protective features.
OYOGAA Neoprene Grilling Gloves (Outdated)
Picking heat-resistant rubber gloves over normal hand mitts can aid households in making delicious BBQs and other dishes. With OYOGAA Neoprene Grilling Gloves, you can serve food-grade roasted meat to your guests. They are also waterproof and cold-resistant for greater protection.
This pair of gloves possess a 14-inch long-sleeve design that safeguards your forearm better than shorter gloves while grilling. The neoprene coating can resist higher temperatures and stains can be removed using soap and water.
It is also double-layered, which adds up durability. This, I think, promotes a stable grip on greasy substances. The inner lining on each finger helps to strengthen your grip as well.
Thanks to these fire-resistant gloves, BBQ parties are more enjoyable for most hands. It lessens the risk of being burned by charcoal and from scratching your arms. This item has an additional rope design for easy storage.
The wrist part of the gloves contain a cotton inner lining so that taking out your food from the oven won't hurt. It additionally prevents possible frictions in holding sharp objects which I also like about this product.
However, after bending your fingers to grab something, it will be hard to return to the original position. By this token, it is not as flexible as expected.
Pros
Ensures food-grade and best-tasting BBQs
Features 14-inches long sleeve design for forearm protection
Uses neoprene coating to enhance heat-resistant and waterproofing ability
Has rope design for convenience and easy storage
Brings comfort with a double-layer inner lining
Cons
The fingers are not that flexible
Nonetheless, I like that these gloves have a high level of heat resistance for multiple uses and are comfortable to wear.
Euhome LL29 3-in-1 Heat Resistant Grilling Set (Outdated)
Euhome offers a grilling set perfect for holidays that includes a pair of silicone heat-resistant gloves. It refers to silicone-made hand mitts, which are capable of cooking and welding.
I like that these gloves have level 5 cut-resistance and are not only certified heat gloves for cooking. There is a three-layer design, with breathable fabric and inner lining made of spun wool and cotton for superior comfort. Such factors have been the reason why these gloves are more durable than leather gloves in enduring hot temperatures.
Through these tough gloves, you can enjoy your grilling experience. Besides, they can be used for other purposes like metalwork. Moving a hot stove or stirring coals is safer with these heat-resistant mitts. Thanks to their big-size fitting that can cover your wrist and forearm from high heat conditions, you are always rest assured while working.
The two sides of the gloves are made of non-slipping silicone to ensure safety. You do not have to worry about accidentally getting burns in the middle of cooking. If the hand gloves turn dirty because of sauces, oil, and meat, then you just need to wash them for 30-minutes.
What is more, is that these extreme heat-resistant gloves are food-grade, together with the other grilling tools. It is a fantastic purchase to get started with your cooking hobby.
Holding hot pieces of stuff for a very long time may burn your hands, and this is one of the item's downfalls.
Pros
Accompanies a 3-in-1 grilling set
Blends three-layer of heat-resistant materials, such as non-slip silicone, fabric, and wool
Suitable for cooking and metalwork
Food-grade and machine-washable
Cons
Able to withstand heat but not for a very long time
Regardless, these best heat-resistant gloves are what you need to have fun in your grilling sessions and at a cost-effective price.
Homemaxs Extreme Heat Resistant Grill Gloves (Outdated)
Upon discovering the best fireproof gloves, I came across the Homemaxs Extreme Heat Resistant Grill Gloves. These are non-toxic accessories perfect for grilling occasions. It handles hot pork, or any kind of meat while shielding your hands from flame.
A level 5 cut-resistance is what I find appealing with these extreme heat gloves that can really help in cooking. More than the heat protection, they will serve as armors against sharp objects. I think this is the reason why these gloves are an excellent choice for many.
These heat protection gloves make way for convenience so you can cook BBQs like a pro. It has anti-slip silicone grips for a smoother grilling course. When not in use, there is a rope design for hanging that also saves more room.
To reassure a premium quality, the maker used aramid fiber and a cotton layer during the production. Aramid fiber is known for its strength resistant to thermal damage. In addition to that, the soft inner layer is accountable for absorbing sweat and securing the gloves in your hands.
It aims to deliver extended protection from heat. Thus, a lengthy wrist guard is added. It will watch over your wrists and forearms from possible burns.
Similar to some products on the list, these gloves cannot hold fiery items in length by which heat may stick into them.
Pros
Non-toxic and perfect for grilling BBQs
Stops possible cuts and injuries with level 5 cut-resistance
Made of aramid fiber, cotton layer, and anti-slip silicone grips
Easy to store by hanging it on the grill
Has extra-long wrist guard
Cons
Do not take long in holding hot meat, if so, it can cause hand burns
On the flip side, I adore the level of protection these hand mitts have to give with the blend of materials promoting safety and comfort.
What to Look for When Buying Heat Resistant Gloves?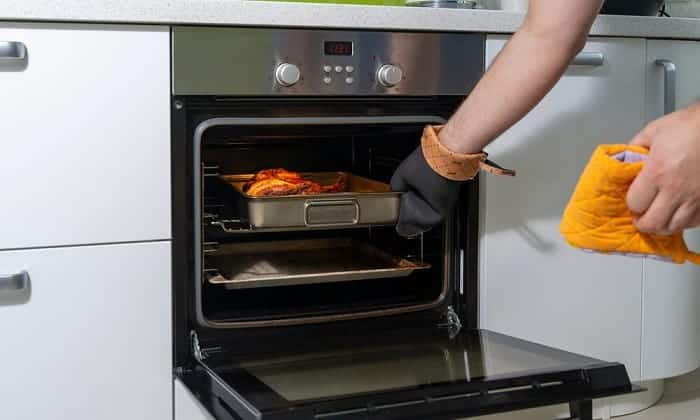 Now that you know some of the high heat-resistant gloves in the market with their particular uses, we have gathered some other features that you should consider when purchasing the said gloves.
Heat protective gloves are sold in a variety of sizes and styles, however, there are more factors that you should consider :
Durability: The overall strength of such types of gloves will depend on what it is made up of.
Go for a glove with an outer shell that can resist multiple heat levels. Most of them are made of silicone, leather, and other premium components. You must also consider comfort for longer applications on which cotton inner lining provides.
Length: Furthermore, picking the ideal length of gloves for your needs is essential to realize the finest comfort when wearing them. Long heat-resistant gloves range from 14-inches to 18-inches to cover up to your arms.
Level of Heat Resistance: If heat resistance is an important quality of gloves you wish to buy, then check the materials used. See if the gloves also passed the burning test before buying.
Most hand mitts have a resistance level that ranges from 400°F to 800°F. Higher heat resistance is possible with gloves that have combined materials.
What Type of Gloves Protect You from Heat and Flames?
The market sells various types of hand gloves with unique features and functions to offer. For instance, there are heatproof gloves and fireproof gloves.
The choice depends on the kind of hot objects that need handling. Here is a list of different types of gloves:
Rubber gloves: Rubber gloves can handle harmful chemicals like hot acids, alkalis, and solvents, but not flames.
Leather gloves: Leather material can deal with hot objects up to 200°F. An example is cowhide gloves for commercial and housework uses.
Kevlar gloves: Kevlar material is flame and cut-resistant so they won't melt when exposed to higher temperatures.
Aluminum gloves: It is also referred to as welding gloves that are both heat and flame-resistant with their tougher construction.
Aramid gloves: Aramid is a synthetic fabric that can withstand a high heat level of more than 1000°F. They are also popular in today's market.
Selecting the heat-resistant gloves 3000 degrees can promise you ultimate protection from a higher level of heat and flames but with proper and careful usage.
When Should You Wear Heat Resistant Gloves?
Whether you wear heat protection gloves will depend on your line of work, such as cooking or other housework.
Keep in mind that not all hand gloves are heat-resistant which you can wear for particular uses.
If you are a professional chef, a firefighter, or you simply cook for the household daily, then you will need to wear hand protective tools more often. Better store your heatproof gloves in a place that is easy to reach for immediate uses.
How to Wash Heat Resistant Gloves?
To extend the life of heat-resistant gloves, you should know the proper way to wash them based on glove type.
Before we proceed to the different techniques in cleaning your gloves, find detergents for dishwashers that do not contain bleach. These are less likely to ruin your gloves after washing.
Starting off with heat-resistant leather gloves that cannot go with machine wash but can be satisfied by a damp cloth. Simply wipe the gloves to remove dirt and then hang them for air drying.
Silicone heat-resistant gloves are easier to wash with soap and water in the dishwasher due to their waterproof ability. The same goes with rubber gloves.
With the glove types, manufacturers include a tailored set of instructions on how to clean. Follow the rules for the best possible results.
Will Fabric Heat Resistant Grill Glove Protect from Heat If They Get Wet?
Fabric grill gloves come in different materials, such as kevlar and aramid, the most popular ones. These kinds of fabric are very similar to firefighters' uniforms that can protect you from dry heat. How about from wet heat or hot liquids?
Only a few fabric grill gloves can provide the same level of defense from heat when soaking in water. They are usually a mixture of different fire-resistant materials, as mentioned earlier. As a result, such gloves have the power to fight heat in all conditions.
Conclusion
Obtaining the best heat-resistant gloves will keep your hands safe from potential burns when doing tasks that involve fire. It can even enhance your grilling skills and other commercial jobs. Therefore, identifying which glove type can meet your needs given the materials and other considerations is vital.
Hi, I am Alexander, forty-seven years old this year. I have been in the construction industry for twenty-five years and have provided a wide range of services. When it comes to expert guidance on site safety gear, you can put your trust in me.