Landscaping is one of the most fulfilling activities you can do. Whether you're a professional or a hobbyist, there is nothing like the feeling of working on little pockets of paradise.
But just as it has its rewards, landscaping also has its risks. Repetitive motions can cause painful blisters to form. Splinters and rough surfaces can cause cuts and scrapes. And most importantly, bacteria in the dirt can cause serious infections.
That is why you should get the best landscaping work gloves to protect your hands from all of these hazards and more. With the right pair, you can keep your hands in great shape and keep doing the work you love.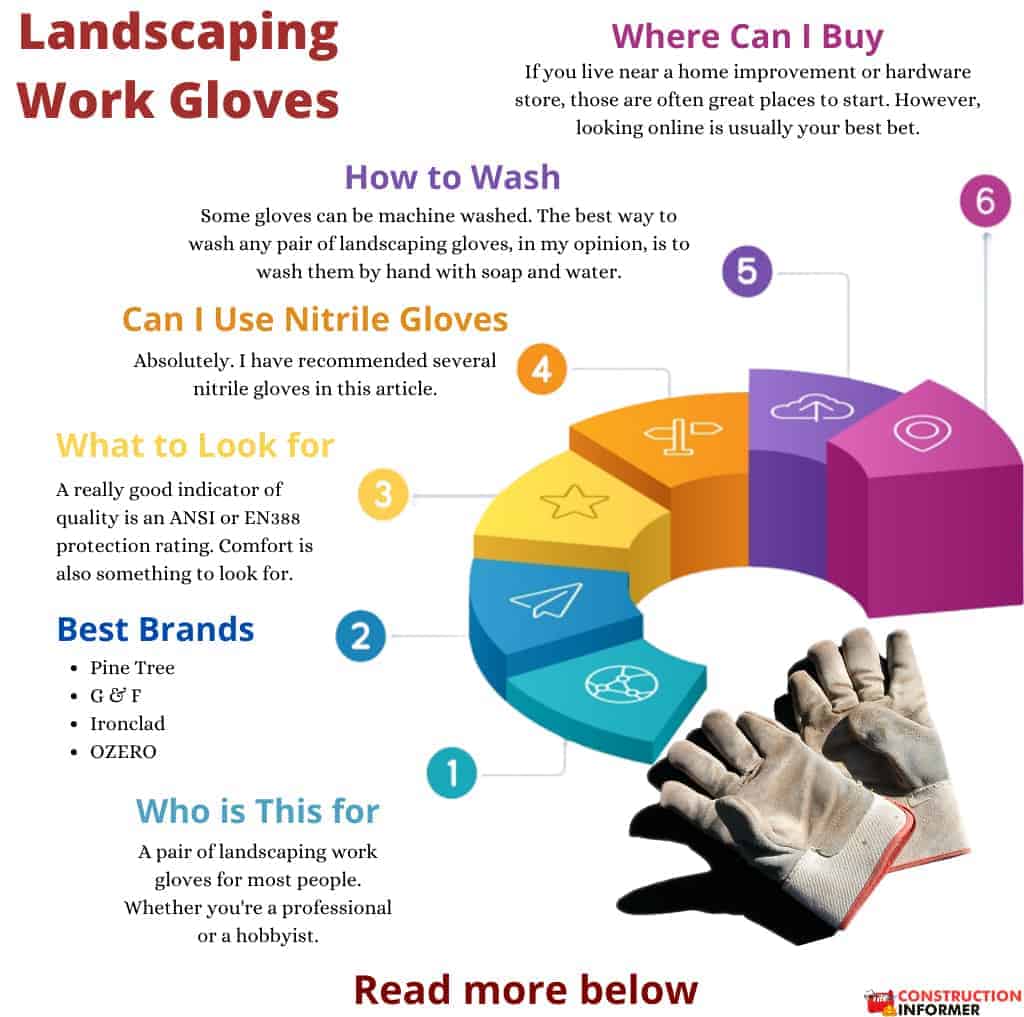 Featured Products
Best Overall
Pine Tree Tools Bamboo
– All-natural vegan bamboo fabric
– Lightweight and breathable
– Snug fit for a second-skin feel
Editor's Pick
G & F Latex Double
– Can be bought in bulk to save money
– Durable double-coated palm for handling rigorous work
– Textured latex coating gives extra grip
Premium Choice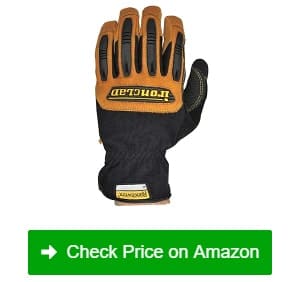 Ironclad Ranchworx
– Goatskin leather can handle the heaviest tasks
– Kevlar reinforcement for dual-layer durability
– Protective TPR knuckle and finger guards
Best Landscaping Work Gloves Reviews
1. Pine Tree Tools Bamboo Gardening Gloves
My first recommendation on this list is a pair of gardening gloves made by Pine Tree Tools. Designed by a gardener who was unsatisfied with the work gloves on the market, these bamboo gardening gloves have unique and thoughtful features that set them apart from most gloves on the market.
For starters, these gloves are made with a fabric made out of bamboo fibers. This bamboo fabric is all-natural and vegan and therefore does not use any animal products. While most will not overthink this feature, some will find this critical as vegan products are not very common on the market.
Besides being vegan-friendly, bamboo fabric is also very lightweight and breathable. In addition, bamboo is well known for its cooling properties, which is why they're used as upholstery covers in the summer months. The same properties apply to these gloves, which I like.
The gloves are constructed with a snug fit in terms of sizing. This ensures that the gloves fit tightly against the hands, feeling like a second skin. Unfortunately, this means they can be a bit too tight for some people, so going one size up is recommended.
Topping the gloves off is a grippy rubber coating on the palm. The natural rubber stands up well to gardening work and keeps the gloves vegan-friendly, which is a nice touch.
Pros
All-natural vegan bamboo fabric
Lightweight and breathable
Snug fit for a second-skin feel
Grippy rubber palm coating
Cons
Gloves fit a bit too tight for large hands
Equipment that cares about nature as much as we do is few and far between. These eco-friendly bamboo gardening gloves from Pine Tree Tools are a very high-quality exception.
2. G & F Latex Double Coated Work Gloves
It can be quite frustrating to have our gloves fall apart while we're in the middle of your landscaping project. This, unfortunately, happens to all work gloves at some point, even the expensive heavy-duty ones.
G&F Gloves, however, has a reasonably simple solution, which is to give us more gloves simply. We can buy these gloves in packs of 12 pairs in bulk packages of 120 pairs. This gives fantastic value, especially since even heavy-duty gloves that cost upwards of 20 dollars will have a hard time outlasting 12 pairs of gloves.
And these gloves aren't the kind to fall apart easily, either. The gloves are equipped with a double-coated palm section which was quite durable. They had no trouble handling the rigors of the landscaping projects I worked on, and I was delighted with how they performed.
The coating is made with latex rubber, which is already very grippy on its own. G&F took the design a step further by adding a textured pattern to the coating, which increases the surface area of the coating and improving grip even more.
The latex coating is fused to a soft cotton knit body that is comfortable enough to be worn all day. Although the coated palms are resistant to punctures, the fabric knit isn't, so you will have to look at other options if you need protection for the back of the hand.
Pros
Can be bought in bulk to save money
Durable double-coated palm for handling rigorous work
Textured latex coating gives extra grip
Comfortable cotton knit body for all-day comfort
Cons
Fabric body is not puncture-resistant
Each pair of G&F's gloves might not be the strongest on the market, but buying them in bulk makes them one of the best gloves for yard work in terms of value.
3. Ironclad Ranchworx Premier Leather Work Glove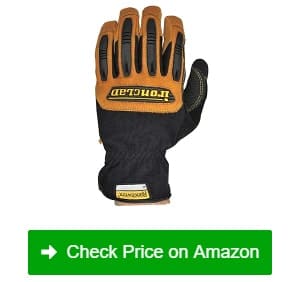 While most people might think of landscaping as simply arranging plants in a space, it is actually much more involved than that. Some projects might involve planting large trees and installing fountains, which requires a lot of soil preparation. And for these tasks, simple fabric gardening gloves just don't cut them.
That's why the Ironclad Ranchworx is on this list as an option for those heavy landscaping jobs. Thick panels of goatskin leather cover the palms, fingers, and knuckle area. Besides their much more premium feel than the typical rubber coatings, the goatskin leather build has the strength and durability to handle even the heaviest tasks.
This is helped further by adding Kevlar reinforcement panels around the fingers and the saddle (the space between the thumb and the index finger), which are areas that tend to have a lot of wear. This dual-layer combination makes for a durable pair of the best landscaping work gloves; however, the thick paneling makes it difficult to use for more precise tasks like deadheading and pruning.
These gloves are also equipped with TPR (thermoplastic rubber) guards on the knuckles and along each finger. These guards give additional protection against impacts, which tends to happen when dealing with heavier objects.
Despite their bulkiness, these gloves fit quite nicely on the hand. Thanks to their 16-point measurement system, it keeps the fit consistent from the cuffs to the fingertips.
Pros
Goatskin leather can handle the heaviest tasks
Kevlar reinforcement for dual-layer durability
Protective TPR knuckle and finger guards
16-point measurement system for consistent fit
Cons
Can be a bit bulky for precise work
Good work gloves for digging should be extra robust to handle the heavy demands of the task. The multiple features of the Ironclad Ranchworx will give you the protection you need.
4. OZERO Flex Grip Leather Work Gloves
This pair of bright yellow gloves from OZERO is another pair of landscaping gloves designed for more demanding tasks. But don't let the color fool you; these gloves were made for some serious work.
The core feature of these gloves is their premium cowhide leather construction. Cowhide is known for its resilience and resistance to cuts, scrapes, and punctures, so we can trust these gloves to provide the ultimate protection for landscaping projects big and small.
An additional leather patch with a textured surface is sewn to the palms. Compared to the smooth leather used on the rest of the glove, the rougher texture of the palm patch gives increased grip that makes them one of my favorite work gloves for handling wood.
The gloves are constructed with what is known as a Gunn cut. This glove-making pattern involves stitching the ring and middle fingers onto the rest of the glove. This pattern is most commonly used on leather gloves because it provides a combination of comfort and flexibility, and it is used to great effect here.
Rounding out the design is an elastic wrist cuff with a safety cuff design. This design keeps part of the cuffs loose to serve as a cuff puller and glove remover, making it easy to put on and take off the gloves anytime.
Pros
Premium cowhide leather offers ultimate protection
Textured palm patch for increased grip
Gunn cut improves comfort and flexibility
Elastic wrist cuff is easy to put on and take off
Cons
Leather requires break-in time
This pair of gloves from OZERO is an excellent example of why many gardeners still swear by leather work gloves. With their premium feel and robust construction, these gloves will carry us through the toughest landscaping jobs.
5. DEX FIT FN330 Nitrile Work Gloves
A little-known life hack when buying work gloves is to find gloves designed for more demanding tasks than the one you will be doing. So for anyone who needs gloves for landscaping work, a quick and easy way to find high-quality gloves is to look for gloves designed for more demanding industrial work. The model FN330 from DEX FIT is a good example.
Built with a 15-gauge nylon shell, these work gloves are very lightweight. I find these gloves great for those extra long work days as the gloves never feel like they are weighing my hands down.
The knit of the gloves is also quite stretchy. And even though I have rather bulky palms, the knit could accommodate my hands without feeling too constricted. In addition, the fit was very secure and I have no worries that these gloves would come off accidentally while I work.
While I liked the fabric on these gloves, some gardeners might find the 15-gauge fabric too thin. For some workers, that's their preference; some other recommendations on this list are made with thicker materials that would fit the bill.
The gloves are equipped with a nitrile palm coating. Nitrile is a material that is used widely in industrial-grade work gloves for its chemical resistance and consistent grip. The non-slip coating has no problem holding on to tools, weeds, and anything else you need to get your hands on in your project.
Pros
Lightweight 15-gauge nylon shell
Stretchy knit for a secure fit
Reusable and machine washable
Non-slip nitrile palm coating for better grip on tools, weeds, etc
Cons
Fabric can be too thin for some
Just because some work gloves are designed for industrial work does not mean they can't be used elsewhere. For example, the DEX FIT FN330 actually works very well for gardening and landscaping work.
6. Ironclad HUG Heavy Utility Work Gloves
From my experience working on large landscaping projects, two brands of gloves were always found on-site—Ironclad and Mechanix gloves for yard work. This is no accident. Having been in the business for over 15 years, Ironclad has consistently delivered on their promises of high-performance work gloves, and their HUG model is one of their best ones.
As the name suggests, the HUG (or Heavy Utility Glove) is purpose-built for heavy work. You can see this immediately in their heavy-duty reinforcement pads that cover the entire palm side of the hands. I've used several pairs of Ironclad gloves before, and their palm pads have all stood the test of time in various heavy workloads.
Made to handle just about any work task, these gloves were designed with additional features, which I felt were very thoughtful. My favorite of these features is the absorbent terry cloth panel on the thumb area of the gloves. This serves as a convenient sweat wipe that helped me stay focused on the job at hand.
Despite the thickness of the palm padding, I found the gloves to still be flexible enough for use with the small shears I use for topiary work. This is thanks to the elastic fabric back of the gloves that let the fingers flex pretty freely.
The fabric, however, wasn't very breathable, and the gloves would get pretty warm on hot days. Luckily the gloves use an adjustable hook and loop cuff that makes it easy to get the gloves on and off.
Pros
Heavy-duty reinforcement palm pads
Absorbent terry cloth sweat wipe for comfort
Flexible fabric back for handling jobs with ease
Adjustable hook and loop cuff to easily taking off and putting gloves on
Good landscaping work gloves protect our hands. Great landscaping work gloves like the Ironclad HUG go the extra mile with features that help us work at our best.
7. Vgo PU2103 Polyurethane Gardening Gloves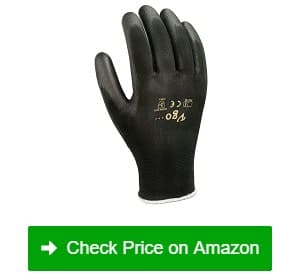 I'm a stickler for a good deal when I'm out shopping. After all, who doesn't want to save money nowadays? That is why as soon as I saw these gardening gloves from Vgo, I knew I had to buy them immediately.
Sold in packs of 15 pairs, these gardening gloves offer incredible value. Well, the nice thing about bulk packs of gloves like these is that I can place them just about everywhere. In my case, I keep a pair in my car, in my toolbox, and my shed at home, so there will always be a fresh backup pair of gloves in case, I forget to bring my main pair.
And despite the very low price per pair, these gloves are very well made. The gloves have the typical coated fabric knit build of many of the other gloves on this list. However, these gloves have a polyester inner liner that makes the inside of the gloves quite soft and comfortable.
The gloves also offer decent protection with a 3121 rating based on the EN388 standard. However, because they are fabric gloves, they don't offer much puncture protection, so I would not recommend this for handling cacti. For most other gardening and landscaping tasks, though, these gloves will handle the job nicely.
The PU (polyurethane) palm coating is a nice touch that I appreciate. Polyurethane is an excellent material for glove coating because it strikes a good balance between grip and dexterity.
Pros
15-pack offers great value and convenience
Polyester liner for added comfort for long-hour landscaping work
3121 rating from the EN388 standard for durability
PU palm coating balances grip and dexterity
Cons
Not enough puncture protection
All in all, this cool-looking work glove can deliver good fit and flexibility while we handle landscaping duties.
8. Wells Lamont Nitrile Work Gloves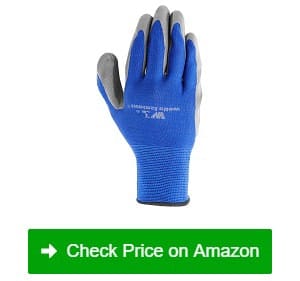 As I wrote earlier, bargains are always nice to have. But for many people, having 15 pairs or even just 12 pairs of gloves are just way too many to have lying around the house, especially if you don't need to do that much gardening work in the first place. Thankfully, Wells Lamont has you covered with their 5-pack of nitrile work gloves.
Being one of the industry-standard materials for work glove coatings, nitrile is widely used for its versatile grip characteristics. I haven't had any instances of slipping, even when I was handling greasy surfaces from my time using these gloves. For this reason, I can easily recommend this for landscaping work and just protecting your hands in general.
Nitrile is also known for having excellent abrasion resistance. This feature means the palms will give excellent protection against scratches and scrapes, which are all too common occurrences in yard work.
However, nitrile is not without its weaknesses. In particular, nitrile does not protect very well against thorns and spines; because of that, you should probably look for more robust palm materials if you have to handle thorny bushes and plants.
The nitrile grip coats a 13-cut polyester base that is flexible without being too thin. I found them quite comfortable to wear even over long, 10-hour workdays.
Pros
Comes in packs of 5 pairs for great value
Nitrile coating grips well even when greasy
Excellent protection against scratches and scrapes
13-cut polyester is comfortable even in long sessions
Cons
Doesn't protect against thorns and spines
Overall, these gloves from Wells Lamont prove that we don't need to buy in bulk to get a good deal.
9. ACKTRA Coated Nylon Safety Work Gloves
For most gardeners, color is probably the last priority on the list when shopping around for gardening gloves. But in my opinion, it gets quite dull to go to your local hardware store and see nothing but drab colors on every pair of work gloves on their shelves.
That's why these nylon work gloves from ACKTRA caught my eye when I saw them. Available in orange, red, and blue (as well as black), these gloves really stand out from the crowd with their bright, bold colors.
Now, of course, if you're going to use them for gardening and landscaping, the gloves will naturally get all dirty and soiled. Thankfully, these gloves are machine washable to throw into the washing machine with my work clothes and come out looking good as new.
The gloves are done up in nice and tight nylon knit. This construction allows the gloves to block out dust and dirt, keeping them from getting into the gloves and becoming a nuisance like a pebble in your shoe.
The gloves are also coated in a thin layer of latex rubber. Just like on surgical gloves, the latex used on these gloves is very flexible and gives a lot of tactile feedback that almost feels like you aren't wearing gloves at all. While I prefer the tactile feel, I can understand that some might find it a bit too sensitive
Pros
Available in bright, bold colors that stand out
Conveniently machine washable
Nylon fabric blocks out dust and dirt
Latex coating gives great tactile feedback
Cons
Tactile feel can be too sensitive for some
We could all use a bit more color in our lives. That's why I recommend ACKTRA's colorful work gloves to add a bit of pop as you work on the landscaping projects.
10. Carhartt WorkFlex A547 Work Glove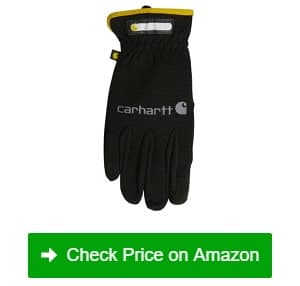 Carhartt is a brand that is no stranger to high-quality workwear. Owned and operated by its original founding family since 1889, the brand holds a level of heritage and prestige quite unlike any of the other brands I've recommended on this list. And I can safely say that their WorkFlex A547 gloves stay true to that same heritage.
The gloves feature a full spandex back panel, which easily flexes to match your hand movements without any hindrances. Unlike most designs that also use spandex, these gloves use a much thicker variety that is very soft and comfortable to wear.
Of course, no design is ever really perfect. And these gloves are limited in terms of impact protection as they don't have any solid rubber guards on the back-hand side. So since impact protection is something we need, more heavy-duty designs will be more appropriate.
Besides that, the design of these gloves is very well-thought-out. The wrist area has a ventilated panel which increases breathability and keeps the hands cool on hot days.
The entire palm area is made up of a single thick panel of synthetic fabric. Although rubber materials tend to have more grip, I found the fabric used on these gloves to have a pretty decent grip, but with the added bonus of being much more durable than rubber. Reinforcement panels were also added to the fingers for extra protection and durability.
Pros
Full spandex back for comfort and flexibility
Ventilated wrist panel keeps the hands cool
Textured synthetic palm for durable grip
Reinforced fingers for extra protection
Cons
Limited impact protection
The Carhartt brand is not the kind to disappoint, and their WorkFlex A547 is a worthy addition to their range of quality work apparel.
11. Superior Heavy Duty Gardening Gloves
The Superior Glove Company is a Canadian manufacturer and supplier of high-quality work gloves for various industries and applications. With many years of expertise and experience, the company knows what goes into the best yard work gloves on the market, and this design is the result of that expertise.
The first job of any gardening glove is to protect our hands from cuts and scrapes. That's why Superior Glove has equipped these gloves with materials that meet a Level 3 cut and abrasion protection rating based on the ANSI standard. Although the ANSI standard goes up to Level 9, a Level 3 protection rating is more than enough for most gardening and landscaping work.
This protection rating is achieved with the use of a tightly woven polyester shell and a latex rubber-coated palm. The polyester shell has no sharp inner seams, and the fabric has a moisture-wicking effect which is great to have when working in the summer months.
The gloves' latex rubber coating is made with a unique micro-finish that gives it a nice texture. This combination of texture and material allows the gloves to grip well in both wet and dry work conditions.
A major concern when it comes to gardening gloves (and work gloves in general) is that the fit of many gloves tends to feel unnatural. This is usually because they are knit together as a flat piece. These gloves, however, have a contoured fit that better matches the resting position of the hands.
Pros
ANSI Level 3 cut and abrasion protection
Moisture-wicking polyester shell
Microfinish latex palm grips in wet and dry conditions
Contoured construction for a natural fit
Cons
Fit can be a bit too snug
A little bit of knowledge can go a long way. The Superior Glove Company's knowledge of great glove-making makes these gloves great for our next gardening project.
12. LINCONSON Safety Performance Work Gloves
While most, if not all, gardening gloves have a certain set of features that gardeners generally look for, most of these gloves don't satisfy the requirements of all gardeners. Gardening and landscaping work is quite varied in terms of workload and working environment. As such, there will be some scenarios in which your typical pair of gardening gloves just won't cut it.
That's why I've included this pair of gardening work gloves made by LINCONSON on this list. These gloves are available in neon yellow and neon orange, matching the standard color scheme for high-vis workwear.
And although most landscaping work is done in the daytime hours, there can and will be some situations where the work extends into the nighttime. Since this is something that some of us have to deal with regularly, high-vis gloves should be something to look into.
Outside of that, these gloves still serve quite well for most gardening work. The gloves are certified to meet the performance standards of ANSI and CE, so you can trust these gloves to give you a fair amount of protection from most landscaping work hazards.
The gloves are also certified by the EN388 standard with a rating of 2131. Each rating is on a scale of 1 to 4, and each of the 4 numbers corresponds to abrasion resistance, cut resistance, tear resistance, and puncture resistance. And while they have passable abrasion and tear resistance, I would have liked them to give more protection against cuts and punctures.
I do appreciate that these gloves are reusable and machine washable. As someone too busy to hand washes gloves, this is a very convenient feature to have.
Pros
Available in high-viz colors for low-light work
Boats ANSI and CE certified performance
EN388 2131 rating offers all-around protection
Reusable and machine washable for convenience
Cons
Not very resistant to cuts and punctures
If your landscaping projects require work in low light, the high-vis options of these LINCONSON gloves are a great option.
13. HANDLANDY Flexible Yard Work Gloves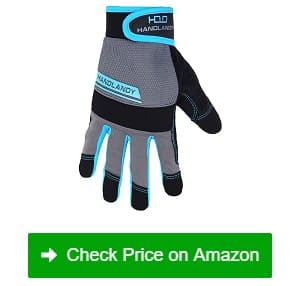 HANDLANDY is another highly trusted glove maker that has a wide range of products for different applications. Of their products, I am recommending their general-purpose work gloves because of their versatile feature set.
For one, these gloves feature touchscreen-friendly fingertips on the index, middle, and ring fingers of the gloves. And while most gardeners might not find this feature very useful as gardening gloves tend to get quite dirty, I think that having more features is a good thing just in case one might find them handy.
However, my favorite feature of these gloves is the foam padding embedded into the palms and the knuckles of the gloves. These pads give a good amount of impact protection that helps reduce hand fatigue when using shovels, tillers, and other heavy tools.
The padding does have a drawback in that it is not very breathable and can get uncomfortably warm after a while. If this is a concern for you, many of the other gloves on this list should fit your needs a bit better.
An adjustable neoprene cuff secures the gloves to the hands. Neoprene on its own is already a stretchy material that wraps around the cuffs pretty well, but the addition of an adjustable strap gives you the option to tighten or loosen the fit to your liking. An integrated pull tab on the wrist makes on and off quick and easy.
Pros
Touchscreen-friendly fingertips to operate machines or phones while working
Foam padded palm and knuckles for added comfort and protection
Adjustable neoprene cuff for a good fit
Pull tabs ensure easy on and off
Cons
Thick padding can get warm
We can stay comfortable and protected at the same time with these padded and feature-rich gloves from HANDLANDY.
14. HexArmor ThornArmor 3092 Work Gloves
One of the biggest challenges for gardeners and landscapers is handling thorns. Whether planting rose bushes, removing thistles and ivy, or worse, handling cacti, protecting the hands from their sharp (and sometimes poisonous) spines is a big challenge.
That's why HexArmor, a manufacturer of high-performance personal protective equipment, has developed the ThornArmor 3092 gloves. Equipped with the unique palm material they call SuperFabric, the gloves offer ultimate protection against everything my landscaping projects could throw at them.
And indeed, their SuperFabric is no joke. With a certified ANSI rating of Level 9 cut resistance and Level 3 puncture resistance, the palms of these gloves offer some of the best protection I've ever used in a pair of gardening gloves.
I bought a pair of these gloves for a project that involved clearing a yard filled with dead bushes. Where other gloves would have failed, these held strong and protected my hands from all of the sharp splinters and dead twigs I had to remove.
The tech in these gloves doesn't stop there. The gloves are fitted with adjustable velcro cuffs that provide a secure fit. This also creates a nice seal on the hands that blocks dirt from entering the gloves.
The back of the gloves is also equipped with what they call HexVent, a very breathable mesh fabric that provides lots of ventilation for those days working under the sun. Unfortunately, this does mean that the gloves don't have any back-hand protection, which is what keeps them from being truly do-it-all work gloves.
Pros
SuperFabric palm provides ultimate protection
ANSI Level 9 cut and Level 3 puncture resistance
Secure velcro cuff blocks out dirt during work
HexVent provides lots of ventilation
Designed from the ground up to offer true heavy-duty protection, the ThornArmor 3092 gloves are one of the best work gloves for landscaping available right now.
What to Look for When Buying Landscaping Work Gloves?
If you've already had gardening gloves before, you can skip ahead to my recommendations after this section. But if you are a beginner and are just getting into gardening, you would want to know what you should look for in a good pair of landscaping gloves.
Naturally, the first job of a pair of landscaping gloves is to protect your hands from the hazards you will encounter. Glove makers will go about this in many different ways, which can be quite confusing. From my experience, though, a really good indicator of quality is an ANSI or EN388 protection rating. These are industrial-grade standards that rate how well a pair of gloves will protect you from cuts, abrasions, punctures, or tears. ANSI and EN388 each have their own rating scales, but as a shortcut, the higher the number, the better the protection rating.
Comfort is also something to look for in the landscaping gloves you're buying. Ideally, you would want your gloves to be made of soft materials without any stitching or other parts that will dig into your hands. Extra padding on the palms is also nice to have if you move a lot of dirt around for the projects you're working on. The pads will serve as a cushioning layer and absorb the impact from shoveling, tilling, and other tasks.
One last feature that you should look for is flexibility. The last thing you would want is for your gloves to hinder your hands while you work. Good landscaping gloves should have the flexibility to maximize freedom of movement, making it feel like you aren't wearing gloves at all.
Of course, there is no one perfect pair of gloves for everyone. Some want thicker padding to stand up to rougher landscaping work, while others need maximum flexibility and tactile feels for precise pruning. To help you find what you need, I've made a list of 14 great pairs of landscaping gloves down below.
Are Nitrile Gloves Good for Landscaping?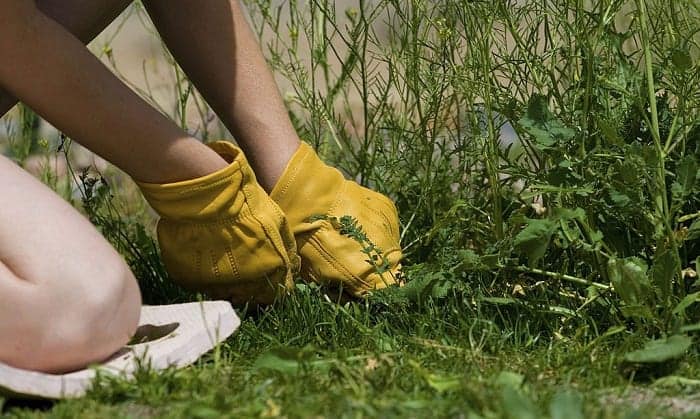 Absolutely. I have recommended several nitrile gloves on the list above, and while they each have their differences, they are all some of the best gloves for landscaping that I recommend that you use.
Where Can I Buy Landscaping Gloves?
The best places to buy good landscaping gloves depend on where you live. If you live near a home improvement or hardware store, those are often great places to start, and they will typically have some of the more reputable brands on the market. However, if you are after better deals, looking online is usually your best bet. Looking around on sites like reddit and Craigslist can point you towards some shockingly good deals on high-quality gloves.
How Can I Wash Landscaping Gloves?
The glove manufacturer will usually have washing instructions for your landscaping gloves on the glove's packaging or on one of their information tags. While some gloves can be machine washed (usually on a cold cycle and air dry only), the best way to wash any pair of landscaping gloves, in my opinion, is to wash them by hand with soap and water.
Conclusion
No matter how simple your gardening job may be, protecting your hands should always be your number one priority. As the saying goes, "every rose has its thorn". Nature may be beautiful, but it is also quite dangerous. Cuts, scrapes, insect bites, and splinter pricks can worsen into severe infections if they aren't treated immediately. But more importantly, we can simply avoid these injuries entirely by wearing the best landscaping work gloves.
Hi, I am Alexander, forty-seven years old this year. I have been in the construction industry for twenty-five years and have provided a wide range of services. When it comes to expert guidance on site safety gear, you can put your trust in me.