Rather than using polyester or canvas tool belts, many workers, including framers, carpenters, electricians, and more prefer a leather design. Why is it so?
The thing is, the best leather tool belt will offer incredible durability. An investment into a premium leather product can last us decades. Many carpenters only use two or three leather belts throughout their careers. That speaks volumes about how rigorous and functional those models are.
Of course, not all leather belts are created equal. Let's see what we should pay attention to when picking one:
Type of leather – Tool belts made of full-grain leather are premium products, available at a high price. They can ensure long-lasting use without severe tearing and sagging.
Top-grain leather belts will be at a lower price range, yet still provide us with good durability. Meanwhile, suede leather products cost us the least while offering decent robustness for heavy-duty work.
The number of holders – We have to check our number of tools and their sizes to determine the storage space we want. Ensure that the tool belt has designated space to keep our most-frequently-used tools. Besides being spacious, the holders must keep the tools intact and allow easy access.
Design – There are multiple tool belts design; some come with suspenders, and some others only have one pouch. That is to say we do not need to buy a whole set if we only want to bring some essential tools along. So, the most important thing is always our requirements.
Before we go into details about a leather tool belt's features in the buying guide, let's see what the top-tier leather belts in the market have. Read on!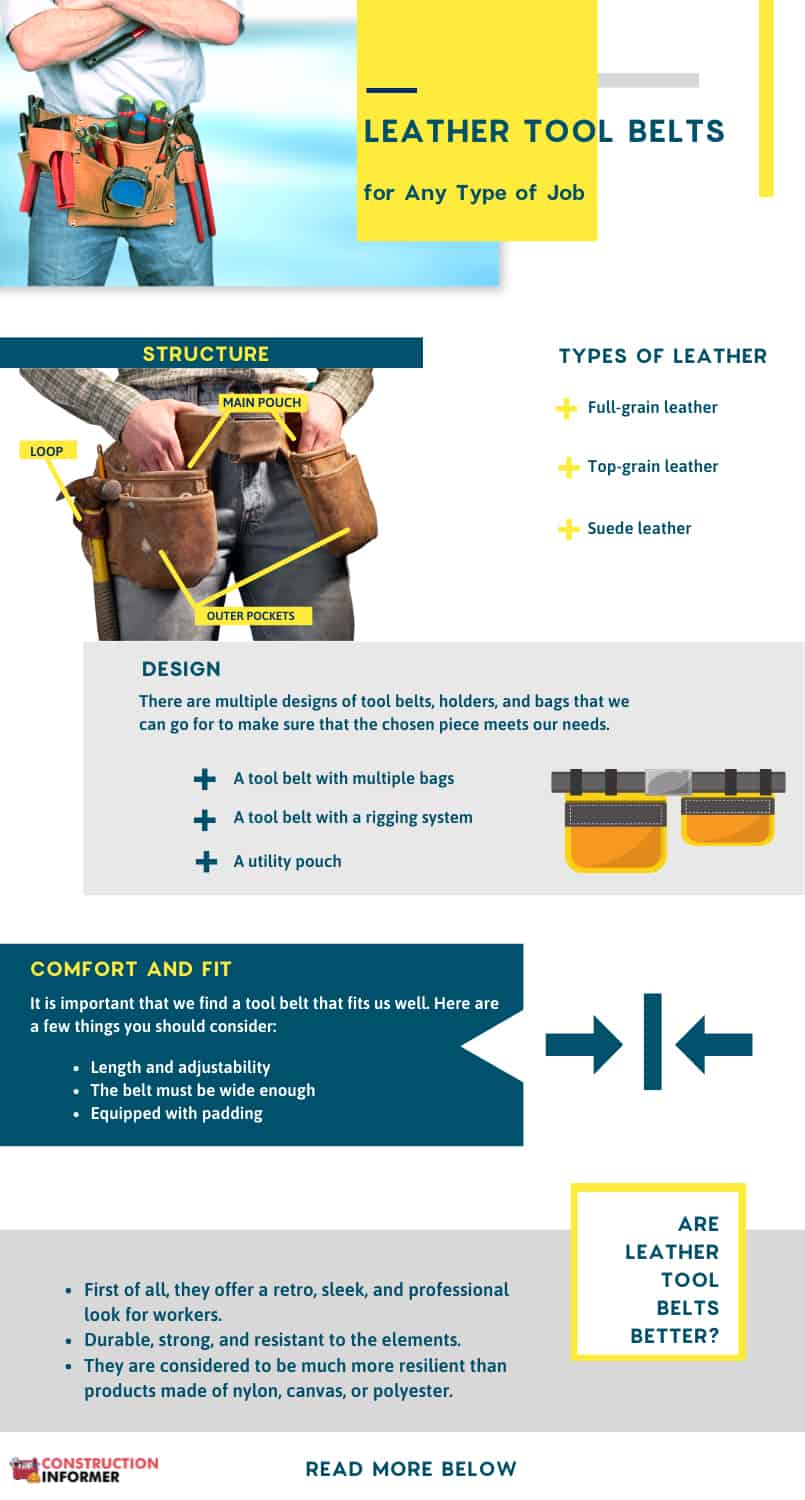 Featured Products
Best Overall
Occidental Leather 5089
– Has 23 pockets with different sizes
– Rugged premium construction
– Ensures free movements at the worksit
Editor's Pick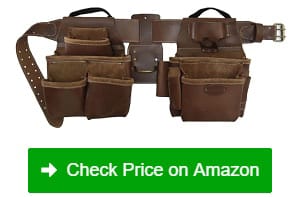 Style N Craft 98434
– Easy-to-maneuver roller buckle
– A stylish oil-tan leather design
– Adjustable and wide leather belt
Premium Choice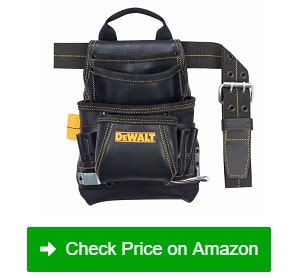 DEWALT DG5433 Tool Bag
– Allow easy tool access
– Has 10 pockets with varying sizes
– Easy movements in the workspace
List of 11 Top-tier Leather Tool Belt Reviews
1. Occidental Leather 5089 LG Bag Framer
Occidental Leather is often the first name that comes to our minds when seeking quality leather tool belts and bags. The brand's 5089 LG Bag Framer is among the top-notch picks for those who work with a multitude of heavy gear and sharp tools.
I am a full-time carpenter, and this is the best bag I have ever bought. Everything about the piece is unmatched, especially the durable construction. It can last for a decade without signs of severe sagging or tearing. That must be because of the premium leather taken from the outermost layer of the hide.
More importantly, every piece of this tool bag is sewn with high-quality stitching. There is extra reinforcement of copper rivets on the main bags for carrying the heaviest tools. Therefore, even if frequently packed daily, the pockets can stand up to abuse.
Furthermore, this USA-made tool bag has 23 pockets in total. They are arranged in different levels, sizes, and shapes. With these, we can easily pack our tools neatly and retrieve them without fidgeting over a mess. Moreover, added hooks and sleeves are convenient for keeping most-frequently-used hand tools.
Framers and carpenters will appreciate this well-made tool belt since it allows them to move around easily. The bags are placed on the sides, posing no hindrance as we bend, climb, and walk around for tasks.
Indeed, promoting flexibility and durability,
this framers tool belt
costs much more than the standard products.
Pros
Rugged premium construction that resists sagging and tearing
High-quality stitching and reinforced copper rivets for prolonged use
Has 23 pockets with different sizes, shapes, and levels
Features hooks and sleeves for extra space for tools
Well-made design that ensures free movements at the worksit
Cons
A costly leather tool belt compared to standard ones
The price tag of this leather tool belt might make some workers hesitate. But it is better to make a good investment and enjoy one's purchase for a long time.
2. Style N Craft 98434 Pro-Framers Combo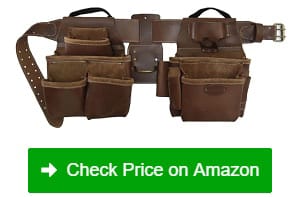 The dark tan color on this Style N Craft 98434 Pro-Framers Combo is irresistible. It must be one of the best-looking tool belts out there.
First of all, the product is made of top-grain leather, ensuring adequate ruggedness required for heavy-duty tasks. Not to mention, there are rivets with caps that secure all the holders together. Workers purchasing a leather tool belt expect long-lasting use, and they will get it from this piece.
The great thing about this tool belt is that its stitching contributes to both its stylish look and durability. The stitches' color contrast with the oil-tanned finish to promote a professional design. And all the key areas are sewn properly with nylon threads to reduce wear and tear.
I value spacious storage when seeking tool pouches. Therefore, I am satisfied with the versatile and ample design of this leather belt. It comes with 17 pockets, including a metal hammer holder, small compartments for nails, etc. It has everything I need to arrange my tool assortment.
Also, this tool belt is adjustable, so it can accommodate waist sizes from 34 to 46 inches. The roller buckle makes it easy to put on and take off the belt. Meanwhile, the belt is wide enough not to pinch my waist badly when I carry a heavy load.
However, if I have to nitpick this product, a negative would be the measuring tape holder. It fits my tape, but I wish it could be a tad bigger so that fishing the tape in and out frequently were easier.
Pros
A stylish oil tan leather design
Made of top-grain leather with capped rivets for heavy-duty tasks
Stitching adds to the overall professional look and great durability
Spacious 17 pockets, including the hammer holder, to pack various tools
Adjustable and wide leather belt for a good fit and comfort
Easy-to-maneuver roller buckle
Cons
The measuring tape holder should be a tad bigger
Overall, this design is available at a lower price than an Occidental tool belt, yet it indeed provides excellent functions.
3. DEWALT DG5433 Tool Bag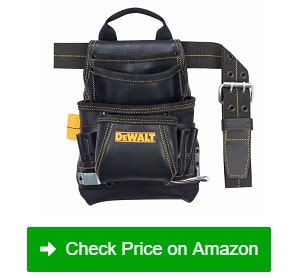 The notable thing about this DEWALT DG5433 Tool Bag is the fact that it comes with a single bag that allows easy movements. Such a design is perfect for carrying essential tools to various on-site jobs.
When it comes to optimal convenience, we cannot leave out this design that stands out among numerous leather tool bags. I find it a flexible bag with sufficient storage for daily use. It features 10 pockets with varying sizes that neatly house nail sets, hand tools, pencils, screws, etc.
Like any carpenters leather tool belt in the market, it features extra sleeves and a hammer holder. Such extra space is ideal for inserting items that are frequently used. Therefore, tool access is a breeze with this bag.
It gets better. There is a handle added for one-hand carrying, offering extra convenience when we have work trips. The same handle also allows on-hook storage, which we should make use of after washing the tool bag.
Of course, with the leather construction, the bag is expected to handle heavy weights for a prolonged time. In fact, it is not easily worn out and torn when carrying heavy loads or coming in contact with sharp tools. Hence, workers should not worry about using the bag for rigorous tasks.
Furthermore, it promotes easy wear with the double-tongue roller buckle. However, the belt's durability should be improved to the same level as the leather bag.
Pros
Features a single bag for easy movements in the workspace
Has 10 pockets with varying sizes for different tools
Features extra sleeves and a hammer holder, allowing easy tool access
Convenient handle for carrying and storage
Rugged leather bag to handle heavy weights and sharp tools
Easy wear with the double-tongue roller buckle
Cons
The belt is not as durable as the leather bag
I would recommend this leather design without hesitation for anyone seeking a convenient tool bag that supports them for active tasks. This Dewalt leather tool belt serves as a great tool carrier for different work.
4. Nemean Leather Heavy Duty Tool Pouch
Many workers are happy to find this Nemean Leather Heavy Duty Tool Pouch when they already have a reliable belt. It is indeed the right choice when we need a rugged pouch that secures our tools in place.
The brand intended to make this pouch for framers and carpenters, yet I find it helpful for any worker. The main reason for such versatility is its durable design. It is the go-to piece when roofers or electricians want a leather bag that stands up to sharp edges and rugged use.
The whole model is reinforced by high-strength nylon threads and metal rivets. With that, the tool bag remains secure and solid over time. We should go for such a design to prevent tools from falling out of sagging bags.
What's more, this design features four main pouches for fastener sets and other hand tools. Furthermore, it has holders for utility knives and pencils. We can also make use of the top-grain leather loops to hang our hammers. The layout ensures that all tools and parts are well-organized.
Another important thing to know about this tool pouch is its compatibility with tool belts as wide as 3 inches, which are pretty much the standard pieces. Also, the pouch allows sliding along the belt easily, making it ideal for both right-handed and left-handed workers.
The only downside of this otherwise great tool pouch is its relatively long break-in period. Fortunately, we can use various methods to make sure the pouch is soft and comfortable to use.
Pros
A durable leather pouch that withstands sharp edges and rugged use
Reinforced by high-strength nylon threads and metal rivets
Has four main pouches, space for knives, pencils, and leather hammer loops
Compatible with belts as wide as 3 inches
Useable for right-handed and left-handed workers alike
Cons
Takes longer than expected to break in this pouch
This carpenters leather tool pouch is the real deal. The piece makes fasteners and tools easier to bring to our tasks.
5. Leather Gold Genuine Leather Framer's Rig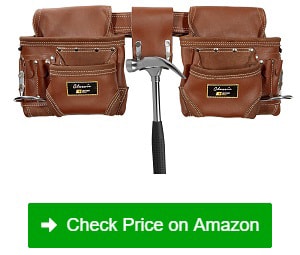 The Leather Gold Genuine Leather Framer's Rig is undoubtedly another worthwhile investment for a durable tool belt. Anyone seeking an affordable yet well-made too carrier should check out this model.
For starters, the tool belt is made from genuine cowhide leather, thus ensuring years of use with minimal sagging and scratches. Both its bags and belt come with a supple leather finish that offers a good look and durability.
Besides being made with quality leather, the rig can offer great flexibility. For instance, it has ten pockets and three hammer holders. These are placed to facilitate easy packaging and tool retrieving. As long as we arrange our parts and tools nicely, there is no hassle in fishing them out.
Notably, both the tool bags on this rig allow sliding along the belt, thus making it a breeze to find a convenient positioning. With that, we can carry our equipment even in a narrow workspace. And, of course, we can freely climb up and down or bend to work without hindrance.
While having all our tools at hand for tasks, we are also guaranteed a comfortable fit when wearing this leather rig. Its belt is adjustable to fit 30-45-inch waists. Furthermore, the piece is wide and thick enough to not pinch on our waist while relieving the pressure of the heavy load.
Still, the belt could be better if the prongs were not flopping around while I was getting ready and stacking the tools. Other than that, it works as intended.
Pros
An affordable and well-made leather tool rig with a nice finish
Made from genuine cowhide leather for minimal sagging and scratches
Flexible storage space with 10 pockets and 3 hammer holders
Allows sliding along the belt for freedom of movements
Guarantees a comfortable fit with an adjustable, wide, and thick belt
Cons
A bit inconvenient when the belt prongs flop around
The bottom line is this belt's functions and budget-friendly price make it a great option for workers in various fields. It offers good comfort and sufficient storage.
6. McGuire-Nicholas Tool & Fastener Rig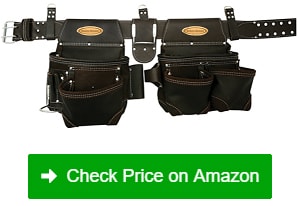 The notable things about the McGuire-Nicholas Tool & Fastener Rig are its professional look and holders of various sizes. I love how the piece helps me arrange tools properly in a short period.
When packing our gear and parts assortment on this tool belt, we have two large compartments, three medium-sized pockets, several sleeves, and hammer holders, all for ourselves. Therefore, dividing the collection into different categories is hassle-free. And all the tools are ready at our fingertips, so access is also a breeze.
The quality of this leather tool belt is quite good, considering its price. Compared to most designs on the market, it might not be in the top-notch range, but the piece suffices. Its materials are tested and constructed to hold up well in harsh working environments. And the tool belt can surely carry a heavy weight.
Also, workers with a large waist size can enjoy the adjustability of this tool belt. Unlike standard pieces that only accommodate up to 39 or 46 inches, this one can fit a waist size of 50 inches. Furthermore, it comes with a double-prong roller buckle to promote a stable and secure embrace.
Last but not least, the brand's craftsmanship is admirable. They successfully created such nice-looking leather bags in black and brown with contrast stitching. The combination of style and colors makes the design stand out.
The only gripe I have with this belt is its stiffness at some points; thus, it does not relieve pressure on my hips like other soft leather pieces I have used.
Pros
Features 2 large compartments, 3 medium pockets, sleeves, and hammer holders
Allows easy tool arrangement and access
Durable leather belt for workers with a low budget
Fits waist sizes up to 50 inches
Has a double-prong roller buckle for a stable and secure fit
Excellent craftsmanship, stylish colors and stitching
Cons
The belt is stiff at some spots
This piece is recommended for rookie workers who aim to purchase a stylish tool belt with bags that fit the bill. It shines with ample storage, too.
7. Occidental Leather 5070 Pouch
The Occidental Leather 5070 Pouch is popular among workers, even ones not currently using the brand's belt set. Since this pouch is a versatile item, anyone can install the piece to their current set for some extra space.
As expected from Occidental Leather, the leather used for making this pouch is top-quality. It is a USA-made product, offering the highest level of protection against rigorous working conditions. The piece can maintain its shapes and functions for a long time, thus making it a worthwhile purchase for professional workers.
Another reason why this pouch is such a widely-used piece is its layout. There is a large compartment in the middle for hand tools, then smaller holders on its front and sides for a secure hold. Also, we have a robust hammer loop that can withstand heavy weights with ease.
Of course, when stacking the pouch with sharp tools, we worry about them ruining the leather finish or tearing down the stitches. However, such issues are unlikely to happen with this quality pouch. It has rugged rivets and a high-strength thread that holds all pressure points together.
Furthermore, this beautiful brown and tan pouch can go well with any tool belt in terms of style and fit. It can accommodate a wide belt just fine with the large loop.
However, like most Occidental Leather products, the piece is available at a relatively high price. We can buy a whole tool belt with bags with decent quality at this cost.
Pros
A USA-made product with top-notch leather quality
Maintains functions and shape for a long time
Has a large compartment, smaller holders for secure hold, and a hammer hook
Robust stitches and rivets to avoid tearing
Beautiful pouch in tan and brown color, fitting any tool belt
Cons
Costs more than standard products
From my experience, tool belts leather made designs always have their unique features that make work easier. We can see those great traits in this Occidental pouch.
8. STRONGLAD Leather Tool Belt Pouch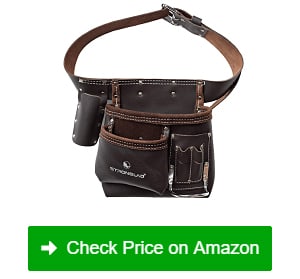 The STRONGLAD Leather Tool Belt Pouch is so sleek that it is hard to keep an eye off the piece after a glance. Therefore, any worker on a shopping spree for a stylish yet durable belt with pouches should check out this model.
This one is among the recommended leather tool pouches for carpenters, framers, construction workers, and more. It suits various tasks due to the pocket design and space. In detail, there is one main compartment that keeps the largest tools. Also, there are two pencil sleeves, one nail holder, hammer holder, and knife sleeve.
Notably, it is the perfect pick for beginners with a small assortment of tools. They can add more pouches later since the heavy-duty leather belt can handle a heavy load.
Surprisingly, such an affordable belt is made from genuine leather, offering the quality performance that we need when working in hazardous sets-up. It can take some beating with the double layers of nylon stitching and rivets. It is common to see such reinforcements in high-quality leather tool belts.
Furthermore, the piece looks beautiful. The oil-tanned finish gives it a retro and slick look, flaunting a smooth finish. Plus, the piece is soft to touch, which is one thing I love about its leather.
Overall, it is a functional leather tool belt that does not cost buyers a bundle. The piece can go a long way, whether we want to pack several essential tools or add bags for an extensive project.
Not to mention, the leather can resist water well to reduce damage caused by external elements. The only flaw in its design must be having no extra loop to hold the excess belt length after buckling.
Pros
Has large pocket, pencils sleeves, a nail holder, hammer holder, and knife sleeve
Affordable heavy-duty leather belt for adding more bags
Leather belt with double layers of nylon stitching and rivets
A beautiful design with a retro and sleek look
Leather material is soft to touch and resistant to water
Cons
The brand should add a loop on the belt to hold the extra length
Overall, it is a functional leather tool belt that does not cost buyers a bundle. The piece can go a long way, whether we want to pack several essential tools or add bags for an extensive project.
9. LAUTUS Oiled Tanned Rig Tool Belt
The next recommendation for workers handling heavy duties is this LAUTUS Oiled Tanned Rig Tool Belt. It boasts a smooth finish that appeals to workers who want an aesthetic design to their gear collection.
At first glance, this piece leaves a deep impression with its oil-tanned brown finish. The real leather material gives the belt and bags such a sleek look. Furthermore, the quality leather ensures that this piece can survive heavy loads and harsh working conditions.
Indeed, this tool belt's attraction is not just about its look. The design ensures convenient use with multiple pockets. There are 19 pouches, two steel hammer hooks, and two leather holders for hand tools. With such an ample storage room, workers can easily arrange their tool assortment.
Furthermore, this convenient tool belt also fits a wide range of waist sizes. While other standard models can accommodate up to 46 inches only, this one can be adjusted to fit around a 56-inch waist. Therefore, people with a large build can finally pick a well-fitted belt that does not hurt their back and waist.
One more thing, the belt has rivets that secure all the pockets at their pressure points. This feature is helpful in keeping the bags from sagging over time. However, its stitching is not as heavy-duty as other parts of the belt. I suggest redoing the seams before packing this tool belt to work.
Pros
Boasts a smooth finish with oil-tanned brown color
Real leather to handle heavy loads and harsh conditions
Convenient belt with 19 pouches, steel hammer hooks, and leather holders
Fits waist sizes up to 56 inches
Features heavy-duty rivets for securing pockets
Cons
The stitching might need some reinforcement before heavy use
The brand has put together a nice-looking yet functional leather carpenter tool belt that makes my work easier.
10. R Dawg Suede Leather Tool Belt
The R Dawg Suede Leather Tool Belt earns a spot in the list of highly-recommended work gear that does not break our bank. It comes with an adjustable belt and durable bags that help maintain our work pace.
I notice that the belt on this design is a tad wider and thicker than the usual pieces. In detail, the piece is 1.6 mm thick and made of suede leather. With such a construction, the belt helps reduce the tension from the heavy load of tools.
When bringing along many tools, it is important that we arrange them neatly for easy retrieval. Thanks to the smart layout of these pockets, we can keep hammers, tape measures, pliers, and fastener sets separately. With that, it is a breeze to take out a tool and keep on working without delay.
Furthermore, the tool belt allows packing a large number of tools with its 11 pockets. Therefore, workers performing different tasks can rely on this product. For instance, carpenters, construction workers, and even electricians can make good use of its functional layout and spacious room.
Another perk of this good belt is its adjustability. The belt can fit waist sizes from 28 inches to 43 inches, just the standard range for workers.
A little warning, though, watch out for the plastic snap on the belt. It takes some time to line the piece up, and be careful not to get your finger pinched by it in the process.
Pros
Cost-friendly leather tool belt with bags
Thick and wide suede leather belt for more comfort
Smart layout to keep hammers, tape measures, fastener sets, and more separately
Ample space of 11 pockets, versatile enough for all tasks
Adjustable belt for waist sizes from 28 inches to 43 inches
Cons
The plastic nap could be made easier to line up
Overall, I agree with many users that we can overlook the minor flaw when this leather tool apron works as intended. Furthermore, at this price, the design offers just what we need.
11. AWP TrapJaw Leather Tool Rig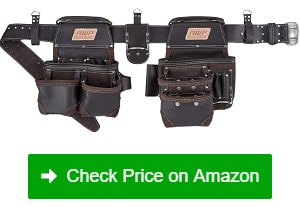 Our final recommendation comes from AWP. The brand did such a good job with their TrapJaw Leather Tool Rig model. Not only the bag but all the hardware on this piece is of high quality.
The belt surprises me with a rugged yet professional look in an oil-tanned finish. It resembles tough tool belts from Occidental with a friendlier price. Due to high-quality leather, this product's durability is up to par, thus usable to carry heavy tools.
It does not take us much time to arrange our gear and part assortment in this tool belt. In detail, we can house the large tools in the main compartment then line all the hand tools in smaller holders. Also, hammers and measuring tape have their space on the belt, so it is a breeze to find them.
One special feature of this tool belt is its two pockets featuring patented StrapJaw snaps. The added snaps secure fastener sets or important belongings we want to protect when bending for work.
Also, we can customize the belt to fit a waist size of 50 inches. That means I can wear extra clothes to keep warm in winter without worrying about breathability and comfort. Besides, the double roller buckle on the piece makes it easy to put the belt on and take it off.
We can have a
leather tool belt with suspenders
by installing our purchased suspenders onto the pre-installed D-rings of this design. Up until now, I have had no complaints about the piece. It works wonders for my current tasks.
Pros
A rugged yet professional look in the oil-tanned finish
Affordable, quality leather construction for heavy duties
Has large compartments, small holders, hammer and measuring tape slots
Features patented StrapJaw snaps on two pockets
Customizable to fit 50 inches waists and accommodates suspenders with D-rings
The double roller buckle makes it easy to wear
All in all, this tool belt is a bang for the buck. Its quality and layout really give the feel of expensive tool belts from Occidental.
What to Look for When Buying Leather Tool Belts?
There are many factors to consider when choosing the right leather tool belts for your tasks. But first, make sure to check your tool assortment and arrange them in categories. Visualize how you want to pack them when performing on-site duties. Let's see what other information we need to know in the selection process:
Types of leather – Genuine leather is preferred for making durable tool belts that stand the test of time. Many people love oil-tanned leather belts since they offer a good look while ensuring good protection against scratches and sagging.
When browsing through the leather belts on the market, you might encounter several types of leather-made products. They will vary in terms of quality and price.
The most rugged belts ideal for heavy duties are ones made of full-grain leather. It is the blemish-free hide, thus offering a flawless finish for your belt.
Furthermore, since full-grain leather has oil-absorbing properties, tool belts with this material will withstand rigors through the years—many of them last decades without sagging and tearing.
Another high-quality leather used for making tool belts is top grain. Even though it is not as pricey and strong as full-grain leather, this material can make sure the belt handles harsh working conditions just fine.
Plus, it does not crack or peel easily, thus aging beautifully through time. With a finishing coat, these leather tool belts can also resist water and stains well, thus offering a professional look for workers.
We can go with suede designs if we want a much more affordable tool belt made of leather. With proper stitching and reinforcement, these tool belts can also perform in harsh working conditions. Notably, they are soft to touch and rather thin, thus a tad more lightweight than other belts.
Design – There are multiple designs of tool belts, holders, and bags that we can go for to make sure that the chosen piece meets our needs.
A tool belt with multiple bags
The traditional tool belt featuring a main compartment on both sides is preferred by professional workers. In fact, this design allows them to pack as many tools as they want for an extensive project.
Tool belts of this type can offer more than 20 pockets of varying sizes to pack hand tools, large gear, parts, and fasteners with ease. Just make sure you go with ones featuring wide-opening pouches for easy tool retrieval. Furthermore, the holders should be designed to accommodate the types of tools you have.
A tool belt with a rigging system
Many workers prefer a tool belt featuring suspenders. These models benefit those carrying heavy loads of power gear and tools on their belts. They help distribute the weight better without hurting our back and waist. Just make sure the suspenders have sufficient paddings.
There are many buyers who just want to look for an extra tool pouch. Also, many want a tool belt with one pouch on it since they only bring essential tools to on-site jobs. In that case, a quality leather piece is of excellent use.
Still, make sure that the pouch is compatible with your available tool belt. If you purchase a belt with one pouch, it should allow adding more bags in the future if required.
Comfort and fit – It is important that we find a tool belt that fits us well. So make sure you check for its length and adjustability. It is recommended to consider the extra clothing we are going to wear to on-site jobs in winter.
Furthermore, the belt must be wide enough to not put much pressure on or pinch our waist while carrying heavy tools. It should be around 3-inch wide and 1.5 inches thick. It would be better if the belt or suspender we purchased had paddings and back support. Also, a breathable lining is preferred in hot weather.
Brands and price – Check out the following brands to see if there are products that meet your needs without exceeding your budget.
Occidental Leather provides the most expensive leather belts. Their product can cost over $300 for a full set of tool belts and up to $80 for a utility pouch.
At a lower price range, you can check out Style N Craft, LAUTUS, and more. A Gatorback tool belt is also widely loved by workers, but the brand often uses nylon to make their bags and leather for their belt. So, if you combine both, you likely won't have a fully leather-made design.
If you seek low-priced yet heavy-duty tool belts, see the collections of Leather Gold, AWP, R Dawg, McGuire-Nicholas, etc.
Are Leather Tool Belts Better?
Leather tool belts are often available at a much higher price than designs made out of other materials. Indeed, there are good reasons for that. First of all, they offer a retro, sleek, and professional look for workers.
More importantly, leather tool belts are more durable, strong, and resistant to the elements. They are considered to be much more resilient than products made of nylon, canvas, or polyester. Therefore, an investment in a premium leather tool belt will benefit us in the long run.
What Leather Is Used for Tool Belts?
As stated above, manufacturers use full-grain, top-grain, and suede leather when making belts. Their durability and price differ, depending on their quality. Among them, full-grain leather lasts the longest and also costs much more than the other two.
How to Break in Leather Tool Belts?
It is frustrating to wear a stiff tool belt with rigid bags that do not allow easy tool packing. So, here're some tips you can use to soften and break in your tool belt:
Rub alcohol on the tool belt to soften it, then use vaseline to moisturize it. Then, make sure to use a clean cloth to wipe them off your belt.
Apply natural oil on the tool belt after dusting it off. You can use jojoba, almond, avocado, olive, or coconut oil.
Use a leather softener on your belt. Make sure to choose one that is compatible with the material.
Conclusion
When picking the best leather tool belt, make sure to take all important factors into consideration before making a choice. Do not buy just any belt, since this gear can affect your work pace, safety, and much more. Hopefully, our recommended list and guide already give you an insight into the selection process.
In case of any confusion, reach out to us via our contact page. We will try to get back to you as soon as possible. Thank you!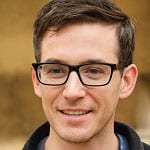 This is Edward Manning, the editor in chief of Construction Informer. Quite a bit of my time is spent researching the market and interviewing experts in the field so that I can give you reliable information.