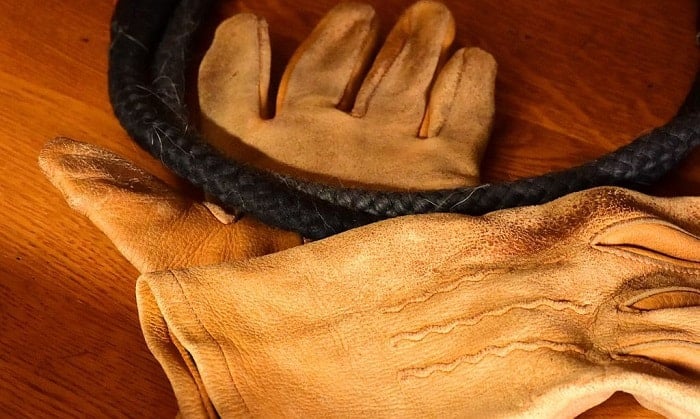 Leather is arguably one of the most important materials in human history. With examples of leather being used going back as far as prehistoric times, leather continues to be a staple in clothing to this day.
Its unique characteristics as well as its wide range of variations with different hides and tanning processes, are just one of many reasons why workers still swear by their leather equipment to get the job done—myself included. And indeed, few pairs today could beat the best leather work gloves on the market.
But if different kinds of leathers have different qualities, how do you know if a pair of gloves is the best for your work? While we can go into further detail later, you can pretty easily sum up the performance of a pair of gloves with three criteria: toughness, flexibility, and comfort.
Toughness: refers to the protection and durability of the gloves. It is the most valued characteristic of leather and why most people want to buy leather gloves in the first place. Naturally, you would want a pair of gloves that offers reliable and long-lasting hand protection for your line of work.
Flexibility: as the name suggests, refers to how easily the leather gloves stretch along with your hand. This is important if your work requires precise finger movements like handling small objects.
Comfortable: as they are key to having a good wearing experience. It doesn't matter if you purchased the most durable, most protective, or most flexible pair of leather gloves if they aren't comfortable to work with.
Now, it's important to note that there is no one best pair of gloves for everyone. That is why this article will be showcasing a variety of gloves I've used to give you a good idea of what to expect when you shop around for your next pair. You can also read the buying guide for more info.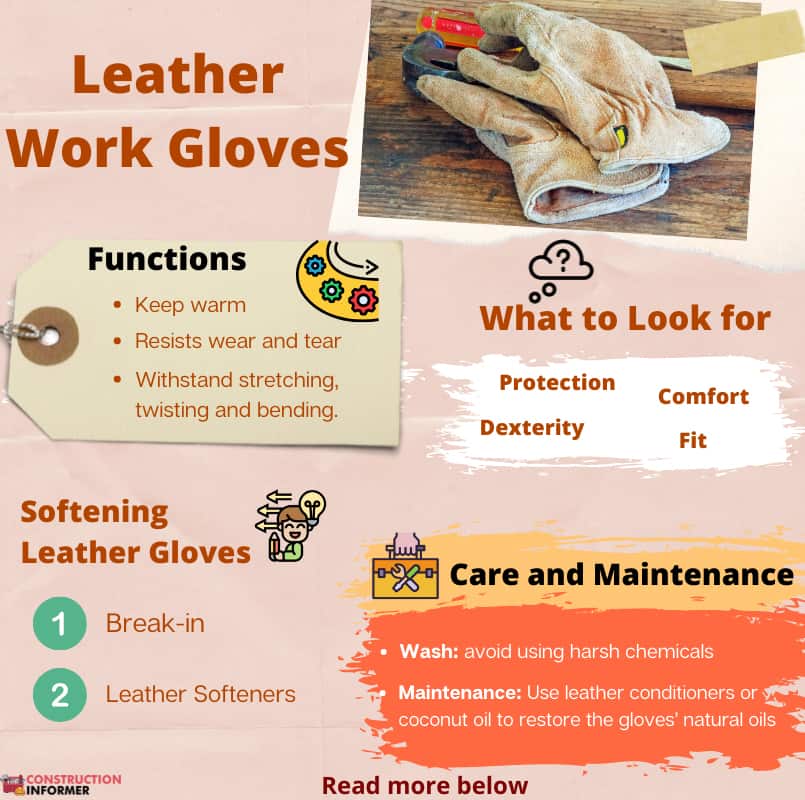 Featured Products
Best Overall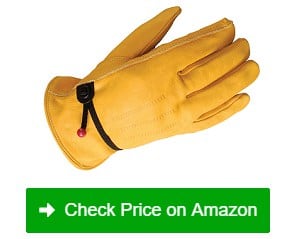 Wells Lamont 1132
– Full-grain cowhide leather
– Excellent abrasion and puncture protection
– Split leather palm patch for additional grip
Editor's Pick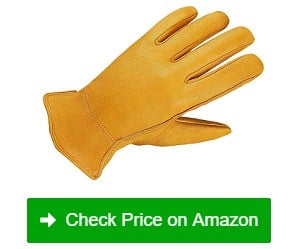 OZERO Flex Grip Leather
– Tough leather grain protects against punctures
– Natural cowhide lining absorbs sweat
– Gunn cut construction for great durability
Premium Choice
Midwest Gloves & Gear
– Proudly made in the USA
– Tough and hard-wearing buffalo leather
– Reinforced double-stitched build
Top 12 Leather Work Gloves Reviews
1. Wells Lamont 1132 Leather Work Gloves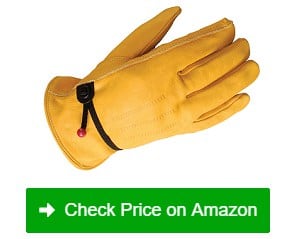 Anyone who's ever worked in construction will know of the many little impacts, cuts, and scrapes that hands have to deal with. While one can handle these minor pains on their own, they accumulate quickly over the course of the workday. This is one of the reasons why having safety gloves on the job is so important.
The 1132 leather gloves by Wells Lamont is one great example. Made out of full grain cowhide leather, these gloves were able to handle whatever hard knocks my projects would throw at them.
Cowhide leather is best known for its excellent protection from abrasions and punctures, which is exactly the kind of protection needed for construction, ranch work, and any heavy tasks one may encounter.
However, cowhide is also known for being relatively stiff, especially out of the box. As such, the gloves will take a while to break in and stretch a bit before they're able to conform to the hands properly.
These gloves have a split leather patch stitched across the palm. The rougher texture of the split leather gives the gloves more grip, which is great when my job involves working with hand tools.
Topping the gloves off are cuffs with a ball and tape mechanism that allows users to adjust the fit to their liking.
Pros
Full-grain cowhide leather
Excellent abrasion and puncture protection
Split leather palm patch for additional grip
Ball and tape wrist cuff lets users adjust the fit
Cons
Cowhide takes time to break in
Although their stiffness is a bit of a problem out of the box, the Wells Lamont 1132 are some of the toughest leather work gloves I've ever used.
2. OZERO Flex Grip Leather Work Gloves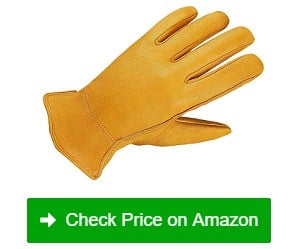 Landscaping and carpentry have many things in common, but one of the most significant is the hazards they have to deal with. From cactus spines to wood splinters and everything in between, puncture hazards are very common in these environments.
It's why leather safety gloves like this pair made by OZERO are preferred over cloth and rubber gloves when it comes to this line of work. The toughness of leather grain provides much better protection from punctures that would otherwise pass throu
gh fabric and rubber quite easily. And indeed, the cowhide leather used in these gloves was very good at blocking out everything from thistle bushes to loose nails.
One detail about these gloves that I really appreciate is that there is no additional inner lining. Using the natural inner layer of the leather on these gloves takes advantage of its natural sweat-absorbing quality, which is especially good for long working hours on hot days.
Of course, natural leather is by no means perfect. Attempting to wash these gloves for cleaning resulted in the leather stiffening up. It took quite a bit of effort to make it supple again, so users should spot clean these gloves instead.
The gloves are constructed with what is known as a Gunn cut. This is a pattern for constructing gloves that moves the seams up the fingers, leaving no exposed seams on the palms, which improve the gloves' durability.
The elastic cuffs are also a nice touch, making it quite convenient when putting on and taking off the gloves.
Pros
Tough leather grain protects against punctures
Natural cowhide lining absorbs sweat
Gunn cut construction for great durability
Elastic cuffs for convenience
Cons
Leather becomes stiff after washing
This pair of all leather work gloves from OZERO is a solid option for protecting our hands from the many sharp sticks and spikes of yard work.
3. Midwest Gloves & Gear Leather Work Gloves
In the consumer market, there is a widespread stereotype about how the quality of a product depends on where it was made. And while this is slowly but surely falling out of favor, brands like Midwest Gloves & Gear are still trying to prove there is some truth to the stereotype with their buffalo leather gloves that are proudly made in the USA.
The first design detail that sets these gloves apart is their use of pure top grain buffalo leather. Sourced directly from one of nature's toughest and most fearsome animals, buffalo leather is known for being extremely tough and hard-wearing.
Because of this, these gloves can protect our hands in the toughest conditions quite easily. I have used these gloves through multiple projects in both rain and shine, and so far they've yet to show any signs of damage.
The gloves themselves are also built to a very high standard, with a reinforced double-stitched build that ensures the gloves will not fall apart any time soon.
The combination of the tough buffalo leather and the heavy-duty construction means that, with the right care, these gloves will be able to last a lifetime.
Pros
Proudly made in the USA
Tough and hard-wearing buffalo leather
Reinforced double-stitched build
Will last a lifetime with the right care
With their leather work gloves made in USA, Midwest Gloves & Gear offers a level of quality and attention to detail that is a cut above the rest, making them a worthy recommendation.
4. Vgo Cowhide Split Leather Work Gloves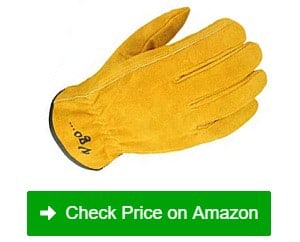 As I mentioned previously, leather can have different qualities, depending on what animal hide is used to make the leather. But even the same hide can produce different kinds of leathers. This pair of leather gloves made by Vgo is a great way to explain this.
Instead of the tough grain one typically associated with leather, these gloves are made with split cowhide leather. Split leather, simply put, is the bottom layer of the leather taken from animal hides, which is more fibrous in structure.
The fibrous composition of split leather results in a rough texture that is similar to suede. And because of this extra texture, I found that these gloves actually provide improved grip over smooth grain leather gloves. The increased grip was great for handling all sorts of things, from hand tools to clay pots and heavy wooden joists.
While most of the qualities of a pair of leather gloves are dependent on the leather itself, how the gloves are made also plays a big part in the overall experience of using them. The reinforced finger crotch on these gloves is a good example—a simple yet effective solution that improves their durability.
Of course, the leather on these gloves is no slouch either. Proof of that can be seen in their certified 4131 protection rating based on the EN388 international standard.
However, the dye actually bleeds out and stains your hands when the gloves get wet. This is something to keep in mind.
Pros
Split cowhide design: fibrous in structure
Rough outer texture improves grip
Reinforced finger crotch
EN388 4131 protection rating
Cons
Dye bleeds onto hands when wet
The excellent, versatile grip of the split cowhide used by Vgo makes their working leather gloves quite effective for a variety of hands-on work.
5. OZERO Winter Insulated Leather Glove
While leather is known for its natural resistance to the elements, there are some environments where leather is less effective. One of the most common is cold weather—the relatively lower thickness of the leather used in most gloves is not enough to keep the hands warm. As such, insulated leather work gloves are needed, and OZERO has made a solid example.
Designed to provide protection from the extreme cold, these gloves are able to keep our hands warm in -20°F environments. This is incredibly important because it is at these temperatures that frostbite can occur in the hands and fingers if they are not adequately protected.
Making this possible are two features, the first of which is an inner liner made of imitation lambswool. The soft, fluffy material creates a thick insulating barrier between our hands and the outside air to keep them nice and toasty.
From my experience, though, this extra thickness does make the gloves fit rather tightly; if this is a concern, I recommend customers buying a size up from their typical glove size.
The second feature of this insulated leather work glove is its thickened leather shell made of split cowhide. This creates a robust and dense outer layer that offers extra insulation.
Together, these two design details provide effective protection for our hands from the harsh cold winds of winter.
Pros
Keeps hands warm down to -20°F
Imitation lambswool inner liner
Thickened split cowhide shell offers extra insulation
Protects against harsh cold winds
Cons
Inner lining is tight on the hands
The thick insulation provided by these lined leather work gloves make them one of my personal favorites for working in the winter.
6. G&F 5015L-5 Cowhide Leather Work Gloves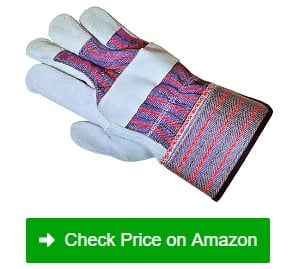 As mentioned earlier, leather is by no means the perfect material for gloves. Even as someone who uses leather gloves at work all the time, I still find some issues with the material. In particular, leather tends to get quite humid and sweaty, especially on hot days.
While there are many ways to approach the problem, one solution is to incorporate other materials to address those design issues. And that is what G&F Products did for their 5015L-5 gloves.
These gloves are constructed with a combination of fabric and leather panels. The fabric panels are placed in strategic locations such as the back of the hand and the wrist cuffs. This gives the gloves a lot of breathability that keeps sweat at bay.
The fabric is also used to create lengthened cuffs that extend the gloves' protective coverage beyond the wrists. This is especially useful for gardening tasks as dirt and splinters could hit the hands.
Cowhide leather is also strategically integrated into the design of these gloves, being used on the entire palm side of the gloves and wrapping around the fingertips. All of these locations happen to be high-wear areas that help a lot with the durability of the gloves.
In addition, there is another leather panel stitched across the knuckle area of the gloves. This provides extra protection from abrasions.
However, it should be noted that the gloves in general have fairly limited impact protection, so you would still want to be careful around heavy objects.
Pros
Fabric panels keep gloves breathable
Lengthened cuffs for extended wrist protection
Cowhide leather palm and fingers for durability
Protective panel across the knuckles
Cons
Limited impact protection
The clever composite construction used in the G&F 5015L-5 makes them excellent long leather work gloves that combine the best qualities of fabric and leather.
7. Superior Glove Company Leather Work Gloves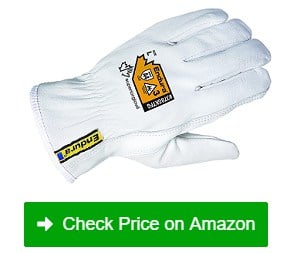 Of all the leathers used to make leather gloves, cowhide is the most common because of its relatively low cost and easy accessibility. However, cowhide is far from the only hide in widespread use on gloves, and for that reason, I've included this review of these heavy-duty goatskin leather gloves made by the Superior Glove Company.
As the name suggests, the outer shell of these gloves is made of goatskin leather. Compared to the more common cowhide, goatskin leather is more supple and lightweight given the same thickness of leather. While one might think the differences are subtle because both are still essentially leather, the differences were quite noticeable from my time using the gloves.
Reinforcing the goatskin leather is an inner lining made of Kevlar. The same one used to make bulletproof vests, this engineered fabric gives these gloves impressive cut protection—enough to reach an A4 rating based on the ANSI glove protection standard.
In addition, the gloves were also tested for arc flash resistance and were certified to have level 3 spark and flame resistance. This is a very important specification to have for metalworking, as the sparks from welding and cutting metal can cause serious burns without the right protection.
Unfortunately, these gloves can't do it all. From my testing, these gloves were not waterproof, although the goatskin leather was able to resist being soaked at first. If waterproofing is important to your line of work, these gloves are not the best choice.
Pros
Goatskin leather outer shell
Supple and lightweight for comfortable wear
Kevlar inner lining with ANSI A4 cut protection
Level 3 spark and flame resistance
Cons
Not waterproof, thus not ideal for certain lines of work
Combining the characteristics of goatskin leather with specialized spark and flame resistance makes these gloves the superior option for high-temperature applications.
8. Carhartt Men's Leather Fencer Work Glove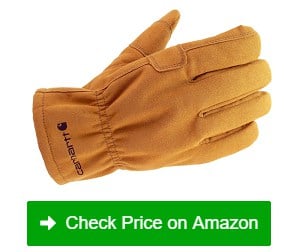 A lot of the time, the best type of leather for gloves is really a matter of personal preference. Indeed, while most will have no complaints with the reliability of full-grain cowhide, those with more discerning tastes such as myself will prefer something more specific.
And one of my personal preferences is suede, as used on these soft leather work gloves made by Carhartt.
Now, suede is characterized by its soft, fibrous texture that is very cozy to the touch. It is this same texture that makes it so difficult to clean, requiring very careful and delicate use of detergents to maintain its rich brown hue.
What I get for my time, though, is a beautifully fuzzy suede that is soft on the hands and grippy on my tools. The gloves were very comfortable to use whether I was holding tools or carrying materials, and the soft texture provided a bit of cushion to whatever I was holding.
Adding to the comfort is the vented design used on the cuffs. This design incorporates a bit of breathability into the gloves, allowing some much-needed fresh air to keep our hands cool when the going gets tough.
And when the going does get tough, these gloves will be more than able to protect our hands through all of it, thanks to additional suede panels that reinforce the thumb and palms.
Pros
Provides cushion for the hands
Fuzzy texture is soft and grippy
Vented cuffs to keep hands cool
Reinforcement panels on the thumb and palms
Cons
Suede requires delicate cleaning
While tricky to keep in pristine condition, the suede used on Carhartt's leather working gloves provides a decidedly premium hand feel that is difficult to resist.
9. Kim Yuan Leather Work Gloves
This pair of gloves from Kim Yuan is another one of my favorites for jobs that require some properly thick protection. While leather in general is good at protecting against cuts, scrapes, and punctures, its overall effectiveness ultimately depends on its thickness.
And these gloves definitely deliver with a full-grain cowhide leather shell that is over 1.2mm thick. This level of protection is perfect for handling splintery wood, clearing thorny bushes, and dealing with spiny hazards in general.
Of course, this extra thickness does make the leather quite stiff out of the box. My fingers had an especially hard time moving precisely in them for the construction and landscaping work that I do. Thankfully, it only takes about a day's work to break the leather in.
On many glove designs commonly used by manufacturers, the thumbs are typically sewn as two pieces—one part integrated with the palm and the other part integrated with the back. However, given the stiffness of leather compared to fabric, this design makes the thumb difficult to move around. The keystone thumb design used in these gloves stitches the thumb as an entirely separate unit, allowing the thumb part to flex freely from the rest of the gloves.
Capping these full grain leather work gloves off are elastic bands stitched into the cuffs to allow the leather to grip the wrists securely. The fit was nice and comfortable and never felt like splippery.
Pros
Extra-thick full-grain cowhide shell
Great all-around protection
Keystone thumb design maximizes flexibility
Elastic cuffs for an easy fit
Cons
Leather is stiff out of the box
Extra-thick and extra-resilient cowhide leather makes this pair from Kim Yuan one of the most durable leather work gloves I've ever used in my line of work.
10. Olson Deepak Heavy Duty Safety Gloves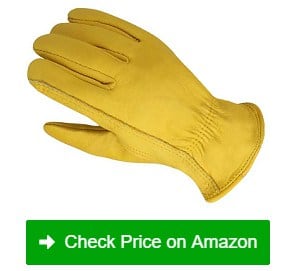 Previously in this article, I've talked a bit about how extensive our history is with leather. And one of the results of that history is that we have had the time to continually refine the design of leather gloves.
These leather construction gloves made by Olson Deepak are a solid example of a simple design that has been refined to near perfection. Their design combines the Gunn cut pattern with a keystone thumb to make the best use of cowhide leather, optimizing both its durability and dexterity.
The gloves are also put together with double stitching, minimizing the chances of them falling apart at the seams. As many of the gloves I have tried before tend to fail in this area, the double stitching does help inspire some confidence.
The cowhide leather used on these gloves provides excellent protection from both cuts and scrapes, both of which I encounter very often in my line of work. These gloves were put to the test on one project that involved a substantial amount of concrete blocks and bricks. The gloves held up very well, and I never felt anything rough reach my hands.
The gloves also make use of the leather to provide a naturally soft inner lining, letting me wear the gloves well into overtime without any discomfort.
However, I would have definitely liked the gloves to be a bit more breathable. Leather can only absorb so much sweat, and on particularly hot workdays, I would end the day with my gloves basically soaked through.
Pros
Gunn cut pattern with keystone thumb
Double-stitched panels keep gloves together for longer
Excellent protection from cuts and scrapes
Soft and comfortable inner lining
The reliable performance of these heavy duty leather gloves from Olson Deepak warrants a solid recommendation from me.
11. Galeton Rough Rider Leather Driver Gloves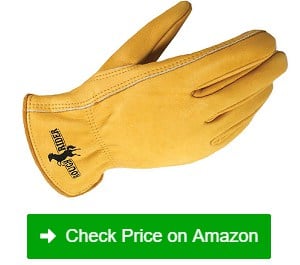 While engineered fabrics are becoming more and more popular in certain glove designs, there is one line of work where leather gloves still reign supreme, and that is ranch work. Ranchers and farmers require a very specific combination of protection, comfort, and durability that only all leather work gloves can provide.
And one excellent example is the Rough Rider driver gloves made by Galeton. Constructed with tough cow leather, these gloves produce consistent and reliable performance. Though I don't work on a ranch myself, they have served me just as well working on large construction and landscaping projects.
Part of what makes these gloves so durable is the thickness of the leather. It's more than capable of handling heavy labor, but as a result, the leather is too bulky for precision work. While using them to build a shed frame, I had a hard time picking up screws and nails because the thick leather made it rather difficult to flex my fingers precisely.
The feel of the gloves is nice and soft, which made the pair comfortable enough to wear all day. The seams and stitching were thoughtfully positioned, and I couldn't feel anything sticking out inside the glove. Little details like these are often overlooked by glove makers, so I appreciate Galeton's attention to detail here.
This attention to detail extends to the rest of the glove as well. Unlike the other gloves on this list, Galeton uses a driver glove design that keeps dirt from getting inside. This feature helps optimize the gloves' durability, and so far, they have stood up to the task quite well.
The wrist cuffs are also paired with elastics to secure these full grain leather gloves, which contributes to a comfortable fit.
Pros
Tough cowhide construction with nice stitching
Soft construction provides all-day comfort
Driver glove design for optimum durability
Elastic wrist for a good fit
Cons
Too bulky for high-precision work
Purpose-built design and features make the Galeton Rough Rider gloves some of the top-rated leather gloves for work on a ranch or farmstead.
12. Custom Leathercraft 2055L Cowhide Work Gloves
Many of the recommendations on this list have been heavy duty leather work gloves, which were all quite bulky and difficult to maneuver in, especially before they are broken in.
This, of course, is no accident, as protective features are more important than flexibility in the context of heavy work tasks because this helps lower our risk of injury. That being said, I have tested high-dexterity gloves as well, and a great example of such a pair of gloves is this one from Custom Leathercraft.
Aimed at providing maximum hand dexterity, these gloves are constructed from split cowhide, which is a lot more flexible than the tougher and stiffer grain leather. This removes the need for the gloves to be broken in because they already move so well with the hands right out of the box.
The split leather used on these gloves is also a bit thinner than on other gloves, but not too thin so as to make the gloves feel flimsy. The change is subtle, but results in a noticeable improvement in flexibility compared to the other split leather gloves on this list.
And because the gloves use split leather, their texture means they have excellent grip. These gloves kept their hold even on wet surfaces.
Pros
Split cowhide construction
Thin leather shell offers great flexibility
Protects from scratches and scrapes
Great grip on dry and wet surfaces
Cons
Puncture and impact protection is not as good as other gloves
While not as protective as some of the bulkier recommendations on this list, the Custom Leathercraft 2055L makes up for that with being one of
the top-tier high dexterity work gloves
I've tested.
What to Look for When Buying Leather Work Gloves?
Leather gloves in general are sought after because of their reliable performance and many desirable traits that make them perfectly suited for a life of heavy work. And as we've seen in the list of reviews I've presented in this article, there is a lot of variety when it comes to the details you notice when you start to get hands-on with them.
The characteristics of these gloves spread out over a spectrum of sorts, with each pair of gloves being better or worse at certain aspects. Here are a few of them you should look out for when you start shopping for your next pair:
Protection: The main purpose of any pair of good leather work gloves is to, of course, protect your hands. Thankfully, you don't have to worry too much about what kind of leather it is, as all leather tends to be very good at resisting abrasions, cuts, and punctures, whether you're using cowhide or deerskin leather work gloves.
The only thing you really need to worry about is the thickness of the leather, as thinner leather will make sharp objects poke through the leather more easily.
Dexterity: Having tough and protective leather gloves doesn't matter that much if the gloves are difficult to move in. While cowhide can be flexible with enough break-in time, deerskin, goat skin, and pigskin leather gloves offer considerably better flexibility.
In addition to the type of leather used, the part of the hide used to make the leather also affects the flexibility of the leather—and in turn, that of the gloves. The hide of an animal has two distinct layers: the tougher outer layer called the grain and the softer inner layer called the split. Given the same type of hide, the split leather will typically be the more flexible one out of the box; however, break-in is also a factor of flexibility as leather tends to soften as it goes through wear and tear.
Comfort: Your black leather gloves also have to be comfortable if you plan to use them for any length of time. Even just a single exposed seam or stitching on the inside of the gloves can ruin the experience of using them. If you have the opportunity to try on a pair of leather gloves in person, try to turn the gloves inside out and look for anything poking out. This is typically a mark of bad craftsmanship, and finding any such issues in a glove means you probably shouldn't buy it.
Fit: Of all the things you need to consider, getting your gloves to fit correctly is arguably the most important. For example, mens leather work gloves will have a very wide and loose fit if you are female because men's sizing tends to be wider and stockier. Likewise, leather gloves with women's sizing will be a lot more tight in comparison.
Again, I would recommend that you try on any gloves you plan to buy directly in the store whenever possible, as this will help ensure that you get the proper fit before you actually buy them.
Do Leather Gloves Keep Hands Warm?
Leather gloves can keep hands pretty warm, thanks to the naturally insulating nature of the material. The thicker the leather, the warmer the gloves are.
Of course, the warmth of leather gloves is only up to a limit. Certain heavy duty leather work gloves can provide a bit more warmth for the winter, but if you intend to use your gloves in sub-zero environments, you will need properly insulated leather gloves to get the best protection from the cold.
What are Leather Gloves Good for?
Leather is a material that resists wear and tear very well. It can stand up to significant amounts of abrasion, stretching, twisting, and bending before it eventually breaks, and with the right care, it can last for many years.
Because of these qualities, leather gloves work very well in work environments and tasks that expose the hands to physical hazards. Construction, metalworking, landscaping, and mining are just a few.
How to Make Leather Work Gloves Last Longer?
Any pair of high quality leather work gloves, if made correctly, should last through at least a couple of years of heavy use without failing. But they can last decades if given the right care.
The simplest way to care for a pair of leather gloves is to simply clean them properly. Leather most commonly breaks down in three different ways—one, the leather has dried out; two, the leather is starting to rot; and finally, the leather has been damaged by chemicals. To mitigate all these problems, here are some quick leather care tips:
Use leather conditioners or coconut oil to restore the gloves' natural oils and prevent the leather from drying out.
When the gloves get wet (either from washing or sweat), make sure to dry the gloves out completely to keep the leather from rotting.
When washing your leather gloves, avoid using harsh chemicals and only use mild detergents to avoid chemical damage.
How to Make Leather Work Gloves Soft?
Softening leather gloves is not something you need to do for all leather gloves, but one might want to do so when their leather gloves are a bit too stiff and difficult to move.
Softening leather gloves can be done in one of two ways: through break-in and with dedicated leather softeners. Break-in is the process of subjecting the freshly-cut leather to a bit of wear and tear to allow it to flex more easily. This can be done either by wearing the gloves continually over several hours, or by flexing them mechanically. Leather softeners are specialized chemicals that add moisture to the leather to allow it to soften.
Exactly what products you should use is beyond the scope of this short guide, but you can find more information on forums and websites like Reddit.
Conclusion
I hope this list of reviews of the best leather work gloves has been helpful to you. With the information compiled in this guide, you should now be armed with the knowledge to get hands-on with your glove shopping and find the perfect pair of gloves for your work.
Hi, I am Alexander, forty-seven years old this year. I have been in the construction industry for twenty-five years and have provided a wide range of services. When it comes to expert guidance on site safety gear, you can put your trust in me.