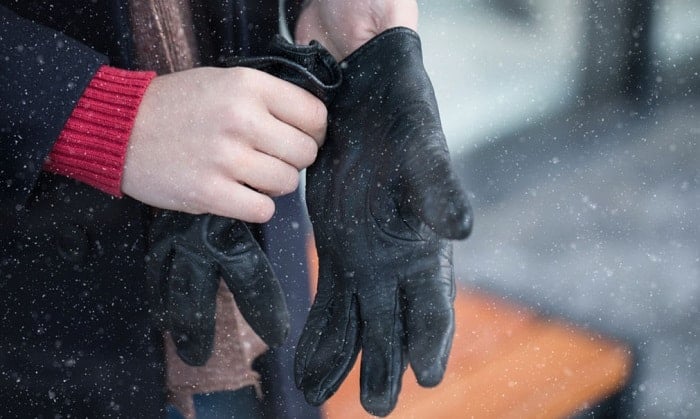 Gloves for winter are meant to protect us from the cold. But many of us need more than just thick insulation that keeps the freezing wind and snow from touching our hands. We seek thin and lightweight pairs that do not compromise on our dexterity to handle tasks.
In such cases, there's a call for the best lightweight winter gloves. However, selecting a suitable pair seems to be challenging since there are so many options available. Knowing that, we show here three main features that you might want to consider when looking for your ideal one:
Gripping palm – To ensure that your gripping is not slippery, especially when holding small tools or lifting heavy stuff, it is advisable to look for anti-slip palms. Hence, it is best we choose gloves incorporated with silicone patterns on key areas.
Fit around the fingers – Another feature that we need to pay attention to is a good fit. It might not be a tricky factor since thin gloves often come with a form-fitting design and elastic cuff to maintain our hand sensitivity. Make sure you choose a pair that leaves little space between the fabric and your fingertips.
Lightweight yet warm fabric – We need a thin and lightweight pair with sufficient insulation, so picking the suitable materials that construct the pair is essential. Warm gloves can be made of Polyester, spandex, wool, Acrylic, or knit textiles.
Other than these features, there are many more things we need to pay attention to when picking our piece. So, without further ado, here's our list of the best pairs available and a detailed buying guide with answers to many FAQs. Dig in to find out!
Featured Products
Best Overall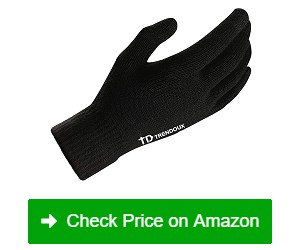 TRENDOUX Winter Gloves
– Slim and stretchy design
– Sensitive touchscreen feature
– A low-priced winter pair for workers
Editor's Pick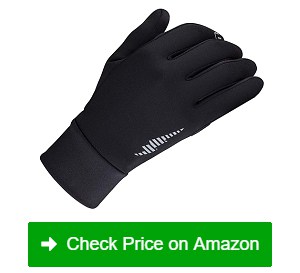 SIMARI Work Gloves
– Ideal for various activities
– Shield against wind and water
– Allows good grip and ease of movement
Premium Choice
OZERO Winter Thermal Gloves
– Thin and lightweight
– Resists winds and water
– Touch-screen fingertips
Top-Rated Lightweight Winter Gloves Reviews
1. TRENDOUX Winter Gloves for Men and Women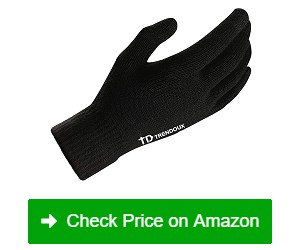 Next is a low-priced pair that suffices in keeping us warm in winter with little bulkiness – the TRENDOUX Winter Gloves for Men and Women. For anyone looking for an affordable pair to fight against the cold, this one is a must-have.
This unisex pair is a delight to use since it is slim and stretchy enough for comfortable wear. Such a design explains why its two sizing options can go well with various users, including my partner and me. I appreciate the warm Acrylic textiles, soft wool liners, and elastic cuffs that offer us warmth and comfort.
Many of us are not here to purchase casual winter wear but to look for functional work gloves. In that case, these thin winter gloves feature silicone slip-resistant triangle patterns. They are all over the glove palm to help with better grabbing on work tools.
Furthermore, these warm gloves also provide a sensitive touchscreen feature for users. We can use our middle finger, forefinger, or thumb to press a call, surf the internet or manage our work via phones and tablets. Thus, we can handle different tasks at the same time without taking the pair off and suffering from the cold wind.
The only hassle that comes with this pair must be the cleaning process. We need to avoid putting it into the washing machine and the dryer. Also, we should use only mild soap or detergent and warm water for washing.
Pros
A low-priced winter pair for workers
Slim and stretchy design for comfortable wear
Offers warmth with Acrylic textiles, soft wool liners, and the elastic cuffs
Functional gloves with silicone slip-resistant triangle patterns
Sensitive touchscreen feature to work with phones and tablets
Cons
No machine-washing and dryer
This pair of warm lightweight gloves from TRENDOUX is a life-saver in the winter cold. It proves that we do not need to break the bank to own quality gear for work in low temperatures.
2. SIMARI Work Gloves for Men Women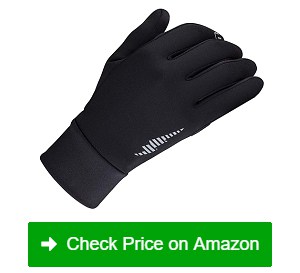 Our long search for touchscreen thin thermal gloves ended with the SIMARI Work Gloves for Men Women. This unisex pair ticks nearly all the boxes in our requirement list, so, here're the reasons for the hype:
What impresses us the most must be its 'Humanied' touchscreen design. To elaborate on that, I would say such a function works well in conditions below zero temperature. It allows us to handle our electronic devices while having gloves on.
Furthermore, this thin and lightweight pair is surprisingly protective. Without thick insulation and bulky seams, the gloves do a fantastic job keeping wind and moisture from freezing our hands. Thus, this pair is pretty versatile, as it suits the use of outdoor sports, cleaning, delivery, and more tasks in winter.
Another thing that makes these thin gloves sought-after for outdoor workers must be their ergonomic design. In truth, wearing the pair allows us to grip on objects securely with maximum ease of finger movements. I hardly feel any extra materials between my fingers or space between my fingertips and the gloves.
One more thing, we can trust this flexible and form-fitted design for a snuggly feel. It wraps around our fingers and wrist nicely, ensuring little to no dust intrusion during work.
Yet, this nice and cozy winter glove can cost a bit more than the usual lightweight pairs reviewed above. Despite that, it is still very affordable.
Pros
'Humanied' touchscreen design with good performances in any weather
Protective pair that shield against wind and water
Ideal for various activities: outdoor sports, cleaning, delivery, etc
Ergonomic design that allows good grip and ease of movements
An elastic and form-fitted fingers and wrists
Cons
Costs a bit more than usual lightweight winter gloves
If I have to choose one and only thin gloves for everyday use, this pair will be the top three in line.
3. OZERO Mens Winter Thermal Gloves
OZERO markets this pair of Winter Thermal Gloves for men's use, so it's designed a little bigger than the standard pair for women. Buyers should note that before purchasing. Once we are sure it fits us, it's time to explore more about the pair's incredible features.
I went for these thermal gloves since they are made to resist wind and water. We all know how harsh the winter weather is on our hands after hours of exposure to all kinds of elements. So, this good pair of TPU fabric with excellent protection against moisture and wind penetration is what many of us need.
As expected, these Ozero gloves do a good job of gripping on tools to handle work well. In detail, the silica gel patterns added to the grabbing areas, including palms, middle, and index fingers, are slip-resistant.
Nothing beats the comfortable feeling when our gloves snugly fit our hands. And I am happy to experience such a fit with this well-made pair. It comes with stretchy cuffs that help with maintaining a warm temperature and embracing our wrists.
Another highlight of these thin warm gloves is their touch-screen pads. The addition of these pads allows our fingertips to operate the phone and iPad screens with utmost ease. For anyone planning to have this pair, please note that it is compatible with many iPhone and Samsung series.
The only downside of this pair must be its slightly longer breaking-in period than usual winter gloves. In fact, it took me around a week to get rid of the stiffness of its outer layer.
Pros
Resists winds and water with its TPU fabric
Grips on tools with ease with the silica gel patterns
Snugly fits our hands with the stretchy cuffs
Touch-screen fingertips for using iPhone and Samsung models
Thin and lightweight pair for men's use
Cons
Needs a while to break it in
All in all, I would go as far as saying this pair is among the warmest lightweight gloves for men available.
4. FanVince Winter Gloves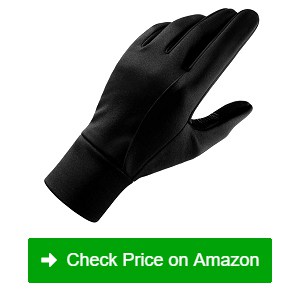 The FanVince Winter Gloves are the perfect gift for our friends and family who have to work in cold weather. For me, it is a must-have pair when the temperature reaches below zero, and I still need some flexibility to work.
Saying these gloves are comfortable might even be an understatement. Its inner layer feels incredible when touching my skin; I somehow forget it is meant to be work gear. The main reason behind such a benefit is the soft TR insulation lining.
The warm pair is constructed out of polyester shells paired with fleece fabrics; such a combination ensures wind is kept away from freezing our hands. Also, there is a waterproof membrane in between those insulation layers, keeping moisture from intruding and numbing us.
It is also ideal for outdoor works because of the silicone dots incorporated on key gripping areas. In detail, we can rely on those patterns to grab onto different surfaces and objects without worrying about slipping incidents.
Furthermore, its fingers come with touchscreen fingers that allow me to surf my phone. However, such a low-priced product like this one does not have the outstanding touchscreen sensitivity that a high-end pair can offer. So, maybe buyers should dial down the expectation for this specific function.
Pros
Ideal for work in below-zero temperature
Comfortable pair with a soft inner layer and TR insulation lining
Warm gloves made of polyester shell and fleece fabrics
Waterproof membrane in between for keeping moisture out
Silicone dots on key gripping areas to avoid slipping
Low-priced work gloves for winter
Cons
The touchscreen sensitivity is not that impressive
For the lowest-priced gloves on this list, this one amazes me with its comfort and insulation features. So, for anyone who values those functions, this is the right pick for them.
5. OutdoorEssentials Thermal Winter Glove Liners
Comfort and warmth roll in one pair of OutdoorEssentials Thermal Winter Glove Liners. Some might wonder what the difference is between regular work gloves and glove liners. Well, the latter comes with a thinner and more lightweight design, which is also among the best attributes of this model.
Workers can rely on this pair of liners for gripping objects with better dexterity. It is possible due to the silicone dots on the key areas of the glove palms, ensuing minimal slipping on different surfaces.
Furthermore, this thin pair offers a satisfying embrace around our fingers and wrist, which contributes to our finger sensitivity. Due to its four-way stretch fabric and compression production technology, the result is an ergonomic fit.
An extra feature that makes this pair a versatile gear for workers must be its One-touch function. The touch-screen pads incorporated on its forefingers and both thumbs allow us to manipulate our gadgets easily.
With all those perks, this pair of winter gloves does not compromise on its ability to resist cold. It means the piece's fabric can warm our hands while we handle tasks in low-temperature conditions. Furthermore, the thin pair allows rugged work gloves to wrap around in case we need added protection.
However, its seams wear down more quickly than I thought. So I recommend reinforcing them one more time before use.
Pros
Thin and lightweight Thermal gloves
Comes with silicone dots on palms for better grips
One-touch pads on two fingers for touch screens
Four-way stretch fabric and compression technology for a good fit
Resists cold and allows wearing a thick work glove over it
Cons
The seams might wear down more quickly than expected
Overall, I could not ask for more from these decent-quality glove liners. The pair offers a good fit, dexterity, and of course, touch-screen function for my work.
6. Koxly Windproof Winter Gloves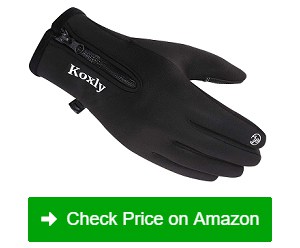 Design-wise, these Koxly Windproof Winter Gloves stand out among others with such a cool look. I adore both its versions in black and gray with the little zipper on the back.
An unparalleled combination to offer warmth for our hands forms this thin work glove. Let's see: it's the wool fabric that maintains our body temperature, while the addition of polyurethane keeps the winds at bay. Besides, the cashmere liners and breathable film contribute to a warmer and more comfortable experience.
As if such a construction is not appealing enough for a winter pair, it also comes with a convenient and thoughtful touch – the zipper. This design is, of course, not just for show. The zipper can resist water instruction and make it easier to take off and put on the gloves.
Besides, who would not love the touch-screen function on a winter glove? We can easily operate our tasks on the tablet without taking the gloves off. The important thing is, these conducive fingertips are sensitive enough for us to use our phones smoothly.
One more perk that would win workers over is its slip-resistant function. It is true that winter work gloves are more on the heavy and bulky side, which make a certain compromise on dexterity. But this pair solves the issue with its good PU grip that also resists wearing over time.
Still, the pair has pretty long fingers, which might not be ideal for people with shorter ones.
Pros
Cool design in gray and black with a back zipper
Wool & polyurethane fabrics to keep warm and avoid winds
Adds cashmere liners and breathable film for comfort
The zipper resists water and makes wearing easy
Touch-screen is sensitive enough for smooth operation
Features slip-resistant palm for dexterity
Cons
Suits better for people with long fingers
We want gloves to keep fingers warm yet free enough for flexible movements. In this case, this Koxly model indeed suffices our needs.
7. Tough Outdoors Touch Screen Running Gloves
This next lightweight pair from Tough Outdoors is designed to serve as protective winter wear for runners. Yet, it comes with various features that support us in different activities.
Certainly, the embossed patterns on its palm contribute significantly to the firm grip of this pair. Such superb silicone dots allow us to grab tools or hold heavy boxes without slipping. Thus, it can be an ideal companion for cycling, driving, and running in cold weather.
There's more to this low-profile design, and one notable thing is its touch screen fingertips. I am happy to utilize my index fingers and thumbs to operate tasks, receive calls or search for information via smartphones and tablets. Of course, we can also handle the control panel of our cars with ease.
Another good thing about these thin and lightweight gloves is their ability to embrace our hands comfortably. I am grateful for the ergonomic design of its form, which fits my hands and every finger snugly.
Besides, the four-way stretch fabric makes the pair elastic enough not to suffocate or hinder my hand movement. So, a breathable and dexterous pair is what we get from this purchase.
We should be aware that these thin gloves are not the best in shielding against wind and water. So, we might want to avoid using this pair on a cold rainy day.
Pros
Features embossed patterns for a firm grip
Ideal for cycling, running and driving in cold weather
A low-profile design with functional touch screen fingertips
Thin and well-fitted gloves with an ergonomic form
Comes with a four-way stretch fabric for breathable and flexible wear
Cons
Not so good in shielding against winter wind and rain
Overall, for a casual run in the chilly weather of winter, I immediately go for these gloves. They might not be the warmest thinnest gloves, but it serves the designated purpose well.
8. ViGrace Winter Warm Touchscreen Gloves
The rave reviews on this pair, claiming it best lightweight gloves they have, made me curious and doubted a little. But after my experience with the pair, maybe the claim is not an exaggeration after all.
To give an idea, these winter gloves are created mostly from Acrylic – a fabric widely used for its warmth, softness, and lightness. So, I can attest to all these attributes of the glove, especially the soft feel due to its wool napping lining.
Of course, it is not bulky despite being warm enough for extremely cold conditions. The thermal pair allows us to work well with the ultimate comfort of its warm embrace and the close fit around our wrists and fingers.
The gel palm with slip-resistant features did not disappoint me when I wore the pair to handle some lifting tasks. I was happy that the gloves offer sufficient gripping strength for me to hold onto heavy stuff. The silicone dots formed in triangle patterns are responsible for this benefit.
One more notable thing about these ViGrace gloves is their touchscreen function that allows good work on electronic devices. I wear the pair and scroll through my tablets to give orders to others, so that's a huge bonus.
However, these gloves' dimensions are for people with long fingers. So, buyers should keep this point in mind when selecting their sizes.
Pros
Uses Acrylic fabrics for warm, soft, and lightweight feels
Soft wool napping lining offer comfort
Offers close fit around wrists and fingers, ideal for extreme cold
Great slip resistance with silicone dots in triangle patterns
Good touchscreen function for work on tablets
Cons
The glove dimensions are for people with long fingers
As long as we choose the right glove with our exact size, the rest of its features are a wonder. It helps me a lot in this winter cold when I need to work outdoors or run errands.
9. Balhvit -30℉ Waterproof Winter Gloves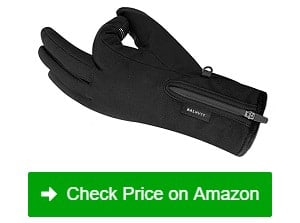 Often when purchasing gloves, we have to trade thick insulation for a bit more lightness and dexterity. But that's not the case with these Balhvit -30℉ Waterproof Winter Gloves. Notably, it also features conducive leather fingers for handling boxes, phones and tablets.
First of all, regarding its thickness, the pair comes with five layers of insulation. The multiple thermal shells allow us to work in freezing temperatures below zero without losing our hand sensitivity.
The brand claims that it protects against cold conditions reaching -30°F due to its high-quality 3M Thinsulate layer. So, working in the freezer is safe with these gloves on.
Now, regarding its lightweight and dexterous design, the piece still offers us flexible movements and no bulkiness. In fact, its elastic cuff paired with the convenient zipper and stretchy fabric are incredible for detailed work.
Back to more features of its protecting capabilities: the gloves' layers of high-density nylon and TPU material shield our hands from water intrusion while ensuring breathability. Furthermore, the pair blocks the wind to maintain our body temperature.
It is worth noting that we have full control over our handle and steering wheel while cycling and driving. We can thank the pair's extensive silicone prints on its palm, ideal for gripping without slipping.
I also adore the good look of the glove so much that I bring it to mountain skiing. But I found out that it would not be a good fit for such rigorous sports.
Pros
Comes with five layers of insulation, including thermal shells and 3M Thinsulate
Allows work in conditions as cold as -30°F without losing sensitivity
Lightweight and dexterous design with elastic cuff, zipper, and stretchy fabric
Breathable high-density nylon and TPU material to resist water & wind
Good control due to the silicone-print palm
Conducive fingers for handling phones and tablets
Cons
Not the best for mountain skiing or other rigorous sports
From my experience, this one is indeed among the top-tier lightweight cold-weather gloves that aid our work and cycling.
10. Achiou Winter Knit Gloves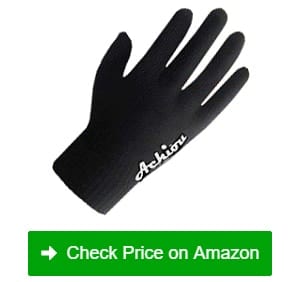 The Achiou Winter Knit Gloves make a good companion for people who want to get through the cold weather while having enough flexibility to handle work. Also, I am willing to give it a nearly perfect rating for the comfort the pair brings alone.
It is a rather low-profile option, but we still have six colors to choose from. And the good thing about this model is its excellent fit on longer hands. Even someone with long nails can wear these gloves without feeling loose, making it a great choice of women's winter gloves.
The comfort and warmth offered by these gloves come from their soft liners and breathable knit textiles. First of all, it is lightweight, ventilated, and stretchy, resulting from the four-way stretch fabric. Besides, the neat and rugged lining prevents the cold from penetrating the glove.
One excellent feature of this pair is its slip-resistant gripping palm. When wearing gloves, we can hold onto our phones and tools with ultimate confidence and safety. It is possible due to the large silicone patterns and elastic fabric.
Of course, the touch-screen feature cannot be left out when reviewing this functional pair. In detail, the glove allows users to use the tip of their forefinger, middle finger, and thumb to scroll through the web page on their phones without hassle.
However, I would not expect long-lasting use with such an affordable pair. But I will repurchase one for the next cold season for my work.
Pros
Offers six colors and various sizes to fit hands with long fingers/nails
Lightweight, ventilated, and stretchy fabric for comfort
Neat and rugged lining to keep warm
Slip-resistant silicone gripping palm for flexibility and firm hold
Features touch-screen fingertips
Cons
Not a durable pair of winter gloves
Overall, for female workers who want just the warmest gloves for women to get through the cold winter, this is it!
11. Under Armour Men's Armour Liner 2.0 Gloves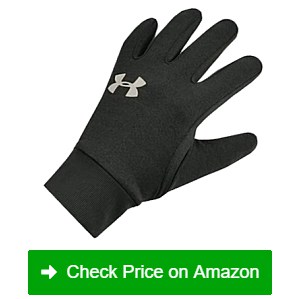 Here's another entry in our list of top-tier light winter gloves. Among other well-made pairs, this model from Under Armour stands out with such an on-point fit.
I am more than thrilled to encounter a winter glove that fits perfectly around my hands like this one. Its form-fitting shape and ribbed cuffs are the secrets behind the nice embrace on different hand sizes. In truth, this one can be worn as a glove liner under thick and tough work gloves.
Sometimes, I wear this pair alone without any bulky thermal gloves over it since the pair is warm enough for winter in my place. It comes with a UA storm finish that blocks water and snow from touching my skin. Notably, such a good shield against the cold does not compromise the glove's breathability.
Another feature that makes me adore the glove is its super soft knit textiles. The material feels soft and smooth to my touch. Both its inner and exterior layers offer the comfort needed for long-hour tasks in the cold.
Furthermore, this premium pair offers good sensitivity for the fingertips to touch and operate the screens easily. Its Tech-Touch print is truly handy when I need to answer a phone call or send a text.
The only gripe I have with this otherwise perfect companion is its rubber grips wearing down sooner than expected.
Pros
Offers an on-point fit with a form-fitting shape and ribbed cuffs
Works as a liner under thicker work gloves for warmth
UA storm finish to block snow and water and offer breathability
Super soft knit textiles feel smooth and soft
Good touchscreen sensitivity for using phones
Cons
The rubber grips can wear down sooner than expected
Despite the minor downside, this pair never once leaves my final list of thinnest warmest gloves I have ever tried.
12. Carhartt Men's Work Flex Work Glove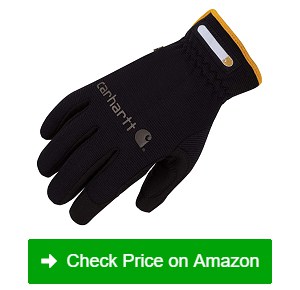 This final pair from the well-established Carhart brand nicely wraps up our list. In my opinion, it is among the most nice-looking thin gloves one can own.
This Work Flex Work Glove is constructed mainly from polyester and a small portion of spandex. The combination delivers a soft, lightweight, yet incredibly warm pair as the end product. Just from its look, we can imagine how warm it is to have these gloves wrapped around our hands.
Taking a closer look at these gloves, we can see the differences between their textured spandex back shell and their smooth synthetic palm. Such a construction provides excellent ventilation without comprising the insulation of the gloves.
The pull-on closure is a nice touch of this pair's design. Its color changes in different versions, including black, grey, and High-Vis lime. I opted for the black one with the small yellow line at its nice cuff, but I think the high-vis model is perfect for cycling at night.
Furthermore, the durability of these work gloves shows in their finger saddles and strong thumbs. In fact, we can handle light to medium-duty tasks with the piece. And, it can take machine washing without damaged form and lining.
I just hope Carhartt upgrades the pair with a waterproof membrane for tasks under light rain or on surfaces with moisture.
Pros
Made from polyester and spandex for a lightweight and soft pair
Has textured spandex back shell and smooth synthetic palm
Offers good ventilation and insulation for our hands
A cool and convenient pull-on cuff
Three nice-looking designs: black, grey, and High-Vis lime.
Durable finger saddles and strong thumbs can handle machine-washing
Cons
Comes with not waterproof membrane
The bottom line is, for workers seeking a stylish, warm, and breathable pair for their work and outdoor activities, this one is a good bargain.
What to Look for When Buying Lightweight Winter Gloves?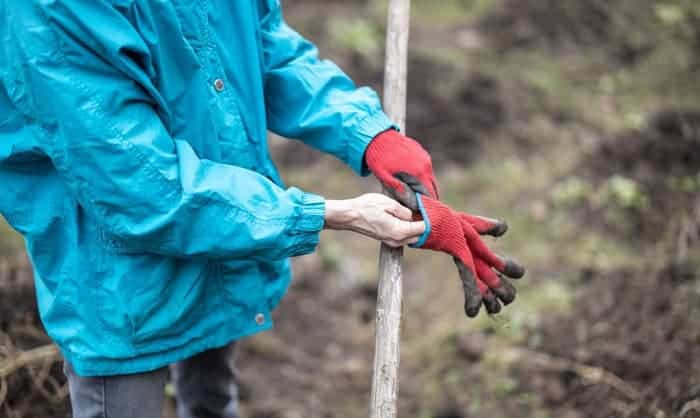 Other than the three points briefly mentioned above, now let's look in detail at what you need to look out for when buying the best lightweight winter gloves.
Lightweight and thin construction – Form the look of the gloves, we can notice right away if it's a thin pair. The bulky types of work gloves often come with padding on fingers and their palm for added insulation. So that's one sign to find out the lightweight pair.
Another way that you can pick out suitable thin gloves is by searching for glove liners. For your information, these liners are for wearing underneath another pair of bulky and rigid work gloves. Yet, many of them come with excellent cold protection, dexterity, and cut resistance.
Cuff length and design – The cuff design varies from pair to pair, as some come with a zipper, and others feature pull-on closure. It really depends on your preference on which type fits you the best.
If you prefer the stylish zipper model, make sure to go with one that has water and windproof features. That way, you will not have to worry that the zipper will allow moisture intrusion.
For pull-on closure, your gloves will be easy to pull on and off without much effort. At the same time, find the pair that ensures its cuffs fit tightly around your wrist. Or else, the unforgiving winter wind will make you regret picking the gloves.
Touchscreen function – One feature that many workers and users look forward to in a thin glove is excellent touch screen sensitivity. They expect to work well on their phones, tablets, car GPS signal panel, etc. If you value this feature, make sure to read reviews on the pair first.
Also, check out the conductive material incorporated on the fingertips of those gloves. Leather and PU tips are often notable in offering us good touchscreen capability.
Gripping ability – Another critical point to consider is the gripping function of your thin gloves. After all, we settle for a lightweight pair to enjoy a better grab and control over our tools. So, make sure you choose ones that come with effective silicone patterns on palms to grip on tightly.
Furthermore, the good fit of the gloves is also a big contribution to how well we grip particular objects. I often settle for one with four-stretch fabric and reinforced thumbs for ease and strength in movement. Everyone can use these gloves like landscaping gloves or gardening gloves.
Apart from these features, you might want to look at the glove designs, colors, and even prices to determine which one suits your needs the best. All the pairs we introduce above are affordable, ideal for one or two season use.
How Low of Temperatures Do Lightweight Winter Gloves Still Work Well in?
Lightweight work gloves can work well in the temperature range from 20°F to 50°F. You can expect some pairs to handle more extreme colds, but they're going to be a bit thicker than the usual lightweight gloves or glove liners.
Do Lightweight Winter Gloves Work Well on Your Phone?
Yes, some lightweight winter gloves do. Of course, not every pair can offer us excellent touchscreen sensitivity. But once the gloves come with conductive fingertips, we can receive calls and scroll through the screens. If you need the pair to do more detailed tasks like typing messages or working on tablets, make sure to choose a high-quality one.
Will Lightweight Winter Gloves Work for Riding a Motorcycle in Cold Weather?
Yes, they can. You should choose one resisting cold wind to avoid freezing our hands when we ride at high speed. Also, it should come with silicone dots on the palm for good gripping and control over the motorcycle handle. Some might even want a pair that shield against water in case of light rain. It depends on how much you are willing to pay for the features.
Conclusion
So, this is the end of our review and guide on choosing the best lightweight winter gloves. Hopefully, you already have a good option or a series of necessary features in mind. That way, selecting the right one is just several clicks away. Also, make sure you take good care of your gloves to utilize them for a long time.
Hi, I am Alexander, forty-seven years old this year. I have been in the construction industry for twenty-five years and have provided a wide range of services. When it comes to expert guidance on site safety gear, you can put your trust in me.