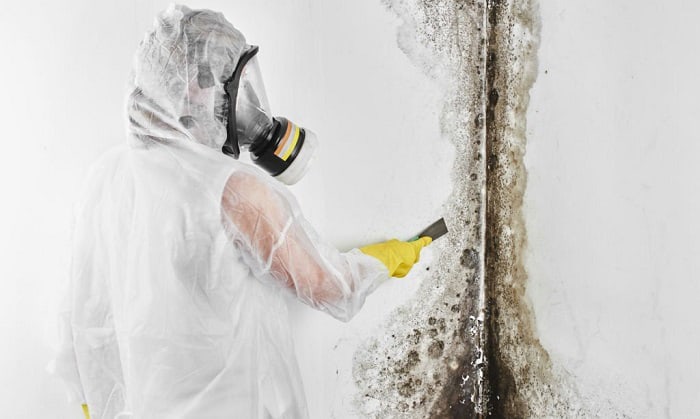 When to wear a mold mask? one might ask. There are many occasions where a suitable respirator and mask are required to protect us from inhaling dangerous mold. Those particulates are prevalent in building and renovating sites, basement, old walls and floorings, and more.
As we renovate our house, mold can be found in almost every corner, threatening to hurt our respiratory system if we inhale too much of it. That's why we need to put on the best mold respirator and mask. But how to choose one, you say? Here're the most important features to look out for:
Filters – The Environmental Protection Agency (EPA) recommends using N95 masks for working with mold. Other than that, we can use respirators with P95 and P100 filters to handle tasks in mold-contaminated areas. Depending on the level of air hazards and our task requirements, we can choose amongst those options.
Designs – There are three popular options regarding the mask design. The first one is a breathable disposable mask, ideal for convenient and light duties.
Meanwhile, the larger the contaminated areas are, the more coverage we need for our faces. We can go with a half-piece design and wear goggles or opt for a full-face shield.
Breathability – It is critical that we breathe fine in our face masks. It is recommended to pick one with an exhaust or cool air valve. When the mask reduces breathing resistance, we will feel less fatigue working in one.
Of course, there are more details that we should pay attention to when picking our respirators. For instance, we might want good masks for black mold since it is common in our workplace. Without further ado, read the recommendation list and detailed buying guide below for more advice.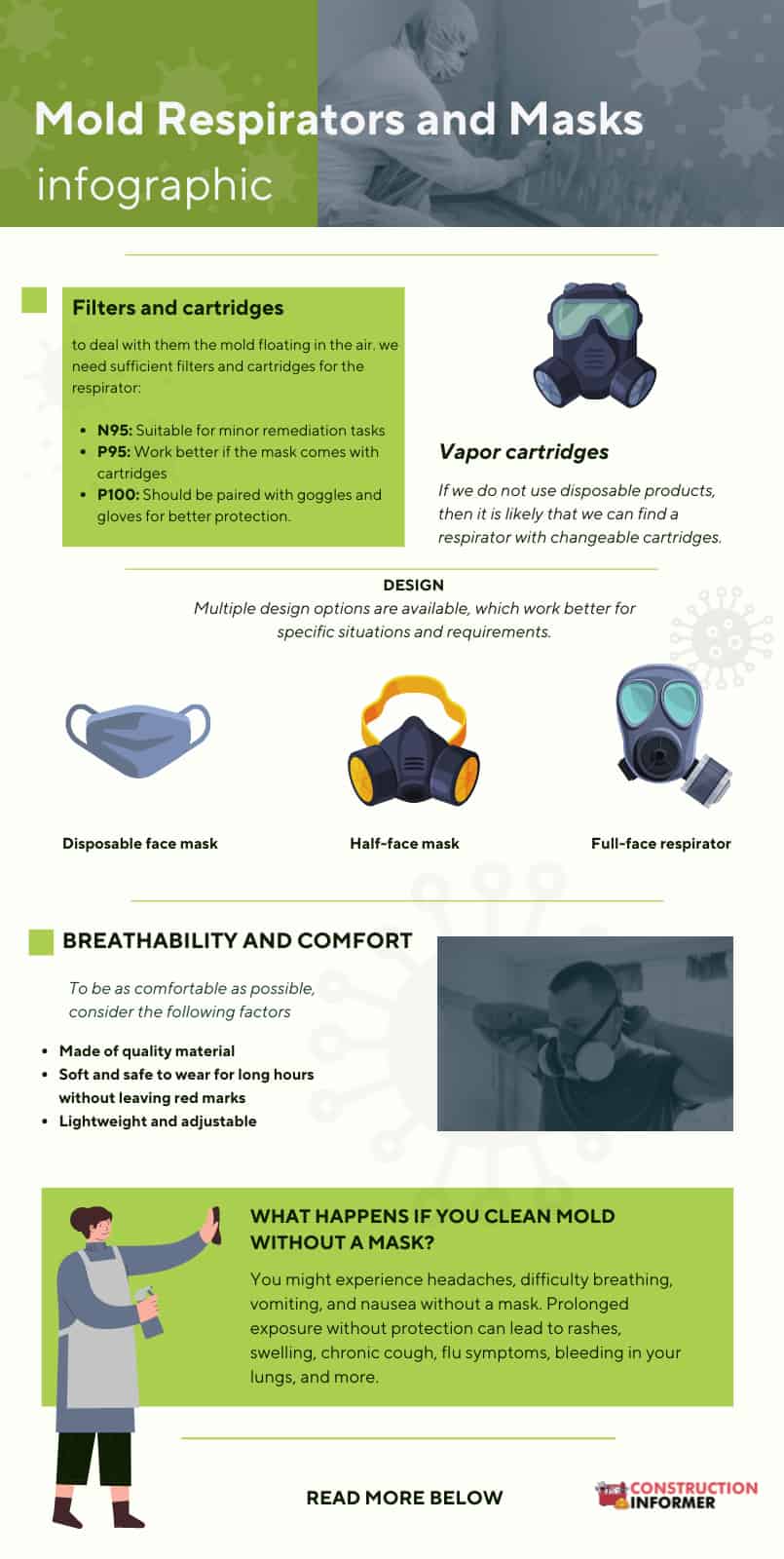 Featured Products
Best Overall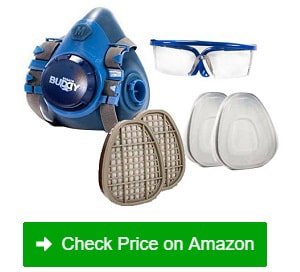 Breath Buddy Respirator Mask
– Budget-friendly
– Ensures a good fit with adjustable straps
– Offers minimal breathing resistance
Editor's Pick
3M Half Facepiece Respirator
– Compact and lightweight
– Soft seal and adjustable straps
– Has P100 filters
Premium Choice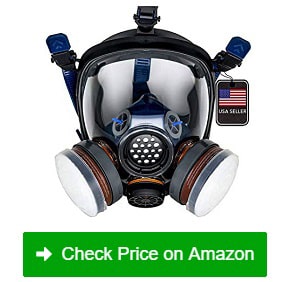 Parcil Distribution Full Face Respirator
– Lightweight and breathable
– Fog-resistant and impact-resistant
– ASTM-certified respirator
Top 8 Mold Respirator and Mask Reviews
1. Breath Buddy Respirator Mask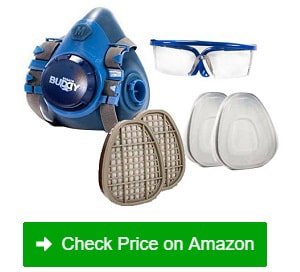 Like everyone, I love a good bargain, not to mention one with quality products. Therefore, it was a delight to find out about the Breath Buddy Respirator Mask and its included safety glasses.
This mask is designed with a powerful filtration system with cartridges. When assembled neatly, it can purify organic vapors, pollen, and, most importantly, dust particles from the air we breathe. Therefore, putting on this face mask for mold ensures no small particulates invade our nose and mouth.
Furthermore, this respirator can also block fumes, meaning we will not smell paints or mold cleaner in the process. Therefore, it is the ideal companion if we do not want to suffer from a headache caused by bleaching or cleaning odors.
Like any kind of respirator, mold removal masks that we choose should be comfortable enough to wear for several hours. And this model can offer a good experience by reducing breathing resistance with a cool air valve. Furthermore, it offers a good fit with adjustable straps, ensuring comfort throughout the work shift.
I know many workers love this product since it comes with a pair of clear glasses. To my surprise, the lenses are not easily fogged, partly because the mask's seal is rather good.
A little warning, though, is that we should not press too hard or use a strong force on the mask or else, we might accidentally knock its cover off.
Pros
Filters well organic vapors, pollen, and most importantly, dust particles
Blocks fumes of mold cleaner, paints, and more
Offers minimal breathing resistance with a cool air valve
Ensures a good fit with adjustable straps
Budget-friendly, comes with a pair of clear glasses that are not fogged easily
Cons
Requires handling without pressure to avoid knocking the cartridge covers off
Overall, I find this package of a face mask with respirator cartridges for mold and safety glasses awesome for my current work. I am sure it is a good buy for people with a limited budget.
2. 3M Half Facepiece 6391/07003(AAD) Respirator Assembly
The next highly-recommended masks to protect from mold is another design from 3M safety, which is not a surprise. The brand did a good job with this Half Facepiece Respirator that offers decent protection at an affordable price.
At first glance, we can notice the signature 3M P100 filters used on many respirators. Numerous brands recommend using this filter from 3M to block non-oil-based and oil-based particulates. Therefore, it is good for use against mold particles, ensuring such tiny dust does not enter our respiratory system.
We know this product is reliable since its filters and cartridges are approved by NIOSH. Thus, there is no need to doubt this mask's high efficiency in purifying polluted air at different settings, given its filtration level of 99.9%.
Many workers love 3M masks since they are made low-profile and compact to wear. In fact, I find most of their products convenient to use in various situations. Take this mask, for example, it is lightweight, and the half-face design allows wearing glasses and earplugs with ease.
Furthermore, the mask seal is comfortable and soft, much more pleasant to put on than I originally expected. Needless to say, its straps' adjustability is unmatched, too, considering that they can conform to various face contours.
Still, some users, including me, noticed that this mask had a bit of a rubber smell at first. We might have to wait for a week or so for the odor to disappear entirely.
Pros
A budget-friendly 3M mask for mold
Has P100 filters to block non-oil-based and oil-based particulates
Filters and cartridges are approved by NIOSH with an efficiency of 99.9%
Compact and lightweight half-face design to wear with other equipment
Soft seal and adjustable straps for comfortable wear
Cons
A slight rubber smell takes a week or so to disappear
In my opinion, this 3M mold removal respirator is an inexpensive yet functional device that we should have to avoid breathing problems and potential health risks.
3. Parcil Distribution PD-100 Full Face Respirator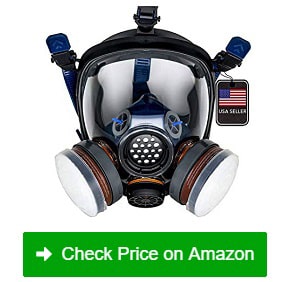 The mask requirements for workers vary depending on the level of hazards they have to deal with. For frequent and high exposure to hazards, we should opt for gear like the Parci Distribution PD-100 Full Face Respirator.
New users might be intimidated by the full-piece shield, but it is made rather lightweight. In fact, this mask can offer comfortable wear for longer than expected. It is due to the air circulation technology that removes built-up moisture and heat inside the mask to keep the air cool always.
I appreciate the clear and quality lens incorporated in this face shield. I was always worried whether my tasks would be disrupted by fogging, but this fog-resistant device solved the issue. Furthermore, the lens can provide clarity for as long as this mask works since it can resist impact and scratches well.
Clear communication is among the best appeals of this design. We can talk to our fellow workers for co-operation so that tasks can go smoothly. It is thanks to the large-sized voice amplification diaphragm on the mask that makes talking to others a breeze.
Still, the most important thing when choosing respirators for mold protection must be the protective properties. And this design indeed delivers with its ASTM-certified respirator with high-efficiency cartridges. Therefore, we can put on the device to deal with mold, chemicals, vapors, and various air hazards.
If I have to nitpick, there is one issue on this mask, which is the occasional popping sound that might be from the talking diaphragm.
Pros
Lightweight and breathable due to the air circulation technology
Fog-resistant and impact-resistant lens for excellent clarity
Allows smooth communication with its voice amplification diaphragm
An ASTM-certified respirator with high-efficiency cartridges
Deals with mold, chemicals, vapors, and various air hazards
Cons
The talking diaphragm might occasionally produce a popping sound
4. 3M Mold and Lead Paint Removal Respirator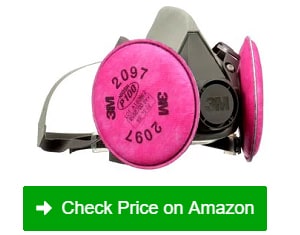 The 3M Mold and Lead Paint Removal Respirator is a reliable choice to block small mold particles from entering our noses. I have tried various respirators that cost more than this design, but this product is still among the most comfortable.
People sensitive to mold should have a quality mask that can remove such hazards well. Not all respirators are designed for that purpose, but NIOSH certified this mask's P100 filters can handle it well. Therefore, we can wear the piece for work without worrying about respiratory conditions in the long term.
In detail, this respirator for mold's filtration system can block 95% of particulates and hazards in liquid and solid forms. It means the model can be used for cleaning the walls and repainting them afterwards.
One of the strengths of 3M products is an easy replacement, which makes them useful for extended periods. If we want to change the old filters or upgrade them for different tasks, we can just check 3M's collections to purchase ones that work. Besides, I love that the package already packs one pair of P100 filters for use right away.
Other than being affordable, convenient, and protective, this respirator mask for mold also delivers good comfort. Its headband allows easy putting on and taking off. Also, the half-face design promotes breathable and lightweight wear for long-hour work.
However, be aware that sometimes the sellers forget to put the pair of filters inside. Some buyers did encounter this issue and had to contact customer service to get theirs.
Pros
P100 filters approved by NIOSH to remove molds
Blocks 95% of particulates and hazards in liquid and solid forms
Easy replacement with compatible 3M filters
An affordable package that includes filters for use right away
Lightweight and breathable half mask with easy-to-use headband
Cons
Some cases of missing filters
All in all, this P100 mask for mold is incredibly helpful and comfortable to wear for various tasks. The piece exceeded my expectations, as it is still a good companion for my painting job.
5. LotFancy N95 Disposable Air Filter Mask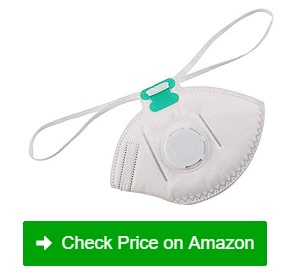 Many workers deem masks with cartridges a bit too cumbersome to their liking. And sometimes, it is unnecessary to bring along heavy-duty masks. In such cases, the LotFancy N95 Disposable Air Filter Mask should be the perfect pick.
I appreciate this face mask's breathability, which makes it stand out among various products in the market. This half-piece mask includes an exhaust valve that allows the air to flow smoothly in and out when we breathe. As a result, there is minimal built-up sweat and heat inside, making the air inside the mask always cool.
The mask has minimum breathing resistance, so work in humid environments or tasks that take long hours become more bearable. As a result, the mask is comfortable to wear.
In detail, its design adapts well to my face; the stretchy headbands and the soft nose clip are made to ensure a good experience throughout my work shift. I have nothing to complain about in terms of fitting.
The notable thing about this disposable mask for mold must be its reliable protection features. The N95 filters incorporated in the model are qualified by NIOSH for shielding against fine dust, solid particles as small as pm 2.5, and more. I reckon it would be of excellent use for not only mold removal tasks.
Besides, it is a compact and convenient piece that allows us to wear glasses or earplugs without hassle.
However, the straps might snap if we pull them too hard; after all, the mask is a disposable piece.
Pros
Breathable half-face mask with an exhaust valve
Has minimum breathing resistance
Well-fitted design with stretchy headbands and the soft nose clip
NIOSH-approved N95 filters to block fine dust, solid particles as small as pm 2.5
Compact and convenient piece to be worn with glasses and earplugs
Cons
The straps can snap if we pull them too hard
The bottom line is this N95 respirator mold filter should suffice both professional and occasional DIY projects. I love its fit and comfort, besides its great protection capability.
6. 3M Professional Multi-Purpose Respirator
3M makes their products reliable options to protect against air hazards with a certified filtration system and comfortable design. And indeed, this Professional Multi-Purpose Respirator is not an exception.
I kept using a disposable P95 respirator for mold from 3M, but after a while, I found out that it would be more economical to purchase a reusable mask. And after a long search, I ended up with this professional-grade respirator and was happy about its price as well as its functions.
First of all, the mask comes with P100 filters approved by NIOSH for protection against airborne particulates. Its purification rate is as high as 99.97%, so I can handle work without a slight worry about allergic reactions.
One time, I put on this mask to paint the walls. And since it did such a good job, I have been using the mask for other tasks as well. Needless to say, its cartridges can block out liquid aerosols just fine.
It does not seem like a surprise that this 3M respirator can deliver good comfort. I love the balanced and lightweight design of the piece, ensuring that I do not feel like there is a burden to carry while working. Furthermore, the swept-back cartridges are a nice touch that gives more space for me to wear glasses and look down without obstruction.
A little warning, though, is some buyers seemed to have received expired filters from the seller. This should be something that we take note of when checking out the product upon arrival.
Pros
An affordable, reusable professional-grade respirator for mold
NIOSH-approved filters for protection against airborne particulates
An efficiency rate of 99.97%, is ideal for people with allergies
Can block liquid aerosols, suitable for painting and other jobs
A balanced and lightweight design for comfort
Has swept-back cartridges for minimal obstruction
Cons
There might be a shipping mistake that involves expired filters
For any kind of product we buy, we should thoroughly check the content to ensure they are intact. Besides that, this respirator filter for mold works as intended.
7. GVS SPR456 Elipse Half Mask Respirator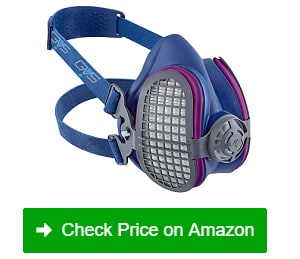 The GVS SPR456 Elipse Half Mask Respirator is another pick for resistance against mold. Its strongest feature must be the lightweight and comfortable fit, not to mention the reliable filtration system.
Among the two available styles of this face mask, I purchased the P100 Nuisance style for dealing with mold particulates. It was an incredible addition to my available safety goggles and earplugs, which, worn together, can protect me from hazardous exposure. Due to the compact design, I have no problem pairing the piece with other gear.
Other than that, I noticed that the mask is extremely lightweight, only measuring 130 grams. Wearing it and carrying on with work for about ten minutes made me forget that the mask was even there. Indeed, it is a comfortable respirator since the adjustable headband is stretchy and easy to use.
Besides, the mask delivers good comfort with its soft and safe seal made of thermoplastic elastomer. It is the safest choice for people allergic to latex and silicone. The mask does not smell bad, and it also prevents bad odor from entering.
One of the main reasons I love this mask is its low breathing resistance, which results from its HEPA filters. NIOSH approves the filters for its protection against small particles, including mold. They also ensure I have no trouble breathing.
However, this mask is definitely not the most durable piece I have used. We should use it with great care.
Pros
Compact mold mask to pair with other safety gear
Extremely lightweight, measuring 130g only
The adjustable headband is stretchy and easy to use
Soft and safe seal made of thermoplastic elastomer, without rubber and odor
HEPA filters approved by NIOSH to block mold and small particles
Offers excellent breathability with its filters
Cons
Not the most durable face mask
All in all, I love this breathable face mask from GVS. I am actually surprised the brand makes such a good product for easy and comfortable use.
8. MOARON Full-face Cover Mask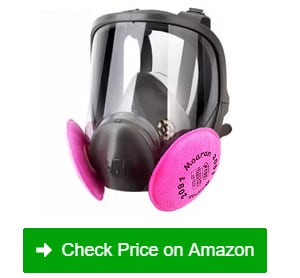 The MOARON Full-face Cover Mask is the next recommendation from workers who deal with mold particulates on a daily basis. In fact, this package is vouched by many as a versatile device that suits different setups.
It is not surprising to see workers in different fields utilizing this functional mask. They use it for machining, fabrication, wall painting, drywall, and even cleaning tasks. This breathing mask for mold does a fantastic job of blocking air hazards with its provided filters.
In detail, we can find in this mask dual-activated charcoal filters that purify the air we breathe in from vapor, dust, and small airborne particles. Besides that, there are many filters and cartridges compatible with this face mask, making a replacement or upgrade easy.
One thing that I appreciate from this design must be its tight seal that ensures no leaking issue. The edge is made of a silicone mixture that is soft and comfortable when in contact with my skin. Furthermore, it conforms well to my face contour, so there is no struggle to fit inside this mask.
Lens fogging is an issue that we can't ignore when wearing glasses or full-face shields. But, it would not be a problem with this design, mostly because of the fog-resistant splashing on the inside of the lens.
Plus, the air-tightness design of this mask gasket, along with available cartridges, makes installation effortless. However, we might want to take off the mask and take a short break every hour or so.
Pros
A versatile respirator that blocks air hazards of various work types
Dual-activated charcoal filters that deal with vapor, dust, and airborne pollutants
Easy to upgrade or reuse, thanks to the availability of compatible filters
A tight, soft, and comfortable silicone mixture seal
Ensures no lens fogging with its fog-resistant splashing
Effortless installation with an air-tightness design and cartridges
Cons
Might require some short break in between tasks
I love the intensive protection that this respirator mask for mold removal offers for my daily work. I feel much safer putting it on for a heavy-duty task.
What to Look for When Buying Mold Respirator and Mask?
Looking for the right mold mask is not necessarily a troublesome process. As long as we know what to expect and which hazard levels we are dealing with, it should be a breeze. Here're some of the best tips you can follow when picking a mold respirator for your jobs:
Filters and cartridges – There are many types of mold floating in the air that we should avoid inhaling in at all costs. And to deal with them, we need sufficient filters and cartridges for the respirator.
N95 – The most common respirators used for dealing with mold come with N95 filters. In truth, an N95 mask for mold has a built-in purification system that helps filter out small particles in the air we breathe. They are excellent for minor remediation tasks with mold-contaminated areas as small as 100 square feet.
P95 – Another type of facemask that works in blocking mold is the P95 respirator. It will work better if the mask comes with cartridges and filters for a full assembly to deal with dangerous mold.
P100 – Other than P95, particulate filters with a rating of N100, P100, or R100 can all be used for dealing with mold-contaminated areas smaller than 100 square feet. In fact, they should be paired with goggles and gloves for better protection.
When dealing with a high level of mold hazards, we need a full-face design with P100 filters. For instance, people use a full-piece respirator with cartridges as a black mold mask.
Vapor cartridges – Cartridges are often found in most half-face and full-face masks. If we do not use disposable products, then it is likely that we can find a respirator with changeable cartridges. They can improve the protection properties, making sure we do not inhale harmful gasses and vapors in the process.
Since mold remediation might involve cleaning and painting afterwards, it is necessary to have cartridges installed to block out toxic fumes that give us headaches.
Design – Multiple design options are available, which work better for specific situations and requirements.
Disposable face mask – A disposable N95 respirator mask for mold is more commonly used than you might assume. Those foldable and breathable masks can ensure safety for workers while promoting comfortable wear.
We can use these products for multiple tasks, including sweeping, cleaning, renovation, grinding, and more. Just make sure you pick one approved by NIOSH.
Half-face mask – Respirators with half-piece designs are also popular among workers in mold-contaminated spaces. They either come with a cartridge or not, and we can choose the suitable one depending on our current tasks. If we deal with vapor, gases, and fumes in the process, it is better to get one with a cartridge.
Full-face respirator – We need extensive coverage from this type when dealing with a high level of risk, including mold and other air hazards. It is safer to cover our skin and eyes since they are also sensitive to chemicals, vapors, etc.
For this type of mask, you might want to check if it allows clear communication and viewing clarity. These two are important features that promote a smooth working pace while in a full-face mask.
Breathability and comfort – Whichever design and filters we pick, it is essential to ensure the mask is breathable. This does not seem like a huge problem for disposable masks, but the half-piece and full-piece respirators must come with an exhaust or cool air valve that allows easy breathing.
Furthermore, make sure the seal of your respirator is made of quality material. It should be soft and safe to wear for long hours without leaving red marks or triggering any allergic reactions.
Moreover, a lightweight and adjustable respirator is also recommended when we do long-hour tasks. Many workers love a compact mask since they want to put on glasses, earplugs, or even helmets for their duties.
What Kind of Mask to Wear When Cleaning Mold?
As listed above, we can wear disposable masks with incorporated N95 or P95 filters to deal with a low level of mold exposure. For a higher level of hazards, we should be geared with a P100 respirator or even a full-face shield with cartridges.
Can Mold Get Through Masks?
Qualified respirators will filter mold out, preventing it from reaching our mouth, nose, and lungs. That is why we need to wear NIOSH-approved products with clear filter designations such as N95.
What Happens if You Clean Mold Without a Mask?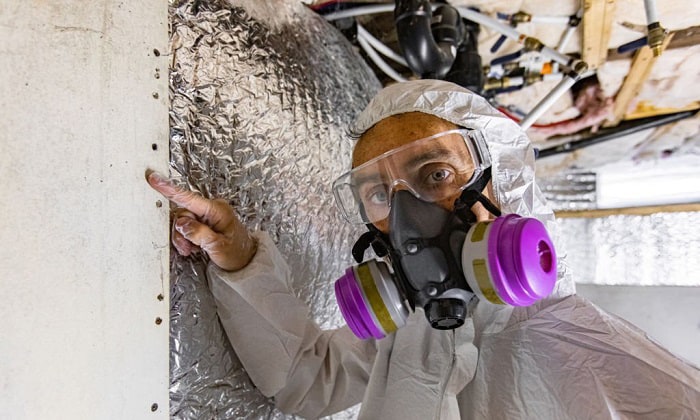 It is a must that we wear a mask when cleaning mold, since exposure to mold can result in many health problems. Reaction symptoms might vary, and they are the worst for sensitive people with allergies.
You might experience headaches, difficulty breathing, vomiting, and nausea without a mask. Prolonged exposure without protection can lead to rashes, swelling, chronic cough, flu symptoms, bleeding in your lungs, and more.
Besides, the Environmental Protection Agency (EPA) also recommends using goggles, gloves, and a face mask when your tasks involve dealing with mold contamination.
Do Surgical Masks Protect Against Mold?
No, apparently not. There are several masks that do not guarantee safety when dealing with mold. Those are dust masks, knit masks, and surgical masks. You also should not put on costume masks or bandanas to work in environments full of mold particles.
Conclusion
We all need the best mold respirator and mask to perform renovation, cleaning, or drywall work. Exposure without proper protection will result in severe conditions, not only to our lungs but our skin and overall health.
Therefore, make sure you are geared with the necessary equipment before starting any project, whether DIY or professional work. Stay safe!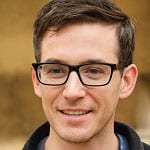 This is Edward Manning, the editor in chief of Construction Informer. Quite a bit of my time is spent researching the market and interviewing experts in the field so that I can give you reliable information.