Latex is the most popular material for use in extra-thin gloves. Its form-fitting flexibility, rubbery grip, and water-resistant qualities make it quite suitable in work environments where cross-contamination needs to be avoided. It's these same qualities that make these gloves common in hospitals and food handling.
However, some people can get allergic reactions to the latex protein in gloves made of natural rubber. This is made worse by the fact that most people don't know they're allergic to the latex protein until the allergic reactions start. As such, the next best solution is to use the best nitrile gloves that are made of latex-free synthetic rubber.
While they are all fundamentally made of the same glove material, a pair of nitrile gloves actually have noticeable differences compared to other products. From my experience, nitrile gloves vary regarding three different specifications:
Thickness. Because nitrile gloves are typically made entirely out of nitrile, the thickness of the gloves is critical to their overall performance. While we will go into more detail on that later in the article, what you should know is that the thickness of a nitrile glove affects things like the glove's durability, protection, and flexibility.
Fit. As with any pair of gloves (or clothing for that matter), the fit is critical to getting a good experience. Even though nitrile is stretchable and form-fitting, a proper fit is still important. Too large and the gloves would fit too loosely; too small and the gloves would restrict blood circulation in your hands.
Value. Finally, you would also want to consider the value-for-money that your chosen nitrile gloves provide. After all, nobody would want to say no to a good deal.
So with all of that said, which one should you buy? That depends on what you feel is best for your needs. To help you get started, I've compiled a list of reviews of nitrile disposable gloves that I've tried and tested. You can also check out the buying guide for more tips.
Featured Products
Best Overall
MedPride Nitrile Exam Gloves
– Powder-free nitrile for zero irritation
– Beaded cuffs improve durability
– Textured fingertips offer precise grip
Editor's Pick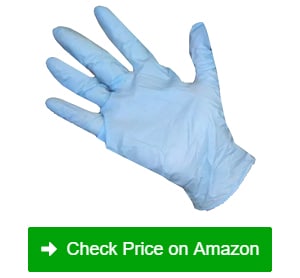 Wostar Nitrile Disposable Gloves
– Ultra-thin 3 mil nitrile construction
– Works with touchscreens
– Extreme stretch fits like a second skin
Premium Choice
Dre Health Blue Sapphire Gloves
– An affordable option
– Comfortable, secure fit
– Powder-free for zero irritation
Top 15 Nitrile Gloves Reviews
1. MedPride Powder-Free Nitrile Exam Gloves
In these strange times, wearing personal protective equipment or PPE is not limited to vulnerable workers anymore. In my opinion, all of us could use at least a little bit of protection from the deadly pathogens we are now trying to live through.
That's why this pair of nitrile gloves from MedPride is my first recommendation on this list. Featuring nitrile with a thickness of only 3.5 mils, the gloves protect the hands from most of the pathogens our hands come into contact with on a daily basis.
However, these gloves are not sterilized as they don't go through the same manufacturing process as sterilized surgical gloves. Because of that, I had to go through an additional sterilizing process to use them for work at a clinic.
Besides contact with outside germs, our hands can also be irritated by the materials used to make powdered gloves. Thankfully, these are completely powder free gloves, so I don't have to worry about irritation whenever I have them on for hours at a time.
The nitrile material on these disposable gloves features fully textured fingertips that help provide precise grip. These gloves held on to syringes and other clinic equipment without any slippage.
The cuffs of these disposable gloves have a beaded design on them that is made by rolling up the edge of the nitrile material back onto itself. Doing this hides the natural weak point of the nitrile gloves, making the resulting product more durable.
Pros
5 mil thickness for ultra-thin pathogen protection
Powder-free nitrile for zero irritation
Textured fingertips offer precise grip
Beaded cuffs improve durability
Cons
Gloves are not sterilized
These cheap nitrile gloves are one of my go-to choices to keep my hands protected from pathogens wherever I go.
2. Wostar Nitrile Disposable Gloves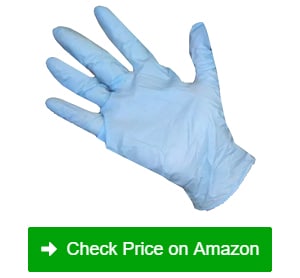 In the world of electronics, precision is key. Whether the task is assembling the motherboard of a popular smartphone or a simple project with leftover wires, a breadboard, and an Arduino, making accurate connections is integral to getting the best results.
To do this, the hands must also be able to move precisely without any interference. That's why I really liked the ultra-thin 3 mil material of these Wostar nitrile gloves. The nitrile lets me move my fingers freely without any restricting feeling, which is important when performing delicate soldering work.
This is helped further by the fully textured surface of the gloves, which helps me keep a firm hold on my tools. I could even say I feel confident using these gloves for work, as I no longer find myself hesitating or readjusting my grip.
The gloves also happen to work with touchscreens. This isn't a direct feature of the gloves but rather a byproduct of their extreme thinness, as the finger's capacitance could still be detected by touch screens through the gloves. I actually found it quite useful for electronics work, as I could still use my phone and laptop trackpad without needing to take off the gloves.
The thinness also means that these gloves are too sensitive for high-impact tasks. I would not want to use this for auto repair as the sensations are completely transmitted to the fingers without any cushioning.
Another byproduct of the material choice on these gloves is their extreme stretchability. They fit very snugly and securely to the hands, almost like a second skin.
Pros
Ultra-thin 3 mil nitrile construction for dexterity
Textured grip inspires confidence in every movement
Works with touchscreens
Extreme stretch fits like a second skin
Cons
Too sensitive for high-impact tasks
With their excellent second-skin fit and feel, these disposable nitrile gloves from Wostar are one of my top picks when extreme precision is needed.
3. Dre Health Store Blue Sapphire Gloves
Because of these strange times, the price of PPE has skyrocketed across the board, and some of the hardest-hit by these price hikes are the disposables like face masks and nitrile gloves. In fact, these price hikes have made it quite difficult to buy cheap nitrile gloves.
Thankfully, there are suppliers like Dre Health Store that are helping to push back the rising prices with their own range of PPEs. I've used their nitrile gloves in particular, and my experience with them has been so good I actually bought from them twice—which, as someone who likes to buy different gloves when I run out, is a rare occurrence.
The 4 mil thick nitrile offers quite a good amount of tactility without being too sensitive. The thickness was just right for light tasks like model crafting and electronics repair.
Another result of the low thickness is that the gloves provide a comfortable and secure fit. Unlike many of the other gloves that had sizing issues, these gloves fit quite nicely out of the box.
However, one does have to be a bit careful when putting the gloves on, as the gloves (or the box I purchased, at least) had a tendency to tear apart if I pulled too hard.
That being said, these gloves still carry with them all the other benefits of nitrile. In particular, these gloves repel water, oils, and harsh chemicals very well, making them also suitable for use in a lab.
Lastly, these gloves are made with a smooth finish, which removes the need for using powder to put the gloves on. And as we've seen with the other powder-free gloves on the list, buyers can expect to get zero irritation when using these gloves.
Pros
An affordable option
4 mil thickness offers good tactility
Comfortable, secure fit
Repels water, oils, and chemicals
Powder-free for zero irritation
Cons
Can tear apart if not careful
Dre Health Store has managed to strike a good balance between price and performance, making them one of my favorite suppliers to buy nitrile gloves from.
4. ProCure Disposable Nitrile Gloves
As mentioned in the previous review on this list, workers in the medical industry are some of the most common users of nitrile gloves. And gloves like this example made by ProCure are some of the best I've tested.
Being made of nitrile, these gloves are designed from the ground up to not contain any allergy-inducing powder or natural rubber. Because medical workers are almost constantly in contact with many different patients throughout the day, the chances of treating someone with a latex allergy are much higher than in other fields. The assurance that their gloves won't cause any allergies makes nitrile gloves quite valuable.
Outside of interacting with patients, nurses and doctors also require high precision in their movements. The flexible and form-fitting design of these gloves helps make those movements possible without hindering the hands and fingers in any way.
However, the fit does make the gloves practically stick to the hands. They were quite difficult to take off at the end of a long day, which almost made me prefer powdered gloves.
Being an alternative to latex, nitrile is especially good at serving as a barrier for water and chemicals. These nitrile disposable gloves give the hands a thin but effective protective layer that blocks out potentially harmful fluids. This is especially important for hospital janitors that disinfect wards with bleach, ammonia, and other chemicals that could burn the skin with direct contact.
Another feature that is appreciated by hospital workers is consistent grip. These nitrile disposable gloves gripped well on both wet and dry surfaces without any issues.
Pros
No latex and powder, safe for people with allergies
Flexible and form-fitting design
Blocks out potentially harmful fluids
Grips well on wet and dry surfaces
Cons
Not very easy to take off
Excellent tactility and protection make these some of the top nitrile disposable gloves I've used in a medical setting.
5. Adenna Catch CAT458 Nitrile Gloves
Work in the auto repair business for any length of time and you'll know just how important it is to have a protective pair of nitrile gloves for work. As someone who's spent years in the industry, I know exactly what I want in my pair of gloves: durability and flexibility.
And while the Adenna Catch gloves could definitely meet these two criteria, it also has a couple of extra tricks just under the surface.
Compared to the drab beige of latex gloves, these nitrile gloves are done up in a vibrant orange hue like the Gloveworks HD gloves we took a look at earlier. This simple color choice has a surprising benefit for a mechanic like me.
Specifically, the bright orange color makes it easy to see contact with oil and grease. This makes the nitrile disposable gloves quite helpful for finding leaks in a car.
Naturally, when finding oil leaks, the hands need to be protected. The nitrile rubber, of course, was practically made for this purpose, blocking out oils and chemicals without any complaints.
The nitrile on these gloves is 8 mils thick, which provides substantial protection from most physical hazards as well. They were very puncture-resistant, and pokes and stabs were no match for these gloves.
When I first bought this, I actually considered returning this because the gloves fit very snugly at first. Thankfully, I didn't need to as the nitrile rubber stretched out nicely after a few minutes.
And indeed, these industrial-grade nitrile gloves are very stretchy once I let the rubber warm up and break in. The result is a very precise fit that makes precise finger movements easy to pull off.
Pros
Vibrant orange shows stains quickly
8 mil thickness protects from most hazards
Nitrile rubber blocks out oils and chemicals
Extra-stretchy for precise fit & finger dexterity
Cons
Fits very snugly at first
Protective and durable at the same time, the Adenna Catch is one of the most affordable nitrile work gloves I've used in my work as a mechanic.
6. The Safety Zone Nitrile Exam Gloves
Although I talk a lot about my experience working with nitrile gloves as a mechanic, we aren't the only ones that use them. In fact, nitrile gloves are actually used in the food handling, medical, and electronics industries, as workers need to have consistently dry and sterile hands throughout the workday.
For those kinds of tasks, products like this pair of nitrile exam gloves from The Safety Zone are a great option. Because of their intended use, the brand has spared no expense to make these gloves certifiably 100% food-safe. As such, one can expect these gloves to work very well for food service and other tasks.
The 3 mil thickness (or should I say thinness) is quite a bit thinner than some of the other thick nitrile gloves we've seen so far. Plus, the thinness gives the hands a lot more tactile sensitivity when performing delicate tasks.
This thinness, of course, means that these gloves are not meant for heavy-duty work. But of course, this is simply a matter of using the right tool for the right job.
The cuffs of the gloves are rolled at the edges, creating a noticeable ridge around the wrists. This is a subtle but useful design detail, as the ridge makes it easy to reach into the cuffs of the gloves for donning and doffing.
These powder-free nitrile gloves are also made with an ambidextrous mold, making them comfortable to wear with any hand.
Pros
100% food safe, ideal for food processing
3 mil thickness offers high tactile sensitivity
Rolled cuff allows easy donning and doffing
Comfortable with any hand
Cons
Not meant for heavy-duty work
Staying in the safety zone while at work is easy with the protective features offered by these nitrile work gloves.
7. Dre Health Store Disposable Nitrile Gloves
Believe it or not, the electronics industry uses nitrile gloves all the time. This is especially true in manufacturing plants where even the slightest amount of dirt or moisture on the fingers could ruin a microchip. That, of course, is not to mention the precision needed to actually put components together, through soldering or otherwise.
Whatever the case may be, these powder-free, powder-blue nitrile gloves are an excellent choice for working with electronics.
Like the two previous examples we looked at, these nitrile work gloves are made with a low-profile design. Using thinner nitrile in their construction means there is very little material between the hands and whatever I am trying to interact with, resulting in maximum tactile sensitivity. I found them very effective when I had to perform some repair work for a car's electrical system.
The textured fingertips also helped improve the quality of my work, as the consistent grip it provided let me perform repairs with certainty and confidence.
The nitrile used on these gloves also had really good tear resistance. Even after a stray screwdriver stabbed into my hand, the gloves came out unscathed and kept working to the end of the day.
However, these powder-free nitrile gloves were quite a bit smaller than the measurements on the box implied. As such, I would recommend going up a size for a more comfortable fit.
On the upside, these gloves are topped with beaded cuffs that make putting them on quite easy.
Pros
Low-profile design for maximum tactile feel
Excellent tear resistance
Textured fingertips for consistent grip
Beaded cuff allows for easy wearing
Cons
Runs smaller than standard size
This pair is one of the top-rated nitrile gloves for when I need exceptional precision without sacrificing protection.
8. Adenna Dark Light DLG678 Nitrile Exam Gloves
Latex gloves are typically sold in their natural, off-white color. But because nitrile is a synthetic material, these gloves could be made in just about any color one can think of.
We've already seen this in the previous two gloves on this list. But of the many colors available on the market, one of the most popular colors for nitrile gloves is black, which is featured here on the Adenna Dark Light gloves.
Black nitrile gloves are best known for their ability to mask most stains. As someone who works with industrial machinery a lot, the color of the nitrile glove hides most pesky stains so the gloves look completely clean when used.
Helping to achieve this is the substantial 9 mil thickness of the material used on these black nitrile gloves. The additional depth of the material makes these gloves even more chemical-resistant.
However, the extra thickness does make the nitrile glove difficult to use with fingerprint locks because there is too much material between the fingers and the screen.
But of course, these thick nitrile gloves weren't meant to be used for biometric tech. Their thickness is intended for use in industrial applications; and from my experience, these gloves were more than up to the task.
And because these gloves are made of nitrile, they are 100% free of allergy-inducing latex and powder, so I can wear them without worry.
Pros
Black color masks stains for clean gloves
9 mil thickness enhances chemical protection
Heavy-duty nitrile for industrial applications
100% latex and powder free
Cons
Difficult to use with fingerprint locks
With its exceptional thickness and durability, the Adenna Dark Light is one of the top-rated black nitrile gloves that I've used for heavy-duty work.
9. Venom Steel VEN6145N Nitrile Gloves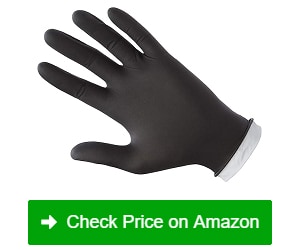 These nitrile work gloves from Venom Steel are another of my favorite pairs to bring to work. I say this because they hold a cleverly unique feature that lets them stand out from the rest.
This feature is their 2-layer construction that involves fusing a black outer layer with a white inner layer into a single glove. This unique design allows the wearers to quickly know if their protective gloves have a hole or tear on them.
As a mechanic, this feature is incredibly important. Any tiny gap could be a potential point of entry for greases, oils, and other chemicals that could severely irritate or even burn sensitive skin. Being able to quickly see when I need to replace these gloves makes them invaluable in the heat of work.
Of course, that doesn't mean the gloves need to be replaced often, despite being disposable by design. Their 6 mil thickness is quite durable, and one pair has lasted me up to two full workdays before it eventually tore at the palm.
Having used these gloves for mechanic work, I can say that these are very protective gloves. Even after several hours of exposure to corrosive fluids and light scrapes, my hands came out perfectly fine.
Grip is also important for mechanical work, as losing hold of our tools, oil containers, or other equipment could be quite dangerous. The textured fingertips stand up to that requirement, providing consistent grip throughout the day.
The only gripe I have with these latex-free gloves is that they fit a bit too snug for my hands. Given that I do have rather fat fingers, though, other wearers might not have the same issue.
Pros
2-layer construction helps identify holes and tears
6 mil thickness offers excellent durability
Protects hands from chemicals and light scrapes
Fully textured fingertips for consistent grip
Cons
Gloves fit too snugly for some hands
It's hard to find fault in the unique two-layer design of the Venom Steel, one of the most trusted disposable nitrile gloves. Likewise, I have a hard time not recommending them to my fellow technicians and mechanics.
10. SAS Safety Raven Disposable Nitrile Gloves
While many workplaces that require PPE will readily provide them to workers, there's nothing stopping me from buying something else. And based on impressions from myself and my colleagues, SAS Safety is one of the best companies.
And these Raven nitrile gloves do indeed live up to their brand's reputation with their 6 mil nitrile material providing great durability. These nitrile gloves had no trouble standing up to the knocks and bangs of auto repair, and I was very satisfied with how long they lasted.
The nitrile material is very stretchable, which allows the gloves to fit various hand shapes precisely and comfortably. Even my fat hands were accommodated well by these gloves without feeling too tight.
However, this nitrile glove is not very breathable. On particularly hot days, my hands are drenched in sweat when I remove the gloves. Thus, I've learned to alternate this pair from SAS Safety with another.
These nitrile work gloves were made to meet exam-grade specifications, which means the gloves are water- and chemical resistant. In my line of work, this is very important as my hands are exposed to various chemicals that could cause major skin irritation. The exam-grade specification just adds that extra bit of assurance to help me keep doing my work with maximum efficiency.
My favorite feature of these gloves is their ambidextrous design. The gloves could be worn comfortably with either hand, so I can simply grab a pair and not have to check if it's meant for a specific hand.
Pros
Durable 6 mil thick nitrile glove
Stretches for a precise fit
Meets exam-grade glove specifications
Ambidextrous design for wear-it-and-forget-it fit
Cons
Not very breathable for hot weather use
Its sleek look and strict protective features make these black nitrile work gloves from SAS Safety another solid recommendation from me.
11. Maxiflex Ultimate 34-874 Nitrile Work Gloves
Being a synthetic alternative to latex rubber, nitrile can take up many different forms depending on the manufacturer's needs. The Maxiflex Ultimate nitrile work gloves are one such example, featuring a design that is quite unlike the standard nitrile gloves you find at your local store.
An immediately noticeable detail of these gloves is their shell, which is made of a knit fabric. This shell stretches well in all directions, making them super comfortable to wear for long periods.
The wrist cuffs are also made of the same knit, but done in a tighter weave to provide a snug fit.
This shell is then dipped into liquid nitrile rubber then allowed to cure, resulting in a substantial coating that provides protection and exceptional grip. As my go-to pair for a customer's engine overhaul project, these gloves helped me grip tools and components confidently.
Combining the shell and the wrist together results in them being extremely cut- resistant and puncture-resistant, making them one of the most suitable nitrile gloves for woodworking, gardening, and other tough jobs.
But of course, these gloves have their shortcomings. In particular, the combination of a knit shell and nitrile coating makes the gloves too thick for touchscreens. I did end up having to swap out my gloves for something thinner to use my phone and smartwatch.
Pros
Super comfortable knit shell
Snug knit wrist for a good fit
Heavy-duty nitrile coating for grip and protection
Cut and puncture resistant, good for jobs like gardening & woodwork
Cons
Too thick for touchscreens
Although I give up touchscreen compatibility to use this product, the Maxiflex Ultimate gloves more than make up for it by being the most protective nitrile gloves for mechanics on this list.
12. GripProtect Precise Nitrile Exam Gloves
We've seen many gloves on this list so far that either lean on the extra-thin or the extra-thick. Of course, each one has its uses and advantages in different situations. That being said, one can't help but think that a nitrile glove with medium thickness would serve well for regular use.
That's where the GripProtect Precise exam gloves come in. The 5 mil thickness of these nitrile gloves strikes a nice balance between tactility and durability.
I put these gloves to the test while at home constructing a bedroom wardrobe. Indeed, the 5 mil thickness worked very well for me—the gloves were thick enough to cushion the hands from being poked by small screws and nails, but not too thick so as to make it difficult to feel out imperfections in the woodwork.
As they are made of nitrile, these gloves are quite good at protecting the hands from chemical hazards. In fact, the gloves are actually certified to protect the hands from various chemotherapy medications such as Thiotepa and Cyclophosphamide. This makes the gloves suitable for use by nurses and doctors working in oncology wards.
Also owing to their construction, these gloves are completely latex-free, which gives further assurance of safety, especially when working in a medical setting.
The matte coloring on these black nitrile gloves also helps conceal any stains when the going gets rough, which tends to happen on especially hectic shifts.
However, the cuffs of the gloves are made flat and not beaded like some of the other examples on this list, so the gloves might be a bit tricky to take off.
Pros
5 mil thickness balances tactility and durability
Certified protection from chemotherapy medications
Black color conceals stains when the going gets rough
Latex free for worry-free wearing
Cons
Flat cuffs can make doffing tricky
Balancing tactile feel and durability, the GripProtect Precise is an excellent all-around pair of black nitrile gloves for light-duty work tasks.
13. Dealmed Nitrile Medical Exam Gloves
For most people, the packaging is not exactly a primary concern when shopping for nitrile gloves. However, badly-designed packaging can make the experience of owning nitrile gloves quite unpleasant, especially as each box could contain 100 or even 200 pairs.
That is the problem that Dealmed tries to solve with their take on a pair of disposable nitrile gloves. Their Soft-Fill packaging technology ensures every glove is packed flat and wrinkle-free in the box, making it easy to grab fresh new gloves whenever they are needed.
Of course, that's not to say that the packaging is the only focus of this product. The gloves that come in the box are quite flexible and stretch well to fit almost any hand. This is a nice detail because it means sizing is not a major concern with these gloves.
The stretchability of the gloves helps support the hands in most tasks, providing protection without getting in the way. In fact, I never have trouble moving my fingers with these gloves on.
As they are constructed from 100% nitrile, the gloves also provide critical protection from liquids and chemicals, which is important for medical workers and mechanics such as myself.
However, some customers mentioned receiving the wrong size. Buyers shouldn't worry too much though, as these are rare occurrences. Dealmed seems to package most orders accurately.
Pros
Soft-Fill packaging technology for easy grabbing of new gloves
Stretches to fit almost any hand
High dexterity helps hands in most tasks
Provides critical protection from liquids and chemicals
Cons
Some customers getting the wrong size
Comfortable and easy to wear, these nitrile gloves for medical use made by Dealmed fit right at home in the PPE section of a hospital or clinic.
14. GLOVEWORKS HD Orange Nitrile Disposable Gloves
Although the nitrile glove typically conjures up images of tight, paper-thin coverings for our hands, by no means does that apply to all nitrile gloves on the market today.
Take, for instance, this particular pair of nitrile disposable gloves from Gloveworks. Made mainly for use by mechanics and more difficult cleaning jobs, their HD model features nitrile with a thickness of 8 mils. To put that into perspective, that's more than twice as thick as some of the other gloves on this list!
Of course, the thickness was chosen for its increased strength, which these latex-free gloves were more than capable of providing.
However, the increased thickness does make the gloves more difficult to stretch out, which means the gloves end up running a bit smaller than the measurements written on the box.
Despite being thicker, though, they are not hard to put on. The chlorinated finish applied to the nitrile gives these disposable gloves a hypoallergenic fit experience, so I could do all of my work without any worry of allergic reactions.
Of course, let's not forget the elephant in the room—that is, the bright orange hue of these disposable gloves. The color was chosen because of its use in high-vis applications, which means that these nitrile gloves could be a great complement to our high-vis workwear.
The nitrile gloves were molded to have a raised diamond pattern covering the palms. This increases the effective surface area of the gloves for maximum gripping power.
Pros
8 mil nitrile for increased strength
Chlorinated finish for hypoallergenic fit
Bright orange color for high-vis applications
Raised diamond pattern maximizes grip
The searingly vivid orange used on the Gloveworks HD makes them some of the best disposable nitrile gloves for when I need a pair for high-vis work.
15. 1st Choice Nitrile Exam Gloves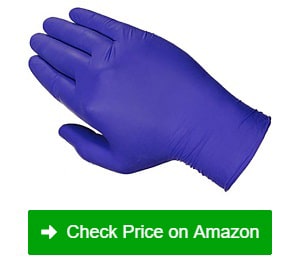 The last entry on this list is filled by the 1st Choice nitrile exam gloves. Designed with laboratory and medical workers in mind, these indigo gloves provide critical protection needed in these hazardous environments while still allowing high freedom of movement.
This freedom of movement is made possible with the gloves' nitrile thickness of only 3 mils. This makes these gloves one of the thinnest examples on this list, and also one of those that provide the highest dexterity.
But like the other ultra-thin gloves on this list, these nitrile gloves are only designed for light-duty work and can't hold up to more physically demanding work environments.
That being said, these gloves do have exam-grade chemical resistance that gives the hands a barrier that repels water and chemicals. This is an important feature for lab technicians and nurses that very often work with skin-irritating substances.
The gloves are formed with a micro-textured grip to provide a consistent hold on even the smallest tools with zero slippage. Medical workers will find this particularly useful, especially during medical exams.
In addition to the textured fingers and palms, the manufacturing process of these gloves also gives them a chlorinated finish. This process is specific to nitrile rubber and reduces the chance of gloves sticking to each other or themselves. The result is a glove that can be worn and taken off smoothly without needing any powder.
Pros
3 mil thickness for superior dexterity
Exam-grade chemical resistance keeps hands safe
Micro-textured surface for zero slippage
Chlorinated finish for smooth on and off without needing powder
Cons
Designed for light-duty work only
Though they might be the last entry on this list, the performance of these nitrile exam gloves makes them my "1st Choice" for high-dexterity work.
What Should I Look for When Buying Nitrile Gloves?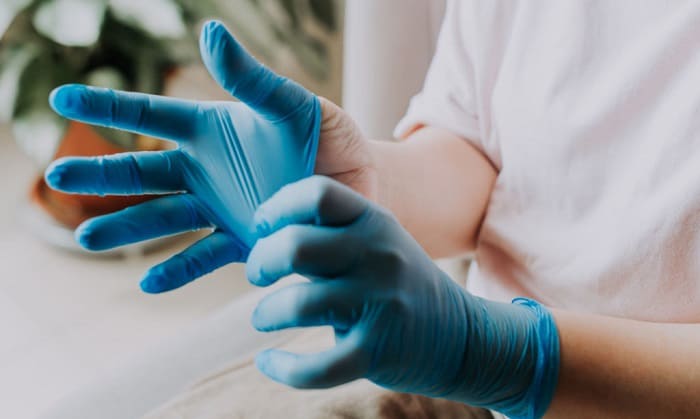 As we've seen in the previous 15 reviews, nitrile gloves are made with a wide variety of specifications designed to meet a certain need for a certain work application. These applications range from auto repair to medical work and food service —all of which require certain levels of protection and hand dexterity.
I've already mentioned the three main specifications of the top-tier nitrile gloves at the beginning of the article. And in this section, I will be explaining them in a bit more detail:
Thickness. The thickness of the nitrile used in manufacturing is the single biggest factor affecting the performance of the resulting gloves. While different manufacturing processes will bring out minor variations, we can still generalize the expected characteristics of a pair of nitrile gloves just going by their thickness.
For example, 3 and 4 mil thicknesses are typically used for low-profile, high-dexterity gloves. They will give you a lot of tactile feel (which is needed in the medical industry) but at the cost of less cushioning from sharp objects and physical hazards compared to thicker gloves.
On the further end of the spectrum, gloves that are 8 or 9 mils thick offer very high puncture resistance (making them well suited for tough jobs like mechanical work), but make finger movements feel less precise. These are typically marketed as heavy duty gloves for this reason.
Finally, gloves made of 5-7 mil thick nitrile sit somewhere in between and mix both qualities equally.
Fit. As is the case with any pair of gloves, the features on the top-rated nitrile gloves become irrelevant if the gloves themselves don't fit the hands correctly. It is incredibly important to read the sizing charts provided by the manufacturers, either on the gloves' packaging or on their websites.
Because some gloves are so stretchable, though, these measurement charts might not be as trustworthy as they seem. I would recommend actually trying pairs on in the store to find the right nitrile gloves that fit your hands.
Value. Finally, one needs to be mindful of the value that the gloves they're buying have to offer. This is more than just a matter of "cheaper = more value" because you also have to factor in the quality of each pair of gloves in the box.
Whatever the case, people must always consider their intended use when they buy nitrile gloves for work. By knowing exactly what you need to be protected against while at work, you can find and pick the suitable nitrile gloves for your job.
What are Nitrile Gloves Used for?
Just like the latex gloves they are often meant to replace, nitrile gloves are used for protecting the hands from common workplace hazards. Various worker communities on Reddit are great examples of some of the industries that nitrile gloves are used in, ranging from automobile mechanics to veterinarians.
What Do Nitrile Gloves Protect Against?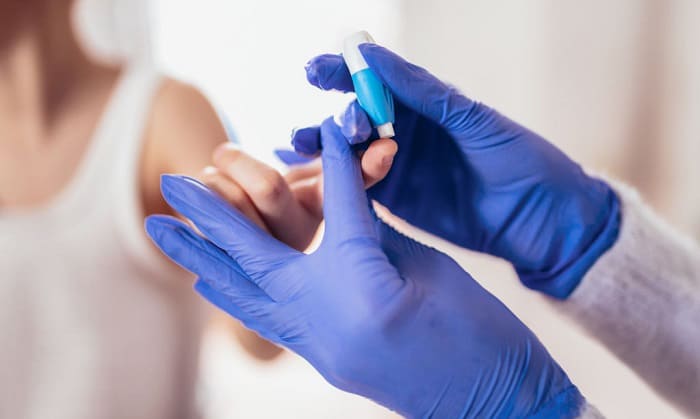 Nitrile is best known for its ability to repel water and resist breaking down from many harsh chemicals. As such, the nitrile gloves are used to protect against both biological and chemical threats that could cause irritation if they come into direct contact with the skin.
Why are Nitrile Gloves so Expensive?
Simply put, nitrile has recently experienced a shortage due to the Covid pandemic. Manufacturers of nitrile rubber did not foresee the increase in demand for PPE.
In addition, nitrile gloves can be and are manufactured in various plants around the world, and the location of these plants has some impact on the final selling price of the gloves. For example, nitrile glove brands that make their pairs in the UK tend to cost more than those made in Vietnam.
In addition, one also has to consider the quality of the gloves they're paying for. Premium models might offer more protection from biological and chemical threats compared to standard nitrile gloves.
Which is Better, Latex or Nitrile Gloves?
Despite being more expensive, I feel that nitrile gloves are much better for most work tasks compared to latex gloves. While latex gloves can be made extremely thin, the nitrile gloves offer better hazard protection while also preventing the wearer from developing any latex allergies.
Latex allergies are typically caused by two things: the latex gloves themselves and the powder that helps people put the gloves on more easily. While a powder-free glove does exist, nitrile is still preferred because of its high puncture resistance compared to latex gloves.
Other materials like vinyl are also an option, but also do not share the same performance level as nitrile.
Conclusion
Latex allergies are much more common than you think. By replacing latex gloves in your personal safety arsenal with the best nitrile gloves on the market, you can keep on working without any worry of getting these allergic reactions. Hopefully, our guide has made your shopping easier. Thank you for reading!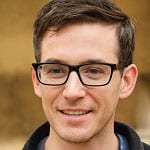 This is Edward Manning, the editor in chief of Construction Informer. Quite a bit of my time is spent researching the market and interviewing experts in the field so that I can give you reliable information.