Our eyes are among the most critical parts of our body. Thus, we must take care of it at all times. People who work in the chemical, construction, or industrial sector, their eyes are often exposed to numerous hazards. With that, they need to wear protective eyewear, such as safety glasses.
Even if you don't belong to the industries mentioned, you can wear safety glasses to do DIY crafts at home. If you don't have it yet, this article will help you find the best over glasses safety glasses for you.
I have listed a few best OTG safety glasses that you can purchase. I will elaborate on all the information you need to know in each item for you to choose from.
Featured Products
Best Overall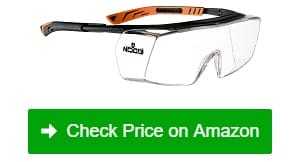 NoCry Over-Glasses
– Solid and durable polycarbonate construction
– It comes with scratch-resistant lenses
– Ideal sizing for both men and women
Editor's Pick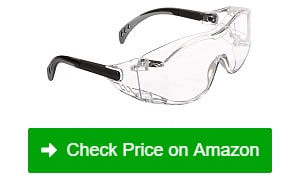 Gateway Safety 6980
– Durable yet lightweight construction
– Offers a perfect fit over prescription glasses
– Meets ANSI Z87.11+ and CSA Z94.3 standards
Premium Choice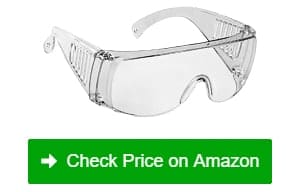 Tavool Anti-Fog Safety
– Anti-fog coating for a clear vision
– Super lightweight, comfortable, and stylish.
– Features scratch-resistant lenses
Best Over Glasses Safety Glasses Reviews
1. NoCry Over-Glasses Safety Glasses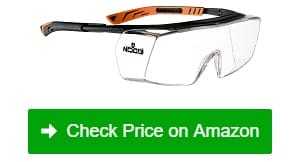 The first item in the list comes from NoCry, and it is genuinely the best safety glasses you can get on the market. These over the glasses safety glasses can protect not only your eyes but also your eyewear too.
This protective eyewear is made with a solid and durable polycarbonate material that can withstand pressured environments. Whether you use it when doing DIY crafts or in the construction field, this will not disappoint.
Aside from the polycarbonate material, the glass is also scratch-resistant. It has clear UV 400nm lenses that can block almost 100% UV radiation that can harm your eyes.
This protective eyewear can fit most reading glasses sizes and is perfect for both men and women. It has a measurement of 5.7 inches by 1.37 inches by 1.77 inches.
NoCry is designed not only for construction work but also for lab and chemistry work. If you need eyewear for PPE use, this is the perfect medical safety glasses over glasses to get.
The lenses are high-quality. Just a quick tip: to avoid scratches when using NoCry, please ensure your prescription lenses have a sufficient gap in between the NoCry lenses.
When you wear these safety glasses, you can feel a slight pressure on your nose bridge. This can also happen, especially when you wear the glasses for too long. Nevertheless, when it comes to protection, it is reliable.
Pros
Solid and durable polycarbonate construction
It comes with scratch-resistant lenses.
Clear UV 400nm lenses block nearly 100% of harmful rays.
Ideal sizing for both men and women
For construction, lab, and chemistry work
Cons
You can feel a slight pressure on the nose when worn for too long.
Overall, the NoCry Over-Glasses offers the best protection, unlike any other. Many people have testified that these safety glasses are beneficial in both construction or medical fieldwork.
2. Gateway Safety 6980 Cover2 Safety Glasses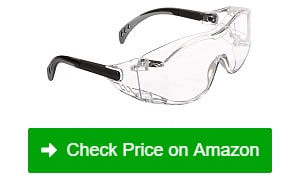 This protective eyewear from Gateway is among the best fit over safety glasses in the market today. Made with transparent polycarbonate material, Gateway Safety 6980 can handle pressure when used in fieldwork. So, if you are looking for reliable safety glasses, this one from Gateway is a must-have.
Aside from the durability of the material, it is also lightweight to use. Even if you wear it with your prescribed eyeglasses, your nose will not feel the heaviness. Also, the temples are adjustable to whatever length you desire. Thus, you can quickly minimize the temple tips by pinching them from behind.
Even if you do heavy fieldwork, the glasses can fit very well, and it does not fall off. You can match this contemporary design with any prescribed eyewear, and your style will never get compromised.
Also, compared to other safety glasses in the market, this one from Gateway is crystal clear. It does not mist, which makes it perfect for lab use. Although it gets a little blurry when cleaned, you just need to wipe it correctly and in one stroke.
Lastly, this meets ANSI Z87.11+ and CSA Z94.3 standards. Gateway is a manufacturer of the best protective gear, and they also offer full face, hearing, and head protection. The company has been manufacturing protective equipment since 1944, which makes them a reputable brand to trust.
Despite the excellent fit, design, and level of effectiveness, there is one thing you need to look into these safety glasses. The Gateway Safety is not as airtight as you think it might be. Some fog and smoke can come inside the glasses when you wear it with face masks.
Pros
Transparent polycarbonate lenses withstand pressure well.
Durable yet lightweight construction.
Features adjustable temple that is easy to fix
Offers a perfect fit over prescription glasses
Crystal-clear glasses for lab use
Meets ANSI Z87.11+ and CSA Z94.3 standards
Cons
It is not airtight. Fog and smoke can still get inside the glasses.
The Gateway Safety 6980 Safety Glasses truly exceeds expectations. From its durability to its capacity to protect the eyes, it will not disappoint you.
3. Tavool Anti-Fog Safety Glasses & Goggles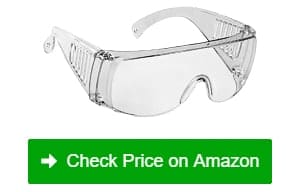 If you are focusing more on durability when finding the best eye protection over glasses, then this one from Tavool is the one for you.
This protective safety eyewear is made of military-grade and explosion-proof materials. Tavool produces one of the most challenging and sturdiest goggles in the market, and this is one thing you should not miss out on.
Aside from its strong material, the lenses are also something you need to check out. Tavool's lenses are anti-fog coated, and it provides HD vision. You don't have to worry about working inefficiently because of blurry vision. With this pair of safety glasses that go over glasses, you can perform comfortably with no stress.
Among its other key features is UV protection. You don't have to worry about ruining your vision because these anti-fog safety glasses can protect you from radiation and harmful UV rays.
The glasses are also made of transparent durable material, but it is lightweight to use. It is comfortable, stylish, and scratch-resistant as well.
Tavool Anti-Fog safety glasses are also commended by many front-liners today. It is among the best protective glasses to use against COVID-19. It incorporates well with face masks and shields, as well as other PPE accessories. If you have a pair of these glasses, eye protection is 100% guaranteed.
When you clean these glasses, make sure to use a dry cloth. Using a wet cloth can make the glasses blurry, and it will leave a moist.
Pros
The material is military-grade and is explosion-proof
Anti-fog coating for a clear vision
Super lightweight, comfortable, and stylish.
Features a UV coating to protects the eyes from harmful rays
Features scratch-resistant lenses
Ideal for protecting front-liners against COVID-19
Cons
Requires careful cleaning with a dry cloth
If you are looking for safety glasses that will not compromise style even at work, the Tavool Anti-Fog Safety Glasses are the one to get. It's one of the best safety glasses on the market, and it can last a long time with proper care.
4. BHTOP L010 Clear Lens Over-Spec Glasses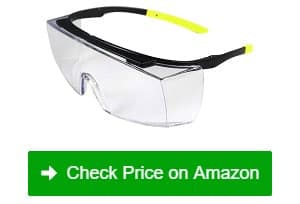 BHTOP's L010 is the perfect fit for workers in various fields. Even with a vast field, L010 has got you covered because of their full panoramic clear frame which assures you to be able to see properly even at a peripheral angle.
Debris getting onto your goggles is also not a problem because this is scratch-resistant and has a high impact on construction and general-purpose applications, given that this is made of durable polycarbonate material.
The L010 is ideal for only for construction but for laboratory and hospital uses as well. This item is perfect for eye safety when on PPE. Because of its anti-fog feature, it does not fog up your glasses even when wearing a surgical mask. In truth, many front-liners recommend this.
Regarding safety, the L010 has exceeded the ANSI Z87.1 Standards. This shows that eyewear serves its purpose over a long period. No speck of dust, particles, and even UV radiation can harm your eyes because it is also equipped with UV 400 protection that blocks almost 100% UV radiation.
Since it's made of PVC material, expect that this is very lightweight. Its 6.2 inches by 2.5 inches by 2.4 inches dimension can easily be used even when wearing prescription glasses underneath.
Just a reminder, this eyewear's temple tips are quite vulnerable. So make sure you are careful when adjusting it to your size. Problems may also arise with its fitting because significant movements like bending or jumping may make the glasses fall off.
Pros
Designed with a full panoramic clear frame for wide-field vision
Has an anti-fog coating and scratch-resistant lenses for clear vision
Features UV 400 protection that blocks almost 100% UV radiation
Front-liners can use it for COVID-19 protection
Meets the ANSI Z87.1 Standards for long-time protection
A lightweight piece made of PVC with flexible temple tips
Cons
It can fall off upon big movements
BHTOP's goggles are ideal, most especially when dealing with broad fieldwork considering its vision capacity. Many front-liners have expressed their viewpoints regarding these goggles as a perfect fit for the job.
5. TOREGE Anti-Fog & HD Lens Protective Eyewear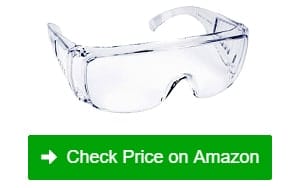 When looking for the ultimate anti-fog, scratch-resistant, and HD lens vision in eyewear, TOREGE's eyewear has it. It is designed for dealing with intense construction activities.
To ensure a clearer vision throughout the period, TOREGE's goggles are equipped with ventilation. They made use of louvers built on each side to give you comfort when using but still at the same time secure your eyes' safety.
This eyewear is of significant exception concerning safety. The TOREGE goggles have met the ANSI Z87.1 Standards, ensuring protection. It is also equipped with UV 400 protection which protects our eyes from harmful UV rays.
This eyewear is ideal for woodworking, carpentry, construction, and even shooting. The primary subject of this goggle is outdoor activities that involve a dusty atmosphere. It has an anti-splash feature that prevents the eyes from tangible impacts when dealing with grinding, automotive, and ironwork.
TOREGE's eyewear has two varieties. It has a transparent-framed goggle and a soft-framed goggle. However, an issue with the soft-framed variant is that it substantially fits over glasses. Only the transparent one can be worn over glasses.
Pros
Has an HD lens vision feature
Has vents on each side for a lasting anti-fog experience
Meets the ANSI Z87.1 Standards for safe use
Anti-splash prevents damage from grinding, automotive, and ironwork
Protects our eyes from harmful UV rays
Comes with two variants: transparent frame and soft frame
Cons
Its soft framed variant is not ideal for all people wearing eyeglasses.
If you face intense work with construction, TOREGE's durability will not fail you. This best OTG safety glasses is designed to protect people's eyes when facing extreme outdoor activities while maintaining HD vision.
6. SolidWork Fit Over Prescription Glasses
When it comes to comfortability, SolidWorks' eyewear is the best safety glasses that fit over prescription glasses. SolidWorks takes pride in their products, giving people their money back when not fully satisfied with their eyewear up to a year of purchase.
This design feels comfortable on your nose and ears. It does not slide nor create pain, thanks to its soft and customizable temples. Even with the adjustable temples, it still provides a spacious design of 1.38 to 1.78 inches in height in the eye area and 5.9 inches in total width.
This eyewear gives you all the benefits there is to your safety glasses. It is scratch-resistant, fog-free, and protects our eyes from dangerous UV radiation due to its polarized transparent lenses. Plus, its frame is built with side shields for additional safety, so no particle or debris can harm your eyes.
According to the American ANSI Z87+ Standard and the European DIN EN 166 and EN 170 Standards, the goggles are qualified. One feature of this eyewear is its panoramic view. Plus, the glasses are lightweight, given that it is made of solid and durable polycarbonate.
However, despite it being anti-fog protection glasses, there are still fogginess instances when dealing with a temperature change. When going from a cooler to a warmer temperature, they do fog up, and condensation will form. So, whenever that happens, a simple wipe with a dry cloth will do the trick.
Pros
Has soft and customizable temples
Anti-fog and scratch-resistant coating
Protects eyes from UV radiation
Has a panoramic view for excellent visibility
Certified according to US ANSI Z87+, DIN EN 166 & EN 170
A solid yet lightweight build of polycarbonate
Cons
Fogginess may occur when changing to a warmer temperature
If you are looking for protection glasses to wear for long periods, SolidWorks' eyewear is the best option. It keeps you comfortable while protecting your eyes from debris, chemicals, and UV radiation.
7. Crews Law Safety Glasses
When in need of affordable safety glasses for glasses, Crews Safety Products' eyewear is the perfect fit for you. It features simple anti-fog and scratch-resistance over the glasses safety glasses that protect our eyes from debris that may damage your safety pair and distort your vision.
Stylish and perfect for different types of outfits, the Crews Law's over glass safety goggles is the one for you. Even when taking style into consideration, they still assure their customers' safety and comfortability when using.
It has improved angular coverage, so you can be able to see clearly at different angles. Also, this dielectric one has a five-position ratchet action temple that allows lens angle adjustment.
This design gives comfort when in use and does not easily fall off when you make movements such as leaning and bowing the head. However, it is not recommended to be used for long hours as it may hurt your ears, given that it is not adjustable. So your sizing may be an issue on this one.
Regarding its overall safety after intense testing and research, this item has exceeded the ANSI Z87+ configuration. It features anti-fog and an exclusive Duramass scratch-resistant coating. Furthermore, harmful rays are not a problem because it is made of a rugged polycarbonate lens that filters 99.9% of UV rays.
Pros
Has anti-fog and scratch-resistance features
Stylish and perfect for different types of outfits
Improved angular coverage for wide and clear vision
Stays put as we bow and bend to work
Blocks 99.9% of UV radiation
Conforms to the ANSI Z87+ configuration
Cons
Not suitable to be worn for long hours as it may create specific pain points on your ears
The Crews Law Safety Glasses feature all the generic necessities for safety glasses to wear over glasses. It is a perfect fit given that it is at a very affordable price in the market.
8. Uvex Ultra-Spec 2001 Visitor Specs Safety Glasses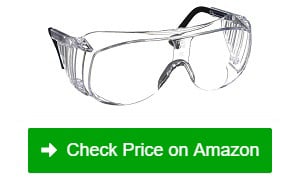 When dealing with a considerable number of people may it be in factories or offices in need of glasses safety over glasses, the Uvex Ultra-Spec 2001 is the best at a reasonable price regarding its quality.
Since it is a visitor over glass safety glasses, it's ideal to use glasses for officers who usually wear them to access the factory areas. The Ultra-Spec 2001 fulfills the specifications ANSI Z87.1+ 2015 and CSA Z94.3, guaranteeing people's security while inspecting the premises.
Since different people use this, it is specially made to fit most types of prescribed eyewear. In truth, its brow guard expansion design is to have enough room for glasses to be worn inside it.
Unlike other safety glasses, this one is a uni-lens goggle equipped with side shields. This structure gives you a good view of your environment while protecting your eyes from any debris entering.
These quality safety glasses for glasses wearers are 100% polycarbonate content, which guarantees longevity beyond its convenience. Notably, the lamination is firmly attached to the glass to resist washing or wear, even after frequent usage and cleaning.
One of the main characteristics is the coating variation concerning fog and scratch resistance. Choose the Uvextreme coating for outstanding fog-free results despite hot or wet conditions or the Ultra-Dura hard coat, one of the world's most rigid scratch-resistant coatings.
However, the glasses become uncomfortable after several hours; you feel your inside glasses dragging. Thus it is only suitable for visitors.
Pros
Meets the ANSI Z87.1+ 2015 and CSA Z94.3 specifications
Comes with a brow guard expansion design for wearing glasses underneath
Uni-lense goggles with side shields against debris
Permanent lenses to prevent wear off even after frequent cleanings & usage.
Has coating variations for fog and scratch resistance
Cons
Not recommended to wear for several hours
When you want over the glasses safety glasses for frequent use, the Uvex Ultra-Spec 2001 Visitor Specs is the best fit. However, it is not advisable to use it for an extended period.
9. PAERDE Over Glasses Safety Glasses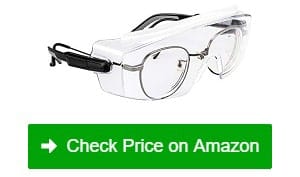 With regards to comfortability and reassuring safety of our eyes, PAERDE's Over Glasses Safety Glasses assure you that you are being protected despite your size. This item is designed to fit over safety glasses when it comes to multidimensional adjustments.
It is important to change your goggles' angles to ensure no gap between your faces and goggles. Luckily, these PAERDE safety goggles can rotate up to 30 degrees. With this feature, we are sure that no debris can or may accidentally enter our eyes. Also, its nose pads and goggles feet are highly adjustable.
Concerning durability, this pair of safety glasses that go over glasses feature scratch-resistant polycarbonate lenses which meet ANSI Z87.1 standards. With this, it can withstand high amounts of pressure like high-velocity impact and splashes. Hence, the pair is ideal for intense outdoor activities like construction and welding, even for lab works.
You are guaranteed HD vision when utilizing this design. It serves as windproof eyewear with an oversized frame; you can wear a variety of larger myopia glasses in the goggles. It is also equipped with UV protection to protect our eyes from harmful UV rays.
It has a permanent anti-fog coating which minimizes distortion and effectively prevents fogging. A heads up for people with long hair, the plastic on the side of the goggles may pull your hair when you take them off.
Pros
Has multidimensional adjustments for the frame, nose pads, and goggles feet
Features scratch-resistant polycarbonate lenses
Has met the ANSI Z87.1 safety standards
Has UV protection to protect our eyes
Anti-fog and windproof lenses
Cons
It may pull your hair when you take them off
The PAERDE Over Glasses Safety Glasses is the best option when you are looking for very adjustable over spec safety glasses. It has multidimensional adjustments ensuring safety while maintaining comfortability to users.
10. MEIGIX Over Glasses Safety Glasses
If you are looking for the best safety glasses that fit over glasses with an extra scratch-resistance feature, the MEIGIX Over Glasses Safety Glasses is the perfect fit.
MEIGIX has been cautious not to interfere with our work in terms of fogging. It offers a six-layer clear and anti-fog coating scratch-resistant coating with higher hardness. This feature decreases deformation and effectively prevents fogging issues.
This eyewear is designed so that the angle of the goggles can be customized to different sizes of foreheads. This eyewear can adjust up to 30 degrees. Likewise, the nose pads and the google feet can be easily modified.
The high-quality lenses have anti-fog and UV functions to protect the eyes from UV radiation. However, concerns arise regarding the blue plastic piece near the nose area as it disturbs overall vision and comfortability.
This eyewear is suitable for various outdoor activities while ensuring our eyes' safety and the eyewear itself. May it be for laboratory uses or medical eye protection, shooting, dealing with dust in woodworking, and the like.
This eyeglass effectively protects the eyes from debris while giving off that panoramic view ensuring good vision at different peripheral angles.
With regards to the legitimate safety of this eyewear, it has been tested by professionals. And it was concluded to have met the ANSI Z89 Standard against protection from eye hazards for an extended period.
Pros
Equipped with a six-layer clear and anti-fog & scratch-resistant coating
Offers a panoramic view perfect for different peripheral angles
Passes the ANSI Z89 Standard for safety
Perfect for lab, medical, shooting, woodworking tasks, etc
Protects the eyes from harmful UV radiation
Cons
A bit of discomfort regarding the blue nose piece in the middle in long-hour wear
MEIGIX made sure that their safety glasses will not be a burden in intense activities, as they can be an ideal pair of over prescription shooting glasses.
11. 3M SecureFit Safety Glasses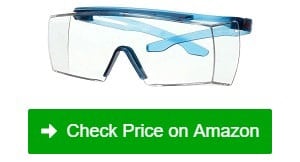 When you have issues regarding your safety goggles' dimensions but do not want to go through the hassle of manually adjusting them, the 3M SecureFit Safety Glasses are the best over glasses safety glasses for you.
This pair of 3M over the glasses safety glasses has Pressure Diffusion Temple Technology, which allows the temples to flex and adjust to your head's size and shape.
In detail, it has a modified lens angle that makes for an elevated structure of the cheekbone and soft nose pads that blend well into a bridge of the nose. Plus, the flexible ratchet temples allow angle changing to create a safe and customized suit.
This design offers a broad vision with its comprehensive profile. It is also comfortable to wear, considering it is lightweight eyewear that weighs less than an ounce.
It has a Scotchgard anti-fog layer attached to lenses to ensure that lenses remain transparent longer than normal laminations. This experiment is based on the internal tests of 3M itself.
Also, this eyewear can withstand hot and humid conditions and climate-controlled areas. It has polycarbonate lenses that filter out 99.9% of UVA and UVB rays for safe performance outdoor.s
I would love it more if there were a storage case that allows easy carrying to different workplaces.
Pros
Uses Pressure Diffusion Temple Technology for a self-adjust fit
Comfortable and lightweight, measuring nearly 1 ounce
Provides a broad vision
Lenses can filter out 99.9% of UVA and UVB rays
Scotchgard anti-fog coating, which works better than a regular type
Cons
Without a convenient storage case
The 3M SecureFit Safety Glasses have raised the bar in terms of eyewear. It has a new technology that self-adjusts to the user's structure, saving time and effort in preparation.
12. First Lifesaver Over Glasses Safety Glasses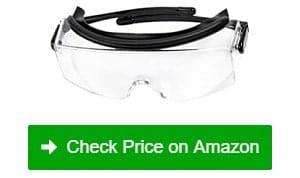 First Lifesaver has been famous for making products that ensure the safety of its consumer first. These over the glasses safety glasses are the best fit when it comes to high-impact lenses.
Since safety is First Lifesaver's priority, these safety glasses are built with durable polycarbonate construction. Thus, its lenses can handle high impact without shattering.
With this, they have exceeded the ANSI Z87.1 Standards for long-time protection of eyes and eyewear. I would surely recommend these glasses when doing intense activities, as it does not destroy the eyewear.
Such a premium pair has a soft surface that fits nicely to our faces. So you are assured that no debris can accidentally enter your eyes.
When working in a vast work field, these are best over prescription safety glasses. It does not only give off an anti-fog feature, but it also provides clear and complete panoramic vision. So it is safe to use because you can make use of your peripheral vision well while at work.
Just a heads up regarding safety eyeglasses that adapts to your face's shape: they may start to hurt your face after several hours. So that is something to put in mind whenever you plan to wear these types of eyeglasses for a long duration.
Pros
Shatter-proof and has high-impact lenses made of durable polycarbonate
Soft surfaces fitting to your face shape to offer optimal comfort
Provides a clear panoramic vision
Meets ANSI Z87.1 Standards for safety
Cons
Tend to hurt the face after a long time due to its adjusting feature
The First Lifesaver Over Glasses Safety Glasses is the best in the market when you are looking for very durable over glasses safety glasses. It has improved technology that can withstand high pressure when working.
What to Look for When Buying Over Glasses Safety Glasses?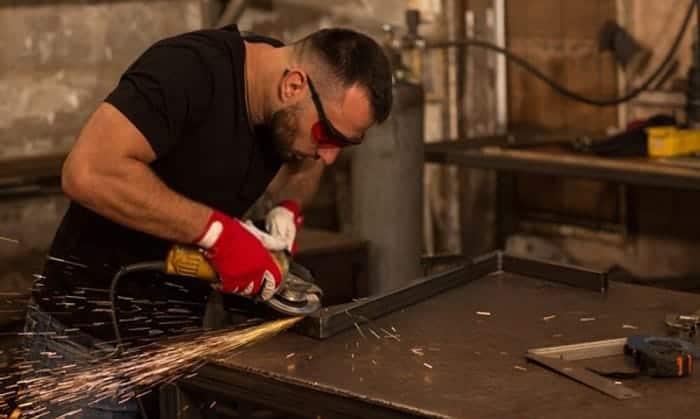 There are numerous things to consider when purchasing safety glasses. Since its primary purpose is to keep our eyes safe from hazards, it is best to identify such.
Now that we know what hazards we are dealing with, we must assess lens material types. Lenses are usually made of polycarbonate, acrylic, NXT, or glass. We must carefully evaluate what material we need to resist eye hazards effectively.
The third is about eyewear aesthetics. We should put into consideration the overall build of our glasses. It is not only us who will be using these, but our employees or workmates may also need safety. So we must invest in a suitable frame and lens duo that sits comfortably protecting our eyes.
Having these in mind, we put into consideration the lens coating. This feature adds functionality to our eyewear. One of the most prominent layers is anti-fog, which reduces or eliminates lens fogging. A hard coat, hydrophobic, anti-reflective, blue light blocking, and mirrored coatings are also offered as standard alternatives.
Another is the lens tint. This may seem like just an aesthetic, but it serves a great purpose. When dealing with work fields directly under the sun of indoor areas, this feature will come in handy.
Clear lenses are the most suitable option for indoor and low-light conditions. Outdoors, shaded lenses are typically used to cover direct sunlight.
Last but not least is securing its safeness. Look for glasses that meet ANSI Z87.1 standards. These labels certify that the eyewear has been thoroughly inspected and meets the required safety requirements.
Can You Wear Safety Glasses Over Prescription Glasses?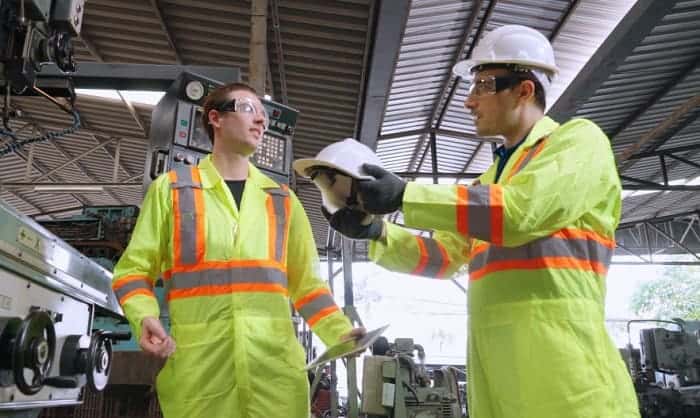 Eyesight has been an issue when working in a work field, like construction sites and shooting ranges. When going to such sites, you must use safety glasses or goggles to ensure your eyes' safety from potential hazards. However, problems arise when you are already wearing prescription glasses.
Over glasses, safety glasses have a bigger build compared to your standard safety glasses. This is to provide extra room for your prescription glasses. Comfortability is not a problem because these are well-engineered to be secured and comfortable to wear even with another pair of glasses inside them.
Are All Safety Glasses Fog-Resistant?
When wearing safety glasses to our work field, one major issue is that they fog up and ruin our vision. This is due to several reasons. May it be because of the sudden change in temperature, the humidity of the area, our sweat or breathing, etc. Condensation may even occur, leaving a film of fogginess on our safety glasses.
When this occurs on our glasses as we work, it may be a great hindrance to us, leading to accidents. With this, of course, the safety glasses that we wear to keep us safe no longer serve their purpose.
Safety glasses go through several tests to assure their customers of their safety. The American National Standards Institute is working to make the procedure simpler and safer. The ANSI Z87.1-2015 protocol has established the criteria for using, testing, specifying, and sustaining eye protection to avoid or mitigate injury from eye hazards for eye safety.
Although this is the case, there are still instances where users have to deal with such a problem. When worn on places with intense levels of temperature, condensation occurs, and even fogginess happens.
Instances like these are possible. It will only do us more harm if we do not go the extra mile in investigating the safety glasses we plan to buy. It may sometimes be a hassle, but better safe than sorry.
Are Over Glasses as Rigid and Resistant to Debris as Standard?
When in an extreme working environment, may it be woodworks, construction areas, dusty environments, shooting ranges, and even in a chemical laboratory or hospital, eye hazards are impossible to avoid.
They have added several features to their standards for premium safety. It assessed specific impacts being made on the material, like hard debris. They have also added chemical splashes and dust protection.
ANSI Z87.1 grades impact-rated and non-impact rated eye protection glasses and goggles. Eye protection that is impact-rated must pass certain high-mass and high-velocity checks and have side protection.
The American National Standards Institute tests most over-the-glasses safety glasses, which could have tags such as Z87 or Z89. All of these measurements are designed to determine a material's sturdiness, rigidity, and stringency.
So it is not a problem what you are working with and where you are working from. The safety glasses and goggles are well-engineered to withstand high pressure and be able to resist tough debris.
How Do I Know If My Over Glasses are Rated for UV Safety?
If you worry whether UV rays will harm your eyes, The American National Standards Institute got you covered. They ensure optical radiation protection when testing safety glasses and goggles.
Although there are easy ways to detect whether your safety glasses and goggles protect you from harmful UV rays, UV-protective glasses lenses are marked with the letter "U" and a number representing the ultraviolet light-scale grade. Visible light lenses are labeled with an "L" and a number. An infrared filter is indicated by the letter "R." Welding glasses are classified by the letter "W" and a lens shade number.
Conclusion
We have to fully assess the safety glasses and goggles we need to protect ourselves from potential eye hazards. You do not just buy any safety goggles or glasses you found on the market. Various types of safety glasses serve different purposes.
Examine your work field's potential hazards, know the redeemable qualities of high-quality safety glasses and goggles, and thoroughly study its features. This will surely save you time and effort. Invest in the best over glasses safety glasses. Accidents happen, be safe at your own risk.
Hi, I am Alexander, forty-seven years old this year. I have been in the construction industry for twenty-five years and have provided a wide range of services. When it comes to expert guidance on site safety gear, you can put your trust in me.