Outdoor performances indeed require multiple protective gears, as we are exposed to various elements. Furthermore, if we handle intricate tasks in such environments, a compromised vision is the last thing we want. That's when a pair of the best photochromic safety glasses become our life-saver.
Well, but now, as there are numerous tinted glasses available with all lens materials and designs, the struggle to find a suitable product begins. I have been through the selection process, and I have to admit that it's neither easy nor quick.
But fret not, cause below is the list of top-rated glasses for you to check out and purchase with utter ease. Dig in to know more about photochromic safety glasses and how to choose yours.
Is a Photochromic Lens Good for Eyes?
It's an immediate yes to this question. We cannot deny the excellent features and numerous benefits that a photochromic pair offers to our eyes.
For instance, it shields us against Ultraviolet rays, ensuring ultimate safety and clarity for our outdoor activities. Since prolonged exposure to UV radiation can result in many eye issues, including corneal sunburn, cataracts, macular degeneration, and even skin cancer around our eyelids.
The item can be comfortably worn day and night, filtering out blue light coming from digital screens for us. So, if you often sit in front of the computer for working hours on end, wearing this protective item will reduce eye strain and tiredness. Thus, putting it on will even allow us to sleep better at night.
Are Photochromic Lenses as Good as Sunglasses?
Both of them can filter out UVA and UVB radiation to avoid hurting our eyes. Yet, the photochromic lenses that are not polarized might react to glare from reflection that well. Meanwhile, sunglasses will allow us to see clearly when handling tasks relating to reflective lights.
Furthermore, sunglasses which come with a super dark shade covers our eyes completely. In comparison, not many photochromic lenses can go around 60 to 80 percent in the brightest sunlight. It depends on the product's quality and function.
I deem a pair of photochromic glasses a cost-effective investment. This product is not more expensive than sunglasses, yet packs two functions at the same time. It can serve as a clear pair that prevents dust and debris, then transforms into a darker-shade one to protect our eyes from hazardous lights.
I would not go as far as saying that photochromic lenses are better than sunglasses since they could have different advantages and drawbacks. Yet, investing in photochromic eyewear will indeed do you good in many ways.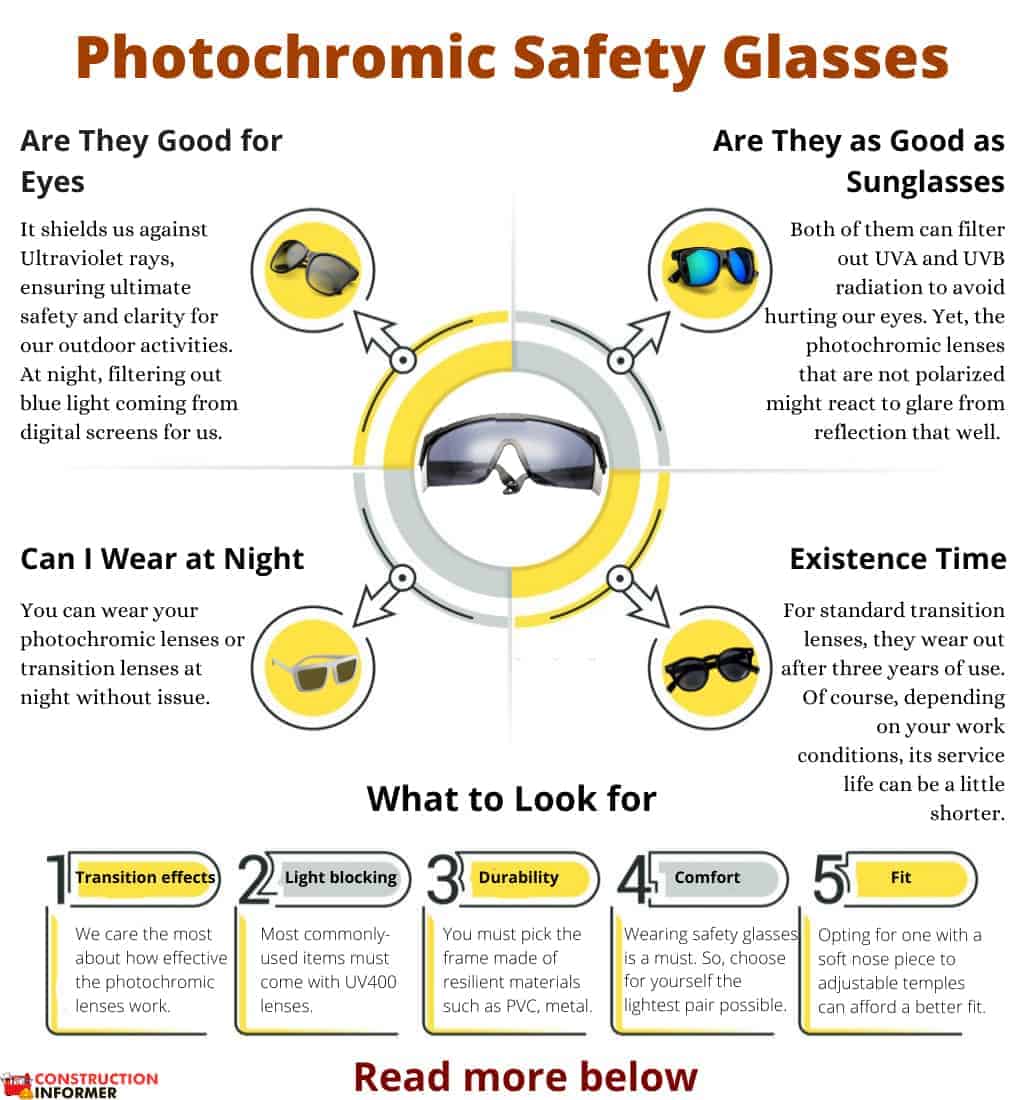 Featured Products
Best Overall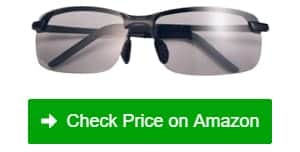 Name
– A gender-neutral design with a sleek black frame
– Lightweight and comfortable frame
– Subtle yet effective shade darkening under UV rays
Editor's Pick
Name
– Rubber nose bridge is soft and comfortable
– Strong rubber frame and polycarbonate lenses
– Features a coating for superior UV protection
Premium Choice
name
– Aluminum-magnesium frame to resist extrusion
– Composite TAC lenses that block UV rays
– Perfect dimension for menswear
Best Photochromic Safety Glasses Reviews 
1. YIMI Polarized Photochromic z87 Sunglasses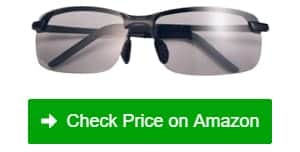 Check out the YIMI Polarized Photochromic z87 Sunglasses if you desire a lightweight and comfortable pair for outdoor work.
I adore this model because its modern and gender-neutral design looks great on anyone. From the sleek black metal frame to its rectangular lenses, these glasses will provide a sporty and fresh look for wearers. Plus, it is surprisingly lightweight, adding no burden for long-hour work; I'm pleased.
Notably, performance-wise, the pair does not disappoint with its magical photochromic effect. Under the change of UV ray intensity, the lenses darken their shade from light to dark grey. Yet, you will experience no color distortion when wearing this pair to perform, even with its darkest mode on.
Due to the polarization technology, these auto darkening safety glasses block glare from light reflection on shiny surfaces like a car hood. That means it can be the ideal partner for automotive engineers handling their work outdoors.
Most importantly, you can shield your eyes against 100% UVA and UVB rays due to its UV400 protective lenses. Thus, the pair is often worn by cyclists, runners, hikers; you name it.
Yet, if you want a pair for nighttime driving to avoid the glare of LED headlights or high beams, this one might not be the perfect pick.
Pros
A gender-neutral design with a sleek black frame and rectangular lenses
Lightweight and comfortable frame for long-hour wear
Subtle yet effective shade darkening under UV rays
No color distortion despite dark shades
Polarized lenses for non-glaring reflection
Shields against 100% UVA and UVB lights with UV400 protective lenses
Cons
Not ideal for blocking glare of LED headlights or high beams at night
I vouch for this pair of photochromic safety glasses after wearing them for a long time. I think the style suits people who enjoy hiking, finishing, and other outdoor sports.
2. RockBros Photochromic Sunglasses
If you have to squint hard to work outside, all because of the glaring sun rays, it seems like you miss out on using self tinting safety glasses. Check out a functional pair from RockBros to fix such an issue.
This one is always my go-to piece for a long work shift since it is among the most lightweight variable-tint glasses. With a weight of merely one ounce, it supports my vision without added load. Plus, it comes with a soft enough rubber nose bridge to offer optimal comfort for wearers.
You would be surprised to know such a light construction boasts impressive strength. The rubber frame and polycarbonate lenses promise long-lasting use for outdoor workers and sportsmen who often bring their sunglasses to perform.
The most crucial function of photochromic eyewear must be its UV protection level. And as expected, it features a durable coating that shields your eyes from harmful rays.
Its function is pretty easy to understand. In detail, without the presence of UV rays, the glass lenses are clear. Meanwhile, they transmit to light gray when detecting low UV levels and darker gray in high UV environments.
Still, at this affordable price, you should not expect the glasses to get completely dark that cover your eyes.
Pros
1-ounce pair allows lightweight wear
Rubber nose bridge is soft and comfortable
Strong rubber frame and polycarbonate lenses
Features a coating for superior UV protection
Swift transition from light to darker gray, depending on the UV level
At an affordable price
Cons
Does not get completely dark
The bottom line is that this pair is among the most lightweight and stylist auto tint safety glasses that you could ask for. I deem it my favorite pair for work and outdoor activities.
3. TJUTR Men's Photochromic Sunglasses
The TJUTR Men's Photochromic Sunglasses stand out with a futuristic design of rectangular shape that appeals to numerous wearers, including me. I was in awe of both its beauty and protection capabilities against sun rays.
For one, the main material used for constructing this eyewear frame is aluminum-magnesium alloy. Such a frame can endure extrusion, low temperatures, and impact. Now, we should not doubt how this pair survives harsh working conditions.
Also, the magic of this product comes from its composite lenses using the cellulose triacetate polarization process (TAC). As a result, it can darken its shade to block UV rays without compromising our visibility.
Another notable point that draws my attention is its blue-light blocking function. In detail, the lenses filter hazardous lights from digital screens to prevent us from potential retina damage. Thus, wearing these glasses to deal with computer work will reduce our eye fatigue.
Here's more information about its dimensions for you to make sure it fits. The glass lens is 2.68 inches wide, ideal for men's faces. Also, its bridge width is 0.51 inches, and temple length is 5.20 inches.
The thing is, for some buyers, its nose piece is not soft enough to offer time hours of comfort.
Pros
The futuristic design of a rectangular-shape eyewear
Aluminum-magnesium frame to resist extrusion, low temperatures & impact
Composite TAC lenses that block UV rays and ensures clarity
Bluelight-blocking function for computer use
Perfect dimension for menswear
Cons
The nose piece is not that soft
This pair of auto tinting safety glasses deserve recognition for its spectrum of useful features. If you want a piece to perform under sun rays and in front of the computer, it is your best bet.
4. Bullhead Safety Eyewear BH10613 Safety Glass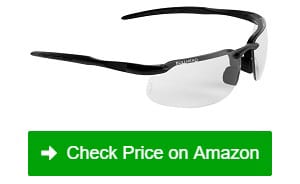 Aiming to deliver superior products for outdoor workers and sportspeople, Bullhead Safety Eyewear introduces high-impact designs that meet safety standards. If you love a basic piece, check out the BH10613 model from the brand.
A matte black pair will never go out of style, especially when its classic design matches well with any gender. Plus, its frame is nearly weightless at 0.35 ounces, promising us comfort while working. I also adore the TPR nose piece that is both soft and adjustable for comfortable wear.
More importantly, this safety eyewear delivers its protecting purpose with a functional design. In truth, the 8-base curve lenses embrace users' eyes nicely, shielding them against debris and dust.
The glass lenses are treated with a hard coat, reinforcing their strength against pressure. Notably, its high-impact feature meets ANSI Z87.1 standard, meaning you can rely on the piece for outdoor work without worry.
After all, a pair of safety glasses with photochromic lenses must block Ultraviolet rays effectively. And this product excels at this function, too, as it filters out nearly 100% UVA, UVB, and UVC radiation. Therefore, wearing these glasses ensures both harmful natural and artificial light sources are blocked.
Just a heads up, buyers with large faces do not enjoy its fit very much. So I suggest you check the sizing before ordering.
Pros
Matte black pair with a classic design
Comfortable wear with a lightweight frame at 0.35 ounces & a soft nose piece
Functional 8-base curve lenses block debris and dust
Hard-coat lenses meet ANSI Z87.1 standard for high-impact resistance
Blocks nearly 100% UVA, UVB, and UVC radiation
Cons
Not ideal for people with a large face
Despite its limited sizing, this pair excels at protecting our eyes from both harmful lights and small flying objects.
5. EPOCH 3 Photochromic Motorcycle Sunglasses
Who wouldn't want cool glasses that level up their fashion game while keeping their eyes safe? If that's the case for you, look no further than the EPOCH 3 Photochromic Motorcycle Sunglasses.
Instead of transitioning the lenses all the way to black, this one shows a smoke shade when detecting high levels of UV rays. For me, such a transition is a cool feature as it gives the glasses a cool vibe while still ensuring ultimate protection against harmful radiation.
With this pair on, you can stop worrying about exposure to UVA and UVB rays causing eye strains. So you won't suffer from eye fatigue or compromised vision after hours and hours working outdoors under the sun.
What's even more impressive about this model, in my opinion, is its shatterproof construction. Most brands manufacture durable sunglasses for users, but Epoch Eyewear takes it to a whole new level. In truth, this pair's Polycarbonate frame and lenses can handle impact, even when falling from a certain height.
If you are still doubtful, check out its certification from ANSI, as the Institute approves it for industrial use. That means the glasses are tough enough to withstand the harsh conditions of an industrial workplace.
The only gripe I have with this otherwise amazing pair is its lenses prone to scratches. You should avoid pointy and sharp edges from poking the piece.
Pros
Cool design with smoke lenses
Filters UVA and UVB effectively to prevent eye fatigue
Shatterproof construction of Polycarbonate frame and lenses
Certified by ANSI for industrial use
Cons
Can be scratched by pointy and sharp edges
The charming point of this motorcycle pair must be its sharp-looking design and smoke-shade lenses. You can enjoy optimal protection against sun rays, too, so why even hesitate?
6. Global Vision Eyewear Men's Hercules 24 Safety Glasses
Another high-quality product approved by ANSI is available for you to consider. Read on to find out what I love about the Hercules 24 Safety Glasses from Global Vision.
Many workers claim this one of the best tinted lens safety glasses in their collection. So, when it was back in stock, I immediately purchased the pair to see what the hype was about. And, I have to admit, it performs better than some of the pricier models I've tried before.
The combination of nylon frame and polycarbonate lenses results in a lightweight piece for wearers. Holding the glasses in hand gives a solid yet light feel, making the pair perfect for long-hour tasks.
Plus, you can never go wrong with the scratch-resistant and shatter-proof lenses of this model. The solid build allows us to work with confidence, even if we accidentally drop the glasses on the ground.
It's fun to see the transition from clear to light gray shade, depending on the UV intensity. And it's even cooler to know the process will make the glasses filter out hazardous radiation that can harm our visions. Either for outdoor work or sports activities, your eyes will be protected well.
What can count as a drawback of this product must be the rubber ear pads. I expected a softer and more comfortable embrace from the feature, but it does not do much.
Pros
High-quality eyewear meets ANSI standards
Performs well at an affordable price
The lightweight construction of nylon frame and polycarbonate lenses
Scratch-resistant and shatter-proof lenses
Transitions from clear to light grey shade to shield against UV radiation
Cons
Rubber ear pads are not as comfortable as expected
Even without upgrades on the ear pads, this pair of safety glasses photochromic lenses is still an excellent partner for workers.
7. Uvex by Honeywell Hypershock Safety Glasses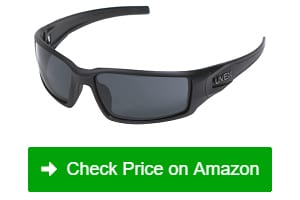 A limited budget to spend for high-quality protective eyewear? Such a requirement points you towards the Uvex by Honeywell Hypershock Safety Glasses.
At one-third the price of common light-adjusting pairs, this item ensures satisfying performances even in the most hazardous set-ups, such as welding. Because of its superior Uvex tinted lenses, the glasses can reduce sun glare, fluorescent, halogen, and sodium lamp light exposure.
Remarkably, it features a permanent coating that resists scratching and wearing down if the lenses come in contact with flying objects. Furthermore, such a coating reduces fogging issues, ideal for workers to wear masks or full-face helmets without blurry spots.
Regarding its frame, the full part also provides a high-impact function for long-lasting use. Plus, it comes with a wrap-around design, offering protection from different angles. If official standards matter to your choice, please know that ANSI has tested and qualified this pair's construction for safety.
Another thing that I love about these light adjusting safety glasses is their sport-inspired and comfortable feature. From the molded nosepiece to the soft, molded temple inserts with a sleek design, the pair truly has it all to be an excellent partner.
Beyond that, you should know that this product is not polarized, so it cannot block reflection on shiny surfaces that well.
Pros
Low-budget product with high-quality construction
Reduces sun glare, fluorescent, halogen, and sodium lamp light exposure
Resists scratching and wearing down with a permanent coating
Offers extra fog-resistant for wearing masks and full-face helmets
High-impact frame with a wrap-around design
Sport-inspired design & comfortable nosepiece and temple inserts
Cons
Not a polarized pair for blocking the reflection
Considering all its pros and cons, I doubt we can find a better-quality pair with anti-fog tinted lenses than this one. So, grab the deal if it meets your requirements.
8. MIRYEA Polarized Photochromic Driving z87 Sunglasses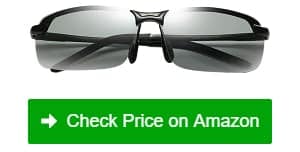 The next entry that is worthy of your consideration is the MIRYEA Polarized Photochromic Driving z87 Sunglasses. People love how this all-around pair offers day and night safety for their outdoor errands.
As expected, this product gives us a wide variety of tints to suit different conditions. If the UV radiation level is low, you can expect a light shade. Then, it gets darker automatically under direct sun rays outdoors. Since the process is reversible, these lenses can offer the perfect tint for your current tasks.
On purchasing this item, you are guaranteed a UV400 shield to block UVA, UVB, and UVC radiation from attacking your eyes. It can also filter out harmful blue lights from digital devices, which often cause severe eye strain and irritation.
Furthermore, this pair is polarized, thus preventing light glare from directly hitting your eyes. Plus, clear colors and sharp visuals will be maintained for your intricate work.
I always consider such a classic yet bold design a must-have item in everyone's collection, be it a photochromic pair or not.
However, the transition process might take a tad longer than expected, about 30 to 60 seconds. I deem this issue is not a big deal since it's a matter of seconds, yet some buyers might not like that.
Pros
Reversible and automatic darkening function showing various tints
UV400 shield blocks UVA, UVB, and UVC radiation
Filters out harmful blue lights from digital devices
Polarized lenses for clear colors and sharp visual
A classic design adaptable to everyone's style
Cons
The transition takes around 30 to 60 seconds, a tad longer than expected
Overall, for people who love safety glasses photochromic lenses that can block both natural and artificial lights for healthy eyesight, this one is their go-to item.
9. Spits Eyewear Yellow Photochromic Safety Glasses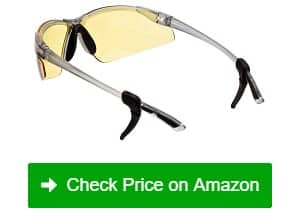 If all the options above are not fashionable and exotic enough, and you want a different pair that can turn heads; then, the Spits Eyewear Yellow Photochromic Safety Glasses will definitely be what you are looking for.
You can expect from this item the best impact resistance with its superior lenses. The brand indeed puts much effort into crafting a functional yet resilient product, as its lenses are made of shatterproof Polycarbonate. Notably, they meet ANSI Z87.1 standards for safe industrial uses.
The function of this pair is no different than all photochromic glasses in the market. It goes from clear to dark shades within seconds to form a protective shield against UV rays.
Yet, what makes it stand out is its gorgeous tint. I immediately fell for this pair at first glance when testing how its mirrors change from bright yellow to medium-shade green to dark red. Such fashionable lenses combined with the frame's futuristic design make it a fun item for cloth mix and match.
Plus, the process is quicker than I initially expected due to the mirrored coating of light-changing titanium oxide. The advanced technology that upgrades this pair's reactors is the reason why it becomes a sought-after product for numerous workers performing outdoors.
Hence, you will need to invest a little more than usual to enjoy this pair's fantastic features.
Pros
Shatterproof Polycarbonate lenses meet ANSI Z87.1 standards
Gorgeous tint, changing from bright yellow to medium-shade green to dark red
Comes with a futuristic design that is ideal for cloth mix and match
The quick transition process, due to the titanium oxide mirrored coating
Cons
Costs a little more than usual safety gear
As long as you are willing to pay such a price, this item will become your pride with its excellent function and gorgeous look.
10. Global Vision Eyewear 24 Hercules 7 Safety Sunglasses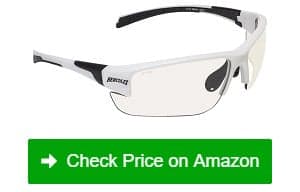 Another deserving position in the list of top-rated safety sunglasses is the Global Vision Eyewear 24 Hercules 7 model. I assure you that this product wins your heart with its modern design and sufficient functions.
Black and white design will always be a safe choice, either for work, outdoor sports, or other activities. Hoping to deliver a nice product for all those occasions, the brand introduces us to one black-grey frame and one white-black frame to pick. Either one you go for, these ANSI-certified glasses can offer you ultimate protection.
The transition from crystal clear mirrors to smoke shade allows the gear to keep our eyes safe in different levels of UV radiation. The UV400 filter lenses do an excellent job of blocking the harmful lights without compromising visibility.
Incidents like a flying object knocking off your eyewear or bending to handle tasks at a great height dropping it off can occur. Global Vision adopts shatterproof polycarbonate lenses coated with a scratch-resistant layer to prevent such events from ruining the lens clarity.
Optimal comfort is another feature that buyers look for when searching for their ideal eyewear. If that's the case for you, sticking with this item makes excellent sense. It comes with a double-injected rubber on both temples, conforming to our faces nicely.
Just a side note, I do not think this one works well for indoor works, like under the lamp lights.
Pros
Basic black and white design for various outdoor activities
ANSI-certified glasses with UV400 filter lenses
Transitions from clear to smoke mirrors
Adopts shatterproof Polycarbonate lenses with a scratch-resistant coating
Ultimate comfort and fit with a double-injected rubber on temples
Cons
Not ideal for blocking fluorescent lights
All in all, if your sole purpose is seeking eyewear that shields your visions against UV rays, this one is among your best bets.
11. Kimorn Photochromic Blue Light Blocking Glasses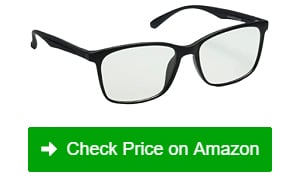 The Kimorn Photochromic Blue Light Blocking Glasses promote a casual style that suits different looks. It does not draw much attention while offering you the protection needed.
The availability of numerous fashionable items that might one day go out of style made me want to go for a natural one. Luckily, I stumbled on this design from Kimorn; since that day, it has been my close partner for daily wear.
Its simple black design is more than meets the eyes. In detail, the plastic-titanium frame makes the glasses lightweight yet strong enough to handle pressure well. You would forget about its presence on your face after a while like it's never really there. That's how light and convenient the construction is.
Of course, this item comes with variable-tint lenses that support effective tint changing. Without the presence of harmful rays, the piece remains clear. Then, it becomes light grey when detecting blue lights from the computer screen. This one is truly my favorite glasses for digital devices to avoid eye tiredness after a long-hour work.
Regarding the dimensions, its lens is 2.362 inches wide and 1.73 inches high. Meanwhile, its bridge is 0.827 inches, and its arm is 5.6 inches long. Make sure such a size fits your face well to avoid inconvenient dropping.
However, this one does not get very dark as some buyers might want. If you expect a super dark shade, maybe it is not the best choice.
Pros
Offers a casual look for your daily wear
Plastic-titanium construction for lightweight wear
Can resist pressure pretty well
Features a tint-changing lens that blocks blue rays and other harmful radiation
Ideal dimension and design for everyone
Cons
Not very dark tint for covering your eyes entirely
In many photochromic safety glasses reviews, this one appears as a general-purpose gear that everyone owns in their package. I cannot recommend it more if you adore the natural and casual style.
12. Oakley Flak 2.0 Photochromic Sunglasses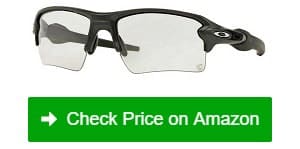 The last hot item that appears in the tool pack of many workers is the Oakley Flak 2.0 Photochromic Sunglasses. Its bold and sporty design lives up to the brand's promise to "bring style along".
To lessen the burden on engineers or other users when performing for hours on end, the manufacturer intends to make a lightweight build. They succeed in applying plastic frames and lenses to meet such needs. Hence, you can wear the piece as long as desired without noticing any added weight.
I appreciate the mirror coating on these top-notch Oakley photochromic safety glasses. It provides extra protection against scuff marks and scratches, ensuring long-lasting clarity for our frequent use.
Users of this pair have only good things to say about its style, from the bold temples to the modern-looking lenses and their nice shades. All those features mix together to bring a sporty look that allows users to draw much attention to their confident vibe.
Plus, it is true that the brand calls this product a valuable package since you receive more than just a pair of protective glasses. To my surprise, an accessory leash kit and a Designer iWear care kit are included, offering users breezy maintenance and decoration.
Still, I wish this product's lenses were polarized to prevent glaring reflection. Other than that, it delivers all designated functions well.
Pros
Lightweight plastic frame and lenses for burdenless wear
Mirror coating for extra protection against scuff marks and scratches
Modern-looking design with bold temples and lovely shades
Valuable package including leash and care kit
Cons
A non-polarized pair, not ideal for shielding against reflection
Even though these
non prescription photochromic safety glasses
have their flaw, I still consider purchasing the pair a worthy investment. That is mainly due to its protective functions, and also since there are maintenance and decoration kits.
What to Look for When Buying Photochromic Safety Glasses?
Anyone searching for the best photochromic safety glasses needs to consider some essential factors. Because these factors allow purchasers to make a well-informed decision without remorse later.
Transition effects – As a matter of fact, we care the most about how effective the photochromic lenses work to deliver optimal protection. They should be able to darken the shades automatically and quickly to adapt to certain UV radiation intensity.
You can directly test the effect by exposing those lenses to direct sunlight and decide for yourself if the shade is dark enough. This is possible if you visit a reliable store in your area to check out different products. For instance, you can go to Home Depot if you live in a big city in Canada.
However, photochromic safety eyewear can rarely give users the black or super dark tint that ordinary sunglasses do. So, be mindful of this matter.
Light blocking – Most commonly-used items among outdoor workers and sportspeople must come with UV400 lenses. Such high-quality pieces can ensure no UVA and UVB get through their shield and attack our eyes.
Besides, blocking UVC light from lamps is another function that many indoor employees care about. Exposure to visible light and infrared heat can cause eye strain and disturb our sleep at night. So, if you handle welding tasks, you should pick one that can filter out those rays.
Furthermore, people who work hours on end in front of the computer screen should be equipped with a pair of photochromic safety glasses with readers that block blue lights. It can reduce the hazardous light coming from digital devices such as phones and Ipads, which we rely on daily.
Durability – We all value product durability when choosing sunglasses or any protective gear for our work. So, you must pick the frame made of resilient materials such as PVC, metal, or glass. Rubber and plastic designs seem to be more lightweight, yet they can withstand pressure well, too.
The lenses are essential parts of tinted glasses since they protect the eyes while offering our work clarity. So, choosing a top-notch quality pair of lenses is our mission. You can go for the shatterproof and scratch-resistant Polycarbonate items that endure high impact. Also, check its ANSI certification to make sure such a function is sufficient.
Comfort and fit – Wearing safety glasses is a must, as long as we still perform in harmful environments. So, it is advisable to choose for yourself the most lightweight pair possible.
Besides, opting for one with a soft nose piece to adjustable temples can afford a better fit and more comfortable wear for us. Do not forget to check out the pair's dimensions to ensure it stays well without dropping or falling during our duties.
What's the Difference Between Photochromic and Transition Lenses?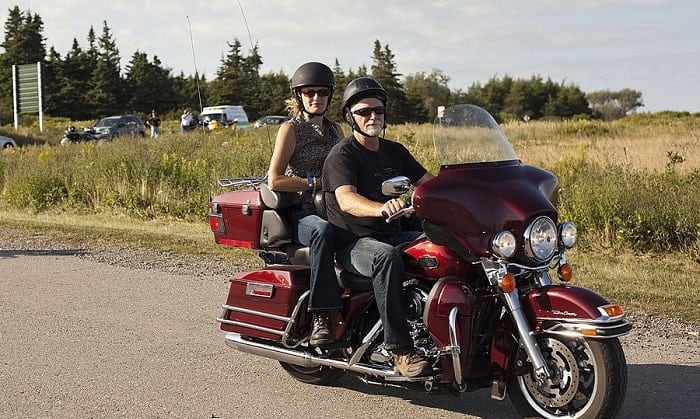 These two types of lenses both offer the magical effect of changing tint to provide eye protection. They shield our visions from harmful radiation from the sun and blue lights from digital devices.
But the difference between these two is that transition lenses can reach a darker shade than the other one. Besides, the former can change its tint in less period than the latter, ensuring an almost instant transition of 15 seconds.
Can You Wear Photochromic Lenses or Transition Lenses at Night?
You can wear your photochromic lenses or transition lenses at night without issue. In fact, these glasses can be worn like regular pairs all day, without vision compromised. But not all pieces can prevent glare from traffic lights, so make sure you pick the right one that supports your performances in such low-light conditions.
How Long Do Photochromic Lenses Last?
Product service is important information for people who rely much on photochromic safety glasses. For standard variable-tint lenses, they wear out after three years of use. Of course, depending on your work conditions, its service life can be a little shorter.
Regarding the glasses you purchase with a prescription for your own eye condition, the lenses can last up to 2.5 years. When the time comes, you should replace the old pieces with new ones to ensure clarity and protection.
Conclusion
Choosing the Best Photochromic Safety Glasses is not rocket science if you know what factors to consider. Some of us might go directly to a reputable brand to check out their products, such as the 3M photochromic safety glasses collection. Hopefully, you will eventually get what you need for daily work, whichever method you apply to your selection process. Good luck!
Hi, I am Alexander, forty-seven years old this year. I have been in the construction industry for twenty-five years and have provided a wide range of services. When it comes to expert guidance on site safety gear, you can put your trust in me.