Besides harmful UV radiation, exposure to sunlight also disturbs vision with its glare that hits directly in our eyes. And such an effect is among the hindrance for outdoor workers where there is minimal cover and roof. That's when the best polarized safety glasses show practical use.
Of course, such a pair does not come with polarization only, but multiple protective features to support our tasks. Among numerous products in the market that combine those safety functions, we gathered here the top-rated items.
Hopefully, the following guide and review list can help you make a well-informed decision to avoid buyer's remorse. Read on!
Featured Products
Best Overall
KLEENGUARD V30
– Prevents glare for little to no eye stress
– Coated Polycarbonate lenses that resist UV rays and scratches
– Lightweight wrapping frame with soft temples and a leash cord
Editor's Pick
Edge Kazbek Safety Glasses
– Comparable eye protection capability to high-end safety glasses
– Made with cutting-edge materials and undergone impact testing
– Blocks 99.9 % UV rays and infrared lights
Premium Choice
Crossfire Safety Glasses
– The good-looking design boasts a futuristic vibe
– Effectively blocks UV rays and meets ANSI standard
– Sleek and thin arms for super lightweight wear
Best Polarized Safety Glasses Reviews
1. KLEENGUARD V30 Nemesis Polarized Safety Glasses
The KLEENGUARD V30 Polarized Safety Glasses should be among your gear that makes tasks under the bright sun more bearable and even efficient.
The best attribute of this design must be its tinted lenses. It provides enough shadow for your eyes in the brightest days yet offers sufficient clarity for overcast days. Since this is a polarized tinted pair, the glare of sun rays is reduced to the minimum, allowing us to see clearly and finish tasks with little to no eye stress.
Furthermore, these Polycarbonate lenses feature multiple protective finishes, including UV protection and scratch resistance. Those coatings block nearly 99.9 percent of Ultraviolet rays and protect the lenses from getting scratched spots when in contact with edges.
While the tinted protective lenses' power is praiseworthy, the frame design is also a big part of this pair's appeal. In detail, it is a lightweight wrapping structure with soft-touch temples and a leash cord. Those features promote comfortable and secure wearing for users spending extended time on their tasks.
One last thing worth mentioning is the authority certifications of the polarized safety sunglasses. ANSI Z87.1+ standards approve it for impact resistance, which is vital for construction work.
The only qualm I have with this eyewear is its rather flimsy nose pieces. After they fell off once, I stuck them with glue to avoid such issues.
Pros
Features tinted lenses for superb clarity on both sunny and overcast day
Prevents glare for little to no eye stress
Coated Polycarbonate lenses that resist UV rays and scratches
Lightweight wrapping frame with soft temples and a leash cord
Meets ANSI Z87.1+ standards for impact resistance
Cons
The nose pieces require gluing for no falling issue
Overall, it is advisable to go with polarized glasses that meet safety standards like this one. More importantly, the eyewear offers excellent glare reduction and eye protection, making it an ideal gear.
2. Edge Kazbek Polarized Safety Glasses
High-end protective eyewear can cost us hundreds of dollars – an amount that many are unwilling to spend. If you also want reliable eye protection comparable to those pricey models, check out the Edge Kazbek Polarized Safety Glasses.
Users have only good things to say about this design's flexibility and durability. The brand crafts the pair with cutting-edge materials, then puts it through intense impact testing. In addition, they add straight temple arms for less pressure. Hence, it is tough enough to endure treacherous set-ups while comfortable to wear all day.
Yet, what we care the most about this blue-tinted eyewear should be how good it reduces the glare of sun rays. The good news is that its polarized lenses are produced with the brand's exclusive Tapered Lens Technology, thus ensuring minimal visual distortion.
Furthermore, these high-quality lenses also block 99.9 % of UV rays and infrared lights. The polarized safety sunglasses can ensure superb visibility and little eye fatigue by filtering out those harmful effects.
The current tightly-fit model can stay put well when we pace back and forth and even bend to handle tasks. Yet, some buyers wish this Edge eyewear could be a little wider for larger head sizes.
Pros
Comparable eye protection capability to high-end safety glasses
Made with cutting-edge materials and undergone impact testing
Comes with straight temple arms for less pressure and more comfort
Reduces glare of sun rays for minimal visual distortion
Blocks 99.9 % UV rays and infrared lights
Cons
Does not fit well on people with larger head sizes
It would be incredible if these Blue polarized safety glasses can come in multiple sizing works for various users. They would be happy to experience its clarity and protective functions.
3. Crossfire Polarized Silver Mirror Safety Glasses
Crossfire is famous for a unique approach in the style of protective glasses. Their collection of various lens shades have the same futuristic vibe that does not resemble bulky safety goggles. Today, I will review their polarized silver mirror lens model.
Its polarized lenses are made of polycarbonate material. Those lenses come with a silver shade that boasts great glare reduction and beautiful style. As a result, people can wear such a piece to work outdoors under the sun to have undistorted clarity.
Furthermore, these eyewear lenses are capable of protecting our eyes from the hazardous effects of Ultraviolet lights. Its efficient rate is 99.9%, which is sufficient for intense work that includes much sun rays exposure. Notably, this model is a pair of polarized z87 glasses meeting ANSI standards for lens quality.
You would be surprised to know that such a fashionable item with a sleek frame can offer excellent durability. It no denies that slim arms and temples improve eyewear weight significantly. But, the piece is tough enough to endure impact and pressure. Plus, make sure you take advantage of its customizable nosepiece well to have great comfort.
The unfortunate thing is, regarding its size, all the ladies with small faces might not enjoy the loose feeling while putting the glasses on. It might even fall off if they bend over.
Pros
The good-looking design boasts a futuristic vibe
Polarized polycarbonate lenses with a silver shade for undistorted clarity
Effectively blocks UV rays and meets ANSI standard
Sleek and thin arms for super lightweight wear
Tough enough to handle pressure
Comes with an adjustable nose piece for great comfort
Cons
Not the best-fitted one for small head sizes
Everyone loves polarized safety sunglasses that are beautiful to look at, excellent at eye protection, and flexible enough for comfort. I do not see why we say no to such a great purchase.
4. KLEENGUARD V30 Nemesis Polarized Safety Glasses 28637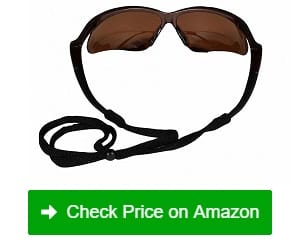 The next one is another well-made pair from the popular KLEENGUARD V30 Nemesis collection. And this time, it is the 28637 Polarized Safety Glasses that win us over.
You can notice at first glance, the model looks more like sunglasses for a beach trip than protective gear for work. But its multiple safety features say otherwise, and the pair's impact protection is also certified by ANSI Z87 standard. So, I think many workers will adore such sporty and nice-looking eyewear for their duties.
Its polarized function is incorporated in the brown-tinted lens made of Polycarbonate material. That explains why wearing this eyewear allows people to see clearly despite glaring sunlight and its reflection on shiny surfaces.
Besides offering great optical clarity to support outdoor work, these Z87 polarized sunglasses also shield against Ultraviolet rays. Since nearly 99.9% of the harmful radiation, UVA, UVB, and UVC are blocked, we can worry a lot less about skin damage and eye injuries.
Also, you can check out its design and see how the model is packed with great features like soft temples, a single wrapping lens, and lightweight construction. This package also includes one removable neck strap that allows easy adjusting to keep your glasses from falling.
Yet, with this pair, its nose piece is still a bit flimsy, which also requires gluing or careful handle to avoid frequent replacement.
Pros
Stylish and sporty polarized sunglasses design
Resist impact meets the ANSI Z87 standard
Comes with a brown-tinted polarized lens made of Polycarbonate
Blocks UV rays as effectively as 99.9%
Has soft temples, a single wrapping lens, and a lightweight construction
Includes an adjustable and removable neck strap
Cons
The nose piece requires gluing and careful handling
If you do not mind sticking the nose pad firmly to the glasses, it will bring you a satisfying experience regarding style and protection. I find such brown polarized sunglasses compliment well on any skin tone and different fashion looks.
5. Edge TSRAP218 Reclus Polarized Safety Glasses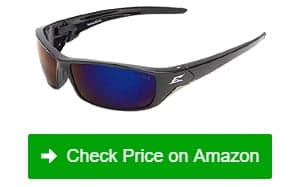 Edge has proved the strength in producing functional anti-glare eyewear. Among their best products, I significantly favor the TSRAP218 Reclus Polarized Safety Glasses.
For your information, this eyeglass frame is made of nylon material, while its lens is polycarbonate. Such a combination results in rugged yet lightweight safety goggles.
Like other protective gear from Edge, this one also went through intense impact testing to prove its superb endurance in hazardous conditions. In truth, it receives the highest safety standards by ANSI and compliance by MCEPS for eye protection gear. This is good news for construction workers taking on heavy and intense duties.
As a pair of polarized sunglasses, the model excels at blocking UV rays and infrared lights while reducing glare. It offers such service with the precision mirror lens created by the brand's Tapered Lens Technology. In other words, this Edge eyewear aims to provide you with minimal visual distortion and sufficient clarity.
The thing is, no matter how great all those functions are, every ideal safety gear must be comfortable for workers to wear for extended periods. Luckily, these safety glasses do not disappoint in that aspect. For instance, its design has straight temples; we will experience less pressure on our heads.
However, I will not put this model into the good-looking or fashionable work sunglasses category. This is because its nylon frame is pretty thick, even though it's not heavy at all. At the same time, for fans of low-profile safety goggles, it can be their best companion.
Pros
A lightweight and durable nylon frame and polycarbonate lens
Meets safety standards by ANSI and compliance by MCEPS
Blocks UV rays and infrared lights for eye protection
Reduces glare and visual distortion for better clarity
Features a straight temple for less pressure
Cons
A low-profile polarized work sunglasses with pretty thick arms
Most users have nothing against such a design since these clear polarized safety glasses deliver excellent glare reduction and UV protection. For me, I very much appreciate how rugged yet lightweight this Edge eyewear is.
6. 3M Safety Glasses Virtua CCS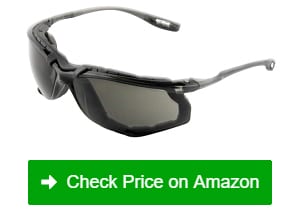 The claim that price goes hand in hand with product quality is not always the case. One convincing example to prove my point is this 3M Polarized Safety Glasses Virtua CCS model.
Such an introduction already tells you that this pair is affordable yet functional. In truth, it only costs you a fragment of high-priced polarized glasses out there while still sufficiently minimalizing the glaring effects of direct and reflected sunlight.
Also, these lenses are manufactured to absorb Ultraviolet lights to prevent them from reaching our eyes. Around the lenses are a layer of foam gaskets that block nuisance dust, airborne, and other particles at the dirty worksite. Hence, it is indeed a well-thought-out design that offers a reliable guard.
More on the eyewear's eye protection function, it comes with excellent impact resistance. That means sudden flying objects cannot knock the glasses over and crack the lenses easily. Notably, ANSI and CSA approved this pair's high impact function, giving us peace of mind while utilizing it for the hazardous workplace.
Yet, what makes it stand out among numerous polarized safety sunglasses is its anti-fog coating. Workers can wear masks along with this gear and experience continuous visibility due to such a lens coating.
In my opinion, the only compromise that 3M makes is this pair's look, as it is not among the stylish and sleek models that the brand often offers.
Pros
A low-priced option for functional polarized glasses
Minimizes glaring effects from direct and reflected sunlight
Its lenses can block UV rays and resist high impact
The foam gasket around the lenses blocks nuisance dust, airborne, etc
Features an anti-fog lens coating
Cons
Not a stylish and sleek design
Who would not want cheap polarized safety glasses with sufficient impact protection, glare minimization, UV, and airborne guard? I think this pair of safety eyewear is everything we could ask for at this price range.
7. Ergodyne Skullerz Odin Polarized Safety Glasses 50431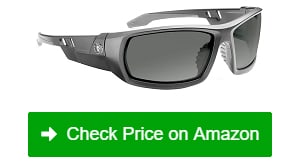 The essential point about polarized lens filters is reducing light glare without sacrificing visual clarity. And you can see the Ergodyne Skullerz Odin Safety Glasses do an excellent job on that part.
Style-wise, this Ergodyne Skullerz polarized eyewear assortment is in a league of its own. You can go with safe options featuring matte black, matte gray, and white frames, or step to the wild side with the Krytek Highlander and Typhon models. Notably, all of them are constructed for a sophisticated look that boats a strong vibe.
The Odin polarized sunglasses come with black-tinted lenses that have a UV protection rate of 99.9 percent. After putting the pair on, your eyes and the skin near the eye area will be safe from the damaging effect of the UV rays.
More importantly, the direct sun lights that often hinder our visibility will no longer be an issue. Plus, automotive workers who often suffer from reflective light glare on shiny surfaces of machines and engine parts can now handle their tasks smoothly.
One thing that strikes me as amazing about this Ergodyne Skullerz eyewear is its durability. It shows in the frame material that allows flexing without cracking to the impact-resistant lenses certified by ANSI and CSA. Indeed, the whole glass construction promotes long-lasting use.
Besides, I feel more at ease knowing that my safety glasses will not fall off during work since it features non-slip rubber temples and nose pieces. Such an addition means a secure fit despite sweating.
Its only downside is the thick rugged arms slightly limiting peripheral visibility for wearers.
Pros
Stylish design including basic colors and wild ones
Black-tinted lenses with efficient UV protection
Allows great clarity under direct and reflected sun lights
Rugged and flexible frame material & certified impact-resistant lenses
Ensures a secure hole with non-slip nose piece and temples
Cons
Slightly lacking in the peripheral visibility due to the thick arms
Overall, the minor drawback should not prevent us from enjoying quality safety sunglasses polarized for superb clarity. I would never doubt its power to block UV and impact.
8. Edge TXB236 Brazeau Torque Polarized Safety Glasses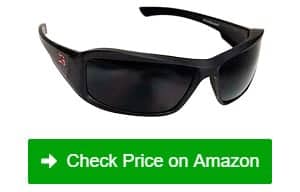 Getting a nearly perfect rating from customers on the AMAZON website, the TXB236 Brazeau Torque Polarized glasses can be a long-term investment that helps you rise above some outdoor work's hazards and setbacks.
We can always rely on Edge eyewear lenses to be constructed using Tapered Lens Technology. As a result, all the brand's best products, including this one, feature quality lenses that reduce glare and visual distortion. That is why the pair is meant for handling detailed and up-close tasks under bright sunshine.
The polarized lenses can further amaze users with excellent UV protection and impact resistance. About 99.9 % of the harmful rays, including UVA, UVB, and UVC will be blocked from entering our eyes. Also, the rugged lenses that resist high impact are certified by MCEPS based on military ballistic standards.
Furthermore, this pair's scratch-resistant feature will delight people who work at the construction site. It can combat sharp edges without being damaged beyond repair. Plus, accidentally dropping the sunglasses will not result in severe scratches, so you can confidently work at a great height.
In terms of design, the main appeal of the eyewear is its classic and simple look. Coming in smoke lenses and black frames, it goes well with different styles, genders, and ages. I also deem the sunglasses a flexible design that fits on various head sizes comfortably.
This pair of safety polarized glasses is very close to perfection, justifying its slightly higher price than other competing products.
Pros
Polarized lens construction relies on the Tapered Lens Technology
Reduces glare from sunlight minimize distortion
Certified lenses that block UV and resist high impact
Scratch-resistant lenses are ideal for construction workers
A classic and simple look in black, suitable for different genders, styles, ages, etc
Cons
Comes at a slightly higher price than some competing products
All in all, to prevent eye injuries caused by workplace hazards and improve visual clarity, it is sensible to invest in these top-tier polarized safety sunglasses.
9. Oakley Men's 2.0 Shield Sunglasses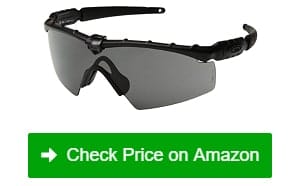 If you have a deep pocket and want to own high-end safety glasses, the Oakley Men's 2.0 Shield can be the perfect pick. Every detail of this design is intricately built to serve both style and protective purposes.
Although the pair's lens is not polarized, it is made using Polaric Ellipsoid Technology for less glare and visual distortion. According to the manufacturer, the lens is incorporated with 15% visible light transmission (VLT) for bright light. Thus, it can bring you superior visual clarity in various light conditions.
With such top-notch quality glasses, you can also expect the best protection against hazardous lights. For outdoor work, the lens blocks UVA and UVB rays from hurting our vision and skin. And its filtration of up to 400nm blue light wavelength generated from a digital screen makes the eyewear suitable for indoor work.
An issue that we face when wearing masks is fogging, leading to blurry lenses. The distracting condensation can result from our breath or the hot and humid conditions. Whichever the cause, this protective eyewear can handle that with a permanent anti-fog lens coating.
This high-quality pair is delivering a secure fit and comfortable wear for an extended time. One awesome perk of its design is the Hydrophilic Unobtainium nose pad that is not slippery even when soaked under the rain. Furthermore, the pair is lightweight and well-designed without pressure points.
Lastly, its style scores big time with the modern half-frame structure and unique lens shape measuring 32 millimeters. Plus, the combination of matte black and grey in this pair is unmatched.
Pros
Polaric Ellipsoid Technology makes the lens for less glare and distortion
Blocks both UV rays and harmful blue lights from digital screens
Features a permanent fog-resistant lens coating
Securely holds under the rain with the Hydrophilic Unobtainium nose pad
A lightweight and well-designed sunglasses without pressure points
Stylish half-frame structure and unique lens shape in matter black and grey
Cons
High-end work sunglasses with a hefty price tag
If you are a fan of the brand and wish to buy Oakley polarized safety glasses, this design can be a great alternative.
10. Crossfire Eyewear Es5 Polarized Safety Glasses
Without the constant sun glare, we can fully enjoy multiple outdoor sports that involve many exciting activities. And the good-looking Crossfire Eyewear Es5 Polarized Safety Glasses can be our companion on such occasions and more.
What we care most about protective eyewear is its authority certification. The good news is that this pair of Z87 polarized safety glasses meet ANSI standards. Thus, you can wear it for work, other than participating in active sports games or outdoor activities like hiking and biking.
With the glasses on, we can see clearly without having to squint when the sunlight hits directly toward our eyes. In fact, 99.9% of those harmful UV rays can never pass through the polycarbonate shield. Also, sun glare and reflection are the problems of the past when you have this polarized lens.
The scratch-resistant feature contributes greatly to your clear vision while playing or working outdoors. Knowing the importance of maintaining spotless lenses, the brand adopts a hard coat for the part. Hence, you can enjoy the long-lasting glare-reduction function and vision clarity.
Construction workers in charge of long-hour shifts will appreciate this secure and comfortable design. Firstly, it has a rubber nose piece that is soft enough to alleviate pressure. Secondly, the pair features dual-mold temple grips made of rubber that ensure stable put and relieve our worry about eyewear falling off.
Just a side note, the eyewear has slightly longer arms than the usual design. So, those parts might make it a bit tricky for you to wear bulky headgear.
Pros
Meets ANSI Z87 standards for safe use
Ideal for outdoor work and sport activities
Allows easy viewing without squinting due to the polarized lens
Blocks 99.9% of harmful UV rays with polycarbonate lenses
Scratch-resistant hard coat for long-lasting spotless eyewear
Secure temple grips and comfortable nose piece
Cons
Slightly long arms, thus a bit tricky for wearing bulky headgear
Worry not about the eyewear arms since I have no issue wearing them with helmets and caps. Plus, the great vision and protection that this pair of polarized sunglasses offer can outweigh such a minor concern.
11. Edge TSK216 Kazbek Polarized Safety Glasses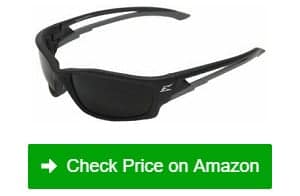 For some users, if they have to stick to one-and-only polarized safety glasses in the upcoming years, the Edge TSK216 Kazbek model is among the most popular picks.
This design does not try to win you over with an alluring or flashy appearance; in fact, it can be classified as low-profile safety glasses. But the thick arms and matte black color is a signature look that suits different occasions.
My appreciation for this pair of safety sunglasses is on how it enhances vision clarity by reducing distorting and glare for wearers. With Taper Lens Technology (TLT), the manufacturer crafts a polarized lens that makes working under intense sun beams not so tiring for the eyes.
Besides, the eyewear can handle significant pressure and attack with the construction that meets military ballistic standards for intense velocities. Its tinted polycarbonate lens can resist high impact – the function that is certified by ANSI. So, after all, its superb power in eye protection makes the pair a sought-after product.
Of course, Edge does not disappoint in providing comfort for users. Those who have to work or join an activity outdoors for hours on end can benefit a lot from the eyewear's flexible frame and straight temples. It will allow you to feel lesser pressure points on your nose, temples, and ear.
Still, its rubber lower part on the stem might come off after several months of frequent use. So, I suggest you put heat-shrink tubing on both ends to make the issue go away.
Pros
Low-profile and versatile polarized safety glasses
Enhances vision clarity and reduces distortion and glare effectively
The rugged frame and lens can handle pressure and high impact
Offers less pressure with a flexible structure and straight temples
Cons
Might require a heart-shrink tubing to cover the stem's rubber parts
Overall, if you want a loyal partner that provides you with the best polarized safety function and comfortable wear, consider purchasing this pair.
12. Ergodyne Skullerz Odin Polarized Safety Sunglasses 50031
Another Ergodyne Skullerz Odin Polarized eyewear is here. There are not so many differences between this one and the 50431 model reviewed above. But we do not want you to miss out on a great choice.
Those who work in challenging set-ups all want certified protective eyewear. So, if that's the case for you, opting for this ANSI Z87.1 and CSA approval pair makes excellent sense. You won't be wary of the high impact of sudden flying objects destroying the eyeglasses.
Our main focus should be on whether its polarization suffices and makes our work easier. The answer is a definite yes, especially for people who perform outdoor jobs on bright sunny days. The specs' polarized lens acts as a filtration layer that blocks the intense glare from passing through.
Besides, the premium smoke lenses also come with a scratch-resistant finish. If you accidentally drop the pair, it's unlikely to be damaged, thus maintaining excellent vision clarity for long. Yet, you should not store the pair with other tools with sharp edges.
The brand's effort also presents a comfortable design with a flexible frame and well-engineered nose pieces. To reduce dust intrusion, you can purchase a gasket insert and strap by the brand to match the glasses.
The only tweak that I expected to see in this model is a better fog-resistant function. As sunglasses, this might not be a necessary thing since we work out in the open areas. But it would be nice if we could wear masks without a sign of mist on the lens.
Pros
Certified protective eyewear meeting ANSI Z87.1 and CSA standards
Polarized lens filters glare for easier performance in bright light
Scratch-resistant finish for maintaining spotless lenses
Comfortable design with a flexible frame and well-engineered nose pieces
Optional purchase of a gasket insert and strap for a shield against dust
Cons
Does not come with the best fog-resistant function
Minor downside aside, we can notice how this pair's premium polarized lens benefits our work in bright sunshine. Its impact protection and comfortable design are also convincing.
13. Uvex by Honeywell Hypershock Safety Glasses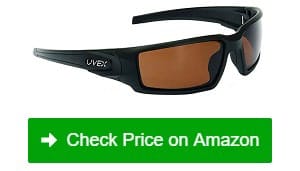 Such a beautiful espresso tint is not the best charm of the Uvex by Honeywell Hypershock Safety Glasses. It also offers impressive performance in polarization and eye protection.
While thinking of polarized sunglasses, we deem them helpful only for outdoor activities and tasks. But that's not the truth about this versatile design that allows easy viewing in different light conditions. You can wear them to reduce the glare of fluorescent, halogen, or sodium lamps, just as well as of the sunbeams.
Apart from that, the model supports clarity even when worn with a face mask and helmets. Those gears uniting with humid conditions cannot blur these glass lenses badly to affect our visibility and work pace. Hence, you can rely on the UVEX lens coating to continue tasks without hassle.
Premium durability is another selling point of these polarized safety sunglasses. Construction workers with heavy duties can take advantage of the full yet lightweight frame that was approved by ANSI Z97.1 for its impact protection.
The anti-scratch function of its polarized lenses also promotes long-lasting utilization. Still, I already purchased a microfiber storage bag to keep it from other sharp and hard tools.
Finally, you will experience little to no irritation when having the glasses on for long periods. We owe such comfortable feelings to its molded nosepiece and soft inserts on the temples. Besides, we should not worry about having a secure fit since the eyewear is incorporated with a hinge mechanism with dual-cam action.
Pros
Reduce the glare of fluorescent, halogen, or sodium lamps, and sunbeams
Clear view even with face masks and helmet on
Premium durability certified by ANSI Z97.1 for impact protection
Anti-scratch lens coating ensures long-lasting clarity
Offers no irritation due to the molded nosepiece and soft inserts
A secure fit with a hinge mechanism with dual-cam action
Cons
Recommended to have a soft storage bag
Overall, I love everything about this pair of brown-tinted polarized safety sunglasses. It flaunts a nice look and provides support with great polarization.
14. Edge TXB246 Brazeau Polarized Safety Glasses
If you feel a bit unfair that there's no white-frame eyewear included in this list yet, we'll make it up to you with the Edge TXB246 Brazeau Polarized Safety Glasses.
It is noticeable that its style and color can appeal to many female workers. But that does not indicate a huge compromise on durability or protective functions. Because, in truth, this pair boasts an incredibly rugged construction of intense-impact resistant frames and lenses.
Professional workers can utilize the gear as safety glasses rather than regular sunglasses because they are built with the highest protection level. The American National Standards Institute has approved this eyewear. Furthermore, it is compliant with MCEPS – a military ballistic standard, thus proving superb strength.
With a lens width of 5.04 inches, the safety glasses cover a large area around our eyes, shielding both eyes and skin from UV rays. Thus, you can put these sunglasses on to work a long-hour shift under the sun without redness, irritation, and skin burn.
While users highly praise both its protective attributes and appearance, the piece's comfortable structure is also an awesome perk. Holding the glasses in hand, you can feel its light weight, which adds no burden to our head. Also, the intended straight temples are the signature design of the brand, delivering the desired comfort.
Still, be careful in storing this pair as its lenses can be scratched when kept in a bag with other rigid and sharp tools.
Pros
White-frame design in a beautiful style
Rugged construction with intense-impact resistant frame and lenses
Meets ANSI and MCEPS standards
A lens width of 5.04 inches, protecting a large area from UV rays
Offers comfort with lightweight construction and straight temples
Cons
Not as great at scratch resistance
If you already enjoy Edge's craftsmanship in some of their safety glasses, you would adore this stylish and protective one. If not, you should try such functional and beautiful polarized eyewear now!
15. Ergodyne Skullerz Dagr Polarized Safety Sunglasses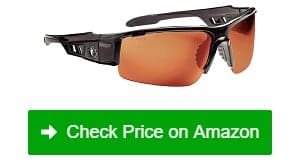 One of the best polarized safety specs that receive a lot of attention is the Ergodyne Skullerz Dag Sunglasses. The pair comes with a patented design, showing its unique charms to many buyers, including me.
Firstly, we should mention the high-quality polarized and anti-fog lenses. It brings us a final product that promotes optimal clarity in all conditions, even when the weather is hot and humid. Of course, you can rely on these lenses to alleviate the glaring effect of bright sunbeams.
Along with offering continuous visibility in any work set-ups, the safety glasses also put a rugged shield around our eyes. Such wide rectangular-shaped lenses block 99.9% UV radiation for a healthy vision even after months and years of outdoor work.
Notably, many buyers, especially female workers, cannot resist the unique copper lens and blade-style arms. The whole item flaunts a strong and sporty vibe that turns it into stylish sunglasses for fun sunny day activities.
But, please do not misunderstand that it is a flimsy pair, as the whole construction is as durable as you might desire. In detail, its robust lenses remain clear and spotless even after several drops, as it is scratch resistant. Also, its nylon frame allows bending and flexing without cracking or losing shape.
However, there will be some changes in colors when you see through those copper lenses. Thus, the glasses are not a perfect pick for making artwork or any project that requires a high level of color accuracy.
Pros
Advanced technology producing high-quality polarized and anti-fog lenses
Allows us to work under the bright sun, in humid and hot weather, …
Rugged shield filtering our 99.9% UV rays for healthy vision
A stylish look with copper lens and blade-style arms
Robust scratch-resistant lenses and durable frame that allows flexing
Cons
Do not offer a high level of accuracy for objects
Overall, if the downside of its lens color is not much of an issue for you, I see no reason why you miss out on such great polarized anti fog safety glasses.
16. Bullhead Safety Eyewear BH2679PFT Polarized Sunglasses
Want to own polarized glasses that turn heads? Should the chosen pair be both stylish and excellent at eye protection? In that case, the Bullhead Safety Eyewear BH2679PFT Polarized is among our best bets.
Exposure to sun glare can hinder our work and hurt our vision in the long term. That's why a polarized pair of safety glasses is a must-have item in every construction or automotive worker's toolset. If you often handle tasks or join outdoor activities, you can protect your eyesight by wearing this UV-protection eyewear.
Furthermore, this model comes with mirror lenses to reduce the glare of reflected beams from water, metal, etc. That means when you operate machines and handle hard-metal objects, your vision will be perfectly fine and clear.
It is worth mentioning that those protective lenses are in a beautiful blue tint and scratch-resistant. Thus, you should not be worried about visibility compromise after you accidentally drop the glasses on the floors.
Here're more details about the pair's sophisticated design, other than its tinted lenses.
Firstly, the whole construction is ultra-lightweight, affording comfort for all-day wear. Further, its full-frame structure with chisel lines and sleek curves provides a refreshing and fashionable look for your everyday work. It also has an inset TPR on the nose bridge and temple ends.
Please know that it meets or exceeds ANSI Z87.1 standards for reliable eye protection, so utilize the pair with peace of mind! But, in return for all those great functions, you will have to pay a bit higher price for it than many competing products.
Pros
Shields against UV rays for short and long-term vision
Mirror lenses reduce the glare of reflected beams from water, metal, …
Beautiful blue-tinted lenses are scratch-resistant
Ultra-lightweight full frame with chisel lines and sleek curves
Meets or exceeds ANSI Z87.1 standards
Cons
Costs a bit more than many competing polarized safety sunglasses
It's such a delight to have reliable and fashionable safety gear in hand. If you find the price tag reasonable for your budget, do not hesitate!
What to Look for When Buying Polarized Safety Glasses?
When choosing the best polarized safety glasses, we should not just consider polarization but many other features and functions. First, determine what your current job requirements for eyewear is, then carry on matching those with the following factors:
Polarized and mirror lenses – There are two basic types of safety glasses that reduce glare for better visibility at outdoor work sites. The main difference between them is that polarized glasses eliminate glare from reflective and hard surfaces. Meanwhile, the other type reduces glare shining from water, metal, or hard surfaces in general.
Both can help you handle tasks with more ease due to the significant reduction of glaring beams. However, you should know that mirrored lenses will compromise color accuracy on some levels, depending on their tints. Make sure you choose the right one for your projects.
UV protection – Many people are under the impression that all UV-protection eyeglasses are polarized, that's unfortunately not the case. When incorporated with polarization, some glasses will be a bit weaker in UV radiation blocking. But that does not mean you cannot find a pair that suffices in both attributes. Just keep looking!
Just note that this protective function is critical for outdoor works, as the radiation can harm our eyes and skin upon long-term exposure. You should seek pieces that block at least 90 – 99% of UV rays, including UVA and UVB. Some great products also offer a great shield against UVC, which can be generated from artificial light sources.
Durability – If you just want sunglasses for some outdoor activities or sports games, maybe, glass durability is not your priority. Yet, it can make a huge difference if you wear glasses for safety during work, especially at construction sites. Dangers around our workplace can be flying debris or small objects, dust, etc.
That's why many workers need a rugged pair that handles pressure and impact well. To do so, you can check its authority qualification from ANSI, CSA, or MCEPS. If those institutions approve the pair, which will be noticeable on the product package, you can rely on it to withstand crack and tear during work.
Other features – Besides polarization, we should consider other features such as anti-fog or scratch-resistant to choose ideal safety sunglasses. If you often wear masks to handle tasks or always work in humid and super hot environments, glasses with anti-fog lens coating are good choices.
Besides, you need to maintain lens clarity to utilize the eyeglasses for a long time. That's when an anti-scratch or hard coat is necessary. Of course, with extra functions, the price might be higher than usual pairs. But, if you find such functions essential for your tasks, you should not hesitate.
Comfort and fit – It is critical to own a pair that stays on well during our work and offers us optimal comfort. Thus, you should go for lightweight polarized sunglasses, as they add little to no burden to long-hour work under the bright sun.
Furthermore, a soft nose piece, straight temples, or added basket insert will be incredible features that ensure a snug fit and make us feel more comfortable. If you work for an extended time and handle heavy-duty work, take a model that makes it easier.
Style and price – It is hard to say no to a beautiful pair of sunglasses. In truth, in the market, there are many stylish designs with different lens shapes and tints for you to pick from. Furthermore, you can go with a full or half-frame pair or even sporty blade-style ones. Just make sure you know all its functions suffice your current work.
Price is another factor that we should consider during the purchase. Because not all the highest-priced ones are better for us than cheaper models, it's a matter of suitable features and styles. So, it is advisable to scroll through the products in our payable range and then pick out the best among them.
What are the Best Polarized Safety Glasses?
The best polarized glasses for protection purposes are the ones that offer sufficient functions for our activities. They should significantly reduce the sun and reflective beams while keeping our eyes safe from UV radiation. Furthermore, the glasses must help us avoid visual distortion and maintain lens clarity.
The best one should also make you feel comfortable and secure with its construction. In my opinion, you can check out reliable pairs that are used and loved by many workers. They are often from well-trusted brands available such as 3M safety, Edge, KLEENGUARD, Ergodyne Skullerz, to name a few.
How Do I Know if the Lenses are Polarized?
It is easy to notice if a glass's lens is polarized or just tinted. You should put the sunglasses on, then tilt your head sideways to about 50 – 70 degrees to see if there's a change in glare intensity. Since polarized glasses will ease the glare and make your eye more comfortable to see under bright sunlight, you can tell the difference.
Are Polarized Safety Glasses More Protective?
Safety glasses are for protecting workers from hazards at the job sites, as they are incorporated with multiple suitable functions and features. Polarized lenses are among those developed to make our tasks easier and safer.
For different work environments, we need specific protective attributes. So if you handle duties out in the open, polarized glasses will protect you from incidents caused by compromised vision when sudden glare makes us squint hard for a moment. Hence, if the job requires, make sure you wear glasses with polarization.
Do Polarized Safety Glasses Cause Headaches?
Polarized lenses reduce much glare from light beams reflected from water, roads, metals, and hard surfaces. That glare is the primary source of headaches, eye fatigue, and migraine triggers while working outdoors.
So, polarized safety glasses do not give you a hard time, but protect you from those potential pains after a long day of work. Knowing that, you can confidently wear the pair to handle work without visual distortion, compromised clarity, and bad eyesight, and headaches.
How to Take Care of and Clean Them?
Polarized specs, just like any of your safety or prescription glasses, require care to last for a long time. You can check out the manufacturer's recommendations on how to clean your glasses without damaging their coatings. Or else, there are some common steps that you can use:
Use a soft piece of microfiber cloth (which might be included in some glasses purchase) to remove fingerprints or dust on the glasses lenses. You should gently move the piece along both in and outside surfaces to make sure no blur spots are left.
Select and utilize a lens cleaner to rid of stubborn marks or smudges if there's still any. Make sure you choose the right cleanser with a pH balance of between 5.5 to 8 to avoid ruining other coatings such as fog or scratch-resistant.
Or, you can rinse the glasses under lukewarm water to clean their frames. But I suggest you take off the lenses to clean all small parts thoroughly with dust or debris stuck inside.
Conclusion
The best polarized safety glasses will make outdoor work a bit easier and much safer for us. The right gear will spare us from lots of irritation and even health damages, so make sure you consider all crucial factors when purchasing one.
Hopefully, after reading our reviews, you already have a perfect pick in mind. Make good decisions and stay safe!
Hi, I am Alexander, forty-seven years old this year. I have been in the construction industry for twenty-five years and have provided a wide range of services. When it comes to expert guidance on site safety gear, you can put your trust in me.