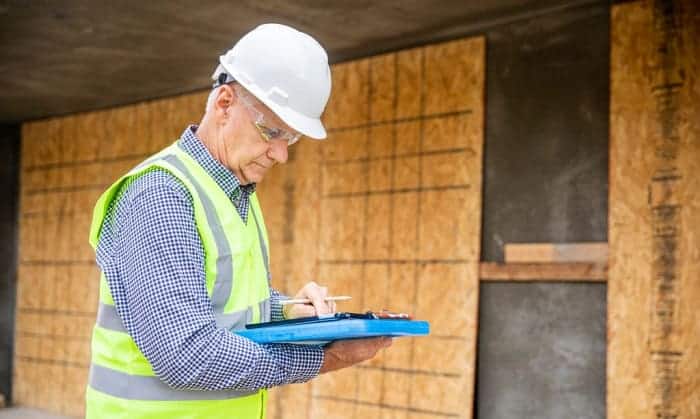 Eye protection is among the critical things for workers when performing in hazardous environments. Either you spend hours in front of digital screens or handling tasks at the construction site, equipping with the best prescription safety glasses is a must.
If you have no clue where to start picking the right one, here are some of the widely-loved and reliable products we gather. Have fun scrolling through the stylish ones, and take into consideration the models that meet your requirements.
Hopefully, our guide can help you make a well-informed decision that keeps your eyes safe and healthy for work. Dig in to find out!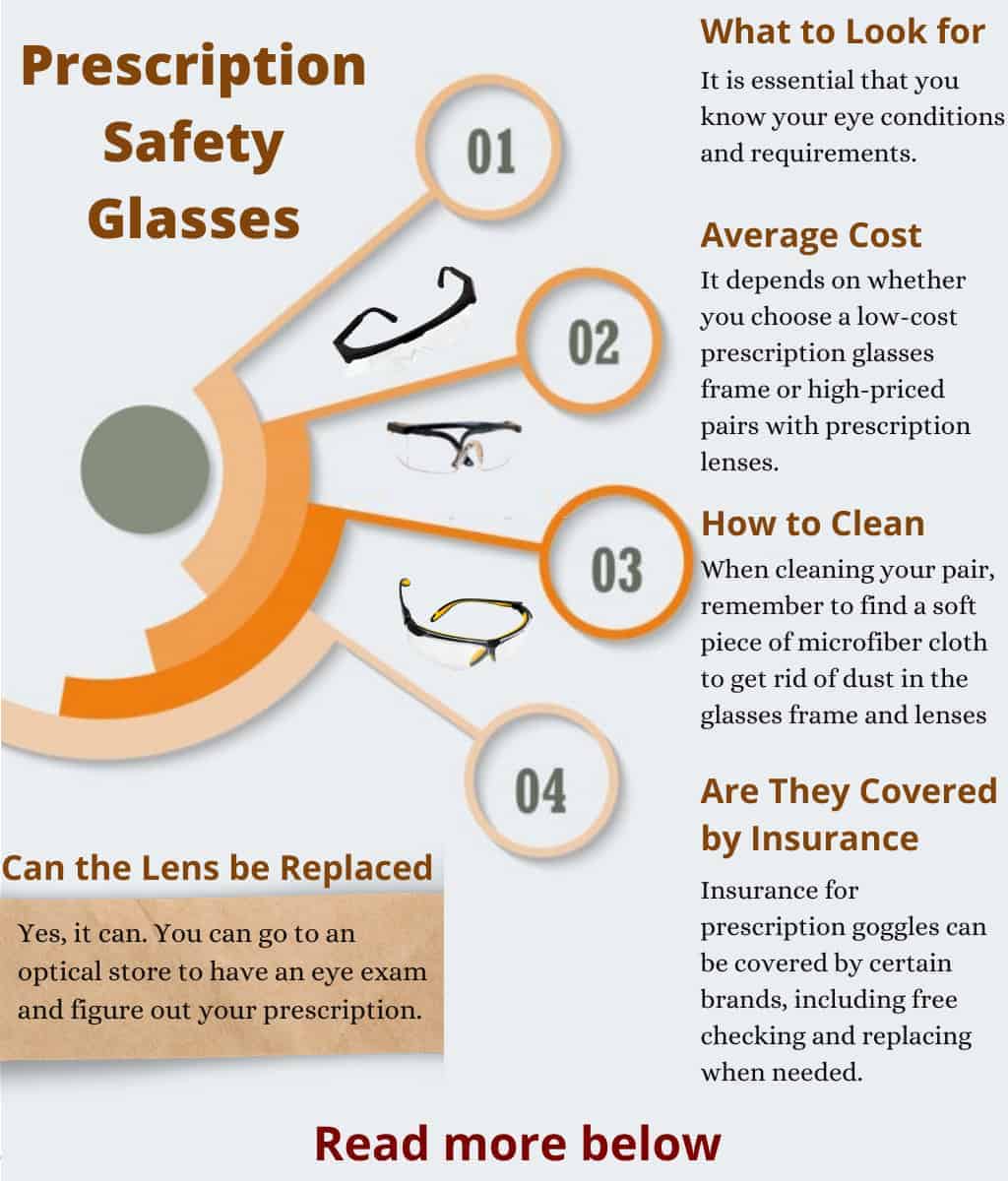 Featured Products
Best Overall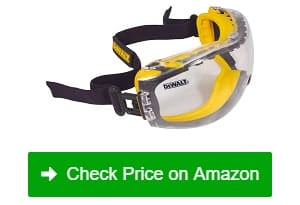 Dewalt DPG82-11C
– Breathable glasses
– Scratch-resistant layer on lenses
– Blocks dust and debris from all angles
Editor's Pick
MAGID Y50BKAFC
– Block dust and debris
– Lightweight nylon frame
– Stylish glasses in a tan or black frame
Premium Choice
Gateway Safety 6980
– Lightweight
– Comes in two models
– Impact-resistant lenses
Best Prescription Safety Glasses Reviews 
1. Dewalt DPG82-11C Concealer Safety Goggle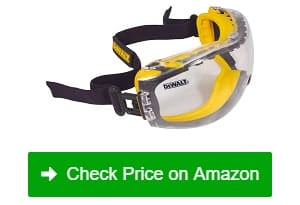 Tough protection is guaranteed by the use of Dewalt DPG82-11C Concealer Safety Goggle. I have the chance to experience the model first-hand, and here are some great things about it.
Many DIY-ers seem to love a safety pair with an elastic headband instead of classic glasses with arms. And this one has the same design with a bonus: a soft dual-injected rubber part embracing our face contours. Thus, it indeed ensures optimal protection against debris and dust flying from all angles.
Besides, these prescription lenses are coated with a scratch-resistant layer. The tough coating makes this pair ideal for use in woodworking, automotive, and even construction.
It is worth mentioning that you will experience little to no foggy and blurry vision while performing. This is due to the Extra-clear anti-fog coating on these lenses, making sure no condensation occurs even in a hot and humid workplace.
Notably, this comfortable, rugged, and clear eyewear also promotes great breathability for users. Such a function is possible thanks to its ventilated channel incorporated in the design.
However, these vented holes allow air and airborne diseases to get in, so you should not use this apparatus for medical work, especially for taking care of COVID-19 patients.
Pros
A well-fitted pair with elastic headband and a soft dual-injected rubber part
Blocks dust and debris from all angles
Comes with a scratch-resistant layer on lenses
Ensures little to no foggy and blurry vision with the Extra-clear anti-fog coating
Breathable glasses with ventilated channel
Cons
Allows airbornes to get in through holes, so not recommended for medical work
Despite its minor shortcoming for medical work, this product from Dewalt is among the highly-rated pairs when you search for the best prescription safety glasses online.
2. MAGID Y50BKAFC Iconic Y50 Safety Glasses
Your fellow workers who share the same dusty environments can benefit a lot from buying multiple packs of the MAGID Y50BKAFC Iconic Y50 Safety Glasses, as these nylon pairs excel at protecting our vision from all angles.
It is a delight that many models of this same prescription eyewear look very stylish. I fell for the tan frame with clear lenses that offers me a nice look without compromising clarity. You can go for amber or gray lenses paired with a black frame, boasting a classic style.
The slight difference from this pair to other best prescription safety glasses frames must be the sleek design. For instance, it features a low-based front surface curvature that provides a fantastic peripheral view. Besides, the side shields are built transparent, which enhances the visible range while keeping our eyes safe from dust and debris.
It is also vital that our prescription eyewear can resist scratches well. That way, we can see clearly even after the lenses come in contact with sharp edges, flying objects, or the ground if we accidentally drop them. Luckily, this pair can suffice due to its durable Polycarbonate lenses with a hard coating.
Lastly, this lightweight eyewear frame is made of nylon and incorporated with soft temple pads. Thus, we can enjoy extended periods of wearing the piece without feeling much pinching or irritation.
However, such a design might not fit people with a large face and a high nose well. You can keep this in mind when deciding to purchase it.
Pros
Stylish glasses in a tan or black frame and optional lens colors
Features a low-based front surface curvature for a better view
Transparent side shields to block dust and debris
Coated Polycarbonate lenses with scratch resistance
Lightweight nylon frame and soft temple pads for all-day comfort
Cons
Ideal for narrow faces rather than large faces with high nose
I can assure you that the purchase of these stylish and protective prescription safety glasses with side shields only results in better support for your work.
3. Gateway Safety 6980 Cover2 Protective EyeWear
Granted an unobstructed view and lightweight wear, these Cover2 prescription safety goggles from Gateway Safety deserve the hype from numerous buyers.
Both the brand's smoke and clear-lens design are superb, yet in this case, we will explore the transparent-lens model that fits well over any standard prescription spectacles. You can rely on this one to have excellent visibility while handling tasks.
What I adore the most about this product must be its lightness, adding little burden besides all the safety gear I must wear for work. It's exaggerating to say that you feel no weight when putting this pair on, but it indeed put me at ease.
Furthermore, the eyewear's adjustability is unparalleled. Medical workers can take advantage of its customizable temple length to have a nice fit. They will not have to suffer from the temple tips pinching and irritating behind their head thanks to these parts' flexibility.
For your information, this quality pair can cover safety prescription glasses well with its impact-resistance. Such a function is certified by ANSI Z87.1 and CSA Z94.3, proving the device's strong coverage over your glasses and your eyes.
However, those lenses do not resist scratches that well, which is a slight disadvantage if you want to use them for construction work.
Pros
Comes in two models: clear and smoke lenses
Fits over any standard prescription spectacles
Lightweight pair for long-hour work
Adjustable temple length and temple tips
Impact-resistant lenses certified by ANSI Z87.1 and CSA Z94.3
Cons
Does not resist scratches well, not ideal for construction work
Overall, I never regret getting this pair for daily work, as it is super lightweight, comfortable, and protective. If you are a medical worker, gearing with these ANSI prescription safety glasses makes excellent sense.
4. SolidWork Safety Goggles with Universal Fit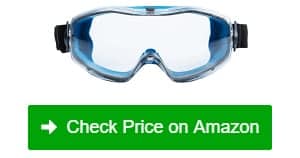 SolidWork is among those manufacturers that buyers always come back for more products. And in the great collection of personal protective equipment (PPE) the brand offers, their Safety Goggles with Universal Fit indeed have many loyal users.
To spare us the trick part of choosing a well-fitted pair, SolidWork adopts an adjustable and soft headband to the eyewear. Its front rubber gasket seal conforms nicely to the face contours, including our nose bridge and cheeks.
Due to the wrap-around design's perfect fit with no pressure points, we can feel comfortable putting on this item for as long as needed. Plus, it features tiny venting holes that allow air to get in for breathable wear while reducing condensation.
Furthermore, this pair's protecting functions are praiseworthy as they create a safe coverage around our eyes when we handle tasks. Such paranormal lenses offer us a broad view while stopping flying objects like debris from hurting our vision.
In detail, the high-resistant and anti-fog coating maintains the lens' clarity; its UV protection blocks harmful sun rays from entering our eyes. All of these advantages are combined to support our work to the fullest.
While the glasses embrace well around our face, the rubber gasket seal will make it a bit tricky to take it off after long-hour wear.
Pros
A well-fitted pair with adjustable headband and rubber gasket seal
Soft material and wrap-around design create no pressure points
Comes with tiny venting holes for breathable wear
Panoramic lenses offer a broad view and shield against flying objects
High-resistant and anti-fog coating for lens clarity
UV protection for work outdoors
Cons
A bit tricky to take the glasses off after wearing them for a while
Overall, I do not deem a minor inconvenience when taking off the glasses a big deal, as it proves the piece's good fit and seals. So, you'll never go wrong when picking these Solidwork prescription glasses.
5. KLEENGUARD – 49309 Maverick Safety Eyewear
Looking like your everyday prescription glasses, the KLEENGUARD – 49309 Maverick Safety Eyewear provides a classic look for buyers. If you do not have such a casual pair in your collection, this one deserves your consideration.
The accessory comes with a black frame with clear lenses – a typical design that suits various occasions. Yet, it does not come across as a boring item thanks to the shiny coating and an orange signature icon of the brand on its temple.
What strikes me the most about the eyewear is its transparent side shields and brow guard. The addition does not give a bulky or obstructed feel yet provides sufficient protection against dust and small debris.
Besides, working in hot or humid environments affects little to the glasses' clarity. Thanks to its fog-resistant coating that reduces the condensation of moisture and our breath if we wear masks, we can perform without blurry sports occasionally appearing on our lenses.
You would also love how its Polycarbonate lenses have anti-scratch features. That means even if you accidentally drop it on the floor; chances are, the glasses remain crystal clear.
Plus, you can wear the pair to handle tasks under sun rays without worrying about harmful lights hurting your vision. This is thanks to the UV protection layer incorporated in its lenses.
However, you should not expect this cute and classic pair to fit large faces since it is designed to be a bit small.
Pros
A classic pair with a shiny black frame and clear lenses
Transparent side shields and brow guard for protection without obstruction
Ideal for hot and humid conditions due to anti-fog function
Anti-scratch Polycarbonate lenses for long-lasting clarity
Blocks UV rays effectively
Cons
Not ideal for a large face due to the small and tight-fit design
After a long time utilizing this pair, I never regret purchasing it since the glasses excel at protecting my eyes while offering a clear vision for my work.
6. PYRAMEX SG7910D15 Clear Safety Reader Glasses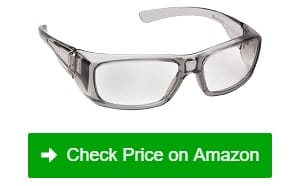 Without fancy bells and whistles, the PYRAMEX SG7910D15 Clear Safety Reader Glasses still stand out among the most reliable eyewear for workers. If you have a limited budget to spend, this one is your best bet.
Regarding this item's specification, it is a pair of 1.5 reading glasses designed for people with a mild nearsightedness level. Also, the eyewear weighs 0.8 ounces, lightweight enough for all-day wear without eye fatigue.
Style-wise, this affordable model promotes a simple yet impactful look with its gray transparent frame. I love how it stands out among other black pairs without a too-flashy design. Plus, it offers my desired comfort level with a soft nose piece, making it easy to wear the glasses for hours on end.
The important thing is that it comes with a dual-lens system that allows optimal viewing from a short or far distance. Thus, you can level your eye to the lower or upper part of the lens to either read your books or monitor the road while driving.
The final thing that will make you fall for these reader glasses is their scratch-resistant and UV-shield lenses. Those functions come in handy when you work in a construction site or any open workplace.
The only downside is that this one's wrap-around design with a thick frame will fit a bit too tightly on large faces. So, consider this factor when you decide whether it goes well with yours.
Pros
A pair of 1.5 reading glasses weighing 0.8 ounces only
Affordable eyewear with a simple yet stylish look
Comes with a comfortable and soft nose piece
Features dual-lens system for viewing within a short or far distance
Its lenses are scratch-resistant and UV-protection
Cons
The wrap-around design with a thick frame is a bit tight on large faces
Except for the limited sizing, this one can be considered as an excellent pair of prescription safety sunglasses for multiple applications.
7. Allen Company Fit Over Glasses for Prescription Eyeglasses
The Allen Company Fit Over Glasses score big time with valuable protection for our prescription glasses and our vision. Yet, the pair comes at a surprisingly affordable price that can delight any worker with a low budget.
With half of the investment for standard wrap around prescription safety glasses, this one still delivers sufficient shielding against impact. In truth, it meets ANSI Z87 standard for such function, ensuring little to no scratches occurring to our prescription pair underneath.
I also appreciate this one's wrapping design that promotes a broad coverage with great breathability. I quickly noticed the ventilated arms and happily experienced such comfortable wear for long hours.
Yet, the most remarkable part of this design must be its Polycarbonate lenses with multiple features that support your work. First of all, they are super clear, allowing no hindrance for our vision in standard lighting set-ups.
Secondly, this pair of lenses is coated with a metallic layer rated 100% UV protection. That means such a coating can ensure no harmful rays can get through to hurt our eyes.
Beyond that, if you work in humid or high-temperature conditions, it is likely some minor fogging will appear. But for outdoor work, this one is an excellent partner, without any condensation issues.
Pros
An affordable pair for people with a low budget
Sufficient shield meets ANSI Z87 standard for impact resistance
Wrapping design with a board coverage and ventilated arms
Polycarbonate lenses that support a clear vision
Metallic layer on lenses to block 100% UV rays
Cons
Minor fogging might appear due to humidity and hot weather
All in all, this pair of Z87 prescription safety glasses is good news for people who seek a quality yet low-priced accessory.
8. Pyramex Safety Emerge Plus Readers Safety Glasses
At a slightly higher cost, you will have in hand this premium-quality pair from Pyramex Safety. The brand has introduced many great worker accessories, but the Emerge Plus Readers Safety Glasses are a big hit.
Exceptional optical strength does make this model stand out among others. Depending on your work conditions, you can pick from glasses with 1.5, 2, 2.5, or 3 Diopters. That means no matter how harsh the tasks are; you can always choose an ideal pair that suffices.
I went with the one with clear lenses rated 2.5 Diopters, and it has offered excellent support for my prescription glasses underneath. It is surprising to see such a small and compact model accommodating different eyewear types well.
You can also expect good UV blocking with these Polycarbonate lenses. They are effective enough to prevent 99% of UVA and UVB from entering your eyes. Thus, you can now work with peace of mind, even when exposed to sunlight through your shifts.
Another notable point about this one's design must be the nose pieces made of soft rubber. Unlike silicone pieces, the material brings a little more comfort, especially when the glasses stay there for long. Plus, the pair will not give the "pushed out" feel since it comes with dual mold temple grips that keep it in place.
The only thing that needs improvement in this model might be its hinges. I would love it more if the part is as durable as the whole frame and lenses.
Pros
Available in different optical strength: 1.5, 2, 2.5, or 3 Diopters
Offers clarity and support for different prescription glasses
Blocks up to 99% UV rays for outdoor work
Rubber nose pieces bring comfort
Gives no "pushed out" feel due to the stable dual mold temple grips
Cons
Its hinges are not that durable
All in all, this pair's price is understandable, considering all its excellent functions to help us see clearly with our prescription glasses.
9. Dollger Progressive Safety Glasses with Readers
Investing in the Dollger Progressive Safety Glasses with Readers is killing two birds with one stone. You can have protective goggles for your eyes while reading, casual shopping, outing, or handling work.
The variety of choices in this collection is fantastic, as it allows the selection of different colors and sizes. Whichever one you bring home will provide you great protection and comfortable wear. In truth, it comes with lightweight TR90 construction, elastic nose bridge, and large side shields.
Workers who perform intricate tasks will appreciate this design's progressive multifocal lenses. In detail, the reading glasses allow continuous vision for users by dividing the optical range into three parts. The bottom of the lens is for reading when you lower your eye level, the middle part is a transition, and the top is for looking at a far distance.
But do note that you need to take a little time to get used to these progressive multifocal readers. After the breaking-in period, there're endless benefits for our performances.
The power of these lenses continues in their UV and blue light blocking. When working in front of digital devices for long, eye strain is unavoidable without a good pair of glasses. Luckily, this one can reduce irritation with its blue-light coating.
Apart from all that, the brand includes an anti-fog cloth to clean the lenses and prolong its fog-resistant effect. The addition allows us to have clear vision even in humid conditions.
Pros
Comes in different colors and size
Lightweight TR90 construction, elastic nose bridge, and large side shields
Progressive multifocal lenses for continuous vision in various ranges
Blocks UV rays and harmful blue light with an effective coating
Comes with an anti-fog cloth to prolong the fog-resistant effect
Cons
Requires a while to get used to the progressive multifocal lenses
The search for wide-ranging prescription safety goggles can end with this Dollger pair. If you want to try out progressive eyewear's functions, go for this one.
10. MYSANDY No Fog Safety Glasses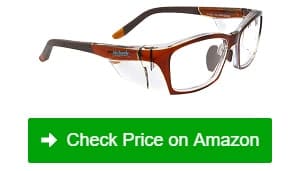 If you want to go to work with a casual look, you are in luck with the MYSANDY No Fog Safety Glasses. Check out its functions below to decide if the pair fits your needs.
It is another ANSI z87.1 prescription safety glasses that keeps debris and small objects from attacking our eyes. Such a function can be achieved through its molded side shields and durable frame.
Lens clarity is an essential factor when selecting the correct prescription readers for detailed tasks. In that case, this pair offers WAF lenses that can afford permanent fog resistance.
Furthermore, they allow cleaning with a soft, damp cloth to eliminate any dirt without affecting the anti-fog layer. But make sure you do not soak the whole pair into water.
With such features provided, anyone who does carpentry, construction, or laboratory and dental work can take advantage of this pair. Plus, you can choose among the black, brown, grey, purple, red, or turtle frames, depending on your style.
Another plus point of this functional pair is the included neck cord lanyard. The brand packs the accessory to help us keep the glasses on even when we move back and forth or bend to perform. Using the lanyard, you can hang the eyewear on your chest to avoid losing sight of it when not in use.
However, this model is not among those cheap prescription safety glasses, so you have to pay a bit more to enjoy its functions.
Pros
Meets ANSI z87.1 for protection against hazards
Durable eyewear with molded side shields
WAF lense for excellent clarity without fogging
Allows easy lens wiping with a soft damp cloth
Comes in black, brown, grey, purple, red, or turtle frames
Includes a neck cord lanyard
Cons
A little more costly than many prescription pairs
You'll miss out on a package of great protection and style if you do not go for this pair of prescription safety glasses z87. I attest to its great features and look, especially the red one.
11. SSP Eyewear 1.25 Bifocal/Reader Safety Glasses
Say no more to heavy and bulky goggles; the SSP Eyewear 1.25 Bifocal/Reader Safety Glasses come as a life-saver for whoever desires fashionable and unique eyewear for riding and playing sports.
This design's versatility presents in multiple choices of magnification strength and frame colors. It is constructed for every face type and size, proving to be a perfect partner despite your age and gender.
Among its models, the most commonly-used one is the black pair with clear lenses. I often bring these prescription glasses along when out biking or riding motorcycles. Other than that, you can wear them to the shooting range or skiing site to enjoy optimal clarity.
The special thing about this SSP eyewear is its bifocal lenses with double power compared to standard pieces. That means it allows people who are nearsighted and farsighted to see clearly. If you have trouble seeing objects from a distance, opting for these prescription bifocal safety glasses can never go wrong.
Along with the convenient lenses, this apparatus also brings comfortable and secure ear pads for all-day wear. If you are worried about it falling off while bending and climbing to perform, fret not, as those tacky pads will keep the glass's arms in place.
You should also know that the lens's magnifier is a little thick, requiring some time to get used to seeing through it.
Pros
Offers different choices of magnifier, frame, and lens colors
Ideal for all ages and genders
Perfect for biking, riding motorcycles, shooting, skiing, etc
Comes with bifocal lenses for people who are nearsighted and farsighted
Features comfortable and secure ear pads
Cons
A little thick magnifier that requires some time to get used to
The bottom line is that whether you look for a mens prescription safety glasses or not, this gender-neutral pair can offer you excellent protection and great style.
12. V.W.E Bifocal Sport Protective Safety Glasses
With a modern design and comfy fit, the V.W.E Bifocal Sport Protective Safety Glasses are applicable for any duty. Plus, it is among the low-price yet functional pairs that are widely loved by workers with eye conditions.
The best attribute of this item must be its bifocal lenses that promote double functions in one set. In truth, it is a combination of sports eyewear and reading glasses. You can adjust your eye to the right level for each purpose.
These prescription lenses are also famous for their superb visibility. Wearing this crystal-clear pair, people can do their best at a shooting range. In that regard, you can enjoy such clarity for intricate tasks that require your entire focus on small details.
There seems to be no end to the incredible features these lenses support. Take ANSI Z87.1 certified impact resistance and UV protection as examples; we can see how helpful this pair will be when we handle work outdoors or in dangerous set-ups.
After intensive testing, these prescription glasses can offer an excellent shield against non-ionizing radiation, chemicals, flame, etc. Moreover, it will not rust after prolonged exposure to moisture and other elements.
The only thing that bothers me a bit is these lenses' size, as I desire a broader coverage of the durable and functional set.
Pros
Features bifocal lenses that allow seeing in near and far distances
Delivers superb clarity of transparent lenses
Has ANSI Z87.1 certified impact resistance and UV protection
Shields against non-ionizing radiation, chemicals, flame, etc
Does not rust over time
Cons
The lens is a bit small, offering not large enough coverage
In my opinion, all the fantastic protecting attributes of these safety glasses with prescription lenses more than makeup for their lens size. If you want a stylish pair that keeps your eye safe and allows a clear view, this is the one.
13. ToolFreak Rebel Bifocal Safety Glasses
When looking for the best Rx safety glasses online, the ToolFreak Rebel Bifocal goggles come up many times in my search. I was convinced to purchase it after reading multiple rave reviews on the model.
In my opinion, these specs are among the best good-looking goggles out there with a futuristic color and design. More importantly, I can pick among different optical power from 1.0 to 2.5 diopters and either transparent or dark-smoke lens colors.
Besides, its wrap-around construction serves an aesthetic purpose and affords expansive lateral coverage for easy viewing. We have become more aware of the surrounding environment thanks to the lens design and its bifocal safety function.
You should also know that these lenses are made of premium Polycarbonate material, ensuring excellent impact and UV shield. As a result, you can handle work with utmost confidence, knowing that no flying debris or glaring sun rays can attack your eyes.
If those features above are not enough to make you fall for these goggles, I am sure that its comfortable and well-fitted structure will. Every worker can enjoy its spring tension frame grip that stabilizes the glasses to its ventilated brow for breathable wear.
Yet, the only thing that holds some buyers back must be this one's slightly higher price tag. But I think all the great attributes of the goggles justify such a cost.
Pros
A futuristic design for a super cool look
Optional optical power from 1.0 to 2.5 diopters and lens colors
Wrap-around construction for an expansive lateral viewing
Bifocal lenses for a long and short distance view
Premium Polycarbonate lenses that resist impact and UV rays
Features stable spring tension frame grip and ventilated brow
Cons
Comes with a rather high price tag
What this pair of prescription specs worth is my investment. I never regret my decision to purchase this super stylish and functional model, and I'm sure you will not, either.
OnGuard Safety Eyewear OG 220S Goggles (Outdated)
Like other loyal fans of low-profile glasses, I have many good things to say about the OnGuard Safety Eyewear OG 220S Goggles. Although its look is not its best attribute, the item supports numerous great functions.
Authority certification is an essential factor when selecting your safety pair. And these goggles can surely meet your requirements with their testing and approval of ANSI Z87.1, CSA Z94.3, and EN 166 standards.
This nylon product comes with a metal-free construction, which is also non-conductive, lowering the danger of high heat or electricity. Accordingly, it is among the ideal companions of electricians, engineers, and so on.
At first glance, you would notice right away that the brand's main focus is an efficient and protective model. The good intention is shown in a soft and well-designed nose bridge. Due to the nice touch, I never feel much pressure on my nose after hours of wearing this pair to perform.
Furthermore, this eyewear frame allows easy replacement of your new prescription lenses. As its current set is non-functional, you should not use the pair right away before choosing the lens that suits your eye conditions.
Lastly, when opening the package, you can find a bridge and dust dam included for a replacement at any time. This must be among the reasons why this product costs users more than standard safety pairs.
Pros
Meets ANSI Z87.1, CSA Z94.3, and EN 166 standards for safe use
A non-conducive, metal-free construction made of Nylon
Efficient design with soft and breathable nose bridge
Allows easy replacement of prescription lenses
Includes a nose bridge and a dust dam for replacement
Cons
A low-profile looking safety eyewear
Costs more than other competing goggles
Such premium glasses with multiple quality certifications can ensure ultimate safety for our eyes, even in the harshest working conditions. So, I deem it reasonable that the piece comes at such a high price.
FUNCOSY Safety Protective Glasses (Outdated)
The FUNCOSY Safety Protective Glasses might not be as popular as other options in this list. But it is the favorite apparatus of numerous buyers, as I see people recommend the model multiple times on Reddit.
Contrary to most people's idea of over-the-glass goggles, this item is constructed with a slim and sleek design. With a lens height of 2.28 inches, it is slightly bigger than our prescription glasses, yet it is not too bulky to add much burden. That way, the piece leaves much space for us to wear headgear or face masks with ease.
Furthermore, its lenses are effective against impact, airborne, dust, and even chemical splashes. Such a powerful set works wonders for protecting our eyes in harsh environments of woodworking, engineers, automotive, and many more.
If you need authority approval to buy safety eyewear, this one is the perfect pick as it meets ANSI Z87.1 standard. Also, this product supports blue-light-blocking, making it ideal for long-hour work in front of digital screens. It is truly an all-rounder!
Another nice thing about this lightweight and fashionable pair is its anti-fog coating. The feature promotes superb clarity for us in any weather conditions, be it humid, hot, or both.
The only gripe I have with the goggles is the not-so-thick sides, thus making it not perfect for medical use due to the side exposure.
Pros
Has a slim and sleek design with a 2.28-inch high lens
Leaves much space for headgear and masks
Effective against impact, airborne, dust, and even chemical splashes
Meets ANSI Z87.1 standard to ensure ultimate safety
Lightweight pair with blue-light blocking function
Anti-fogging for work in hot and humid places
Cons
Not-so-thick sides limit a bit of its protection
All in all, the minor drawback of the spec's design should not prevent you from experiencing all the awesome functions it provides.
What to Look for When Buying Prescription Safety Glasses?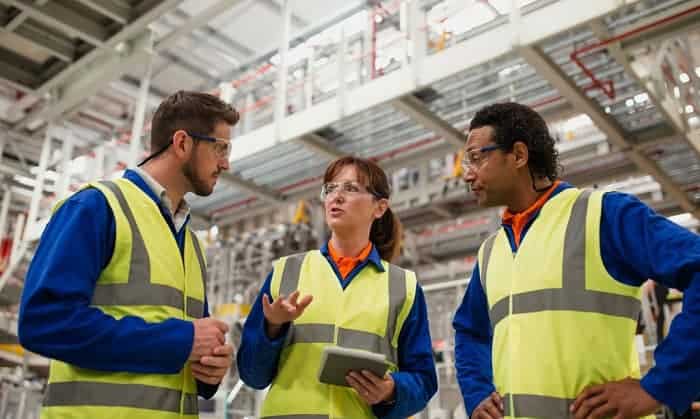 It is essential that you know your eye conditions and requirements to select suitable prescription safety goggles. Figure out if bifocal, progressive multifocal, or just standard reading lenses, as they support different viewing ranges for your eyes.
Other criteria such as comfort, breathability, and fit are also vital, as they determine if you have a good experience and full support from the chosen pair. Make sure to consider the style, design, and product price range to make a well-informed purchasing decision.
On a side note, you can check out popular brands' collections to see if there's a reliable item that meets your needs. I often scroll through 3M prescription safety glasses, Oakley prescription safety glasses, or SolidWork and Dewalt items to make some comparison.
What is the Average Cost of Prescription Safety Glasses?
If you seek a low-cost prescription glasses frame, the price can range from $10 to $50. Some higher-priced pairs with prescription lenses can be up to $75. Luxury brands can provide buyers with high-end goggles at even higher prices. So, it is better to decide on your budget and find a suitable price range to select your pair.
Are Prescription Safety Glasses Covered by Insurance?
Yes, in some plans, prescription safety glasses are covered by insurance. In truth, federal law requires employers to equip their workers with safety eyewear in hazardous working conditions. Insurance for prescription goggles can be covered by certain brands, including free checking and replacing when needed.
How to Clean Prescription Safety Glasses?
The prescription lenses require gentle care if we do not want to scratch or cause blurry spots on their surface. So, when cleaning your pair, remember to find a soft piece of microfiber cloth to get rid of dust in the glasses frame and lenses. You can use warm water while cleaning for some goggles, but restrain yourself from soaking the whole piece into cold or too-hot water.
Can the Lens be Replaced?
Yes, it can. You can go to an optical store to have an eye exam and figure out your prescription. Remember to bring along the eyewear frame you purchase to have the new prescription lenses installed. Then, you are good to go.
Conclusion
The selection of the best prescription safety glasses for your needs might be challenging due to the variety of products available. But purchasing a chosen pair is super easy, as you can find them online or at the nearest Costco, Walmart, or any optical shops near you.
Hopefully, this article already helps you tackle the hard part, and now you can have fun shopping!
Hi, I am Alexander, forty-seven years old this year. I have been in the construction industry for twenty-five years and have provided a wide range of services. When it comes to expert guidance on site safety gear, you can put your trust in me.