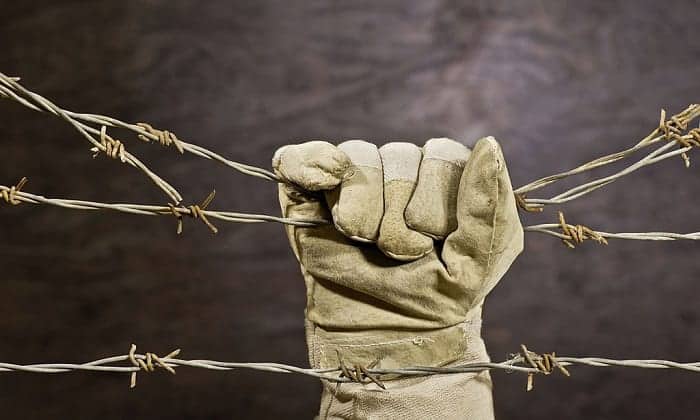 The pressure of sharp objects can hurt our hands badly if we are not geared with protective gloves. But not all work gloves can handle such hazards, as they have to meet specific qualifications to shield against the cut, puncture, abrasion, and more.
So, after testing and utilizing many highly recommended pairs in the market, I have rounded here a list of the best puncture resistant gloves. They help me through various tasks, from DIY work for house development to heavy duties at the workplace and fun traveling trips.
For any of us who need such a pair to protect our hands during daily routine and work, the following review will give truthful information for our choices. Dig in!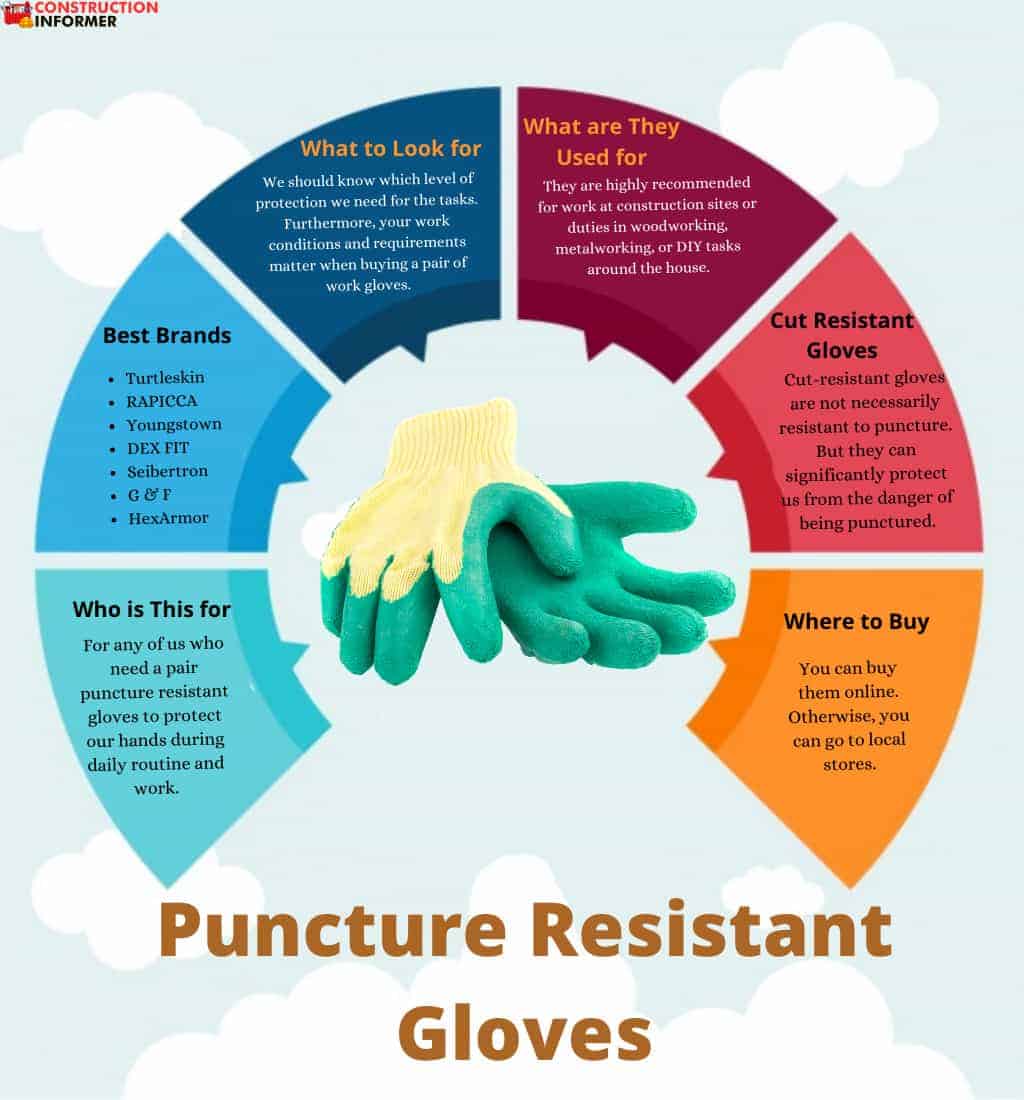 Featured Products
Best Overall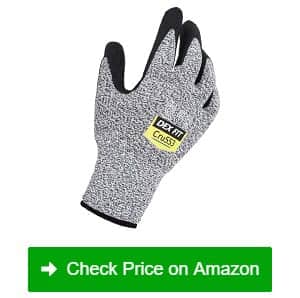 DEX FIT Cut Resistant Gloves
– Thin & lightweight
– ANSI level 5-cut resistant
– PDA food contact qualification
Editor's Pick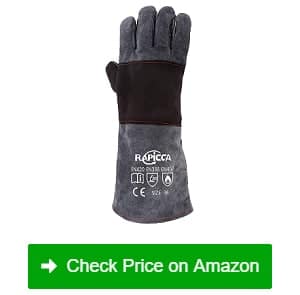 RAPICCA Bite Proof Handling Gloves
– Sturdy construction
– Available in 16″ and 22″ models
– Ideal for various applications
Premium Choice
G & F Cut Resistant Work Gloves
– Available in three sizes
– Made of Dupont Kevlar fibers
– Provides good tensile strength for users
Best Puncture Resistant Gloves Reviews
1. DEX FIT Level 5 Cut Resistant Gloves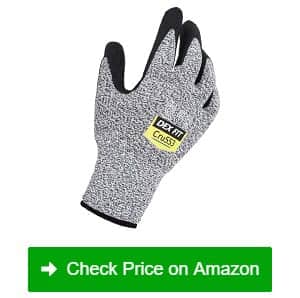 For people working in food processing, a pair that promote food-grade safety and a high level of protection is their best companion. In that case, the DEX FIT Level 5 Cut Resistant Gloves can be among the perfect picks.
It is thinner and lighter than many puncture-resistant gloves; that's the first thing I notice about the pair. Such construction provides me with a snug fit that embraces my hands and fingers well. Besides, the brand claims that it offers a second-skin feel, which is slightly exaggerated but not very far from the truth.
The attribute that makes these gloves a superior pair for detailed work is their non-slip palms. Its water-based coating resists light oil and moisture to grab on slippery surfaces with minimal hand fatigue. Besides, this layer of rubber coat is also breathable, allowing all-day comfort for workers.
Notably, this work glove is from 13-gauge cool HPPE and Spandex for flexible and protective handling.
Moreover, with its certification of level 5 cut resistance from ANSI, the glove can shield our hands from getting hurt badly by sharp edges. Hence, workers who perform heavy-duty tasks like HVAC, woodworking, and metalworking can rely on the pair.
One last thing that is worth mentioning is this product's PDA food contact qualification. That means the glove is non-toxic and silicone-free, allowing workers to handle food with optimal safety.
A side note for anyone who intends to purchase this good pair, it has a bit of an unpleasant smell of rubber at first. But the scent will fade real soon, after some washing.
Pros
Thin, lightweight, and snugly-fitted puncture proof gloves
Features non-slip and breathable water-based palm coating
Promotes a good grip on surfaces with light oil and moisture
An ANSI level 5-cut resistant made of flexible 13-gauge cool HPPE and Spandex
A silicone-free pair with PDA food contact qualification
Cons
Gives off a rubber smell at first and fade soon after washing
Despite the slight rubber smell, these puncture and cut resistant gloves become an indispensable pair for my work in the kitchen.
2. RAPICCA Bite Proof Handling Gloves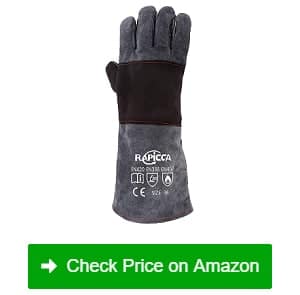 The RAPICCA Bite Proof Handling Gloves can be a good companion to deal with sharp tools, cold weather, and more hazards. I have had this pair in my tool pack for nearly two years, and it never once disappoints.
While many others seem to prefer the 22-inch version to keep their forearms warm and safe, I went with the 16-inch model for my work. Both models suffice duties of different kinds, as they offer protection for zoo workers, veterinarians, bird handlers, etc. In addition, they offer protection against animals with sharp teeth.
What amazes me is the pair's sturdy construction of top-grain leather, which is among the highest-quality leather materials. Not to mention, the piece is reinforced with stronger fingers, palms, and backs with Kevlar double leather. Thus, I can rely on these gloves to handle heavy duties for a long time.
The durable product further satisfies me with its cut and puncture-resistant function. It stands up to the edges of sharp tools without being torn out. Furthermore, it can resist oil and fire, keeping our hands safe against dirt and heat. Such a thick pair also ensures comfort for people who handle tasks in cold weather.
All these functions contribute to this product's excellent versatility. Besides being used to handle animals, they are perfect for cooking with a stove, oven, and over an open fire. I sometimes bring these gloves along when we have a camping trip with barbecue to grill.
Beyond that, this pair seems to retain water for a long while, so I often wash and dry the gloves thoroughly to avoid mold and water damage.
Pros
Available in 16-inch and 22-inch models
Sturdy construction of top-grain leather and Kevlar double leather
Reinforced fingers, palms, and backs for heavy duties
Resists cut, puncture, oil, heat, and more
Ideal for various applications, from dealing with animals to grilling meat
Cons
Requires cleaning and drying to avoid retaining water
Overall, such a versatile pair serves me well on different occasions, as it protects my hand from cut, cold weather, and heat.
3. G & F 1607L Cut Resistant Work Gloves
Without a striking look, the G & F 1607L Cut Resistant Work Gloves do an excellent job of protecting me from cut and stab. After using this pair, I deem it the best low-profile work gloves with puncture resistance.
At first glance, the differences between its palm and back part piqued my curiosity. It turns out that the blue latex layer is added to offer extra protection for areas more likely to expose to sharp edges. This coating covers all its palm to every fingertip and side, thus allowing me to carry heavy boxes without getting hurt.
Yet, that does not mean other parts of the gloves might endanger us when handling sharp edges. In truth, the whole piece is made of Dupont Kevlar fibers, which are commonly used in manufacturing puncture-resistant wear. Hence, its tensile strength and protection feature is top-notch.
Furthermore, this pair comes in three sizes, including medium, large, and extra-large, for us to choose from. And it fits my hands well, supporting flexible hand movements for when I have to handle smaller objects.
Thus, such well-made puncture and stab proof gloves are ideal for carpentry and carving work. It can also protect us when handling glasses and knives, offering versatile uses for DIY-ers.
Pros
Has blue latex coating on its palms and fingers for better protection
Made of Dupont Kevlar fibers for excellent puncture resistance
Provides good tensile strength for users
Available in three sizes, fitting our hands well for flexible handling
Ideal for carpentry, carving, kitchen, and other DIY works
Cons
A low-profile work gloves without a stylish look
The experience with this product convinces me that a good-looking pair might not necessarily be what we need. The most important thing is how its quality materials and coatings keep us safe from cuts and punctures.
4. Youngstown Glove General Utility Glove
For numerous workers, including me, a pair that comes to mind regarding the puncture-resistant power is the General Utility Glove from Youngstown.
To deliver a good fit for anyone with a desire to protect their hands, the brand brings to the market six sizing options. This is a critical point since well-fitted gloves can promote better control over our tasks.
Besides, the glove features a non-slip layer on its palm and fingers, ensuring a good grip on different surfaces. So we have flexible and stable grabs in one pair.
Another perk of these gloves must be their comfortable design with the Terry-Cloth thumb. The purpose of this soft and absorbent part is to wipe away sweat, allowing them to continue to work without being irritated by sweat and debris on their faces.
By combining various materials to create top-rated protection, the manufacturer indeed makes this product stand out. So, I was convinced by its heavy-duty construction, as materials like nylon, polyester, PVC, and polyurethane are widely used for work gloves.
More importantly, with the addition of Kevlar fiber liners by Dupont, this pair boasts excellent protection. Its performance is tested and certified by ANSI, making it a level-3 cut-resistant and level-4 puncture-resistant pair. As a result, during work, my palm and the side and top of my fingers are shielded from being hurt by sharp objects and tools.
Yet, this pair might not be ideal for long-hour tasks in hot weather since it can make our hands sweat.
Pros
Available in six sizes for everyone to choose a well-fitted pair
Comes with a non-slip layer for a good grip
Features a soft and absorbent Terry-Cloth thumb to help us wipe off sweat
Combines various materials for better protection and heavy-duty use
An ANSI qualified product to resist cut and puncture
Cons
Not ideal for hot weather since it can make our hands sweat
All in all, I always come to these level 4 puncture resistant gloves when installing hardware or handle other tasks that involve sharp tools.
5. D Vein Lobster Gloves
The following recommendation is a pair of cool-looking gloves that can resist puncture for diving and more work underwater – the D Vein Lobster Gloves.
People who often wear work gloves might already be familiar with Kevlar fibers, as the material is famous for its superb durability. And instead of using the fibers for just liners like other pairs, this one is constructed entirely from the material, allowing it to resist cut and puncture well.
Another great thing about Kevlar fibers is their flame resistance. Thus, we should not worry about them being melted or burnt. Plus, the material is resilient enough to handle machine washing without wear and tear. That's why I can confidently toss my pair into the washing machine and let it do the job of eliminating dirt and smell.
Furthermore, there is a non-slip and protective rubber coating on the palm part. And there is an incredibly soft and flexible layer inside the gloves. Such designs allow wearers to have a good grip on different-sized objects, unlike the bulky and awkward work gloves that hinder their movements.
Such fantastic material and design attributes promote various applications, including water sports games, spearfishing, filleting, or any water-related tasks. And we should also expect a slightly higher expenditure for this pair, knowing its unparalleled protective and supportive functions.
Pros
Constructed of Kevlar fibers for superb cut and puncture resistance
Resistant to flame, thus handle hot objects without melting and burning
Durable and machine-washable pair
Comes with a non-slip and protective rubber palm coating
Features a soft and flexible internal layer for easy gripping
Perfect for water sports games, spearfishing, filleting, etc
Cons
Costs a bit higher than many competing pairs
I appreciate how these puncture resistant work gloves handle tasks with safety and peace of mind. I am sure that it is of good use for people who play sports and other water-related duties.
6. Seibertron HIGH-VIS SDXC5 Gloves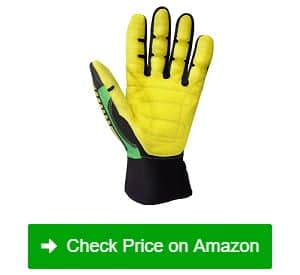 As its name suggests, the Seibertron HIGH-VIS SDXC5 Gloves feature reflective tapes to support tasks in dark and low-light conditions. As the hazards are many when we are not exposed to sufficient lighting, this glove features high-visibility parts on its back, wrist, palms, and finger, showing our movements clearly.
Of course, the pair's best function must be its certified puncture resistance. In detail, these gloves meet ANSI and CE EN388 standards for their protection capability against cut and puncture.
Such impressive power is due to the exclusive materials used in its construction, which is 28% more resistant to abrasion and 80% more absorbent to impact than standard synthetic leather fabrics. In other words, these gloves ensure a higher level of shielding for our palms and fingers than many competing pairs out there.
I noticed a convenient point of this model, which is its cuff puller made of high-quality neoprene. This minor touch is so thoughtful, and it allows me to put the gloves on and off faster, shortening the preparation time needed.
When getting out of the box, it is pretty stiff that I cannot handle tasks right away. So, due to its rugged construction, the pair requires me a while to break it in.
Pros
Comes with high-visibility tabs all over the gloves for tasks in limited lighting
Meets ANSI and CE EN388 standards for its cut and puncture resistance
Made with exclusive material for better abrasion and impact resistant
A high-quality neoprene cuff puller is convenient to wear
Cons
Requires sometimes to break it in to reduce the stiffness
Overall, I am satisfied with what these anti puncture gloves have to offer, especially in a workplace with low light conditions.
7. Dowellife Working Glove

Here comes a universal fit product that provides reliable cut and abrasion protection – the Dowellife Working Gloves for Men and Women.
The protecting function of this pair is built with the most resilient materials, including HPPE fabric, Nylon, and Spandex. There is also a PU coating all over the gloves, offering extra layers to shield against sharp tools. Furthermore, this rugged model does an excellent job of resisting abrasion, ensuring long-term use with great quality control.
As expected, these high-quality gloves receive the certification of EN388 for its level 5 cut resistance. Thus, we can rely on its functions to handle duties on the construction sites, yardwork, HVAC, metalworking, and other heavy work.
I appreciate how this product fits both my hands and my partner's hands well. The generous sizing options from the brand, along with the glove's elastic fabrics, make this choice well-fitted and comfortable wear.
One more thing that makes this pair stand out is its ultra-firm grip function. In detail, the PU coating ensures that our hands can grab securely on slippery surfaces and oily objects with minimal hand fatigues. Such a handy gear for all circumstances!
Yet, I hope the brand offers more color choices, maybe in darker shades, to avoid the gloves getting dirty too soon.
Pros
Rugged construction with HPPE fabric, Nylon, and Spandex
Resistant to cut, puncture, and abrasion
Comes with level-5 cut-resistant from EN388 for heavy work
A universal fit product with various sizing choices and elastic fabric
Offers ultra-firm grip with PU coating, ideal for work with oil and moisture
Cons
Without dark color choices
The lack of color is not much of an issue for me, as I absolutely adore this glove's cut and abrasion resistance. It is a good companion for various duties at the workplace.
8. ETglove General Utility Work Gloves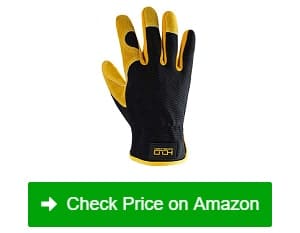 I will complete this list with a stylish design that I am fond of when handling DIY projects around the house and joining outdoor activities. In other words, the ETglove General Utility Work Gloves are more like a friend than just work gear to me.
Its combination of colors is gorgeous – black and leather yellow, one of the best-looking gloves out there. Not to mention, the model fits well to different hand sizes, allowing easy putting on and pulling off. I can grab the pair and rely on the stretchy wrist closure to provide me with a secure fit during work.
For fans of leather work gloves, this one scores big time with its high-quality materials. Its premium cowhide leather palm feels soft to our touch while offering excellent resistance against puncture and abrasion. Furthermore, the glove back is made from spandex, promoting the highest level of dexterity.
Apart from those features, these work gloves can afford unparalleled comfort for wearers. First of all, its inner layers are moisture-wicking, absorbing all sweat for our hands before we can feel irritated. Secondly, its pack coating is flexible, promising us breathable wear for long-hour tasks.
Due to all incredible attributes, this stylish pair of stab resistant gloves can shine in duties of driver, DIY, construction, gardening, and even traveling, playing sports, and finishing. For me, it is indeed an all-rounder.
However, since it is a reasonably-priced product, it will not last as long as expected. But it delivers protection as intended within its lifespan.
Pros
Beautiful work gloves in black and yellow
Fits well with different hand sizes and allows easy wear
Features puncture and abrasion-resistant premium cowhide leather palm
Spandex back part for excellent dexterity
Offers superior comfort with moisture-wicking layers and breathable back
An all-rounder that supports DIY, construction, finishing, etc
Cons
A basic and affordable pair that is not very long-lasting
Overall, I feel like I have the best of both worlds with this budget-friendly yet gorgeous and protective pair. People who want to try these gloves for various tasks should grab one and enjoy it while it lasts.
9. Turtleskin Puncture Resistant Glove
The Turtleskin TUS009-M Bravo Puncture Resistant Glove is actually a police-duty pair designed to offer the optimal level of protection and dexterity.
I find these black gloves with protection patterns a cool-looking pair. They come in five size options from small to extra-extra-large, making it easier for buyers to choose a well-fitted one. Furthermore, it is a sturdy pair that can stand up to harsh working environments.
The whole gear is made from high-performance polyethylene (HPPE) blend, a popular material among manufacturers of cut-resistant work gloves. The manufacturer further strengthens the glove's feature with resilient liners that make it hard for needles to puncture through.
A good pair of cut-resistant gloves must protect the most fragile parts of our hands well. I often get hurt on my palm and fingertips, and I want gear that has optimal protection over those areas. Luckily, this Turtleskin pair has got me covered with its extensive coverage, keeping my hands safe from both seen and unseen hazards.
Another feature of this pair that deserves much praise is its excellent flexibility. In other words, the design embraces my hands well, allowing me to have optimal dexterity to operate complicated work on electronics equipment. I have never tried to handle firearms, but the brand claims that the gloves suffice such police duties.
However, this pair costs me more than many puncture proof gloves in my collection. So, such an investment might exceed the budget of some buyers.
Pros
A police-duty work glove for extra protection
Comes in five sizes, from small to extra-extra-large
A construction of high-performance polyethylene (HPPE) blend
Comes with resilient liners to make great needle resistant gloves
Protects fragile hand areas: palm and fingertips from unseen hazards
Offers optimal dexterity for handling electronics equipment
Cons
Costs a bit more than other competing pairs
Overall, due to its impressive coverage, high-quality material, and excellent liners, the pair is an ideal choice of needle puncture resistant gloves.
10. HexArmor PointGuard Ultra 4045 Gloves
An excellent option for premium-quality work gloves that shield us against needles and punctures is the HexArmor PointGuard Ultra 4045 Gloves.
For those who attempt to rearrange their gardens, this is a good pair to deal with cactus and other trees with spines. Of course, the gloves are qualified for heavy duties at work due to their ANSI certification for level A7 cut resistance and level 3 for needle shielding.
The main reason behind such superior protection functions is its top-rated construction. From the Superfabric brand textiles to the silicone palms, neoprene cuff, and knuckle padding, those features combine to keep any hazard from attacking our hands. We are less likely to be hurt by impact, sharp tools, and needles with the gloves on.
Another perk that I adore about this pair is its excellent grip, which is enhanced due to the silicone patterns added to the palm parts. Besides, it is a form-fitting pair that leaves no space for awkward grabbing, offering us the dexterity required for particular work.
I cannot leave out another great detail about the pair's cuff. It is made from neoprene for better breathability, and the part features a Velcro closure for comfortable putting on and wear.
Although this product is sold at a higher price than usual protective pairs, for me, its superior functions justify such a cost.
Pros
Suffices heavy duties with ANSI certification for cut and needle resistance
Made from Superfabric brand textiles for durability
With protection features: silicone palms, neoprene cuff, and knuckle padding
Offers an excellent grip and form-fitting wear for better dexterity
Comes with a breathable neoprene cuff and comfortable velcro closure
Cons
A high-priced product of top quality
I am willing to pay some extra bucks for these premium needle stick proof gloves to handle hazardous work.
11. Intra-FIT Professional Work Gloves
The Intra-FIT Professional Work Gloves receive high ratings from buyers, including me, for its reliable cut and puncture-resistant construction.
This bright yellow pair is more than meets the eye; it is the best gear for workers who work in maintenance, construction, steel plants, manufacturing, metal handling, and more.
The challenging nature of those tasks is met with the durable design of these gloves. They are made of premium Goatskin textiles, reinforced with glass-fiber liners and palm coatings. The brand indeed put much effort into crafting a pair that stands up to cut, puncture and impact well.
Its protecting power convinced me due to the ANSI A4-level cut-resistant certification and arc-flash qualification. That means wearing these gloves can shield me against sharp edges and hot sparks without being cut or burnt. But please note that it is not flame resistance, meaning no thermal contact is allowed.
It is worth mentioning that this safety gear promotes excellent dexterity and flexibility in hand and finger movements. In addition, its padded back and fingers protect while ensuring we have the freedom to handle smaller objects and different surfaces without hassle.
Well, this four-point-five star pair has its downside, which is the size being smaller than expected. So, it would not be an ideal option for people with large hands.
Pros
A bright yellow pair for various heavy-duty work: maintenance, construction, etc
Durable designs of premium Goatskin textiles to resist puncture
Glass-fiber liners and palm coatings to resist impact
Has ANSI A4-level cut-resistant and arc-flash qualification
Offers excellent dexterity and flexibility for users
Cons
Not an ideal pick for people with large hands
Does not protect against thermal contact
Overall, such a reinforced design never ceases to amaze me with its protective power against cut, puncture, impact, and sparks.
12. HexArmor PointGuard Ultra 6044 Gloves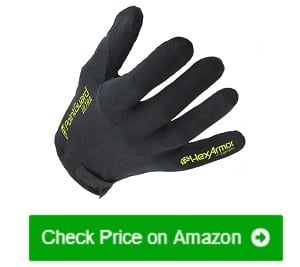 Among numerous puncture-resistant gloves, a pair must have unique features to stand out. With the HexArmor PointGuard Ultra 6044 Gloves, the appeal lies in its high-dexterity design.
As expected, this pair features an interior layer made of SuperFabric – among the most durable textiles used for work gloves. Due to the rugged structure, the model is qualified by ANSI for a level-A9 cut resistance – the highest rating on its scale.
Furthermore, this one can protect us from pointy tools and objects well with its ANSI certification of level 4 needle protection. In truth, it underwent testing with 25-gauge needles to prove that the top-rated liners can handle such attacks.
As stated above, this model's appeal is its high-dexterity design that provides workers with complete control over their work objects. This feature is possible due to its lightweight and thin construction, embracing all hand parts, especially the fingers well. In addition, the elastic material also contributes to its form-fitting and flexible function.
Due to its extra-thin yet highly protective design, many people use it as an under-glove piece. I often do the same when handling work in the cold winter, protecting myself from freezing with another pair of thick gloves.
However, this one does not seem to resist abrasion well, so it might not be the best to work with heavy duties.
Pros
Comes with a Superfabric interior layer for excellent cut resistance
Has level-A9 cut resistance and level-4 needle protection ANSI certifications
Offers high-dexterity with a lightweight, form-fitting, and lightweight design
Extra-thin gloves, ideal for wearing underneath thicker ones
Cons
Not resistant well to abrasion, thus not perfect for heavy duties
I have incredible experiences with this pair of level 5 puncture resistant gloves. It is thin enough to avoid bulky and awkward handling while protecting my hands well.
What to Look for When Buying Puncture Resistant Gloves?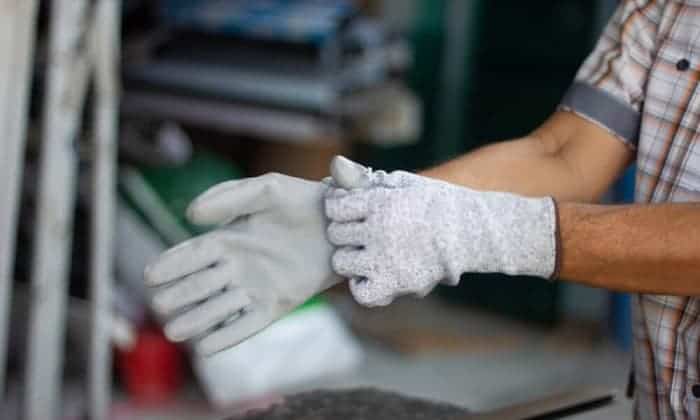 To bring home a good pair to protect you from punctures, there are several factors to consider. First of all, we should know which level of protection we need for the tasks. Some people only want a durable pair that suffices light duties; others who handle heavy work need at least a pair of puncture resistant gloves level 5 and more.
Furthermore, your work conditions and requirements matter when buying a pair of work gloves. The chosen piece should be food-grade if it's for processing food, and it should ensure safety requirements if it serves as needle proof gloves for nurses.
A rugged and durable pair should be constructed from high-quality materials, such as Kevlar, SuperFabric, Leather, and more. If you want a comfortable pair, seek ones that can absorb sweat and allow breathable wear for long hours.
Deciding on work gloves that offer us a high level of dexterity is essential for many tasks. I always opt for pairs with closure for a good fit during work.
Furthermore, it would be better if the chosen gloves come with padded palm for a non-slip on different surfaces. Also, flexible pairs tend to be thinner and more lightweight than bulky pieces that might hinder our movements.
Finally, if you value freedom in handling small objects, a pair of puncture resistant gloves disposable is a good choice.
What are Puncture Resistant Gloves Used for?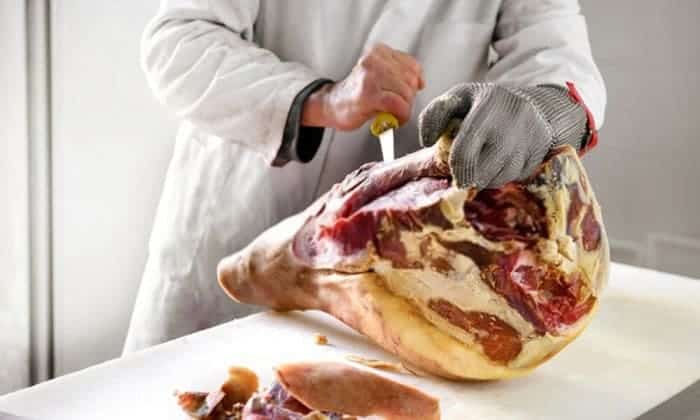 These puncture-resistant gloves equip wearers with a shield against sharp working tools and objects. They are highly recommended for work at construction sites or duties in woodworking, metalworking, or DIY tasks around the house. It can prevent us from getting hurt while preparing our food with knives, or cleaning the garden, too.
Do Cut Resistant Gloves Protect Against Punctures?
In truth, cut-resistant gloves are not necessarily resistant to puncture. But they can significantly protect us from the danger of being punctured. Moreover, as cut-resistant gloves can shield against the attack of sharp tools, they can handle the force of those hazards.
Conclusion
Hopefully, if you reach this part of our review, you know how important it is to have the best puncture resistant gloves. And to choose one is a simple task as long as we know our work requirements and the glove' functions.
Besides protecting us, work gloves can offer comfort and other perks that make our work easier. So, do not forget to take care of it once you get hold of one.
Hi, I am Alexander, forty-seven years old this year. I have been in the construction industry for twenty-five years and have provided a wide range of services. When it comes to expert guidance on site safety gear, you can put your trust in me.