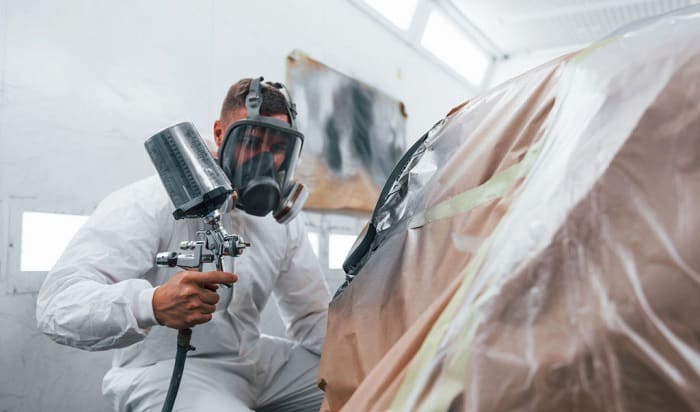 Whether it is for professional work or a simple DIY task, wearing a mask is essential if we want to avoid potential health problems caused by harmful particulates. However, not all face masks can block aerosols, toxic fumes, or latex paints from entering our lungs. Therefore, we need the right respirator for our designated tasks.
So, if you are here to find suitable respirators for painting cars or a full-face mask for a daily painting job, you are at the right place. First of all, let's see three main features to consider when selecting the best respirator for spray painting.
Filtration system – Indeed, not all respirators are created equal, as they are designed for specific jobs. Therefore, the paint respirators should be able to block the paint fumes, solid and liquid aerosols.
You might want to consider products with a dual-protection system with 6001 cartridges that block vapors, gases, and particulates.
Design – You can choose between a half-face piece or a full-face mask to handle spray painting, graffiti, or auto painting tasks. Please know that the full-face design should allow a clear view while offering you breathability. Plus, it would be better to pair the half mask with safety goggles.
Comfort – We cannot concentrate if our gear irritates or hurts us. Therefore, make sure you choose one with comfortable and soft materials. Also, it should not press too hard on our nose or pull our hair. An adjustable piece with stretchy headbands will be an excellent pick.
There is definitely more information to consider when picking your face respirator. So, read our tested and highly-recommended product list, then check out the detailed buying guide below.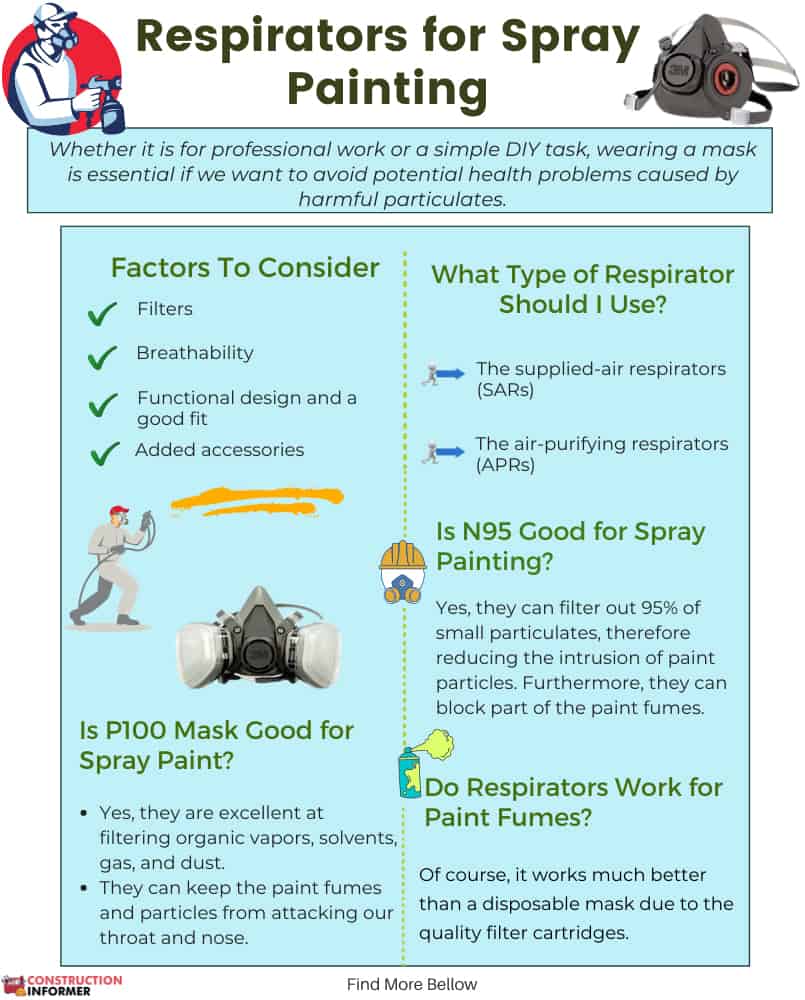 11 Top-tier Respirator for Spray Painting Reviews
1. 3M Paint Project Respirator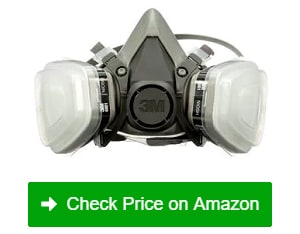 It's not surprising that some 3M products make it to the list of top-rated masks used in spray painting. In truth, this NIOSH-approved respirator ensures a high filtration efficiency for workers against various hazards.
As we deal with solvents, paints, and pesticides, a breathing mask is essential to block those harmful chemical mists from entering our lungs. Therefore, putting on this 3M professional-grade respirator is highly recommended.
This 3M spray mask is tested and certified by NIOSH with a rating of P95. With its cartridges, the mask can filter out around 95% of organic vapors, solid particles, and liquid droplets. Hence, it can handle bursts of paint spraying, preventing us from inhaling the harmful aerosol.
In one package, we have one face piece, two 6001 cartridges with a swept-back design, and 5P71 filters. It also comes with 501 retainers to keep these filters in place.
One great thing about a 3M respirator is its compatibility with the brand's multiple cartridges. Therefore, replacement or changing to another filtration system to accommodate a new task is a breeze.
After assembling all the pieces following the brand's detailed instructions, we can use this half-face mask right away. Notably, its cartridges do not obstruct our vision, thanks to the well-thought-out design of this respirator.
Just a word of warning when wearing this mask and a pair of safety glasses at the same time: put the eyeglasses on first to avoid tangling its arms with the mask's straps.
Pros
Professional-grade respirator for blocking solvents, paints, and pesticides
NIOSH-approved mask filters 95% of organic vapors, particles & liquid droplets
Packs a facepiece, 2 X 6001 cartridges, 5P71 filters, and secure 501 retainers
Filter replacement is a breeze with high compatibility with 3M cartridges
Has detailed instructions for assembly
Compact cartridges with a swept-back design ensure no vision obstruction
Cons
Requires careful wear to avoid tangling the mask straps with the glasses
All in all, this 3M painting respirator is a reliable gear piece for blocking paint from attacking our lungs. And with its filtration quality, the piece can also be a good dust mask.
2. Breath Buddy Respirator Mask With Safety Glasses
The Breath Buddy Respirator With Safety Glasses is an absolute bargain with its complete set of a breathing mask and safety eyewear. It packs everything a painter needs to protect their eyes and lungs from paint fumes and droplets.
This half-face mask ensures both protection and breathability. Most people are concerned if respirator masks allow them to breathe easily. Luckily, this model features a vent to breathe in fresh air when we do not spray paint. And, its cool valve works well to ensure good airflow.
Furthermore, the respirator is surprisingly comfortable to wear, and not just because of its breathable feature. We can enjoy the well-balanced and lightweight design this half mask has. In truth, putting it on and carrying on with my tasks is hassle-free as I do not feel the low-profile piece weighing down on my nose.
More importantly, this face mask with chemical cartridges will filter out spraying paint particles just fine. It also keeps pollen, dust, and small particulates from invading our respiratory system. Therefore, the range of use this mask offers is broad, allowing us to utilize it in various DIY projects.
As mentioned above, this spray paint respirator also comes with a pair of safety glasses. Many might assume the bonus piece is not of good quality. However, it is decent eyewear with clear and anti-fog lenses. I was surprised by how convenient the piece is, saving me the extra effort to find eye protection gear.
However, after long-hour wear, we do sweat a bit underneath this piece when the weather is hot, which is expected from most masks, whether they're half-face or full-face respirators.
Pros
Breathable half-face mask with cool air valve
Has a well-balanced and lightweight design for comfortable wear
Filters out fumes and vapors from our paint sprayer
Blocks pollen, dust, and small particles from entering our nose
Comes with clear and anti-fog glasses
Cons
Makes us sweat a little in hot weather
Overall, I do not see the minor downside as a deal-breaker. In fact, this cost-effective combo of quality paint respirator and safety glasses is an excellent deal.
3. 3M Half Facepiece Respirator 6300 Series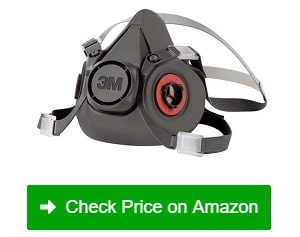 At a much lower price compared to the first 3M model, this Half Facepiece Respirator 6300 series is among the popular options for painters. We can pair this half mask with safety goggles and a helmet to make our full set of personal protective equipment.
The striking thing about this design is how lightweight it is, compared to most half-face paint respirators. It only weighs 3.88 ounces with a standard mask dimension of 5 inches x 5 inches x 3 inches. Furthermore, as we put on the head straps, we can secure the top strap and freely adjust the bottom straps and tension for a good fit.
Furthermore, this piece is also durable enough for multiple uses. As the respirator comes with a closable bag, we can put it away after use.
This 3M safety mask makes it easy to change and replace filters compatible with 3M accessories. Therefore, all we need to do is choose suitable bayonet-style filters and cartridges to block out specific hazards.
With the help of this functional respirator and a suitable filtration system, the worker can block spraying paint, dust particles, gases, and organic vapor. In other words, we can wear it to handle tasks involving harmful chemicals, sanding dust, welding fumes, gases, etc.
My only gripe with this otherwise well-made 3M paint respirator is its nose bridge. When worn tight for several hours, my nose starts to ache a little.
Pros
A budget-friendly durable half face mask for paint fumes with storage bag
Can be paired with safety goggles and a helmet
Lightweight (3.88 ounces) with a standard size (5x5x3 inches)
Adjustable bottom straps and strap tension for a good fit
Makes replacing filters easy as it's compatible with bayonet-style cartridges
Blocks harmful chemicals, sanding dust, welding fumes & gases, spray paints, etc
Cons
Minor aching on the nose when worn for hours
Overall, this respirator is perfect for DIY painting projects with its reliable protection and features. Also, we can occasionally loosen the piece a little when resting to avoid hurting our noses.
4. KISCHERS Reusable Half Facepiece
Coming in a set of a half face particulate respirator and fog-resistant goggles, this KISCHERS product is everything a professional painter needs for their daily work.
What makes this gear great must be its top-quality construction. Its silica gel facepiece is safe to use on our skin without triggering red marks or irritation. Due to such a non-toxic and soft gel, we can wear the respirator comfortably for several hours if our job demands.
A reliable filtration system is what we expect in our respirators, either for spray painting, grinding, or welding, etc. That's why numerous buyers rely on this effective model to keep hazards out of their respiratory systems. In truth, its fumes, pollen, particulates, and organic vapor cartridges have an efficiency rate as high as 97%.
The dual-protective filtration system in this paint respirator is not only ideal for spray painting jobs. Its range of use is quite impressive, as we can see people wear this mask when dealing with metals, formaldehyde, grinding dust, gasoline, benzene, carbon disulfide, acetone, etc.
In this package, there is one facepiece, two removable filter boxes, cotton filters, and caps for quick assembly and use. But, this pack's unexpected appeal is a pair of anti-fog safety goggles. The extra eyewear piece is sturdy and well-fitted, keeping spraying paint from hurting our eyes.
Unfortunately, the plastic neck attachment is not as durable as the rest of the spray paint mask. Therefore, when it breaks, a large and sturdy pin can take its place and secure the mask.
Pros
Made of soft and non-toxic silica gel for long-hour wear
Filters 97% of fumes, pollen, particulates, and organic vapor with its cartridges
Deals with formaldehyde, dust, gasoline, benzene, carbon disulfide, acetone, etc
Packs everything for a quick assembly and use
Comes with a pair of anti-fog, sturdy, and well-fitted safety goggles
Cons
The plastic neck attachment might break (tip: use a safety pin instead)
All in all, we should not dwell on a minor flaw of the mask design and forget about the combination of the effective filtration system and clear eyeglasses.
5. Parcil Distribution Full Face Respirator PD-100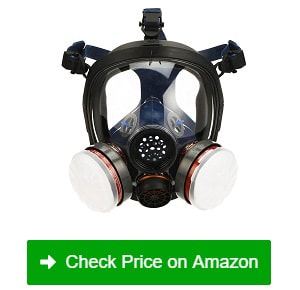 Parcil Distribution has a huge collection of well-made respirators, but this particular model is the go-to safety gear for hazardous conditions. In truth, the Respirator PD-100 offers a tight seal yet good air supply for wearers.
When dealing with chemical vapors, fine dust particles, paint fumes, and the like, having a secure barrier around our nose and mouth is extremely important.
The good news is this full-face mask offers an excellent cover around its perimeter, keeping harmful solid and liquid hazards at bay. Besides, it blocks the toxic substances from the air we breathe in with dual-activated charcoal filters.
When painting, we also need eye protection from the spraying paint droplets. So, instead of purchasing an extra pair of eyeglasses, many settle for this full-face design. It features an impact-resistant lens to prevent our eyes from hurting because of flying objects, besides the paint sprays.
Furthermore, the lens can resist fogging due to the air-circulation technology. That means fresh air constantly flows into the mask, ensuring no condensation on the lens surface. Notably, the technology also results in a comfortable and cool atmosphere, as it removes our humid and hot breath.
This mask is among the top-rated paint respirators with a convenient design. For instance, it has a lightweight structure with high-density stretchy straps and replaceable filters. Also, we can communicate just fine while wearing this full-face respirator.
So, it is understandable that this respirator will cost more than the half-face designs.
Pros
Offer an excellent cover around its perimeter
Blocks the toxic substances with dual-activated charcoal filters
Has impact-resistant lens to shield against flying objects
Resists fogging and keeps cool with the air-circulation technology
Lightweight structure with high-density stretchy straps and replaceable filters
Allows clear communication with the mask on
Cons
Costs more than half-piece designs
A professional painter can utilize this full-face spray paint respirator to avoid health problems related to the respiratory system. For me, it is among my favorite painter masks for smooth work and communication at the same time.
6. Honeywell Paint Spray OV/R95 Respirator
Honeywell makes the most favorite respirators for work. Among the brand's popular designs, this half-face OV/R95 Respirator is ideal for many applications.
Inhaling paint fumes causes major headaches for many people, as they have strong reactions to chemical smells. Therefore, an effective respirator that blocks toxic fumes is a must for a painting project.
In such situations, this mask featuring organic vapor cartridges and R95 filters comes to the rescue with its reliable protecting capability. It filters out oil and non-oil-based paints, removing the unpleasant odor as we repaint our car or house. Besides, this paint respirator mask can be trusted with our health due to its latex-free material.
This respirator is, in fact, a versatile mask that handles spraying paint and pesticides well. Also, it is certified by NIOSH for safe use in welding, as long as we connect it with a backpack adaptor.
A secure fit means the mask does not come loose or fall in the middle of a task. And with a contoured seal, threaded connectors for cartridges, and the upper strap, this respirator for painting stays put on my head even when I bend or climb.
Indeed, this well-designed mask delivers comfort throughout tasks. It features an exhalation valve to keep the fresh air cool as we breathe in. Furthermore, its contour supports my chin while its bridge nudges lightly on my nose without leaving indentations.
However, it will smell a bit like rubber at first. Luckily, the odor fades through time after a week or so.
Pros
Cartridges & R95 filters block organic compounds, oil, and non-oil-based paints
Latex-free materials do not cause allergic reactions
Versatile NIOSH-certified respirator that blocks pesticide and welding fumes
Fits securely with a contoured seal, threaded cartridge connectors & upper strap
Offers comfort with an exhalation valve, chin support contour, and nose bridge
Cons
Smells like rubber at first
All in all, this mask is inarguably a functional respirator for paint fumes. It also blocks pesticides, which proves its excellent versatility in use.
7. RANKSING Strong-AX Standard Half Respirator
The RANKSING Strong-AX Standard Half Respirator does an excellent job blocking dust particles and paint fumes. It also caters to heavy-duty work like welding, machinery operation, etc.
Among the half-face respirators on this list, this one might be the most comfortable, in my opinion. The soft texture of the straps surprised me, in a good way, of course. They do not pull my hair as many mask bands do yet still secure the respirator in place. Therefore, I always go for this one when doing a prolonged painting project.
Furthermore, the piece is made of hypoallergenic and durable latex-free material, allowing me to utilize this respirator for a long time. I can easily wash the dirt off the piece thanks to its high-quality rubber construction.
This piece's design is simple and rather low-profile, yet its protective power cannot be overlooked. First of all, the product package arrives with one mask piece for blocking dust particles and two filter cotton pieces. When assembled and worn, it allows easy breathing.
More importantly, the mask's filtration system blocks paint particles, mist, toxic fumes, concrete, plaster, and fine dust as small as 0.3 microns. With such power, the piece is not just a mask for spray painting alone, but it can also handle welding, sanding, and graffiti work well.
Still, workers should not expect this graffiti respirator to allow communication as well as other items on this list. So, it suits a task that does not require constant interaction between people.
Pros
Comfortable wear with soft straps, secure and not pull hair
Hypoallergenic and durable latex-free material for safe and long-lasting use
Easy to clean thanks to the high-quality rubber
Easy breathing mask with one mask piece and two filter cotton pieces
Blocks paint particles, fumes, concrete, and more down to 0.3 microns
Cons
Not the top paint respirator mask that allows clear communication
This item can work as a paint spraying, welding, graffiti, or airbrush respirator, depending on the cartridges we select. Truly a flexible design!
8. SYINE Half Face Spray Paint Gas Mask
What is the perfect respirator for a car and house repaint DIY project? The answer should be the SYINE Half Face Spray Paint Gas Mask.
This half-face design is actually a piece of multi-purpose gear that prevents hazards from entering our respiratory system. At a reasonable price, we have in hand a superior sub-micron filtration product that blocks around 95% of particles as small as 2.5 microns.
Furthermore, it blocks various volatile organic compounds (VOCs) emitted as organic gas. Hence, we can avoid nausea or difficulty breathing since such substances won't get into our throat and nose.
The dual-protection system of cartridges on this mask is indeed impressive. Yet, what makes this paint respirator many users' favorite is its comfortable fit and lightweight design. In truth, the respirator's adjustable headbands allow it to accommodate different head sizes without hassle. Besides, it is a breeze to clean and reuse this one.
Another perk of this spray painting respirator is its high-quality material. In detail, the piece is constructed from silica gel, which is soft and non-toxic, ideal for prolonged wear. Therefore, many can use this face shield to ensure utmost safety.
Just a little warning: this mask can smell like rubber when fresh out of the box. But after several uses, the unpleasant odor will disappear.
Pros
Superior filtration product blocks 95% of particles as small as 2.5 microns
Shields against volatile organic compounds (VOCs) emitted as organic gas
Features a dual-protection system of cartridges
A lightweight design and adjustable straps for a comfortable fit
High-quality silica gel, which is soft and non-toxic
Cons
Has a bit of rubber smell at first
Overall, I am impressed with this budget-friendly gas and spray painting respirator. Its effective filters ensure top-notch protection that many need when dealing with hazards in the air.
9. JOEAIS Half Facepiece Respirator 6200
Next on this list is the JOEAIS Half Facepiece Respirator 6200, designed for a wide range of applications, including spray painting. We can wear this mask to filter paint particles from attacking our noses and lungs.
We can assemble this new mask easily with the filter boxes, filters cotton, covers, and half-face piece provided. Then, while in use, its filters will stop harmful gas, fumes, and vapor from getting into users' noses and throats.
Due to its good protection against hazards, the mask, when paired with suitable cartridges, is helpful in polishing, grinding, graffiti, sawing, etc. I also wear this piece to restore my car with solvent automotive paints.
I find it easy to breathe underneath this respirator, which shows that a mask should offer one important feature: breathability. This respirator mask for spray painting comes with an exhalation valve that leads hot breath out to prevent condensation and lets fresh air in.
Considering its surprisingly low price, the piece's quality is pretty decent. In truth, this paint respirator features food-grade silicone material. It feels soft and comfortable on our skin.
Furthermore, the adjustable straps reduce the pressure on our heads while fitting well to different head sizes. It is indeed a well-made and versatile respirator.
However, it might not be the most durable piece for professional work, because its clasp requires replacement after several uses.
Pros
An affordable pack of filter boxes, filters cotton, covers, and a half-facepiece
Stop harmful gas, fumes, and vapor from entering the nose and throat
Flexible uses: spray painting, polishing, grinding, graffiti, sawing, etc
Features an exhalation valve to remove hot breath and let fresh air in
Has soft food-grade silicone material for comfort
Adjustable straps to reduce pressure and fit well
Cons
Clasp requires replacement after several uses
Even though the clasp is a bit flimsy, I am still surprised at this mask's overall quality. It is among my favorite automotive paint respirators, so I will definitely pick it again for my next DIY projects.
10. EROCK Half Facepiece Respirator 6200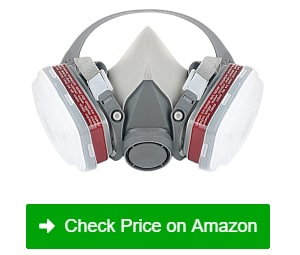 My next pick is another painting mask at a low price that offers reliable protection – the EROCK Half Facepiece Respirator 6200. Many painters insist that it is a must-have paint mask for daily work.
All the top-tier spraying paint respirators have highly effective filtration and ventilation. Notably, these two functions are present in the construction of this mask, making sure users breathe fine while being protected against dust particles, fumes, gas, and paint spray.
Taking a closer look into this paint respirator, we notice the filter cartridges that block substances and small particles. There is also a cool valve that allows the air to flow in and out of the mask with minimal resistance. As a result, it reduces the amount of fog and heat build-up underneath the mask for a comfortable experience.
Painters love this half mask also because of its many great features. The lightweight design with a flexible head band and buckle appeals to wearers seeking a convenient fit. Moreover, this spraying paint respirator is durable and washable, making our investment worthwhile.
It is understandable how this product appears at various worksites, including welding, machine polishing, woodworking factories, etc. Notably, many have been wearing this protective mask when going out to avoid Covid-19 viruses.
However, some users who want their masks to be thicker are not 100% satisfied with this low-profile design.
Pros
Highly effective at blocking dust particles, fumes, gas, and paint spray
Has a valve for the air to flow in and out with minimal resistance
Reduces fogging issue and built-up heat for comfortable wear
A lightweight design with a flexible headband and buckle
Durable and washable paint respirator at a low price
Caters to tasks like spray painting, machine polishing, woodworking, etc
Cons
Not a thick half mask for some users
From my experience, this piece is among the respirators at an affordable price. It works as intended and appears to be long-lasting.
11. MOARON Half Facepiece Respirаtor 6200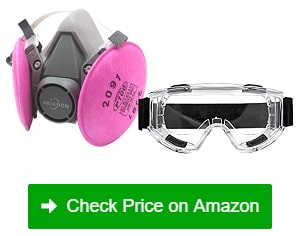 The MOARON Half Facepiece Respirаtor 6200 is responsible for various workers' safety with its high capability of blocking airborne hazards. Wearing this P100 filtration mask indeed protects us from potential respiratory system diseases.
While reading the list of this mask's parts, I know it has the power to filter out many pollutants existing in my workplace. First of all, the P-A-1 filter will block acetone, alcohols, carbon dioxide, etc. Meanwhile, the Р100 Filter (in pink color) reduces to minimal the intrusion of asbestos, arsenic, cadmium, lead, and MDA.
It also resists oil and non-oil-based particulates, thus ideal for use in oil extraction, chemical experiments, mining, and more. The efficiency rate of this professional paint respirator is as high as 96%.
What further improves the user experience for this particulate respirator is its convenient design. It has a stretchy silicone cup with a flow valve for cool and comfortable wear. Also, the headband is largely adjustable, conforming to any head size. Finally, its bayonet connection allows easy rotation to fit any compatible filter cartridges.
There seems to be no end to this product's attractive points. Its affordable price is a nice surprise, especially when the pack comes with a pair of earplugs and goggles for extra protection. We have everything ready for use in hand as we purchase this respirator for spray painting.
Still, the glasses might fog a little in humid and hot conditions. But that's expected.
Pros
P-A-1 filter blocks acetone, alcohols, carbon dioxide, etc
Р100 Filter (in pink color) blocks asbestos, arsenic, cadmium, lead, and MDA
Resists oil and non-oil-based particulates for multiple tasks
Stretchy silicone cup with a flow valve and adjustable headband
Connects easily to any bayonet-style cartridges
A budget-friendly pack with a pair of earplugs and goggles & 96% efficiency
Cons
The glasses occasionally fog up in hot and humid conditions
This one can work as a respirator for spraying latex paint, as it is a non oil-based solvent. Of course, one can use it as a respirator for auto painting due to its high efficiency.
What to Look for When Buying Respirators for Spray Painting?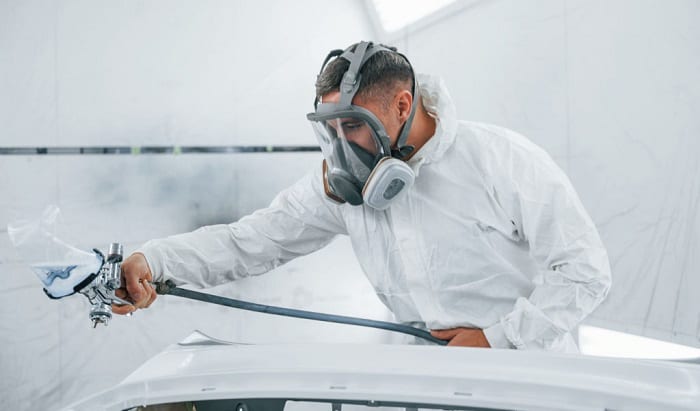 Spraying paint respirators should be able to block all hazards that the paint emits to keep our respiratory system safe. Let's go into the details of the three main factors listed above and find out more information to decide what's best for us:
Filters – Many workers rely on NIOSH certification to choose a tested respirator for their tasks. In general, to block paint, we need suitable filter cartridges, which are either supplied-air or air-purifying respirators.
The former ones are a bit more protective than the latter and are preferred for performing spray painting tasks. Professional painters handling heavy-duty work can choose one among these designs to block all paint hazards.
Meanwhile, the air-purifying respirators are often considered dust and solvent masks. With this type of respirator, we need dust pre filters and organic vapor cartridges.
When encountering a face mask with a rating, people might get confused. In such cases, you can look at this information for clear knowledge about these masks:
N: not resistant to oil
R: resistant to oil (effective below 8 hours)
P: oil-proof product (effective beyond 8 hours)
Number (95, 97, 100) indicates the efficiency rate in removing small particulates.
When purchasing a paint booth respirator, it is important to see which kind of filters can handle all the hazards present at the worksite. It is better to choose a mask labeled N95 or P95, with high efficiency to remove small particles as small as 0.3 microns. Also, we recommend 6001 cartridges with cotton filters for spray painting.
Breathability – Paint respirators or any safety masks do not just seal us against hazards; they have to offer decent breathability as well. We cannot afford to feel suffocated while handling important and even dangerous tasks.
People are concerned about a full-face respirator limiting the amount of air flowing in and increasing worker fatigue. However, there are many well-made models with a cool valve or exhalation valve that works smoothly.
The right respirator to wear should be the one that leads hot breath out while letting the fresh air in without much resistance. Therefore, whether you go for a full-face mask or a half-face piece, make sure the cool valve is working perfectly.
Functional design and a good fit – A spraying paint mask can come in a design of a hood, full-facepiece or half-face respirator. As the choices are numerous, and each type has incredible products, going for a suitable one should be easy.
For instance, when picking a full-face mask, make sure you pay attention to its breathing valve. Also, this type of respirator must offer a wide viewing field without obstruction. That means the product lens should be fog-resistant and transparent to ensure maximum clarity.
On the other hand, the hood design might be bulky, yet, a supplied-air device of this type will provide the highest level of protection. So, there should be a compromise at some point.
The half mask is a bit more low-profile, promising lightweight and easy wear for many workers. They also come with an excellent filtration system and fully adjustable straps. Therefore, these respirators are popular among painters.
Whichever you settle for, find the correct size by consulting the seller. Also, the product should be made of non-toxic and soft (or at least not so stiff) materials.
Added accessories – Other than having the suitable respirator with sufficient protection features delivering comfortable wear, many expect to receive more in one product package.
Indeed, many brands offer a complete set of safety glasses, earplugs, extra filter pieces for replacement, and even a storage bag. These added pieces are indeed appealing for buyers who want to save time and effort looking for separate protective gear. Just make sure these accessories are of decent quality.
What Type of Respirator Should I Use for Spray Painting?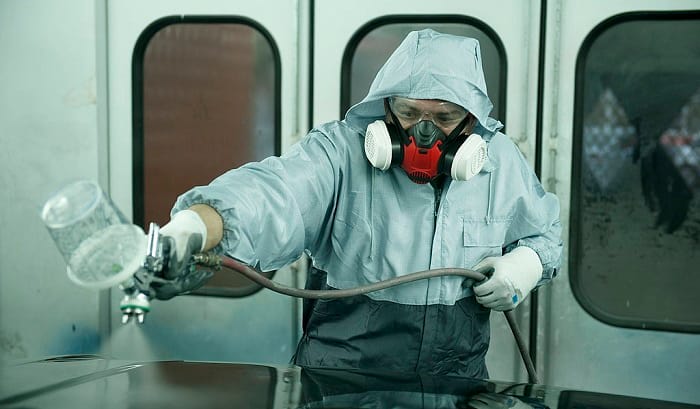 As stated above, there are many options we can choose for spray paintings. We can wear supplied-air respirators (SARs), which is the most effective design for optimal protection.
The air-purifying respirators (APRs) are also common, which should contain organic vapor cartridges and pre-filters. These products should come with HEPA filters (with a 99.7% efficiency rate).
Is P100 Mask Good for Spray Paint?
Yes, it is suitable for spray painting tasks. These P100 masks are excellent at filtering organic vapors, solvents, gas, and dust. Therefore, they can keep the paint fumes and particles from attacking our throat and nose.
Do Respirators Work for Paint Fumes?
Of course, they do. A suitable respirator is essential and definitely effective for filtering out paint fumes when we work. It works much better than a disposable mask due to the quality filter cartridges.
Is N95 Good for Spray Painting?
Yes, you can use an N95 mask for spray painting. This item can filter out 95% of small particulates, therefore reducing the intrusion of paint particles. Furthermore, they can block part of the paint fumes.
Conclusion
Now, you can buy the best respirator for spray painting anywhere. You can visit Home Depot, Lowe's, or Walmart. Online shopping is also convenient, as you are one click away from having protective gear in hand for work.
Make sure to consider all important features before making a decision, as a functional respirator should prevent us from feeling nauseated and dizzy because of paint fumes. Furthermore, the piece should be certified to keep harmful particles from entering our respiratory system and hurt our health in the long term.
Feel free to share your choice with us in the comment section below. Thank you for reading.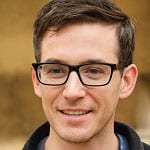 This is Edward Manning, the editor in chief of Construction Informer. Quite a bit of my time is spent researching the market and interviewing experts in the field so that I can give you reliable information.