Are you having your first roofing job and looking for a suitable tool belt? Or do you possess an extensive tool collection and are now having trouble fitting them all into your old belt? No matter what your needs are, finding the best roofing tool belt all comes down to several important points:
Design – Some buyers might be looking for a tool belt with one bag to enjoy optimal freedom of movement. Others might want spacious storage to keep different-sized tools for their large projects, so they go with a work apron with suspenders.
This is to say that you have to consider your requirements and tool collection before choosing a suitable design. It can be a rigging system, a tool belt, a utility pouch, or several removable bags on a belt. It's your call!
Storage layout – After determining the design and storage capacity, it is vital to choose a smart layout. This is for easy arrangement of tools when we stack them inside the holders for quick access.
Comfort – It is also important to choose tool belts with features like paddings, soft foam, a snug fit, moisture-wicking mesh, etc. All these contribute to a breathable and comfortable tool belt that makes our roofing tasks more accessible and safer.
It is better to look at what is available on the market and which roofers often use. Since not all work belts, aprons and pouches are created equal, there should be options that narrow our search to only quality ones.
Check out the list below to see detailed reviews on the best pieces. And then, for further information, there is a detailed buying guide below. Make sure to go through them to make a well-informed decision.
Featured Products
Best Overall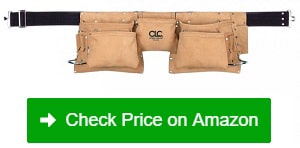 CLC Custom Leathercraft Work Apron
– Has a quality poly web belt
– Fits waist size from 29 – 46″
– An affordable yet durable suede leather
Editor's Pick
Dickies Tool Belt with Utility Pouch
– Convenient and nice-looking
– Easy access 
– Fit sizes of 32 – 56 inches
Premium Choice
Bucket Boss Builder's Tool Belt
– Fits large waist sizes up to 52 inches
– Nice-looking with a compact design
– 600D polyester reinforced
11 Top-tier Roofing Tool Belt Reviews
1. CLC Custom Leathercraft I427X Work Apron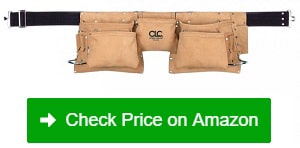 CLC has always been a reliable brand producing work gear that provides good support and efficiency. For roofers seeking a well-made work apron to store tools, the CLC Custom Leathercraft I427X is worth considering.
First of all, the reasonable price makes it suitable for workers with a low budget. Like most CLC tool belts, this model is made from durable suede leather, offering more quality than most expect for this price. Indeed, the material layer is rather thick, thus resisting punctures by tools quite well.
I also appreciate that the spacious tool holders allow storing all the essential gear I need for most tasks. In fact, it has twelve pockets, from small to large-sized. Those pockets are designed to hold different tool categories, from roofing hand tools to small sets of nails, etc. Also, the bag comes with a leather square holder and two steel hammer loops.
When bringing along essential tools, we need a quality belt that holds up well. Knowing that, the band constructs a poly web belt featuring an interlocking buckle. Notably, the buckle is made of metal for durability, definitely much better than plastic ones in cheap tool belts.
It can also fit a waist size ranging from 29 inches to 46 inches, offering standard sizing for various workers. Moreover, from my experience, this belt does not come loose even when all bags are full of tools. So, that's another thing that makes it a good tool belt.
Still, the buckle's locking mechanism might take us some time to get used to.
Pros
An affordable yet durable suede leather tool belt
Has 12 pockets, 1 leather square holder, 2 steel hammer loops for roofing tools
Has a quality poly web belt with a metal interlocking buckle
Metal buckle for long-lasting use despite a heavy load
Fits waist size ranging from 29 inches to 46 inche
Cons
The buckle takes some time to get used to
Overall, this spacious roofing apron offers enough space for vital tools. I would recommend it to anyone seeking a good tool belt with a limited budget to spend.
2. Dickies Tool Belt with Utility Pouch
It is expected that roofers love this Dickies Tool Belt with Utility Pouch. It comes in a nice tan color and brings many great features, definitely more than meets the eyes.
It is common to see workers who wear tool belts with large bags on both sides. But, since roofing tasks require climbing and moving a lot, this tool belt with one pouch can be of great benefit. We can pack only the necessary tools for the days in its eight roomy pockets.
On occasions when I only intend to bring my frequently-used gear, it is much simpler to arrange them inside this roofing tool bag. There are three outer pockets, one with a zipper for extra security. Also, the two loops are sufficient for hanging tools like hammers. And the added carabiner is good for items with a clip-on.
While packing is a breeze, access is no sweat, too. Besides the safe zippered holder, other pouches allow quick tool retrieval since the opening is wide.
Furthermore, this tool belt allows adjustment for a waist size ranging from 32 inches to 56 inches, which is really impressive. I also love how this roofing tool belt is comfortable to wear, especially with its wide paddings. Since there is only one large bag, people might be worried about uneven distribution and back pain. Luckily, the padding eases most of the pressure.
The only complaint I have with this otherwise well-made tool belt for roofing is its buckle. The buckle is not that durable and might unlock when adding extra bags and tools.
Pros
Convenient and nice-looking tool belt with one utility pouch for easy moving
3 main pockets, 1 zipped holder, two loops, and carabiner for keeping tools
Easy access to tools with its straightforward arrangement
Adjustable belt fitting sizes of 32 inches to 56 inches
Added paddings on the belt for ease of pressure
Cons
The buckle is not very durable and secure under heavy loads
Overall, among various roofing tool pouches in the market, this utility design with a tool belt should do us right with its functions and compactness.
3. Bucket Boss Builder's Tool Belt
Another affordable option from Bucket Boss is this Builder's Tool Belt model. It facilitates roofer tasks with constant moving and climbing. Notably, this design also has large pockets and loops for bulky tools.
Rather than flaunting a rigid and tough look, this tool bag looks rather lovely with its brown and green design. The bag is constructed in one compact single body, thus making it easy to bring along and arrange tools.
This tool belt is originally designed for extensive DIY tasks, meaning it is versatile and durable. In truth, it is constructed using 600D polyester reinforced with barrel bottoms for extra ruggedness. With that, we can carry heavy tools and pack a full load without worrying too much about wear and tear.
Tool belts for roofing should allow workers to keep their hammers, handle tools and other frequently-used gear without making a mess. And we can get such a feature from this simple arrangement. It has wide-opening pouches that house various large tools. Also, the piece features one steel hammer holder in the middle along with an added loop and sleeves.
Notably, we can move these pouches back and forth when climbing on ladders or bending to handle tasks. Such adjustable pouches make it easy for the active tasks of roofers. Regarding its size, this tool belt fits a 52-inch waist with its maximum adjustment point.
With all those features, it is available at such a great price. However, the belt is not perfect as there is no designated pocket for my speed square.
Pros
A nice-looking bag with a compact design
600D polyester reinforced with barrel bottoms for extra ruggedness
Wide-opening pockets, a hammer holder, extra sleeves and loop for roofing tools
Adjustable pouches for easy maneuvering and moving
Fits large waist sizes up to 52 inches
Cons
There should be a pouch for the speed square
In most roofing tool belt reviews, we would see at least one design from Bucket Boss. And this model is among their best pieces, not as heavy as a leather belt yet able to stand up to the abuse.
4. DEWALT DG5650 Pro-combo Apron Tool Belt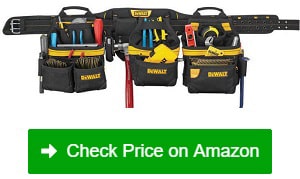 DEWALT has in their collection the top-tier tool belts for workers in various fields. And for roofing tasks, the DG5650 Pro-combo should be an ideal choice.
I have worked with this high-quality tool belt for a long time, and its performance is top-notch. Starting with the huge number of tool holders in this design, we can pack anything we possibly need for our tasks in 31 pockets. It is among models that allow packing more tools than other tool belts of standard sizing.
In detail, it has 11 main compartments for large-sized tools. There are also 24 pouches to accommodate items and parts of medium sizes. The design has extra sleeves for hammers, pry bars, and flat bars. I love to keep them there for quick retrieval. Therefore, roofers with a massive collection of gear will make good use of this great arrangement.
I also appreciate the extra zipper pouch that keeps keys and other vital belongings. Besides the impressive capacity, this roofers belt also offers convenience in adjustment. It comes with an easy-to-maneuver belt buckle. Also, there are two handles for on-site carrying and storing.
More importantly, this roofing belt is indeed made of high-quality material since it can handle the most rigorous working conditions. I have brought this piece along for tasks on various sites, and it has shown little wear and tear after nine months.
Of course, such a large tool belt is not suitable for work in tight spaces.
Pros
Packs all tools in 31 spacious and well-placed pockets, including 11 big pouches
24 pouches for tools and parts, extra sleeves for hammers, pry bars, etc
An extra zippered pouch for keeping keys and essential belongings
Convenient belt with easy-to-maneuver buckle and two handles
Premium belt to carry heavy tools and handle rigorous work
Cons
Not a wearable tool belt for tasks in tight spaces
All in all, this heavy-duty tool belt with roomy storage is a fantastic companion for roofers handling extensive tasks.
5. NoCry Fast Draw Drill Holster
There are two options for the NoCry Fast Draw Drill Holster, one for left-handed workers and the other for right-handed workers. With this feature, the design supports a smooth workflow for roofers.
People looking for a holder that keeps all their drill bits, nails, wrenches, or screwdrivers should consider this holster. It comes with five elastic holders and eight closed compartments for small items.
Notably, the safety strap features a clip buckle to keep all tools in place while we are up and down on roofs, ladders, or scaffolding to handle tasks.
More importantly, this practical piece is designed to slightly angle for easy tool retrieval. Therefore, we can quickly take a piece out of this holster without twisting our hands to a weird and uncomfortable position. That's one more reason for this holster's compatibility with roofing tasks.
Besides, it is incredibly heavy-duty to handle sharp tools like wire cutters. Since it is made from durable 600D ballistic canvas, the piece is built to last despite frequent abuse. Furthermore, its double stitching prevents tearing and sagging. The brand guarantees such quality by offering replacements and refunds in case of user dissatisfaction.
If I have to nitpick, there is one aspect of this design that needs improvement. It should have a metal hasp for the measuring tape.
Pros
Two options for left and right-handed workers
Has 5 elastic holders and 8 closed compartments for drill bits, nails, wrenches…
Features a clip buckle to keep all tools in place for working on high platforms
Designed to angle a little for easy tool retrieval
Double-stitched, heavy-duty 600D canvas holster to prevent cutting and tear
Offers replacements and refunds in case of user dissatisfaction
Cons
Could be better if it had a metal hasp for a measuring tape
This drill holster is among must-have gear pieces for workers handling tasks on a high platform like the roofs, ladders, etc. It aids working and ensures efficiency in arranging and using tools.
6. ToughBuilt TB-CT-24 Project Pouch
The ToughBuilt TB-CT-24 is a well-made roofing pouch, ideal for anyone seeking extra storage for their utility knife, measuring tape, hammers, and other hand tools.
It is understandable that many workers install this pouch onto their tool belt for added space. As compact as it is, the piece can carry various tools in its six loops and pockets.
Notably, the metal hammer holder is extremely durable; it can even handle heavy power tools like nail guns if we attach the piece right. Its pockets are rugged, too, as they are riveted to prevent sagging upon heavy load.
The craftsmanship of Toughbuilt never disappoints, as their products are engineered and tested to meet the highest quality. For instance, the overall construction of this roofing tool pouch boasts excellent durability. It has six layers of heavy-duty fabric, promoting good performance for prolonged work in harsh conditions.
I appreciate the versatility of this tool pouch, as it is compatible with any standard belt. The product offers an easy method for installation with swift clip-on action. Furthermore, I found a ClipTech hub in the package, which allows easy hanging of the pouch when tasks are finished.
The only gripe I have with this roofers tool pouch is its hammer holder position, which is not ideal for left-handed workers.
Pros
Compact tool pouch with six tool pockets and loops
Durable hammer holder with riveted pockets
Its clip-on is compatible with any standard tool belts
Tough construction with six fabric layers for harsh conditions
Included ClipTech hub for easy hanging and storage
Cons
Design of hammer loop not ideal for left-handed roofers
Many roofers already have a good belt with tool bags yet still lack extra tools. In such cases, this large-size pouch should suffice.
7. Gatorback B145 Carpenters Triple Combo
There are several notable features on the layout of this Gatorback B145 Carpenters Triple Combo, making it functional for roofing tasks. I also admire the durable construction, from its belts to bags and handles.
In detail, its belt is made from quality leather material that prevents its holes from tearing under too much weight. Also, all the core points are bar-tack stitched and riveted for exceptional strength that slows down sagging. Not to mention, its 1250 Duratek pouches are sewn with heavy-duty nylon thread to avoid wear and tear.
The admirable quality also shows in the metal suspender rings added in case of a rig system requirement. The belt's handles are also attached to its construction with heavy-duty rivets. The whole structure ensures we can bring a myriad of tools without ripping any parts off.
Furthermore, all the tool belt pockets are constructed with a box design to offer as much storage space as possible for multiple large tools. It has two hammer holders made of strong metal, 8-inch deep pockets, smaller pouches for nails, etc. We can easily arrange our roofing tool assortment in this well-made layout.
And it gets better. This tool belt for roofing is intended to deliver optimal comfort even when fully loaded. Its foam backing is added to relieve pressure, while the air channel ensures breathable wear even in hot weather.
Unfortunately, a high price could be one of the few reasons why workers hesitate to go for this tool belt.
Pros
Rugged leather belt with riveted and bar-tack stitched points
Tough nylon threads reinforce pouches made of 1250 Duratek
Metal suspender rings and riveted handles for carrying heavy tools
Box design for large storage space
Has two hammer holders, 8-inch deep pockets, various small pockets,…
Comfortable belt with a foam backing and breathable air channels
Cons
A high-priced roofers tool belt
This Gatorback design is among the most suitable roofing tool belts for heavy duties. It allows carrying bulky tools and multiple parts without hurting our back badly.
8. Bucket Boss Mullet Buster Tool Belt 55135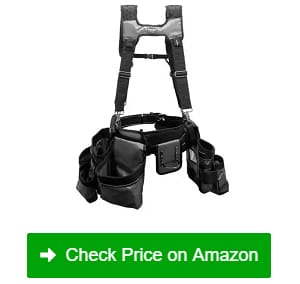 What the Bucket Boss Mullet Buster Tool Belt 55135 has to offer will surely satisfy a roofer's requirements. It comes with ample bags, a good arrangement, and full adjustability.
At first glance, we can notice its full design of tool bags with a rigging system. Due to the single body construction, roofers can climb on high platforms and work with all the tools required for tasks.
Plus, the tool belt is freely adjustable for comfort and security. The brand calls it an infinity belt that accommodates a waist of up to 52 inches, much larger than standard ones. So, that's good news for roofers with big waist sizes.
Notably, the suspenders are stretchy enough for workers' freedom of movement. And they come with moisture-wicking paddings for more breathability and comfort on hot days.
Professional workers, and not just those who do roofing, can appreciate this piece's ample storage. It has 29 pockets, enough to keep a huge roofing tool assortment for extensive tasks. Indeed, it comes with two hammer loops, a speed square pocket, and other designated space for different types of tools.
Bucket Boss products are popular among workers mostly because of their easy access to tools. That's also another appeal of this Mullet Buster design from the brand. Since the bag has barrel bottom reinforced pouches, tool access and bag durability are guaranteed.
However, the added phone pocket on the rig is not big enough for holding a smartphone.
Pros
Enables climbing on high platforms
Rig tool belt fitting a waist size up to 52 inches
Stretchy and padded suspenders for comfortable wear and movements
Has 29 pockets for a large roofing tool assortment
Nicely arranged holders with 2 hammer loops, a speed square pocket, etc
Allows easy access and ensures durability with barrel-bottom pockets
Cons
The cell phone holder should be bigger
9. Dickies Carpenter's Rig
The right tool belt for roofing should allow easy moving and climbing. Well, in that case, the Dickies Carpenter's Rig is a good choice. It is also among the breathable and rather convenient systems that I like.
To start with, this well-constructed tool belt has left and right storage for various tool categories. Roofers can divide their assortment into the most frequently-used items, large and smaller tools, etc. Then, those tools can be put into wide-opening pockets or small and secure ones.
While the left side features 6 pouches and 2 loops, the right side has 7 pockets. We can also make use of the steel hammer loop and an added pocket on the suspender. Not to mention, the brand leaves out two extra inches on the belt for workers to add more pouches if required for prolonged tasks.
Indeed, such a well-organized tool system makes tool retrieval easy. I can climb the ladder and reach for the required item without fidgeting through every pocket.
This portable tool belt also ensures a good fit and comfort for workers. According to most roofing tool belts reviews about the piece, people are pleased with the fully-adjustable belt made with moisture-wicking mesh.
More importantly, it is made of fabricated canvas for packing sharp tools without wear and tear. However, this roofing belt can use some improvements on its shoulder strap buckles. After several months, I replaced those plastic buckles to install metal ones to prevent slipping.
Pros
Allows easy tool arrangement in various categories due to large storage
Has left, right pockets, hammer loop and suspender pocket for tools
Features 2 extra inches on its belt for added pockets
Offers easy access to tools with wide-opening pouches and small ones
Comfortable wear with an adjustable belt featuring moisture-wicking mesh
Durable fabricated canvas for packing sharp tools
Cons
The suspender buckles should be more secure
I would say this is a nice suspender tool belt that helps roofers move and handle tasks with more ease. Its well-arranged pouches are excellent features for those with an extensive assortment.
10. LAUTUS Leather Tool Pouch
Roofers can easily move around their workspace and climb up and down ladders with this practical LAUTUS Leather Tool Pouch. It will be a nice addition for those who want to bring just the right number of tools to work.
Many roofing bags are just too bulky with unnecessarily large compartments for a light or medium-duty task. Therefore, workers opt for a compact design that slides along their belts, providing just the right amount of space. With this compact design, they can have their way around the worksite without hindrance to movements.
Regarding its layout, the piece has ten pockets, one for every tool, small or large. Two hammer holders are added for roofers to easily take out the frequently-used tools with ease. Also, it has a tape measure pouch in a square box design.
To give an idea, its dimensions are 12.4 inches long and 10.2 inches wide, therefore fitting various types of hand tools.
What's more, it is a gorgeous bag made of genuine leather. It flaunts a beautiful finish of oiled tanned material. Besides, the bag's quality is unmatched as it is a professional-grade tool gear standing up to tough working conditions. Workers do not have to worry about sharp objects tearing their bags too soon.
However, there is no tool belt included when purchasing this beautiful handmade pouch. So, we must already have one or buy a new piece from the brand.
Pros
A compact tool pouch for easily sliding along the tool belt
Has ten pockets, one for every tool, small or large
Two hammers holders, a box square space for the measuring tape
Ideal dimensions: 12.4 inches long and 10.2 inches wide
The beautiful finish of oiled tanned material
Genuine leather construction for tough working conditions
Cons
A belt is not included in the purchase
I am happy to be a repeat customer when it comes to a quality design like this leather pouch. It will go well with a roofing tool belt, offering more space for necessary hand tools and bits.
11. JACKSON PALMER Professional Rig Tool Belt
The JACKSON PALMER Professional Rig Tool Belt is our final pick here, but that does not necessarily mean it is the least recommended. This complete set of suspenders and tool belt can surely carry many roofing tools.
For one, it is a robust design made from quality materials reinforced by stitching. Since all stress points are secured by reinforcement, we can confidently pack our tools without damaging our bags.
On this layout alone, we are guaranteed designated space for various hand tools, hammers, drill bits, etc. We can make good use of the removable pouches for adjustment to access our tools more easily. For instance, the ring attachments on the belt allow suitable repositioning of the tool pouches.
I find the spacious storage of this roofer's tool belt ideal for many types of tasks. Since it has a flexible pouch arrangement, different workers can benefit from the design and are free to adjust it. Therefore, it is not surprising to see handymen, roofers, construction workers, and others enjoy the use of this extensive set.
Of course, it can offer a good fit and decent comfort for users. The piece accommodates a wide range of waist sizes, from 30 to 50 inches. Furthermore, its suspenders come with five connection points, paddings, and mesh fabric, offering support and breathability for long-hour wear.
One minor downside is that Jackson Palmer could make the buckle a bit more durable than its current design.
Pros
Reinforced stress points with stitching and durable material for prolonged use
Houses various tools with spacious storage
Removable pouches for easy tool arrangement and retrieval
Flexible and versatile tool belt for roofing, construction work, etc
A good fit for a wide range of waist sizes (30-50 inches)
Padded suspenders with breathable mesh and 5 connection points for support
Cons
The buckle is not as durable as the rest of the set
Overall, this one can be a perfect pick for those looking for top-tier roofing tool belt with suspenders due to its smart pouch arrangement and adjustable layout.
What to Look for When Buying Roofing Tool Belts?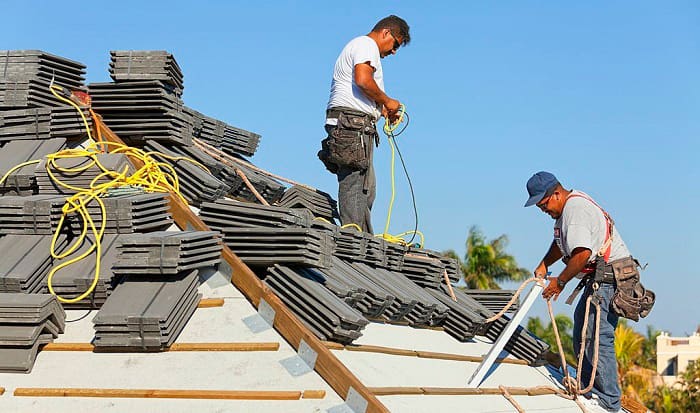 We need to go through important features and functions when seeking the top-rated roofing tool belts that suit our tasks. Our decision should be well-informed in the sense that we should be aware of our work requirements and what the market offers. Here're some points to consider:
Tool assortment and gear design – What kind of tool belts, bags, or pouches do we need for our current tasks and tools? There are multiple options available:
A utility pouch: We go for a utility pouch when we already have a belt and need extra space for tools. In this case, we have to arrange our tool collection into our available bags and see what should go into the new pouch. With that, it is easier to choose the right piece with proper sizing and storage.
A tool belt with bags: There are tool belts with two bags, one bag, or multiple bags. It depends on our requirements to pick the most suitable one. Still, make sure to at least go for one that will not hinder your movements.
A toolset with a rigging system: When we are shopping for a belt to keep a myriad of gear, it is recommended to go with one featuring suspenders. This way, we can save money from buying a separate rig system later. And more importantly, the set can help us distribute heavy loads evenly to ease back pains.
Storage space and layout – We already pay attention to storage capacity when choosing any of the designs above. However, one more feature to optimize our tool arrangement and access is a good layout.
For instance, if we want to retrieve large tools quickly, it is better to choose a design with wide double front pockets. This also applies to when we only have slim drill bits, small hand tools like screwdrivers, etc. In such cases, we should choose a holster with multiple stretchy compartments to keep all those items in place.
Durability – A tool belt or tool bag for roofing is a long-term investment. We, of course, do not want our gear to be worn out or torn out badly after a short while. Therefore, pick one that fits your budget and offers sufficient robustness.
In that case, tool belts made of leather and nylon are ideal choices. Indeed, genuine leather offers the product a good look while ensuring it can stand up to abuse. Meanwhile, nylon, or commercial nylon, is at a more affordable price but can still take some beating.
Durable tool belts should also have good reinforcement:
Bar-tacked or riveted key points: All the connection points on the tool bags should be either bar-tacked or riveted to ensure they will not be ripped. This is important when we purchase a heavy-duty tool belt to house the extra weight of tools for extensive tasks.
Stitching: Durable stitching is among the determining factors that prolong the use of tool belts. When we keep sharp tools inside, the stitches will prevent those sharp edges from ripping the whole thing.
Barrel-bottom pouches: Sagging is a huge problem for tool bags when carrying heavy tools. If you do not want that to happen, find one with reinforced bottoms, preferably a barrel-bottom design.
Metal zippers, loops, and buckles: Other things that make a tool belt rugged enough to handle abuse are metal hardware parts. So, pay attention to such details.
Comfort and fit – Most tool belts can fit the waist range of 29 to 46 inches. If you want large ones, make sure to check for belts that fit up to 52 inches. Moreover, the piece should be wide enough to not hurt your waist when carrying a heavy load.
To reduce and avoid back pain, we should choose a tool belt with foam padding. Such a soft, supportive layer relieves the pressure of the tool's weight on our back. Furthermore, we can always rely on padded suspenders to distribute the weight evenly.
It would be better if the belt came with air channels or moisture-wicking fabric. With these, we can have a better experience in the summer heat, when prolonged wear of belts can make us sweat.
Still, please know that a new tool belt might take a while to break it in, especially one made of leather. So, you might give it a trial period before contacting the manufacturer for a replacement or refund.
Why Do I Need a Tool Belt While Roofing?
It is obvious that you need a tool belt to carry all your tools to a high platform, mostly the roof, where you are working. This is more convenient than going up and down the ladders to fetch items and gear.
Furthermore, using a tool belt ensures a smooth and safe working experience since we have all our necessary tools at hand. And since there might be too many heavy and bulky items, we need belts and suspenders with good support to relieve the weight and prevent injury.
What Tools Do Roofers Use?
Roofers use various tools, depending on the types of tasks they are handling. There can be duties involved in maintenance, installation, troubleshooting, etc. In general, if you look into the extensive collection of a roofer, you are likely to see the following items:
Roofing hammers or hatchets
Nail guns
Hammer stacker stapler
Cutters/utility knives/roofing blades
A measuring tape/laser tool
A caulking gun
Tin snips
Conclusion
The best roofing tool belt should accommodate the essential tools that you bring to work on a daily basis. It also must make you feel comfortable while carrying those pieces for tasks. Make sure to browse through various products and choose one that ticks the most requirement points listed as possible.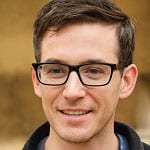 This is Edward Manning, the editor in chief of Construction Informer. Quite a bit of my time is spent researching the market and interviewing experts in the field so that I can give you reliable information.