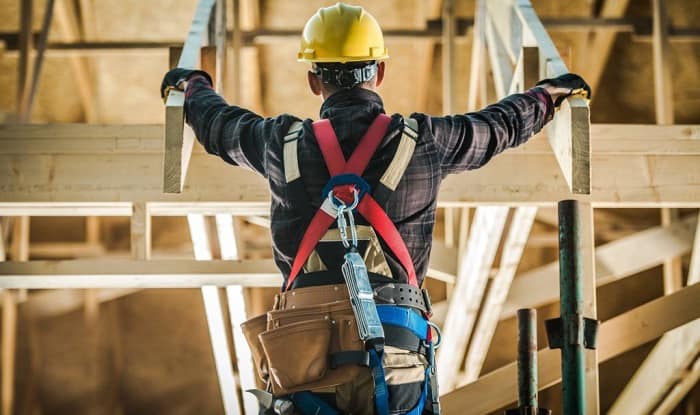 With more and more people flocking to the cities from rural areas, cities start to become more vertical. This, of course, is no accident—if cities run out of horizontal space to expand into, the only direction remaining is up. As a result, most new structures tend to be built much taller than before, from airports to skyscrapers and everything in between.
And at these altitudes, those who build and maintain these structures are at incredible risk of falling. To mitigate this risk, employers and/or supervisors must equip their workers with the best safety harness.
With so many safety harness brands out on the market, finding the best one can be a bit tricky. As a core component of a worker's fall protection system, safety harnesses must be equipped with all of the key features and specifications needed to provide proper protection. Some of these specifications are:
Spec Compliance: As the core component of a worker's fall protection system, a proper fall protection harness must be made to an appropriate standard of performance. And indeed, these same standards are required by organizations like OSHA and CCOHS for all workers that work with these hazards. While there are different standards used in different regions, the most stringent and well-known is the ANSI/ASSP Z359 standard.
Proper Fit: As can be said of all personal protective equipment, the protective ability of even a top rated safety harness is irrelevant if it does not fit the worker correctly. A good range and ease of adjustability is important to accommodate the various body shapes of workers.
Additional Features: With all else being equal between two types of roofing harness, it would be preferable to purchase the one that offers more features.
With all this in mind, the following article will list multiple safety harnesses that I have purchased and tested. This list of the top safety harnesses will hopefully help workers and their supervisors make their work environments safer.
Featured Products
Best Overall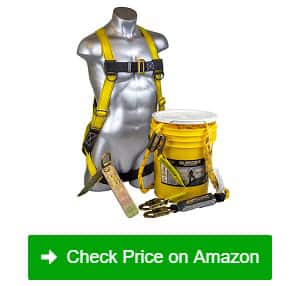 Guardian Fall Protection Kit
– Versatile 50-foot lifeline
– All-in-one fall arrest kit
– Robust reusable anchor
Editor's Pick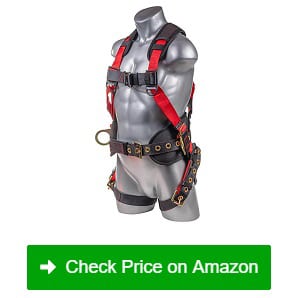 Palmer Safety Safety Harness
– Dual fall indicators
– Removable integrated tool belt
– Secure five-point adjustment
Premium Choice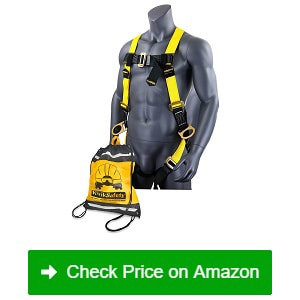 KwikSafety Thunder Safety Harness
– Durable high-visibility webbing
– ANSI Z359 specifications
– Anodized zinc hardware
The Top-rated Safety Harness Reviews
1. Guardian Fall Protection Bucket of Safe-Tie Roofing Kit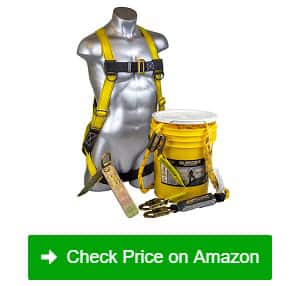 Although the most known use case for fall protection systems is in projects with great heights, safety harnesses are still very much required in work scenarios that have a drop of at least 4 feet. One of the most common scenarios is in roofing work for houses, as the typically steep angles of roofs are especially conducive to falling hazards.
This roofing safety harness kit by Guardian Fall Protection is a good example of a solution for this type of work environment. This all-in-one fall arrest kit provides safety harness accessories along with the harness itself, all contained in a convenient bucket.
The first is a reusable robust metal anchor that can be mounted onto roofs of various angles and even comes with screws and nails for setup.
The second is a 50-foot lifeline that I find very versatile as the length makes it useful for larger houses as well.
Last but not least is the fall safety harness, which is equipped with 5 points of adjustment that help dial in the right fit. It fits me perfectly, unlike some other products.
However, I found the lack of useful instructions disappointing. There's only a video that mentions safety tips, not directions for this harness.
Pros
All-in-one fall arrest kit in convenient bucket
Robust reusable anchor with nails and screws mounts various roofs
Versatile 50-foot lifeline for roofing projects of any size
5-point adjustable harness for correct fitting
Cons
Lack of useful instructions
2. Palmer Safety Hammerhead Safety Harness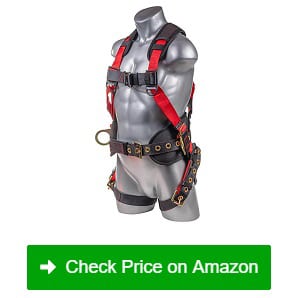 Although its primary purpose is to save the worker in the case of a fall—which, in most cases, should be very uncommon—there is no reason for a safety harness to not be comfortable for workers to wear. This is especially true as construction jobs typically demand 8 hours of work every day, much of it requiring the safety harness to be worn.
And comfort is indeed a core feature of this safety harness for construction workers from Palmer Safety. With thick padding on the shoulders, back, and hips, this harness boasts cushioning to keep me comfortable on especially long work days.
However, the thickness of the padding does mean that it builds up heat, and eventually sweat, over time. This is especially true on hot days.
A tool belt is also integrated into the harness's frame, which lets workers easily keep tools on hand without any difficulty. The tool belt can also be detached from the harness, which is great, as I can clean or adjust the tool layout of the belt separately from the harness.
On the back of the harness are dual fall indicators that make it easier to identify if and when the harness has sustained a fall.
The harness also has five points of adjustment to allow workers to dial in the perfect fit. These adjustment points include the waist, chest, shoulder, and leg straps, and are locked in with secure buckles and straps to ensure the fit stays as it is all day.
Pros
Comfortable padded shoulders, back, and hips
Removable integrated tool belt
Dual fall indicators
Secure five-point adjustment
Cons
Padding builds up sweat on hot days
While the padding can get a bit too hot at times, the Hammerhead from Palmer Safety is arguably the most comfortable safety harness I've used.
3. KwikSafety Thunder 3D Ring Safety Harness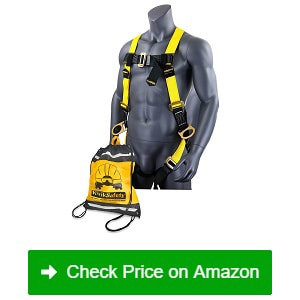 KwikSafety is another well-known manufacturer of high-quality fall safety equipment. Their Thunder model of safety harness offers a solid feature set that makes them at home on any construction site.
For one, the harness is built to comply with the ANSI Z359 specifications for fall arrest/work positioning, which encompasses aspects such as the minimum breaking strength of the components in the harness. Compliance with this specification helps ensure that the harness will be able to bear the force of the worker without injuring them in the event of a fall.
The harness is equipped with multiple adjustment points to allow the design to accommodate a wide range of worker sizes. This is achieved through the use of long pass-through belts.
However, I do have to note that the pass-through belt design can get a bit loose if not secured correctly. Learning the proper way to secure such a belt buckle (which is not quite the same as the typical tongue-and-hole design that most are familiar with) is very important to get the best fit from this harness.
The webbing used on this harness is very durable and is coloured a vivid yellow for high visibility. All of the metal components are similarly robust, being made out of anodized zinc metal that's known for being resilient to various weather conditions.
Pros
Compliant with ANSI Z359 specifications
Multiple adjustment points for one-size-fits-most design
Durable high-visibility webbing
Anodized zinc hardware for weather-tested durability
Cons
Pass-through belts can get loose if not secured properly
4. 3M DBI SALA ExoFit NEX Construction Harness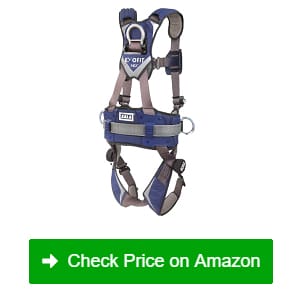 3M is a brand that has almost become synonymous with industrial safety. As a manufacturer of industry-standard personal protective equipment, it should be no surprise, then, that the company also sells fall protection equipment like this DBI SALA ExoFit NEX construction harness.
This work safety harness features generous padding on the shoulders, back, and hips, providing a substantial amount of cushioning to keep the worker comfortable while wearing the harness for hours at a time.
The chest and leg straps are built with quick-connect buckles like the ones used on military equipment and racing harnesses. These buckles are just as easy to put on as they are to remove, while remaining firmly locked in place when connected.
The hips of this harness come equipped with additional D-rings on both sides to allow the harness to work as a positioning apparatus for difficult aerial tasks. This is especially useful for construction environments.
To get a better fit, the shoulders, chest, hips, and leg straps can be adjusted. This harness, amazingly, uses a unique revolver adjuster design to prevent the loose ends of straps from flapping about and getting in the way.
However, this product is very expensive. One could easily find many harnesses with a third of its price. That said, the price is justifiable, considering the features it offers.
Pros
Padded shoulders, back, and hips
Quick-connect buckles on chest and leg straps that are secure and easy to remove
Side D-rings on hips for positional support, suitable for aerial tasks
Revolver strap adjuster for no loose ends
Cons
Much more expensive than other harnesses
This model from 3M is an excellent safety harness for construction workers with its comfortable fit and unique adjustability.
5. KwikSafety Hurricane Safety Harness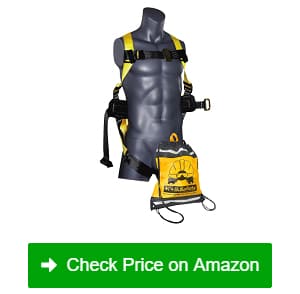 Construction work that requires fall protection is by no means limited to high-rises. Given the state of technology today, construction projects in general are getting taller and taller, whether one is making winding freeways, wind turbines, or offshore oil rigs.
The KwikSafety Hurricane is one of these kinds of safety harnesses that's more than ready to tackle these kinds of projects. Their bright yellow webbing maximizes worker visibility in almost all lighting conditions, allowing co-workers and rescue teams to find those in danger quickly.
It's important to keep in mind that I had a bit of trouble with this safety harness as the straps left over after adjusting to the right size were too long. I had to improvise additional clips and ties to hold down the loose straps so they don't get in the way.
Also appropriate for working at heights are the three D-rings that this harness is equipped with. This gives the harness the ability to serve as fall safety and positioning equipment.
This OSHA approved safety harness is notably compliant with many specifications, not only OSHA but also the ANSI standard for fall protection equipment.
In the interests of worker safety, it is especially important for all fall protection equipment to be thoroughly inspected at regular intervals. This ensures that each piece of equipment is still able to perform within the established standard. KwikSafety has helpfully included an inspection check sheet built into the harness itself, making it easy for inspectors to keep track of the harness' continued safety.
Pros
Vivid yellow webbing for high visibility
Three D-rings accommodate fall protection and positioning
OSHA and ANSI compliant
Inspection check sheet built-in
Cons
Adjustment straps are a bit long
Reliability is one of the most important characteristics when it comes to fall protection. This lightweight safety harness from KwikSafety is an excellent example of this.
6. Malta Dynamics Warthog Full Body Harness
Malta Dynamics is an American manufacturer specializing in making fall arrests and safety equipment. This level of specialization in their product catalog allows the company to be more focused on their designs and make more meaningful improvements. And their Warthog full body safety harness is a very good example of that focus.
For starters, the harness is built to comply with the ANSI Z359 specifications for safety harnesses. This is generally a good indicator of the level of quality one can expect from a piece of equipment that's meant to save lives.
Besides that, this harness features dual lanyard keepers placed along the sides with a unique breakaway design. This feature is a very useful design for falls as it prevents any equipment attached to the lanyard from unexpectedly pulling on the harness.
The webbing contains high-vis reflective elements throughout the harness to help the worker wearing it be seen in the dark and/or from long distances.
There's also a patch where users can note down information relating to the harness. This allows for easy inspection of the product.
While the harness overall is quite nice, I personally would have liked to see waist or hip support in the form of a belt. This is not actually necessary for fall protection, but the extra strap and buckle does help instill more confidence in the security of the harness.
Pros
ANSI Z359 spec compliant
Two breakaway lanyard keepers
High-vis reflective elements on webbing
Patch for noting down information
The Warthog from Malta Dynamics is a high-quality safety harness for ironworkers that provides all of the essential fall protection features for these highly hazardous work environments.
7. WELKFORDER WFH001 Protection Safety Harness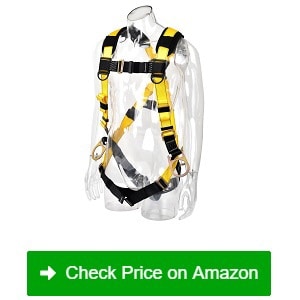 Welkforder is another popular manufacturer of industrial personal protective equipment, such as this personal fall arrest system. This harness is a great general option thanks to its feature set, allowing it to be on this list over similar brands.
For one, the webbing of the harness is made out of 100% polyester fabric, which is preferred over other materials thanks to its balance of comfort and strength. The polyester used for this webbing, in fact, is rated for a breaking strength of 30kN, or about 6744 lbs of pulling force.
The stretchable shoulder straps of the harness also include shoulder pads that can be detached at any time. This is useful as it allows the shoulder pads to be cleaned.
However, I found the shoulder strap adjuster could come loose sometimes. Thankfully, this doesn't jeopardize the integrity of the harness, but it is a bit annoying to have to readjust the shoulder strap regularly.
The D-rings—one on the back to catch falls and two on the sides of the hips for positioning—are made out of stamped steel and forging steel, two materials known for their high resilience to breaking. All of these features come together to make a very durable harness that I trust to save me in the event of an accident.
The harness is also equipped with two lanyards for conveniently attaching tools that are meant to always be within reach.
Pros
100% polyester webbing with 30kN breaking strength
Detachable shoulder pads for easy cleaning
Stamped steel and forging steel D-rings
Two integrated lanyards
Cons
Shoulder strap adjuster can be loose
With its versatile set of features, this safety harness from Welkforder provides ample fall protection for construction projects of all sizes.
8. Palmer Safety H144 Fall Arrest Kit
This is another model of a fall arrest system from Palmer Safety, which I included because of the brand's high standard of quality when it comes to making life-saving equipment.
This fall protection kit includes a 6-foot shock-absorbing lanyard in addition to the harness itself, which I find convenient as I won't have to buy or find a separate lanyard to use in a project. However, I found the 6-foot length to be a bit short compared to some of the other options on this list, but the length was at least adequate for home improvement jobs.
The snap hooks on the lanyard and the metal hardware on the harness are made out of galvanized alloy steel, which provides impressive strength while also being relatively lightweight.
I appreciated the use of pass-through buckles on the attachment straps on the harness, as these buckles are some of the easiest to put on and take off. While other buckles have other pros and cons, I find the pass-through buckle design of this item impeccable.
On the back of the harness are two load indicators, which pop out of their slots when the harness is subjected to the forces associated with a fall. These indicators make inspection fast and convenient as safety officers will know exactly where to look to determine the status of the harness.
Pros
Includes 6-foot shock absorbing lanyard
Galvanized alloy steel hardware that's both strong and lightweight
Pass-through buckles are easy to use
Dual load indicators
Cons
Lanyard is shorter than other options
While I would have liked to have a longer lanyard, this harness doesn't have any other issues that I could find, and I highly recommend this.
9. AFP Full-Body Safety Harness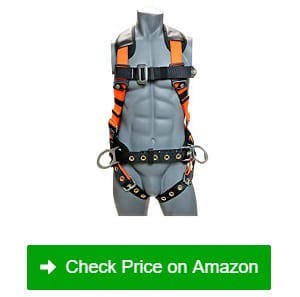 Last on this list is this safety harness from AFP, which boasts a high standard of strength and resilience to keep workers safe while in dangerous high-altitude working environments.
The wide webbing used throughout the harness is nice and thick to give great body support, but without being too heavy. I personally like that the webbing was done up in a bright orange as it allows the harness to also function as high-vis safety workwear.
The D-rings, buckles, and other hardware are fashioned out of alloy steel, which is not only durable but can also handle any type of weather. This is especially useful for workers on offshore mining rigs, as the work environment tends to get quite volatile in terms of the weather.
My favourite feature of this safety harness, however, revolves around its comfort. The shoulders and back of the harness have ample padding to better distribute the pressure of the webbing and the pull of the lifeline during a fall. This not only reduces discomfort in the event of such an accident, but it also keeps the wearer comfortable in every other scenario.
The harness also includes an articulated waist belt to support the lower back, serving a similar purpose as the back and shoulder padding during work tasks.
However, it's hard to find information about this brand. They don't seem to have a website I can check out. Some buyers might hesitate to invest in a brand they don't know much about.
Pros
Supportive lightweight high-vis webbing
Alloy steel hardware handles any weather
Ample padding on back and shoulders for all-day comfort
Articulated waist belt for lower back support
Cons
Lack of info about the brand
This unit from AFP is one of the top-tier safety harnesses one can buy for heavy-duty construction work, thanks to its solid build and use of high-quality components.
10. Frontline Fall Protection Combat Construction Harness
Believe it or not, there are all sorts of industries in which harnesses are used outside of construction. Of these, some of the most heavy-duty applications are in combat and law enforcement, as these situations require top-tier reliability.
Such was the design inspiration for this safety harness for ironworkers from Frontline Fall Protection. Its main design detail is its combat-ready polyester webbing used on all of the straps on the harness, providing heavy-duty support.
From my experience, however, the size might be a bit too wide for smaller workers, especially across the shoulder area. Some of the other options on this list might be better suited for those with smaller frames.
Besides that, this safety harness also provides other heavy-duty features, such as trauma straps integrated into the harness to allow workers to rapidly deploy them in the case of a fall. This is especially important, as not having these straps can cause suspension trauma while the worker is waiting for a rescue after a fall.
The leg and waist straps use a traditional tongue buckle instead of the quick-connect or pass-through types, which I personally prefer as the tongue buckle provides a very secure fit that inspires confidence in the harness' reliability.
The harness also includes attachment points for a twin SRL or Self Retracting Lifeline, which is a very useful piece of equipment that is used to keep the worker from falling any farther than they need to in the workplace.
Pros
Combat-ready polyester webbing for heavy-duty support
Conveniently integrated trauma straps for rapid deployment
Tongue buckle on leg and waist straps for secure fit
Attachment points for twin Self Retracting Lifeline
Cons
The size can be too wide for smaller workers
Frontline has made a highly robust safety harness here, and I highly recommend it.
11. Guardian Fall Protection Construction Harness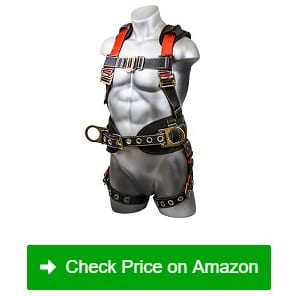 The first entry on this list is the Seraph construction harness from Guardian Fall Protection. As a product made by one of the most trusted brands in construction safety, it's not hard to see why this fall protection harness deserves a spot on this list.
One of the most important characteristics that safety harnesses should have, especially in large construction firms, is easy identification. This safety harness features ID labels and impact indicators to easily distinguish each harness from the others in inventory, which is important for identifying which harnesses need to be discarded immediately.
A pass-through buckle on the chest strap allows the worker to easily lock the strap into place without much hassle.
This fall arrest harness also comes with an integrated reinforced tool belt that holds various pieces of equipment quite easily. I have fastened my bag onto it and stored my welding rod, bolts, and other items with no problem.
On the downside, this harness is a bit heavy compared to its competitors. For people who carry heavy tools on their belt, the extra weight may be too burdensome, especially while climbing.
That being said, the harness itself is quite good and feels like it's built to last. The buckles used throughout the harness feel robust and are very secure.
Pros
From a trusted brand in construction safety
Labels and impact indicators for easy identification
Pass-through type chest buckle for simple wearing
Reinforced tool belt integrated into the design
Secure buckles and sturdy construction
Cons
Slightly heavy compared to other products
The Seraph is one of the best Guardian safety harness models in the brand's catalog, and this clearly shows through thanks to its versatile feature set.
What Should I Look for When Buying a Safety Harness?
As worker safety is of the utmost performance when it comes to buying a full-body harness, there are many considerations and factors one must take into account when purchasing one either for oneself or one's coworkers. While the many varieties of safety harnesses in the market can make it difficult to choose a harness that works best, we can narrow down our decisions based on three main criteria:
Fall Protection: Naturally, safety harnesses are designed to break the fall of the worker using the harness without causing injury. This is achieved through careful design of the full-body harness that allows it to evenly distribute the massive pulling forces of a fall.
The most important design elements depend on the type of harness used, but in general, the quality of the D-rings, the shoulder straps, and the leg strap design are worth looking into.
Additionally, ensure the product meets OSHA and ANSI standards. In particular, OSHA's Subpart M and 1910 criteria should suffice. For ANSI, look for ANSI Z359.11-2014 and A10.32-12 compliance.
Comfort: Comfort is also especially important when one needs to choose a harness. Having a comfortable harness helps reduce the incidence of suspension trauma, and also improves the worker's experience while using the harness for long periods of time. Features such as a padded waist belt and plates on the D-rings are two examples that improve comfort.
Fit: Of course, neither of the two qualities are very important if the fit isn't executed well. In a full-body harness, it is important to keep in mind both the ease of use in securing the right fit, as well as the amount of adjustment that the harness provides.
Ideally, one should look for 5-point adjustment as this provides a lot of range, almost like a one-size-fits-most harness. It's also important to make sure that the 5 point adjustment system is also easy to use.
Why Do You Need a Safety Harness?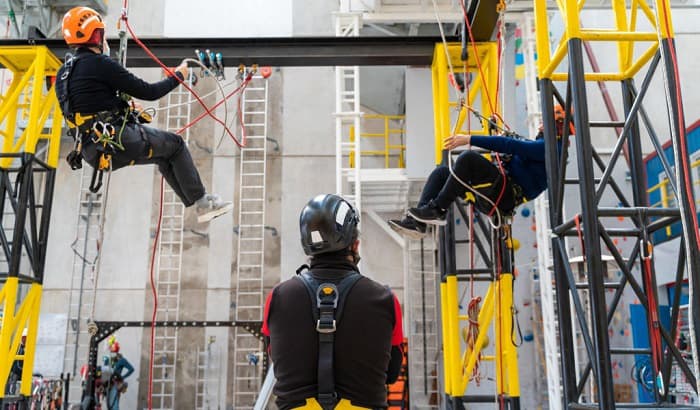 The general reason for needing an item such as a Grainger safety harness is a matter of common sense. In high-altitude work environments, there will always be a constant and imminent risk of injury or even death. For this reason, it is always recommended, if not required, to get workers to wear a safety harness to make sure they are protected from any injury in the event of a fall.
This applies to workers in various fields, from the construction industry to the military and even extreme sports, in which the parachute harness is often used.
What Is the Lifespan of a Safety Harness?
If you look at the specifications of safety harnesses from different companies, you will likely receive different answers. This makes answering the question of "When does a safety harness expire" quite difficult.
This is because the construction safety harness is never intended to have a standard lifespan in the first place. What we mean by this is that the safety harness is designed to not have an expiry date of any sort.
The reason for this is twofold: first, unsold or otherwise unused safety harnesses are generally safe to use, assuming that they pass the standard safety inspection. This safety inspection should normally be performed at least every 6 months (or more depending on the type of harness used).
Second, safety harnesses are meant to be discarded as soon as they are involved in an incident or otherwise fail a safety inspection. To this end, the typical harness for working at height will be equipped with a fall indicator that pops out when the harness is subjected to strong pulling forces, as would happen in a fall.
What Is Standard Height of Wearing Safety Harness?
The standard height at which a safety harness is required depends mainly on the industry environment and any additional fall hazard risk. The requirement for the use of a fall arrest harness according to OSHA is at least 8 feet for longshore operations (that is, ship cargo loading and unloading), 6 feet for construction work, and 4 feet for general industrial applications.
However, these measurements are only intended to be used as a general estimate of a falling risk and should not be used as the absolute minimum in all cases. In other words, just because a worker is only operating at a height of 3 feet does not mean that they do not need to wear a padded safety harness if their work environment is still found to contain a significant risk of injury.
As a worker or work supervisor, it is very important to assess the presence and severity of hazards in the workplace and wear the appropriate personal protective equipment to protect against those hazards.
How Do You Tie a Body Harness on a Rope?
Under normal circumstances, the safety harness for hunting should be attached to a hook rather than a rope to allow lanyards or lifelines to be easily attached and removed whenever it is needed. However, if there are no hooks, a figure-eight knot is typically recommended.
Conclusion
Fall hazards are one of the most dangerous to deal with, and every worker involved must be sufficiently protected with proper fall safety harnesses. We hope that this list of safety harness reviews has been useful in helping to find the best safety harness for your work environment.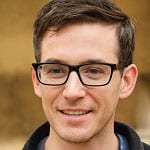 This is Edward Manning, the editor in chief of Construction Informer. Quite a bit of my time is spent researching the market and interviewing experts in the field so that I can give you reliable information.