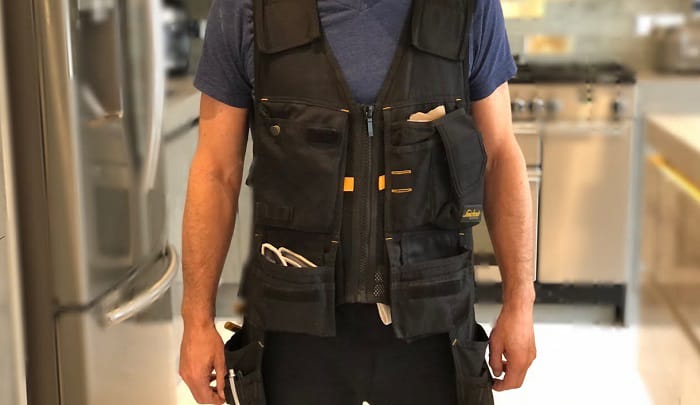 Should we pick a tool vest, and what is a tool vest for? Those are the questions worth addressing if we intend to buy one.
Well, this piece of workwear offers various benefits as it is easy to wear, lightweight, and functional. It allows easy access to our basic tools for tasks. Furthermore, we can enjoy freedom of movement when putting on a tool vest instead of bringing along a heavy toolbox or bag.
But, how can we choose the best tool vest? The selection process should be efficient if you determine the main factors to check out:
Pockets and holders – The ideal tool vest allows us to keep the basic and essential tools we need for our tasks. If you want to keep a hammer, a tape measure, or squares, make sure to purchase a vest that has space for those items.
Reflective strips – If you often handle tasks in low-light conditions and near roads, it is critical to opt for a hi-vis tool vest. Make sure the reflective strips on your chosen piece reflect light well from all angles.
Comfort and fit – A breathable tool vest with mesh material will be excellent for long-hour work. Also, make sure to check the vest's dimensions, including its length and waist size. Most importantly, the straps on the vest should allow free adjustment.
Still, there are more things to consider when choosing a suitable vest. So, check out the recommended list below and more details in the buying guide. Make sure you do not miss any important feature that should be included in your tool vest.

Featured Products
Best Overall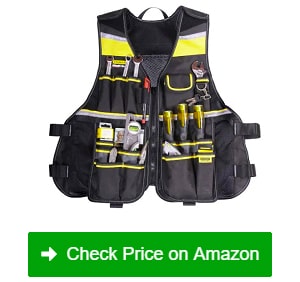 STANLEY FATMAX Tool Vest
– Lightweight and reasonably priced
– Resilient vest fabric with reinforced stitching
– Breathable work vest made of air mesh material
Editor's Pick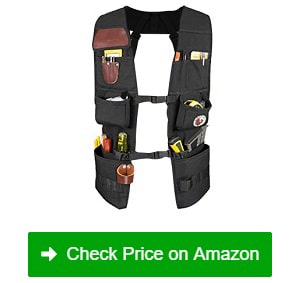 Occidental Leather 2575
– Made of durable leather
– Features 28 pockets for easy access
– Hold small pieces from nails and pencils
Premium Choice
Bucket Boss 80450
– Among well-made heavy-duty tool vests
– Delivers comfort with breathable mesh material
– Has 14 pockets
Top 11 Tool Vest Reviews
1. STANLEY FATMAX Tool Vest For Construction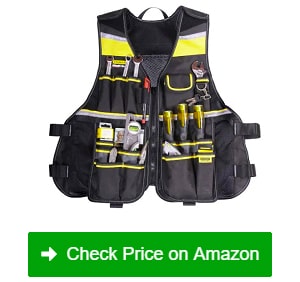 The STANLEY FATMAX Tool Vest For Construction is lightweight workwear at a rather reasonable price. I appreciate having this piece to help me work without much struggle.
It is indeed a secure work tool vest made of quality material. When storing sharp tools in this vest, it is unlikely to scratch or tear its fabric easily. This may be partly because of the reinforced stitching on the piece.
Besides durability, I believe this construction tool vest is popular among workers because of its breathability. After all, we expect our workwear not to suffocate us during long-hour work in the summer weather. And this vest does that with its air-mesh fabric.
Safety is a major concern when working in dark or low-light conditions, where people can accidentally bump into us. To avoid such situations, we can rely on the reflective strips design of this vest to notify others of our presence from a distance.
One more reason I have kept wearing this FATMAX Tool Vest for a long time is its convenience. The removable pouches are ideal for holding nails, hand tools, or documents for my tasks.
Still, it would be great if the brand allowed me to attach the backside of this vest to
my tool belt
. The attachment can balance the whole vest when I carry several heavy tools in the front.
Pros
Lightweight and reasonably priced
Resilient vest fabric with reinforced stitching to resist tearing
Breathable work vest made of air mesh material
Reflective strips for safety in dark and low-light conditions
Convenient and removable pouches to keep nails, hand tools, and documents
Cons
There should be added attachment on the vest backside for the tool belt
Overall, the advantages of this hi vis tool vest still outnumber its downside. Therefore, I believe it will be a fantastic companion for workers for quite a long time.
2. Occidental Leather Oxy Pro Vest 2575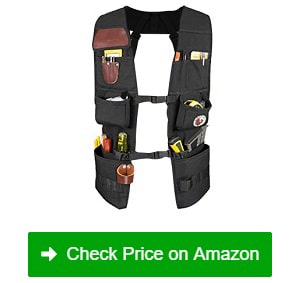 Many of us prefer a heavy-duty leather tool vest rather than a fabric one. In such cases, the Occidental Leather Oxy Pro Vest 2575 is an ideal pick, easily meeting requirements for material quality and functional features.
Occidental Leather was sensible in creating two available versions for left and right-handed workers. Furthermore, both models ensure an even weight distribution as we pack our essential tools in our pockets.
Speaking of tool storage, this vest offers 28 compartments, big and small. While mesh tool vests cannot handle too many heavy tools, this robust leather piece easily completes the task. Notably, we will experience no sagging but still have easy access to all our tools.
In my case, I insert various tools, including my hammers, screwdrivers, utility knives, and other hand tools, in the large bottom pockets. There is no need to add a tape measure holder clip since I can fit it into the middle holder. Furthermore, the chest pockets can hold my pencils, markers, and a small notebook to write down measurements.
More importantly, this item is a high-quality tool vest that allows me to handle DIY tasks without bringing my tool belt or bag. It is, in fact, most beneficial when my back or waist is hurting.
However, without zippers, the pockets might spill some tools as we bend too much. Still, that's common for most tool vests.
Pros
Heavy-duty Occidental tool vest made of durable leather
Sensible designs for left and right-handed workers with even weight distribution
Features 28 pockets for easy access and no sagging
Hold small pieces from nails and pencils, to a tape measure, utility knife, etc
Ideal for DIY tasks to avoid back and waist pain
Cons
Can spill tools if we bend too much
As I said above, this piece is essential when my back or waist is hurt after carrying heavy tools for too long. It is a vital piece that offers good balance and tool storage for different tasks.
3. Bucket Boss 80450 Canvas SuperVest
The Bucket Boss 80450 Canvas SuperVest is also a heavy-duty work vest for versatile duties. I deem this a nice choice since Bucket Boss balances breathable and durable features well in one design.
In detail, the vest's front is made of robust Duckwear canvas to ensure rugged use despite carrying heavy tools. At the same time, its back is made of mesh material that wicks away sweat, so we feel dry and comfortable while working.
This work vest from Bucket Boss is incorporated with several features that make it convenient for use. First of all, the center zipper allows me to close my vest to prevent the heavy tools from dangling around when I climb. Secondly, it features stretchy sides for a better fit, whether I wear summer clothes or a thick winter coat underneath.
Furthermore, this canvas tool vest packs 14 pockets in total, including one removable tool pouch on each side. With such tool holders, I can pack frequently-used tools for carpenter tasks. On a hectic day, I can bring a few tools on this vest along with my gear on the belt.
As this safety tool vest allows us to pack extra accessories, its shoulders are padded to alleviate the overall weight.
I know several buyers gave 4 stars for this vest instead of the perfect score, mostly because of its size. In fact, its sizing is a bit bigger than standard ones; therefore, many buyers have exchanged their purchases for a smaller size.
Pros
Among well-made heavy-duty tool vests made of canvas
Delivers comfort with breathable mesh material on its back
The center zipper allows closing the vest
Features stretchy sides to fit better over thick winter clothes
Has 14 pockets, including two removable hanging pockets at the bottom
Features padded shoulders to avoid shoulder pains
Cons
Sizing is bigger than standard
I suggest buyers choose one size smaller than usual or ask for advice from the brand to get the right tool vest. Other than that, this carpenter vest works as intended.
4. NoCry Canvas Work Apron
Another tool vest with pockets to bring hand tools and parts for work is right here – the NoCry Canvas Work Apron. At an affordable price, we get a good tool vest that makes our lives easier.
Why opt for an apron design? Well, there are several reasons why such a layout benefits our tasks.
First, it offers a good cover to keep our shirt from getting dirty from whatever we are working on. For instance, as we do garden work, repair our bikes, or add grease to our car, we need an apron that keeps us spotless while carrying the necessary tools for the tasks at hand.
Second, it distributes weight pretty well, especially for those who are recovering from a back or waist injury. The thing is, its shoulder straps are adequately padded to avoid pinching and pressing too much. Meanwhile, the added Velcro belt at the bottom allows us to bend down a little without dropping tools. So, that's an extra convenient design!
Of course, this tool apron can accommodate a sufficient amount of tools, ranging from pencils, screws to hammers, knives, etc. As long as we organize them neatly into the available compartments, we should be guaranteed quick access to all the pieces.
One more thing, I sometimes use this one as a carpenter tool vest since it is pretty durable. Its 600D Oxford canvas can resist water, and all its straps are sewn with strong stitches to handle heavy duties.
However, this material might be a bit too hot for extended use under high heat.
Pros
Among the budget-friendly yet convenient tool vests
Covers our shirts while we handle tasks involving dirts, oils, etc
Distributes tool weight well to prevent back and waist pain
Features padded shoulder straps and Velcro belt for safety and comfort
Allows packing various tool types in available compartments
Durable 600D Oxford canvas and well-sewn straps
Cons
Can be a bit too warm to wear for long hours in hot weather
This one is designed to meet virtually all the requirements of people seeking a good tool apron for packing hand tools.
5. JORESTECH High Visibility Tool Vest
The JORESTECH High Visibility Tool Vest is a compact vest with multiple pockets for use. I find this one handy for most DIY projects.
This piece is a practical and lightweight tool vest. I can fold the piece neatly and tuck it in the back of my bag when going on a work trip. After finishing all tasks, I can just fold the vest back or wash it quickly before storing it.
More importantly, this utility tool vest allows me to keep my accessories and tools safely in its pockets. For instance, the upper spots near the chest and the big bottom pockets are perfect for nails, utility knives, and screws. Meanwhile, I can tuck the flashlight and hammer in the clip points or the loops.
I am happy that this tool vest is pretty durable with its black nylon fabric. Such a construction can withstand long use without much wear and tear, sufficient for various work conditions.
Furthermore, we can call this casual utility vest a universal one since it fits quite a wide range of body sizes. It's the adjustable side straps, four in total, connecting the front and back of this vest that allow nearly anyone to wear it comfortably.
Also, the reflective strips on the back are a huge help when I work near the road and in low-light conditions. It is a nice touch for safety purposes.
On the other hand, it would be better if the large pocket at the bottom left had a velcro flap. But that's just my personal preference, as others might already be satisfied by what this tool vest has to offer.
Pros
Lightweight and compact safety tool vest to carry easily
Have a few pockets, along with extra clip points and loops
Durable black nylon fabric to withstand wear and tear
Universal-size tool vest with adjustable side straps
Features reflective strips on the back
Cons
It would be nice to have a velcro flap on the bottom left pocket
Indeed, this design is among the top-rated tool vests when it comes to convenient and practical use.
6. Holmes 10 3530 MHBLK Tool Vest
Another design that should fit the needs of framers, carpenters, and builders alike is the Holmes 10 3530 MHBLK. In my opinion, this product is a decent buy that can help me reduce fatigue on the days I choose it instead of heavy tool belts.
I can put this vest on and handle several light-duty tasks at the construction site without tools dragging me down. It is suitable for when workers want to move and repair small things here and there rather than focusing on a big project. This is thanks to the lightweight and comfortable features of this work tool vest.
Notably, this Holmes tool vest seems to be more breathable than I expected. The mesh material at the back allows air to flow better, especially as I move around a lot. Also, its polyester construction should last for a while. I could feel the robust material when putting the vest on for the first time.
I value the nice arrangement of pockets on the tool vest since it makes the access and retrieval of tools easier. With this design, it is a breeze to store essential pieces in multiple pouches, a hammer loop, a tape measure loop, and hanging pockets.
Also, I love how this piece is in black, offering a low-key yet professional look in daylight. Yet, it features reflective strips that make wearers visible when the light is dim or too weak.
The only flaw in this tool vest system is its velcro flap, which sometimes opens up when I bend down, making the keys or pen I keep inside fall out of the pocket.
Pros
Ideal for light tasks with its lightweight and comfortable design
Breathable work vest with its mesh material
Made of polyester for long-lasting use
Features multiple pockets, tape measure and hammer loops & hanging pouches
Black color for a professional look and hi-vis strips for visibility
Cons
The velcro flap sometimes opens up suddenly
This functional piece should pass as a good framing tool vest or a carpenter work vest. Considering its price, its quality is more than well worth my investment.
7. Occidental Leather 2500 Stronghold SuspendaVest
The Occidental leather 2500 Stronghold is a premium product that can easily last for 7-10 years without much wear and tear.
As expected, the design is made of top-notch leather, offering outstanding durability. Typically, the brand's product should last for a decade or more, so I invested in this piece for long-term use. Plus, its design feels robust and looks rather professional.
In many situations, this tool vest is a great alternative for a bulky tool belt or bag. First of all, it is effortless to arrange tools and put this vest on, considering how straightforward the design is. Secondly, both the chest strap and the belt buckle allow quick connection and disconnection, saving users much preparation time.
The reason why this piece is often used as an electricians tool vest and finish carpenter tool vest is because of its well-distributed tool holders. In fact, there are 18 pouches and holders for accommodating all basic tools, including squares, nails, pliers, scribes, chisel, etc.
Notably, I appreciate the back loop for the hammer, a perfect spot for a carpenter to store and retrieve such a frequently-used tool. Meanwhile, the leather strap makes it easy to add extra pouches if we carry more tools for a huge project.
Another appeal of this design is its excellent adjustability. All the straps allow easy customization to fit different body builds perfectly without restricting movement. However, we should expect the price tag to be much higher than usual work vests due to the numerous functional features.
Pros
Premium tool vest made of leather for quality performance
Easy to arrange tools due to a straightforward design
Easy to put on with quick-connect chest strap and belt buckle
18 holders for accommodating all basic electrician and carpenter tools
A back loop for hammer and the leather strap for added pouches
Very adjustable to fit well to any body type without restricting movements
All in all, anyone seeking a premium carpenters work vest or electrician tool vest should look no further than this one.
8. Tiger Trends Work Vest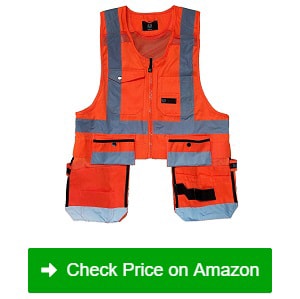 The Tiger Trend vest is another option for a well-made tool vest with pockets. The brand offers multiple choices, from colors to sizing, making the piece ideal for different work types.
Workers looking for a high visibility tool vest can go for the Safety Orange. Otherwise, there are options including black, brown duck, and Khaki work vests. I opted for the back one since I wanted a low-key piece while handling DIY tasks.
This craftsman tool vest is a cotton and polyester hybrid, thus providing decent durability for heavy-duty work. Furthermore, its back features breathable mesh panels for the air to circulate freely. Such construction allows us to work for hours on end without feeling irritated or suffocated.
I appreciate that this piece is lightweight, even with the shoulder padding, providing enough comfort even for hectic tasks. Its buckle and zippers are indeed easy to maneuver. Since they are made of quality plastic, I can always close the vest and secure all the straps in some swift moves.
What's more, I can insert nails, small parts, pencils, notebooks, and a tape measure inside the secured pockets. These holders are all well-placed for easy tool access. Moreover, after a long day's work, I can leave this vest inside the washing machine for cleaning.
However, the stitches needed some retouching after a month or so. I recommend bringing this vest to a tailor to reinforce its stitching before use.
Pros
Offers hi-vis safety vest and designs in black, brown duck, and Khaki
Machine-washable, durable construction of cotton and polyester hybrid
Features breathable mesh panels on its back
Lightweight and comfortable with shoulder paddings
Quality zippers and buckles for easy maneuver
Stores various items with its well-placed pockets
Cons
Stitching requires some retouching before use
I used it as a woodworking vest since it is lightweight, comfortable, yet functional enough for my tasks. It also works well as a builders tool vest, depending on what we need to bring along.
9. JKSafety High Visibility Safety Vest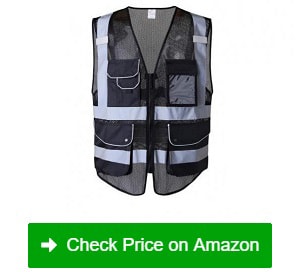 Among the many tool vests available, the JKSafety High Visibility Safety Vest stands out with its affordable price tag and superbly lightweight design.
I trust to use this tool vest at the construction site since it is rated a class 1 type 0 work vest by ANSI. Due to the compliance, the piece is qualified for off-road duties and offers sufficient visibility for wearers.
Its reflective strips are 2-inch wide, attached across the shoulder, to the chest, back, and down to the waist. Such hi-vis straps can reflect retro-reflective lightwaves of 360 degrees. Therefore, we can rely on this reflective vest to handle tasks involving traffic control, landscaping, construction, security, etc.
To meet the requirements of such a wide range of applications, the vest must be durable enough. Indeed, it is made of 300D Oxford material with polyester mesh-HD lining. Hence, we trust the piece to deliver a lightweight yet robust design, allowing us to perform our duties effortlessly.
A thoughtful addition of a badge area sitting on the chest pocket makes it easier to insert our work ID.
Furthermore, this tool vest features nine frontal pockets of different sizes. Two of them come with Velcro closure to secure whatever tools or items we put inside. In case we need a zippered pocket to keep important notes from falling out while bending down for work, there are several holders with zippers and flaps.
However, for workers wanting large pockets to pack heavy tools, this one is not an ideal option.
Pros
An affordable tool vest for tasks, including traffic control, landscaping, etc
Rated class 1 type 0 work vest by ANSI to offer excellent visibility
2-inch reflective strips cover the whole vest
Durable 300D Oxford material with polyester mesh-HD lining
Added badge ID sitting on the chest pocket
9 frontal pockets of different sizes, some with Velcro, zippers, and flaps
Cons
No large pockets for large and heavy tools
Overall, this ANSI-certified work vest is suitable for people handling light-duty tasks which require few hand tools. Needless to say, it is a perfect choice for visibility.
10. Radians SV55 Engineer Vest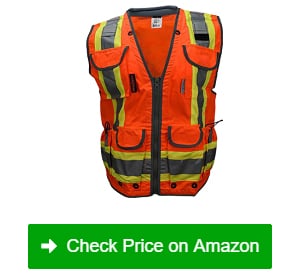 A design that works well as a tactical tool vest is the Radians SV55 Engineer Vest. This workwear is excellent for the money, as it is cost-effective while offering just the right features I need.
It is tricky to find better work vests at this price range. This model is constructed with quality polyester and reinforced with neck padding to carry extra tool weight if necessary. Furthermore, its zippers are not low-quality, so they won't require replacement after a short while.
Many workers go for this engineer vest as an upgrade from their low-quality workwear that cannot offer sufficient visibility. In fact, the vest's reflective tapes are 2-inch and made of silver glass bead. Meanwhile, its contrast trims are 1-inch wide, adding to the overall visibility.
With this vest on, we can stay in low-light or dark places while still being visible to other workers.
Multiple secure pockets on this vest are helpful as we pack tools for specific tasks at hand. In detail, the radio pocket and pencil holder both come with flaps. Meanwhile, the cargo pockets are incorporated with tape grommets.
Still, what I like the best are the water bottle pockets. They are such a nice touch from the brand for people working long hours in summer weather.
The only flaw in this design must be that it is a bit short, as the vest might not reach the top of the pants when tall people wear it.
Pros
Made of quality polyester and reinforced with neck padding
Quality zippers for long-term use
Great visibility with 2-inch silver glass bead tapes and 1-inch contrast trims
Have several pockets with flaps and tape grommets
Features two bottle pockets, perfect for summer weather
Cons
A bit shorter than expected
Despite the minor flaw, this piece will serve well as a tool vest for carpenters. It is among the rare designs with water bottle pockets.
11. Vhouse-us AFANQI Hardware Tools Vest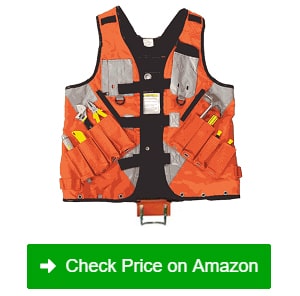 The final choice for a good tool vest for electricians is this design from Vhouse-us. I am surprised that many workers have not discovered products from this brand, considering how well-made they are.
There are two AFANQI Hardware Tools Vest models, one in a low-key black shade and the other featuring visible orange parts. We can pick the suitable one between the two depending on our requirements. But, it's good to know they are both designed for electricians, plumbers, finish carpenters, and more.
Tool vests are widely loved since they are breathable. And this piece is not an exception. It comes with an air-mesh fabric, ensuring the air circulates smoothly. With that, we are free of irritating sweat on our back when handling tasks in the summer heat.
The main appealing point of this safety suit must be its well-placed pockets. All the holders are arranged in a line, allowing us to put multiple hand tools inside separately. Therefore, we can immediately fish out the piece we need and ensure a smooth work pace.
Furthermore, the top pockets are removable as they are semi-adhesive. All the pockets are reinforced to keep sharp tools without being torn out easily.
I appreciate the vest's adjustable shoulder and side straps, which make the product adaptable to different bodies. Besides, the internal back support is a huge help for people in enjoying a good fit.
The only downside I can think of is its weight, as the vest should be made a bit lighter than it currently is.
Pros
Offers two models: a low-profile black and a visible orange
A good pick for electricians, plumbers, finish carpenters, and more
Breathable vest with air-mesh fabric to prevent sweating
Well-placed and durable pockets for easy tools storage and retrieve
Two top holders are semi-adhesive for flexible use
Features adjustable straps and internal back support
Cons
A bit heavier than desired
All in all, this design can be a good help for various tasks. Therefore, people can make good use of its storage space and safety features as a woodworking tool vest or finish carpenter vest.
What to Look for When Buying Tool Vests?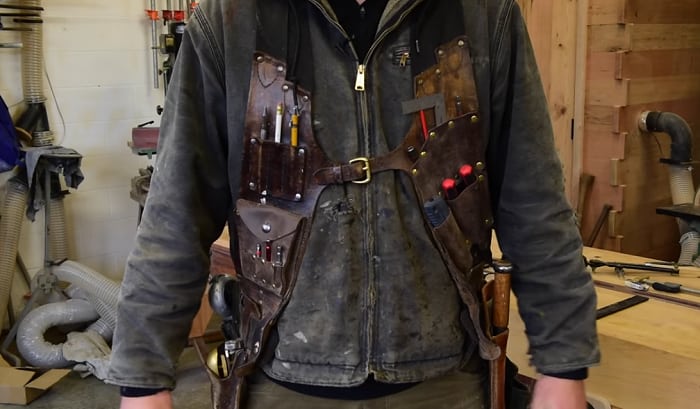 When searching for the best tool vests, we'll stumble upon a wide range of products. Therefore, it can be overwhelming to pick just one vest among those that meet our requirements. In such cases, it would be great to have some critical features to consider for a well-informed purchase.
Tool storage – It depends on the type of tasks you are doing that you choose the right vests with a sufficient number of holders.
Just think about how many tools and items you want to bring along when handling your usual tasks. For instance, do you need a flashlight, a tape measure, or many nails? Arrange those items on the table, classify them, then pick the vest with well-placed holders that keep them securely.
Adjustability – We need a good fit and free movements when wearing a work tool vest. Therefore, your chosen tool vest must allow good adjustability. Most work vests come with adjustable straps, so picking one that conforms to our build would be easy.
It is also recommended to choose a piece with a comfortable design that poses no restriction to our movements. That's why you should always check the vest's belt, chest, and shoulder straps. It is the right pick if those are easy to maneuver and work smoothly.
Breathability – Adjustable straps also allow good comfort and breathability. So, that's one more reason to find a vest with freely customizable shoulder and belt straps.
At the same time, you should find a vest with breathable mesh fabric on its back. Such a feature allows good air ventilation for you to handle tasks for hours without sweating uncontrollably.
Visibility – One thing we should pay attention to is the visibility of our tool vests. Many of us want low-profile pieces; well, that's easy since a black or brown piece will do. In other cases, work vests with reflective strips will be a lifesaver when working in low-light conditions.
You can go with visible patches made entirely of orange or yellow reflective materials. Or, you can opt for ones with stripes and contrast trims that are a bit more lowkey yet still effective in notifying people of your location.
Reliable brands – One way of searching that saves us lots of time is checking out popular tool vest brands' collections. Besides Occidental Leather, JKSafety, Nocry, and other manufacturers mentioned above, there are more good places to visit.
For instance, a Snickers tool vest comes in various sizes and colors, and are incredibly thick for extra protection. Or, a Dewalt tool vest rated by ANSI can be a good choice for heavy-duty and rigorous tasks. You can also go for a Saratoga tool vest, or an Atlas tool vest, and the list goes on. Just make sure to match your preferences with the good pieces available.
How to Wear a Tool Vest Properly?
Wearing a tool vest might be even easier than putting on a tool belt. You can just put the piece on like wearing your casual vest. Make sure to adjust all the straps for a comfortable fit and zip all safety buckles. Afterwards, stand upward and insert all the tools you want in ideal positions. Then, voila, you are ready to go!
How to Choose the Right Size of Tool Vest?
The tool vest is pretty easy to wear, so sizing is not tricky. Ask yourself: Will the vest fit if you wear extra thick clothes in the winter? In such cases, it would be better to go for vests a tad larger than your usual size.
But you should not worry, since most tool vests come with adjustable shoulder straps, side, and chest buckles. With these components, it is easier to customize the piece for a perfect fit.
Can I Wash My Tool Vest Using the Washing Machine?
It depends on the tool vest that you buy. Some leather pieces should be washed by hand. But, most polyester ones should be machine-washable. Just read the instructions attached to the tool vest to choose the right cleaning method for your piece.
Tool Vest Vs. Tool Belt: Which One Is Better?
Many ponder between a Tool vest vs tool belt design, wondering which one suits their work better. Of course, you have to consider the tool load, your preferred wearing style, and the nature of your tasks to decide which one is better.
For example, if you want to pack all your tools for a huge task, a tool vest is not the right pick since it only allows a few hand tools and small pieces. Of course, you can find a tool vest with a hammer loop or holder for tape measures, but the price is going to be higher than a standard vest.
However, with a tool belt, you can always insert an extra tool bag to carry more gear. But, not all tool vests models allow such an addition. You risk messing with the balance of your vest if you add too-heavy pouches. Therefore, vests and belts differ regarding tool capacity.
Both tool belts and tool vests distribute weight evenly, as long as they come with a well-balanced design. So, that's one thing that both can offer. Make sure you consider your dominant hand and how you want to arrange and classify your tool assortments when picking your storage option.
Some workers might prefer a tool vest in terms of freedom of movement, mostly because the piece's design is rather straightforward. In the case of a tool belt, when fully packed, movements will be somewhat restricted.
Conclusion
In picking your tool vest, you can read the best tool vest reviews on various platforms like Reddit or blogs. Furthermore, you can check out reports from old users of the product or ask savvy shoppers for an excellent recommendation. Whichever piece you choose, make sure to check all the important features listed above before purchase. Work safely!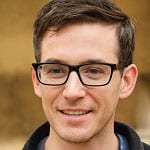 This is Edward Manning, the editor in chief of Construction Informer. Quite a bit of my time is spent researching the market and interviewing experts in the field so that I can give you reliable information.