Workers cannot handle their trim and finish carpentry tasks without their full pack of essential tools. But, to lay all their pieces on the floor and start working is inconvenient. Therefore, a suitable tool belt is necessary for them to have all the tools ready at hand.
But choosing the best trim and finish carpentry tool belt is tricky due to the variety of models available. And, no one knows what's best for you except yourself. So consider your current tool collection, then look at these main features to decide:
Pouch space, size, and arrangement – The number of holders and their layout should allow you to put all your essential and secondary tools neatly. Make sure you can still carry everything you need in the tool belt for a huge project.
Meanwhile, check if your largest tool can fit in the largest pocket. Also, please make sure there are small and secure spaces to keep all the fasteners without spilling them.
Style of tool belt – There are some main styles you might encounter. There is one featuring a belt and multiple pouches. You might see designs with suspenders, or belts with a vest, or simply just a bag. Read on below to know which one suits your needs.
Durable and comfortable wear – There should be no compromise regarding the product materials and construction. They should allow you to work hours on end without fatigue. Also, such a huge investment should last long without sagging and tearing.
These are not all criteria, as you can find more details in the buying guide below. But first, let's check what most carpenters choose for their work:
Featured Products
Best Overall
DEWALT DG5641
– Comfortable wear
– 20 pockets and sleeves
– Adjustable belt from 29 – 46 inches
Editor's Pick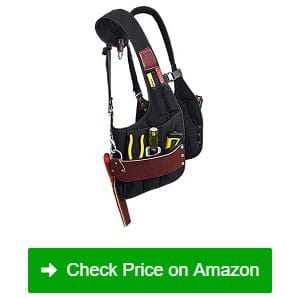 Occidental Leather 2500
– Easy to wear
– Has 18 holders
– Durable leather design
Premium Choice
Style N Craft – 98434
– An affordable price
– Comes with 17 pockets
– Heavy-duty leather paired
Top 8 Trim and Finish Carpentry Tool Belts
1. DEWALT DG5641 Framer's Combo Apron with Suspenders
Instead of purchasing only a carpenter tool pouch then spending the extra money to buy a belt and a suspender system, we can settle for this apron design from DEWALT. I call this an all-in-one piece that covers various work tasks.
First of all, it is highly adjustable, fitting waist size from 29 inches to 46 inches. Therefore, we can change to bulky clothes in winter and still feel comfortable in this tool belt.
Storage is essential when choosing a trim and finish carpenter tool belt, as the compartment space and layout should allow us to arrange necessary tools. The good news is, this apron features 20 pockets and sleeves, giving enough storage to keep nails, pencils, tape measures, hammers, and other carpentry tools.
Indeed, the easy-to-arrange apron also ensures effortless tool retrieval. It comes with gusset-style holders, large and wide enough for us to take the small items or large hand tools out without hassle.
One notable thing that appeals to heavy-duty workers is this set's comfort. With the belt paddings and double-tongue roller buckle design, we can enjoy comfortable wear all day. Also, the apron can distribute heavy loads well to avoid excessive fatigue for long-hour work.
However, the suspenders may not be long enough for people above 6 feet tall.
Pros
Comes as a trim and finish carpenter tool belt setup with suspenders
Highly adjustable belt from 29 inches to 46 inches
Features 20 pockets and sleeves to keep different-sized carpentry tools
Easy to retrieve tools due to the gusset-style holders
Comfortable wear with belt paddings and double-tongue roller buckle
Distributes heavy loads well to avoid fatigue
Cons
The suspenders might be too short for some
I would say this trim and finish carpenter apron is an absolute bargain with its complete set to carry heavy tools and deliver comfort.
2. Occidental Leather 2500 Stronghold SuspendaVest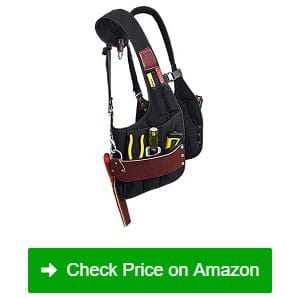 A style of tool belt for carpenter that should work for narrow workplaces is the Occidental Leather 2500 Stronghold SuspendaVest. It is a nicely-made vest that helps us carry essential tools for tasks.
This item is a good tool organizer, indeed made for workers who insist on keeping every gear neatly in place. There are no large pouches, but it comes with 18 holders that separate all the hand tools. So, when we retrieve something, we can reach for it instead of searching in a spacious pouch.
For some professional carpenters, a tool vest design is their go-to item since it is effortless and safe to wear. They can just put on the piece and stack parts and tools on both sides. This vest can distribute the gear assortment's weight evenly, reducing fatigue.
This Occidental finish carpenter tool vest delivers comfort without compromising on its durability. In truth, the leather belt can withstand harsh conditions, while the padded shoulder features Dri-Lex moisture-wicking lining. Such a combination ensures long-hour tasks with maximum efficiency.
Another upside of this workwear is its excellent adjustability. We can enjoy the quick-disconnect leather belt and customizable strap on the vest. It is not surprising that the design can accommodate the various body and waist sizes.
Again, since it is top-quality USA-made gear from Occidental Leather, the price is undoubtedly higher than standard pieces on the market. And the leather material will require some breaking in first.
Pros
Has 18 holders that separate tools for neat packing and easy retrieving
Easy to wear with even weight distribution
Durable leather design to withstand harsh conditions
Comfortable padded shoulder support with Dri-Lex moisture-wicking lining
Adjustable strap and quick-disconnect leather belt
For anyone willing to pay some extra bucks to enjoy well-made workwear, this Occidental Leather vest is a worthy investment to consider.
3. Style N Craft – 98434 Pro-Framers Combo
Who wouldn't want an affordable tool belt with a sleek look and ample room? Those features are exactly what the Style N Craft – 98434 Pro-Framers Combo can offer.
Its color is dark tan, which strikes me as unique and professional-looking. I used to wonder how long such a nice appearance can last in a hazardous set-up. But my work does not have many outdoor tasks, so I am at ease. Yet, in truth, the top-grain oil leather of this tool belt stays gorgeous for years, according to other workers.
Its durability should be highly appreciated, especially at this price range. The heavy-duty leather paired with tough nylon threads results in an intact framers tool belt despite frequent use. The stitches and rivet caps will not come off easily, even with constant brushing with sharp and heavy tools.
Storage capacity is a valuable feature in this tool belt's design. With 17 pockets provided, we can keep as many hand tools as required for tasks at hand. Notably, it can hold a 3.5-inch tape measure with a 2-inch thickness. Also, bringing along small items and parts is not a problem.
It is worth mentioning that its prong metal roller buckle allows easy adjustment to fit 34-inch to 46-inch waist size. The tapered leather belt can be customized for seasonal clothes and carry heavy loads without compromising its integrity.
The only downside is a rather long break-in period. We might have to spend a week wearing it before getting used to the leather belt and feeling comfortable in it.
Pros
An affordable price
Dark tan top-grain oil leather that stays beautiful for a long time
Heavy-duty leather paired with tough nylon threads
Durable rivet caps and tapered leather belt
Comes with 17 pockets, keeping 3.5-inch tape measure and small hand tools
Prong metal roller buckle is adjustable to fit 34 – 46-inches
Cons
Requires a longer break-in period than usual
After successfully breaking in this finish carpenters tool belt, we can utilize its great features and function. So, there is nothing left for me to complain about after all.
4. Occidental Leather 9540 Finisher Tool Belt
Occidental Leather is already a well-established name in making top-quality workwear. And among its collection, the 9540 Finisher Tool Belt model stands out as one of the best for trim and finish carpentry.
We know how complicated carpenters' tasks are, and the last thing they want is to be distracted due to a lack of tools. But with this belt, everything is within their reach, as two main ply bags can open wide and ready. They show all the tools stacked neatly in different compartments for easy access.
With work mainly around the house, we do not really need a tool belt that withstands harsh weather. Yet, the tool belt and bag must be durable enough to resist abrasion, cut, and especially sagging. Luckily, this model can offer just that with its industrial nylon and top-grain leather fabrics.
Ceiling carpentry requires climbing and bending, so suspenders might be necessary sometimes. Knowing that, the brand adds D-rings to the tool belt, ready for when we purchase a suspension system and attach it there.
The product offers a good fit for many waist sizes, ranging from 32 inches small to 40 inches. Besides, this tool belt's adjustability allows us to wear seasonal clothing without feeling too tight or bulky.
As expected, Occidental Leather's products always cost higher than standard tool belts, and this model is not an exception.
Pros
Two main ply bags with compartments that open wide for easy access
Withstands rugged use with industrial nylon and top-grain leather
A durable, abrasion and cut-resistant construction with no sagging
Added D-rings to attach a suspension system
Available in multiple sizes and ideal for changing seasonal clothes
Cons
A high-priced tool belt for carpenters
For long-term use, I'd stick with this durable and functional trim carpenter tool belt from Occidental Leather. Workers with a huge budget to spend should consider getting this one.
5. CLC Custom Leathercraft 179354 Carpenter's Tool Bag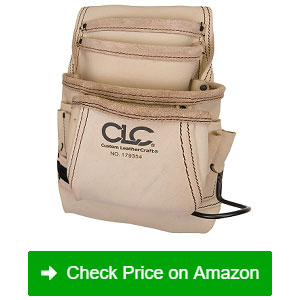 Many want to seek products originally designed for Carpenters to keep specialized tools. In that case, the CLC Custom Leathercraft 179354 Bag will suffice.
I deem this bag convenient gear with designated holders for specific hand tools and small items. Holding the bag in hand, we noticed the two largest compartments in the middle, two smaller upper pockets, and six small compartments. The hammer and tape measure can stay on the side loop and clip, respectively.
Due to this neat layout, we can reach for tools without hassle. The hand tools can stick out of the bag, allowing us to grip and retrieve them right away. Yet, the holder is tight enough to prevent them from falling out. In other words, it is a secure and easy-to-use design.
I also appreciate this bag's rugged construction, withstanding elements, wear, and tear. It is constructed with reversed top-grain leather fabric to ensure long-lasting use. Plus, CLC made such a pretty tool bag with a nice bright color, which is rather hard to find in the market.
Workers who already have a standard belt can hook this bag on it just fine. The item fits trim belts up to 2.75 inches, so there is no issue in bringing our load of tools and handling tasks with both hands.
Still, we need to spend some time to break this leather bag in, as at first, it might be tricky to get the small nails out of the tight front holder.
Pros
Has 2 large holders, 2 small pockets, 6 compartments for specific hand tools
Features a loop for hammer and a clip for a tape measure
Allows easy retrieving yet offers secure holders
Reversed top-grain leather fabric to withstand elements, wear and tear
Nice-looking bright color for a tool bag
Fits standard belts up to 2.75 inches
Cons
Requires some time to break in, especially the small front holders
This leather bag can accommodate my finish carpenters tool belt. Such a combination supports my tasks well, allowing me to flaunt a nice look while working smoothly.
6. Occidental Leather 9525 Finisher Tool Belt
The Occidental Leather 9525 Finisher Tool Belt is an innovative design with round-bottom pouches as its signature attribute. Carpenters will want to try this gear if they need spacious storage to keep large-sized tools.
One notable thing about this design is its available options for left and right-handed workers. We can choose one with a suitable layout that supports our dominant hand. Whichever model is chosen, workers can still experience the same ruggedness and functionality.
Carpenters are guaranteed a well-organized tool assortment when they have this belt in hand. It features two main bags with round bottoms on both sides, including front pockets that open wide. We can stack a myriad of hand tools in there, including a large-sized measuring tape. The hammer or knife can be kept in the added loop.
With such a design, it is easier to retrieve a tool out of the holder without searching or fidgeting with a cover. Hence, workers can focus on their duty with maximal rhythm. Therefore, people who work in trimming, framing, or fishing carpentry will benefit a lot from this well-made tool belt.
Lastly, we all know how durable Occidental Leather products are, and this one lives up to their reputation. The black pouches and leather belt can keep their good look for a long while despite frequent abuse. Also, abrasion is not an issue with this rugged piece.
However, buyers should pay attention to the recommended size since it might be smaller than expected.
Pros
Available layouts for left and right-handed workers
Allows well-organized assortment with wide pockets and loop
Spacious room for large-sized tools due to the round-bottom pouches
Easy to take the tools out, ensuring a maximum working rhythm
Durable leather material for long-term use
Cons
Sizing can be tricky, as it is a bit smaller than expected
All in all, this Occidental Leather tool belt for finish carpentry is an excellent pick with ample storage. It can indeed last a long time, no matter how rigorous our tasks are.
7. Spec Ops Tool Gear SF-18 DELTA Tactical Vest and Belt
The Spec Ops Tool Gear SF-18 DELTA is the second vest design on this list, but with a broader coverage than the first one. Notably, every purchase of this item contributes a $7.5 donation to wounded soldiers and families of fallen warriors.
This vest and belt set is available in two designs that are equally nice-looking and cool. I went for the Coyote Tan, but the Digital Camo is also a great addition to everyday work.
On the vest, there are holders for small hand tools and important belongings. We can insert keys, nails, and other things in the vest pockets with covers. Meanwhile, the pouches on the belt are more spacious, with hammer loops on the side to accommodate hand tools. Due to the wide opening, we can retrieve tools more quickly.
Adjustability and comfort are notable attributes of this vest and belt design. They are present in the memory foam on the shoulder straps to the fully-adjustable back and belt straps. The workwear can fit us nicely for waist sizes up to 43 inches.
Besides, the distribution of weight across our back, hips, and shoulders will alleviate the heavy loads. With such a feature, we can carry more tools without feeling unbalanced.
These features combined make this tactical vest an ideal choice for various work, including trim and finish carpentry. However, its price is pretty high, which might make buyers think twice since the brand is not that popular.
Pros
Contributes to good deeds for each purchase
Nice-looking Coyote Tan and Digital Camo designs
Small vest holders, hammer loops, and large belt pouches with wide openings
Comfortable memory foam on the shoulder straps
Fully-adjustable back and belt straps
Even distribution of weight across our back, hips, and shoulders
Cons
A high-priced vest and belt design
This one is a unique vest and belt that provides a nice look with sufficient space for tools. We could not ask for more!
8. MagnoGrip Magnetic Carpenter's Tool Belt
The MagnoGrip Magnetic Carpenter's Tool Belt is sleek-looking—one of the nicest on this list. But it is more than what meets the eyes with durable polyester construction and secure pockets. Let's see what this final entry has in store.
First of all, the design is compact and simple, yet impactful with the shiny black color. It wraps around our waist nicely with an adjustable buckle and strap. Besides, the belt is lightweight at 1 pound only, adding no extra burden to our load.
The total number of pockets is twelve, with two big bags on both sides and one in the front. Extra holders are useful to line up hand tools and extra wooden parts. For a big project, the carpenter can stack these spacious bags full of tools and start working smoothly.
When climbing on ladders to reach the ceiling, we might face the risk of falling tools. However, it is not an issue with this design since its magnetic holders secure all stuff inside.
Durability is a given with this workwear, considering its 1680D ballistic polyester fabric and reinforced rivets. The material used is rugged yet affordable, allowing workers with a budget to enjoy long-lasting use of this tool belt.
However, this might not be a long enough belt for people with large waist sizes.
Pros
Sleek-looking and simple design with a shiny black color
Budget-friendly, lightweight and compact tool belt at 1 pound
Adjustable strap and buckle for a comfortable fit
Twelve pockets with two on both sides and one at the front
Magnetic holders to keep tools from falling out
Durable 1680D ballistic polyester fabric and reinforced rivets
Cons
Not long enough to accommodate people with a large waist size
Despite the minor downside, this tool belt for trim carpenter tasks offers a nice look, excellent durability, and functionality for my work.
What to Look for When Buying Trim and Finish Carpentry Tool Belt?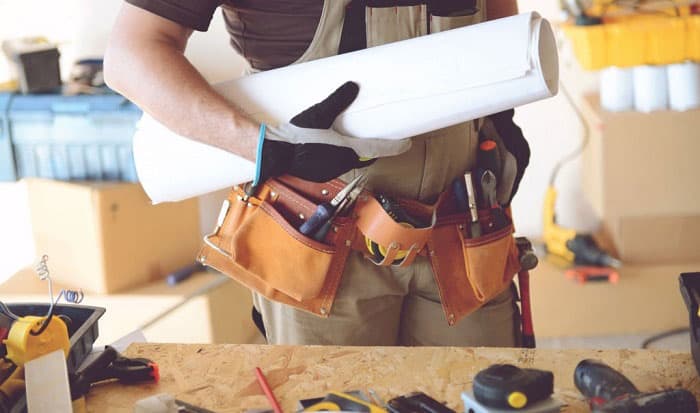 Choosing the right carpenter belt for trim and finish tasks requires much research on various items. But first, you should start with your own tool collection, thinking about how much storage will suffice and how you arrange those tools. Your working condition is also crucial since it determines how secure and durable your tool belt should be.
So, while looking at your tool assortment and thinking about job requirements, consider these factors below for the right selection.
Common styles available
Tool vest: The thing about a tool vest is its simple design that allows easy wear. It is likely to fit many waist sizes since we can put it on comfortably. Some tool vests come with a belt; others do not. Their coverage also varies, as a tactical vest will cover both your front and back, while a tool vest only hangs on your shoulders.
A tactical vest allows a tight hold onto tools with its compartments. When choosing this type, make sure you go for one with padded support to ensure comfortable wear. Besides, this design allows even weight distribution for tasks that require climbing.
Tool Belt with pouches: This design is the most common among carpenters. It comes with pouches on both sides of the belt, allowing spacious room for hand tools. It is easy to find a leather tool belt of this type with good durability. In most cases, the belt and the pouch materials will be different.
Tool bag without a belt: You can go for a tool bag if you already own a belt. Tool bags can accommodate large-sized tools, allowing us to keep everything in a large pouch with multiple compartments. But this design suits a small number of tools since the heavy load will weigh one side down and be inconvenient.
Tool belt with suspenders: This full system allows a heavy load, unlike a single pouch or bag. It offers everything a tool belt can, with a supporting system for even weight distribution to reduce fatigue. Make sure you choose one that provides full adjustments.
Durable materials and construction
There are many materials used to construct tool belts for carpenters. Leather, Nylon, or Polyester are the most common choices. You can visit Occidental Leather or Style N Craft if you want a top-quality tool belt made from top-grain leather.
Among many brands, the Diamondback tool belt is popular for its 1000D nylon hand-sewn construction. Meanwhile, Dewalt products are high-quality Polyester at affordable prices.
Besides materials, we should look into the reinforcement of the design to see if it can withstand heavy weights. The piece should come with quality stitching and rivets at key points. These are the best attributes to ensure your tool belt will last for a long time without sagging.
Pockets and holders
The number of pockets and holder arrangements are essential details that help us choose our tool belt more easily. Think about your largest tools and find a pouch that fits them nicely.
Also, smaller items and parts should fit smaller holders with covers to keep them securely without spilling. A tool bag with a lid might help carpenters who climb on high ladders for work. Moreover, additional space offered by loops, sleeves, and hooks is important for specific hand tools.
Fit and comfort
We should not wear a tool belt that does not fit us well and does not deliver enough comfort. It is essential to look for ones with full adjustability, either with suspenders or not. Make sure to check the reviews after the size chart because the latter can sometimes be misleading.
When looking for a comfortable tool belt, check the paddings first. The belt must be padded at important points to reduce fatigue and pressure. Furthermore, moisture-wicking lining and breathable materials contribute to all-day comfort. Find a belt or a system that is not too heavy for long-hour work, too.
Which Way Do You Wear a Trim and Finish Carpentry Tool Belt?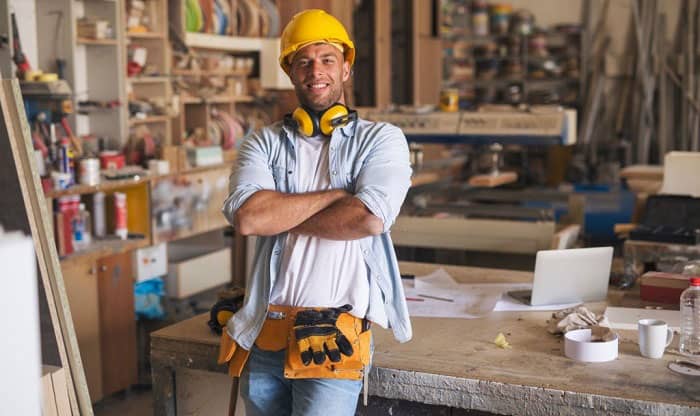 In most cases, we need to pack the tools first before wearing the tool belt. Make sure you arrange all the tools, close all the lids of pockets to make sure everything is neatly packed.
Then, for the belt, just put it on and adjust the buckle to fit nicely around your waist. If it is a vest, wear it first; make sure to fasten the chest buckle, then.
Putting on a belt system with suspenders is a bit more complicated. You need to lengthen or shorten the straps so the shoulder paddings sit in the right place. Then, adjust the belt to feel comfortable around your waist. Pack more tools if needed, and you are good to go.
How Do I Organize My Trim and Finish Carpentry Tool Belt?
On the left side, it is better to stack your fasteners such as nails, screws, and other items in small pouches. You can keep all your secondary tools there, the ones that are used less frequently than your primary tools.
The right side should accommodate your main tools. For instance, the hammer can go on its loop, and the tape measure stays on the designated clip. Other hand tools, carpenter pencils, and utility knives should be stacked neatly inside the right pouches, preferably in large compartments.
How Do I Clean My Carpentry Tool Belt?
If your tool belt is made of leather, it will take more time and effort to clean, not by the washing machine, of course. Prepare some mild soap, a soft bristle brush, a piece of clean cloth, and some natural oil.
Start with emptying the pouches, and use the bristle brush to clean the dust off the belt.
Mix the soap with water and use this agent to scrub the whole bag with the brush again. Make sure to do it gently.
Rinse the whole belt with warm water and let it lay flat to dry. You can hang it on a clothesline, but avoid direct sun rays.
Condition the tool belt with oil.
You can use this method for other tool belts made of a different material; just do not apply oil on them. Also, you can clean stubborn marks with rubbing alcohol; make sure to search for a detailed guide to follow.
Conclusion
Choosing the best trim and finish carpentry tool belt can be a breeze if you know which criteria to prioritize. Ensure you understand what you need regarding the storage space, holder layout, support system, and other features.
Also, remember to take care of the tool belt well to help it handle heavy weights and harsh conditions for a long time.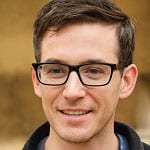 This is Edward Manning, the editor in chief of Construction Informer. Quite a bit of my time is spent researching the market and interviewing experts in the field so that I can give you reliable information.