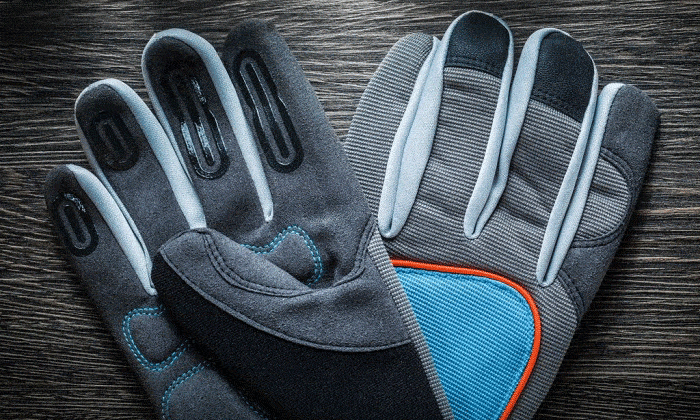 Wet hands are probably one of the last things you want to get while at work. Everything gets all slippery, you're effectively barred from holding electronics until you dry off, and let's be honest, nobody likes the feeling of wrinkly fingers.
To some, these might just be minor inconveniences. But prolonged water contact can actually lead to some serious problems like occupational eczema.
Whatever the case, we can agree that dry hands are better for work than wet hands. And to keep those hands dry, you're going to need the best waterproof work gloves.
Now, you could get away with a pair of dollar store rubber gloves for household chores. But if you're reading this, you probably need a pair for some serious work. And for that, there are a few things you need to look out for when shopping for your next pair:
First of all, you're going to want the top-rated waterproof gloves to be, well, waterproof. I want to emphasize this here because different gloves will have different kinds of waterproofing, as we will see in some of the recommendations on this list.
Next, your ideal pair of work gloves should have the toughness to keep your hands safe while at work. This includes protection from cuts, abrasions, impacts, and other hazards you might encounter at your workplace.
Now, it's important to only get the protection that you actually need and not go overboard. This is because you also have to consider the dexterity of the gloves you're buying. The toughest heavy-duty gloves might give the most protection, but will be completely useless if you can't move your hands freely enough to do your job effectively.
As such, I've compiled this list of some of the top-tier waterproof work gloves I've tested. You can also read the buying guide that comes later for more tips.
Featured Products
Best Overall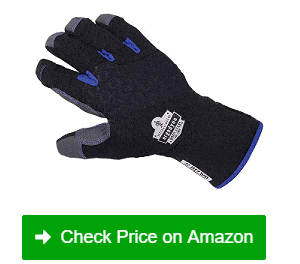 Ergodyne ProFlex 817WP
– Works well for most jobs
– Windproof outer shell keeps cold air out
– Reinforced palm & fingertip pads
Editor's Pick
Carhartt Men's W.P.
– Tough polyester shell blocks out the elements
– Rubberized palm for excellent grip
– Adjustable wrist strap helps lock in the perfect fit
Premium Choice
G&F Products Waterproof
– Vivid orange coloring for low-visibility work environments
– Soft nylon shell with acrylic terry liner
– Latex waterproof glove coating
Top 12 Waterproof Work Gloves Reviews 
1. Ergodyne ProFlex 817WP Waterproof Work Gloves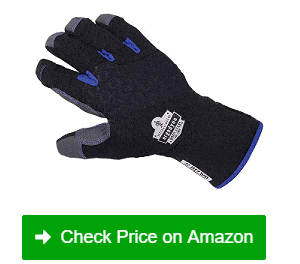 Every job and work task has its unique set of needs to meet and hazards to avoid. And while it is usually a better idea to get a pair of gloves made specifically for our work, it gets very expensive very quickly—especially if we're involved in a variety of jobs.
That's why the ProFlex 817WP is my first recommendation for this guide. It's a pair of waterproof work gloves that manages to work well enough for most jobs.
Waterproofing is achieved through a membrane that is sandwiched between an inner insulating layer and the fabric outer shell. This membrane ensures our hands stay dry even if the glove's outer shell gets wet.
That's not to say the outer shell is just that, though. Its ripstop fabric has a windproof quality that pairs well with the waterproof membrane to provide a versatile level of weather resistance.
These waterproof work gloves were the main work pair that I brought with me to an offshore construction project that lasted a few months. The reinforced pads added to the palm and the fingertips were critical to letting them last through the whole project.
I also really appreciated the dual-zone 3M Thinsulate insulation layer used on the gloves. After testing them with hours of exposure to cold ocean water, I can safely say that they are more than able to keep our hands warm in cold temperatures.
However, the fingertip pads were a bit wide and bulky for my taste. So while they were fine for heavy construction, I would choose something else for tasks that need more accuracy.
Pros
Works well for most jobs
Waterproof inner membrane & insulation layer
Windproof outer shell keeps cold air out
Reinforced palm & fingertip pads
Dual-zone 3M Thinsulate insulation
Cons
Fingertips feel a bit bulky
The versatile feature set of the Ergodyne 817WP makes them a great pair of waterproof working gloves for most professions.
2. Carhartt Men's W.P. Waterproof Insulated Glove
When it comes to premium, high-grade workwear, Carhartt is always in the conversation. With a brand history that goes back to the 1800s, their prestige is only matched by their quality, as we can see in their waterproof grip gloves aptly named the W.P.
The gloves block out water with a waterproof insert layer. This insert is made with FastDry technology for wicking moisture when it gets too steamy inside the gloves. Thus, I've never felt uncomfortably sweaty while wearing them.
Plus, these winter gloves are designed specifically for use in subzero temperatures. Their shell is made out of a tough, hard-wearing polyester that blocks out the elements very well. From my experience using these in a project up in Canada in the dead of winter, the Carhartt W.P. kept the weather at bay. I could hardly feel the chill through the winter gloves no matter how cold it got.
The insulated work gloves are equipped with rubberized panels that cover the palms. The material maximizes our grip on a variety of surfaces, helping us do our job safely and effectively.
Just as they must be able to help users grip their tools, the insulated gloves must also be able to stay securely in our hands. To achieve this, these winter gloves have an adjustable strap on the wrist to help lock in the perfect fit that holds on tight.
In terms of negatives, buyers should go up one size when purchasing this product. The straps help with fitting, but they're not enough if one follows Carhartt's sizing.
Pros
Waterproof insert with sweat-wicking FastDry technology
Tough polyester shell blocks out the elements
Rubberized palm for excellent grip
Adjustable wrist strap helps lock in the perfect fit
These mens waterproof work gloves from Carhartt are an excellent option for extreme cold weather.
3. G&F Products Waterproof Winter Gloves
I bought these bright orange gloves made by G&F Products to use on a whim for shoveling snow from my driveway. As it turns out, these gloves have a lot more to offer just under the surface, which is why they get a recommendation from me. Let me explain.
First off, let's get the orange out of the way. It might seem like just a nice color—which it is—but it actually has a purpose in the workplace. Specifically, the bright orange makes it easier to find in low-visibility work environments.
This bright orange is used throughout most of the glove, including the soft nylon that makes up the shell. An acrylic terry fabric lines the inside of the gloves to provide additional warmth, making them pretty excellent mens winter gloves as well.
The orange is also used on the latex waterproof glove coating that covers the hands up to near the fingertips. This waterproof coating was quite effective at blocking out water, and my hands stayed dry throughout.
Unfortunately, the latex waterproofing doesn't actually cover the whole glove. It stops right around the elastic cuff, which means water could still get into the gloves through them. As such, I would recommend looking elsewhere if you need full waterproofing coverage.
In addition to the latex coating, a layer of textured foam covers the palm and fingers of these gloves for enhanced grip. This grip works quite well for most tasks.
Pros
Vivid orange coloring for low-visibility work environments
Soft nylon shell with acrylic terry liner
Latex waterproof glove coating
Textured foam palm coating for enhanced grip
Cons
Wrist cuffs are not waterproof
Although their waterproofing coverage is slightly limited, this example from G&F Products is still a very capable pair of waterproof gloves for work.
4. Youngstown Waterproof Winter Plus Performance Glove
The Youngstown Glove Company is one of the United States' most trusted manufacturers that specialize in industrial-grade hand protection. Their Winter Plus Performance model is one such example, offering a well-rounded set of design details that makes them one of the most affordable winter gloves people can buy right now.
One such detail that these gloves feature is their triple-layer construction technology. Constructing the gloves this way allows the characteristics of each material to cover the whole hand. And indeed, the multiple layers work together seamlessly to create a great pair of gloves.
To start, there is the innermost layer, which is a thermal liner made of microfleece. It's a soft, fuzzy fabric that provides most of the cold protection of the gloves, and keeps our hands warm through most above-zero temperatures.
A flexible membrane serves as the waterproofing layer of these gloves and does its job very well. Its waterproofing coverage is very thorough, and even after submerging my entire hand, water could not go through the gloves at all.
Wrapping the entire glove together is a shell that's woven in different ways throughout the glove. By using a smoother weave on the palm side and a thicker knit style on the back side of the gloves, the manufacturer is able to provide both great flexibility and a bit of extra puncture and abrasion resistance.
However, the nylon shell doesn't offer a lot of impact protection, especially on the back of the gloves. I would have liked to see rubber or plastic guards to provide a more substantial buffer zone against strong impacts.
Pros
Triple layer technology for optimized performance
Microfleece inner liner helps keep our hands warm
Weatherproof inner membrane keeps hands dry
Outer shell is flexible and protective
Cons
Limited impact protection
With its quality composite build, Youngstown has created an excellent pair of waterproof winter working gloves.
5. Kinco Hydroflector Waterproof Work Gloves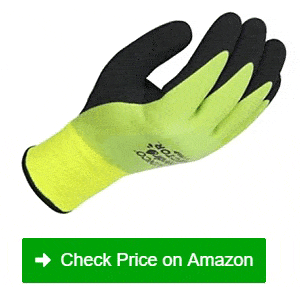 As we've seen from the reviews so far, most cold weather gloves are of the more heavy-duty kind, using thicker materials to keep our hands warm. While this is great for extremely cold environments, the extra thickness means that the gloves become very unwieldy. This is a major concern, especially for jobs that require maximum dexterity like fishing and meat processing.
For that reason, the Kinco Hydroflector has made it onto my list of recommendations. Its thin polyester shell allows the hands to move and flex freely, ensuring maximum dexterity no matter the task.
But there's a catch—having such a thin shell means that there's not a lot of material protecting our hands from an accidental stab or cut.
Anyone who's ever been out fishing will know how tricky it is to hold on to a live fish that they just caught. This is where the palm coating of these gloves comes in. The combination of the sandpaper texture and the grippy nitrile grips well in all conditions, from warm and dry to cold and wet.
And shoppers don't have to worry about getting wet in these waterproof work gloves, thanks to the nitrile coat on them. This waterproofing improves coverage throughout the glove, so wet hands will never be an issue.
Dust and dirt won't be an issue as well, thanks to the knit cuffs that provide a secure and snug fit.
Pros
Polyester shell maximizes dexterity
Textured nitrile palm grips well in all conditions
Waterproof nitrile coating
Snug knit cuffs block out dust and dirt
Cons
Doesn't protect the hands from cuts very well
The Kinco Hydroflector is an easy recommendation for a pair of lightweight waterproof gloves that keep our hands dry through most light-duty work.
6. DS Safety Hycool L6201 Grip Working Gloves
Most of the waterproof work gloves we've seen so far were made primarily for use in cold conditions. But just as there are jobs that need cold weather waterproofing, there are many more that need our hands dry in the sweltering heat.
Don't worry, my list has such jobs covered as well. One of my top recommendations for hot weather waterproof gloves is the Hycool L6201 from DS Safety.
With their Aquavent waterproofing technology, the gloves block out water effectively without affecting the flexibility or comfort of the gloves.
And these gloves are indeed comfortable. Backing the Aquavent layer is a 15-gauge nylon shell that flexes freely to move with our hands and fingers without any resistance. This is especially important if one's job requires a lot of hand dexterity.
Helping this along is a soft and flexible latex coating that wraps the entire glove. While the latex used here is thicker than the ones used in surgical gloves, it is just as flexible and is a great match with the nylon shell.
The cost of this flexibility, though, is that these waterproof gloves are thin. While they aren't so thin as to fall apart easily, the gloves do lack impact protection simply because there's not a lot of glove cushioning our hands from whatever heavy object falls on them.
In addition to being flexible, latex is also quite grippy. The coating on the palms and thumbs helps maintain a steady, solid grip on whatever I'm holding without any worry of slipping.
Pros
Aquavent waterproofing technology
Comfortable 15-gauge nylon shell
Soft and flexible latex coating
Great grip thanks to palm and finger coating
A lightweight build and solid performance make the DS Safety L6201 one of the most favorite waterproof summer work gloves I've ever used.
7. Glacier Glove Perfect Curve Glove
For most manufacturers, making a pair of waterproof gloves is a matter of sewing materials together to form a hand shape based on a predefined two-dimensional pattern.
But hands are three-dimensional, and different people have different hands in different shapes and sizes. This can become a problem if our hands don't quite match the shape of the gloves we're buying, as any crease or contour in the gloves that stick out can be very uncomfortable.
This is what Glacier Glove is trying to remedy with their Perfect Curve gloves. Their unique pre-curved construction makes these waterproof gloves take a three-dimensional shape right out of the box, which translates into a snug fit and natural feel.
Making this all possible is their use of extra-flexible neoprene as the waterproof shell. This fabric is most commonly used in swimming and diving wetsuits and is an excellent choice for gloves as well, thanks to its additional function as a mild insulator.
Despite its benefits, this option does have its limits. In particular, it doesn't offer a lot of grip compared to the other waterproof gloves on this list. This is something to keep in mind for people who require a superior grip in their work tasks.
The palm section of the gloves is made as a single piece with the seams moved to the backhand side. Doing this eliminates all of the pesky seams that could poke out inside the glove, massively improving comfort.
These waterproof neoprene gloves are locked down to the wrists with a special Pro Strap. This is essentially a wide elastic band that is highly secure and easy to adjust to our liking.
Pros
Pre-curved construction for natural fit and feel
Extra-flexible waterproof neoprene shell
Seamless palm section for no-snag comfort
Secure wrist lockdown with Pro Strap design
Their unique design and incredibly natural fit make Glacier's Perfect Curve one of the most durable waterproof insulated work gloves.
8. Vgo Waterproof Winter Work Gloves
As the chill of cold weather starts to roll in, now would be as good a time as any to buy insulated work gloves for cold weather. I've recommended several of those in this list already, but for consumers who want other options, this pair from Vgo is worth checking out.
These waterproof insulated gloves feature the thermal protection of both 100g Thinsulate and a soft fleece lining to provide a significant amount of insulation against cold air. The insulation of these gloves was more than enough to handle just about every winter activity I threw at it, from snow clearing to snowman making with my kids.
Part of what lets these waterproof work gloves last so long is the synthetic leather panels used to reinforce the palms of the gloves. They provide a highly durable buffer against wear and tear, keeping the shell of the gloves intact.
In addition, a TPU membrane covers the entire interior of the waterproof gloves, blocking out water from all sides.
A helpful little detail on this waterproof work glove is the reflective panel across the back. This really helps with visibility and will be useful if I do work long into the night.
On the downside, these gloves are not the most breathable pair I've used. If you're prone to sweating, your hands will feel clammy while wearing these.
Pros
100g Thinsulate & fleece insulation for warmth
Synthetic leather palm reinforcements
TPU waterproofing membrane blocks out water from all sides
Reflective panel helps with visibility
With respectable performance for both work and play, these Vgo insulated waterproof gloves are a good option to have on the shopping list this winter.
9. Wells Lamont Waterproof Work Gloves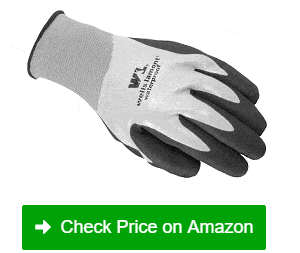 Of the many varieties of rubber and rubber-like materials I've tested on different waterproof work gloves, latex is one of my favorites. And to illustrate why, I will be using the Wells Lamont 568L as an example.
Like other rubber materials, latex is known for being able to block out water and some chemicals. This is put to great effect on these waterproof work gloves thanks to their coat of the stuff, which improves the long-term durability of the product.
But this, of course, is common to most rubber materials already. What sets latex apart from the rest, in my opinion, is its extreme flexibility. Compared to nitrile waterproof work gloves, latex lets me move my fingers much more freely. This is a big deal for me since a lot of my framing and construction work involves holding a lot of small nails and screws.
In addition to that, the latex provides great protection from both punctures and abrasions. As stray nails, splinters, and rough concrete blocks fall into these two categories, latex is a really good fit for construction work.
This latex liberally coats a soft and comfortable polyester knit shell. The polyester weave used here is soft and stretchy and supports the flexibility of the latex very well.
The only limiting factor of latex is that, compared to other rubbers, some people are allergic to the chemical properties of the material. As such, it's important to test if you have a latex allergy or not before you decide to invest in a glove like this.
Pros
Latex coating blocks out water and chemicals
Extremely flexible for high-dexterity work
Great puncture and abrasion protection
Soft and comfortable polyester shell
Cons
Latex can cause allergies in some people
If latex sensitivity isn't an issue, these waterproof construction gloves from Wells Lamont are a great option for low-intensity work.
10. Anqier Waterproof Ski Gloves
Making insulated waterproof work gloves is a tricky balancing act for many glove makers. This is because better insulation tends to be thicker, but making a thicker work glove reduces the dexterity of the design. As such, manufacturers have to settle on a certain point between flexibility and warmth for every waterproof work glove that they design.
But since I value keeping my hands warm above all else, designs like this example from Anqier are terrific.
As you can probably tell, these aren't strictly work gloves, but instead are skiing gloves. As such, they don't use the typical design elements used by conventional work gloves. For example, they manage to achieve an incredible amount of warmth thanks to a composite shell that shelters our hands from extreme cold.
This fabric shell is also water-resistant and paired with a waterproof inner layer to ensure that our hands never get wet from the snow and ice.
Of course, being a warmth-first glove, these gloves have fairly limited dexterity. Don't expect to be able to have an easy time grabbing on to small zippers and clips.
For larger objects, though, this waterproof work glove provides better grip over the competition thanks to a wear resistant PU panel stitched to the palms. From my experience using them, the PU material gripped to equipment pretty easily.
One detail on these waterproof work gloves that I appreciate is their double wrist closure. Using both a drawstring and a belt buckle on the extended cuffs ensures the gloves will stay on our hands securely, even during the most intense activities.
Pros
Composite shell protects our hands from the coldest winds
Water-resistant shell with waterproof inner layer
PU palm provides superior grip on all big equipment
Drawstring and belt buckle closure for extra-secure fit
Despite being marketed for recreational skiing, this pair from Anqier works well as a work glove and contends with some of the warmest waterproof work gloves on the market.
11. Frogwear 8490 Insulated & Waterproof Work Gloves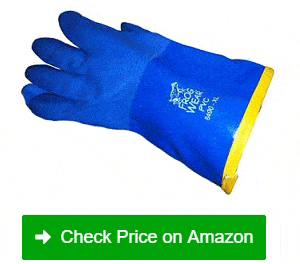 The typical work glove is often made to handle high amounts of wear from water ingress, which is where leather reigns supreme. However, there are many more specialized jobs that require protection from not just water, but chemicals as well.
The 8490 work gloves from Frogwear are a great example of that. Coated entirely in PVC (polyvinyl chloride), these gloves are 100% waterproof and will provide comprehensive protection when handling wet objects.
But that isn't the main attraction for these work gloves. Their main selling point is their chemical resistance. PVC is a very inert material, which means it can protect the hands against a wide range of very dangerous chemicals. This is an essential feature to have as PPE for petrochemical and pharmaceutical applications.
The PVC material covers every inch of the gloves, including the 12-inch extended wrist cuffs. The additional length of the cuffs really helps with increasing the protective coverage of the gloves, as chemicals can very often splash out of their containers.
Unfortunately, while PVC can be pretty strong in some forms (like in pipes), the flexible PVC used here is not quite as sturdy. The material on these gloves doesn't protect our hands from cuts and punctures very well.
Inside the gloves is a terry cloth liner that offers extra comfort and some protection against low temperatures down to about -5°F. This makes the gloves a great option for use in cold storage.
Pros
High-flexibility PVC is 100% waterproof
Chemical resistance for critical operations
12-inch extended cuffs for greater wrist protection
Terry cloth liner protects against low temperatures
Cons
Cut and puncture protection is not very good
The impressive chemical resistance offered by the Frogwear 8490 makes them one of the top-rated waterproof gloves for critical industrial applications.
12. Superior Waterproof Cold Weather Work Gloves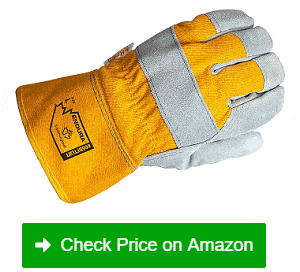 My last recommendation for this list (although definitely not the least) is this pair of cold weather work gloves made by the Superior Glove Company. This brand has been making industrial-grade work gloves for decades, continually refining its designs and coming up with new ways to protect workers of any industry.
While these gloves don't look waterproof from the outside, they are actually equipped with an inner layer made of polyurethane. This foam rubber is a highly durable and waterproof material, which is a great fit for these heavy-duty work gloves.
A thick layer of insulation is also embedded into these work gloves, allowing them to keep our hands warm down to an operating temperature of -20°C. Although I wasn't able to test this at that temperature specifically, the gloves kept my hands toasty in winter temps of about -10°C without any issues.
The protection features continue to the exterior of these warm waterproof work gloves. The back panels are made out of cotton, which is a comfortable and breathable material. Considering its thickness, the cotton panels are quite effective at cooling this work glove of excess body heat inside the glove.
As for the palm side, these waterproof work gloves are protected with cowhide leather panels that cover the entire palm as well as the fingers. This lets the gloves protect the hands from cuts, abrasions, punctures, and impacts that match the performance of truly heavy-duty industrial applications. The leather also provides better grip over the typical materials.
The only disadvantage that these gloves have that I could find is that they are a bit difficult to move in. The thickness of the gloves makes it rather difficult to move my fingers freely compared to some of the other gloves in this list.
Pros
Polyurethane inner layer keeps water from reaching the hands
Insulation keeps hands warm down to -20°C
Cotton back panels have great breathability
Cowhide palm and fingers provide industrial-grade protection and improved grip
What Should I Look for When Buying Waterproof Work Gloves?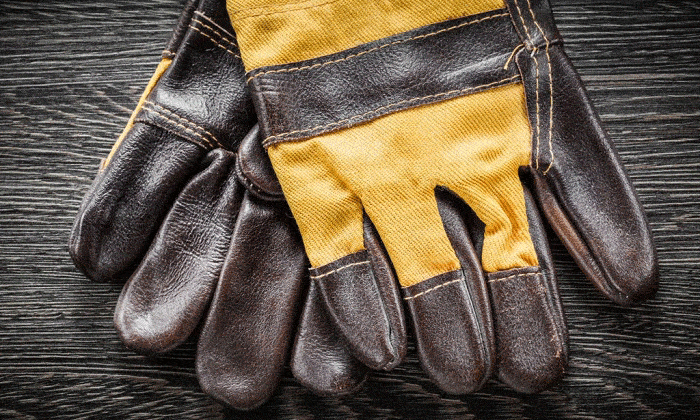 As someone who's used and tested dozens of gloves in my line of work over the years, I've learned a lot about what design details to find when shopping for a good waterproof work glove. And to help you do the same, I've compiled a short list of some of the things you need to consider for your next pair:
Waterproofing is the obvious answer here. But as I mentioned at the beginning of this article, different manufacturers have different ideas of what "waterproof" actually means. For some, it could simply mean that most of the glove can block out water—even if a part of it could actually let water through if it gets drenched.
The worst offenders, in my opinion, are manufacturers that try to pass off "water-resistant" as "waterproof". I'll go into a bit more detail later on in this FAQ, but the point is that you have to be quite wary and use your better judgment before investing in a pair of gloves. Not having that protection when you need it could result in some serious damage if you're not careful.
Other protective features should be on your list of considerations as well. For this, I can't give you the exact answer you're looking for as every job has its own unique set of hazards. If you're at home reading this guide now, think of the typical hazards you encounter at your workplace, and look for gloves that are able to give you protection from those hazards.
For example, do you need to keep your hands dry in your workplace? Then look for waterproof and insulated gloves. Do you need to keep your fingers warm from extreme cold? Then get high quality gloves that provide superior warmth. By targeting your specific needs, you'll get a waterproof work glove that you can take full advantage of when you show up to work with them on hand.
Durability is also another thing you would want to really look out for when shopping for your next work glove. This is because different gloves are designed for different workloads, and will typically be most durable in their intended working environment.
Again, your better judgment comes into play here. For example, common sense should dictate that thin rubber work gloves probably won't last very long when used for intense farm work. Likewise, you can't expect regular waterproof leather gloves to protect your hands very well when you're dealing with toxic or corrosive chemicals.
Dexterity has very close ties with durability when shopping for waterproof work gloves. As I explained previously in this article, the reason for this is that manufacturers have to strike a balance between the two. Always consider the intended use case for these gloves and try to avoid being enticed by extra features that you don't actually need.
Fit is the last and most important characteristic to consider when buying your waterproof work gloves, as an improperly fitting glove will render all of its other features completely useless.
To get the most certainty about the fit of a pair of gloves, my best advice would be to try the actual gloves on in a store before buying them. To better aid your selection process, one thing that I always do is make a shortlist of all the gloves that meet my requirements, then find local stores that actually sell them in person to test out the fit.
What are Waterproof Work Gloves Made of?
Waterproof work gloves use one of a variety of materials to block water out and keep hands dry. The most popular synthetic materials that manufacturers use tend to fall into two categories: foams and rubbers. Foams such as polyurethane (PU) and rubbers such as polyvinyl chloride (PVC) are used because of their combination of waterproofing performance and flexibility, the latter of which is very important since gloves have to constantly flex with the wearer's hands.
What's the Difference Between Water-resistant and Waterproof?
The difference between waterproof and water resistant work gloves is fairly straightforward. Waterproof materials are able to completely prevent water from passing through them. Meanwhile, water-resistant materials can prevent water from passing through, but only up to a limit—if the material is exposed to a large enough volume or pressure of water, water will eventually leak through the material.
How Do You Wash Waterproof Gloves?
Washing waterproof gloves is not much different from washing non-waterproof gloves. Simply wash them with soap and cold or lukewarm water and leave them to air dry. Some gloves might be fine with machine washing as well as sun-drying, but that depends on the specific washing instructions that the manufacturer provides with the gloves.
Conclusion
No matter what field you work in, waterproofing is a very useful feature to have in a work glove. I hope that this list of the best waterproof work gloves has given you the information you need to help you find the right waterproof gloves for extra protection while you work.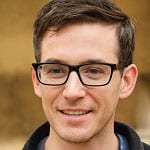 This is Edward Manning, the editor in chief of Construction Informer. Quite a bit of my time is spent researching the market and interviewing experts in the field so that I can give you reliable information.