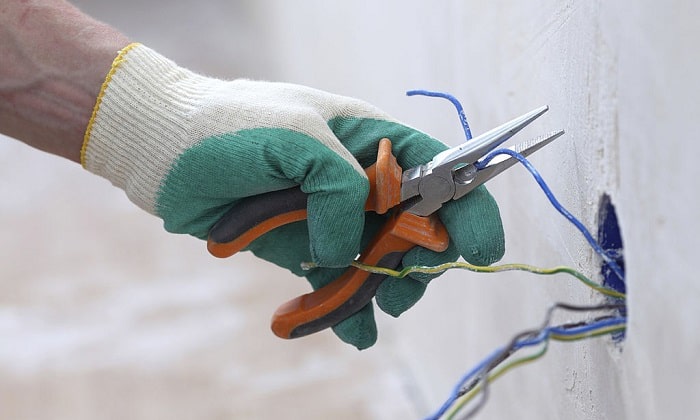 Electricians are some of the most dangerous professions to go into. Whether one's work involves small house repairs or large-scale transmission lines, there is no doubt that electricians and electrical contractors are exposed to a lot of danger.
While the entire body in general must be protected, the hands are particularly crucial as they are electricians' first line of contact with electrical hazards. For this reason, the best work gloves for electricians are required.
An effective pair of electrical gloves must be able to deliver good performance on three specific qualities. These qualities are:
Electrical protection. First and foremost, the professional electrician must be protected from the high voltages they are exposed to in their work area. The amount of voltage protection needed depends on the type of work involved, and is separated into classes. We will go into more depth on this topic later.
Physical protection. In addition to electrical hazards, electricians also have to deal with most of the physical hazards associated with industrial work. Cuts, punctures, and abrasions are just a few of the hazards electricians have to deal with in their workplace, and proper electrician's gloves are the most effective means of defense.
Fit. Of course, for any pair of work gloves to be effective, they must fit the worker's hands correctly. At best, improperly-fitting gloves can be a bit uncomfortable to wear. But as worst, gloves that don't fit the hands well can make work more difficult than it needs to be, posing a danger to both the worker and anyone around them.
With these three qualities in mind, we will go through reviews of 14 pairs of work gloves for electricians. This article will hopefully serve as a guide to help you shop for your next pair.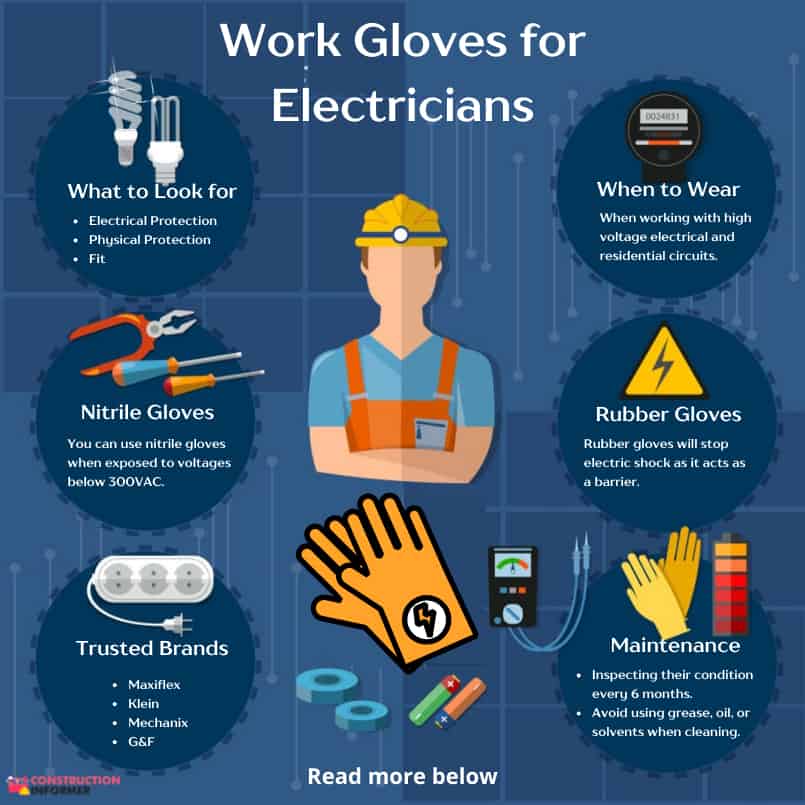 Featured Products
Best Overall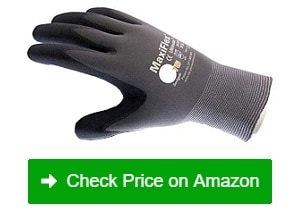 Maxiflex Ultimate Nitrile
– Soft and easily pliable nylon knit shell for free movements
– Nitrile coating for insulation against low voltage electrical shocks
– Breathable micro foam grip keeps hands cool
Editor's Pick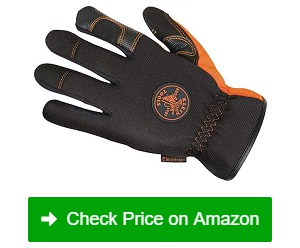 Klein Tools 40072
– Finger and palm pads for added grip and insulation
– Breathable and stretchy spandex shell for all-day comfort
– Extended cuffs allow easier donning and doffing
Premium Choice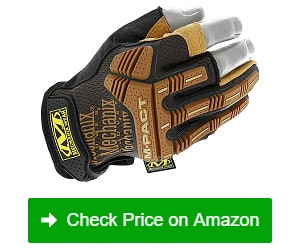 Mechanix Wear M-Pact
– 3 open fingers for unparalleled tactility
– D3O palm pads absorb vibrations to operate power tools
– Ideal for a wide range of electrician tasks
Top 14 Work Gloves for Electricians
1. Maxiflex Ultimate Nitrile Work Gloves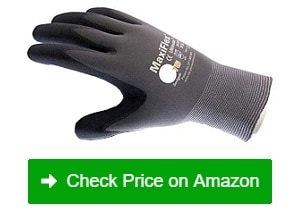 My first recommendation for this list of great electrician gloves is the Maxiflex Ultimate. The flagship model in their dipped fabric glove lineup, these gloves are one of the most versatile light-duty work gloves I've ever used.
The gloves are built mainly out of industry-standard nylon knit. Soft and easily pliable, these gloves were able to flex well with all of my hand movements, whether I was digging out trenches for underground lines or splicing small gauge wire.
This knit shell is coated with nitrile rubber, a synthetic rubber that provides similar performance as natural rubber in terms of electrical insulation. It was quite good at blocking out low voltage electrical shocks, which can often happen when repairing small appliances.
However, these were not primarily intended for use as electrical gloves, and as such, they are not certified for protection against extremely dangerous arc flashes.
That being said, the gloves are still capable as general purpose work gloves. Unlike the typical rubber coating process, the nitrile used on these rubber insulating gloves is in a micro-foam form instead of a dense liquid. The porous nature of the micro-foam gives the nitrile much more breathability over the typical form, which helps keep the palms cool.
Tying the whole package together is a snug knit wrist that keeps the gloves securely on the hands. Such a wrist design keeps the debris from getting in and irritating us in the middle of work.
Pros
Soft and easily pliable nylon knit shell for free movements
Nitrile coating for insulation against low voltage electrical shocks
Breathable micro foam grip keeps hands cool
Snug knit wrist for a secure fit
Cons
Not certified against arc flashes
While these gloves don't have the more sophisticated features of other electric proof gloves, the Maxiflex Ultimate still has a lot to offer in terms of protection from most hazards during light-duty work.
2. Klein Tools 40072 Electricians Gloves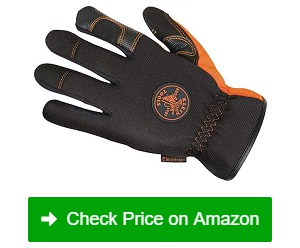 When it comes to designing rubber gloves for electrical work, one of the biggest design limitations is trying to add resistance to physical hazards. The fact of the matter is that, while it is excellent at insulating against electrical shock, rubber can be damaged easily by cuts, abrasions, and punctures. But the combination of various fabrics makes this pair a good choice for protection.
When working with high voltages, workers need equally strong protection from both types of hazards. For these applications, it is often recommended to wear leather protector gloves to provide physical hazard protection on top of the electrical insulation provided by rubber gloves. The model 40072 from Klein Tools is one such leather glove.
Built with tough pads along the fingers and palms, these leather gloves provide protection from common physical hazards as well as added slip resistance to make sure your hands keep a strong hold on wires or tools.
These pads are mated to a shell made of Spandex fabric. Well-known for its high stretchability and breathability, the use of spandex in these gloves allows for all-day comfort.
Extra reinforcement was added to the thumb and pointer finger to improve their durability. As they are the two most used fingers in most work tasks, the extra durability helps greatly to extend the life of these leather gloves.
Because these leather protector gloves are meant to be worn over rubber insulating gloves, the cuffs extend outward beyond the elastic fitting band. This allows for easier donning and doffing compared to a straight cuff.
Pros
Finger and palm pads for added grip and insulation
Resists cute, abrasion, and puncture while protecting against electric shocks
Breathable and stretchy spandex shell for all-day comfort
Reinforced index finger and thumb
Extended cuffs allow easier donning and doffing
Cons
Requires insulating gloves underneath
Providing industrial-grade cut, abrasion, and puncture resistance, the Klein 40072 is a high-quality pair of leather protector gloves to augment your electrical shock gloves underneath.
3. Mechanix Wear M-Pact Framer Work Gloves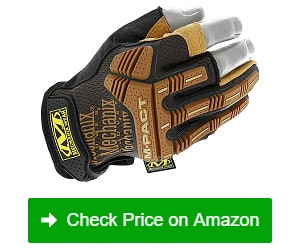 When we think of electricians, we usually think of linemen—people that work in substations and on high-voltage power lines. However, this is far from the case in all situations.
Electricians are also responsible for setting up wires in homes during construction, making sure all power outlets, circuit breakers, and wiring are where they should be when the house is completed and energized. From my experience, this sort of work requires a lot of precision, which is where the Mechanix M-Pact Framer comes in.
Originally designed for wood framing in home construction, these low voltage leather gloves to be excellent for electrical work thanks to their 3 open fingers. This design provides unparalleled tactility for unobstructed fine motor skills.
It does mean our thumb, index, and middle fingers are left exposed, but I'd say this is a good tradeoff for the vastly better accuracy I have. However, these fingers make taking off the gloves a bit tricky.
And it's not like these leather gloves don't have any protective features. The palms feature Durahide leather, which provides slip resistance and durable construction.
The gloves are reinforced further with D3O vibration-absorbing pads that are integrated into the palm area. I found the pads quite useful when working with power tools, reducing the vibrance and hazardous effects.
The gloves' protective features are tied together with their namesake M-Pact guards, a set of TPR guards that protect the fingers and knuckles. Therefore, it can reduce the injuries caused by pinching and heavy impact.
Pros
3 open fingers for unparalleled tactility
Durahide leather palm is grippy and durable
D3O palm pads absorb vibrations to operate power tools
M-Pact TPR knuckle and finger guards to reduce pinching and impact
Ideal for a wide range of electrician tasks
Cons
Does not allow quickly pulling off the gloves
The unique design of the Mechanix M-Pact Framer leather protector gloves provides a true hand feel for high-precision electrical work while providing proper protection in the rest of the hand.
4. G&F Products Endurance Pro Knit Work Gloves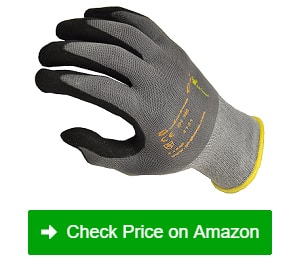 G&F Products is a manufacturer of work safety equipment with one of the widest catalogs on the market. Their Endurance Pro Knit is just one of many excellent work gloves designed for light-duty work tasks, and is a pair that I found to work quite well for electrical work when I used them as a backup pair.
Based on the tried and true dipped glove design, these gloves have a textured nitrile coating that covers the entirety of the palms before wrapping around to cover each of the fingertips. The added roughness to the finish allows the nitrile coat to grip firmly onto screwdrivers, pliers, and cutters without slipping.
Besides its excellent grip and slip resistance, nitrile is also known for its highly desirable protective qualities. As a stretchable rubber with a strong resistance to tearing, nitrile also has good cut and puncture resistance, which are near-constant hazards when working with wire repair.
This nitrile coating is applied to a 15 gauge nylon knit body. For those not very familiar with glove design, gauge refers to the thickness of the nylon thread, with higher numbers referring to thinner thread.
As such, the 15 gauge nylon used here means that the nylon knit is quite slim. The thinness of the nylon knit also gives the gloves a lot of flexibility for precision tasks.
This, of course, does have its caveats—mainly that the thinner knit limits the impact protection of the gloves. By comparison, a thicker 11 or 7 gauge nylon knit will be able to absorb sweat and offer extreme comfort if executed correctly.
Pros
Textured nitrile coating for a firm grip on tools without slipping
Slim 15 gauge nylon knit
High flexibility for precision tasks
Ideal for light-duty electrical work
Cons
Limited impact protection
Although they can't quite handle the rigors of heavier tasks, the G&F Endurance Pro Knit is still a pretty good pair of insulated gloves for electrical work.
5. Gorilla Grip Slip Resistant All Purpose Work Gloves
Gorilla Grip Gloves is one of the many sub-brands of workwear manufacturer Big Time Products and specifically targets the auto repair and outdoor markets with their work gloves that provide grip that doesn't quit.
While I was initially skeptical of their claims, I was pleasantly surprised by their performance when I used them as my primary pair for a few months.
The secret behind these gloves' superior grip is in the unique formulation of their palm goating. Most manufacturers would opt for latex, nitrile, or natural rubber. Gorilla Grip uses a special polymer formulation that allows for controlled grip in all conditions, whether dry, wet, or even oily. And indeed, the gloves gripped quite well throughout the time I used them, even in the presence of elbow grease.
Besides grip, the other design goal of these gloves is flexibility. And on these gloves, they achieve this with two things. The first is the precise application of their special polymer coating. Unlike others that tend to cover the entire fingertip, the coating of these gloves only covers the palm side. This lets the fabric shell flex more freely for reduced hand fatigue.
However, this does mean that there is less coating on the glove overall, limiting the rubber insulator's coverage.
That being said, the gloves are flexible. The brand uses a slight variation on the typical nylon knit, allowing the shell to be more flexible than usual.
And to keep the gloves from coming loose, the knit cuffs clamp onto the wrists securely. The added bonus of this is that the cuffs also block out dust and dirt.
Pros
Polymer palm coating grips when in all conditions
Precise coat application for maximum dexterity
Extra-flexible nylon shell for added flexibility
Knit cuffs block out dust and dirt
Cons
Coating could use more coverage for electrical protection
As expected of its namesake, these Gorilla Grip work gloves provide superior grip and flexibility that we can rely on, if only at the expense of some much-needed electrical insulation in some parts.
6. Klein Tools 40082 Lineman Work Gloves
Of the many kinds of electricians in the world, linemen have the most difficult job of all. Risking life and limb, they climb power transmission pylons well over 50 feet high to work on power lines with extremely high voltages.
Clearly, these brave workers are exposed to extreme danger. And to combat extreme danger, extreme protection is required, which we can find in electrician gloves.
As we've seen in some of the other gloves on this list, leather protector gloves are an important component of an electrician's personal protective equipment. It augments the protective features of high voltage electrical gloves. The Klein 40082 is one such pair of heavy duty work gloves that have exceeded my expectations.
Tough leather panels make up the bulk of the gloves' protection, providing industrial-grade durability and resilience. These panels are mated to a stretchy neoprene base that gives better dexterity over other leather gloves.
The leather panels don't cover the neoprene base entirely, which leaves side vents of fabric through which air can flow. This is a huge bonus, especially when working out at the peak of midday.
The vents are also necessary because of the gloves' extended cuffs, which are meant to cover the high-voltage electrical gloves with a similar length completely.
Again, it's important to remember that these are meant to be worn on proper electrical safety gloves 1000V. Without them, you will be at risk of electric shock as these gloves can conduct electricity when wet.
Pros
Tough leather panels for industrial-grade protection
Stretchy neoprene keeps gloves flexible
Side vents allow airflow for cooling
Extended cuffs provide forearm protection
Cons
Can conduct electricity when wet
From my experience, the Klein 40082 leather protectors offer the best balance of protection and flexibility for use in the most dangerous work environments.
7. Magid M014R7 Electrical Gloves
As physics will teach us, the higher the voltage, the more easily it can penetrate through barriers. So to protect against it, one must wear thicker gloves so that the electric discharge cannot pass through the gloves.
It is for this reason that electrical safety gloves high voltage like this model from Magid Glove & Safety are required for these sorts of environments. Rated for Class 0 voltage protection, these rubber insulating gloves are designed to insulate against electric shocks of up to 1000 volts.
Its level of protection is quite acceptable for most residential and commercial applications, which is why these are my gloves of choice when wiring electrical boxes and other tasks.
When buying electrical safety gloves, one major point of concern is verifying that the gloves actually meet their claimed protection ratings. Thankfully, these gloves were tested to comply with ASTM, OSHA, and NFPA standards for electrical safety. I can rest assured that these gloves have been tested to protect me when an accident does happen.
The insulation ability of these gloves lies in their generous use of natural latex. But besides its insulation, this natural rubber is also known for its high elasticity, allowing the gloves to stretch and flex to reduce hand fatigue.
However, latex is unique in that some people can become allergic to the proteins in the material.
When working in the presence of high voltages, electrical arcs can travel further distances and reach exposed areas of the body (as electricity always seeks the path of least resistance). To protect against this, these rubber insulating gloves are made with an extended 14 inch length, which is enough to cover the forearms.
Pros
Class 0 rated voltage protection against 1000v electric shocks
Ideal for most residential and commercial applications
ASTM, OSHA and NFPA compliant for for electrical safety
Natural latex provides high elasticity
14 inch length for greater coverage
Cons
Latex can cause allergies in some people
While the gloves can be an issue for workers with a latex allergy, these electricians gloves 1000V from Magid are among the most suitable gloves for working in high voltage environments.
8. Dex Fit FN330 Nitrile Work Gloves
Dex Fit is another maker of lightweight, coated fabric gloves that are very useful for light-duty work such as manufacturing and electrical work. And as their most popular model, the FN330 is an excellent example of refining a tried and true design to near-perfection.
Unlike other gloves with a nylon-only shell, the FN330 incorporates spandex material into its fabric blend. This improves the shell's stretchability and achieves a second-skin feel that I found very comfortable to wear and use.
The fabric blend is also machine-washable, which I find very convenient in my line of work. Nobody, especially myself, would want to come home from a long workday only to have to spend extra time hand-washing their work gloves for the next day.
The application of the nitrile coat has also been optimized to make the coating layer thinner than the competition. This low-profile coating gives the gloves an enhanced tactile feel and excellent grip that isn't possible with the typical dip coating.
An added bonus of the thinner nitrile coat is that the gloves can also work with touchscreens. This is because the thinner material allows the capacitive properties of the skin (which touchscreens interact with) to pass through the gloves.
While this is generally a desirable quality for most other applications, the thinness of the gloves severely limits their ability to insulate the hands from electric shock. As such, electricians would want to wear an additional glove either under or over the glove to provide electrical insulation.
Pros
Nylon & Spandex blend provides a second-skin fit
Useful for light-duty work such as manufacturing and electrical work
Machine washable for convenience
Low-profile nitrile coating for tactile feel and grip
Works with touch screens
Cons
Requires additional layer for electrical insulation
With reliable performance across the board, the versatile Dex Fit FN330 still remains one of the best electrician gloves I've ever had the chance to use it.
9. Mechanix Wear "The Original" Work Glove
Mechanix Wear is one of the pioneering makers of modern high-performance work safety gloves. With over 30 years of experience, the brand has established itself as the gold standard in the automotive and construction industries. And one of the gloves that have set that standard is the gloves they simply call "The Original".
And indeed, the gloves do bring a lot to the table. Their synthetic leather palms are made out of a single piece with absolutely no seams in between. While more difficult to put together than paneled glove builds, the no-seam approach improves the palms' comfort and durability as there are fewer points of failure in this high-wear area.
The palm of the leather glove is backed by a fabric called TrekDry, a specialty engineered fabric used by Mechanix Wear in their gloves. This fabric boasts very high breathability without sacrificing durability, which is especially important for taking on the intense demands of electrical work.
However, this material combination, while durable, is missing one important feature for electricians: insulation. Leather and engineered mesh are not the best at deflecting or absorbing electric discharges and should be paired with insulating gloves for the best results.
Fitting the gloves is also quite easy thanks to its hook and loop cuffs, which are pretty robust and feel like they should last a very long time. The TPR-equipped loop also helps this along, giving a bit of extra thickness that makes the loop easy to grab and makes adjustments to the fit as needed.
Pros
One-piece synthetic leather palm for comfort and durability
TrekDry fabric back for extra breathability and rugged use
Robust hook and loop cuff for reliable performance
TPR loop makes fit adjustments easy
Cons
Limited electrical insulation
Staying true to their namesake, "The Original" work gloves from Mechanix Wear is still one of the top-rated gloves for electrical work—if used as leather protectors, of course.
10. 3M CGL-GU Comfort Grip Glove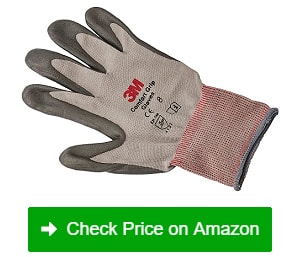 3M is one of the most, if not the most common brand used in electrical work. It is the brand of choice to create proper and lasting connections from tapes to wire connectors and splicing equipment.
So I was quite happy to learn that 3M has also decided to make shock proof gloves and immediately bought their Comfort Grip gloves to bring to my next work assignment. And sure enough, the gloves met my expectations.
The nitrile foam coating applied to the palms provides excellent grip in both dry and wet conditions. Of course, wet conditions are meant to be avoided when working on any electrical circuit, but the feature does lend itself well to other uses.
The nitrile coating, paired with its nylon shell, has allowed the gloves to achieve a 4122 rating based on the EN388 standard, which shows that the gloves offer favorable resistance to most physical hazards.
However, the gloves are lacking in certain aspects, particularly that of fire resistance. The fabric used in these gloves is not fire retardant and can therefore catch fire when exposed to an open flame.
Thankfully the cuffs are quite stretchable, making them easy to grab and pull on or off at a moment's notice.
The gloves are also washable as a bonus, and the thinner materials used mean they dry quite quickly.
Pros
Nitrile foam palms provide consistent wet and dry grip
A shock proof glove for electricians
EN388 4122 rating for resistance against physical hazards
Stretchable cuff to easily pull on and off in emergencies
Washable and dries quickly due to the thin materials
Cons
Fabric is not fire retardant
A reliable product from a reliable brand, the 3M Comfort Grip offers almost everything one needs for electrical work, and as a result, it is one of the best gloves for electricians that I have used.
11. ShuangAn Lineman Rubber Gloves
As most are probably aware, the electrical grid runs on a system of transformers that step the voltage up or down to allow electricity to make the long trip from power plants to homes efficiently. So while one might think that the 110V or 220V in their home is high, this is nowhere near the voltages used on the transmission lines.
Electrical workers must therefore wear gloves that can protect against these voltages, which can go up well into the tens of thousands of volts. And it is electrical safety gloves like this pair from ShuangAn that provide that protection.
What's immediately noticeable about these rubber insulating gloves is that they are very thick and cumbersome. This feature, of course, translates into less mobility than usual pairs.
However, this is by design. The glove's thickness allows it to provide rated electrical protection of up to 12,000 volts. Such a rating falls into the typical voltage range that one will encounter at the domestic substation and transmission line level.
The gloves are also made with an extended length of 14 inches, covering the forearms and providing additional insulation coverage.
To combat the dexterity issue, these rubber insulating gloves are molded into a contoured shape that matches the natural resting hand. Thus, it reduces hand fatigue when in a neutral position, making the gloves comfortable to keep on for extended periods.
The gloves are also made of natural rubber, which has been formulated for extra flexibility to make up for the gloves' thickness.
Pros
Rated protection up to 12kV – domestic substation and transmission line level
Extended length of 14 inches to cover forearms
Contoured shape for natural hand fit, thus more comfortable
Made of flexible natural rubber for added flexibility
Cons
Rather thick and cumbersome
While mobility and dexterity in these electrical gloves is an issue, there is no denying that these heavy duty work gloves from ShuangAn provide the most protection of any pair of shock proof gloves on the market.
12. Klein Tools Journeyman Leather Utility Gloves
Keen-eyed readers might notice at this point that this is my third recommendation for a pair of electrician work gloves from Klein Tools on this list. This, of course, is no accident—all of the gloves from them have performed very well for my purposes, and as such deserve a spot on this list.
This model of leather protector gloves from their Journeyman series, however, is probably my favourite of the three. The gloves feature a flexible, high quality leather palm with absolutely zero seams. Such a design makes the palms, which are the parts of the work glove that receive the most wear, extremely durable.
Other high-wear areas of the gloves, such as the thumb, index, and middle fingers, are given extra reinforcement around the fingertips as they are the three most used fingers in most work tasks.
A stretch fabric is added across the back of the gloves to allow these electrician gloves to stretch and flex with the hands for lasting comfort, especially on long work days.
However, it's important to remember that this glove is designed to be a leather protector first, and hence does not have any fire or electrical protection built in. To protect against these hazards specifically, one must wear an extra pair of liner gloves underneath.
As a finishing touch, these gloves have a flared cuff that allows for a very easy on and off compared to the typical straight cuff design.
Pros
Flexible seamless leather palm for durability
Reinforced thumb, index, and middle fingers
Stretch fabric back for lasting comfort
Flared cuffs for easy on and off
Cons
No fire or electrical protection
While they are designed to be used as a leather protector or actual shockproof gloves, the Journeyman model of Klein gloves are still quite capable electrician gloves for protecting the hands against the hard knocks of hard work.
13. National Safety Apparel Class 0 Insulating Glove Kit
So far, all of the electrician gloves on this list were individual models designed to either be a rubber insulator or a protective leather glove. However, some buyers might not like doing double the research to find two different gloves to bring along on the next electrical repair assignment.
As such, some PPE manufacturers like National Safety Apparel have begun selling gloves in a complete glove system like this one, which even includes a handy storage bag. Kits like these remove a lot of the trial and error from the purchasing process instead of providing a singular package with all the components needed.
The electrically insulated gloves are designed based on the ANSI Class 0 standard, which gives it rated electrical protection of up to 1kV (or 1,000 volts) of AC power. This is well over the voltages used in most residential and commercial applications and lends itself well to use in industrial settings.
The gloves are also compliant with NFPA and CSA requirements for arc flash protection, which should provide life-saving protection from accidental electric discharges.
The only downside to these rubber gloves is that they are a bit difficult to get the hands in and out. A solution that I've found while using these for work is to coat my hands in powder to allow the hands to slide in more easily.
The glove kit also comes with its own leather protectors, which we can wear over the gloves for added protection from physical hazards.
Pros
Complete glove kit with leather protectors and storage bag
Class 0 electrical protection rated up to 1kV AC
NFPA and CSA compliant arc flash protection
Includes leather protectors for physical hazard protection
Cons
Difficult to get hands in and out
This kit of electrician gloves 600v is, in my opinion, the easiest and most convenient way to buy electrical safety gloves as it comes with everything we need to be protected for high-voltage electrical work.
14. Superior Glove Dexterity Arc Flash Glove
I often like to save the best things for last. And in this list of the most affordable safety gloves for electricians, I have done the same by recommending these gloves made by the Superior Glove Company.
And indeed, there's a lot to like with this pair of gloves. For one, they are rated for Level 2 arc flash resistance based on the NFPA standard, which is one of the best I have found in a low-profile pair of electrical safety gloves.
The shell of these electrician gloves are made out of a flame-resistant engineered knit, which offers unparalleled protection from some of the most dangerous hazards one can encounter in electrical work.
Neoprene is the palm and finger material used on these synthetic gloves, a highly versatile material known for its stretchability. The combination of the neoprene and fabric shell results in a dexterous glove for tasks like residential wiring repair to be done with high precision.
Carbon filaments have been embedded into the fabric and the neoprene coating, allowing the gloves to ground the hands and prevent accidental electrostatic discharges.
With all of these benefits, there are few things that I find problematic with these gloves. Perhaps the only major one is that the gloves don't have as much impact protection as some of the other gloves on this list.
Pros
NFPA Level 2 arc flash protection for electrical use
Flame-resistant engineered fabric shell
Grippy neoprene coating to prevent accidental electrostatic discharges
Anti-static embedded carbon filaments
Cons
Limited impact protection
With solid performance and protection across the board, the Superior Glove Company has made one of the top-tier electricians safety gloves on the market and remains one of my favorites.
What to Look for When Buying Electrical Work Gloves?
Electrical work gloves have a pretty simple job: to protect the hands from hazards throughout the workday. As such, it is pretty simple to narrow down what qualities a good pair of electrician work gloves should have.
Electrical Protection
Electrical protectionis and should be the priority when one purchases rubber electrical insulating gloves. Even if work safety protocols require that all electrical circuits are turned off before any repair work can be done, the workplace remains extremely dangerous. A properly insulating work glove is required for this reason.
The protective ability of any pair ofnon conductive gloves depends on its rated electrical safety gloves specifications. These specifications are typically established by national or international standardization bodies like ANSI, OSHA, and ISO.
The most common of these is the OSHA standard for electrical shock resistant gloves, which categorizes each work glove into classes based on their ability to block out a certain amount of electrical voltage.
Physical Protection
Physical protection is also required in electrical work as linemen and electricians are also exposed to cuts, scrapes, and puncture hazards in their line of work. According to the OSHA standard, physical protection is achieved using glove protectors that are worn over the rubber gloves for electrical work. Leather is a popular material for these glove protectors due to its excellent durability and reliable protection.
Fit
Fit is the last major consideration when purchasing low voltage electrical gloves. Making sure protective gloves fit correctly—that is, without any dead spots or difficult seams—maximizes dexterity and tactile feel in the hands, especially when the job requires one to wear electrician gloves designed for high voltages.
Now, exactly which of these considerations must be prioritized when purchasing your next pair or protective gloves depends entirely on your intended use case. For example, one should be willing to trade off some dexterity for the rubber insulation needed when working on high voltage equipment.
In the same vein, the thickness of Class 0 electrical gloves and above makes them quite unsuitable for the high precision requirements of small electronics work.
When Are Electrical Safety Gloves Required?

Electrical safety gloves are required in any work task that requires interaction with high voltage electrical equipment. And yes, this includes even residential circuits (which are typically at 110V or 220V AC), as the voltage is enough to cause serious damage without at least Class 00 electricians gloves to protect your hands.
Are Nitrile Gloves Good for Electrical Work?
For work environments that entail exposure to voltages below 300VAC, it is recommended to wear nitrile gloves for electrical work. To be clear, these nitrile gloves do not refer to the extremely thin exam or medical-grade nitrile gloves. Personal protective equipment requirements need industrial-grade nitrile-coated fabric work gloves for this purpose.
Will Rubber Gloves Stop Electric Shock?
In general, rubber gloves will stop electric shock as it acts as a barrier between the electricity and your hands. However, the ability of a pair of electricians' gloves to stop electric shock varies depending on the design of the rubber insulator and the power of the electric shock.
Conclusion
Linemen, electrical engineers, and electricians wear rubber gloves for protection from dangerous electric discharges. We hope this guide on the best work gloves for electricians has informed you on the standards of quality that should be expected of any pair of electricians gloves to protect workers from the dangers of their profession.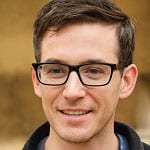 This is Edward Manning, the editor in chief of Construction Informer. Quite a bit of my time is spent researching the market and interviewing experts in the field so that I can give you reliable information.