Work boots are a necessity, especially if your feet are at risk in your working environment. Your safety boots are your feet' shield against possible foot injuries, and you'll probably be wearing them for a long time. So, breaking in work boots is necessary since some boots pinch and hurt.
You need to know how to break in work boots if you want them to be comfortable. Some apply heat from the hair dryer, others use warm water to wash them, but are those the right ways?
Below we will provide you with the essential methods in work boots breaking in. They are effortless to follow, so continue reading.
How to Properly Break in New Boots
When you wear a new boot, it is normal to feel tightness in some areas of your feet, such as the toes, ankles, and heel. Among the methods below, there is no one best way to break in work boots, so you can try many at the same time.
The break-in period of new leather work boots, especially steel toe boots, could take about 1 to 2 weeks. You can't wear them daily when you do it because you have to rest the new boots after breaking in inside and outside your house, as mentioned in the methods above.
1. Make sure you have the right size.
Sizing is essential when you buy new leather work boots. Always make sure that you know your shoe size, and if you don't, you can always ask the sales representative to measure your feet.
Aside from the right size, you need to check if there's enough room in the toe box and the instep. An extra room in these areas means that your toes and arch can move comfortably.
2. Wear comfortable thick socks.
Before you try to break in leather boots, you have to start wearing thick socks. Using thick socks is an essential step to ensure that you can maximize the size of your new boots.
Wearing socks that are thick when you break in new shoe can:
Soothe your feet, especially if the boots are hard on your feet.
Stretch the leather a little more by exaggerating the size of your feet.
However, wearing a thick sock could also mean that the new work boots can be a bit tighter. You may remove the insoles to give more room for your feet inside the boot to address this concern.
Meanwhile, click the link below to a video that will guide you on what correct socks to wear with your safety boots:
3. Break-in inside the house.
The best way to break in boots is to wear them inside the house for 1 to 3 hours. It is vital that you break in inside before doing it outside to prevent the boots from picking up dirt because you can no longer return or exchange them in the store should you need to.
While wearing it in the house, you have to be very vigilant with how your feet are feeling. The safety boot, you need to check if any parts in your foot feel tingly.
4. Rock the boots back and forth.
Another step to break in work boots fast is to rock them around the toes, the instep, and the ankles for a few hours. It will help stretch the new boots by loosening some of the leather fibers around those areas; you can see this through the creases it will create.
Rocking your new boots back and forth will help you understand whether you have the perfect fit or not. If you have no concern about the boot's fit, then you can proceed to the next step.
5. Break in outside.
Walk your boots outside the house for more than a mile but less than 6 miles. This way is also the best to break in work boots, and it will give you more opportunity to gauge the fit and comfort of the boot. It will give you an idea of how your feet will respond to the new boots if worn for a longer period.
Try to run, walk, or hop so that you will have an overall view of how you feel about the size and comfort of your new pair of boots.
6. Use a leather conditioner.
This method is helpful, especially in the stiff areas in your brand new pair of boots. Applying a conditioner or a mink oil will soften and relax the leather outward the new boots, thus making it easier to stretch the leather fibers. Once this is addressed, it will help ease the foot pains obtained, especially in the tight areas of your new boot.
7. Place a shoe tree inside the boots.
After you break in a new leather shoe outside, put a shoe tree inside and shove it deep into the toe box to get the most stretch from breaking in. Putting a shoe tree will keep the shape of the boots. Let your leather boots rest for a day.
Another vital purpose of a shoe tree is that it keeps the inside of your safety boots dry since the wood has absorbent properties that can dry the boot's lining quickly.
8. Wear your new boots every other day until it is fully broken in.
You'll know when your boots are fully broken in when you no longer feel any pain or discomfort from wearing them, especially during long periods.
9. Use boot stretchers
A shoe stretcher is often made of wood. We can insert it to make the boots fit better. There is no need to give up on the tight boot so soon as we can use a boot stretcher. Just leave it there for a while before we wear the new boots again.
Bonus Tips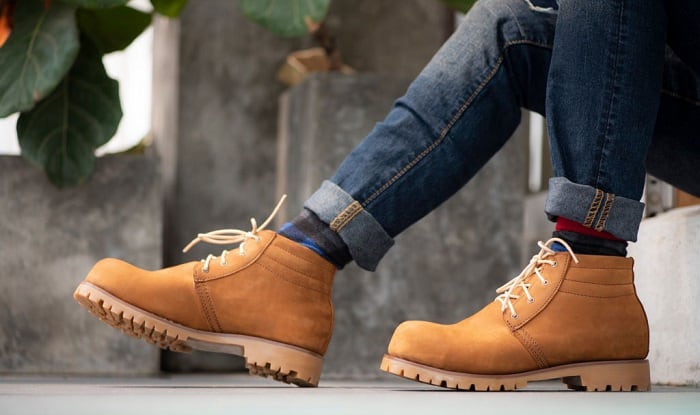 Below are some of the shopping and breaking-in tips you need to consider:
If the shape of your feet or the size is not the same, say your left foot is bigger than the right, always go for the new work boots that perfectly fit your left foot.
If your budget permits, it is best to get a customized boot. This way, you don't have to worry about the proper fit and comfort.
When breaking it outside, always bring an extra pair of shoes and socks if the boot stings and you cannot bear the pain and discomfort any longer.
If you have high arches, you can lessen the pressure by skipping the eyelet that directly hits your arches and just run the laces to the next eyelet.
Adjust the laces until you find the exact and comfortable tightness for the shape of your feet.
Use a hairdryer in case you are having a hard time breaking-in in a new leather shoe. Apply direct heat in the areas of your new pair of boots where you feel it needs to be stretched. Don't forget to use boot oils after you use a blow dryer to avoid drying the leather.
Conclusion
Breaking in new work boots can be easy, although you need to give it some time. A work boot that is properly broken in should not feel tingly and uncomfortable, and this is something you should never forget after learning on your own how to break in work boots.
This informative article will always come in handy, especially if you must wear it for your occupation. Please share with us in the comment section what you think and show this article to your colleagues.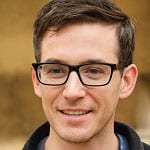 This is Edward Manning, the editor in chief of Construction Informer. Quite a bit of my time is spent researching the market and interviewing experts in the field so that I can give you reliable information.