A beautiful pair of white leather gloves is a worthy investment. Its great attributes are various, from the flexible and warm leather fabric to the chic and fashionable look. Therefore, we should learn how to take care of the pair the right way.
Many wearers are flustered when seeing the stain spots on their white glove pair as they do not know how to wash without ruining it. With that in mind, we create this detailed guide on how to clean white leather gloves. Read on to maintain the beauty of your pieces.
Clean Leather Gloves with Egg Whites
It might surprise you that egg whites can be a cleaning solution for gloves. However, many have used egg whites to keep their leather pairs as good as new. It is a magical tool to remove dirt and stains on leather surfaces, especially white ones. Here're what we need to prepare for a successful cleaning session:
A whisk or a mixer
A bowl and a spoon
Two eggs
Cotton balls or flannel napkins
A towel
First, crack two eggs and carefully separate the whites into the prepared bowl. If you cannot do this well, just crack them into the bowl, then use a spoon to take the yolks out.
Then, use your mixer or whisk to whip the egg whites until they become a thick foam. This step is for turning the egg into a cleaning agent or "detergent" to get rid of dirt.
Afterward, you can use the towel to apply the whipped egg whites to your leather gloves. Make sure to spread the agent all over your pair, in between fingers and on its cuff. Then, you leave it there for about 2 minutes.
Finally, use the cotton balls or flannel napkins prepared to get the egg whites out of your pair. With this method, the white gloves can maintain their white and light shade.
Pro tips: If there are stubborn marks that egg whites fail to clean, you might need a more potent detergent. And you can make the cleaning agent yourself by mixing milk and egg whites together. But first, rub some onion on the stains to eliminate them.
Clean Leather Work Gloves With Damp Cloths
Let's go with a traditional cleaning method that works for both colored and white leather gloves. You can just put on the table:
A small bowl with warm water
A microfiber washcloth or a paper towel
Some mild soap (preferably in liquid form)
A clean towel
Let's get to work:
First, take out our microfiber cloth or the paper towel and wet it with warm water. You can just put the piece under lukewarm running water, then squeeze or wring it out. Make sure you leave a bit of water in the piece to absorb the dirt and dust on gloves.
Then, put a little soap on the wet cloth, and rub the piece gently. The purpose of this step is to create a lather for easy glove cleaning later.
Afterward, you can gently rub the lathered soap on your glove surfaces. Just put on one glove, and use the other hand holding the wet cloth to clean it.
Make sure to spread it all over your pair, from the dirty palm to its back and on every finger. You might want to scrub a bit on its cuffs and the seams, too. Do it again with the other glove as you switch hands to repeat the tasks.
Finally, use a clean towel to rub off the lather on both pieces. Make sure you do it thoroughly.
Pro tips: Another thing you might want to try for instant elimination of dirty spots is a baby wipe. It is also a damp piece with a mild cleaning agent, so you don't have to worry about leather damage.
Wash Leather Gloves Under Running Water
This leather glove cleaning method is surprisingly simple that some of us might doubt it. But if you wash your white gloves frequently, like at the end of an outing or working day, it is very helpful. Just prepare a mild soap for this tutorial.
First, wear your gloves to start washing. We are going to use our hands to wash the gloves directly. Make sure your hands are thoroughly cleaned before putting the gloves on.
Second, put the gloves under warm running water. You can put your hands there for around 3 seconds, so please make the whole pair wet. Also, do not wait for too long or set the water temperature too high.
Then, use the soap to rub your gloves. You can start rubbing the soap bar all over the pair to get rid of dirt. Make sure to gently scrub every finger to the back of your gloves and their cuffs.
Lastly, wash away the soap on your gloves. After carefully cleaning leather gloves with your mild soap, rinse them under lukewarm running water again. If it's tricky to get rid of soapy foam, you can take off the gloves and use your bare hands to finish the task.
How to Clean the Interior of Your White Gloves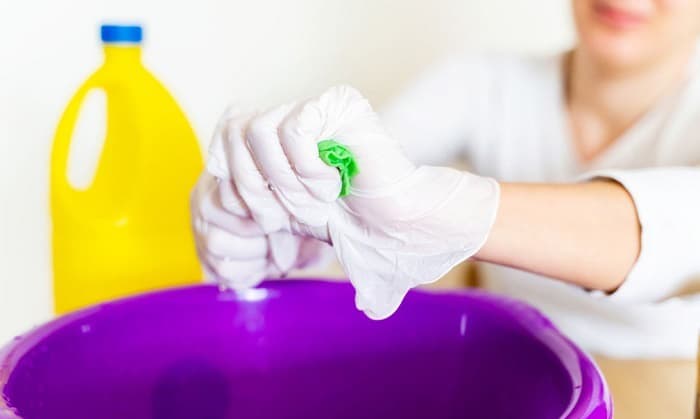 Washing leather gloves' interior is getting sweat and dirt out of the liners and the inner layer. The tricky part is, leather gloves come with wool, silk, or cashmere liners, and we do not want to ruin their functions in keeping warm or wicking moisture. Therefore, here's what we need to gather before cleaning:
White vinegar
Warm water
A spray bottle
Leather conditioner
A clean towel
First, create the cleaning agent by adding white vinegar and warm water into the spray bottle. Make sure to mix them with a 1:1 ratio, then shake the bottle to make the cleaner ready.
Second, turn the gloves inside out to expose the inner layers and liners.
Next, spray the leather glove cleaner you create on the gloves. While making sure the agents are spread all over your pair, you should also avoid soaking the gloves. Let the cleaner sit for around 20 minutes, then use the clean towel to pat the glove dry.
Afterward, it's time to leave the gloves in a ventilated space to let them dry completely. Please avoid putting the pair under direct sunlight or use a hairdryer, which can damage your gloves for good.
Lastly, as the gloves dry, turn your work gloves back to their original side and shape. Now, it is unavoidable that the outer leather will be creased a little. So, use the prepared leather conditioner to make it smooth again. Then, you are good to go.
Conclusion
How to clean white leather gloves? Hopefully, it is no longer an unsolved puzzle to you as you made it through our article.
While cleaning and taking care of your white leather gloves, there can be tricky parts; make sure you ask for help from the glove brand service. Or, you can leave comments for us via our contact page so we can get back to you with the answer as soon as possible. Thank you for reading, and good luck with your task!
Hi, I am Alexander, forty-seven years old this year. I have been in the construction industry for twenty-five years and have provided a wide range of services. When it comes to expert guidance on site safety gear, you can put your trust in me.