What's the point of fingerless gloves? Instead of settling for a standard or usual pair of gloves, many prefer a fingerless pair for different reasons. The most distinct function of these gloves is flexibility, offering users optimal dexterity to handle certain tasks.
Also, not many people know that there are different types of fingerless gloves, including the classic, leather palms, fingerless mittens, wristlets, and convertible gloves. Let's check out the details below to see if any of them can be a good match for you.
Type 1: The Classic
As its name suggests, the classic fingerless gloves are the most common pieces available. If you go out and search for fingerless gloves, it is very likely that you'll come across many classic pairs.
These gloves with finger holes are mostly made of soft and warm wool for winter wear. Many brands also label their classic fingerless gloves as plain and basic.
Here're some of the noticeable things about this glove type:
Available at an affordable price
Soft and warm
Universal design with multiple sizes to fit any hand
Available in many colors and styles, matching any age and gender
Durable and machine-washable, often reusable throughout many winters
Often made with ribbed cuffs for easy wear and fit
Type 2: Leather Palms
While the classic is incredible for everyday use, leather palms are mostly used for work and active tasks. In detail, it is a great companion for activities like racing, cycling, riding motorbikes, lifting heavy weights, doing gym or fitness exercises, etc.
These gloves that show your fingers are made with optimal flexibility and a strong grip.
They are incredibly tough; still, their level of durability depends on the quality of leather materials used for construction.
Most fingerless gloves with leather palms are not made entirely from leather. They can have a blend of nylon and wool, which adds to the overall breathability.
Here're some features that you should expect in leather palms:
Higher-priced than most fingerless gloves. Their costs vary due to the leather materials (genuine or suede, full-grain, top-grain, or split-grain, and more)
Mostly in black and brown
Often has mesh fabric on the back for better ventilation
Often features a velcro strap for a tight fit and better protection
Ideal for use under the rain, snow, etc
Type 3: Fingerless Mittens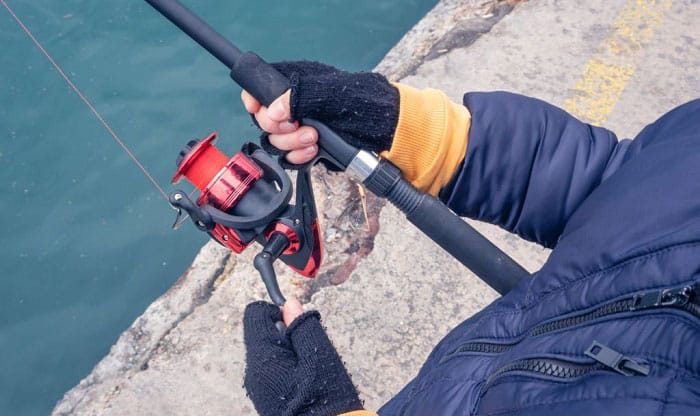 At first glance, we can distinguish this type of mittens from other fingerless gloves. The design does not split into five fingers like other pieces but features two holes, one for the thumb and the other for the rest.
Such mittens with finger holes might be a bit of a compromise on warmth when worn in winter temperatures. So, many prefer it for autumn wear when the weather is only slightly chilly.
These mittens surely fit well and offer good comfort due to their open and breathable design. Wool is often the main ingredient in making these mittens.
Here're some of their distinct features:
Features two holes instead of five for optimal freedom of movements
Well-fitted and ventilated
Available in many sizes, colors, and lengths
Ideal for casual wear and active tasks
Type 4: Wristlets
Wristlets are not just gloves with fingers cut out, they are a fashion statement. Many people wear hand-crocheted wristlets because they are simply stylish.
Many wristlets are made entirely from quality wool; others might combine cotton yarns and acrylic. The differences in materials result in different warmth and feel for the design, but they can all protect our wrists from the winter wind.
Here're the best features of these wristlets:
Often used as a mix-and-match item for autumn and winter wear
Available in multiple stylish colors and textiles
Longer than usual fingerless gloves
Often feature two holes only for good ventilation and fingers movements
Type 5: Long gloves
These gloves' name is self-explanatory, since they simply do not have fingers and feature a really long cuff.
Long gloves go all the way up to our forearms and even cover our elbows. They are the perfect item to wear when we want to don on a nice short-sleeved shirt while the weather is pretty cold.
They are often made from 100% wool, or a wool blend, polyurethane, nylon, etc.
Here're some features that you should know about long gloves:
Often as long as 8 inches – 12 inches, measuring from the thumb's base
Available in many colors
Comfortable and rather warm
Add a witchy and chic vibe to the outfit
Type 6: Convertible gloves
When you see fingerless gloves with flap, you are probably looking at convertible gloves. When it comes to convenience and versatility, this type is a winner.
The pair features a flap that allows us to close it for warmth or open it and move our fingers. Its ability to keep warmth is comparable to standard gloves, of course, when the flap is closed.
These hybrid gloves with open fingertips are often made of wool, or a combination of wool and acrylic. The choices are plentiful. Therefore, it is fairly easy to find a pair that offers sufficient comfort.
Here're some features of these gloves:
Open and close on our fingers with ease
Allows good dexterity and warmth
Available in many colors, sizes, and designs
Perfect for kids
Different Materials of Fingerless Gloves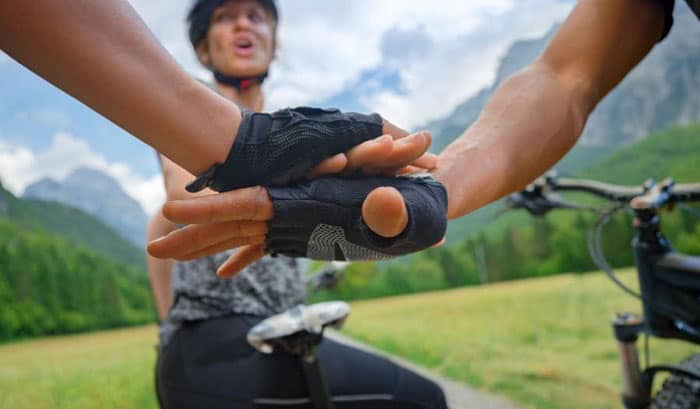 Wool: Gloves without fingers used in winter are often made of wool because they are incredibly warm, especially when the materials are high quality. There are knitted and felted wool gloves.
Polyester: Fingerless gloves made of polyester are breathable due to their sweat-absorbent property. They are quite strong against friction, but not as durable against high temperatures.
Fleece: Fleece fingerless gloves are warm enough, probably up there with most wool pairs. Still, they are not very ventilated.
Polypropylene: This material is not the best at absorbing sweat. However, it is ideal for shielding against low temperature and wind. Furthermore, polypropylene fingerless gloves are pretty durable.
Acrylic: Often included in a wool or polyester glove blend, this material adds elasticity and ventilation to the fingerless gloves. Furthermore, it can offer decent warmth despite not being very durable against harsh weather.
Leather: Leather fingerless gloves are resistant to water and wind. They can keep warm and offer good durability. However, to add breathability, a leather fingerless glove needs gel paddings.
https://youtu.be/0t7Ch1Mcnu8
Conclusion
Above are the different types of fingerless gloves and materials used to make them. The thing is, we can create one ourselves from an old pair of gloves if we want the dexterity and breathability of a fingerless one.
Hopefully, these details we offer already help you understand more about this unique design of gloves. Feel free to leave comments or share the article. Thank you for reading!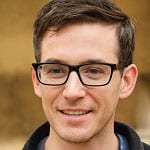 This is Edward Manning, the editor in chief of Construction Informer. Quite a bit of my time is spent researching the market and interviewing experts in the field so that I can give you reliable information.