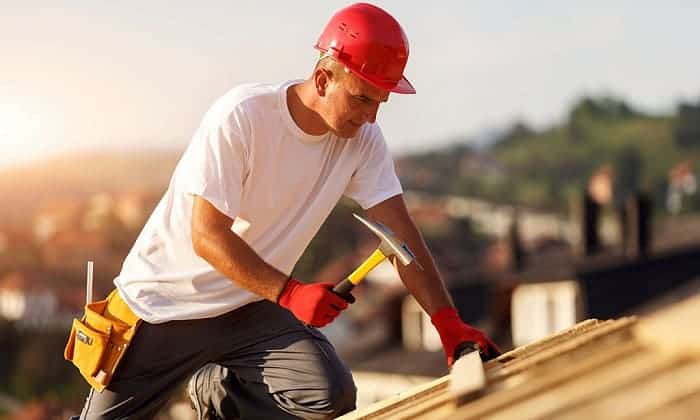 When you are fixing roofs, a hand protection tool is essential to prevent the risk of cuts and injuries.
In the case of the said housework, you will bring a lot of heavy and sharp tools to the ceiling so wearing gloves can help. This hand gear will keep your hands away from edged objects and burning heat. Hence, the best gloves for roofing are enumerated below together with the important features:
Materials: Different materials are used to construct a pair of gloves for roofing to safeguard your hands from possible threats. A variety of glove types are built with the same set of materials but for distinct purposes.
Leather gloves are the toughest work gloves and are best for heavy-duty jobs and other daily tasks that can withstand both high and low temperatures. Other manufacturers use stainless steel, kevlar, and HPPE for a more durable construction. All of these elements are resistant to cuts so handling edged tools to aid roofing jobs becomes safer.
Durability: While comfort must be your top priority in looking for roofing gloves, you should also consider how long before you have to discard It will depend on how the gloves are made and how often you wear them to help your hands from getting hurt.
Size: Putting on gloves with the right size promotes superior comfort for longer applications. The market offers glove types that fit small to big hands with great dexterity to sustain your hand's safety all the time. Some sellers suggest sizing up to achieve a snug-fit for better control in grasping other tools for roofing.
Such features can assist you in selecting roofing gloves, but you should know more. A "Buying Guide" is on the rest of this post to point out the right product for your needs.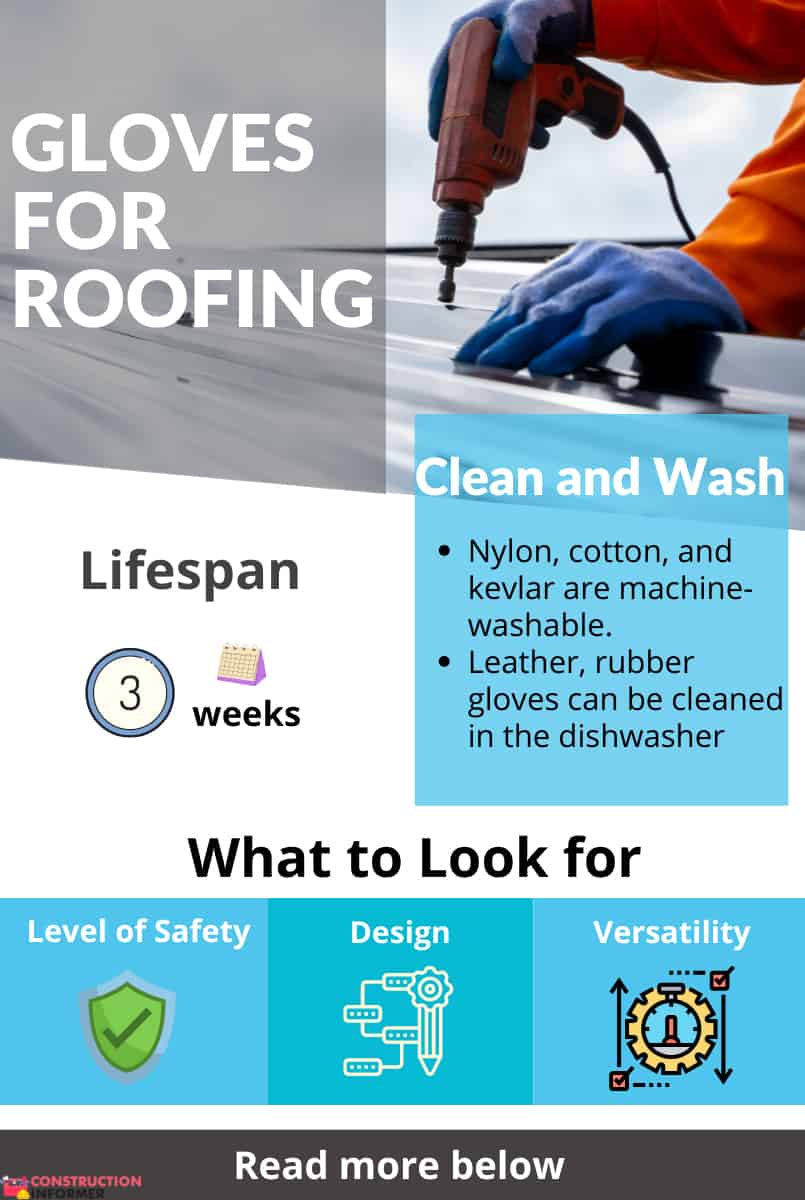 Featured Products
Best Overall
VGO PU2103P15-Y-L
– Total of 15 pairs
– Lightweight and easy to control
– Easy to wear and maintain
Editor's Pick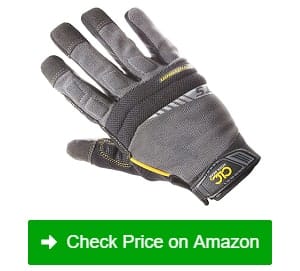 Custom Leathercraft Work Gloves
– Unique and good-looking style
– Has inner stitching for snag-proof design
– Best for roofing job under wet conditions
Premium Choice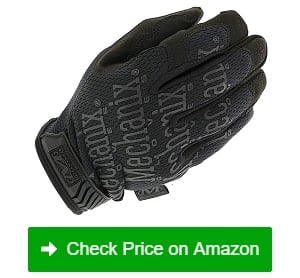 Mechanix Wear MG-55-009
– Provides a superior grip
– Easy to take off your hands
– Designed for more technical jobs
Top 15 Gloves for Roofing Reviews
1. VGO PU2103P15-Y-L Dipping Safety Work Gloves
Light-duty works are better off with these Dipping Safety Work Gloves that are CE certified to satisfy your needs. These roofing gloves are ideal for several housework, like gardening. It refers to a multiple pair of hand gear that you can use for a long time.
I am impressed by these work gloves' dex fit level that allows you to move your hands and fingers when grabbing tools. Though VGO uses thin materials, the gloves' ability to last long is not compromised. As such, they are of good value.
These are pu coated gloves with a seamless polyester liner that makes the hand gear more suitable for mechanical uses. Each purchase consists of 15 pairs of working gloves from small to extra-large sizes, which will keep your hands free of cuts and dirt.
The fitment of the roofers gloves is more secure with a knitted wrist design. Plus, they are breathable at all angles to prevent too much sweating while completing a hazardous job.
Slipping on the gloves is so easy with their simple design. Care and maintenance are backed with a washing machine.
Unlike any other gloves, however, this item cannot hold moisture very well, which can result in discomfort.
Pros
Enhance safety levels for light-duty housework with CE certification
A total of 15 pairs of roofing gloves
Lightweight and easy to control
Blends polyurethane coating and polyester liner for sturdiness and comfort
More secure and breathable wrist design
Easy to wear and maintain
Cons
Marks discomfort due to moisture buildup
Overall, I think that these gloves will look after your welfare to make your roofing experience more guarded from cuts and burns.
2. Custom Leathercraft 125M Handyman Work Gloves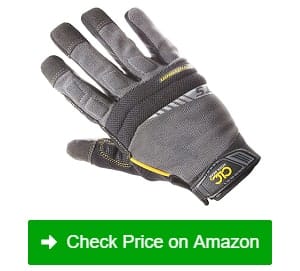 A waterproof feature is a must-have for outdoor gloves to defend your hands from wet roofing jobs. Custom Leathercraft 125M Handyman Work Gloves are also designed to warm your hands during winter conditions. The best thing about them is that they won't easily shrink after use.
Beyond the quality performance that these gloves deliver is their unique-looking style with leather as the main material. The other parts of the glove are designed with microfiber that is known for durability and fine comfort.
You can wear them for general purposes, such as plumbing, carpentry, and car repairs. I also take delight in the added textured fingers for mobile use in case of answering calls.
It reduces fatigue with an extra padded palm and spandex back that brings comfortable fitting gloves, making roofing jobs more manageable. In addition to that, the side panels are Lycra-made, which increases the level of dexterity while using the hand gear.
This type of roofing gloves also has an enclosure to prevent slipping because of sweat. Such a feature makes the hand mitts snag-proof for better security on your hands. Plus, there is inner stitching to keep the gloves tough for heavy-duty jobs.
This newer version of these work gloves have some improvements that are not that useful, making the old version the better option. For instance, the touch screen fingertips.
Pros
Best for roofing job under wet conditions
Features a unique and good-looking style for general uses
Made of microfiber and extra padded palm with Lycra side panels and spandex back
Has inner stitching for snag-proof design
Cons
Some features are not that efficient
On the flip side, I prefer using these gloves to finish a roofing job in a wet workspace that requires added protection.
3. Mechanix Wear MG-55-009 Tactical Work Gloves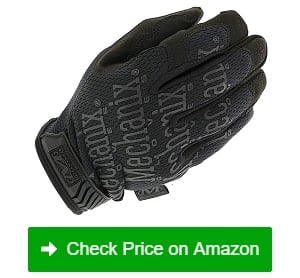 Performing more technical tasks, like gripping a pistol and other firearms, will be hassle-free with Mechanix Wear MG-55-009 The Original Covert Tactical Work Gloves. These are easy to grip gloves recommended for the said police services.
This may not be the same as normal roofing gloves and works for a different purpose but they still aim to protect your hands against sores. Given their special intended use, I understand why the price is somewhat high. But the least thing that you can do with this hand tool is maintenance repairs.
As said earlier, these gloves are not for less intensive jobs but more for heavy-duty tasks. It has superb form-fitting and is very durable in keeping your hands safe for specific uses. Users can also enjoy a high level of keenness in controlling the gloves.
Your hands will stay cool and dry with the included Trek Dry material while at work. It is shaped with synthetic leather and reinforced fingertips for dexterity and long-lasting usefulness. A hook and loop closure is made of thermoplastic rubber to ensure a secure fit. The wrist section can also be mounted over a long-sleeve top to quickly remove the gloves when needed.
Buyers doubt the authenticity of this product, unlike other Mechanix glove designs. Some items have deformed fingers and loose threads, for instance.
Pros
Designed for more technical jobs
Provides a superior grip
Dry and superb fitment with hook and loop closure
Molded with synthetic leather and thermoplastic rubber for overall comfort
Easy to take off your hands
Cons
Failure in quality control
Still, for all that, I believe in the supremacy of these gloves. They will be able to assist you in the most difficult hand-handling tasks.
4. SHOWA Atlas 300S-07 Rubber Work Glove
Natural rubber is among the best materials when producing ergonomic roofing gloves. Knowing this, SHOWA also uses this in its Atlas 300S-07. One purchase will include a single glove that eliminates hand fatigue and promotes comfort.
The rubber glove can multitask heavy and light housework, and so is a must-have for every worker. It is highly elastic but can resist abrasion and bending for more excellent usage. This has made the unit capable of a wide range of applications, which I like.
Covering your hands against harmful substances like acids and detergents is also possible with such this pair of gloves. It is water-resistant to keep your hands dry for long-lasting comfort at work. It also has optimal fitting resulting in more dexterous uses.
Its comfy design is composed of soft cotton liner and features an open-back to cool down your hand. The wrist cuff is made tighter and robust to secure a proper fitment as well as prevent dirt from penetrating.
A textured palm area has been added to enhance its ability to carry heavy tools for a long time as well.
What I do not like is the inconsistency in the size of the gloves, which impacts work productivity. Some users claim that this is shorter compared to the previous Atlas Glove model.
Pros
Uses natural rubber and soft cotton liner
A single glove but can multitask
Excellent for wet roofing jobs
Carries heavy tools through a rough palm design and has a wrist cuff for security
Cools down your hands while working
Cons
Shorter sizes that may be unacceptable for bigger hands
That being said, measuring your hands before placing an order is vital to enjoy this glove for roofing purposes.
5. Ironclad HUG-04-L Utility Work Gloves
This is an additional pair of gloves that falls under the category for heavy-duty uses and is 8x better than normal leather gloves. Ironclad HUG-04-L Utility Work Gloves are equipped with Duraclad technology that improves abrasion protection for wider use.
I recommend these gloves more than fabric hand mitts in the market because of their premium quality. Even though the item is slightly expensive, I think it is a great tool for engineering works according to how it is made.
All parts of these roofing gloves are out of tough material with many wonderful and new features. You can grab stuff more flexibly through the palm design. They are not mobile-friendly but you can wipe out your sweat with their thumb designed with terry cloth.
The gloves also cover your knuckles from great impact with the help of the thermoplastic rubber logo across the said area. A quick-release cuff system with a cuff puller will assure a faster and secure fit.
Machine-wash and air-dry these gloves to preserve their original form and extend their lifespan to perform over 16 applications.
Stitching and coating issues are small drawbacks that cause the seams to come loose. This shortens the lifespan of the gloves.
Pros
Duraclad technology is 8x stronger than typical leather material
Brings extra protection with a flexible palm design, terry cloth thumb, and thermoplastic rubber knuckles
Features a quick-release cuff system and cuff puller to position the gloves properly
Washable for multiple and longer use
Cons
Poor stitching and coating quality
But despite that, I find security with this pair of gloves' exclusive materials to meet the safety requirements in the roofing industry.
6. Maxiflex 34-874 3-Pair Work Gloves
The maxiflex gloves consist of three pairs of work gloves for various areas of application. It advances better gripping that suits automotive, general assembly, and roofing jobs.
Such ultimate grip nitrile gloves are an all-around hand protective tool, and I like that they can eliminate hand fatigue. Each pair will be excellent for any working environment thanks to its nitrile coating, which is also the reason why they are abrasion-resistant.
A micro-foam coating technology helps make these hand mitts more breathable. The materials work together to deliver the best comfort. Its form-fitting adds up to comfort in wearing the gloves. Thus, makes them easier to wear and remove from your hands whenever needed.
One more thing about these roofing gloves is the knitted wrists that do not grant dirt and debris to enter. It locks up your hands so securely that even liquid substances cannot penetrate. This benefits gardeners to keep their hands clean the whole time.
The item is affordable given its exceptional features, and you can get more pairs of high-grade gloves for only a few bucks. With that, frequent changing of gloves is feasible by simply washing and air-drying the used ones.
However, touching screens with these gloves can be challenging. The fingertips can also quickly wear out.
Pros
Get three pairs of gloves at a low price
Highlights top-notch gripping and fitting
Assembled with nitrile and micro-foam coating technology
Do not permit dirt to enter the hand gear
Washable
Cons
Not touchscreen-friendly
Though provides a good grip, the fingertips are not that sturdy
Nonetheless, those small downsides cannot be compared to its top features to assist your roofing job. Your tasks will be more relaxing and wound-free!
7. NoCry NCCRG-WORK-M Cut Resistant Work Gloves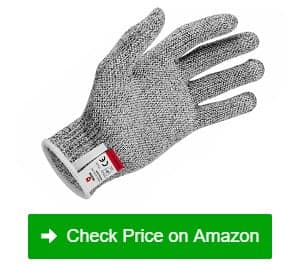 Regardless of where you are working, like on your roof, NoCry's Cut Resistant Work Gloves are the right hand accessories for you. Every pair offers a level 5 rating of cut protection to deal with the edged parts of your roof safely and quickly.
These roofing gloves have skin-friendly materials that can benefit sensitive skins. They bring so much comfort to your hands even when working all day, and won't irritate. I also like that these hand gear are breathable for cooler housework.
Though the gloves are lightweight, they are capable of handling heavier jobs aside from metal roofing. To name a few include woodcarving, gardening, and other construction jobs.
The manufacturer has blended different tough materials, such as stainless steel, spandex, fiber, and HPPE to result in a wider glove application. Silicone dots are added to the finger and palm area to carry pieces of stuff easily. It is also flexible for a comfier and more secure grip.
You can clean it in the washer with a mild detergent.
The only drawback is that the gloves are not puncture-resistant because they are thinner compared to other hand mitts. They cannot function well with heavier machines and pet-related jobs as well. Also, be careful in picking sizes to avoid the hassle of returning products.
Pros
Good for sensitive skin
Lightweight and breathable to wear
Made of durable materials, including stainless steel, spandex, fiber, and HPPE
Offers a firmer grip with the help of silicone dots
Easy to wash
Cons
Not puncture-resistant
Difficult to get the right size
Nevertheless, these multifunctional gloves can safeguard your hands better than normal gloves with all of their hard-wearing features.
8. G & F 3100L-DZ-Parent Work Gloves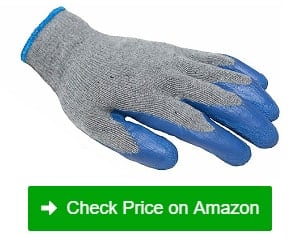 If you are looking for roofing gloves that can help with heavy-duty tasks, G & F 3100L-DZ-Parent Work Gloves are good options. These are all-purpose tools perfect for construction and other types of activities that require additional hand protection.
I like the overall design of these gloves that offer the best quality for all users. It features a double-latex coating technology, which makes the gloves more durable against cuts and burns when used in fixing your roof.
With these 12-dozen items, you can own a couple pairs of gloves for multiple uses. Washing or throwing some of the hand gears won't leave your hands bare in doing other tasks. Plus, it is highly cost-effective.
The roofers gloves are a blend of rubber, latex, and cotton coating for a higher level of safety against cuts, tears, punctures, and abrasions. It can absorb sweat without affecting your comfort and has a textured palm design for a stronger grip. In addition, the material is thick so there is nothing to worry about its toughness during extra-heavy tasks.
You can use touch screen devices without taking off the gloves. This adds to your convenience, for example, in answering phone calls or even in texting back.
A size chart is provided for you to get the right fit.
One downside is that a pair of these gloves cannot last for several hours of usage.
Pros
Perfect for heavy-duty construction jobs
Equipped with double-latex, rubber, and cotton coating technology
Contains a 12-dozen of work gloves
Delivers a higher degree of resistance from damage
Has textured palm design for gripping and touchscreen function
Cons
Only usable for a short period
Despite that, I reassure you of the benefit of changing your gloves once in a while due to the number of items included.
9. SAFEAT 1001L HPPE Work Gloves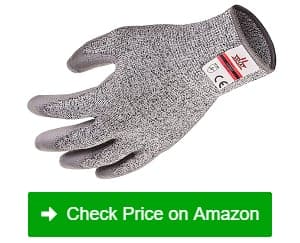 Every roofer's dream is to wear pu coated gloves to not injure their hands while achieving versatile use, and that's exactly what SAFEAT 1001L HPPE Work Gloves are. They are the solution for your home-related jobs, like woodcarving, gardening, food preparation, and even other heavy-duty work.
It is quicker to complete any type of job with these roofing gloves. Plus, they do not rip after several uses. This benefits workers who are in need of hand gear daily. It also offers the highest level of cut resistance and other combined safety features.
The PU palm coating is blended with quality fiber for food-safe usage. These heavy-duty work gloves are also waterproof and can extract heat for good ventilation. They are stretchable as well for comfort and more precise work.
Moreover, these can deliver bare hand gripping sensitivity even with rough and sharp objects. The outcome will be a firmer grasp that also frees your hands from blisters and cuts. Picking the best fit of gloves for your hands is possible by measuring your palm width before buying. Lastly, follow instructions on how to wash the hand gear correctly.
The only problem that I have with this pair of gloves is that the palm coating wears off after a week, which may lead to cuts on your hands when coming into contact with sharper blades.
Pros
Available for versatile application
Polyurethane coated gloves for durability
Uses materials that are also safe for food preparation
Offers good ventilation and waterproof
Has bare hand grip sensitivity
Cons
The palm coating is not that durable
Even with that, however, I like that these working gloves are capable of doing housework and easing users in holding edgy objects to finish any job appropriately.
10. Custom Leathercraft 124L Flex Grip WorkRight Gloves
One of the work gear to consider is the Custom Leathercraft 124L Flex Grip WorkRight Gloves that are made of synthetic leather for long life. They are outstanding for jobs where hand mitts may easily get wet, like roofing jobs, and other tough work.
These are roofing gloves that feature shrink resistance capabilities with the help of a leather construction. I like that their form is not easily ruined after several uses, even when exposed to damp situations. That is why wearing such gloves can assure your protection in the long run.
Many jobs can be done with these gloves, including heavier tasks, such as mechanics and construction jobs. This will guard yourself against all the risks of working outdoors that involve your hands. Both gloves shall stay on and will never slip off your hands during intense work thanks to an included strap cuff that secures the gloves.
An elastic spandex and Lycra side panels tops up the gloves to intensify the dexterity level. It holds back hand fatigue and so is more favorable to users to speed up in fulfilling a task. Furthermore, the padded fingertips and knuckles have featured abrasion resistance to deal with bumps safely.
A weak spot of these roofers gloves is that they cannot last longer than a month according to some buyers. Parts of the hand gear will begin to fall apart.
Pros
Benefits from synthetic leather to have a longer life
Applies for wet working conditions
Secures proper fitting through an elastic cuff with a strap
Improves control by adding spandex material and Lycra side panels
Has padded fingertips and knuckles for abrasion-resistant
Cons
Quality issues on some parts of the gloves
All in all, this glove is eager to help DIYers do house chores that demand holding heavy and sharp objects.
11. Youngstown Glove Company 03-3450-80-L Work Glove
Roof repairs are a risky task that may pose injuries and cuts even with a little mistake. Hence, roofers gloves like Youngstown's Waterproof Winter Plus Work Glove are ideal for this kind of work. It is effective for wet conditions. Thus, it is a great tool to have when fixing roofs during winter.
I am amazed by how this glove keeps my hands warm and dry as I stack pieces of wood all day. Its middle layer has a waterproof feature, which I think is the reason why the outer layer can still be soaked in water. The inner membrane can last for weeks, which is a good thing.
With its winterized and three-layer design, it can withstand both light and heavy work. The non-slipping texture is a blend of different materials that support a stronger grip. It includes nylon, polyester, neoprene, PVC, cotton, and is also a pu coated glove.
The terry brow thumb design permits users to wipe their sweat without removing the gloves. It even enhances grip in cold and wet situations. An adjustable velcro closure also exists to suit all hand sizes and lock out moisture. Do not worry, these gloves are true to size.
However, it does not deliver enough warmth when worn, which is its drawback.
Pros
Waterproof and winterized glove design
Combines durable and non-slip materials
Offers notable gripping
Has three-layer construction with terry brow thumb
Easy to adjust velcro closure for fitting
The purpose of buying these gloves is to aid more dangerous situations, thus repairing your roof is less risky when harsh weather takes place.
12. John Tillman & Co. TIL1490S Mechanics Gloves
When working on your ceiling, nails and screws are necessary tools to get started. Covering your hands with John Tillman's Mechanics Gloves can hinder a possible cut due to negligence or accident. It pertains to full-hand protection that also elevates comfort throughout the task.
Such roofers gloves belong to the top-most favorite hand gear in the market. It is similar to most leather hand mitts that last a long time despite the cost. I would also like to emphasize the use of goatskin leather in producing these gloves for enduring heavier jobs.
Added features, such as padded palm and side panels bring so much comfort for longer wear. They also prevent your hands from hurting when dealing with more strenuous jobs and promote better mobility when grabbing things.
The product is breathable, especially through the finger. It has nylon spandex to provide a more accurate fit, and I am so impressed that the gloves can wick away moisture. These two factors aim to avoid discomfort.
Sizing is changeable via the wrist closure with hook and loop style. You can alter the size of each glove anytime. But it is one of the roofing gloves that can be stiff with too much reinforcement. This can ruin dexterity as well.
Pros
Uses goatskin leather to be suitable for heavy-duty tasks
Yields a padded palm design and side panels for mobility
Made of nylon spandex for a more breathable design
Has wrist closure for size adjustment
Cons
May turn out inflexible at some point
Even so, I like that these gloves safeguard your hands even in tough jobs, providing sufficient comfort until you complete the task.
13. KAYGO Light Duty Work Gloves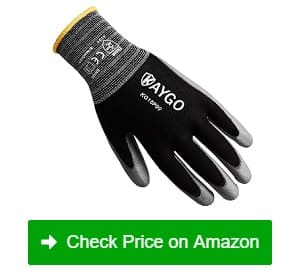 This is a lightweight pair of work gloves that offers a bare-hand dex-fit level for users to be more productive in roofing. KAYGO KG15PB Light Duty Work Gloves are among the pu coated gloves ideal for short-term lifting use and other lighter works.
Another thing that I love about this product is that it offers a good grip for users. You will feel more relaxed assembling stuff with balanced protection. The way these gloves are made plays a vital role in keeping you away from injuries while wearing them.
Speaking of the construction, these roofing gloves have blended premium nylon and polyurethane to give the finest comfort for workers. Each of the gloves is thin enough to fit your hands and sense whatever you are holding.
It also has a seamless knit liner to move your hands without ruining some parts of the gloves. Debris cannot easily penetrate the hand mitts, even through the knitted wrists. Plus, the item is CE-certified, referring to the user's safety.
Follow the care instructions in washing the hand gear. Cleaning should be for at least 5-minutes to fully remove dirt from the gloves.
Not being cut-resistant and only being applicable for dry working conditions are the sole inconveniences in buying these gloves.
Pros
Caters a dex-fit level to build up comfort
Lightweight and designed for light-duty tasks
Merges polyurethane and nylon material with seamless knit liner
Has knitted wrist for proper fitting
Provides a care instruction
Cons
Lacks other safety features, such as waterproof and cut-resistance
In any case, these gloves will make it feel as if you are roofing with your bare hands!
14. Mechanix Wear MPT-55-010 M-Pact Tactical Work Gloves
For individuals who can afford expensive roofing gloves, you will be in favor of the Mechanix Wear M-Pact Covert Tactical Work Gloves. It makes users feel good in construction and other industrial jobs that require wearing gloves.
I can consider this unit as gloves for asphalt work over with its exclusive design. It does well in absorbing impact that can cause blisters and other injuries. That factor is necessary for said jobs to ensure better protection.
These are all-black gloves that add up to your fashion while working. Its chief material is synthetic leather with reinforced and double-layered fingertips for robustness against impacts. It also has a D30 padded palm to level up comfort when high energy hits your palm.
Apart from the full-hand security are the knuckle and finger guards. These are made of thermoplastic rubber that guarantees overall safety.
Storing the gloves is more convenient with the included nylon web loop. It is also suitable for machine-dry after washing but do avoid using bleach and solvents to not ruin the gloves.
Fake pairs are sold in the market so be careful when buying yours. Such products eventually fall apart in the first hour of use or won't last for a very long time.
Pros
Recommended for industrial jobs and some housework
These are stylish gloves to wear
A mixture of synthetic leather and rubber
Excellent to absorb impact due to padded palm, and finger and knuckle guards
Easy to clean and store
Cons
Many fake products in the market
Finding the right seller can save your money as the authentic roofers gloves are as good as other top-tiered options.
15. SHOWA Atlas 370BXL-09 Nitrile Work Gloves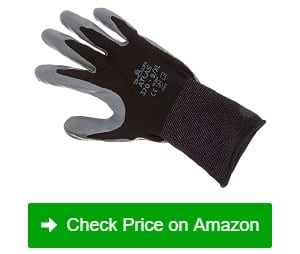 The ultimate grip nitrile gloves are necessary to increase mobility when working with lightweight construction, like roofing. You may choose SHOWA Atlas 370B Work Gloves to armor your hands from edgy things.
There is a wider range of sizes to pick from that will suit many users. It also holds up after multiple washing, which I like especially when wearing gloves often. What I additionally love is the level of hand protection that these gloves offer.
Like other lighter gloves, this one is made for various uses apart from roofing jobs with its close-fitting design. It gives you a second-skin feeling even for continuous wear and yet assures a secure fit. This improves your control over the gloves and minimizes hand fatigue.
It has a coarse texture resulting in an ultimate grip for tools, for roofing or any other housework. The back of the hand gear also helps to enhance breathability thus prevents too much sweating for longer wearing.
Its rubber material is durable and easy to wash and dry for future uses. A single purchase will include 12 pairs enough for everyday use. I just wish that the finger length is a bit wider and longer to quickly wear the gloves but overall this is a good buy.
Pros
Contributes an optimal grip with the nitrile rubber material
Many size options are offered
Has close-fitting and textured design
Extremely breathable and easy to wash
Includes 12 pairs of gloves
Cons
Has shorter finger length and is so difficult to wear
It can be the top-rated gloves for roofing with extra pairs for extended use to make ceiling repairs manageable.
What to Look for When Buying Gloves for Roofing?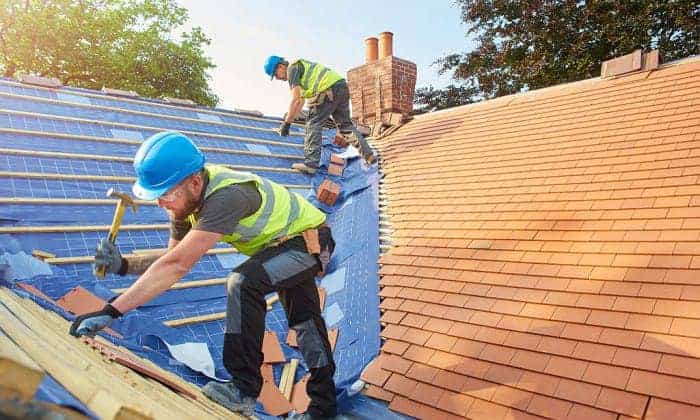 Now that you know some of the most affordable roofing gloves in today's market, below are the factors to consider in buying such gloves.
Level of Safety: Roofing gloves come in different styles and safety levels depending on the quality of materials used. Those made with heavy-duty materials, such as leather, nitrile rubber, and polyurethane can withstand all threats in your working space. Your safety also depends on how long you wear the gloves and how quickly the gloves can wear off.
Design: Selecting stylish gloves is just a bonus when all its features have met your expectations. To name a few are a high level of comfort and dexterity.
Versatility: Multifunctional gloves are a good choice, especially for workers who deal with a lot of housework. Most roofers gloves are excellent for industrial jobs and mechanics.
How Long Do Roofing Gloves Last?
The lifespan of roofing gloves varies depending on the glove type and the duration of usage. Frequent replacement of gloves is normal for day-to-day wearing. On average, roofing gloves can last for at least three weeks with proper care and maintenance.
How Do You Clean and Wash Roofing Gloves?
Cleaning your roofing gloves regularly helps expand their lifespan. Some units come with laundry instructions, so read labels before throwing the gloves in with your regular wash.
Many materials, such as nylon, cotton, and kevlar are machine-washable, while leather and rubber gloves can be cleaned in the dishwasher. Use ordinary detergents and avoid formulas that contain harsh chemicals, like bleach.
Conclusion
Buying the best gloves for roofing is not only meant for professional roofers but every worker at risk of hand injuries. It will protect your hands against warmth and cold, as well as sharp tools while performing repairs. Therefore, examining the type of gloves and their important features is crucial to make a worthy purchase.
Hi, I am Alexander, forty-seven years old this year. I have been in the construction industry for twenty-five years and have provided a wide range of services. When it comes to expert guidance on site safety gear, you can put your trust in me.