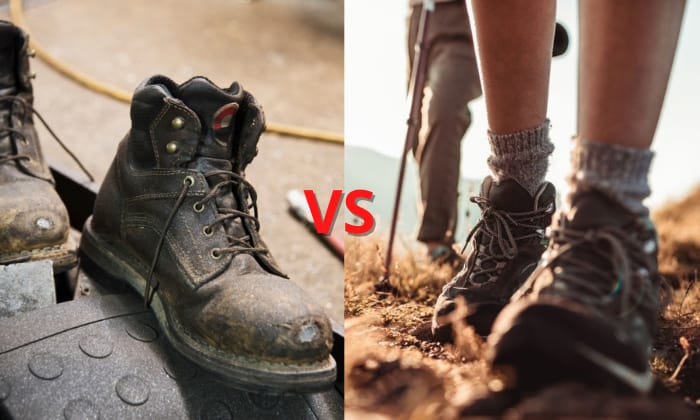 Both hikers and workers need boots with safety features that support their every step. That's why hiking boots vs work boots are both heavy-duty pairs that stand up to frequent use and abuse.
Yet, the main differences lie in those features, since the right boots for a hiking trail should come with good ankle support and cushion, while work boots must shield against electrical hazards, chemicals, and more.
In other words, we can expect extreme comfort and minimal foot fatigue when wearing hiking boots. Meanwhile, work boots are made to resist elements and dangers at the worksite.
Let's dig into the details.
Work Boots Vs Hiking Boots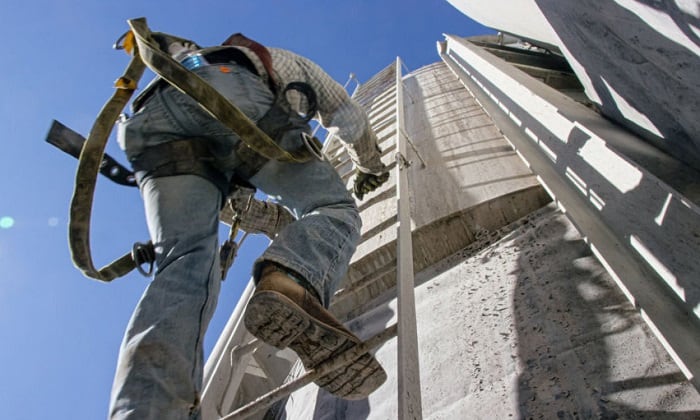 Check out an overview of these two types' main features in the table below. Make sure to read our detailed comparison to understand how they are different or similar on some points. Also, please note that we are comparing quality models of work boots and hiking boots.
| | | |
| --- | --- | --- |
|   | Work boots | Hiking boots |
| Weight | Heavy due to the added steel/alloy toes | Lightweight to reduce the burden for long-hour walk |
| Flexibility | A bit more rigid for protection | More flexible soles |
| Traction | Sufficient traction level with a slip-resistant outsole | Has lug soles and random bottom patterns for better stability and traction level |
| Durability | More rugged due to the protection features and materials | Fairly tough to endure long-distance walks and frequent wash |
| Comfort | Provides sufficient comfort for long-hour work | Offers utmost comfort with cushioning and EVA foam insole |
What Are Hiking Boots and Their Uses
Hiking or walking boots are designed with a protective upper that ensures a good fit with a water-proof feature. Their whole construction must offer good comfort for long walks on uneven terrain while being breathable enough.
Furthermore, a hiking boot must come with ankle and foot support, which protects us from hard rock or rough terrain as we hike. Of course, the pair must fit us perfectly, as nothing is worse than too-loose or too-tight shoes for hours and hours of walking.
When seeking hiking boots good enough for our trekking plans, we often see three types:
Hiking shoes with low cuts, high-aflexibility midsoles, and a light weight, designed for long journeys.
Day hiking boots that come with mid-cut or high-cut designs that support short trips with a light backpack.
Backpacking boots that are more durable with tough midsoles and a high-cut design.
What Are Work Boots and Their Uses
Quality working boots are an excellent workwear solution to keep us safe from hazards. They are designed with toe protection, ankle support, and multiple features against electrical shocks, sharp tools, etc.
These boots must be tested to meet ANSI/ASTM standards. We must check such certifications before purchasing a work shoe to wear on our construction site.
We can classify work boots based on the type of duties they are designed for, such as electrician work boots, lineman work boots, construction work boots, etc.
Detailed Comparisons Between Hiking Boots and Work Boots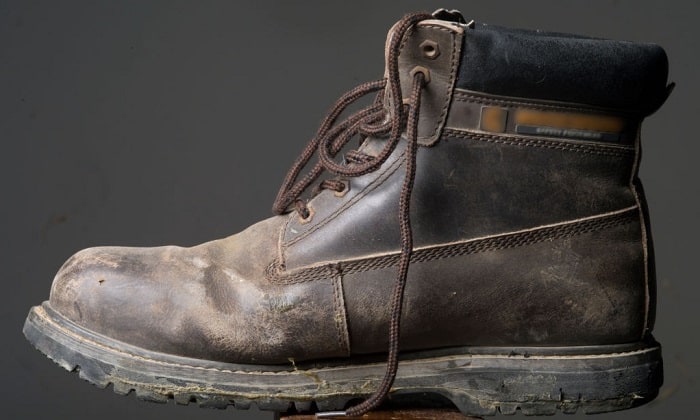 1. Hiking boots are often more lightweight
Only lightweight hiking boots are trusted for long-distance trekking with heavy loads. Indeed, we wear hiking boots for protection against rocks and sharp objects in case of tripping. Hiking boots with lightweight rubber toe caps and bumper will suffice in such circumstances.
On the other hand, alloy or steel toes in work boots make them heavier to protect workers against falling objects and compression. So, the little extra weight is one distinct difference between a working and hiking shoe.
2. Most hiking boots are more flexible
The main reason hiking boots are made with optimal flexibility is that we need to walk long distances on potentially uneven ground and rocky paths. Therefore, hiking shoes often come with shanks and rubber soles that are not as rigid as work shoes. Also, those shanks should be around 3 – 5mm and often cover half of the boot's midsole.
Meanwhile, we wear work boots to prevent sharp tools and objects from piercing through; hence, these pairs should feature a thick sole and a rigid shank material. Yet, that does not mean a work boot will limit our movements, but compared to it, a hiking boot makes us feel more flexible and comfortable while walking.
3. Hiking boots often have random bottom patterns, while work boots have slip resistant soles
Many work boots and hiking boots feature lug soles made of rubber for better grip on slippery surfaces. The rubber outsole has unique patterns that increase the traction for both types. Yet, a hiking boot comes with more random patterns, thus generating a bit more traction than the work boot.
Meanwhile, work boots come with a slip-resistant outsole that keeps you from falling when handling tasks on slippery floors. Make sure you choose the right pair that has sufficient traction for your hikes on rocks or work on oily grounds.
4. A work boot protects against working hazards, while a hiking boot handles weather conditions better
Durable materials: High-quality trekking boots and work shoes have upper parts made of split-grain, nubuck, full grain leather, or synthetics like polyester and nylon. Among those choices, a leather upper is my pick for hiking boots and work shoes.
Waterproof: The best hiking boots indeed dry quickly after you cross shallow streams. They ensure little moisture can seep through the membrane, thus keeping our feet dry most of the time. Meanwhile, a working boot might take longer to dry after rain or a wash.
Protection features: Only in work boots can we find certified insulation against electricity. Also, their steel or alloy toe makes them a good pair to carry heavy loads, unlike a running shoe with a soft rubber toe.
Meanwhile, hiking boots come with synthetic insulation to offer warmth when we walk on glaciers and snow.
In terms of ankle and arch support, hiking boots have more choices, from low, mid, to high-cut. Meanwhile, most work boots support high-cut models.
5. Hiking boots are a bit softer and more comfortable
With cushioned midsoles, hiking boots provide more comfort for long hikes on rugged terrain. Some models come with an EVA midsole that is lightweight, cushy, and breathable. Other hiking boots feature polyurethane midsoles that ensure firmer yet comfortable support for hikers.
Meanwhile, you can also expect good support and cushioning from high-quality work boots, but the steel toe, thick leather, and rugged soles will make work boots for heavy duties a bit stiff. That's why a work boot requires a longer break-in period than a hiking boot.
Are Work Boots Good for Hiking
Yes and no, it depends.
First, if you want to go on a few hikes, a comfortable and lightweight work boot can suffice. But you should not wear the pair to go on a rocky and slippery trail as it can hurt your feet badly, even causing blisters or abrasion if not careful.
Also, when hiking in work boots, please avoid tracks with streams, rivers, or a waterfall. Since work boots might absorb so much water and take days to dry, they can be extra uncomfortable.
If you plan to hike on uneven surfaces with rocks and water without suffering from hurt and wet feet, wearing work boots as hiking boots is not recommended. You can have as much protection and comfort as needed for a safe and comfortable hike if you invest in a boot made for hiking.
Should I Be Hiking in Steel Toe Boots
No, you should not. Some work boots with sufficient flexibility and cushioning can accompany you when hiking, but those are absolutely not ones with steel toes.
Are Hiking Shoes Better Than Boots
Many prefer hiking shoes since they are soft to touch and more flexible. Besides, selecting a well-fitted shoe is easier, and the break-in period is much shorter. Hiking shoes are also the better choice if you prefer lightweight and compact pairs to travel. But, hiking boots are more durable, thus offering better protection on risky trails.
Conclusion
Hiking boots vs work boots, what are the similarities and differences? We hope that you found the answer to that puzzle after reading our article.
Of course, we should not mistake one type for the other since they are made for specific purposes. But, for a light and quick hiking trip, a lightweight work boot can be your good companion. Meanwhile, comfortable hiking boots can be a life-saver for light-duty tasks at the worksite on a not-so-busy day.
If you find our article helpful, feel free to share and discuss. Thank you for reading!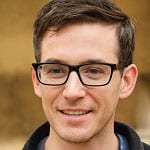 This is Edward Manning, the editor in chief of Construction Informer. Quite a bit of my time is spent researching the market and interviewing experts in the field so that I can give you reliable information.