Have you experienced uneasiness when you wear your leather work gloves? Well, somehow, I run into this issue. I think one way to make you comfortable and secure with gloves is to break in your gloves properly.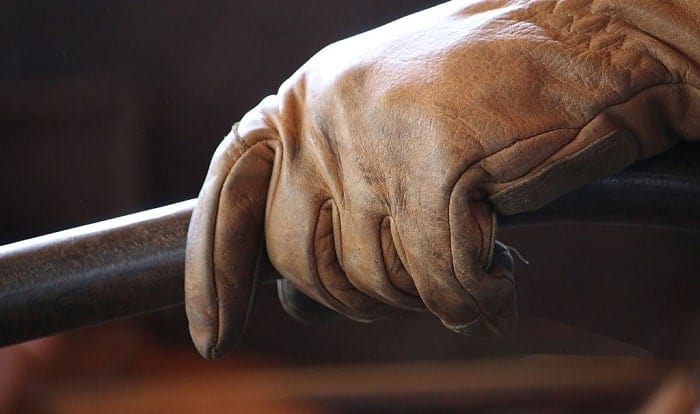 Breaking in your leather work gloves can help remove the unwanted rigidity. It can also contribute to cohesion and make your gloves shape into your hand for comfort and ease.
So, how to break in leather work gloves? Here are some ways and materials that can help break in your leather gloves for a perfect feel and snug fit.
7 Steps to Break in Leather Work Gloves
1. Dampen Using Clean Water
Breaking-in your gloves by putting an amount of moisture in your leather gloves. Pour a small amount of water but do not overdo it.
Let the leather absorb the clean water. Then, fill your gloves with newspapers. Your gloves will become soft and will stretch.
Place your gloves in a dry area. Let it dry naturally away from direct heat. Also, do not utilize a hairdryer in drying your leather gloves because they might acquire cracks. Let it dry for about one day.
You may also use hot water with a temperature of about 150 Fahrenheit to 170 Fahrenheit. Pour 2 cups of hot water on the front of the gloves and 2 cups on the back. It will break in and loosen the leather material.
2. Rub a Leather Oil
Another way to easily break in the leather work gloves is by applying leather oil. This oil is either a synthetic or natural substance that conditions and moisturizes the leather.
It consists of a single oil or a mixture of oils, waxes, fats, and conditioning agents. The leather oil makes the gloves waterproof too.
Get a brush and dab the leather oil. Then, rub-down the gloves with leather oil. You may repeat the process every 3 to 6 months. Once the leather work gloves are oil-saturated, they can break in easily for comfortable use.
However, when the leather is oil-saturated, it may darken. Also, it may acquire a smell but only for a short time.
3. Using a Leather Conditioner
Leather conditioner restores the natural flexibility of the leather material. Also, it nourishes the fibers of this material. Because of this, when you apply leather conditioner into your leather work gloves, you can easily break it in.
To apply the leather conditioner, dab the conditioner into a soft and lint cloth. Then, rub the cloth with the conditioner onto the leather work gloves in a circular motion. Pat it dry with a soft cloth and air dry it for a few hours.
You can purchase leather conditioners in online stores. If you prefer a home remedy leather conditioner, you may combine one tablespoon of soap, one quart of warm water, and about two drops of vinegar.
Get a cloth and dip it into a solution. Apply it onto your leather work gloves, and air dry it too. Another alternative for leather conditioners is saddle soap.
4. Massaging the Fingers of the Gloves
You may try massaging the fingers of your gloves. But, first, saturate your leather work gloves by using water or a conditioner. However, don't overdo it because it may damage your gloves.
Once the gloves are saturated, massage the fingers of the gloves from the fingertip to the palm. Again, don't overdo the massaging as they may crack if the massaging is hard.
5. Rubbing an Alcohol
An easy way to break in your leather work gloves is rubbing alcohol, which softens the leather. Acquire a soft cloth or a rag and dab it to the alcohol. Rub the cloth with alcohol into the exterior part of the gloves.
Let it dry for a few minutes before using your gloves. You may apply this process every six months.
6. Applying a Mink Oil
Mink oil contains a palmitoleic acid that conditions and preserves the leather material. That is why this oil is used for properly breaking in the leather work gloves. It also softens the leather that makes breaking in these gloves easily.
To apply the mink oil, dab your finger in the oil and rub the oil into the leather gloves. Then, pat it dry with a soft clean cloth or microfiber cloth.
However, the color of the leather might darken quite a bit because of the oil. To prevent this, you may rub the oil first on the less visible parts of the gloves.
7. Using Silicone Spray Sealants
Silicone spray sealants or liquid can waterproof and help break in the leather work gloves by lubricating the leather. Once you spray it, the leather material will stretch a bit during the break-in. However, the leather might darken a little bit.
How Do You Maintain The Leather Work Gloves?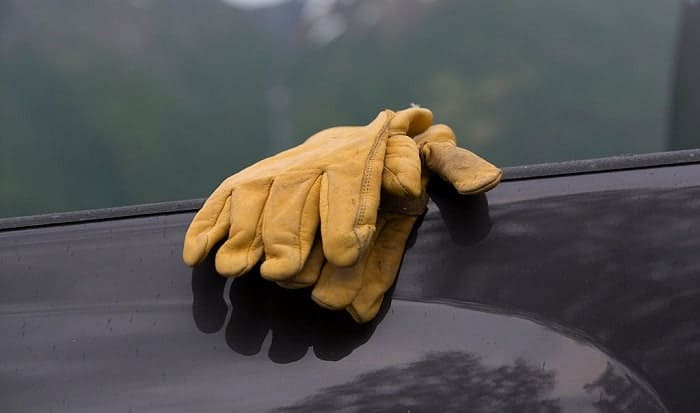 After using your leather work gloves, indeed it's quite dirty. It is because of the dirt it absorbs, the sweat from your hands, and becoming wet.
With this, you need to maintain or clean your leather gloves. The following are some ways how you can take care of the leather work gloves for long-lasting use.
1. Dry naturally
In one instance, your leather gloves become wet, then let them dry, but do not expose them to direct sunlight as they may be damaged. Let them dry in the fresh air. It will also remove any smell acquired in your leather gloves.
Clean your leather work gloves two to three times a year. You may wash them using saddle soap and cold water. Then, let your gloves dry.
You may also use a toothbrush to remove dirt from your gloves. Then, wash them with a mixture of cold water, ½ cup laundry detergent, and one tablespoon of salt. Then, rub the dirt using the solution with your hands.
Rinse them in cold water and squeeze the remaining water in the gloves. Let them air-dry and massage them to keep them from being rigid.
3. Put conditioner
Condition your leather gloves from time to time. It will make breaking in easily and will soften the leather. You may apply a leather conditioner that will sustain the fibers of the leather. Also, it will make your leather gloves durable.
4. Use your leather gloves
Use your leather gloves because they become flexible, stretchable, and able to breathe. Also, they can absorb moisture and move when you use them. So, don't just lock them into your tool cabinet, or else they will crack in time if not used.
Conclusion
Properly breaking in your leatherwork glove will make you comfortable when you use them. It leads to a perfect snug fit and a job well done.
We hope that the above ways on how to break in leather work gloves could be of help. You may use any of the ways as these are all tried and tested.
If you have any other ideas on how to break in leather gloves, you may kindly share them with us. You may write them down in the provided comment box below. We surely appreciate them.
Hi, I am Alexander, forty-seven years old this year. I have been in the construction industry for twenty-five years and have provided a wide range of services. When it comes to expert guidance on site safety gear, you can put your trust in me.