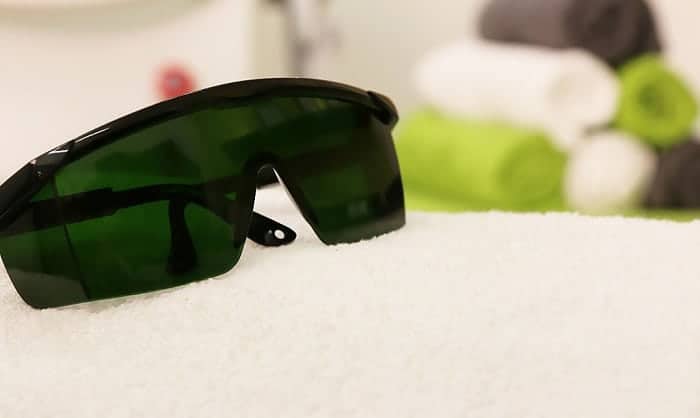 While all laser safety glasses are constructed with one protective purpose, there are huge differences among their specifications. So the first thing to know is the level of radiation that you deal with at the workplace.
To know how to choose laser safety glasses that suffice your duties, please pay attention to three critical factors: wavelength of the laser, optical density, and visible light transmission. Read on to explore these criteria.
Important Terms Related to Laser Safety Glasses
Wavelength – A laser radiation has an aiming beam wavelength and an operating beam wavelength. The former is eye-safe, and the latter is hazardous, so we need safety glasses to block it to avoid optical damage.
To give you an idea, the primary laser radiation wavelengths for commercial and military uses are Ultraviolet (UV), visible, and infrared regions of the light spectrum. In detail, Ultraviolet laser radiation is light with wavelengths from 180 nm to 400 nm.
Also, the visible lights of lasers consist of wavelengths between 400 nm and 700nm. Therefore, we often call this region visible lights.
Lastly, the hazardous laser radiation that can penetrate our skin and cornea, leaving severe damage to our eye health, is the infrared light. They have a wavelength spectrum of between 700 nm to 1 mm.
Ultraviolet radiation: 100 nm to 400 nm
Visible light range: 400 nm to 700 nm
Infrared light: 700 nm to 1 mm
Optical Density (OD) – This term refers to the amount of radiation that the safety glasses can absorb harmful lights. It is an essential factor to measure the energy's attenuation which goes through the lens filter. In detail, OD indicates how much the lens will block transmitted lights of a particular wavelength.
Regarding the photo below, you can see that with higher optical density, the lens can block more hazardous light from that same range of wavelength. For instance, a laser safety lens with an OD of 5 can block all but 0.001 percent of the laser frequency.
Visibility Light Transmission (VLT) – This term refers to the amount of visible light allowed to pass through the eyewear optical lenses. You can encounter this specification as visible light transmittance (VLT%), too. And these are the same thing, showing you how dark the lenses can get. Lower VLT% indicates darker laser safety glasses.
How to Choose Laser Safety Glasses with Sufficient Protection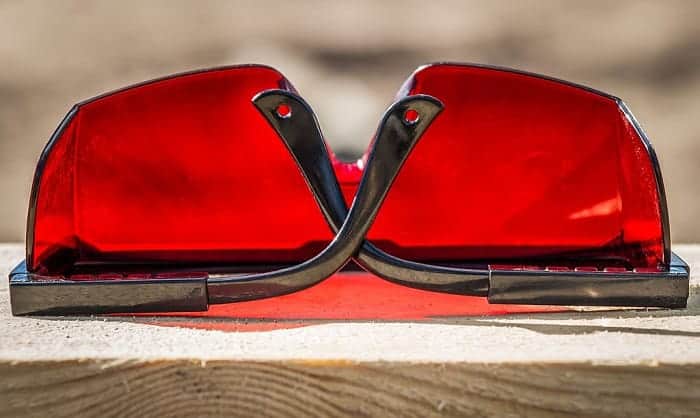 Figure out the frequency of the laser – This is the first thing you need to do. Such information will be printed on the laser manual. If you cannot find this vital information, ask the laser safety officer. After knowing the wavelength of your laser tool, you can find the suitable lens with the correct protection for the particular wavelength.
Read the Optical Density and Visible Light Transmittance (VLT%) – On the laser, beside the laser's wavelength or frequency; there will be a recommended optical density. You can notice it on the technical instructions. You should go for higher OD to experience an effective shield against hazardous laser radiation.
In truth, with medical devices, it is best to opt for safety glasses with an OD of at least five or more if you can afford them. Please know you can get the safety gear with higher optical density recommended by technical instruction or manual.
Regarding the VLT%, there can be a compromise in terms of visibility with lenses that have higher optical density. Also, with darker pairs, it is challenging for workers to perform in enclosed places like laboratories. Yet, some brands provide a high-quality lens with the balance of both VLT% and OD for your vision, meaning you can have proper protection without a much-distorted and low level of visibility.
Decide between polycarbonate and glass filter lenses – Available products present various options for filter lenses that suffice workers' duties in hazardous environments. When you choose the best filter lens, it allows optical visual acuity for your performance.
In truth, polycarbonate safety glasses are affordable and lightweight. Furthermore, you can rely on its impact resistance to both. Finally, this type of protective glasses comes in multiple wavelength protection options suitable for low to mid-power density laser applications.
Meanwhile, lenses made of glass provide a high degree of protection that polycarbonate lenses fail to offer. Besides, such filers incorporate a higher rate of VLT, which allows higher levels of optical density. As a result, they can suffice the use of impressive power levels and wavelengths.
Choose a suitable frame style – With the myriad of frame options in the market, selecting an ideal one seems overwhelming. In that case, you can check out these common styles that support many workers well.
Laser safety glasses with universal style are often large enough to cover your prescription pair underneath. They often come with adjustable arm lengths, various temple sizes, and wrap-around structures. Thus, this type of design promotes excellent peripheral vision and optimal comfort for wearers with an eye condition.
Some workers prefer the comfort style, which is widely loved for its multiple comfort points. Other than offering protection and full viewing for wearers, they make long-hour work more bearable with their soft and comfortable nosepiece, lightweight and breathable design, etc.
The sport style is another great choice for laser safety glasses, as it boasts a sporty and sophisticated look. It does not resemble a bulky pair of protective goggles but rather a fashionable item with a creative design. If you go for this type, make sure to choose one with a customizable length and joint for comfortable wear.
The modern style is designed with pretty much the same idea as a sporty one. Yet, many laser safety glasses in modern style feature a gasket to avoid fogging issues. Furthermore, these pairs should come with detachable inserts for prescription eyewear for people with eye conditions.
Some Recommended Laser Safety Glasses
The Professional UV light/ Violet & Blue Laser Safety Glasses from FreeMascot is an incredible option for laser work; it can block laser radiation with a wavelength of between 190 nm to 490 nm. The pair comes with polycarbonate lenses with an optical density of 6+, which suffice for heavy work with laser light. Besides, the high-quality filters and their multiple frame styles help us choose our ideal one easily.
Another well-made pair is the Yanuo IPL Laser Protection Goggles. The gear protects our eyes against radiation lights with a wavelength from 200 nm to 2000 nm. Please note that it receives EN207 CE certification. People who work in beauty treatment using laser light for skin rejuvenation or whitening will benefit from this pair. Its hardened polycarbonate lenses have an OD of 5 +. In my opinion, this one looks a bit bulky but offers comfortable and light wear.
The ANZESER Laser Safety Glasses stand out with a fashionable and practical design. The pair has a VLT of 90% while offering sufficient optical density and great visibility during day and night work. In addition, the wide lenses made of polycarbonate provide extensive viewing without obstruction. This fashionable design with red lenses and ergonomic structure promotes all-day comfort. Plus, it is best used for industrial and medical applications.
Conclusion
Our short guide on how to choose laser safety glasses and some top-rated products should help you shorten your selection.
However, this is an important task that will affect your safety, especially your eyes, so ensure to make a well-informed decision. Also, be sure to follow all the instructions while handling your work to protect yourself well.
Hi, I am Alexander, forty-seven years old this year. I have been in the construction industry for twenty-five years and have provided a wide range of services. When it comes to expert guidance on site safety gear, you can put your trust in me.