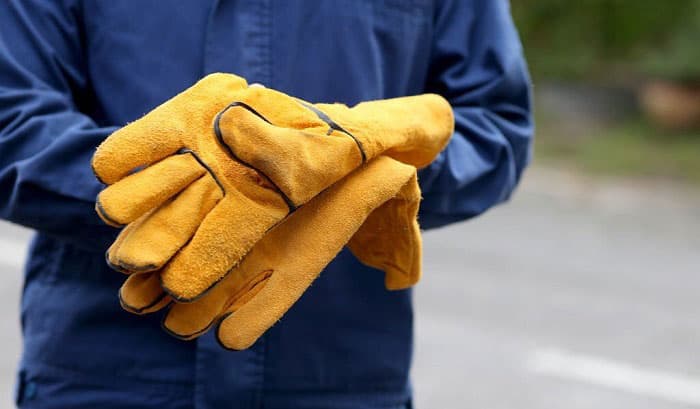 Leather gloves require special care, especially in washing and maintaining them. We do not want our pair to smell bad because we wait too long to finally wash it. But, it is true that there must be much effort put into cleaning the gloves the right way.
So, we are here to help you get through the tricky parts of washing the inner lining and texture of your pair. Check out below how to clean leather gloves inside.
Method 1: Cleaning Gloves Inside With Vinegar
This first method is applicable for the outside and inside of gloves. You can use it to wash your whole pair without worrying about ruining the leather texture. You should prepare the following things before getting started:
White vinegar
Some microfiber cloths
A soft toothbrush
A spray bottle
Step 1: The first thing you should do is mix cold water and white vinegar with a ratio of 1:1. You should put this mixture inside a spray bottle for easy application.
Step 2: Now, turn leather gloves inside out to clean their interior. Spray the mixture onto your gloves; make sure to cover all surfaces, including the liners. Still, do not soak the whole gloves with too much solution.
Step 3: For the cleaning solution to remove the smell and dirt on the gloves, you must leave it there for about 20 minutes. Then, use the microfiber cloth to pat the glove surface dry.
Step 4: After the pair dries, you can now take the soft toothbrush to dab off the residues left by the mixture.
Method 2: Cleaning Leather Gloves Inside With Baking Soda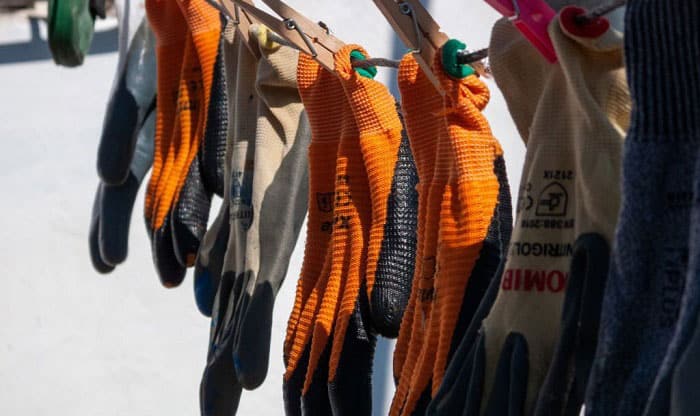 This second method is recommended when your glove's inner lining has built-up oil, moisture, and dirt that are stubborn to remove. It is recommended to clean leather gloves with mold. What you need to prepare are the following:
Some baking soda
A tablespoon
A vacuum's upholstery attachment
Step 1: Since you do not have to create any cleaning solution, this step is quite easy. Just hold your gloves in a way that allows you to sprinkle baking soda into them. Then, use the tablespoon to spread the cleaner to ensure it goes into all fingers.
Step 2: Now, shake the leather! Do that by closing your glove wrist shut. In this step, you are trying to stick baking soda powder onto your gloves inside.
For the powder to take effect, leave it there for 3-4 hours.
Step 3: Afterwards, you need to brush off the powder layer on your gloves. You can turn it inside out, then use your vacuum's upholstery attachment to brush everything away.
Can Leather Gloves Be Dry-Cleaned?
Actually, many people who own expensive leather gloves prefer to have specialist dry-clean gloves. So, yes, dry cleaning leather gloves is absolutely doable and even recommended if you do not want to damage the textures and colors in the process.
Can You Put Leather Gloves in the Washing Machine?
Many people attempt to clean the gloves' insides by throwing them into a washing machine. But, it is not the best way to preserve your glove quality and have its inside sanitized thoroughly.
You can machine-wash your glove, as long as you turn the piece inside out, then put it inside a garment bag. Then, make sure to use a leather-compatible cleaning product, as well as cold water and a delicate washing cycle for your pair.
Of course, you cannot do that with all types of leather gloves. So, make sure to read the instructions. Or else, you might end up with a slightly cleaner pair but definitely softer and not so shiny.
Conclusion
Washing leather gloves or any stuff made of leather has always bothered people. We can't afford to ruin our favorite (and very expensive) items in one wash. Of course, we do not want our handwear to smell bad and have built-up dirt inside.
So, hopefully, this guide on how to clean leather gloves inside already lifts some burden off your shoulder.
Let us know if you enjoy the tutorial, and feel free to share it with others. Thank you for reading!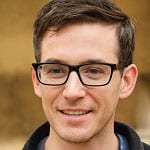 This is Edward Manning, the editor in chief of Construction Informer. Quite a bit of my time is spent researching the market and interviewing experts in the field so that I can give you reliable information.