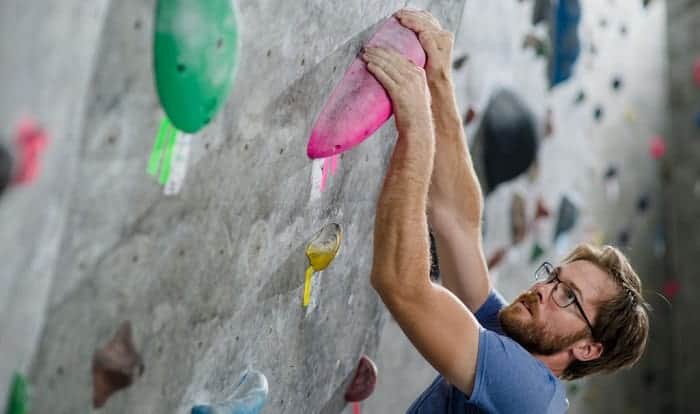 Wearing prescription glasses should never stop us from playing and slaying in our sports games. So, we need the right tools and tips on how to keep your glasses from falling off during sports.
If you are frustrated about this issue, here's the solutions everyone out there is adopting:
Check measurements and adjust the frame
Use adds-on like anti-slip wax, nose pads, glasses straps, and ear grips
Rely on sport glasses
How to Keep Your Glasses from Falling off During Sports
Just go for the ideal one and enjoy your outdoor activities with utmost confidence. Now, check out the details:
Adjust Your Eyewear Frames
One of the reasons why glasses keep sliding off our nose must be the inaccuracy in eyewear measurements. Also, over time, the frame's screws become loose, leaving us frustrated everytime we join active games.
Thus, we need to check out issues with the specs frame first, ensuring that the current eyewear size and condition suffices our requirements. Some might want to do this at home, but we suggest you go to a reliable optical store, or visit the one where you have your glasses customized.
If you insist on doing this at home and find out that some screws are not tightened, check out our guide on how to tighten glasses screws.
Also, regarding the plastic frame, a heat gun can help you soften it to adjust and bend gently until it fits your face nicely. Anyway, please be careful not to damage the lenses and frame structure with too much force.
Use Adds-on for Convenience
Another way to stop glasses from sliding down is utilizing suitable add-ons for your glasses, which include anti-slip wax, nose pads, glasses straps, and ear grips. For this method, let us introduce some of the finest pieces for you to have no trouble playing sports with glasses on.
Anti-slip wax
This item comes in wax form, making the application breezy and neat. It will be great if you opt for ones made of natural ingredients to protect your skin while keeping the eyewear in place. Also, the product works great for light sports, as it might not work that well for jumping continuously.
To use this type of anti-slip spec retainer, just take off the product cap. Afterward, put a small amount of wax on the nose pads. After you finish all activities, use soap and water to clean the residues.
As quality products work on almost any frame materials, you can freely utilize them for prescription and sunglasses with ease. And, if you are confused about which ones to buy, check out Nerdwax's holding waxes. They are formulated with natural and organic ingredients – beeswax. And the more you apply it, the longer it keeps your glasses in place, which can last for one hour to all day.
Anti-skid nose pads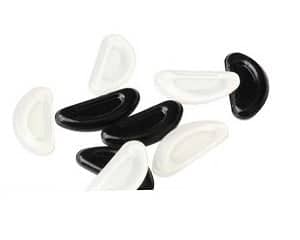 Another affordable add-on to pack with you while playing sports with sunglasses is the transparent anti-slip adhesive contoured pads. After trying them on for some time, we find these easy to put off and peel off, promoting great convenience during different occasions.
To install them, make sure you clean the glass frame to get rid of oil and smudges first. Afterward, when the frame is dry, put the nose pads on and hold tightly for some minutes for them to stick well. Then, you can enjoy exercises and sports games just fine.
The minor drawback is that you need to replace them often, as they might lose adhesion after some use.
If you look for recommendations, we will suggest GMS Optical, YR, Mr.Zz, FSACLE store, and more. For instance, the SF SONFAN Silicone Adhesive comes in multi-package for frequent use. They are soft and versatile, working well for various glasses.
Glasses straps
Besides being an excellent companion to stop glasses from slipping, this item can be your fashion statement. It comes in various colors and materials, allowing users to show their unique styles while wearing specs and sunglasses.
Also, these containers can support the use of anti-skid wax, making sure your glasses do not drop when you make a big jump or bend forward to play the games. High-quality straps are made of moisture-wicking materials, with a non-slip loop that secures the glasses.
If you want to check out a good piece, the SIGONNA Eye Glasses String is a good call. It is more of a simple and practical design than a sophisticated one, but it delivers excellent safety and comfort. For a unique look, check out suede, seashell, rustic leather, or gold-plated chain, etc.
Ear grips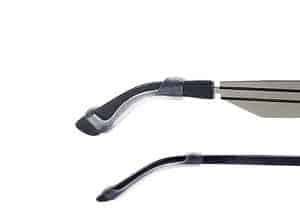 For people who do not like the long eyeglass straps hanging around their neck all the time, purchasing ear grips makes excellent sense. These tiny pieces can have significant power, keeping the eyewear in place when we go back and forth, run and jump to enjoy the fun activities.
Furthermore, they are the most affordable add-on there are. A multiple-package with 10 to 20 pieces only costs you around $5 – &10, depending on the colors and materials. I find this type of accessory ideal for anyone who loves low-key items on their glasses. Also, teenagers and kids who wear specs to play sports can use this one just fine.
To look for suitable pieces, it is a breeze when you scroll through the collection of eyewear accessory brands like Keepons, Aligle, and more.
Rely on Sport Glasses
When all the adds-on and items above do not seem to help your specific type of sports games, it is time you rely on sport glasses. These products are popular among runners, baseball, football players, bikers, and many more.
We can choose them based on the lens coating if you want eyewear for outdoor sports. They also support hydrophobic and hydrophilic types of lenses that resist fogging issues. Also, the base tint offers a beautiful gradience of colors, minimizing the distortion while you play the games.
Other criteria of this product that might win you over is its visible light transmission percentage, stylish shape, versatile uses in work and outdoor activities, or excellent ventilation.
To let you know about some good pairs, we gather here several widely-used sports glasses:
ROKA CP-1x Advanced Sports Sunglasses: There are four colors to choose from this model: black mirror, HC fusion mirror, dark carbon, or HC octane mirror. It features an anti-glare coating with a wrapping design to offer protection and vision for players.
Goodr OG Polarized Sunglasses: This seems to be a low-key pair that boasts a simple design and practical function. It comes with polarized lenses and a UV protective coating. The design fits tight, as it is ideal for hiking and biking.
Conclusion
When your glasses keep sliding down nose, it is impossible to enjoy active games, let alone exciting sports. That's why we need to find helpful tips on how to keep your glasses from falling off during sports. Hopefully, our recommended add-on and one alternative piece: sports glasses will free you from all troubles.
Hi, I am Alexander, forty-seven years old this year. I have been in the construction industry for twenty-five years and have provided a wide range of services. When it comes to expert guidance on site safety gear, you can put your trust in me.