We need to correct our vision due to poor eyesight, but many prescription glasses cannot block Ultraviolet lights. That's where the problem begins, as we need to figure out how to wear sunglasses with glasses.
You can either use accessories to attach the UV-protection specs or purchase a prescription pair with polarized and protection functions. So, without further ado, let's see all the advice and suggestions we have:
Wear Over-the-Glass Sunglasses
The sunglasses for people with glasses are the fit-over types. They are often large enough to cover your pair of prescription specs, as they offer a layer of filter that blocks harmful UV rays and reduces the sun glares.
You can learn how to wear sunglasses over glasses in simple steps:
Make sure your chosen pair comes with a wraparound fit that nicely embraces the current prescription specs without scratching.
Now you can wear the prescription glasses first, as usual.
Then, put on the OTG pair gently to wrap the underneath glasses properly without intruding on your view.
Some suggestions for choosing well-made over-the-glass sunglasses:
Great pick fit over Sunglasses: This one is a polarized pair that features UV protection coating to filter both harmful rays and enhance your vision to work under glaring beams. Putting them on will minimize the distortion and, more importantly, prevent eye fatigue at the end of the workday. Also, the dimension of this pair's lens is 65×41 mm.
Duco unisex wraparound Glasses: Familiar yourself with a stylish pair from Duco with six lens tint options. Notably, the specs come with a durable yet lightweight TR90 frame and polarized Tri-Acetate Cellulose lenses. This one can block sun rays just fine while serving as a fashion statement for wearers.
Rely on the Clip-on for Sunglasses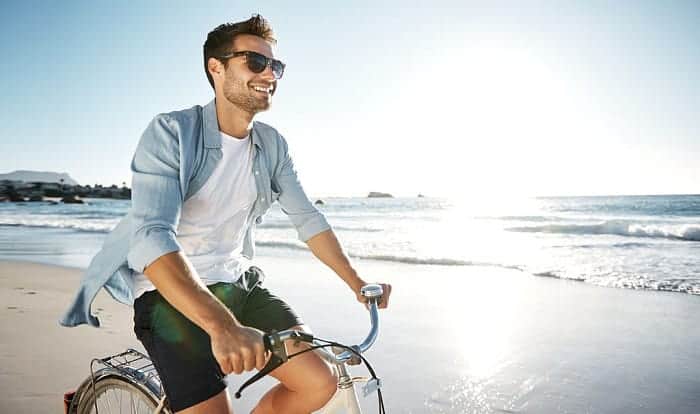 I know for many people, the mere thought of wearing sunglasses over glasses sounds like a nightmare. The bulkiness and weight it adds, not to mention how "anti-fashion" it might make us look. After all, wearing sunglasses is for protecting and showing our style.
Fret not, as the clip-on sunglasses are nowhere near being too bulky or ugly. In truth, their protection power is unparalleled, and many quality pieces are polarized while featuring UV400 protective function. Also, the designs and colors are diverse, matching anyone's taste, just as good as stylish sunglasses.
But the variety of products can confuse you and make the selection process time-consuming. So, you need to consider critical factors like measurements, shapes, material durability, sleek design, and, most importantly, UV protection. With those criteria, choosing a good one takes less time and effort.
To give you an idea about how a well-made clip-on should be, these are some recommended pieces we love to use:
Sunglass Rage Semi-Round Polarized Clip-on: This pair features two of my favorite colors: dark bronze amber and pewter gray. The metal frame with plastic lenses makes it a durable yet lightweight clip-on. Besides, the UV400 coating can filter out harmful rays while blocking sun glares. Also, this piece measures 48×46 mm, coming in a modern semi-round shape.
Wangly Polarized Unisex Clip-On: Another popular frame that is loved by users who wear prescription glasses must be this flip-up piece. Besides the sufficient protection of its UV400 TAC lenses with polarization, this one shines with a convenient flip-up design. It allows us to pull the clip-on upward to see clearly in low-light conditions.
Besides these two pieces, you can check out reliable brands such as CAXMAN store or Besgoods with their unique and compact products. Remember that, with the right clip-on sunglasses over prescription glasses, all your outdoor adventures will be less of a hassle.
With the right pair of clip-on glasses, it is a breeze to put them on and start going out to enjoy your sports games or handle your tasks.
First, you should gently stretch the clip-on frame outward. There is a smooth and easy-to-pull spring action in the bridge, so you do not have to force it wide open.
Then, place it over your prescription eyeglasses frames. Be careful not to scratch the lenses of both glasses in the process.
After making sure the clip-on covers the front frame neatly by putting each clip on the right corner of the lenses, carefully release the piece. And you are good to go.
Rely on Prescription Sunglasses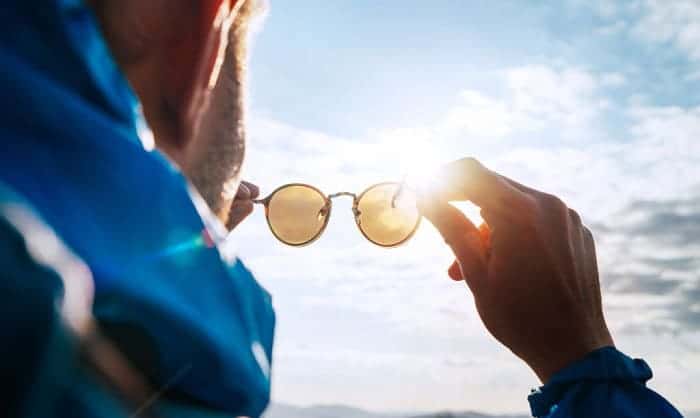 Here we have another choice – prescription sunglasses if you do not want either a bulky over-the-glass pair or clip-on specs. One worrying matter among people when thinking of purchasing prescription sunglasses is the cost. After all, it comes with a spectrum of features, both protection and eyesight correction. However, the expense is not that bad.
A pair of prescription sunglasses can vary, from a little over $20 to $600 or $1000, depending on different factors. That means, with an investment of around 50 dollars, you can have in hand a decent pair that supports your work and daily routine conveniently.
For this custom pair, you should determine different options for the glasses to meet your needs. First of all, pick among polarized and mirror lenses to better block sun glare when performing intricate tasks under the sun.
The glass tint is another factor to consider, as it helps you get used to the glasses faster while enjoying activities without hindrance. The widely-used tints must be green, brown, and gray. Some other good options are yellow lenses for hazy conditions, blue ones for fashion and leisure purposes. Or red ones to enhance driving experiences and bring comfort.
UV protection is the next thing to consider, as prescription glasses with sun blockers will have lower effectiveness than sunglasses. In truth, their level of sun-blocking ranges from 50 to 80%.
Make sure you get the correct measurements to enjoy the comfort and easy wear for a long time. Also, take your pupillary distance and prescription from your eye doctor if you purchase an online prescription sunglasses.
And wearing them is a breeze, as you can put them on just like the way you wear your prescription pair.
Conclusion
Hopefully, with the detailed guide that we present here, now you know how to wear sunglasses with glasses. And more importantly, you are aware of other options to combine sun blockers with prescription specs. The right decision will make your daily life and work much easier, so be thorough with your choice.
Hi, I am Alexander, forty-seven years old this year. I have been in the construction industry for twenty-five years and have provided a wide range of services. When it comes to expert guidance on site safety gear, you can put your trust in me.