The job of an HVAC technician involves a lot of troubleshooting, installing, and repairing air-quality systems. Such a job requires packing loads of tools and spare parts to prepare for any situation. That's where the best HVAC tool belt is essential.
But, the search for a quality piece within our budget seems to be a hassle with numerous products available. To narrow the choices down to only the best, make sure you pay attention to these main features:
Numbers of pockets – Various designs with different capacities are available. The small and compact ones can have ten pockets, while larger ones feature up to 24 holders. It depends on our tool collection and the tool size that we decide on the suitable one.
Carrying method – Smaller pouches will come with a padded shoulder strap, which should be comfortable enough to carry for long hours. Other bags come with a belt or suspenders, or both. They are better used for heavy loads to distribute the whole weight evenly.
Fit – A too loose or too tight belt will bring lots of trouble, dangers even. So, seek ones that fit your waist size well while offering good adjustability. It is always good to prepare for colder seasons when we put on extra clothes.
Besides these features, there is more to choosing a good tool belt for HVAC work, so reading our detailed buying below will help. Before that, check out the top recommendations that accompany various workers — both newbies and professionals throughout their duties. Read on!
Featured Products
Best Overall
ToughBuilt ClipTechPouch + Hub
– Shoulder strap with non-slip padding
– Six-layers riveted construction
– Compatibility with many HVAC tool belts
Editor's Pick
DEWALT DG5103 Maintenance Pouch
– Affordable maintenance pouch
– Compatible with up to 2.75-inch belts
– Long-lasting ballistic Poly materials
Premium Choice
Bucket Boss Tool Belt
– Can hold large items
– Well-balanced design
– Fits up to 52-inch waists
Top-rated HVAC Tool Belt Reviews
1. ToughBuilt Journeyman ClipTechPouch + Hub
Another small tool pouch that serves HVAC daily tasks is the ToughBuilt Journeyman. This well-designed organizer comes with multiple features that make carrying tools easier.
ToughBuilt is a reliable name when it comes to workgear for various fields. Its tool pouches go through the manufacturing and testing process to meet USA quality, and this Journeyman design is not an exception. The six layers of rugged materials held together by rivets can stand up to frequent abuse.
For workers familiar with the brand's styles, it is easy to notice its signature look with the yellow and black colors. Still, the modern touch is in this model's ClipTech, made for customizable and interchangeable pouches that fit on various belts. Its convenience also shows in the shoulder strap with non-slip paddings.
Its storage, which is essential for a HVAC tool belt setup, can pack various items. There is a meter pocket, a flashlight loop, a tape measure clip, one tape chain, and 21 pockets in total. So, tools of different sizes can fit right in, sitting nicely for quick retrieval.
The only gripe one might have with this otherwise perfect HVAC pouch is its lack of handle. But, I guess it's the manufacturer's intention as the strap already suffices.
Pros
USA quality tool pouch with six-layers riveted construction
A signature look with yellow and black colors
A ClipTech for compatibility with many HVAC tool belts
Feature a shoulder strap with non-slip padding
Has 21 pockets, a meter pocket, a flashlight loop, a tape measure clip, etc
Cons
Without a handle for carrying
I would recommend this model for any HVAC professional or electrician looking for a complete set of tool belt under 100. We can combine this affordable pouch with a well-made belt and still not go over budget.
2. Custom Leathercraft DEWALT DG5103 Maintenance Pouch
For anyone who already has a maintenance tool belt and wants a pouch to make it a complete set, here's an incredible choice. The Custom Leathercraft DEWALT DG5103 is many HVAC workers' go-to pouch due to its affordable yet functional design.
This pouch is 9.3-inch long and 7.5-inch tall, serving as a convenient pouch for medium-duty tasks. Indeed, it comes with roomy storage that contains a main pocket for large tools. Besides, we can utilize space in the front pockets, web loops, and sleeve holders to hold various items.
What can we stack in these compartments then? First of all, the carabiner is ideal for inserting our keys. The sleeve can accommodate a flashlight, while the main pouch hosts the tape measure and other hand tools. Also, the extra space in front will be suitable for screws and small items.
While bringing this pouch to work in different set-ups, we can focus without tools falling out since it is a secure design. It is compatible with standard tool belts that are 2.75 inches wide. There are two options for connecting, with a rear clip and a belt loop.
As expected, CLC constructs a decent-quality bag that lasts long despite frequent use. It is due to the ballistic Poly materials with strengthened edges. Therefore, we can work in unforgivable set-ups without worrying about the pouch being torn and worn out too soon.
But, the rear clip seems to not be among the durable parts of this pouch as it might break under heavy weight after a while.
Pros
Affordable maintenance pouch for HVAC workers
3 x 7.5-inch pouch with main pocket, front holders, web loops, etc
Accommodates keys, large tools, flashlight, and more
A secure design compatible with up to 2.75-inch belts using a rear clip or a loop
Long-lasting ballistic Poly materials with strengthened edges
Cons
The rear clip can break under a heavy weight for long
Despite the minor downside, this pouch, along with a suitable belt, will make the top-tier tool belt for HVAC for people with a low budget.
3. Bucket Boss – AirLift Tool Belt with Suspenders
The Bucket Boss – AirLift Tool Belt with Suspenders makes troubleshooting work on high platforms much safer. HVAC workers who seek a system with suspenders can rely on this model to carry heavy tools.
When purchasing a tool bag, we value durability, mainly because sharp tools and hazardous working environments demand a sturdy model. In that case, selecting this Bucket Boss's rugged set makes excellent sense. Its bottoms are reinforced to prevent sagging and wear through time.
Furthermore, with wide-opening holders on both sides, retrieving tools to handle tasks is effortless. We can pack large parts and bulky items inside these pockets, which is often more challenging for compact pouches. Also, this option's layout makes it easier to have a balanced weight when we climb on ladders.
Adjustability is another highlight of this design, as it fits waist sizes up to 52 inches. Also, the whole construction is one single piece connected and allows customization for a better fit. So, I couldn't ask for more!
With the addition of a tool belt and suspenders, this whole set can be deemed budget-friendly. At this price, we can often only buy either a tool belt with a pouch or a tool bag with suspenders.
However, this rigging system might not be ideal for short people as the padded suspenders are pretty long, thus not staying in place all the time on those with average height.
Pros
Reinforced bag bottoms to prevent sagging and wear
Wide-opening holders on both sides for easy tool retrieval
Can hold large items
Well-balanced design for climbing on ladders
Fits up to 52-inch waists, with adjustable suspenders and belt
A budget-friendly set of bags, a belt, and suspenders
Cons
Suspenders are too long for short people
Overall, this system of a technician tool belt, ample pouches, and padded suspenders is a terrific choice for HVAC workers.
4. CLC Custom Leathercraft 1509 Zippered Tool Pouch
In this CLC Custom Leathercraft tool pouch, there are a total of 21 pockets, enough to load a myriad of tools an HVAC worker needs to bring along. I appreciate how CLC designed this piece as a safe package that keeps all my gear in place during tasks.
At first glance, this pouch leaves the impression of a compact design, as with a zip, all tools will be kept neatly inside. I appreciate such a zippered cover that frees me from worrying about stuff falling or sticking out when I travel. Therefore, it is the ideal bag to pack when going on a far-away work trip.
What makes this tool pouch stand out is its ample storage that keeps both tiny parts to larger hand gear inside. We can keep the screws in the zipped holder while stacking 10-inch hand tools into the main pocket. Of course, power tools cannot fit in there since the bag's dimensions are 12.2 x 14.5 inches.
Another perk of this compact pouch is a well-made rubber handle that allows easy carrying. Furthermore, the shoulder strap is padded with an air mesh panel, reducing soreness from long-hour carrying a heavy package. So, whenever we travel or walk around for work, this comfortable and breathable design will be a pleasant companion.
The pouch is rather rugged yet lightweight, at 1.14 lbs only, with its polyester construction. The ballistic binding reinforced the whole piece, ensuring little fraying and sagging through time.
Pros
21 pockets with ample space for small and large 10-inch hand tools
Zippered cover that neatly keeps all tools in place
Dimensions: 12.2 x 14.5 inches, weighing 1.14 lbs
Convenient rubber handle and breathable padded shoulder strap
Rugged construction of ballistic binding and polyester materials
I would not go as far as saying this design is the top-rated HVAC tool pouch. But it is very close to being one, especially for workers who prefer a compact and neat bag.
5. Gatorback B240 Electrician's Combo
When we have a huge budget to spend, the Gatorback B240 Electrician's Combo is an excellent option to consider. Yes, it's high-priced, but the set also provides a well-organized layout and quality for prolonged use.
Every HVAC worker would appreciate such spacious storage for their troubleshooting, repair, and installation tools. In truth, this design features 18 pockets, 9 compartments on each side, and a tape chain. We can keep hand tools and small parts in there and expect easy access with these wide pockets.
The good news is, they are all tough holders with 1250D nylon fabric riveted by metals. Such a reinforcement ensures little wear and tear despite frequent carriage of heavy gear. Also, Gatorback guarantees its product's optimal quality by offering a 1-year defect-free warranty policy.
I also want to compliment the box-shape design with the plastic liners of these pouches. It ensures little to no sagging that makes the tools fall out after a while of use. The metal-riveted and bar-tack-stitched belt is another perk of this layout, allowing us to carry it without hassle.
Aside from the smart design and rugged construction, what else makes this belt for sheet metal sought-after gear? The answer is its excellent comfort with breathable generic foam backing. Therefore, we can work for hours in hot weather without feeling suffocated and sweaty as the belt wraps around our waist tightly.
Pros
18 pockets, nine on each side, and a tape chain for ample storage
A tough construction of 1250D nylon fabric riveted by metals
One-year defect-free warranty
Ensures little to no sagging with the box-shaped holders with plastic liners
Metal-riveted and bar-tack-stitched belt for carrying
Breathable belt with generic foam backing
Cons
A high-priced sheet metal tool belt
All in all, we get what we pay for when investing in this highly functional sheet metal worker tool belt. It features many holders in box shapes for easy use while offering good comfort and breathability. Such a great combination!
6. CLC Custom Leathercraft 1524 Ziptop Utility Pouch
A compact bag is convenient in many situations, especially when HVAC workers have to climb into small spaces for troubleshooting the air conditioning systems. With that in mind, CLC Custom Leathercraft introduced the 1524 Ziptop Utility Pouch.
The bag's simple yet striking appearance drew my attention first, then its secure design sealed the deal for me. A black look with white and yellow stitches does not lose its appeal after an extended time. Besides, the whole piece only weighs 0.8 lbs, not adding any burden to my load.
There are 11 pockets in total, including the main large one, an extra panel holder in the font, a spool for tape, and a quick clip for additional pieces. Each compartment is designed to hold different items and tools, allowing us to organize our gear assortment comfortably.
What I meant by a secure design is its double-pull zipper, which helps us keep all tools inside safely while traveling or climbing for work. A convenient feature of this pouch is its snap-back cover that is easily opened up to retrieve tools. We would be having no problem in arranging and using our items, small or big parts.
Of course, we need a belt to attach this roomy pouch to work with both hands. In that case, we can rely on its heavy-duty clip-on to click the bag to our pants or a tool belt.
Still, there is no hammer hanger, which is the only downside I can notice.
Pros
Simple yet striking pouch with a lightweight, compact design (0.8 lbs)
11 pockets, including the main large one, extra panel, spool, a quick clip,…
Double-pull zipper to secure all tools inside
Has a snap-back lid to open the pouch wide for easy access
Heavy-duty clip-on to pants and belts
Cons
No hammer hanger included
I find this medium-sized pouch a convenient partner that accommodates and protects my tool collection well.
7. VETO PRO PAC TP4 Technician Tool Pouch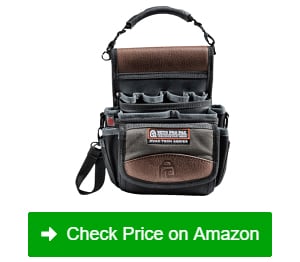 The VETO PRO PAC TP4 Technician Tool Pouch is high-quality gear for professional HVAC workers. Taking a quick look at the pouch, we know it will be of excellent help for our daily duties.
First of all, this model is a rugged Nylon construction that can withstand wear and tear. It is covered by a 5-year warranty policy that gives first-time buyers peace of mind.
As HVAC work involves climbing for troubleshooting and installing various systems, this compact bag, weighing 1.54 lbs only, is an ideal companion. It adds no extra burden to our already heavy tool assortment while allowing us to arrange everything neatly.
In detail, there are 20 pockets, with the largest one accommodating 8-inch hand tools. Also, we can find a strap for electrical tape, a pocket for the meter, etc. Since the design is straightforward, I can see every item in the bag, and reaching for my tools is not a hassle.
Notably, carrying this pouch around is a breeze with its Nylon plastic belt slot and rubber handle. These added features allow us to attach the bag to any HVAC installer tool belt. As a result, we can perform tasks with two free hands with high concentration.
For anyone that needs a shoulder strap, there are leather trim panels available. But, people have to purchase the strap separately, which can add some extra cost since this bag is already a high-priced option.
Pros
Rugged Nylon bag covered by a 5-year warranty
Compact and lightweight tool pouch for HVAC (1.54 lbs)
20 pockets in total, a strap for electrical tape, a pocket for the meter, etc
Straightforward design to allow quick tool access
Easy carrying with a Nylon plastic belt slot and rubber handle
Cons
Shoulder strap sold separately, which adds to the overall already high cost
I appreciate every part of this pouch design as it is indeed made to support my troubleshooting and installing work. It makes everything easier, from carrying to retrieving tools.
8. Klein Tools 55427 Tradesman Tool Belt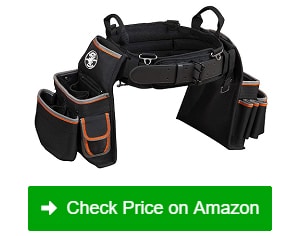 The Klein Tools 55427 Tradesman Tool Belt wins the trust of many professional HVAC workers with its reliable construction and convenient storage layout.
We can call this a heavy-duty tool belt, which is true, considering its rugged 1680D ballistic fabric, leather belt ends, and a rather heavy weight at 4.2 lbs. But, a bit of extra weight is a good compromise for tough construction that withstands elements and rigorous work conditions.
The outstanding feature of this tool belt is its removable holders. The flexible design allows workers to carry fewer tools on light-duty days and pack more spare parts for a big project. Its complete set can accommodate drill bits, hand tools, hardware, and more in the side pockets on both sides. The loop tape is added to carry a measuring tape.
I am thankful for the mesh interior in the belt paddings that ensure a good experience. Wearing this belt for extended hours, especially with a heavy load in hot weather, is more bearable due to its soft and breathable fabric.
It is also a convenient design with handles for us to carry the package around when traveling. Besides, the belt is adjustable to fit around waist sizes from 31 inches to 34 inches, and that's its medium dimension.
I have to admit that this tool bet is a bit too bulky for some workers' liking. But, again, we can expect such a feature in heavy-duty equipment designed to survive harsh conditions.
Pros
A rugged 1680D ballistic fabric construction with leather belt ends
Flexible use with removable holders for different loads
Spacious storage that accommodates drill bits, hand tools, hardware,…
Breathable and comfortable mesh interior in the belt paddings
Convenient handle design for traveling
Fits around waist size from 31 inches to 34 inches
The bottom line is, this design is a good choice for an HVAC tool belt that offers flexibility, breathability, and comfort for long-hour tasks.
9. Gatorback Electricians Combo Deluxe Package
Here's another good deal for a complete set HVAC tool belt from Gatorback. This Combo Deluxe Package is initially designed for electricians, meaning it is durable enough to handle heavy loads and challenging conditions.
Professional workers would be delighted to have this tool belt in their collection. The whole construction boasts flexibility and functionality. But first and foremost, its 1250D weave reinforced with metal rivets and bar tack stitches is worth mentioning. In fact, every stress point is held together to avoid sagging and losing shape.
With this purchase, workers have a total of 18 pockets of varied sizes, 9 pouches on each side with a tape measure chain. So, balancing the whole tool assortment is not a hassle. Besides, we can organize them neatly with those large yet secure holders.
I appreciate the comfort this belt delivers, especially on busy days with high temperatures. The air-ventilated belt is made with breathable fabric, ensuring good comfort throughout the day. Regarding its fit, the set is available in 6 sizes, suitable for various types of body builds.
Why would I say this combo is a bargain, despite its obvious high price tag? The answer lies in those items included in the package: a rugged belt with multiple pouches, a pair of fingerless gloves, suspenders, and a drill holster. What else do we need for a productive and safe day at work?
Pros
1250D weave reinforced with metal rivets and bar tack stitches
Has every stress point held together to avoid sagging
Has pockets of varied sizes and a tape measure chain
An air-ventilated belt made with breathable fabric
Available in 6 sizes, ideal for various waist sizes
A belt with multiple pouches, fingerless gloves, suspenders & drill holster
Cons
A high-priced set of tool belt
All things considered, this Gatorback Deluxe package can ensure excellent flexibility and comfort for professional workers. So, in my opinion, its multiple features justify the high price tag.
10. Occidental Leather 9540 Adjust-to-Fit Finisher Tool Belt
A list of top tool belts for work is not complete without an Occidental Leather model. So, for HVAC workers seeking this brand's quality products, this 9540 Adjust-to-Fit Finisher Tool Belt is an ideal choice.
An ample design is necessary as we pack various tools for HVAC tasks, including troubleshooting gear and spare parts for repair. That explains why the 9540 model suits our needs here. It features two main ply bags on both sides, with extra pockets in the front and loops for small hand tools.
Indeed, an investment in Occidental Leather products is for the long run. That is to say, their product stands the test of time, no matter how harsh the working environment is. And this tool belt is not an exception with its USA-made nylon construction. It can resist abrasion, ensuring a lasting good look with minimal wear and tear.
The model's pouches are made from top-grain cowhides to work well despite external elements and harsh weather. These high-quality leather pockets are ideal for heavy duties and heavy loads. Their copper rivets hold the bags together as they carry driver bits, chisels, knives, and more.
Seasonal clothes are trouble for a good fit, but this belt is fully adjustable, making us feel comfortable even in thick winter clothes. In detail, this item accommodates a waist size from 32 to 40 inches.
Still, it is a pricey set that costs nearly ten times the lowest-priced mini pouch on this list. Such an investment requires much consideration and a big budget.
Pros
Spacious room with two main ply bags, extra pockets, and loops
A USA-made nylon belt that resists abrasion
Pouches from top-grain cowhide & copper rivets for heavy duties and loads
Can accommodate a waist size of 32 to 40 inches
Fully adjustable for a good fit despite seasonal clothes
Cons
Very high-priced tool belt
One purchase that lasts for years to come, that's what the Occidental Leather tool belt can offer.
What to Look for When Buying HVAC Tool Belt?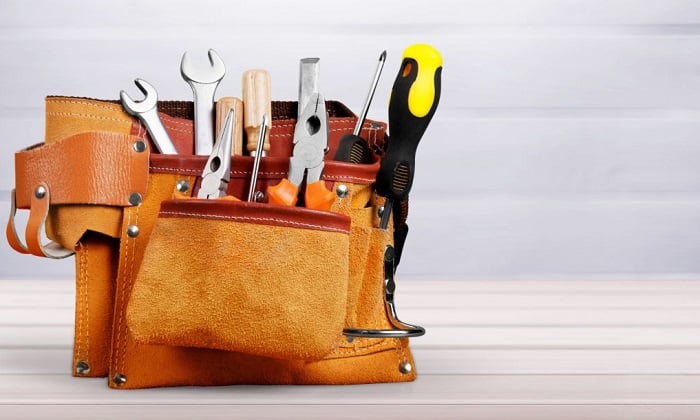 When searching for pouches or bags, or full-set tool belts for HVAC duties, we first look at our current work requirements and tool assortment. By analyzing to know exactly what we need, it is easier to choose the right model.
For instance, choosing among sheet metal tool bags would be ideal if we want rugged gear that holds tightly onto our waist while climbing on ladders and roofs. Without further ado, let's see the important features we should consider in our purchase.
Storage space
If our tool collection is small, meaning we only do simple troubleshooting with several hand tools, a compact medium-sized pouch will do the job. We can choose ones with 10 – 16 pockets, ensuring that small items can be packed neatly beside larger tools in one place. The Insulator tool pouch is a good choice for this situation.
Meanwhile, professional HVAC workers need more than just several holders; they might want up to 20 pockets with loops and sleeves for extra gear. In that case, a big tool bag is a better choice.
Many opt for a flexible design, which allows them to remove some pouches when not in use. These tool belts are incredibly versatile, ensuring we do not have to bring bulky pockets for light duties. You can find such a design in Klein Tools's collections.
Durable construction
Tool pouches should be rugged enough to withstand our working conditions. Most of them are made of ballistic poly fabric to minimize wear and tear. Some designs, mostly expensive ones, are constructed out of leather, maintaining their shapes better.
Material is one thing; the reinforcement feature is another point we need to know. Make sure you check the stitches and rivets to know how the layers are sewn and held together to prevent sagging and tearing.
Design
Some workers prefer a tool pouch, which only features one bag with smaller compartments. This type of gear is compact, often comes with a lid or zippered cover that keeps everything inside neatly. It is a good choice if we travel a lot for work. Also, make sure you find ones with a clip or a loop to attach to a belt while handling tasks.
Workers with heavier workloads might be interested in a tool bag with a belt. With this design, they do not have to purchase a separate belt that is durable enough to handle the heavy tools. These bags often feature two main pouches on both sides with extra loops and sleeves.
In other cases, HVAC workers who climb high platforms like designs with suspenders. The addition of a rigging system alleviates the strain of a heavy tool assortment and distributes the whole weight well. Of course, such a set is pricier than usual, but it is designed for extensive work.
Comfort
We cannot leave out comfort when selecting a tool belt for long-hour work. It must be constructed with breathable fabric with added paddings to relieve the pressure. You can read the reviews from old users and check out the product description to see if it can offer good comfort.
Fit
Sizing is as crucial as other factors, as we do not want our belts to sag and tools to fall off in the middle of tasks. Therefore, look for ones that come with an adjustable feature, fitting waists around 32 inches to 42 inches. If you have a slimmer or bigger build, carefully check the dimensions before purchasing, especially for products with suspenders.
Can I Use These Toolbelts if I'm Left Handed?
Yes, you can. You can wear the shoulder strap on the other side. Or, just go for the tool belt with bags on both sides and arrange tools according to your dominant hands. Occidental Leather has some excellent models for left-handed workers; check out their collections.
Can an HVAC Tool Belt Be Washed and Dried in a Washer/dryer?
It depends on your belt's materials. Some HVAC belts allow machine-washing and drying, but some others made of leather can be ruined if you wash and dry them with extra heat. Just make sure you read the instructions from the manufacturer first before caring for and maintaining your tool belt.
Where to Buy HVAC Tool Belts?
It is a breeze to purchase a good tool belt by directly shopping in a local store or E-commerce website. Either way, make sure you consider your requirements then read various reviews to know which ones are vouched for by workers.
Conclusion
Hopefully, your hunt for the best HVAC tool belt can end here with our top pieces listed and reviewed; they should give you an idea of what the market offers. Do not forget to consider various factors before making your purchase since it can be a long-term investment. And take good care of your belt following the manufacturer's instructions. Stay safe at work!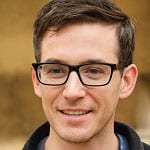 This is Edward Manning, the editor in chief of Construction Informer. Quite a bit of my time is spent researching the market and interviewing experts in the field so that I can give you reliable information.