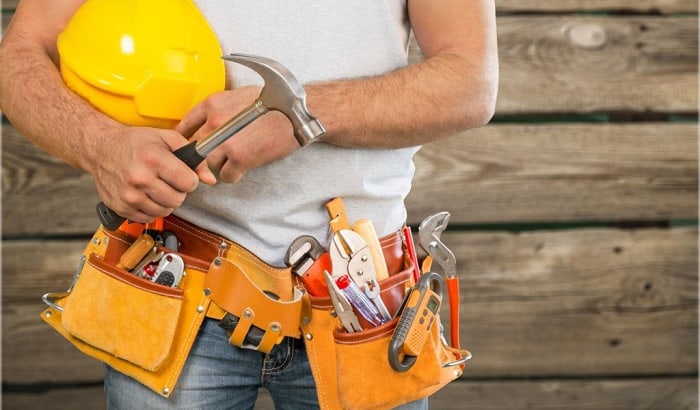 Occidental bags, belts, suspenders, and other accessories are popular among workers in different fields. They are well known for the premium quality and professional look, which amount to an ideal gear for heavy-duty work.
But then, their price tags are rather hefty, so investing in the best Occidental tool belt means utilizing it for the long haul.
It also means we need thorough consideration to make sure the chosen one fits our needs perfectly. And to help with that, we round up three main criteria that help workers pick their best gear:
Left and right-handed designs – The brand often creates its tool belt in two versions that support workers' dominant hand. They arrange the holders and bags for users to stack their frequently-used items for easy access. So, choosing the right type allows you to maintain a good pace.
The number of pockets – It's not only the pouch arrangement that affects your work efficiency; the number of holders and pockets is also vital. Make sure you go with the belt with sufficient space for all your necessary tools, especially the large ones.
A good fit – Most Occidental tool belts allow a wide range of adjustments or come with multiple sizing options. So, it is not really a big concern for people with slim or big body build to find one that fits them. Just make sure you choose the right size that allows you to wear winter clothes without suffocation.
It's sensible to take Occidental leather reviews into consideration since no one knows about a product better than who actually uses it. That's why we will review some of the best in the brand's collection and include a detailed buying guide. Read on to find out!
Featured Products
Best Overall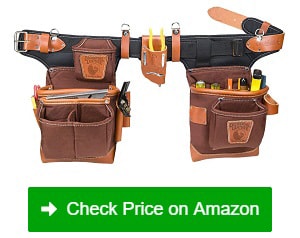 Occidental Leather 9855
– Nice-looking and durable model
– Waist size from 32 – 41 inches
– 24 pouches and tool holders
Editor's Pick
Occidental Leather 9850
– 24 holders and pocket with 10-inch deep
– Durable leather and nylon materials
– Black and brown leather bags for a cool look
Premium Choice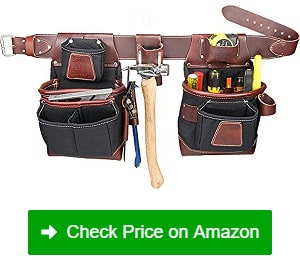 Occidental Leather 8580
– Premium-quality leather
– Multiple sizes with adjustable points
– Stores different-sized tools
Top 8 Occidental Tool Belt Reviews
1. Occidental Leather 9855 Adjust-to-Fit FatC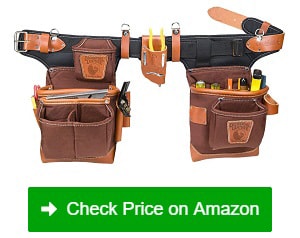 The first Occidental Leather design that receives a nearly perfect rating on multiple e-commerce websites is the 9855 Adjust-to-Fit Fat model. Its material quality and functions live up to the brand's reputation in crafting professional work gear.
Occidental provides two belt options for left and right hands, allowing workers to choose based on their dominant hands. The good news is, both pieces will offer the same adjustment of waist size, ranging from 32 inches to 41 inches. That means we can wear a thicker coat for winter and still enjoy a secure fit from this tool belt.
Another highlight of this nice-looking gear is the combination of quality leather pouches and a neoprene belt. Due to the rugged fabrics with good reinforcement on key points, the tool belt can stand up to harsh environments.
Workers who consider purchasing the product should know that it is premium-quality USA-made gear, which is a good justification for its rather high price. For those who want to add a suspension system, D-rings are included to install it when required.
Also, the whole belt includes 24 pouches and tool holders, allowing us to carry various stuff. We can put hammers in 10-inch deep pockets, screws, and chisels in smaller ones, etc. In truth, the system of multiple holders is for optimizing our working rhythm. I no longer have to go down and fetch more tools when handling tasks on a high platform.
Pros
Available in 2 versions for the right and left-handed
Adjustable waist size from 32 inches to 41 inches
A nice-looking and durable model with leather pouches and neoprene belt
Premium-quality USA-made gear with D-rings for suspension
24 pouches and tool holders to carry various gear
2. Occidental Leather 9850 Adjust-to-Fit Fat
With some slight differences from the 9855 version, this Occidental Leather 9850 Adjust-to-Fit Fat offers just as good experiences for workers. It also comes with notable features that people value in the Occidental tool belts in general.
Needless to say, it is the brand's intention to provide both left and right-handed workers the convenience they deserve when handling tasks. Also, the belt allows workers to wear layers of clothes for outdoor winter duties with an adjustable waist as large as 32 inches to 40 inches.
In case of a required suspension system for performing on a high platform like the roofs or ladders, workers can quickly install it on the available D-rings. Such incorporation shows the versatility of this belt, which helps in both carrying tools and offering protective features.
Similar to the Occidental 9855, this design comes with a total of 24 holders and pockets, with the main bags 10 inches deep. The variety of pouches provide ample space for workers to insert standard and hand-specific tools for tasks. Thus, there is no need to bring heavy bags when climbing.
One more thing, this tool belt uses black as the main color with brown leather parts. I find such a design a bit cooler than the former model, but that's just my personal preference. More importantly, the combination of leather and nylon makes this gear worthy as a long-term investment.
It would be better if the brand added some handles for their next versions so workers can have more convenient ways to carry the bags around.
Pros
Designs are available for both left and right-handed workers
Adjustable waist size: 32 inches to 40 inches
D-rings are added for a suspension system
24 holders and pocket with 10-inch deep main bags
Black and brown leather bags for a cool look
Durable leather and nylon materials
Cons
Without handles for carrying around
Overall, I deem this one another good choice for a quality bag. It depends on people's taste that they prefer which one between these Occidental tool bags.
3. Occidental Leather 8580 LG FatLip Tool Bag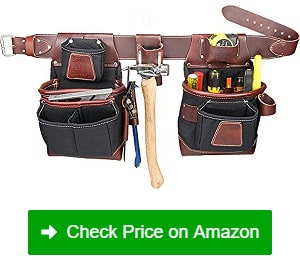 At this point, it's getting harder to distinguish different Occidental bags yet easier to tell them apart from other brand's designs. In other words, the brand is loyal to its rugged-looking and professional look.
Instead of relying solely on belt adjustment points, the Occidental leather fat lip 8580 comes in multiple sizes: small, medium, large, extra-large, and more. This helps workers with different body builds find their best fit more easily. Besides, the belt adjustability is impressive, so seasonal clothing change is not an issue.
As expected, Occidental adopts premium-quality leather to create its rugged pouches. They can withstand sharp tools and heavy loads without damaging them badly. So, we can handle work in hazardous conditions while carrying many tools.
Besides, the industrial Nylon fabric is included for the belt to resist abrasion, ensuring long-lasting use without punctures and tear. Anyone concerned about the pouches losing their fine shapes can drop their worries since padded two-ply pockets can maintain a solid structure.
Furthermore, we can rely on the holders, fastener pouches, and tool bags to hold all kinds of tools. They are arranged in a convenient fashion for us to easily access our large gear or smaller nail sets and driver bits. Say no more to a messy package that wastes our time at the worksite.
The only downside of this belt must be its tape measure pouch that barely accommodates a 25-inch one. Other workers might find this a trivial matter, but carpenters should find a better way to store their must-have tape.
Pros
Multiple sizes with adjustable points
Premium-quality leather to withstand sharp and heavy tools
Industrial Nylon fabric is to resist abrasion
Padded two-ply pockets to maintain their shapes
Stores different-sized tools with holders, fastener pouches, bags
Cons
Does not fit a 25-inch tape measure wel
If the minor downside of the belt does not bother our work, we should not hesitate to purchase this well-designed leather and nylon belt.
4. Occidental Leather 8089 OxyLights Framer Set
The 8089 OxyLights Framer Set is a tool belt designed for construction work, meaning Occidental Leather puts much effort in crafting a gear that supports heavy-duty tasks well.
This product has two noticeable things that make it different from those mentioned above: its price and color. With a slightly lower cost, construction workers can save some money to purchase a suspension system that helps to carry heavy tools. At least, that's what I did.
Also, the OxyLights stands out among other Occidental gear with its dark green pouches. In truth, these rugged bags are from premium-quality fabrics, making the belt a contractor-grade piece that withstands harsh conditions. As expected, it is a USA-made product, manufactured with amazing quality standards.
Its system has a total of 7 compartments, along with some holders, allowing workers to stack multiple tools inside. For instance, it can accommodate a 30-inch Stanley tape measure, various pan heads, hammers, and screws without mixing everything up. Besides, the pouches have a rigid shape and open mouth for quick access.
Regarding the sizing, there are often four available options for the tool belt: small, medium, large, and extra-large. Buyers should note that the size shows the length of the belt, not the bag dimensions. So, we still have the same spacious pouches to carry tools while enjoying a good fit around our waist.
If only the color does not fade through time. But, we should face the fact that the pouches will lose their original dark green after much washing, exposure to sun rays, and elements.
Pros
Slightly lower-priced than other Occidental Leather belts
Rugged bags from premium-quality fabrics to withstand has conditions
A contractor-grade tool belt made in the USA
7 compartments and several holders to keep many tools
Pouches have rigid shapes with open mouths for quick access
Four sizes of the belt are often available
Cons
The nice color will gradually fade
If we want to save some extra bucks yet want to use a high-quality leather tool belt, there is no better choice than this 8089 OxyLights Framer Set.
5. Occidental Leather 9515 Adjust-to-Fit OxyLight Framer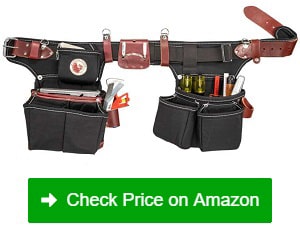 Another great pick in the Oxylight Framer collection is the 9515 model. It incorporates all the distinct features of an Occidental leather tool bag, including ergonomic design, a well-fitted belt, and ample storage space.
Let's start with how this USA-made tool bag can deliver a comfortable and secure fit around our waist. We often worry that the belt will sag when carrying a load, preventing us from climbing or bending freely. But, that is not an issue with this model since it can be adjusted to fit a 32-inch to 41-inch waist (thick winter clothes included).
As always, Occidental uses leather and nylon to construct its durable tool belt. All the bags are rugged enough to handle a heavy load without sagging. Also, they cannot be easily torn by sharp or hard edges of work tools. In other words, this Occidental Oxylight framer is worthy in the long haul.
Furthermore, its structure is created to increase our work pace, making the process smooth as possible with smart pouch positioning. Whether workers are right-handed or not, there is an available version to put their frequently-used, hand-specific tools and small items for quick access.
One more perk of this design must be the included D-rings installed for the suspender or harness system. Such an inclusion makes the tool belt ready for extensive use for roofers, electricians, or DIY-ers performing on a high platform.
On the downside, there is no space design for a tape measure. The brand should consider adding a 25-inch or 30-inch pouch for this purpose.
Pros
Comfortable and secure fit around 32-inch to 41-inch waist
Durable belt and pouches made of leather and nylon
Handles heavy loads and sharp tools well
Nice pouch positioning with versions both left and right-hander
With D-rings to attached suspension or harness later
Cons
No designated space for a tape measure
I cannot imagine not having this well-made tool with me in those beginning days of my career. It is always in the top Occidental tool belt review whenever I search for highly-rated gear.
6. Occidental Leather 5590 LG Commercial Electrician's Set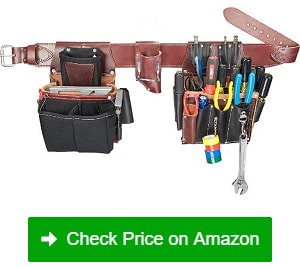 Electricians need lots of hand tools, namely insulated screwdrivers, cutters, wire strippers, etc. That means they should be geared with a suitable belt designed to carry those items with ease. The Occidental Leather 5590 is designed to cater to such needs, and it does an incredible job.
To begin with, this product features both big-opening bags and smaller pouches to keep tools of different sizes in place. That way, we can keep as many hand-specific tools as we need and access them quickly. Also, the added hooks are great for hanging tools with handles.
The brand calls their well-made belt a no-spill tool holder layout, and I couldn't agree more. We can maximize our efficiency without having to go back and forth to fetch more tools. Also, we can climb on ladders and roofs to handle tasks without worrying about tools falling.
As an ideal gear for modern electricians, the 5590 set boasts a rugged look with black and brown leather. All the key areas are reinforced with white stitches to offer good upholding for heavy loads without compromising a professional look. I truly admire Occidental Leather's craftsmanship with this model.
Of course, the belt is sufficiently comfortable without pitching or tightening too hard, even with a full pack of tools.
Yet, due to the thick leather, most workers need around a week to break it in. But, after that short period, it works as intended. And the brand's warranty for quality that lasts for 10 years puts buyers at ease.
Pros
Smart layout for electricians to store their hand tools
Features big-opening bags, smaller pouches, and hooks
A no-spill system for electrical work on a high platform
Nice-looking black and brown leather and reinforced white stitches
Comfortable belt without pitching and tightening
Cons
Takes around a week to break it in
Among the highly recommended tool belts for electricians, this one always earns a high spot with various compliments on its durability and layout.
7. Occidental Leather 5089 Seven Bag Framer
In my opinion, the Occidental Leather 5089 is among the best-looking tool belts out there. The combination of shiny and raw leather color makes the product a cool piece to bring to work.
But this framer is more than meets the eye as its construction of top-grain leather stands the test of time. It is also the product of Occidental leather's manufacturing process based in the US. Professional workers can rely on the piece to serve them for around 7 – 10 years of their career.
The main layout of this belt is two main bags on both sides with smaller pouches and compartments. I am satisfied with the snug hands-specific tool holders and the speed square pouch. Due to such a good arrangement of 23 pockets, workers can also carry on tasks with little to no hindrance.
All the parts are riveted firmly together to form a rigid and long-lasting shape, so we can stop worrying about tool spilling. I can pack all the tools required for my work, then confidently climb or change working positions.
The sizing chart of Occidental Leather tool belts never disappoints. It ranges from small to extra-extra-extra large, allowing workers of different body build to enjoy a comfortable yet secure fit. Say no more to sagging bags that get in the way of our moving and bending for tasks.
Still, some workers would vote for this one as a perfect belt if it is more lightweight. At 4.25 lbs, this one might require us to have hip padding for long-hour work.
Pros
A nice-looking leather tool belt
Top-grain leather construction for years of use
Nice arrangement of 23 pockets, big and small, for easy and smooth work
Riveted parts to maintain a good shape and ensure no spilling
Multiple sizes, from small to extra-extra-extra large
Cons
Rather heavy, due to its rugged construction, at 4.25 lbs
I purchased a hip pad and have been working with this nicely-made leather belt since then. I doubt any worker ever regrets purchasing such a cool yet durable and functional gear.
8. Occidental Leather 5093 Framer Suspension System
For workers who do not like to walk around with a tool belt or ones looking for a suspension system, the Occidental Leather 5093 Framer offers what they need.
Without the belt, this gear comes with 25 pockets and holders that accommodate as many items that an Occidental Leather belt can. Furthermore, it distributes the load evenly on both sides, making sure our movements are free. Of course, we can add a belt for extra storage and security, depending on the needs of our current projects.
Like all the brand's products, this one is constructed out of premium leather for durable use. But the difference lies in its Dri-lex liners that wick moisture, allowing us to have breathable wear during long-hour work.
The suspender also delivers comfort with its shoulder paddings. Instead of weighing down on our waist, the design can relieve the pressure of heavy loads with support for our shoulders. With that, we can suffer from less body fatigue and lower back pain.
One important thing about such a layout is sizing because a loose fit can lead to severe problems. Luckily, this Occidental model features adjustable straps that allow wearers to have the best fit. It can embrace nicely around our chest, belly, and waist without tightening too badly.
Not everyone is a fan of this design since it weighs around 7 lbs. But it is by no means a bulky gear for workers.
Pros
Includes 25 pockets and holders for carrying tools
Distributes weight evenly for free movements
Premium leather suspenders with moisture-wicking Dri-lex liners
Padded shoulders for support of heavy tools
Reduces body fatigue and back pain with a unique design
Features adjustable fit with straps
Cons
Not very lightweight, at 7 lbs
Some might have minor issues with its weight, but I find the system comfortable and smart. Besides, this Occidental Leather suspension is an amazing choice for workers with back pain.
What to Look for When Buying Occidental Tool Belt?
As a well-established brand in the industry, Occidental leather has much to offer. For first-time buyers who are not familiar with the brand's awesome collections, here's some information you should know before making a purchase:
They have more than just tool belts – That means we can buy more replacement bags or pouches in case our current ones are damaged beyond repair. Besides, we can add more accessories for a full set of protective gear that carries tools and keeps us safe.
Most of the products are made from premium cowhide – Occidental Leather constructs their work gear using the most high-quality fabric for long-lasting use. They offer a long warranty period for all their goods, which last up to 10 years for some tool belts.
Their products are high-priced – When checking out the list of highly recommended tool belts for workers, you might notice that Occidental products are always in the top highest-priced ones with a professional look and premium quality.
So before purchasing their tool belt, you should know that you would spend around $250 to $400 on a gear.
Let's go into the details about Occidental tool belts to see which one should be the best choice for your current work.
These tool belts can fit nicely around a waist size of 31 inches to 42 inches. So, when choosing one, make sure to consider when you wear layers of warm cloth for winter outdoor duties.
Besides, these products are rather thick leather, so maybe they are not the best choice for workers with a too-slim build. To be sure, go to their website and check the sizing chart for yourself:
Weight – Most Occidental Leather belts are a bit heavier than the standard tool carriers in the market. Their weights range from 4 lbs to around 7 lbs, depending on the design, hardware, and the number of pouches. So, when selecting your best belt, check if it's going to be too burdensome or bulky to your liking.
This is not an issue for Occidental leather accessories and bags since high-quality leather and nylon can withstand elements and sharp tools. In fact, these products are the best choice when it comes to durability for heavy-duty work.
Therefore, electricians, construction workers, or automotive workers who need to work in harsh conditions with heavy tools should opt for an Occidental tool belt.
These tool belts often feature riveted bags, which uphold their shapes even after the frequent carrying of heavy tools. That's why professional workers love to purchase them for long-term utilization.
Also, you should go with the products that have sufficient space with an ideal number of hooks and pouches for your tools. The gear collection of an electrician is different from a roofer or a construction worker. Hence, we should pay attention to the pocket size, compartment positioning, and hook placement to ensure the belt suits our needs.
There are times when we need to hook a suspension system to our belt to relieve the pressure of a heavy load. That's when incorporating D-rings comes into handy. The addition makes it easy for us to install the new system without sewing or fixing any belt part that might ruin its balance.
So, if you plan to work with a suspension or harness someday, especially when performing on a high platform, a tool belt with D-rings is recommended. Besides, the parts do not add much to the overall price of the product.
Even though we know Occidental belts are pricey, there are differences in the prices of various models. We can save some bucks with the designs that come with less flashy looks, are slightly less durable, or have fewer holders. So, based on your budget, pick out the one that suffices the work yet does not break your bank.
Comfort can come from different features, including an even weight distribution, moisture-wicking liners, and padded pants. Many Occidental tool belts come with all these points, ensuring an unmatched experience for workers.
Yet, you mostly see products with at least two out of the three things; they could be sufficient for long-hour work too.
Why Choose the Occidental Tool Belt?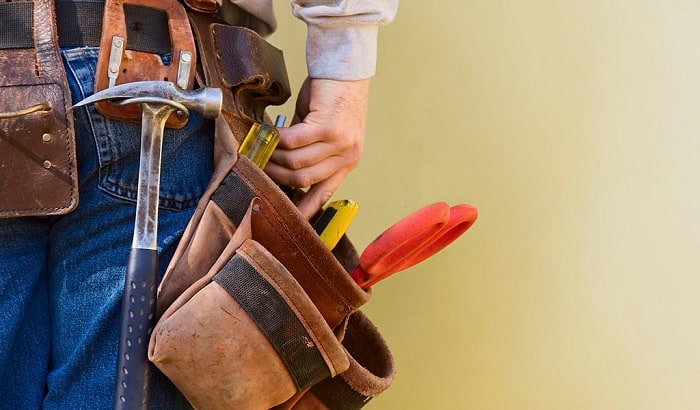 There are multiple reasons that make an Occidental tool belt a superior choice over other brands in the market. To sum up those great features, we have durability, a nice look, a good pouch arrangement, and various accessories.
In detail, Occidental tool belts are made of the best quality leather and nylon, ensuring little to no puncture or tear when carrying sharp and heavy equipment. Furthermore, they are a worthy investment in the long run as they are not prone to quickly wearing down by elements and washing.
Can I Wash My Occidental Tool Belt?
Yes, you can, with suitable cleaning products. Once or twice a year, you can bring the leather belt out for some thorough cleaning. In that case, use a soft, damp cloth to clean off the mud, dust, and concrete first.
Then, you can use a leather cleaner, warm soap, or saddle soap to ensure no damage to the material. Make sure you wash by hand and use warm water, too.
After washing, you can condition the belt with a non-oil-based conditioner for leather. If not, a petroleum jelly would do, but make sure to put a light and thin coating.
Where to Buy Occidental Tool Belts?
You can find a local dealer in your area to find the right Occidental leather belt for your work. With a reliable local supplier, you can pick their brain for ideal features that match your preferences. If not, you can contact the Occidental care line ((707) 824-2560) for help, either finding a dealer or asking for suggestions.
If the local store does not have the correct model that you want, please know that you can order the piece via an e-commerce site for easy selection and delivery.
Conclusion
Hopefully, our review and guide will help you select the best Occidental tool belt to support your work. Please know that many factors go into the final decision to make such a huge investment.
So, if there is any confusion regarding these products, feel free to reach out to us or contact the brand's customer service for good recommendations.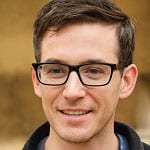 This is Edward Manning, the editor in chief of Construction Informer. Quite a bit of my time is spent researching the market and interviewing experts in the field so that I can give you reliable information.