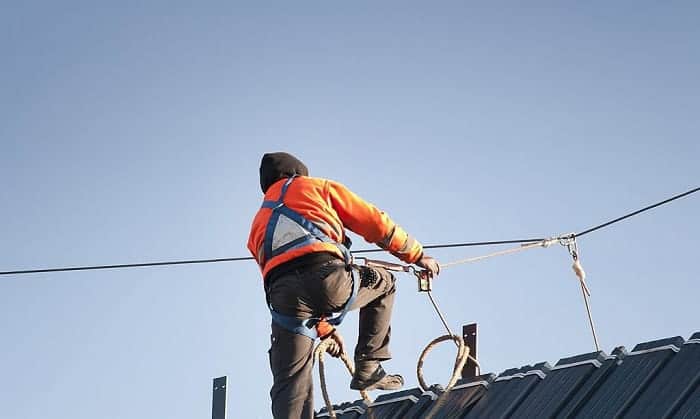 A roofer's work requires a great deal of performance on high, rough, and even slippery surfaces. So, being geared with sufficient personal protective equipment is a must. Among the essential gear, the best roofing harness is high on the list.
It indeed helps roofers repair, replace, and install homes and buildings with ultimate safety. They can rely on the harness to perform in different positions, get into tricky spots, and avoid falling hazards.
But, the hard part is choosing one that meets a worker's needs, among numerous options available. Knowing the difficulty, we show here three main features you should pay attention to when selecting:
Standards – When checking out the roofing harness, make sure you see if it meets ANSI, OHSA, and CSA standards. These certifications indicate that the gear is tested to meet safety requirements for working hazards. In some cases, a CE-certified model is acceptable.
Types – There are several types of fall protection harnesses; some offer you full-body support, while others just focus on your leg and belt. You might want to make sure you go with the right type to have sufficient protection.
Included accessories – Many items in one harness kit include a lanyard, rope, D-rings, etc. Each addition plays a vital role in situations like falling arrest, shock absorbing, or rescue positions. Take what you need for the tasks.
Of course, this is not the whole thing about choosing a roofing harness, as we go into details in the buying guide below. Before that, let's dig in to see the top-rated harness widely loved by roofers.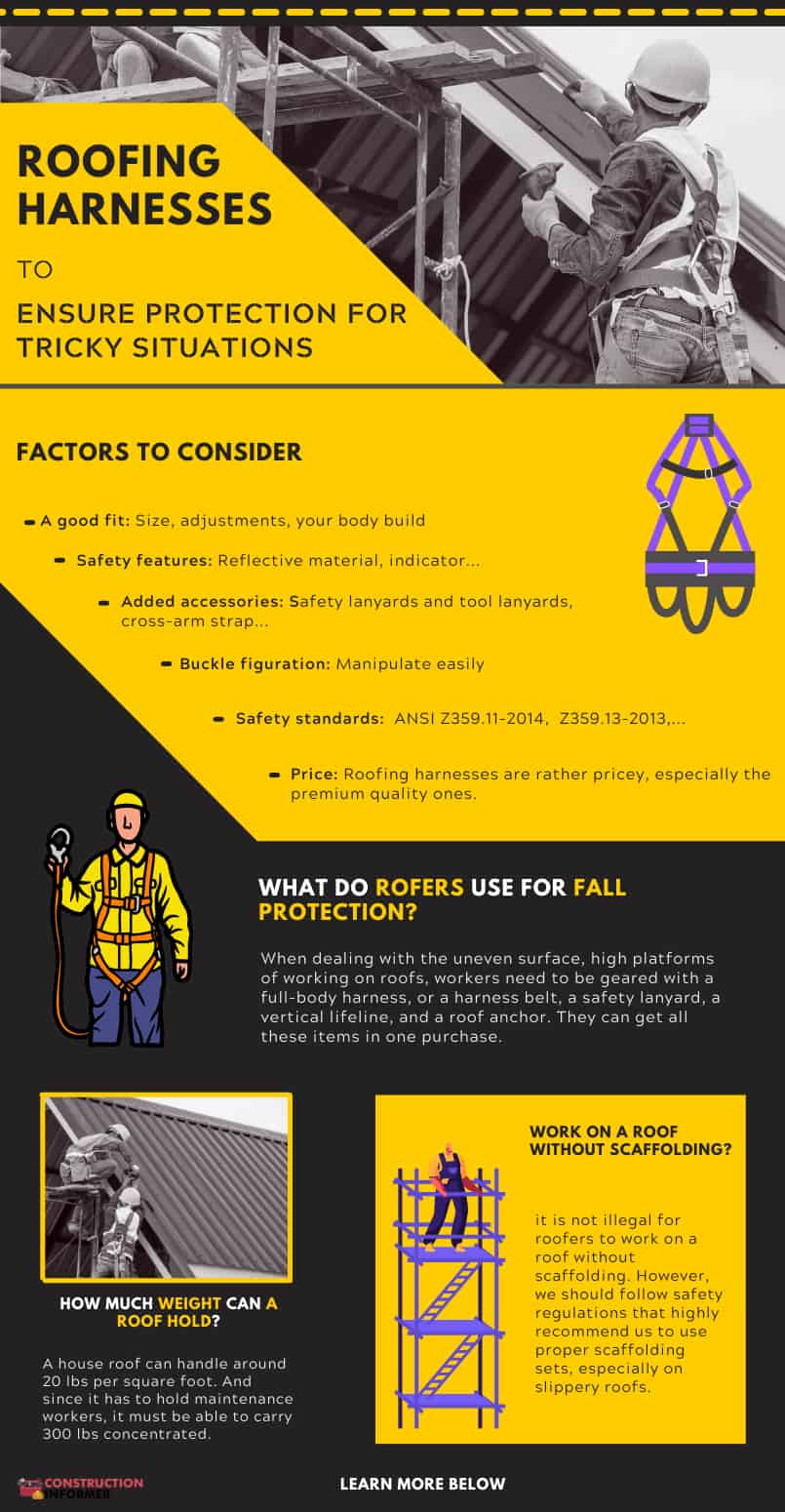 Featured Products
Best Overall
Guardian Fall Protection 00815 BOS-T50
– Comfortable and flexible
– Waterproof rope
– Has a lifeline featuring a shock absorber
Editor's Pick
Palmer Safety Fall Roofing Bucket
– Total load of 310 lbs
– ANSI and OSHA standards
– Convenient use with a storage bucket
Premium Choice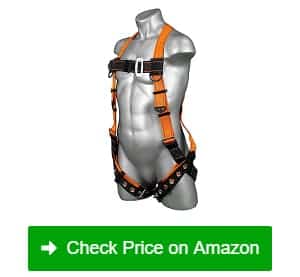 Malta Dynamics Full Body Harness
– OSHA, CSA, and ANSI standards
– Maximum load of 310 lbs
– Affordable harness for beginner roofers
Top 8 Roofing Harness Reviews 
1. Guardian Fall Protection 00815 BOS-T50
The near-perfect rating of this Guardian Fall Protection roofing kit can be attributed to its great price, sturdiness, and easy-to-use hardware.
We value safety when performing work at a great height. And to deliver s ultimate protection for us in all situations, the brand packs a lifeline featuring a shock absorber. The addition allows us to easily attach a shock-absorbing lanyard to arrest falls and restrain our working position.
Its protection accessories also include a waterproof rope and 18-inch lanyard to minimize tripping incidents. Also, the velocity harness can be installed to avoid lanyard dragging. Its temper anchors with nails and screws to prevent splitting the roof trusses as we walk on it. In other words, the whole kit is ready to support our work as a roofer.
As expected, its webbing, buckles, and connector are sturdy enough to handle heavyweight. With our tools included, this harness system can carry up to 310 lbs without damage. Of course, its buckle system and hardware are a breeze to operate. The brand gives us detailed bi-lingual manuals to wear the harness with ease.
I also appreciate how much comfort this set brings to my long-hour work. It comes with a 5-point adjustment for a proper fit. Besides, the dorsal D-ring provides movement flexibility to make us feel comfortable while handling tasks.
However, some workers want a permanent or D-type anchor included to keep it securely in place.
Pros
Has a lifeline featuring a shock absorber
Waterproof rope & 18-inch lanyard to minimize tripping
Added items: velocity harness, temper anchors with nails and screws
Sturdy webbing, buckles, and connector, handling 310 lbs
Comes with detailed bi-lingual manuals for easy use
Comfortable and flexible with 5-point adjustment & dorsal D-ring
Cons
No permanent or D-type anchor included
Within this price range, it could easily be the top-rated safety harness for roofing for many workers. We can feel safe handling tasks in this well-made and sturdy set.
2. Palmer Safety ATERET Fall Roofing Bucket
This next set proves the quality of Palm Safety's excellent touch in producing quality roofing harnesses for workers. ANSI safety standards qualify the solid and functional design of this fall protection roofing kit.
In return, we have a full-body safety harness, a roof anchor, a lifeline rope, a shock-absorbing lanyard for this investment. Such a complete kit can support commercial and residential roofers well. Also, we can utilize this fall-protection harness to perform on a high platform at the construction site.
Convenient user experience is among the upside points of this protective gear. In detail, we can put all the items into a storage bucket to avoid potential damage. Also, the 5-point adjustment harness design allows easy customization or a good fit. Not to mention, the pass-through connectors are for quick-wear in case we are short on time.
Workers who want to carry tools with them while on a high platform can rely on this harness's total load of 310 lbs. Besides, the product's reliable performance shows in its steel snap hook, co-polymer roof, and galvanized steel D-rings that handle a force of 5000 lbs.
As stated above, this set comes with ANSI and OSHA qualification or hazardous work. We can check out the long list of its certifications to make sure it suffices our current duties.
On a side note, the harness might not offer softness and comfort like expensive designs. But, at this low price, workers with a budget can perform well for a several-hour shift without irritation.
Pros
A complete kit: full-body safety harness, roof anchor, lifeline rope & lanyard
Constructed for commercial, residential roofers, and construction workers
Convenient use with a storage bucket
Offers a good fit: 5-point adjustment design and pass-through connectors
Total load of 310 lbs and breaking force of 5000 lbs
Complies with various ANSI and OSHA standards
Cons
Not as comfortable and soft as the more expensive ones
A bit of compromise on the harness's softness prevents us from breaking our bank. Notably, this affordable kit works well as a roofing and
construction safety harness
, offering great value.
3. Malta Dynamics Warthog Full Body Harness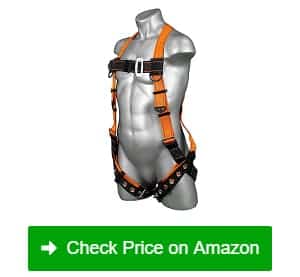 The Malta Dynamics Warthog Full Body Harness is delightful news for beginners who seek budget-friendly gear for their first day at work. They can put the set on and handle work with utmost confidence and safety.
Before going into many great features of this affordable option, we should check out its qualification. In truth, the piece meets OSHA, CSA, and ANSI standards for construction use, especially on high platforms with falling hazards.
As expected from a quality protection gear, the model offers a maximum load of 310 lbs, allowing workers to carry their tools without worry. Also, its webbing system is extra strong due to the reinforcement of finished ends.
Furthermore, it comes with features like the break-away keepers to park our lanyard or the fall indicator to warn us about removal from service. The list of safety attributes goes on with the easy-to-use D-rings, pass-through straps, and reflective fabrics for higher visibility.
Notably, its size range does not disappoint with models from extra small to 3x large. Along with the harness's adjustability, these dimensions allow workers with different body builds to have a proper and secure fit.
Still, at this price, we should not expect the harness to last forever, especially upon frequent abuse, scratching, and cutting.
Pros
Meets OSHA, CSA, and ANSI standards for work with falling hazards
Comes with a maximum load of 310 lbs
Extra strong webbing reinforcement of finished ends
Multiple features: break-away keepers, fall indicator, reflective fabrics, etc
Easy-to-adjust buckles, straps, D rings with a wide range of sizing
An affordable harness for beginner roofers
Cons
Not the most long-lasting roofing harness
All in all, this full-body fall protection harness is indeed a worthy investment. It can help us work safely by offering multiple protective features and convenient functions.
4. Frontline RK5PTB50 Combat Roofers Kit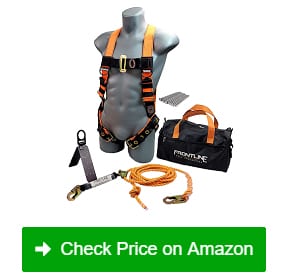 The Frontline RK5PTB50 Combat Complete Roofers Kit is less popular than other options on this list but not falling short in quality. It works as intended for a well-designed harness and offers us enough comfort.
We have two options in choosing the lifeline length. As the 25-foot might be a bit short for many roofers, they can go with the 50-foot model and enjoy its full support. Also, both pieces are made of Polysteel, featuring a snap-hook end and rope grab for easy manipulation.
Besides, the kit comes with a harness with D-ring to support us in fall-arrest situations, which benefits workers handling tasks on the roof. Also, we should not worry about the harness suffocating us during work or in the middle of an emergency since it has 5-point adjustments.
It is worth mentioning that the anchor is constructed out of quality galvanized steel. Thus, we can put strong force on the item while working without worrying about it giving up.
To conclude about how trustworthy this roofer kit is, we should mention its standards. I think professional workers will appreciate the safety features of this set exceeding the qualifications of ANSI and OSHA. Besides, it is not as pricey as some buyers might assume when they first check out the harness's premium quality.
This fall protection harness ratings are deducted because of the brand's customer service. I have no problem with their products, but some customers did not get quick responses to their issues.
Pros
Polysteel lifeline (25 or 50-foot long) with a snap hook end and rope grab
A harness with D-ring to support in fall-arrest situations
Has 5-point adjustments for less pressure and better fit
Galvanized steel anchor that supports strong force
Meets the ANSI and OSHA standards for safety
An affordable harness with premium quality
Cons
Not very responsive customer service
Despite the not-so-excellent customer service, the brand deserves credit for well-made harness roofer kits. And, this product is among their gear that does not disappoint.
5. Guardian 21030 Cyclone Construction Harness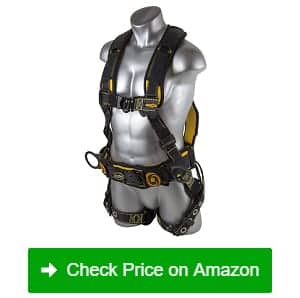 Now, it's time for a high-priced gear that provides unparalleled support for professional roofers – the Guardian 21030 Cyclone Construction Harness.
We have multiple choices for sizing, ranging from small to extra extra large. The brand intends to offer a perfect fit that allows free movement and comfort for workers. We can see such an intention in many of the product's helpful features.
First of all, its resilient Polyester construction will ensure long-lasting use, even under frequent heavy-duty use. And the webbing structure can handle pressure, offering no compromise or twisting even when adjusted freely. So, we can be sure that the leg straps will not hang loose or dangle.
Furthermore, the chest strap incorporated will protect us from suffocation when falling forward. It is also adjustable to match the chest level, ensuring comfort for male and female workers alike.
Not to mention, the ultra-flow paddings are soft enough to support our back and legs. Thus, we will not feel irritated or hurt when working in unfamiliar positions on a high platform. Besides, the waist belt allows workers to bring along tools to operate their tasks smoothly.
Of course, I adore the professional look that this neat design brings. But, we have to pay extra bucks for its superb quality and nice appearance.
Pros
Multiple choices for sizing, ranging from small to extra extra large
Resilient Polyester construction for long-lasting use
Webbing structure can handle pressure with free adjustment and no twisting
Customizable chest straps and leg straps
Ultra-flow paddings, soft enough to support back and legs
Added waist belt to bring along tools
A professional and nice-looking harness
Cons
A higher-priced harness set for roofers
All in all, I am a fan of its excellent safety features, adjustability, and comfort. And all these quality attributes can justify its relatively high price when compared to other roofing harnesses.
6. Weanas Thicken Climbing Harness
For workers who find full-body harness cumbersome for their current tasks, the Weanas Thicken Climbing Harness might be an incredible alternative. As a waist safety harness, the piece offers great help for our DIY roofing projects.
The brand constructs this product using 100% Polyester with excellent tensile strength. Its compact structure can handle up to 660 lbs with a breaking point at 4945 lbs. For anyone worrying that it falls short of the standard 5000 lbs of ANSI construction harness, please know that the piece is CE-certified for working on a high level.
In truth, we can bring along this safety gear for mountaineering, rock climbing, fire rescue, etc. Such a wide range of applications results from its premium quality with a high-load bearing loop and rugged webbing with reinforced ends.
I also appreciate that this durable set can deliver great comfort for my work. In truth, it distributes weight well to reduce pressure on our body, preventing suffocation and movement restriction.
Another perk of this harness belt is its design that wins the trust of many beginner roofers. In detail, its adjustable buckles are a breeze to get right at my first use. Furthermore, the piece allows a good fit on different body builds, once again proving its versatility.
However, it should be noted that this is not a full-body harness. So, extremely hazardous duties require the addition of a lanyard, rope, and more.
Pros
100% Polyester, handling 660 lbs with a breaking point at 4945 lbs
CE-certified for working on high level, mountaineering, rock climbing, etc
High-load bearing loop and rugged webbing with reinforced ends
Fair weight distribution for comfort
Easy use with adjustable buckles and universal fit
Cons
Not the full-body safety harness fall protection
As outdoor activities and DIY roofing projects require us to be geared with a compact and lightweight safety harness, this product should be an excellent companion.
7. KwikSafety THUNDER KIT 3D Safety Harness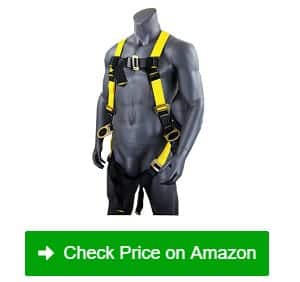 Another reliable gear for roofers, produced and tested to meet ANSI standards for safety, is the KwikSafety THUNDER KIT. This full-body safety harness does an excellent job of keeping us in a comfortable position while handling tasks several feet from the ground.
To give an idea, the kit packs a 3D harness, 6-foot safety lanyard, 3-foot cross-arm strap, and a tool lanyard. This complete set ensures ultimate protection and convenience for workers. We can bring necessary tools to perform, as long as the total load, including our weight, does not exceed 310 lbs.
Here're the details about this wide-ranging set. Its safety harness comes with several adjustment points, including pass-through connectors among different parts, for a good fit. That way, we do not feel restricted or suffocated while working in various positions.
Furthermore, its extendable webbing, absorbent pack, rebar, and snap hook contribute extra security for roofers. Its tensile strength is impressive at 5000 lbs, meeting ANSI standards.
Due to such features, this fall protection kit is ideal for construction, window washing duties, and search & rescue situations. As long as the job requires a reliable high-rise guardian, this set can suffice.
However, this set's material is not that soft, which might make some workers doubt if it stays comfortable for 5 or 6 hours straight.
Pros
ANSI-certified harness kit for various jobs: construction, search & rescue, etc
Packs harness, 6-foot safety lanyard, 3-foot cross-arm strap, and a tool lanyard
Handles a total load of 310 lbs and tensile strength of 5000 lbs
Several adjustment points for breathable and flexible wear
Webbing, absorbent pack, rebar, and snap hook for extra security
Cons
The material is not that soft
Although the kit might not be the most comfortable fall protection harness in the market, it supports various duties with functional safety harness parts.
8. KSEIBI 421020 Safety Harness Fall Protection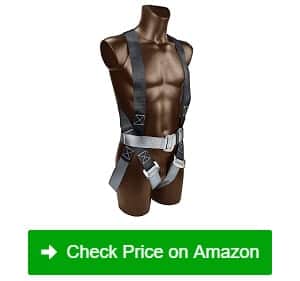 The KSEIBI 421020 Safety Harness Fall Protection Kit completes our list of highly recommended roofer gear with its stylish design and reliable support.
What amazes me the most must be its steel buckles that handle pressure without giving in. Added to their incredible strength are the D-rings, also made of premium steel. Not to mention, the harness's power is further reinforced with its polyester webbing system coated with steel metal powder. Such unmatched toughness!
Many workers enjoy the use of this gear for long as they love its flexible fit. Instead of producing various sizes, the brand goes for a universal size with adjustable straps on critical areas. This feature, however, can be a minor drawback for people with a large figure.
Notably, this all-protection kit is vouched by numerous workers for its versatile applications. The set suffices construction workers, roofers, ironworkers, ladder climbing, and more with the D-rings included.
Also, we should not leave out an incredible feature – its rope lanyard for personal restraint. The piece is 3.2 feet long, coming with an abrasion-resistant quality to keep the harness loop from severe damage. Besides, the piece's steel hook is from high-quality alloy, offering a gate opening of 2.1 inches.
Pros
Quality steel buckles and D-rings with impressive strength
Polyester webbing system coated with steel metal powder
Universal size with adjustable straps on key areas
Versatile applications: construction workers, roofers, ironworkers, etc
Abrasion-resistant rope lanyard for personal restraint
An alloy steel hook offering a gate opening of 2.1 inches
Cons
Not ideal for people with a huge figure
The bottom line is, as long as we are sure that this roofing harness is suitable for our bodybuild, there is no need to hesitate. I can attest to its strength and protective features that make construction and roofing work more manageable.
What to Look for When Buying Roofing Harness?
After checking our list, hopefully, you have a better idea of what the top-tier roofing harness in the market has to offer. Still, let's go through some critical factors that help you choose a suitable piece if those recommendations above do not match your current needs.
A good fit: What defines a good fit when choosing your harness? Several things go into the equation; first is the size, second is its adjustments, and third is your body build. You can go for products that have more than one sizing to make sure a certain part fits well on your body. Also, a harness with 4 to 5 point adjustments will be ideal for workers. We should make sure our legs, back, and chest are not suffocated by the tightrope.
Safety features: A product that keeps us safe in various situations should come with sufficient features. First of all, reflective material should be included for others to recognize us in low light conditions easily. Also, the fall indicator is necessary for roofers to quickly and visually decide whether the harness is exposed to impact forces or a fall. Thus, they can determine if it should be removed.
Added accessories: Many harness kits come in full with accessories, like the Grainger safety harness set. They include various items to ensure our safety in different hazardous conditions. For instance, the safety lanyard with extendable webbing can be released in emergencies to avoid excessive pressure. The tool lanyard is included to help us bring more tools, preferably around 10 lbs. Also, the safety harness can come with 3D rings that allow huge load capacity, ranging from 130 to 310 lbs. We can also rely on the webbing system to endure a breaking point at 5000 lbs. Some sets include a cross-arm strap, which comes in handy in fall arrest situations. They hold our chest in place, minimizing the shock that might occur during a sudden slipping.
Buckle figuration: We should settle for products that allow us to manipulate easily. It should take much time for preparation before work or releasing in emergencies. So, we should check if the straps are designed for such situations. There are mainly tongue-and-buckle straps for legs, pass-thru bucks straps for chest, and quick-release ones.
Safety standards: As stated above, there will be various standards that one harness can meet. You should check the details on the product and OHSA or ANSI sites to know if they meet your current work conditions. There are some common standards such as ANSI Z359.11-2014, Z359.13-2013, Z359.18-2017, and Z359.15-2014, etc.
Types and price: I would always recommend a full-body fall protection harness for professional roofers since they can ensure ultimate protection for tricky situations. If you want a compact design, a roofing belt would be an excellent option. Also, you can purchase more accessories such as lanyards and ropes for more heavy-duty work. Make sure you are buying items that are compatible with the existing belt. Roofing harnesses are rather pricey, especially the premium quality ones. Still, many sets fit your bill while offering good protection. Look out for them in our recommended list.
How Much Weight Can a Roof Hold?
A house roof can handle around 20 lbs per square foot. And since it has to hold maintenance workers, it must be able to carry 300 lbs concentrated. Make sure you check the bearing capacity with the builders before installing or repairing their roofs. This is to prevent any potential hazards.
What Do Rofers Use for Fall Protection?
When dealing with the uneven surface, high platforms of working on roofs, workers need to be geared with a full-body harness, or a harness belt, a safety lanyard, a vertical lifeline, and a roof anchor. They can get all these items in one purchase.
Is It Illegal to Work on a Roof without Scaffolding?
No, it is not illegal for roofers to work on a roof without scaffolding. However, we should follow safety regulations that highly recommend us to use proper scaffolding sets, especially on slippery roofs.
Conclusion
When working as a roofer, there are many hazards lurking, preventing us from performing safety and smoothly. Therefore, we need appropriate tools, protective gear, and supporting scaffolding sets to handle tasks. Besides this products, you also can refer more to safety harness for construction, maybe it can helpful for your work.
Hopefully, our guide today can help you choose the best roofing harness for your duties. You can share your verdict on certain sets with us via our contact page. Thank you for reading.
Hi, I am Alexander, forty-seven years old this year. I have been in the construction industry for twenty-five years and have provided a wide range of services. When it comes to expert guidance on site safety gear, you can put your trust in me.