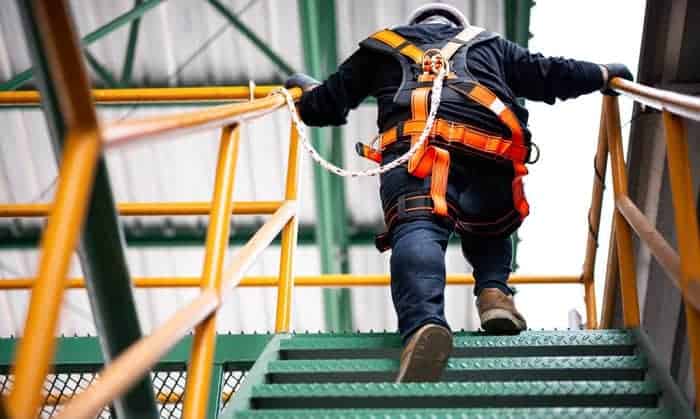 For workers at the construction site, many risks and hazards threaten to hurt them if they are not fully protected. The most common dangers are moving objects, falling, stripping, vibration, etc. Among them, we can reduce the risk of working at a great height with the right piece of personal protective equipment (PPE).
That is why every worker must be geared with the best safety harness for construction. Yet, many available sets have varying qualities, prices, and functions, making it confusing for buyers.
If you always face the same problem while warning to own a reliable safety set, here're three main features you should consider:
Safety standard: Checking the safety standards of your harness is the first thing to do before making a purchase. ANSI and OSHA-compliant gear will give us peace of mind while handling heavy-duty tasks at a great height. See if the standard that the piece conforms to meets your work's current requirements.
Paddings for comfort: Pads should be incorporated in essential areas like the leg, back, shoulders, and chest. The purpose is for positioning, falling arrest, and personal restraint protection. Also, it will bring more comfort and less pressure when we go with ones with soft paddings.
Easy buckle configuration: The safety harness, especially the full-body design, should come with a buckle configuration that is easy to understand. We should also spend some time figuring it out and mastering the system in case of emergencies.
Apart from these points, there are more to consider, so make sure you check out our detailed buying guide below. Before that, let's see what the market has to offer with the top-rated fall protection harnesses available.
Featured Products
Best Overall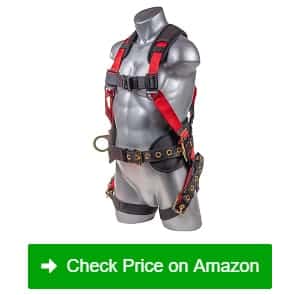 Palmer Safety Harness
– Excellent breaking strength (5000 lbs)
– Easy adjusting
– ANSI and OSHA standards
Editor's Pick
Malta Dynamics Safety Harness
– Comes with safety features
– OSHA and ANSI standards for safety
– Convenient design with a removable belt
Premium Choice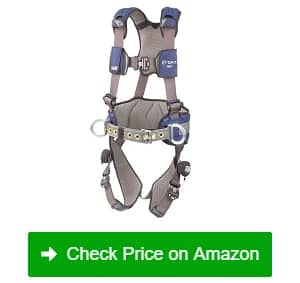 3M Construction Harness
– Extra protective features
– Non-slipping web-lock design
– Soft shoulder, leg, and back paddings
Top 7 Safety Harness for Construction Reviews
1. Palmer Safety Fall Protection Full Body Harness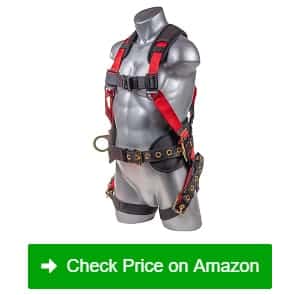 Another OSHA-complaint gear for workers, especially beginners to consider, is the Palmer Safety Fall Protection Full Body Harness. It serves as a guardian in many dangerous situations, giving us the reassurance we need to strive at work.
One notable thing we can see from this set is multiple color and size options. I appreciate that the brand intends to offer a proper fit for any worker who faces dangers at the construction site. The Hi-Vis Green stands out the most, so I went for this model for higher visibility.
More importantly, this construction harness meets ANSI standard for its fall arrest and personal restraint structure. This means it offers appropriate support to stop us from falling, as long as the total weight of our body and our tools is in the range between 130 to 310 lbs.
Such an impressive load capacity results from the rugged D-rings, polyester webbing, and reinforced stitches. In fact, this system can handle a breaking strength of up to 5000 lbs, meeting the standard power for a construction harness.
Besides, I appreciate how comfortable it is to wear this full-body harness for hours on end. Its back padding with excellent impact absorbency reduces the pressure and pain. Also, adjustment is made easier with its removable tool belt, quick-connect chest strap, and tongue-buckle leg straps.
With all the incredible protective features packed in one harness, it comes at a surprisingly affordable price for workers. We need to be mindful that the order comes with missing parts because such a shipping issue happens to some buyers.
Pros
Affordable harness available in multiple sizes and highly visible colors
Meets ANSI and OSHA standards for fall arrest and personal restraint
Handles a total weight with tools of 130 to 310 lbs
D-rings, webbing, and stitches for excellent breaking strength (5000 lbs)
Comes with back paddings for long-hour comfort
Easy adjusting: removable belt, quick-connect chest & tongue-buckle leg straps
Cons
Might be shipping issues with missing parts
Overall, I appreciate how this cost-effective body harness set suits the use of various duties at the construction site.
2. Malta Dynamics Warthog MAXX Safety Harness
The final set that completes our list of the most reliable Fall Protection Harnesses is one from Malta Dynamics. This Warthog MAXX model is among the affordable pieces that ensure both safety and comfort.
I enjoy its wide range of sizing, from small to XXX large, making the set well-fitted for people of different genders and body builds. Besides, the color combination is quite nice, looking great when worn with a Hi-vis coat for your work. Yet, it is a bit lacking that the set does not come with reflective stripes.
Still, other functions of this harness are superb, as it meets multiple standards for safety. We can check the model to see if these OSHA and ANSI certifications meet our current work requirements. Also, I can attest to this product's excellent performance in construction duties.
What makes it a worthwhile investment must be the comfort brought by its shoulder, waist, leg, and back pads. With that, we can be fully equipped to resist impact and pressure while feeling less pain and irritation. Besides, it is convenient to bring along extra tools with the removable belt.
Of course, safety features are what we value the most when selecting PPE pieces. In this harness, we can enjoy its impact indicator, label protector, polyester webbing with galvanized steel D-rings, and buckles. They all boast long-lasting and reliable use for a total weight of up to 310 lbs.
Pros
A wide range of sizing, from small to XXX large
Meets multiple OSHA and ANSI standards for safety
Comfortable shoulder, waist, leg, and back pads
Convenient design with a removable belt for tools
Comes with safety features: impact indicator, label protector, etc
Polyester webbing & steel D-rings and buckles to load 310 lbs
Cons
Does not come with reflective stripes, thus required wearing a Hi-vis coat
For this price range, it is tricky to find such a durable and comfortable construction safety belt and harness set that makes on-site duties safer.
3. 3M DBI-SALA ExoFit NEX Construction Harness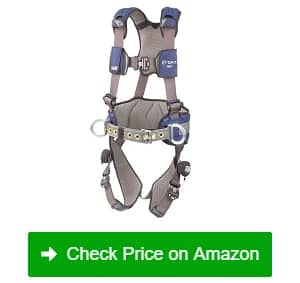 Old heads and rookies in the construction fields must already be familiar with 3M and their vast collections of reliable gear. This time, we will review their finest construction harness – the 3M DBI-SALA ExoFit NEX model.
When asked about the best feature of this set, I always talk about its incredible comfort first. It's hard to resist a protective gear that can ease the pressure on our shoulder, leg, and back with soft paddings. Furthermore, those added pads are breathable and moisture-wicking, which saves us from work irritation in hot weather.
And the list of its good attributes goes on, which leads us to the presence of side D-rings. This particular part is meant for lumber and back support, keeping us from extra pain in case of falling. Besides, the rings are large enough to accommodate tools; how convenient!
When wearing a construction harness, we will worry about its connectors, either its complexity or slipperiness or both. Luckily, this model can calm our anxiety about slipping straps with its one-handed yet secure web-lock design.
Some extra features that draw my attention are the impact indicator, the trauma straps, and the reflective lines. The rip-stitch impact indicator is added for quick inspection for damage. And the straps reduce suspension trauma with their easy adjustment.
We have to pay a rather hefty price compared to other harness sets in exchange for all these excellent functions. Thus, it is recommended for professionals or ones with an ample budget to spend.
Pros
Provides comfort with soft shoulder, leg, and back paddings
The added paddings are breathable and moisture-wicking
Side D-rings for lumber & back support and tool carriage
Easy-to-use and non-slipping web-lock design
Extra protective features: impact indicator, trauma straps, and reflective lines
Cons
Costs workers more than the standard harness
All the great protective features make the piece a worthy investment for workers. Besides, it is also among the most comfortable fall protection harness sets created by 3M.
4. Frontline Fall Protection 100RCTB Construction Harness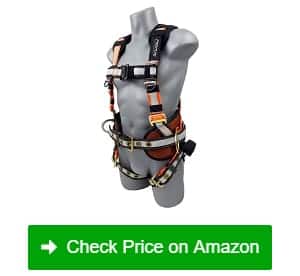 The next well-made safety harness for construction workers is from Frontline Fall Protection. The brand offers an OSHA and ANSI-certified protective system for the full body that wins the trust of many workers, including me.
Nothing beats a quick-connect yet rugged buckle on a harness. And Frontline ensures workers can have peace of mind performing work at a great height with their buckle system design. In truth, both their chest and leg buckles are made of aluminum for ultimate safety.
Furthermore, we can trust that the high-tenancy webbing and durable stitches can handle impact without damage. Besides, the combination of black and orange of these parts allows us to have a quick inspection before and after work. We can also rely on the reflective areas for high visibility in low light conditions.
One crucial design that makes this a must-have construction harness and lanyard combo is its incredible breaking strength of 5000 lbs. After rigorous testing, the piece is certified for heavy and hazardous work at the construction site with its safety rating.
Besides, we should not worry about the level of comfort this protective gear can offer. From my experience, its back, waist, and shoulder paddings are breathable and flexible enough to not suffocate or irritate us with excessive sweat.
The only gripe some workers have for this otherwise excellent gear is its thickness. I agree with them that it is a bit bulky, but I am willing to compromise that for its excellent protection.
Pros
An OSHA and ANSI-certified protective full-body harness
Quick-connect yet rugged buckle system made of aluminum
High-tenancy webbing and durable stitches for impact
Contrast color: black and reflective orange for high visibility
Certified breaking strength reaches 5000 lbs
Breathable and flexible back, waist, and shoulder paddings
Cons
A bit thick for some workers
Overall, as I value this construction harness's protective and comfortable features, its minor flaw does not bother me at all.
5. WELKFORDER Fall Protection Safety Harness
At a reasonable cost, we can be equipped with WELKFORDER Fall Protection Safety Harness for construction work. It's among the budget-friendly set that does not disappoint.
First of all, the harness receives certification from ANSI and OSHA for its safety requirements. As long as workers know the proper use and limitation of this equipment, they can protect themselves in fall arrest, travel restraint, rescue situations, or positioning.
Most of us look for a comfortable and good fit when purchasing harnesses or safety belts for construction. And with this model, we can customize the ergonomic structure of shoulder, leg, and chest straps for a proper fit. They come with a pass-through design and high-quality alloy steel to handle up to 300 lbs.
It is noteworthy that the whole piece is reinforced with high-quality webbing and stitching. In truth, their construction provides excellent support while resisting abrasion, heat, and aging just fine. We can rely on its tensile strength to handle up to 6000 lbs, more impressive than most fall protection safety harnesses available.
One unique feature of this gear is its three D-Rings, incorporated with excellent breaking strength for body and tool support. In detail, the dorsal D-ring is added for fall arrest situations, while the other waist D-rings allow an ideal working position at a great height. We can bring along some tools using these rings if needed.
Still, the whole system took me a while to work through every buckle and strap. But afterward, I can totally rely on the harness to perform with confidence and safety.
Pros
An affordable set of fall protection safety harness
Meets ANSI and OSHA standards for construction work
Ensures safety in fall arrest, travel restraint, rescue situations, or positioning
Reinforced webbing and stitching for handling 6000 lbs
Resists abrasion, heat, and aging for harsh conditions
Comes with 3 D-rings for better working position and tool carriage
Cons
Takes a while to grasp the buckle and strap system fully
This gear is worth every penny spent on it with such excellent protection for workers in tricky working positions.
6. Guardian Fall Protection 11173
The Guardian Fall Protection 11173 stands out with its strap comfort and durability. I have only good things to say about how it supports my on-site work and keeps me safe.
Construction workers often look for comfortable gear for fall protection, as long hours of work with too much pressure can result in irritation and hurt. With that in mind, the brand releases this model incorporated with shoulder, waist, and back paddings. Besides, it comes with stretchy shoulder parts for less pinching and more comfort.
While I am delighted with the comfortable wear it delivers, the PPE further reassures me with its superb protection. First, its belt loops are rugged with no compromise of heavy tools.
Also, the tool belt offers stable wear without sagging or folding due to the heavyweight. Thus, it can withstand 1000lbs of backward falling to 5000 lbs of the falling arrest.
Its protective feature also shows in the double lanyard keepers, allowing our whole body weight to fall on without bucking off. A rugged placard is inserted to support our back, ensuring that we have enough support while falling backward.
Even with all those design details, its buckle mechanism is not complicated at all. I figured out that it has 4 points of adjustment for breathability and fit. The chest buckle is pass-through, the leg and waist buckles are tongue configuration.
One thing to keep in mind is its size. We should ask for customer service support to know the exact dimensions we need for your work.
Pros
Comfortable gear with shoulder, waist, and back paddings
Stretchy shoulder parts for less pinching
Rugged belt loops and tool belt to handle heavyweight
Double lanyard with a rugged placard for multiple applications
Supports 1000lbs – 5000 lbs in different positions
4-point adjustments and simple buckle configuration
Cons
Size selection may require service support
All in all, this construction safety harness is among the sturdiest and most comfortable gear I have used. We just have to be mindful when picking its size, and its excellent features will take care of the rest.
7. KwikSafety THUNDER KIT 3D Safety Harness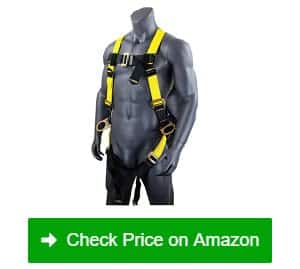 Another protective gear that construction workers should consider is the KwikSafety THUNDER KIT. In one investment, we get in return a harness, a lanyard, an anchor strap, and a tool lanyard for utmost safety.
Before choosing a fall protection kit, we should be aware if it meets the qualifications for our jobs. Luckily, this model can ensure safety for construction workers, roofers, window washers, cleaners, etc. Anyone who handles tasks at a great height can rely on this ANSI-compliant kit for full-body protection.
Here're details about this qualifying gear: it can carry from 130 to 310 lbs with its secure and flexible adjustment points. As long as we are within the weight range, customizing the leg, shoulder, chest, and waist straps can ensure a comfortable and good fit.
I appreciate the lanyards included in this kit the most, as they come with sufficient length at 6 feet for reliable webbing. There are rebar and snap hooks on the BOA safety lanyard with an excellent tensile strength that handles up 5000 lbs. Meanwhile, the tool lanyard can accommodate nearly 10 lbs of tool weight.
Of course, we do not have to worry about its capability in fall arrest restraint with the 3-foot cross arm strap. It comes with a huge D ring connector to minimize the chance of the strap failing upon heavyweight.
However, users, especially female construction workers, should be aware that this harness system is on the heavy side.
Pros
ANSI-compliant protection kit for construction workers, roofers, etc
Carry from 130 to 310 lbs with secure adjustment points
Easy adjustments for leg, shoulder, chest, and waist straps
6-foot BOA safety lanyard with strong rebar and snap hooks
Tool lanyard accommodate nearly 10 lbs
3-foot cross-arm strap with D ring connector for fall arrest restraint
Cons
A bit heavier than expected
Despite the minor downside, which should not bother many workers, this safety harness fall protection is indeed a reliable companion for multiple duties.
What to Look for When Buying Safety Harness for Construction?
Different types of fall protection harnesses can offer you safety in various situations. Depending on your current work, you can consider the right gear that provides sufficient protection. Look into these features, whether you need a harness for fall arrest, travel or personal restraint, positioning when working at a great height, suspension, or rescue situations.
Size and adjustments – Some harnesses rely on strap adjustment to provide a proper fit for wearers. Others come in multiple sizes, ranging from small to extra extra extra large for different genders and body builds. Therefore, if your body type fits the medium sizing gear, you can go for one that relies on adjustments only.
If your body only fits a much smaller or larger size, you should ask for help from the brand's customer service. Since a harness kit will include lanyards, harnesses, and belts, we need to get the proper length.
Load capacity and breaking strength – A standard safety harness with rugged construction can handle a weight of 130 to 310 lbs. So, if you plan to carry more tools along with you, make sure to calculate the total load before purchasing and packing for work.
Also, to ensure that the design can distribute the weight well, you should go for one with multiple adjustment points. The whole load should be balanced without weighing our leg, shoulder, or chest down or interfering with our leg movements.
The breaking strength or tensile strength of the harness should be around 5000 lbs to 6000 lbs. For this feature, the gear should be tested and qualified to meet ANSI, OSHA, and CSA standards to ensure safety for workers in case of falling.
Lanyards – Some sets will come with double lanyards, one is for personal safety, and the other is for carrying tools. If you go for such a kit, ensure the safety lanyard is long enough, around 5 – 6 feet. It is available in Python, BOA, or Rattler design, depending on your current duties.
Also, the tool lanyard should come with a secure attachment to hold your tools without dropping from a great height.
Comfort – Comfortable wear is essential when we put on harnesses for long hours. It should come with lightweight and breathable padding, allowing us to feel less burden and suffocation. Besides, if the material can wick moisture, we will feel less irritated when working in hot weather.
Other than the padding, the edging that wraps around us should also be soft enough to put less pressure and reduce pinching. You can find such a design in high-quality sets that might cost more than usual.
Additional safety features – The trauma straps are among the excellent additions to the harness system. It allows us to adjust the loop quickly before falling, thus reducing the suspension trauma on our muscles and bones.
Also, you might want to check out the system with an impact indicator. It allows a quick inspection before loading or after working to see if there's any damage.
Some workers intend to go for reflective harnesses to make themselves visible in low-light conditions. This is also another important safety feature to consider if you do not wear a hi-vis protective coat at work.
Buckle and strap system – The buckle configuration plays a vital role in offering quick locking and releasing. The standard buckle style can be tongue, matting, quick-connect, or pass-through. Just make sure you master the system before loading and working to take quick action in emergencies.
The strap system, supported by quality stitches, will offer more strength. Also, if possible, you can select straps made of premium material that can resist abrasion, heat, and aging, ensuring long-lasting use.
Brands and price – You will see numerous brands claiming they have just the most affordable construction harness for your work. It's vital to check if the brand is reputable in the field by seeing reviews of former customers on them. You should check some reliable collections: Grainger safety harness, 3M safety harness, Palmer Safety full-body harness, and other brands mentioned in our review.
When Should You Wear a Safety Harness?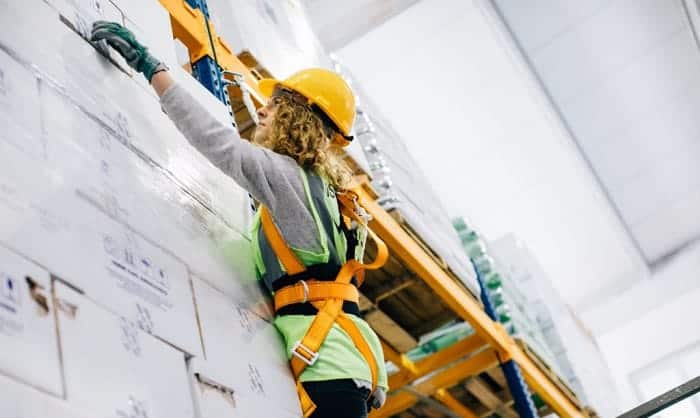 According to OSHA, workers on the construction site must wear a fall protection safety harness for work at 6 feet above the ground. The fall protection PPEs include safety net systems, guardrails, and personal fall arrest sets or safety harnesses.
Do Safety Harnesses for Construction Come in Different Sizes?
Yes, they do. They can come in many sizes, from small to extra extra extra large to fit your body builds. Besides, these harnesses for construction also allow flexible adjustment with straps for a comfortable and proper fit.
How Much Does a Safety Harness for Construction Cost?
A safety harness for construction is available at $70 for affordable ones. They can be as pricey at over $400 or more. Its price depends on the materials, system design, included pieces in the set, and more.
https://youtu.be/wJGgpL4IcIc
Conclusion
We should be aware of the required tools and systems to ensure ultimate protection at the construction sites. Besides helmets, work suits, boots, and glasses, we should be geared with the best safety harness for construction.
Hopefully, our detailed guide and the recommended list will help you choose a suitable and reliable one for your future work. Before finalizing your purchase, make sure you value important features such as load capacity, qualification, buckle system, lanyard, and belt designs.
Hi, I am Alexander, forty-seven years old this year. I have been in the construction industry for twenty-five years and have provided a wide range of services. When it comes to expert guidance on site safety gear, you can put your trust in me.