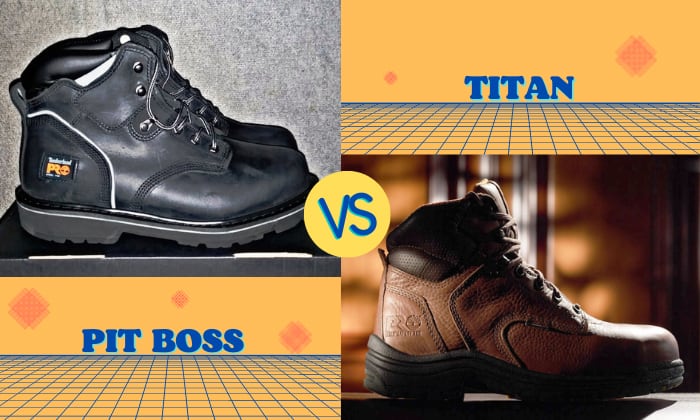 Timberland is indeed one iconic shoe brand that offers fashionable choices with sustainable materials. That's why their work boots collection is gorgeous and high-priced. Timberland is not categorized as a luxury brand, but the brand's work boots are of premium quality.
So, it's understandable that we have problems choosing what's best to purchase. In this article, we will discuss two famous models from the brand Timberland Pit Boss vs Titan. Let's see what these Timberland boots bring to workers.
Timberland Pit Boss and Timberland Titan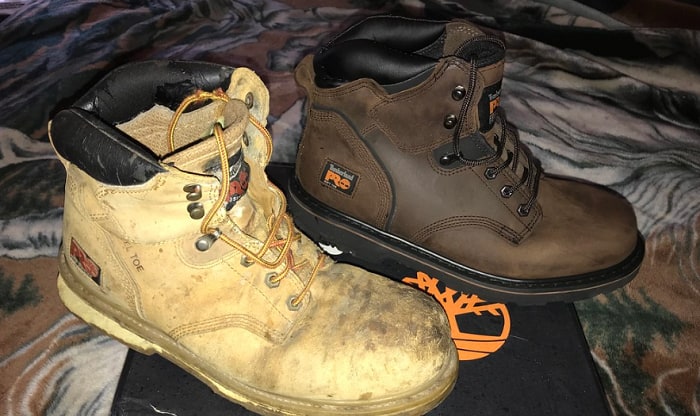 There are around 19 designs in the Timberland Titan boot collection, including ones for work and casual wear. Meanwhile, there are only 4 Pit Boss work boots to pick from. Here's our quick comparison between the two so you can see what they come with:
Available features
Timberland Titan models
Timberland Pit Boss models
Safety toes
Alloy, Composite, and Soft toes
Steel and Soft toes
Material
100% leather (soft full grain leather)
100% leather
Weight
Around 1.3 – 2.0 pounds
Around 1.5 – 2.0 pounds
Soles
Rubber soles
Rubber soles
Comfort
Outlast Adaptive Comfort
PRO 24/7 Comfort Suspension technology

Padded top collar

Size
Women and men sizes
Universal size
Protective features
Waterproof, electrical hazard protection, slip resistance
Slip and oil resistance, waterproof, electrical hazard protection
Price range (On Timberland website)
$109 – $ 184
$119 – $124
A Detailed Comparison Between Timberland Titan vs Pit Boss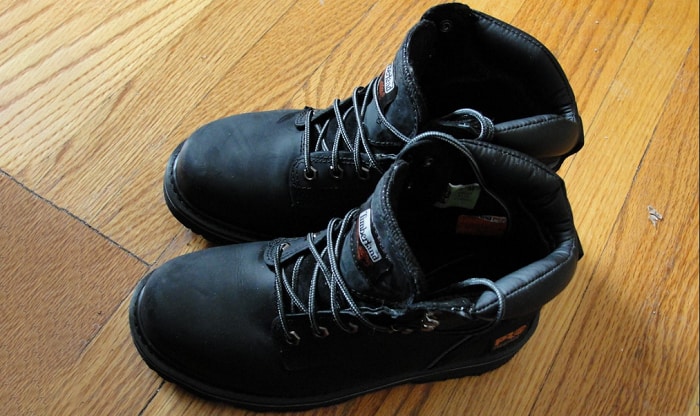 Leather material – Both safety boots are from high quality materials, offering excellent protection and long-lasting use. In detail, they are made of 100% premium leather that is durable and sustainable. However, Tita work boots are made of full grain leather, which is softer than the rugged nubuck leather of the Pit Boss boot.
Therefore, we can rely on the Titan models for ultimate comfort while Pit Boss offers a good boot for a sturdy feeling. Yet, both of them can ensure durability despite frequent use in harsh conditions.
1. Comfort
We are mostly here for comfortable work boots, so the good news is that Titan and Pit Boss can offer great comfort with their designs.
If you prefer a bit lighter boots, Titan collections are better choices. The most lightweight models in the assortment must be the Timberland PRO Men's Titan at 1.3 pounds and the Timberland PRO Men's 26078 Titan at 1.5 pounds.
The Timberland Pro Men's Pit Boss with steel toe is a tad heavier at 1.58 pounds, yet it's probably the most lightweight one in the collection.
Meanwhile, great comfort technology is applied when producing these high quality shoes. In fact, the brand adopts the Pro 24/7 Comfort Suspension to ensure that Pit Boss safety boots minimize foot fatigue for wearers. Also, the technology offers good arch support and cushioning for our feet.
Besides, the Timberland Pro Titan series has a mesh lining that wicks moisture, meeting ASTM standards. The antimicrobial liners can control bad odor, offering good comfort for long-hour wear, even in summer.
At the same time, Timberland has the most comfortable work boots made with their Outlast Adaptive Comfort technology in their Titan collection. Such a temperature-regulating cover in the footbed allows us to feel dry and ventilated while being cushioned well.
2. Protective features
We can expect good protection from these work boots as they meet ANSI safety standards for footwear. Let's go into details about both collection's protective features:
Waterproof: Titan work boot might be considered a better design to block water intrusion. The collection comes with several high-priced waterproof models with leather upper.
On the other hand, the Pit Boss work boot is not the best at resisting water yet ensuring as little moisture intrusion as possible with its thick rubber outsoles. Hence, we can trust both for work on wet surfaces.
Safety toe: As mentioned above, the Titan work boot often features an alloy safety toe combined with cement construction. Such a design offers a good shield against falling objects.
The same goes with the Pit Boss and Titan steel toe boots that protect our feet from compression.
Both collections have shoes with a soft toe, like the Timberland PRO Men's Titan Oxford and the Timberland Timberland PRO Pit Boss 6 Inch Soft Toe. In truth, a soft toe work boot provides excellent comfort, especially when combined with a roomy toe box. Hence, they are fantastic for hiking, logging, automotive work, and more.
Padded top collar: Pit Boss steel toe boot comes with a thick padded top collar for comfort, mostly because of their tough leather. On the other hand, the Titan series' leather is soft enough, thus not highlighting such a feature in the designs.
Slip resistant and oil resistant: Timberland PRO work shoes all have rubber outsoles that resist oil well. They meet ANSI safety standards regarding oil, slip, and abrasion resistance.
Traction: Pit Boss seems to be a better choice for work on ice and snow with more traction in its outsoles. Besides, the boot also proves to work well for climbing and walking on high platforms, thus ideal for roofers and tradespeople.
3. Fit
While most work boots from Timberland follow the sizing chart well, there will be differences in Women's and Men's shoes in the Titan series. Meanwhile, the Pit Boss series only comes with one universal size chart.
Is Timberland Pit Boss Cheaper Than Titan
Among these two series, Titan indeed has a wider price range with its lowest-priced piece being just above $100 and its priciest around $190. On the other hand, Pit Boss's steel toe work boots are a bit pricier than the soft toe version at more than $120 per pair.
Timberland Pit Boss and Titan: Which One Is More Fashionable
The answer depends on personal preference, you can check out both series from timberland.com and decide for yourself which one suits your taste better.
But as a hint, Titan has more models that offer a rugged and cool look with higher shafts and heels. Meanwhile, Pit Boss goes for a casual look with brighter color and nice-looking design.
Conclusion
Timberland has many great shoes and boots for wearers, proving their versatility and a unique take on footwear design. For instance, their Timberland PRO anti fatigue technology insoles are introduced to reduce workers' pain in extended work shifts.
Besides Timberland Pit Boss vs Titan, two popular work boot series in the brand's huge collection, there are many more options for us to choose our best. For instance, the Timberland PRO Boondock with composite toe and waterproof feature is not a bad choice for heavy duties.
Hopefully, our article has highlighted Timberland's incredible craftsmanship and technology in manufacturing work boots for you to choose a good one. Feel free to share it with others. Thank you!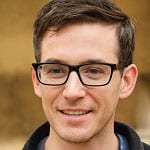 This is Edward Manning, the editor in chief of Construction Informer. Quite a bit of my time is spent researching the market and interviewing experts in the field so that I can give you reliable information.