As a cable technician, daily tasks revolve around data cables' installation, troubleshoot, maintenance, or repair. Most of them require specific tools that are indispensable at the worksite. So, we need the best tool belt for cable tech to bring them along, either in small or big loads.
For a smooth work rhythm, we need to arrange our tools neatly, and it's impossible to do that without a suitable bag with sufficient space. The dilemma is, there are too many options in the market with various layouts and prices, making it nearly impossible to pick one.
In that case, you should pay attention to three main features to narrow down your choices:
The number of pockets/holders/loops: Take a look at your tool assortment. How many do you have? What are their sizes? How will you classify and arrange them? Those questions are enough to make you choose the right tool bag. Maybe calculate one or two extra holders in case you bring along phones or other hardware.
The pocket placements: It's a belt with bags to store tools, so of course, a good layout is important. Imagine how you put your tool assortment into respective spaces to retrieve them later easily. Some prefer large bags with compartment dividers; others want ones with wide openings from high to low. It depends on your preferences.
Durable materials: Rugged materials with reinforced shape by stitches make the ideal cable tool belts for heavy duties. Polyester fabrics seem to be the best choice that ensures little to no sagging, puncture, and abrasion over time. After all, the chosen pieces should withstand heavy and sharp tools well.
Other than these three points, there is more to know about the top-rated cable installer tool belt stated in our detailed buying guide. Before that, read on to know all the highly recommended items we list for your choices.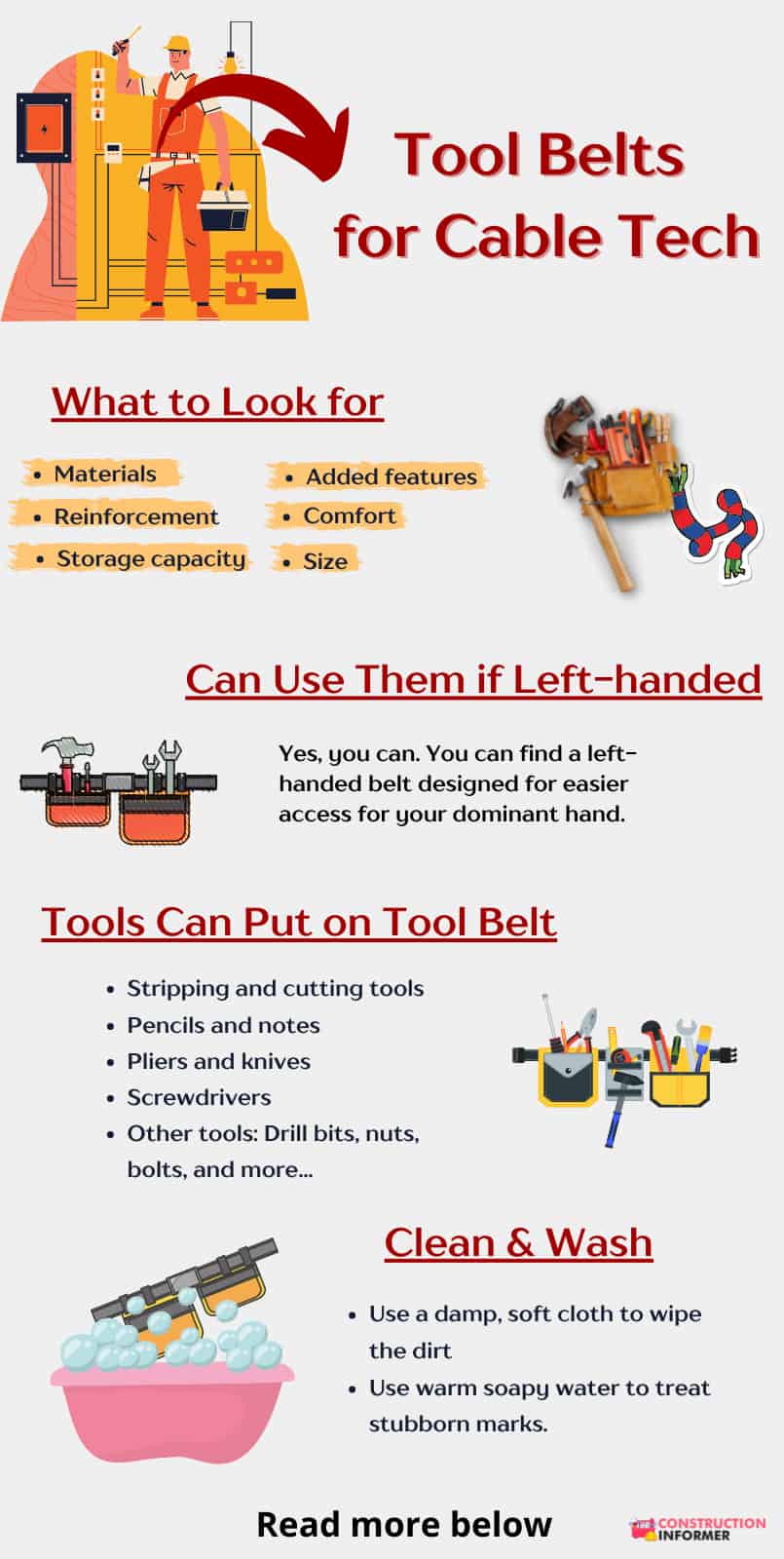 Featured Products
Best Overall
ToughBuilt Multi-Tool Holder
– 14 loops and pockets
– Six layers of construction
– Lightweight pouch at 4.8 ounces
Editor's Pick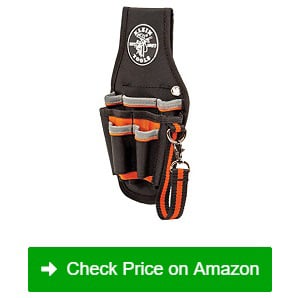 Klein Tools 5240 Tool Pouch
– Compact and lightweight
– 1680D ballistic polyester construction
– Fits 2-inch tool belts with padding
Premium Choice
Custom Leathercraft Maintenance Pouch
– Durable ballistic polyester fabric
– 2 choices to connect to the tool belt
– Affordable to store all the basic tools
Top 7 Tool Belt for Cable Tech Reviews
1. ToughBuilt Technician Multi-Tool Holder
It is no longer a challenge to find a heavy-duty and versatile bag to store our basic tools as we have the ToughBuilt Technician Multi-Tool Holder. This rectangular design has always been the top seller of some biggest e-commerce sites.
It is a lightweight cable tech tool bag at 4.8 ounces. A bonus of this design must be the patented clip from ClipTech for workers to attach this pouch to any tool belt. So, this versatile and convenient piece can carry essential tools alone or additional tools with other pouches.
What I value in selecting cable tech tool belts and bags must be how durable they are. In this case, the ToughBuilt holder lives up to its brand name with six layers of premium materials reinforced together by rivets. Therefore, this cable tech pouch can handle the harshest set-ups without significant damage.
To ensure cable technicians with their choice, the brand has engineered and tested this holder with their strict standards for quality. So, we can trust the piece to do its job for years to come.
More importantly, organizing tools is always a breeze when we have the right layout for our tool assortment. Lucky, this design comes with 14 loops and pockets, among which there are 3 adjustable main pockets with a lower strap. We can stack screwdrivers, a small notebook, a tape measure, pliers, pencils, etc.
For quick access, this utility pouch might stick out a bit too much to some technicians' liking, especially when they climb to enclose space like the ceiling joists or grid.
Pros
Lightweight pouch at 4.8 ounces for a cable technician
Comes with a clip to attach to any tool belts
Six layers of construction with rivets to ensure harsh conditions
Engineered and tested to meet USA-quality standards
14 loops and pockets, 3 are adjustable, fitting many cable tech tools
Cons
Sticks out a little, making getting into enclosed space a bit tricky
Overall, I find this cable technician tool bag a must-have gear to carry the essential tools or extra tools needed for different workloads.
2. Klein Tools 5240 Tool Pouch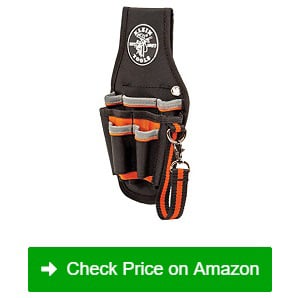 On days that we only bring essential tools for cable tech, the Klein Tools 5240 Tool Pouch seems to be the best option. It allows cable technicians to avoid bringing bulky bags just for some minor troubleshooting.
This cable technician tool pouch only weighs 6.2 ounces with a dimension of 11.5 inches long and 5.25 inches wide. With such a design, we can imagine how compact this cable tech tool pouch is, thus deeming it convenient to store several cable cutters, pencils, and electrical tape, and a utility knife.
On this utility pouch, there are 9 small pockets and one tape thong. With the rigid form of the piece, we can easily arrange and access our hand tools right away. Since the pockets are rather tight, they can hold all small items without spilling, making it handy to climb or bend to work.
Klein Tools never disappoint regarding the workmanship, and their reputation continues to show in this well-constructed cable tool pouch. In truth, it is super durable with 1680D ballistic polyester, which is a basket weave material. Therefore, the product is tough enough to resist tears and abrasion.
We just need a padded waist belt to complete our set, so we should purchase items that are 2 inches wide. The tunnel loop ensures that extra padding on the belt will not be a problem since it is large enough to accommodate standard pieces.
However, some cable technicians might find the lack of a carry handle a bit inconvenient. Other than that, the pouch delivers its purpose well.
Pros
A compact (11.5 x 5.25 inches) and lightweight (6.2 ounces)
Has 9 small pockets, one tape thong, one tunnel loop to keep the essentials
Easy access and arrangement for tools due to the pocket form
1680D ballistic polyester construction to resist tears and abrasion
Fits 2-inch tool belts with padding
All in all, it is the most affordable cable tech tool to store all our essentials when going to quick and straightforward maintenance work.
3. Custom Leathercraft Maintenance and Electrician's Pouch
A convenient Maintenance and Electrician's Pouch from Custom Leathercraft is our next pick in this year's list. It is among the affordable tool pouches that come with roomy pockets to store workers' essentials.
Starting with the storage options, we can notice the deep main compartment with sleeve pockets, web loops, and a carabiner. With those, cable techs can keep their large tools, flashlight, electrical tape, screwdrivers, cutters, and many other items. As long as we arrange them well in the selected space, we are guaranteed a neat assortment.
The great layout of these holders with smaller pockets at the front, meanwhile the strap and loops on the side, make it easy to access our tools. All we need to do is choose the right tool belt that holds this bag in place to have a smooth work pace.
Regarding its compatibility with tool belts, this cable tech holder comes with two connection choices. One is using a rear clip, and the other is through the belt loop. The latter option is for tool belts around 2/.75 inches, while the former allows a more versatile connection with other tool belts. So, it's our call!
However, we do not recommend using the clip when the pouch is stacked full with heavy tools since it is not that tough. One more thing that convinces me to purchase this pouch for cable tech must be its durable material. The ballistic polyester fabric can ensure little to no scratch and puncture when storing sharp tools. Besides, it will prevent sagging with reinforced edges, retaining the pouch's shape for a long time.
Pros
An affordable cable tech bag to store all the basic tools
Has deep compartment, sleeve pockets, web loops, and a carabiner
2 choices to connect to the tool belt: rear clip and belt loop (2.75 inches wide)
Durable ballistic polyester fabric with reinforced edges
Cons
The rear clip is not that rugged
I man cable tech reviews for ideal tool belts and bags; this compact yet convenient piece stands out. It allows workers to carry different sized tools to handle various projects.
4. McGuire-Nicholas Mini Organizer Pocket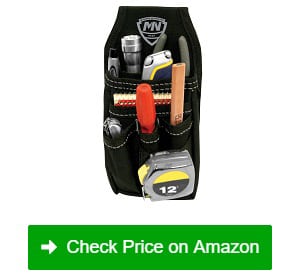 Cable techs searching for a utility pouch that accommodates all their specific-hand tools nicely can check out this McGuire-Nicholas Mini Organizer Pocket. It is a highly recommended item with a low price yet impressive craftsmanship.
This tool pouch is only 12 inches long and 4.8 inches wide, which fits nicely near our waist to have quick access to all the tools. Besides, it only weighs 6.4 ounces, adding no extra burden besides the tool assortment.
What's notable about this innovative design must be its multiple pockets positioned from low to high. The structure gives us a clear view of different tools packed inside, thus making organization and access hassle-free.
I often keep the connector compression tool and plier in upper compartments, the screwdrivers and pencils in lower ones, and the tape measure in its designated tape holder.
We have two options to secure this pouch on a waist belt: a metal clip and a tunnel loop. I always prefer the clip when I want to attach the piece to shoulder straps or suspenders.
Rugged construction is another perk of this holder. I am sure a cable technician will appreciate this pouch's 600 denier polyester. Such a construction makes the gear durable, stable, and moisture-resistant at some levels. We should not worry about the pouch soaking wet and losing its tight hold on tools even under the rain.
Yet, when installing the metal clip, wearers should ensure it's not digging into their hips when bending or climbing.
Pros
Compact cable tech pouch: 6.4 ounces, 12 inches x 4.8 inches
Nice pockets height and placement for easy tool arrangement and access
Comes with a measuring tape holder
A metal clip and a tunnel loop to attach to tool belts, suspenders, etc
Rugged 600 denier polyester to resist moisture
Cons
The metal clip can dig into the hip if not attached carefully
Several months with this tool pouch for a cable technician makes my tools more manageable and my work easier. So, I highly recommend it for workers looking for a bag to complete their tool belt for cable.
5. Baffect Canvas Tool Pocket Pouch Belt
As compact as the Baffect Canvas Tool Pocket Pouch Belt is, it can hold up to 22 lbs of cable tech heavy tools. It can accommodate other tools for carpenters, HVAC technicians, or plumbers, as long as they need a convenient and safe space to bring along the assortment.
My first impression about this tool bag is its simple design. Yet, until I got to pack my gear into the holders, I realized the great capacity. The tool pouch comes with multiple tape measures, electrician tape, and hammer loops. We can easily make use of such a great layout to arrange all our tools with ease.
To carry a big load, the tool bag must be tough. It's the 600D canvas construction that does the trick, making sure the pouch does not give in to sharp and heavy tools. Reinforced stitches also contribute to the tool pouch's overall durability that we can rely on for the long term.
This tool bag appeals to users who enjoy convenient features. Its sturdy sticker allows easy hanging on a belt or around the waist. Also, there is a customizable waist strap for us to wear this pouch without a tool belt. As I said, convenience at its finest!
Another selling point of this model, given that we are often too busy to care for it, is low maintenance. The fabric indeed makes cleaning easier as it repels stains and dirt. Besides, washing it by hand with soap and warm water will do.
The only gripe I have with this tool bag must be its strap is not thick enough to reduce twisting and sagging.
Pros
Holds up to 22 lbs of tools for various work
Features multiple tape measure, electrician tape, and hammer loops
600D canvas construction and reinforced stitches for rugged use
Has sturdy sticker and adjustable waist strap to wear with or without tool belts
Fabrics repel stains and dirt while being easy to wash
Cons
The waist strap should be thicker
We can always wear this pouch with a heavy duty tool belt for good comfort despite heavy loads.
6. Dickies 8-Pocket Tool Belt
Our final pick to be one of the top-quality tool belts for cable technicians is the Dickies 8-Pocket design. It works as a spacious storage tool pouch that carries all your tools for both simple and complicated projects.
Among all the cable tool belts mentioned, this one is rather low-profile and a bit heavier at 19 ounces. Yet, it is in no way cumbersome for extensive work. In detail, there are 3 external pockets, two huge loops, and one pouch with a zipper that can be used as a cell phone holder. Therefore, we have space for a power tool, hand gear, smartphone, and more.
Such ample storage allows easy arrangement and access for tasks at hand. We can quickly retrieve a tool from the open pocket while keeping essential or small items in the secure pouch.
Such a well-made tool belt for cable tech impresses me with its toughness and strength. From the puncture-resistant lining at the back to its webbing-reinforced pouches, workers can rely on the piece to last through different conditions with minimal wear and tear.
Furthermore, it is a standard tool belt that can fit a waist size of 32 inches to 56 inches. The wide range of adjustments makes it among the tp[-quality waist tool belts that fit big-build workers. Notably, it comes with 3-inch padding, and a quick-release buckle, so convenient and comfortable use are well-served.
The only thing that disheartens some workers is its buckle is not as durable as the rest of the bag. We can always replace it to enjoy heavy-duty use without worry.
Pros
Ample storage with 3 external pockets, two huge loops, a zippered pouch
Keeps all tools and personal belongings with good security and access
Strong puncture-resistant lining and webbing-reinforced pouches
Fits big body builds, ranging from 32 inches to 56 inches
Comfortable 3-inch padding and a quick-release buckle
Cons
Requires changing the buckle after heavy use
To conclude, this tool belt for cable tech is a comfortable and functional gear that carries all the tools we possibly need for our tasks.
7. Klein Tools Tradesman Pro Electrician's Tool Belt
Taking a break from mini bags, we will review one of the top-tier tool belts for cable tech available – the Tradesman Pro Electrician's Tool Belt. It can fit almost all the tools a worker needs for troubleshooting and maintenance.
A total of 16 pockets offer us a massive storage capacity. They are wide open to accommodate a cordless drill, drill bits, other tools, and spare parts for repair. Besides, it comes with loops for tape measures and a hammer holder. In other words, this cable tech tool belt can keep multiple gears we need for a big project.
Convenience must be one of the best attributes we can find in this tool belt. First, its pouches are removable in case we want to carry fewer items. Also, the belt features a handle for carrying around when not in use. These features allow a cable technician to use the tool belt depending on his requirements flexibly.
Incredible comfort is another highlight of this tool belt for cable tech. Its thick padding with inner mesh provides great support and breathability.
Besides, as the belt fits around waist size of 35 inches to 39 inches, we can enjoy a comfortable fit with its adjustable waist strap. But for workers with a bigger build, the winter coat might make it challenging to fit the belt around.
One more thing worth mentioning about this belt is its tough 1680D ballistic fabric that stands up to rigorous environments. It is reinforced with leather ends to ensure no sagging and tearing despite the heavy loads.
Pros
10 pockets to keep cable technician tools
Comes with a hammer holder and measuring tape loops
Convenient tool belt with removable pockets and handles
Comfortable wear with thick padding and breathable mesh
Accommodates a waist size of 35 inches to 39 inches
Tough 1680D ballistic fabric with leather ends to prevent tear and sag
Cons
Not ideal for people with a bigger build
The bottom line is, this tool belt for cable tech is designed with ample storage space and convenient features to make our tasks a bit easier.
What to Look for When Buying Tool Belts for Cable Tech?
When looking for the right tool belts for cable tech, we should consider improving our tool arrangement and access during work. But more features come into the equation, which allows us to feel comfortable and safe in the process. So, here're some criteria we should consider:
As stated above, polyester is the commonly used fabric that ensures durability for your cable tech tool belt. There are 300D and 600 Polyester fabric, which the former is thinner and more lightweight. The 600 D tool belt suffices heavy-duty work as it resists tears and wears better, yet available at a higher price.
Canvas cable tech tool belts can offer rugged use with their durability and reliability. They can hold up to everyday use while appealing to stylish users who prefer nice-looking bags.
Nylon and leather belts are also popular options among professional cable technicians and electricians. Leather tool belts promote unparalleled protection against sharp tools and hard edges. Also, they can handle frequent abuse without losing the rigid shapes anytime soon.
Nylon and plastic is another good combination that makes quality tool belts for harsh conditions. For instance, the Gatorback b240 electricians combo heavy duty belt is undoubtedly among the great models made of these materials.
The durability of the most trusted cable tech tool bet indeed does not lie in just fabrics choice. It's also due to the brand's craftsmanship, manufacturing technology, and quality standards. So, we should check out the brand's process in constructing their designs.
We can pay attention to the stitches and liners, which are responsible for holding the pouches together under heavy tools. In that case, rugged stitching and lining listed as the strong feature of a tool belt should make it a good choice for us.
Also, high-quality cable tech tool belts can be riveted into place, so you can stack all your tools to reach their max capacity without worry about spilling or tearing.
Whether we seek a cable tool belt or electrician tool belt, it is important that we know how much the piece can accommodate. Mini pouches that keep cable cutters, pliers, and tape measures only should have around 3 to 4 small compartments.
Meanwhile, larger bags on tool belts with around 16 – 2 pockets keep all kinds of power tools, hand tools, or hardware required for repair or installation. Such cable tech tool belts often have deep main bags on both sides to balance the whole load, ensuring we are comfortable when climbing or bending for tasks at hand.
A tool box can be nice if you have large-sized gear for drilling. It can stand well on its own but will be a hassle to bring along when working on a high platform or getting into the ceiling, etc. So make sure you know what you need for your usual tasks: location, number of tools, and all.
You might not notice, but some tool bags have removable holders. That means we can change the number of tools we bring to work, thus reducing the bulkiness of simple duties. Such a tool belt surely deserves our consideration for its flexibility.
We value a product when it brings more than expected and covers the various circumstances. In that case, we might want to consider tool belts that can be installed with padded suspenders or a shoulder strap to carry heavy loads.
Also, not all tool pouches and bags will come with a belt. They often have a belt strap, a metal clip, or a tunnel loop that fits right onto your belt. In that case, it's up to you to choose a standard-size product and a suitable way to connect the bag and the belt.
Of course, it depends on the heavy loads you bring and whether the clip can handle it or if it's better to use the loop—anyway, the more options, the more convenience.
An uncomfortable tool belt will never be a good choice, no matter how functional it is. Regarding this matter, we can see if the belt is made of breathable mesh that allows ventilation for long-hour work. The fabric should not tighten too much around our waist and make us suffocate.
Besides, the most favorite cable tech tool belt should be padded to minimize the pressure around our waist. It must not pinch and twist that hurts our hip while we carry loads of tools.
Proper sizing is essential when picking a belt; most tool belts can fit around a 32-inch to 42-inch waist. Some might expand to 52 inches to ensure workers with big builds have a comfortable fit, even in the winter cold with extra clothing. So, you might want to consider standard size with adjustable straps for clothes changes in season.
What Kind of Tools Can a Cable Technician Put on the Tool Belt?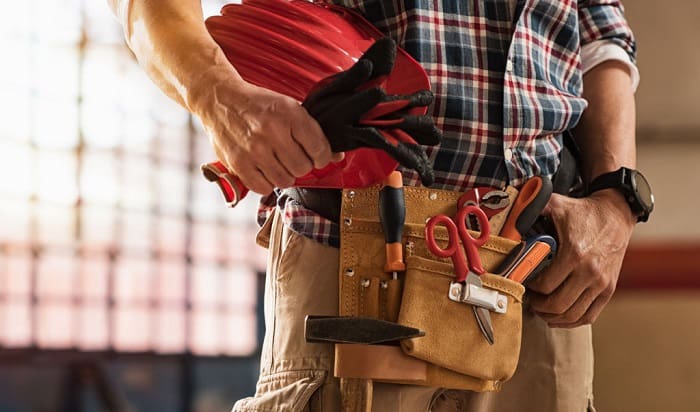 When bringing your tools to work, not all tools can fit inside your tool belt. Some power tools are too large for a mini pouch to keep, and other small items might be hard to find in a large-sized toolbox. So, here are some tools a cable technician and put on their tool belt:
Stripping and cutting tools – There are wire crimpers and cutters, which are only 6 inches long and 2.5 inches wide. They can fit inside a small pouch or a compartment.
Pencils and notes – Pencils are necessary for cable technicians, and they are quite small. So, it is not hard to keep some pieces inside your pouch; the same goes for notes in small sizes.
Pliers and knives – We can have multi-tool knife pliers or separate pliers in our tool belts as they do not take much space.
Screwdrivers – You can keep cross screwdrivers and slotted screwdrivers in a mini holder. They are hand tools that are necessary for installation, maintenance, and many other tasks.
Other tools include drill bits, some small hardware for replacement, nuts, bolts, and more.
Can I Use These Toolbelts if I'm Left-handed?
Yes, you can. You can find a left-handed belt designed for easier access for your dominant hand. So just stack your frequently-used tools on the left, thus you do not have to twist to reach the items needed.
How Do I Clean & Wash a Cable Tech Tool Belt?
It depends on different product materials that you should care for the tool belt properly. For instance, a leather tool pouch rarely allows machine-washing, as it can shrink badly when in hot water, strong cycle, or in the dryer. So, we suggest you read the instructions for clean and maintenance attached to the product to follow.
For a quick and careful cleaning routine, we recommend:
Use a damp, soft cloth to wipe the dirt. This method can apply to nearly any fabric. You can find a microfiber cloth, dampen it, and then dab gently on dirt or stains on the tool belt surface.
Use warm soapy water to treat stubborn marks. Of course, we do not suggest soaking the whole piece into water. Just use another soft cloth to rub on the tool belt with little force.
Conclusion
Our review has come to an end, so hopefully, you already have a good pick in mind. The best tool belt for cable tech you choose might not be those mentioned above. But with our guide, it is easier to find the one that suffices. Make sure you keep your tool belt in good condition for long-lasting use. Besides this products, you also can refer more to safety harness or roofing harness, maybe they can helpful for your work.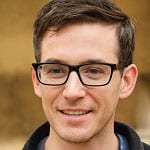 This is Edward Manning, the editor in chief of Construction Informer. Quite a bit of my time is spent researching the market and interviewing experts in the field so that I can give you reliable information.