Cut-resistant gloves protect numerous workers from major injuries relating to cuts and punctures. Besides our skill and carefulness in handling tasks, these pieces are the only reason we finish work without scathe. So, choosing the right pair will require thorough consideration.
The most important thing about cut-resistant gloves must be their construction and rating. So, first of all, what are cut resistant gloves made of? We will answer this question and give more details about these pairs below.
Materials That Make Cut and Puncture-resistant Gloves
Cut-resistant gloves are mandatory in many workplaces, as they serve as an indispensable piece of personal protective equipment (PPE). These gloves are also in various households as we need them for DIY projects or cooking tasks that require hand protection.
When checking these gloves in the market, we will see various materials chosen to construct them. Here're the most common and reliable fabrics and fiber ranked from low to high cut resistance:
Leather gloves are cut-resistant, thanks to their Kevlar liners. However, pound per pound, cotton features a higher level of protection against cuts than leather.
Synthetic fabrics (Nylon, Polyester) – In general, synthetic fabrics are durable and strong, as they withstand cuts and punctures well. Polyester gloves can feature cut resistance level 3, and they shield our hands against abrasion and certain chemicals.
Meanwhile, nylon gloves can resist abrasion and cuts well, equal to a level-3 rating. But the notable thing is, these pairs offer a high level of dexterity for intricate work.
Kevlar, Twaron, and Vectran – Standing at a higher spot than nylon and polyester in the cut-resistance chart, these fibers are about five times stronger than steel per unit weight. In detail, Kevlar (or aramid) gloves are also heat-resistant, while Twaron pairs are extremely lightweight.
Spectra – Another highly cut resistant fabric for gloves used by butchers is Spectra. It is an ultra-high-molecular-weight polyethylene material that is twice as strong as Kevlar fabric. We can rely on Spectra gloves for a cut protection rating of 3 to 5.
ATA – Compared to steel, this cut proof material is probably twelve times stronger. ATA or Advanced Technology Aramid is formulated using synthetic fabrics and aramids to construct a high-performance material.
Dyneema – Similar to Spectra, this fabric is also an ultra-high-molecular-weight polyethylene with optimal strength, around fifteen times stronger than steel. These lightweight cut-resistant gloves protect users against chemicals, moisture, and UV rays.
Fiber-metal blends – To achieve flexibility and strength in one design, manufacturers combine stainless steel with woven fabric to make cut-resistant gloves. In truth, we will often encounter products made of Kevlar steel or Dyneema fiberglass.
Metal Mesh and Hexarmor – Another reliable cut resistant material is stainless steel or metal mesh. These metal gloves for cutting are made in the form of chainmail with interlocking mesh. Hence, these pairs are ideal for food applications, metal sheet processing plants, and more.
Hexarmor gloves are constructed with the SuperFrabric® Brand Technology. Due to its multiple layers of staggered fabric attachment, the gloves offer an optimal puncture and cut protection level, preventing sharp points as small as needles from getting through.
What Are the Cut-resistance Ratings?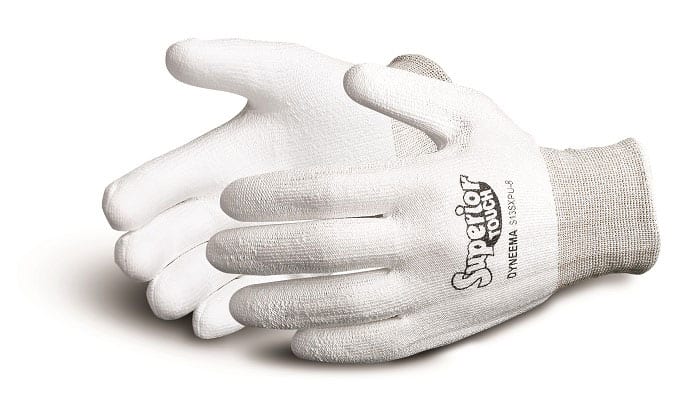 There are two rating systems to classify cut-resistant work gloves, namely the American National Standards Institute (ANSI) and the European standards (EN 388).
According to the ANSI/ISEA classification system, cut-resistant gloves are tested and rated on a scale. The old system has 6 levels from 0 to 5, while the new one has 9 levels ranging from A1 to A9. Here're the amounts of weight in grams required to cut through the glove material with 20mm of blade travel:
| | |
| --- | --- |
| Rating | Weight (grams) |
| A1 | >= 200 |
| A2 | >= 500 |
| A3 | >=1000 |
| A4 | >=1500 |
| A5 | >=2200 |
| A6 | >=3000 |
| A7 | >=4000 |
| A8 | >=5000 |
| A9 | >=6000 |
According to the European Commission EN 388 standard, the testing scores of gloves will put them into different levels. For more accurate measuring, there is an update in the system that involves a Coup Test, TDM-100 Test, and Impact protection test. Check out the table below:
| | | |
| --- | --- | --- |
| Old marking |   | New marking |
| 1 – 4 | Abrasion | 1 – 4 |
| 1- 5 | Cut (Coup test) | 1- 5 |
| 1- 4 | Tear | 1- 4 |
| 1- 4 | Puncture | 1- 4 |
|   | Cut (TDM-100 test) |  A- F |
|   | Impact Protection | P, F, X |
Cut-resistance levels shown in the Coup test indicates a level from 1 to 5; meanwhile, a more accurate rating from the TDM- 100 test classifies the gloves by letters from A to F. Since we use the new marking for references to purchase a new pair, we should be aware of what these ratings mean:
| | | |
| --- | --- | --- |
| Levels | Range (Newtons) | Weight (grams) |
| A | 2 – 4.9N | 204 – 508 |
| B | 5 – 9.9N | 509 – 1,019 |
| C | 10 – 14.9N | 1,020 – 1,529 |
| D | 15 – 21.9N | 1,530 – 2,242 |
| E | 22 – 29.9N | 2,243 – 3,058 |
| F | >= 30N | >=3,059 |
Conclusion
Other than knowing "what are cut resistant gloves made of", which is shown clearly in the content above, there is more to decide when buying these pairs. Looking at your current work conditions and analyzing the hazards like chemicals or heat are also important.
Make sure you check the glove's fabric construction or the tightness of the fiber, any extra coating from nitrile and latex, or the weight of the glove material. These are essential clues that point towards suitable gloves for your needs.
If you find the article helpful, feel free to share it and leave a comment for us. Thank you!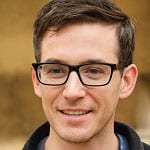 This is Edward Manning, the editor in chief of Construction Informer. Quite a bit of my time is spent researching the market and interviewing experts in the field so that I can give you reliable information.