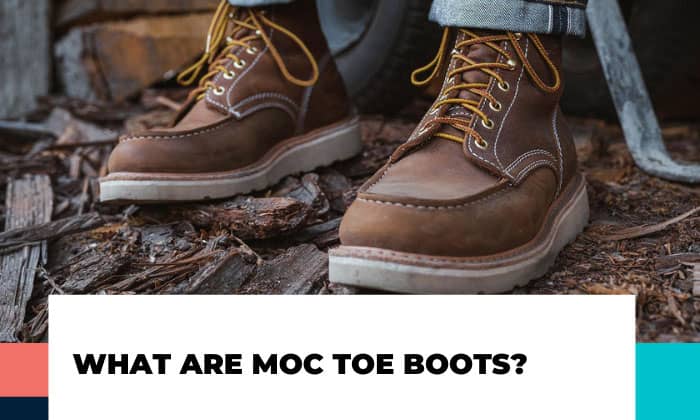 Moc toe work boots have been famous since the 20 century. But, not all people understand what are moc toe boots. Moc toe boots used to be iconic boots for farmers, and hunters. Nowadays, people can wear moc toe boots for casual styles.
We can recognize a pair of Moc toe boots through its toe boxes with a U-shaped seam. The shoe design creates a spacious room inside. We can wear the shoes for various activities without hurting their toes.
What Are Moc Toe Boots?
1. Moc Toe Meaning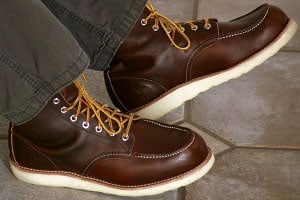 Moc toe boots appeared for the first time at the beginning of the 1950s. Moc toe boots Red Wing are the earliest moc toe shoes. The moc toe meaning is based on the moccasin name. They have a similar appearance to Moccasins, which were from Native American inhabitants.
Thorogood moc toe boots determined moc toe shoes definition is the abbreviation of the moccasin toe. Moc toe boots have U-shaped folded stitching on the top of the toe box. There are 2 ways to create this signature seam.
The first is to sew 2 pieces of material together.
The other is to stitch a seam on this single piece.
These sewing methods will leave a space inside the toe box. Hence, your toes can wiggle comfortably.
The appearance of moc toe boots reminds you of Oxford shoes. They also have 2 eyelets on 2 sides with laces that allow you to put your feet on easily and adjust the tightness. Yet, the moc toe boots don't include a tongue at the top.
Low-cut shoes and socks pair perfectly with moc toe boots. Wearing moc toe boots on feet brings you American feelings.
2. Purposes
The original purpose of moc toe boots was for outside workers such as farmers and hunters. The roomy toe box enables them to work easily under rain or chilly conditions.
Now, it's usable for various outdoor tasks, even work duties due to their durable materials and comfortable design. Many workers love wearing these boots as the boot's roomy toe box offers comfort when they have to stand and walk for hours at work.
Furthermore, many people wear moc toe boots for aesthetic reasons, just because these boots are fashionable. Do you want to have an accent for your casual autumn look? Wearing moc toe boots with basic jeans and layered shirts is a go-to option.
Here're some of these boots' best attributes that make them highly functional among different users:
The most popular material to produce premium-quality moc toe boots is leather. However, the material can differ from moc toe boots men's and women's. The leather is long-lasting and breathable. It will look cooler and cooler over time.
The men's moc toe shoes can be made from rubber or suede. They are durable and hard to absorb moisture and scratch. The rubber boots also protect you from being hurt. Until now, moc toe boots are still good for work.
The specialized sole and the supple upper make these boots comfortable. Even when you wear them for a long day. The wedge sole with more structure brings you a certain feeling.
Meanwhile, the underneath sole is reinforced with dense material to support your feet. The supple uppers are smooth and easy to mold so you can wear the boots quickly.
Pros And Cons
1. Pros:
Compared to plain toe boots, the room inside the moc toe boots is more spacious due to the high sidewall design. You can wiggle your toes freely. You don't need to worry about the leather stretching that causes cracks on the top.
The U-shape seams help the boots to be more flexible while walking. The wedge sole can distribute weight evenly on your feet. Moc toe shoes' weight is fairly light.
These boots come in different sizes and styles: heeled outsoles, toe protection, and more. The sizes are from 6 inches to 11 inches. You can choose the best ones for you.
Moe toe boots are suitable for work and dress up. They will make you look more robust.
The moc toe boots are constructed from high-end materials. Plus, some designs have space that allows you to add a protective layer to protect your toes.
Having moc toe boots on in the winter is an excellent way to keep your feet warm. In case your boots add sheepskin inside, you will feel warmer.
You can choose moc toe boots with waterproof or water-resistant materials. The rubber and suede boots are water-resistant.
The smart design of soles and supple uppers offers you support and comfort. It's exclusively good for your arch. The padded tongues and foot arches are good for your ankle.
2. Cons:
The water resistance of moc toe vs round toe is quite different. The moc toe boots with more pieces of leather are less water-resistant than the other
The moc toe boots have a lot of stitches. If some stitches are sewn wrong, the quality of these shoes will be affected.
The new moc toe boots are not easy to crease. You have to walk many times to soften them.
Some moc toe boots have hard ribs on the top box. You need to spend a while breaking in.
Depending on where your moc toe boots go through, the moc toe boots can capture more dust and dirt. Your shoes can be worn out sooner.
The Christy Creme sole or clones are not suitable for snow and rain conditions. They are quick to wear out. You need to invest a lot of money to replace it.
FAQs
Why moc toe boots are popular?
Moc toe boots can withstand construction jobs and outdoor tasks. Hence, they are a common option for almost all workers. Moreover, they also make your fall outfit more remarkable. Moc toe shoes offer durability, flexibility, and comfort when wearing them.
They are equipped with more features to serve you better such as anti-slip soles, wedge outsole, waterproof linings, and more.
Are moc toe safety boots?
Safety boots can be moc toe boots but moc toe boots cannot be safety boots. Some moc toe boots have room inside that is enough to place a steel toe. You will have moc toe boots steel toe.
Moreover, is the moc toe the same as composite toe? As steel toe, the composite toe is moc toe boots with composite protection. They are also safety boots.
What are moc toe boots good for?
Electricians, carpenters, concrete workers, plumbers, construction workers, and people doing hard tasks will get benefits if they wear moc toe work boots.
You can put on moc toe shoes when working with easily-falling things. The toe box will prevent the objects from injuring your toes.
What's the difference between moc toe and steel toe?
Moc toe vs steel toe or is moc toe the same as steel toe are the popular questions when people come to moc toe topic. The moc toe shoes are produced with the seam on the top.
Hence, they feature a roomy toe box, comfortable when wearing. They are effective to work with heavy-duty tasks as well.
But, the single piece is not enough to protect you from heavy falling objects. Steel toe boots will save you.
Several companies manufacture moc toe shoes with a steel toe to reinforce protection. The steel toe is accepted in different industries and has an affordable price. But, not all producers offer you this kind.
Related: What is the purpose of steel toe Boots?
Conclusion
You surely can answer 'what are moc toe boots?' after reading this post. These shoes are a priority option for workers who work in harsh environments. Your feet can jiggle straightforwardly in this space.
Plus, they are also long-lasting and supportive of your feet. They are multi-purpose boots. You can wear them to hang out after finishing your work. The overall look is still eye-catching. Don't hesitate to invest in top-notch moc toe boots.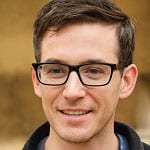 This is Edward Manning, the editor in chief of Construction Informer. Quite a bit of my time is spent researching the market and interviewing experts in the field so that I can give you reliable information.