Neoprene gloves are among the pieces of personal protective equipment (PPE) required for many duties. They offer us the necessary protection and dexterity to perform our tasks with utmost ease.
So, if you still wonder, "what are neoprene gloves?" and ponder if you should buy a pair to support your current duties, read the detailed info below to find out!
Neoprene Gloves Definition
To define neoprene gloves, we should start with the material that makes these helpful pairs. In truth, these gloves are formulated from polychloroprene – a synthetic rubber.
A neoprene glove is among the elastomers, allowing stretching out without damaging their forms. Such a pair is among the popular synthetic rubber gloves, including Polybutadiene rubber gloves, silicone gloves, and Polyisobutylene gloves.
The formation of neoprene gloves includes the polymerization process involving the use of multiple chemical reactions. Due to this critical manufacturing process, the pair ends up with excellent pliability and protective attributes.
What Do Neoprene Gloves Protect Against
Chemical-resistant: Workers who deal with acids, caustics can rely on neoprene gloves chemical resistance to keep their hands safe. These gloves can also resist oils, fats, greases, and petroleum products well.
Abrasion and cut-resistant: When dealing with sharp edges and hard tools, neoprene gloves can help prevent cuts and punctures. Such a feature also means long-lasting use despite heavy work.
Heat and weather-resistant: This product has a relatively good resistance against high temperatures. Although this feature is not that impressive, we can wear them without worrying about glove degradation due to sun rays and bad weather exposure.
Impact-resistant: Neoprene gloves come with incredible tensile strength and high density. Thus they can protect us from mild impacts.
Advantages of Using Neoprene Gloves
As stated above, these neoprene gloves can keep our skin from being exposed to multiple hazards. However, their advantages do not just lie in their protective attributes, as they support us to better handle work with helpful features such as:
Flexible: Neoprene gloves are popular among workers for their incredible pliability. They allow us to have finger sensitivity and freedom of movement. So, it is undeniable that these gloves will benefit detailed tasks that require dexterity.
Form-fitting: When wearing neoprene gloves, we can have a good fit as they embrace our hands without leaving much space between fingers and the fabric. They can also return to their original form after being stretched, so deformation is not a worry.
Durable: It has been known that neoprene gloves come with high density and good textile strength, so we can rely on the pair for heavy duties. Besides, it resists oxidation and aging well to ensure long-lasting use.
Waterproof: When handling tasks involving excessive moisture or playing water sports, we can rely on waterproof neoprene gloves.
Warm: Many workers wear neoprene gloves to keep their hands warm when the temperature drops dramatically in winter. The perk is, they will not lose the flexibility of their hands wearing this pair.
What is the Difference Between Nitrile and Neoprene Gloves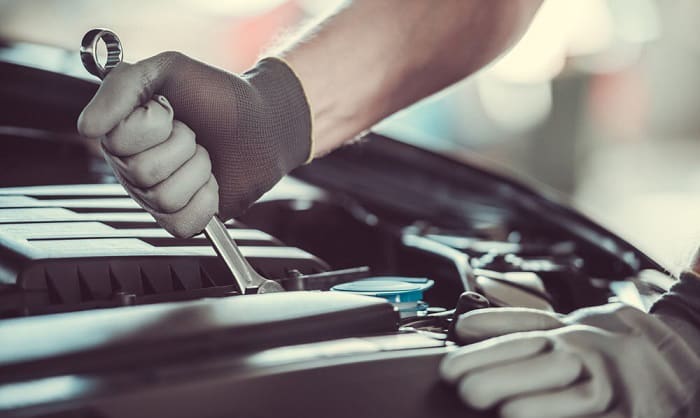 Both nitrile and neoprene gloves have certain attributes of a rubber pair, as they both resist water, chemicals, and abrasion well. But they have their differences in properties and use:
While neoprene gloves shield us against some caustics and acids, nitrile gloves can resist oils, solvents, petroleum-based agents, gas, and more.
Nitrile gloves can keep us from water, as they can protect our hands from water-based corrosion. Meanwhile, neoprene gloves can be both waterproof and weatherproof. In fact, wearing neoprene gloves can keep us from UV radiation, freons, and harsh weather conditions.
Neoprene gloves also have more impressive flexibility compared to nitrile pairs. The former is resilient and pliable, thus allowing better dexterity. To enjoy this feature to the fullest, some workers opt for thin neoprene disposable gloves.
Some Widely-Used Neoprene Gloves
NeopSkin Water Gloves: This pair of neoprene gloves are produced for water sports. Its anti-slip palms are reliable for use among surfers, skiers, divers, etc. People can rely on the glove's elastic and thermal fabric to keep their hands warm for outdoor winter sports.
Neo Sport Premium Neoprene Wetsuit Gloves: This high-quality model comes with a good fit and flexible grip. It allows easy movements while keeping our hands safe from punctures and low temperatures.
Conclusion
Not only do we answer the question "What are neoprene gloves?", but we also offer detailed info and comparison between certain types of work gloves. Hopefully, you can make good use of this guide to find the best neoprene pairs that support your work and ensure your safety.
Also, if you have any questions, do not hesitate to reach out to us via our contact page. Thank you for reading!
Hi, I am Alexander, forty-seven years old this year. I have been in the construction industry for twenty-five years and have provided a wide range of services. When it comes to expert guidance on site safety gear, you can put your trust in me.